Hey everyone, it's Ingrid here from Joe June and Mae. I'm the creative head and pretty much everything else that's
happening at www.joejuneandmae.com
I'm super excited to introduce you to another project, that I was able to create with a new fabric series by Riley Blake
Designs called 'Arid Oasis' by Melissa Lee.
It's full of rich purples, pinks, greens and yellows.
This series features vibrant color combinations with flowers, cactuses, succulents and really adorable small scale
prints.
I loved these colors and prints right away and was thrilled to be able to work with them.
I always loved crochet bags, especially granny squares.
But one needs to crochet in order to get one of these bags, right? Or do you really?
I do know how to crochet, but it takes me forever and I much rather use my sewing machine.
So, I decided on making a 'crochet-look' bag with log cabin blocks.
Log cabin blocks are usually sewn with strips of fabric, but, maybe it's just me, mine tend to get crooked.
I am probably not keeping my seam allowances perfect, so sometimes the strips get a little bit off, especially when
wanting to make small strips, like the ones here. The ones I made here are just ½" wide.
So, I decided to make a log cabin pattern, that's paper pieced.
This way the strips are absolutely perfect in size, and they stay exactly where they are supposed to be.
Totally fool proof, and perfect for foundation paper piecing beginners.
You can find the log cabin quilt block patterns here.
I made two large 16"x 16" blocks for the front and the back of my bag.
And I used a 6"x 6" and 6"x 10" block for the sides. I placed the small block at the bottom of the bag on one side
and at the top at the other. I also alternated the rectangle quilt block.
So here is my 'crochet-look' granny square quilted bag.
What do you think, can this pass as granny squares?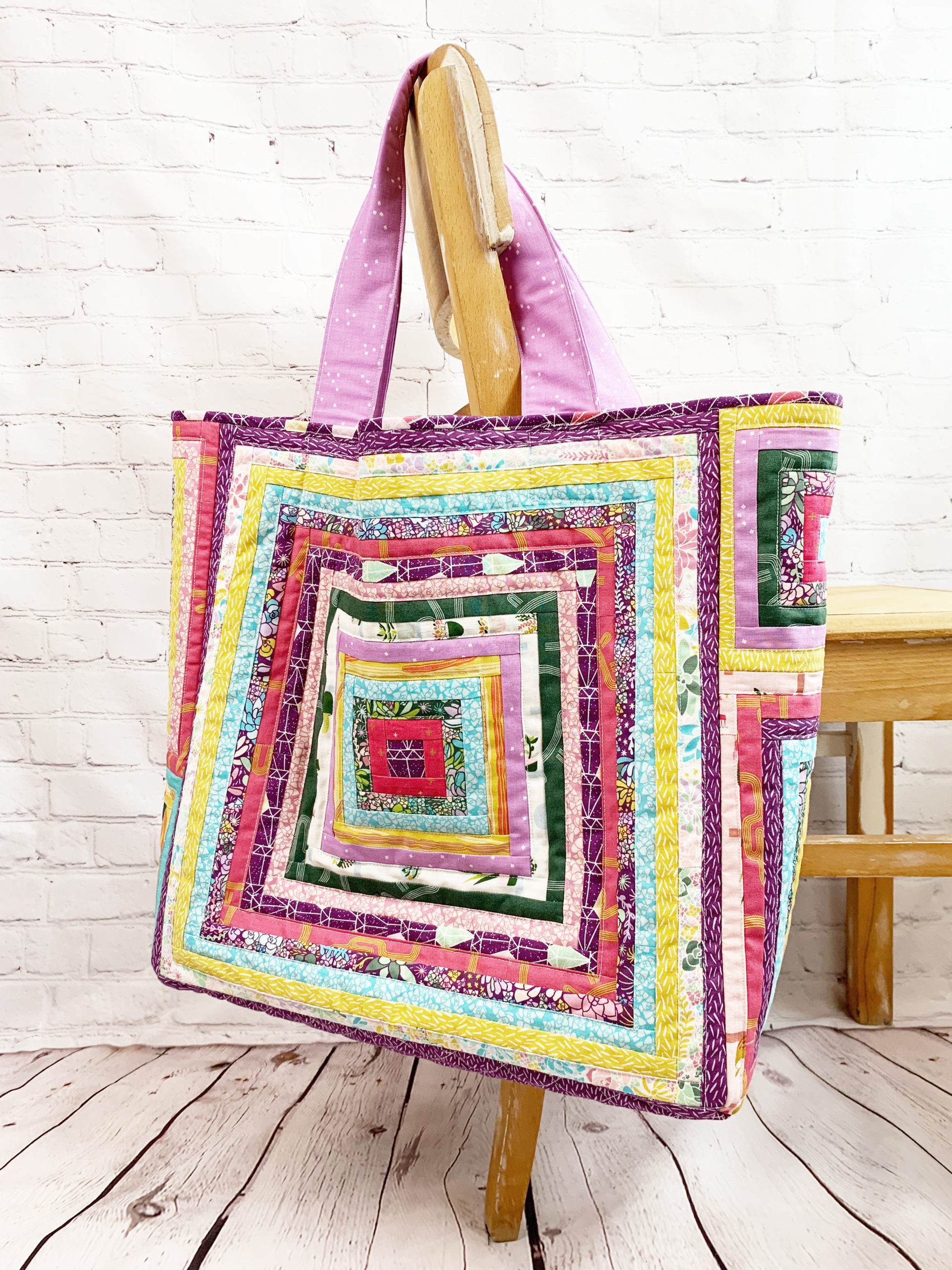 These colors and prints in the 'Arid Oasis' fabric series are made for this bag, don't you agree?
I quilted the sides of this bag with straight line quilting. I quilted through the lining, so the lining stays nicely in place,
which I find helpful with a bag. I added binding to the inside seams, so the bag has a nice finish.
And just because this fabric series is so darling, I could not resist, and had to design 3 cute little paper pieced
blocks, that match the 'theme' of the fabric series.
Now I wish I would have a garden house, I can just see these blocks framed in a white frames on the wall of an
adorable little garden house, what do you think?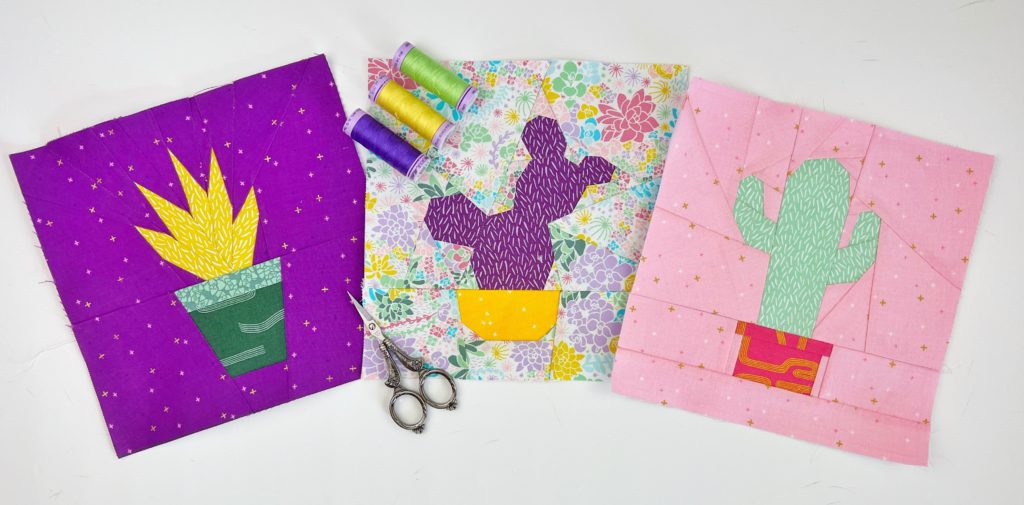 Check out the log cabin patterns and the little cactuses over in my shop www.joejuneandmae.com
Make sure you follow me on Instagram @joejuneandmae
and sign up for my Newsletter if you want to stay in the know for sewing tips and tricks and want to enjoy
subscribers only coupons every once in a while.
Please tag @joejuneandmae in your makes with my quilt block patterns on social media so I can cheer you on.
Happy sewing
Ingrid x