Hello Quilting Friends! It's Melissa Corry from Happy Quilting here, with you today. I am thrilled to be sharing one of my newest quilt finishes with you today that feature the gorgeous Ciao Bella fabrics by Carina Gardner. As soon as I saw this fantastic fabric line, I just knew I had to make a quilt from it. I just love Carina's beauitful prints, and her colors always just speak to me, so pretty!!! So I went to my new Fast & Fun Lap Quilts book, that released last month, and picked an adorable Lap Quilt to whip up!
And here it is, Keystone Corners in Ciao Bella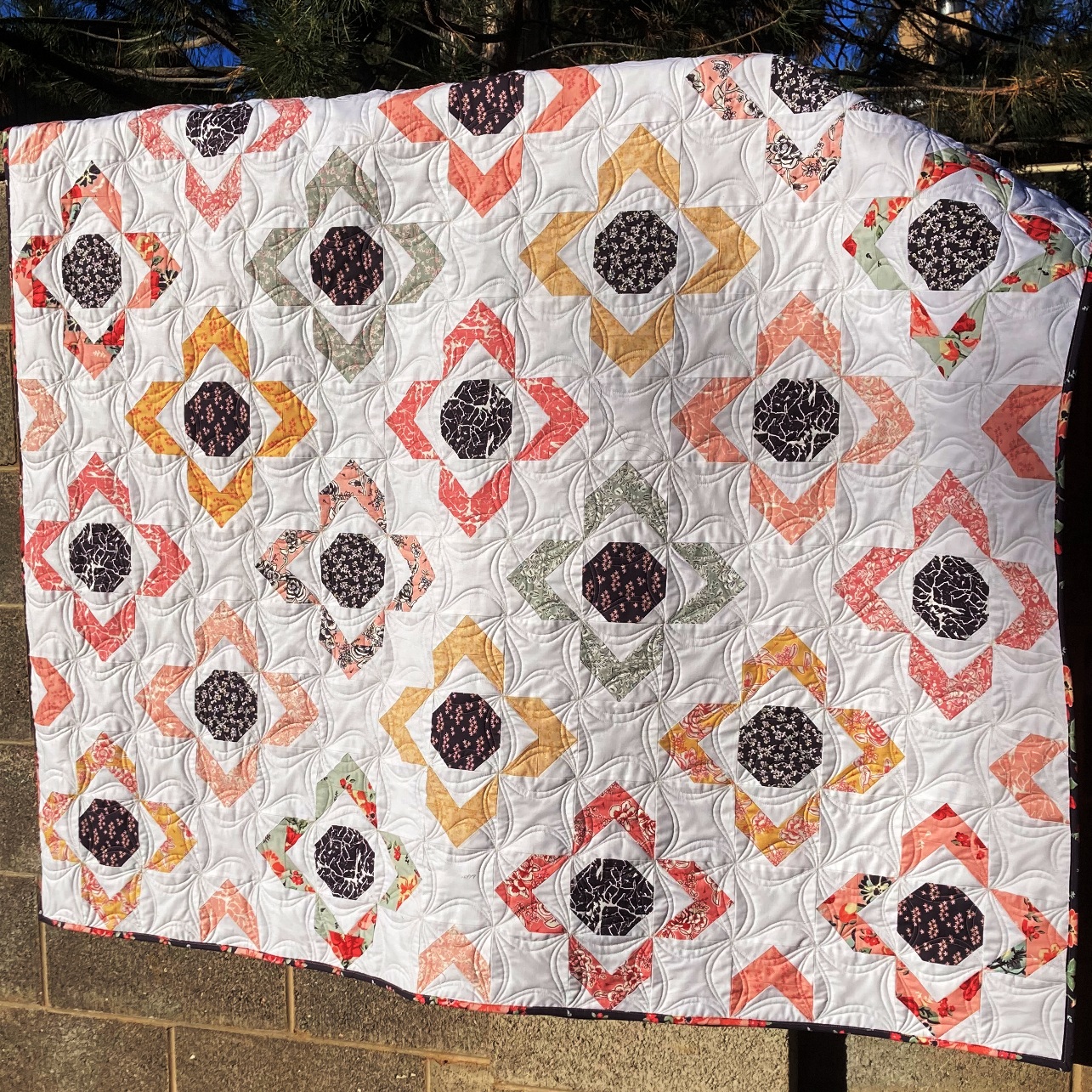 What I really love about the quilts in my Fast & Fun Lap Quilts book is that they are all made from one 10″ Square Stacker. So all I needed to get started was a Ciao Bella 10 Inch Stacker and some background fabric and away I went.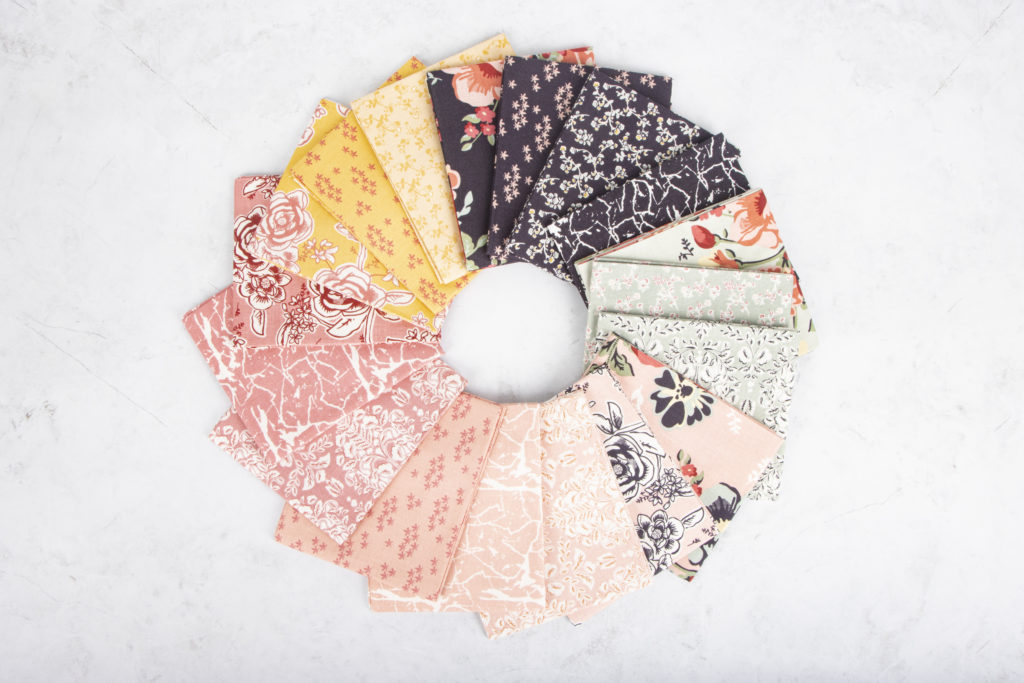 I decided to pull out the midnight prints in the line and use them for the focal print and the binding. I love how it just really makes all of those beautiful blush, seafoam, yellow, and peony prints just pop!! And I always love using Riley White as a background to really make the colors just shine.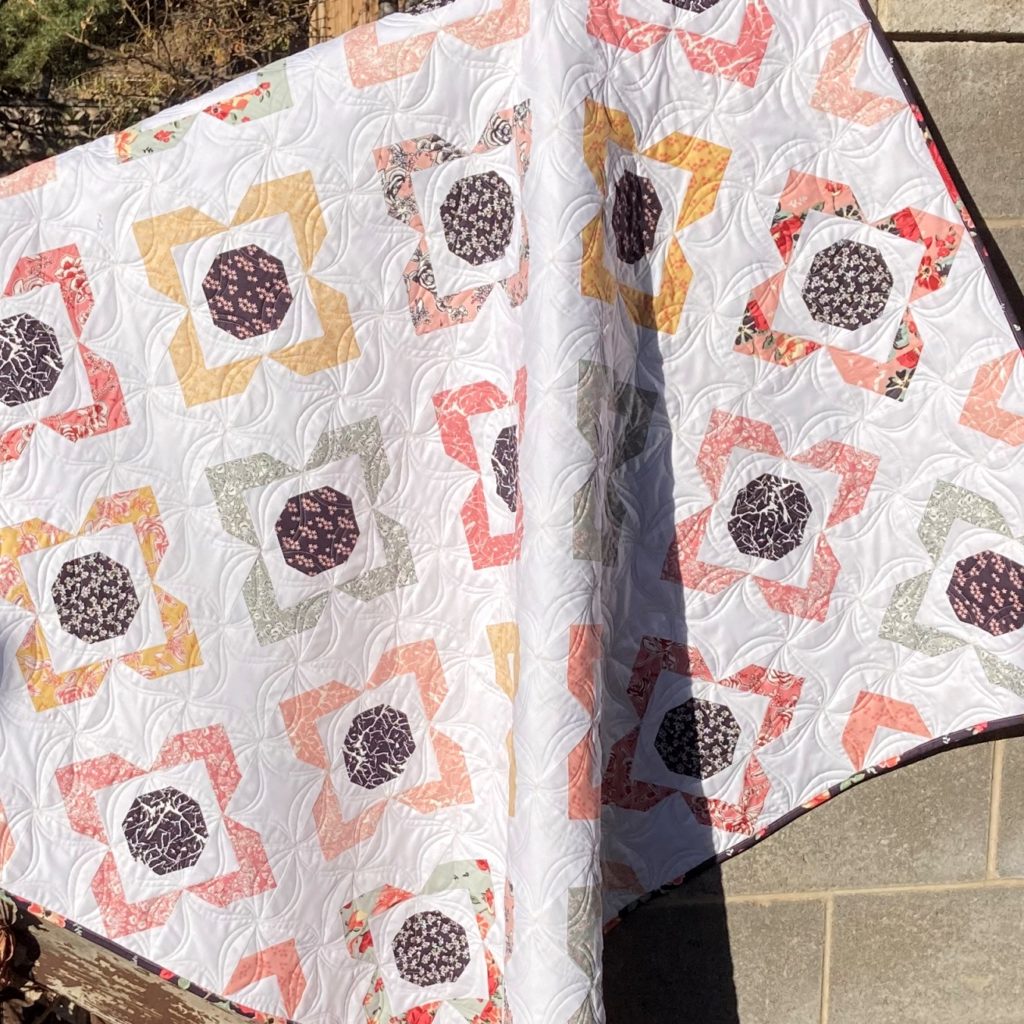 And Keystone Corners might look a little tricky, but looks can be deceiving. It truly is super fast and super fun to make and is a beginner friendly quilt. It used No-Waste Flying Geese Units to make up the blocks, and a fun Snowball in the center of each. And I have sized up the geese so you use up your 10 Inch Stacker with next to no waste. Keystone Corners finishes at 60″ square, so it truly is the perfect lap size quilt 🙂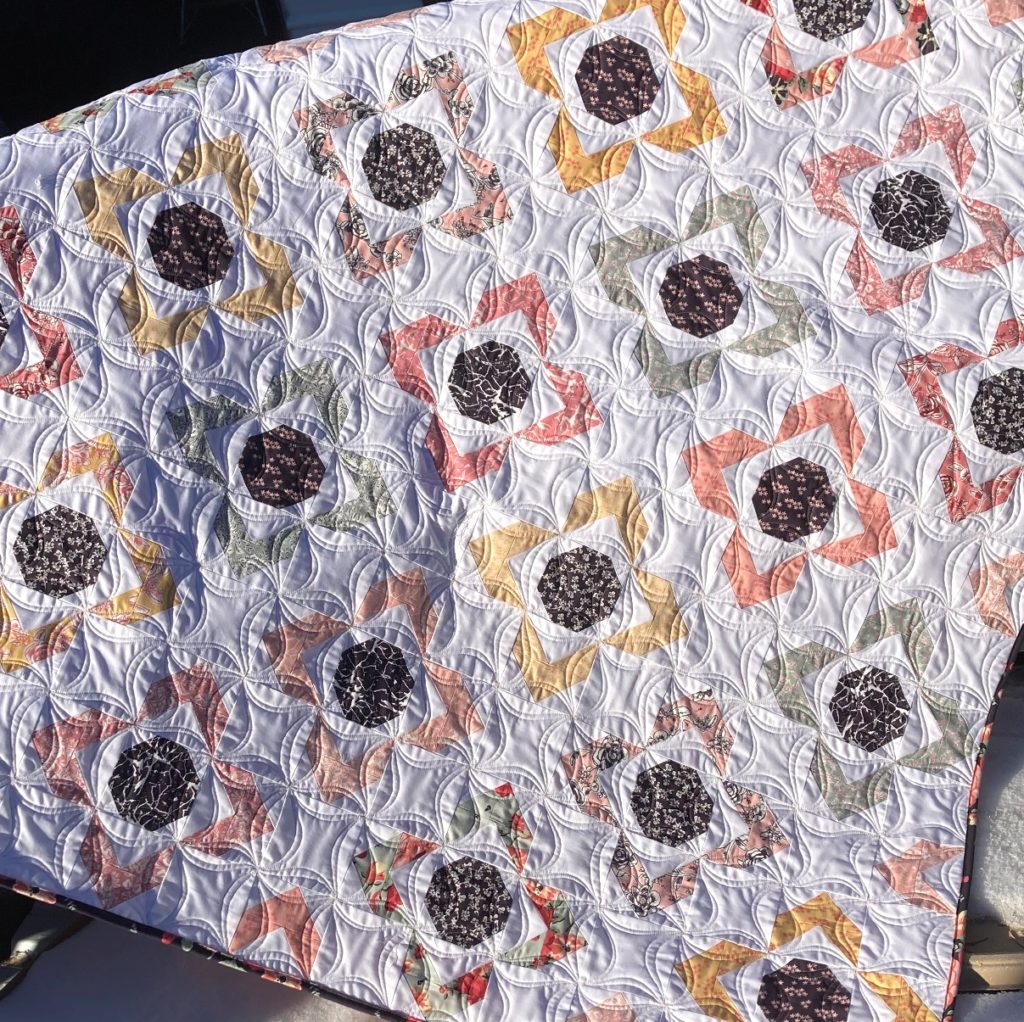 And when it came time to quilt mine, I couldn't pass up the square grid made in the piecing. Whenever I have such a great "grid" in the seams, I always opt for wavy orange peel. It gives the goregous look of an orange peel design, but without the fuss of having to use curved rulers. I just love how fun and fast it is to quilt as well.
And talk about some amazing texture!!! How great is that 😉 Makes me want to snuggle up in this Keystone Corners quilt in front of a fire. And after taking picture of it, I just might. It's so cold outside right now 🙂 But it was totally worth it to be able so share this fast and fun Keystone Corners quilt with you all.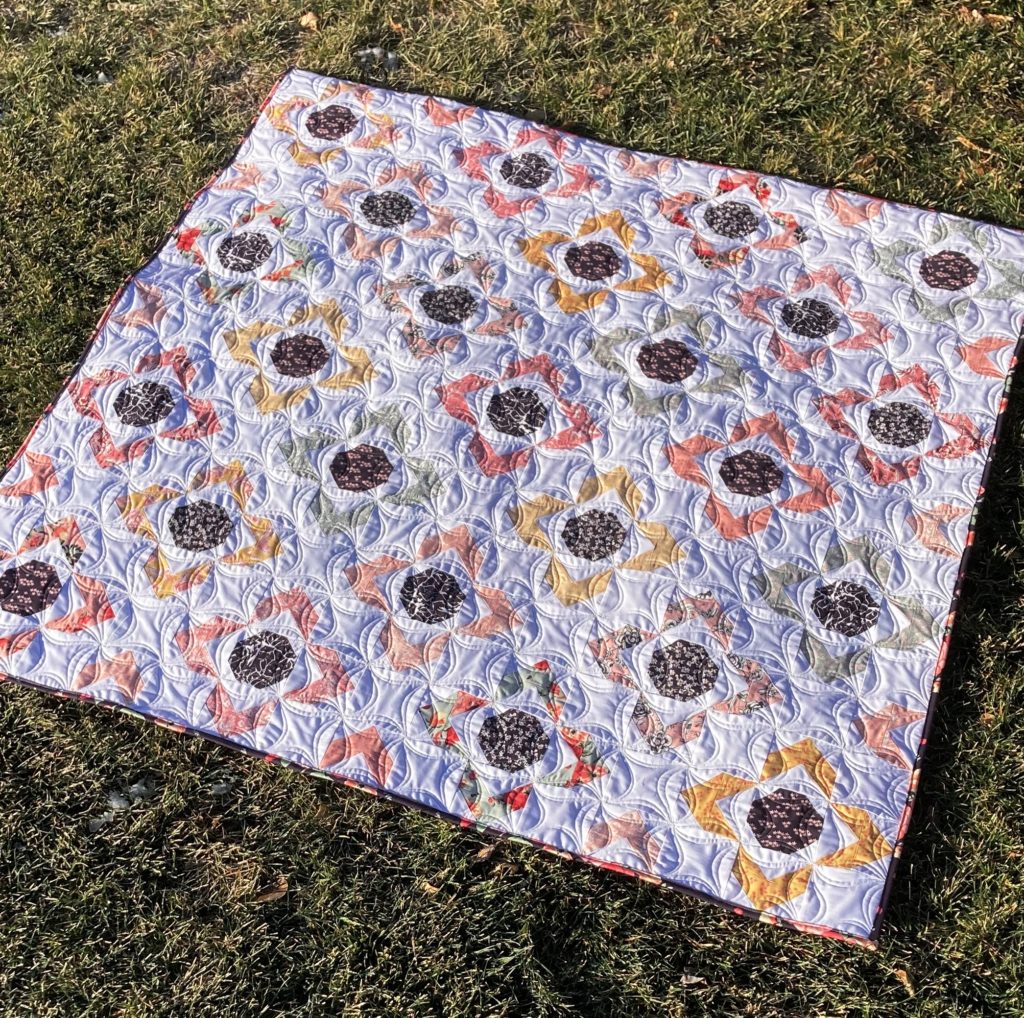 And just for fun, here is another version of Keystone Corners that I made a few weeks ago using Fleur Noire by My Minds Eye. Isn't it just amazing how much you can change the look of a quilt by just changing the fabrics. I love making neutral quilts, so I couldn't pass up the opportunity to make this in Fleur Noire and then adding a gorgeous tan background. Just so pretty!!!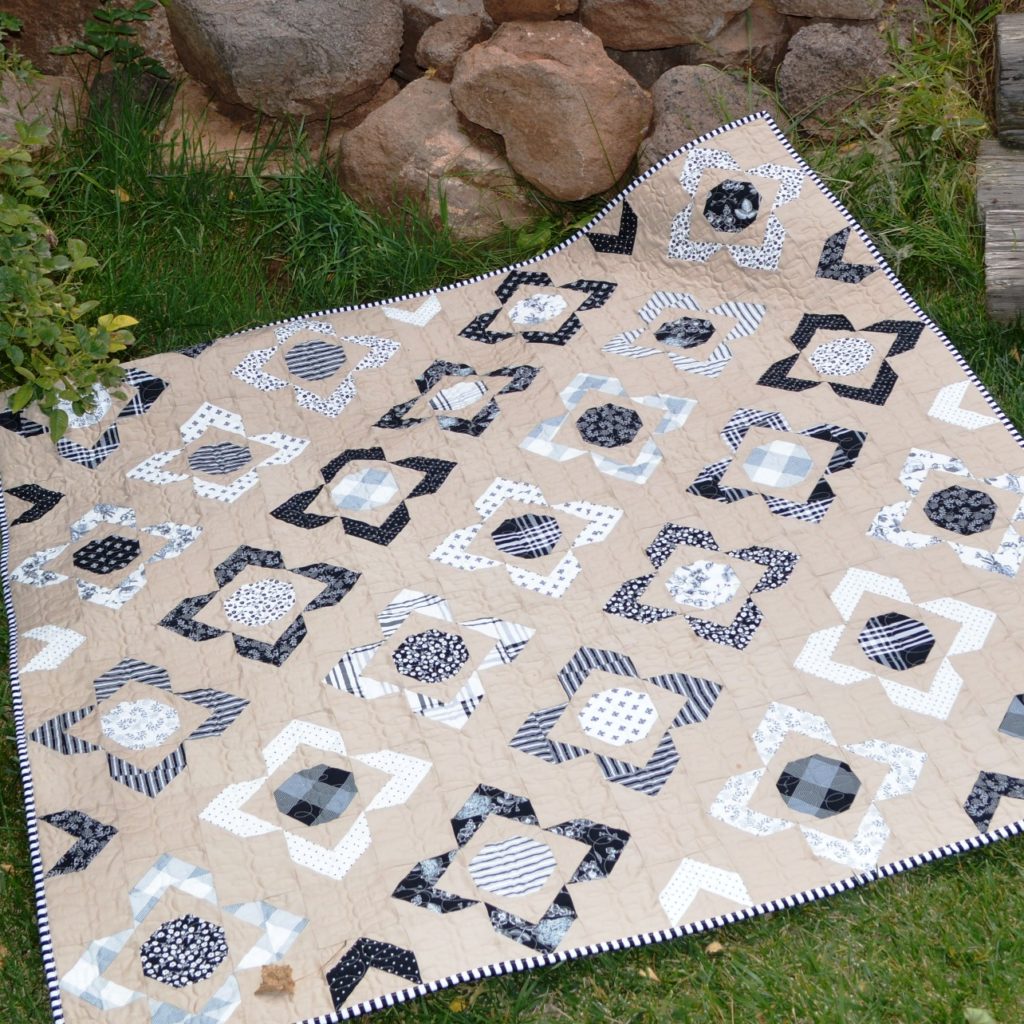 And those are my Keystone Corners Quilts using goregous Ciao Bella and Fleur Noire! I hope you have enjoyed this post. To see more of my Fast & Fun Lap Quilts, you can visit my blog as we are currently rounding out the Fast & Fun Lap Quilts Book Tour.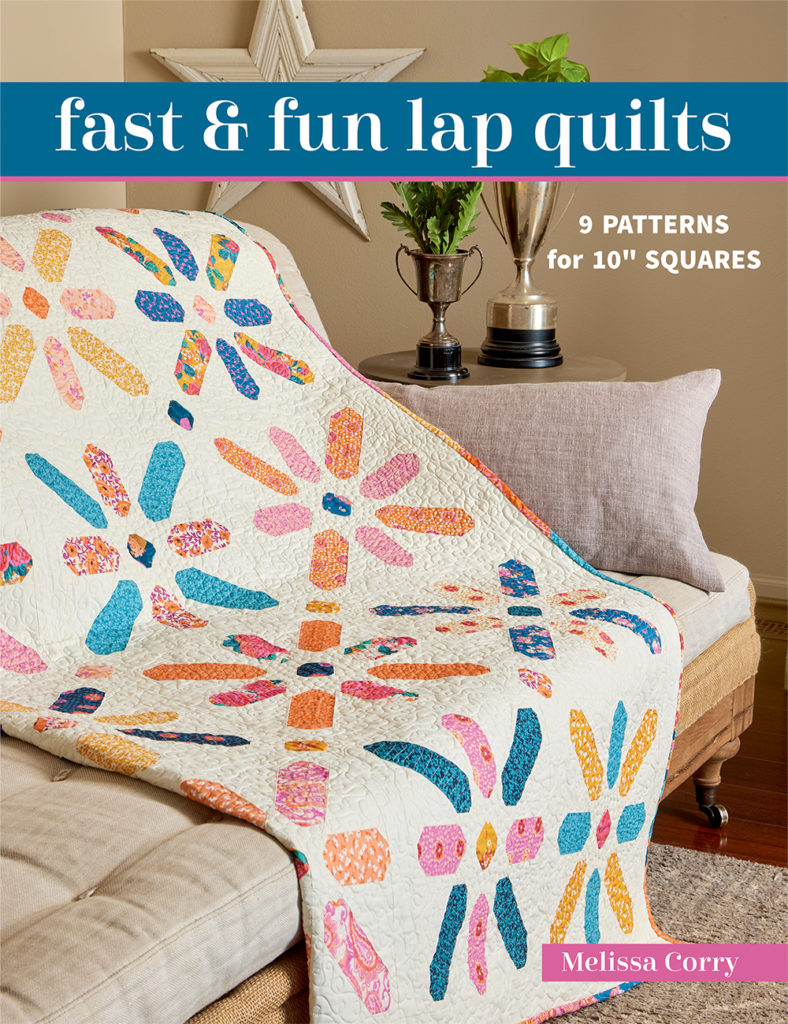 Oh, and if you make your own Keystone Corners Quilts, (or any of the quilts from Fast & Fun Lap Quilts) I would love to see them! You can share your projects with me on social media with the hashtags #happyquiltingwithmc and #rileyblakedesigns and tagging @happyquiltingmc or email me a picture at happyquiltingmelissa@gmail.com. I can't wait to see your Quilts!!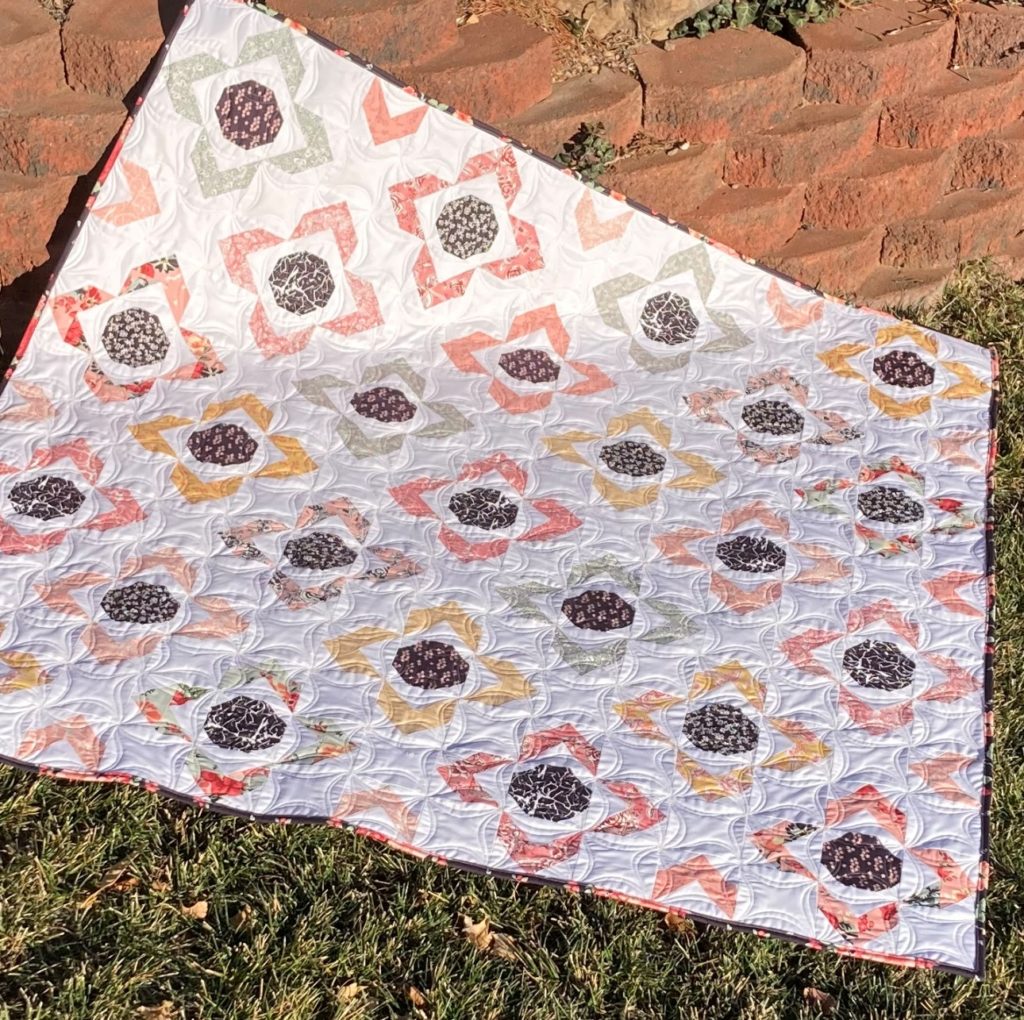 Thank you so much to Riley Blake Designs for having me here on their blog. And to see more of my Happy Quilting adventures, you can stop by my Happy Quilting Blog for a visit, follow me on Instagram @happyquiltingmc or visit my Happy Quilting Facebook Page. I just love being able to share lots of quilting goodness on a daily basis and would love to share it with you.
I hope you have a very Happy Quilting Day!!!