Today we are excited to introduce you to Heidi Staples of Fabric Mutt!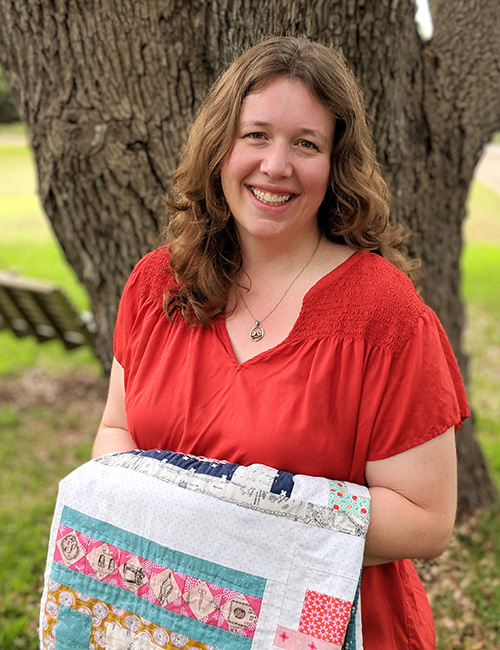 Heidi Staples has been immersed in all things vintage since she was a little girl. Whether she was tagging along with her grandmother to antique shops, watching classic movies with her parents, or listening to big band music on the radio, she quickly grew to love 1930's-1950's style. She also enjoyed dabbling in different arts and crafts over the years, including drawing, cross stitch, sewing, and ceramics. After ten years in teaching, she decided to stay home with her young daughters, and soon after she began quilting and sharing the details of her sewing misadventures at her blog Fabric Mutt. She quickly became known for colorful patchwork projects and the many free tutorials she wrote for the blog. Heidi published her first book, Sew Organized for the Busy Girl, with C&T Publishing in 2015, and her work has also been featured in crafting magazines such as Modern Patchwork, Quilter's Newsletter, Quilt Now, and Love Patchwork & Quilting. She is active on both Instagram and Pinterest under the name @fabricmutt. Heidi is thrilled to bring together her love of vintage style and sewing as she designs collections for Penny Rose Fabrics. She makes her home in a rambling house on two acres of beautiful Texas hill country, along with her husband, three daughters, two parents, and three lovable dogs.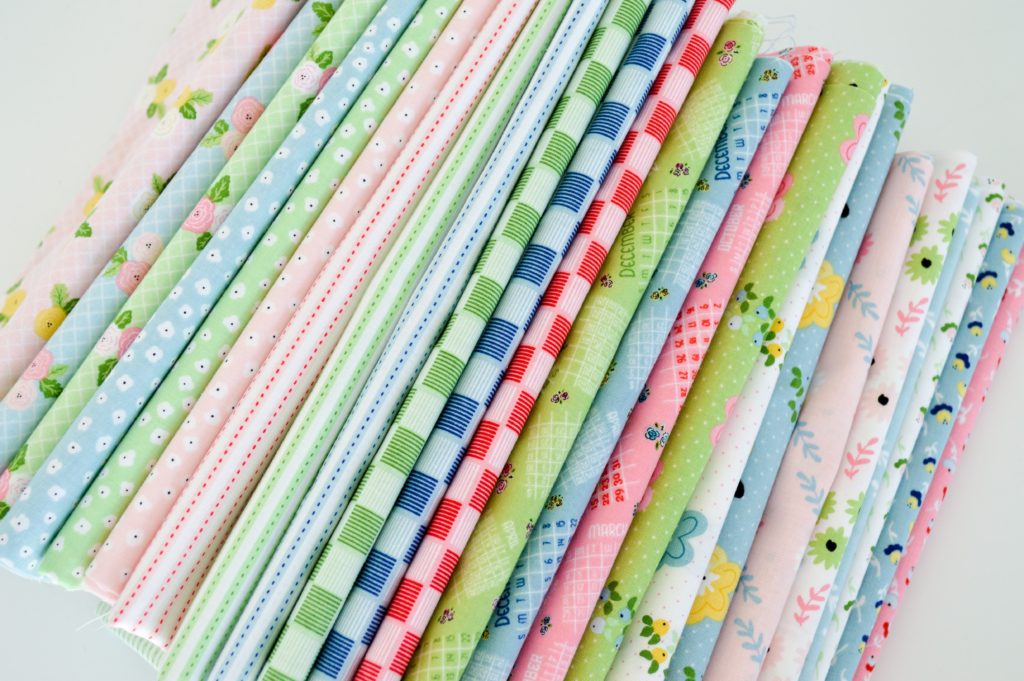 Heidi's newest fabric collection, Date Night, features the cutest range of pastel colors, itty bitty calendars, florals and stripes you ever did see!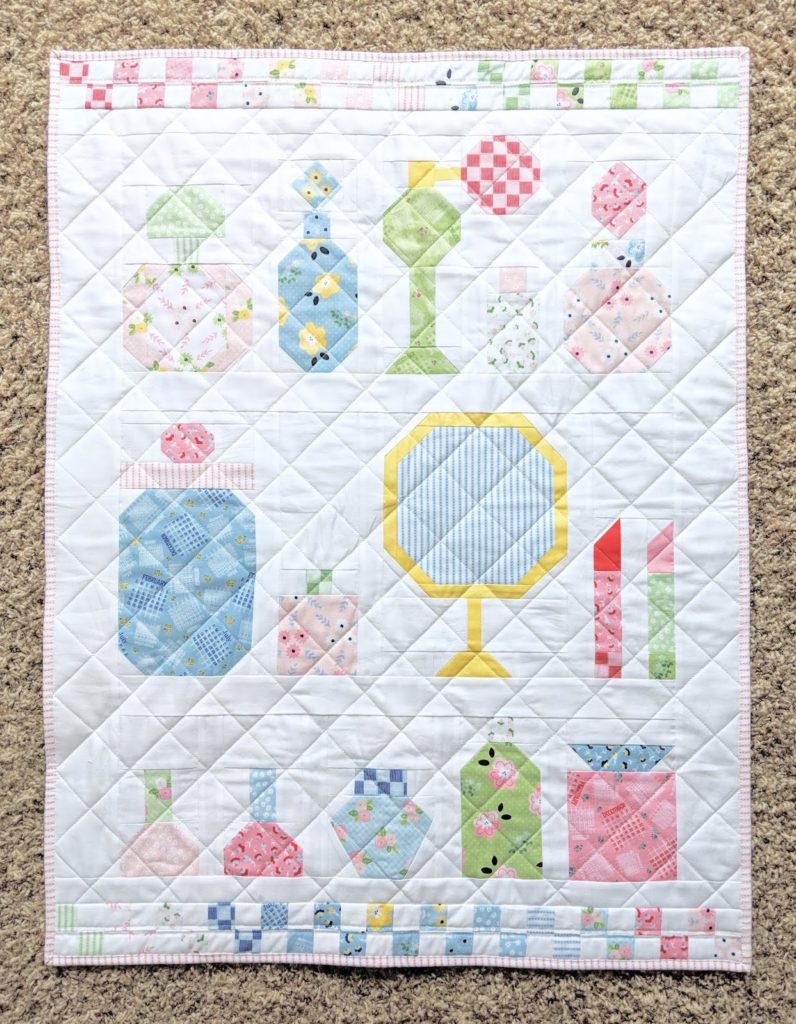 This FREE Vintage Vanity Quilt Pattern is available on Heidi's BLOG features Date Night fabrics pieced to look like perfume, nail polish, mirror, etc. Cute!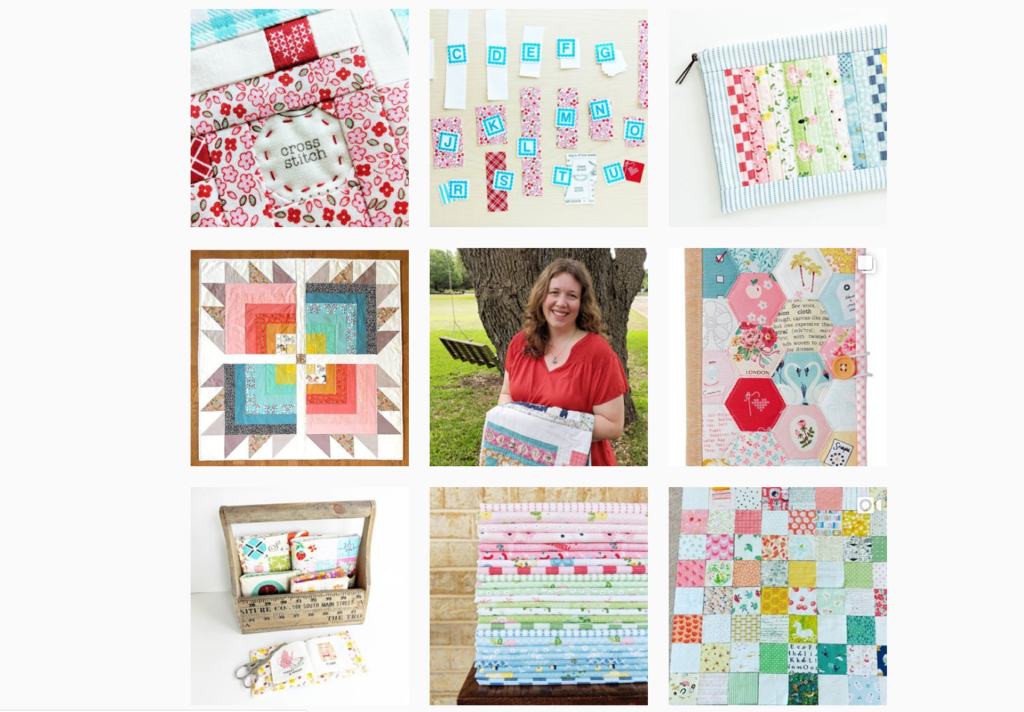 You'll find Heidi on Instagram @fabricmutt. Be sure to follow her Insta feed for fabric updates plus loads of gorgeous photos, ideas and inspiration!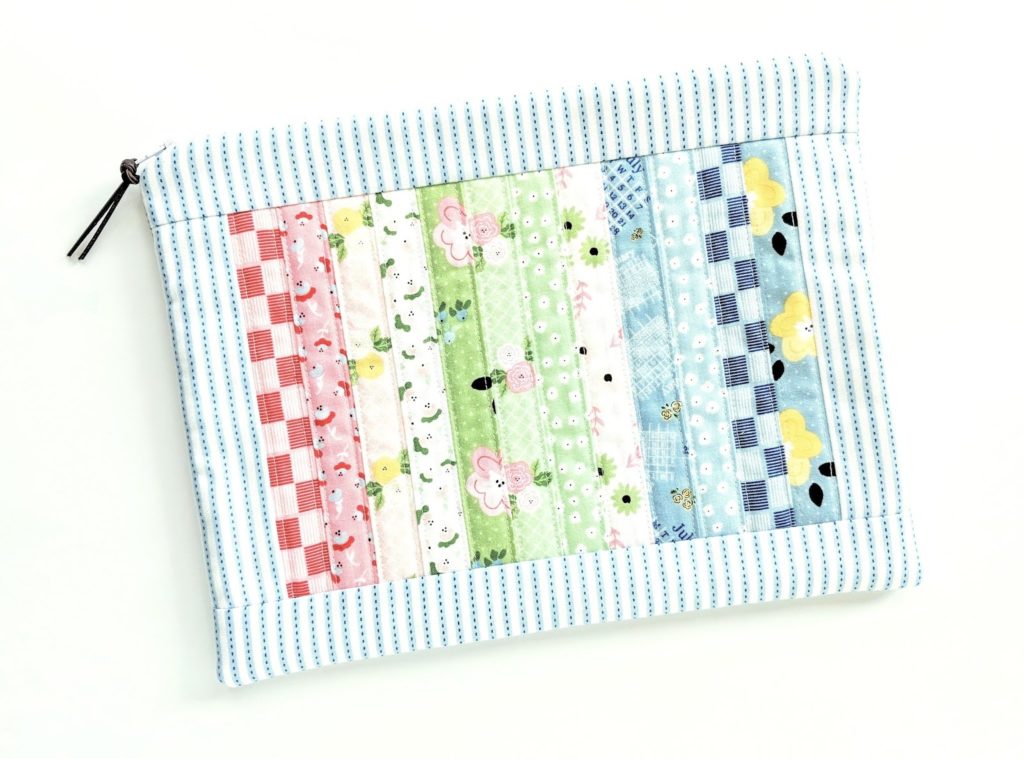 In order to get to know Heidi better, we gave her a list of words in alphabetical order to which she could give any reply that came to mind. Enjoy this fun and refreshing look at life from Heidi's unique perspective!
Annoying: Telemarketers — they are not my friends.
Begin: It's always easier to begin a new project than to finish the one I'm making.
Can't: I can't live without sugar and caffeine. I mean I probably could, but why would I want to?
Dogs: Fritz & Emma are my German Shorthair Pointer brother/sister dynamic duo, and Barney is my mom's dachshund. Guess who rules the roost? (Hint: it's always the smallest dog)
Extra: Pack the extra socks — you'll never regret it.
Family: My favorite people in the whole wide world.
Great: Great things are done with small scraps. 
Hero: Say what you will about Wile E. Coyote — the guy never gives up.
If: If I make a batch of cookies, I will definitely eat at least 20% of the dough.
Jokes: Never buy your kids a joke book unless you're prepared to hear each one read aloud to you within the span of the next week.
Keeper: If a man will do the dishes when you're tired, take the kids to their music lessons, and enjoy curling up with you and a good Jane Austen movie, he's worth your undying love and loyalty.
Lake: I was recently invited to join some friends in a stand-up-paddle-board-yoga-on-the-lake class. I told them that, considering my lack of dexterity and for the good of all mankind, it was probably better if I just joined them for lunch afterward. 
Monday: The hardest day of the week for me, followed by Wednesday — which is technically closer to Friday but somehow seems farther away when you're in the middle of it.
Next: It's good to look for the next big thing, but it's better to be where you are. 
Open: I leave one day each week open to take my daughters to lunch, because bonding over fries and ice cream is where mother-daughter relationships begin.
Possibility: Turning 40 means letting go of endless possibilities so that you can make peace with beautiful realities. Suddenly you don't have to make excuses to yourself anymore for who you've decided to be. You are who you are, and it's all good.
Quilts: simple vintage patterns + colorful modern fabrics = my favorite quilts
Rollercoaster: There's no rollercoaster out there equal to the emotions of three tired girls in the same room with their equally tired mother…
Sewing: The best hobby you'll ever have…not that I'm biased or anything.
Tricky: Living together as a family of seven with my husband, 3 girls, and parents has been the best decision we ever made, but it takes time to find your balance at the start. I always tell people that it takes two things — space and grace — to get it right. 
Undo: I've spent so much of my life thinking back to bad moments that I wish I could undo. Now I try to think back instead to wonderful moments that I can still enjoy in my memory. 
Vacation: Take a road trip at least once.
Window: One of the things I love most about my house is the large windows in almost every room — the light is amazing.
X-ray: I can't remember if I've ever had one because I've never broken any bones…yet (see answer to "Lake" above).
Yarn: Now that I'm starting to pick up crochet, I get to be a yarn hound as well as a fabric hound. Is life great or what?
Zoo: Life with kids every…single…day. And you know, I still wouldn't trade it for anything…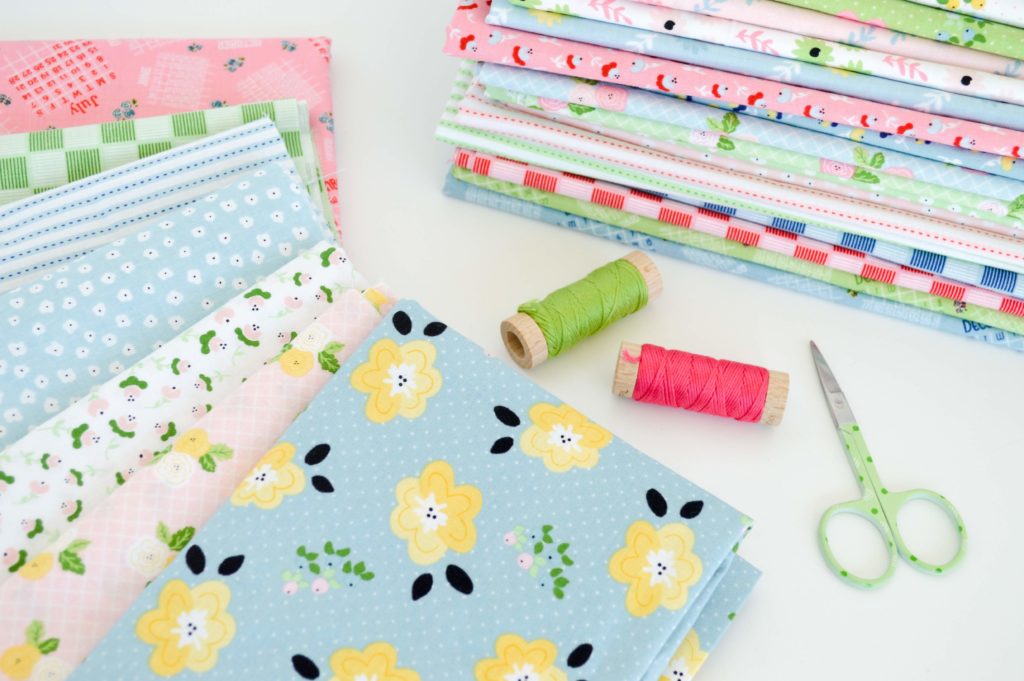 What fun answers! Thank you, Heidi, for allowing us to get to know you! Heidi's Date Night fabric collection is available now at your favorite local and online quilt shops so be sure to pick up yours today…..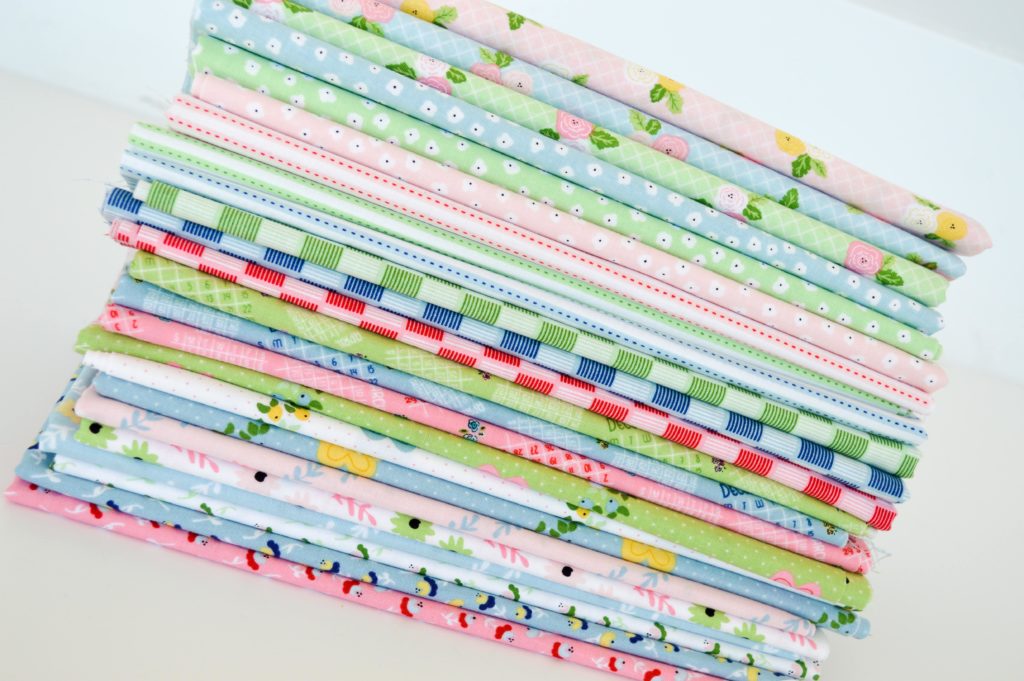 ….Or hop on over to our Riley Blake Designs Instagram feed to find out how you can win a FREE 1/2 yard bundle of Date Night!
Happy Sewing!