An empowerment project to inspire, encourage and spread love through our creative sewing talents and gifts!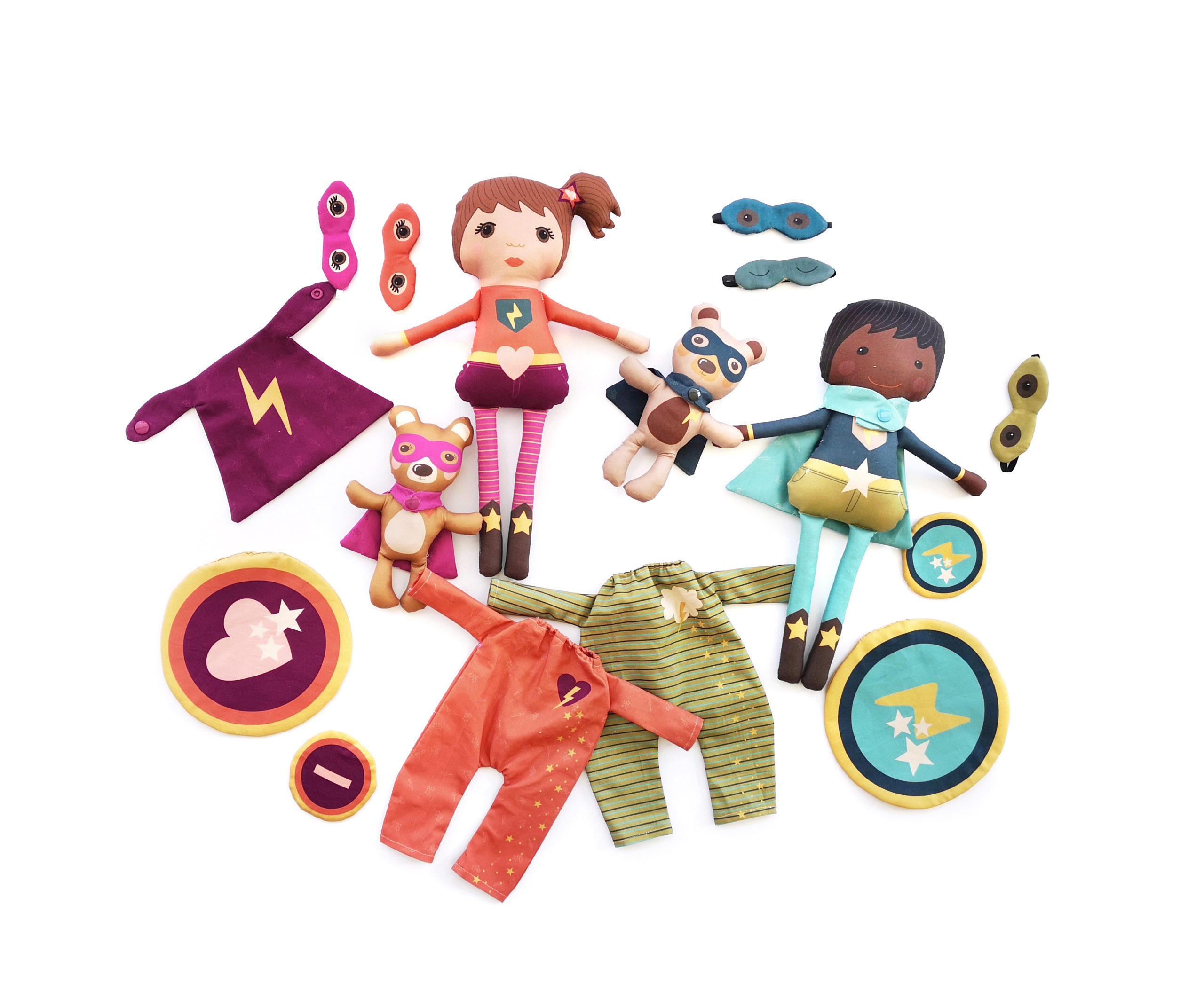 Hello friends, this is Jennifer Long, Bee Sew Inspired. Today I am sharing with you a peek inside my first panel collection – Be A Superhero with Riley Blake Designs. I designed these Be A Superhero Panels to be a wonderful and simple, handmade toy, gift or opportunity to teach children to sew.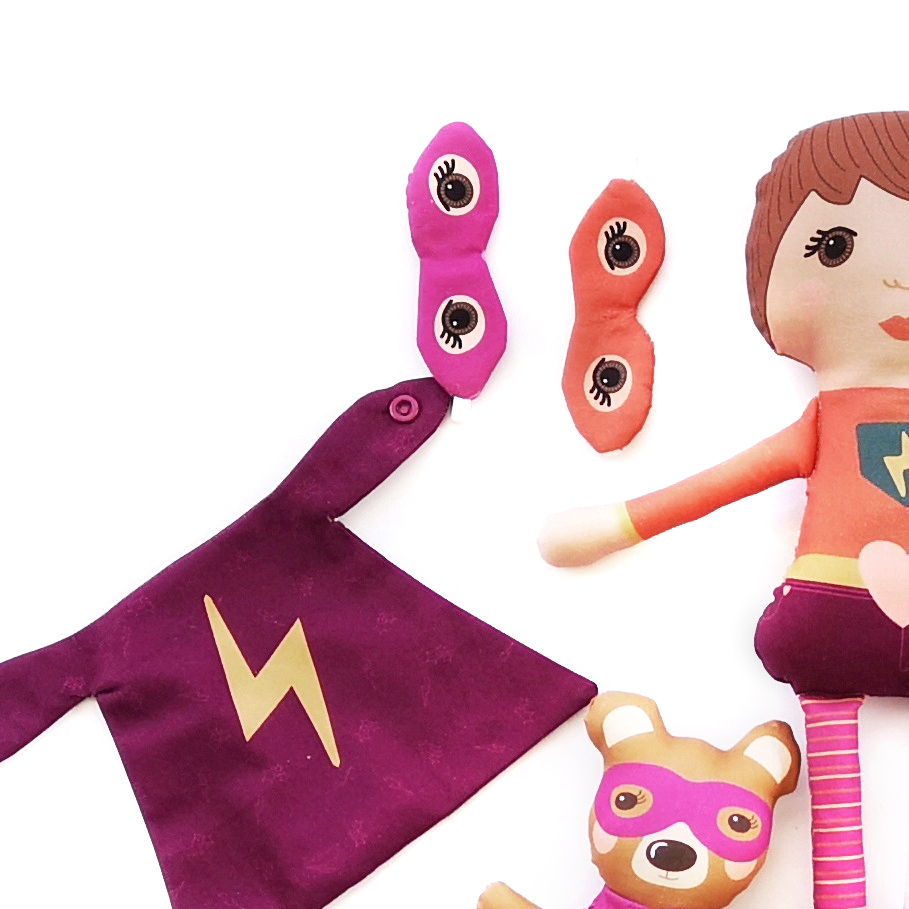 When I started designing these panels, I was thinking of ways we could give, thank and inspire all the ordinary superheroes in our everyday lives! Think teachers, nurses, receptionists, caregivers, patients, big brother and sisters… and so much more. Be A Superhero is for ANYONE who needs encouragement or recognition for the extra step they have gone. Do you know someone in your life like this?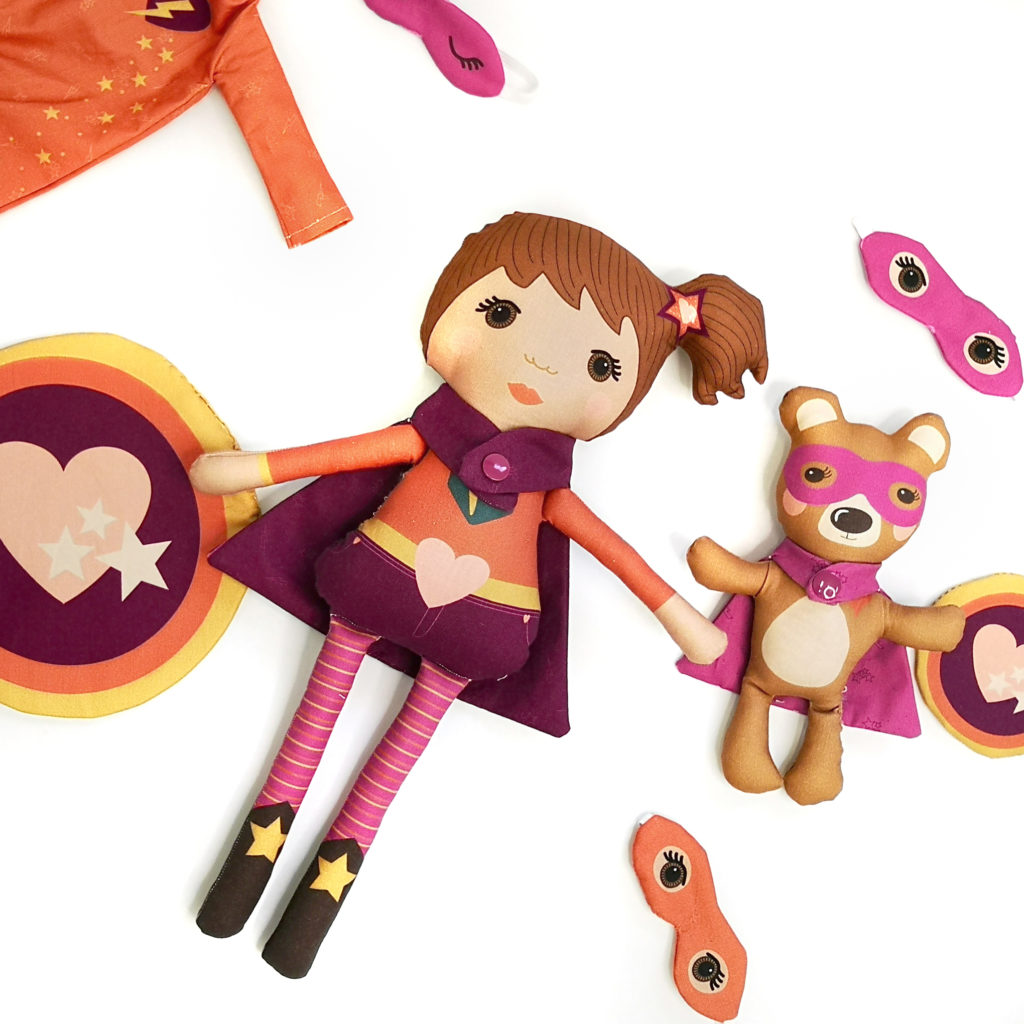 1. Sew a "Be a Superhero" Doll, Pillow or Quilt.
2. Take a photo of your Superhero holding the doll, "wearing" the quilt, laying under the quilt or wrapped in the quilt and being transformed into a Superhero!
3. Post it on social media under the hashtag #superheromovement
4. Bee Sew Inspired (Jennifer Long), will share and link YOUR photos under this hashtag to a collage on the Blog to lift up the good news stories of all the superhero's everywhere in the world! Anyone can be an ordinary superhero! Let's fill up the social media feeds with Superheroes!
5. Be a part of the power of sharing love, spreading good news stories and lifting each other up, everywhere around the world!
Superhero Doll Panels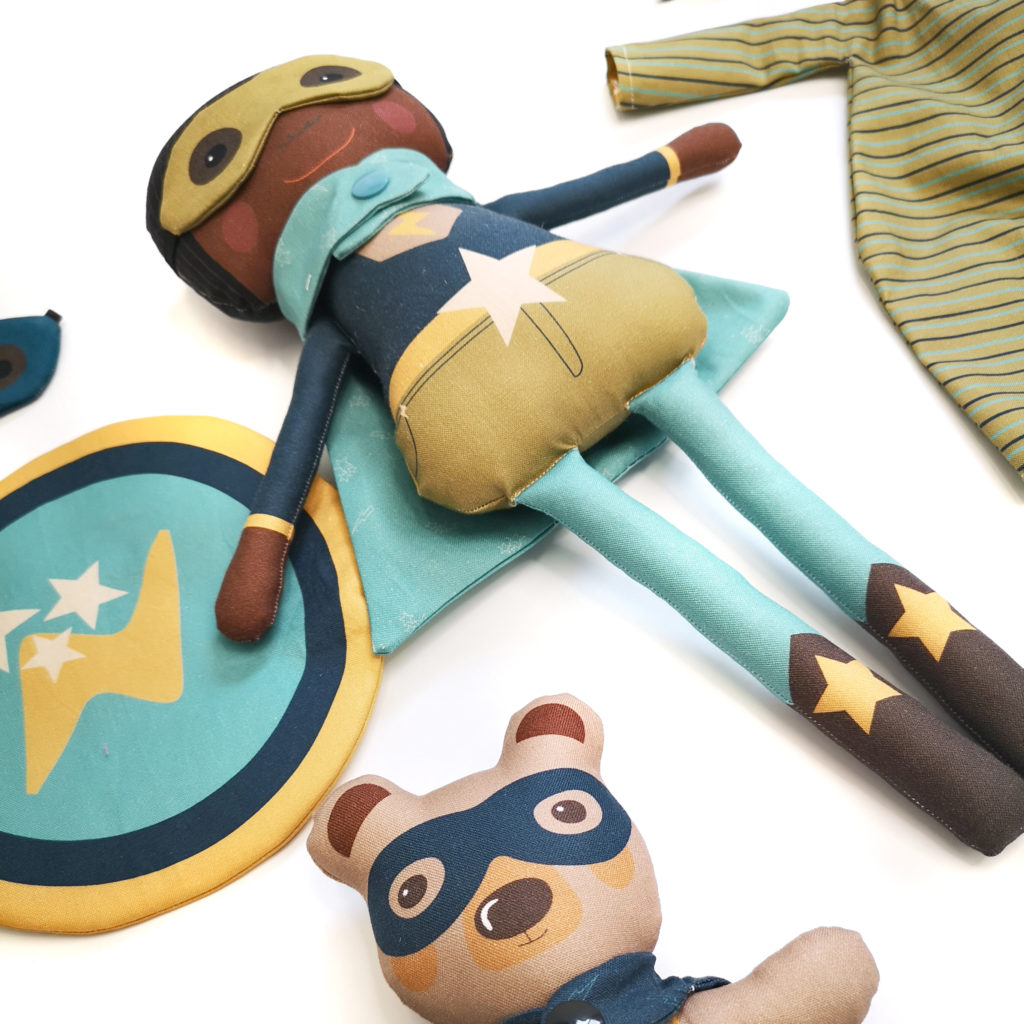 Use the Be A Superhero Doll Panels to create beautiful, high-quality, modern rag dolls. Each Doll panel makes (1) 15" Superhero Doll, (1) 8" teddy bear and the following accessories: removable Doll superhero cape, mask and shield, doll pajamas, doll sleeping mask, teddy bear cape and shield.
Collect all (6) Be A Superhero Doll Panels and mix and match clothing, teddy bears and accessories to create a wonderful, dramatic play center!
Use the doll panels for other fun projects such as quilt patterns (P177-COMICBOOK) (P177-BEFEARLESS), (P177-BEBRAVE), and (P177-BEBOLD) pillow patterns (P177-CITYSCAPE) and more!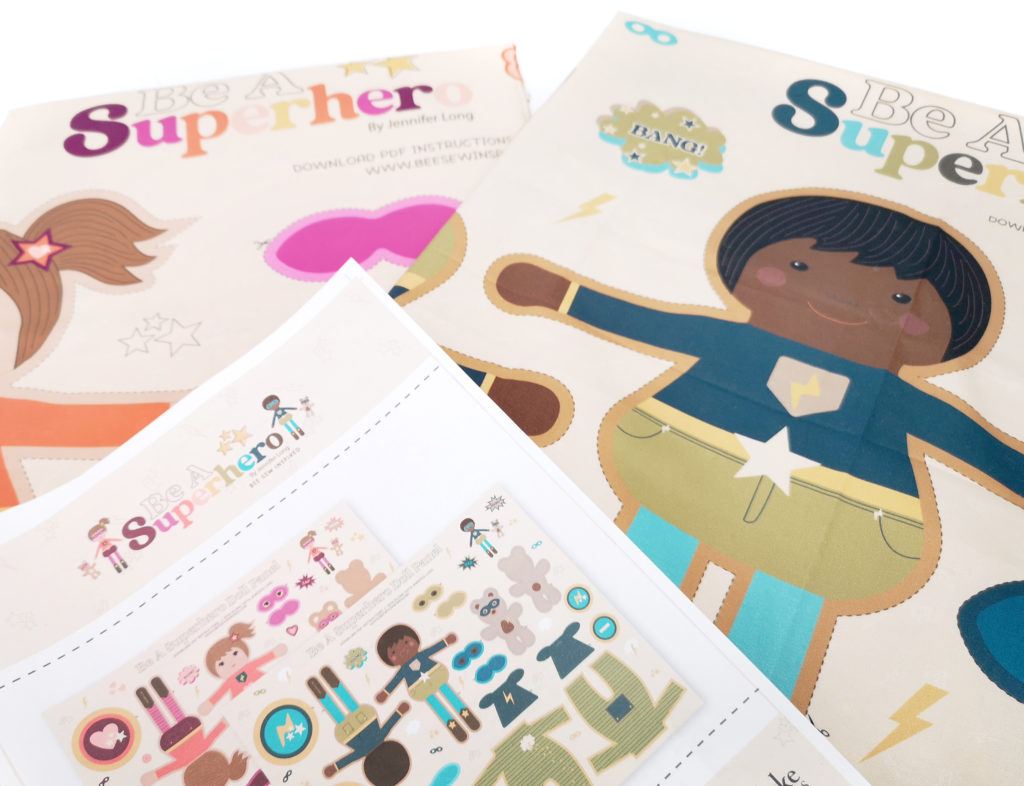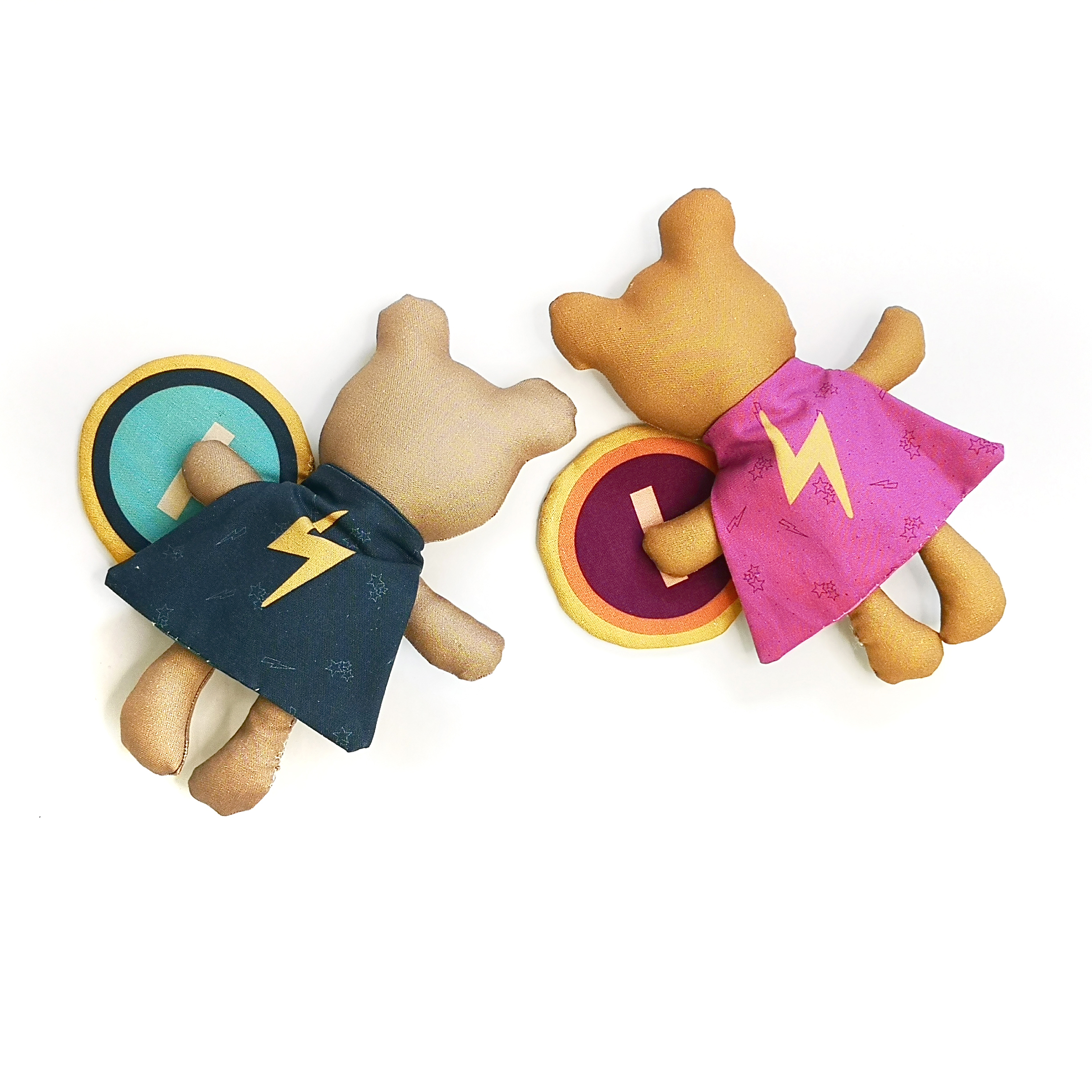 The complete instructions for the Be A Superhero Doll Panels are a FREE download on the Bee Sew Inspired website HERE.
Join the "Be A Superhero" Sew-Along
Join the Sew-Along, learn tips and tricks to Doll Making with the ease of Panels, and empower the next generation at the same time! Will you be making Donation Dolls this Holiday season?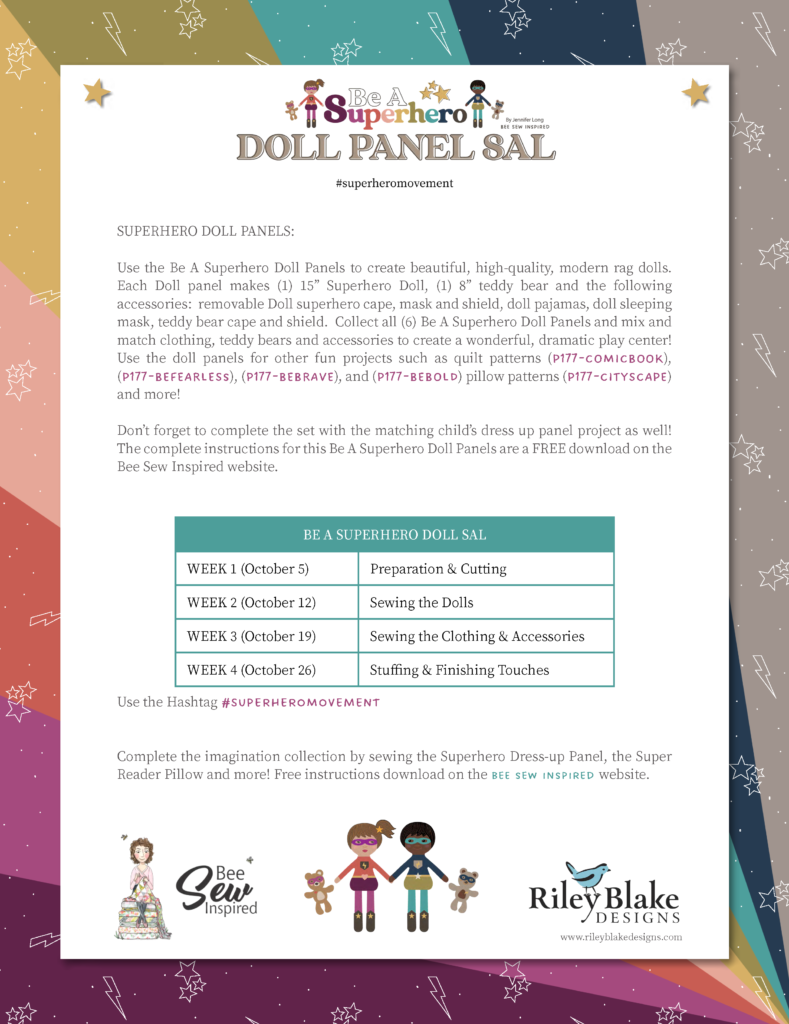 Be A Superhero Doll Panel SAL
October 5 Week 1: Preparation and Cutting
October 12 Week 2: Sewing the Dolls
October 19 Week 3: Sewing the Clothing & Accessories
October 26 Week 4: Stuffing & Finishing Touches
Use the Hashtag #SuperheroMovement
Join the Bee Sew Inspired Newsletter HERE.
Watch the weekly videos HERE.
Superhero Dress up Panels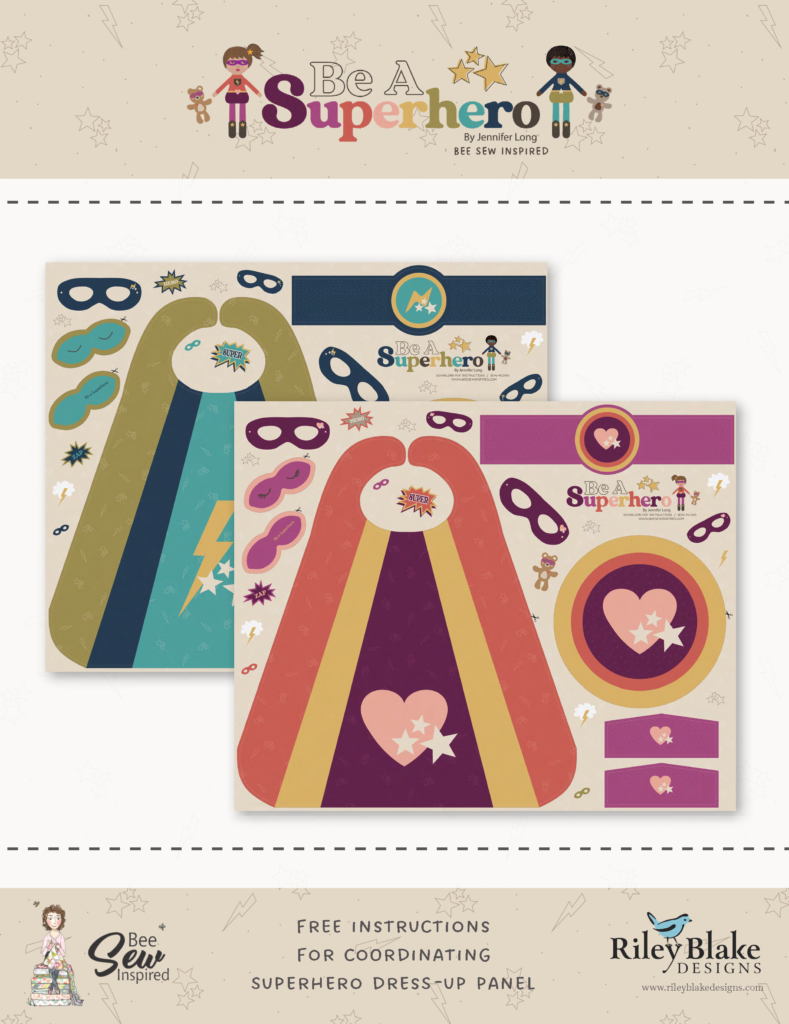 Bring your child's imagination to life with the Be A Superhero Dress-up Panel! Empower your child to believe in themselves in a whole new way! Watch their confidence build and their creativity blossom when they dress themselves as a Superhero. Let them wrap themselves with the love of handmade and the empowerment of a Superhero!
The panels includes the front cape and pattern, Superhero and sleeping masks, cuff bands, belt and shield! Option to use additional yardage to line and quilt the cape and shield. The shield is supported with firm stabilizer. The complete instructions for this Dress-up Panel are a FREE download on the Bee Sew Inspired website. Use the dress-up panel for additional fun projects such as the Super Read Pillow pattern (P177-SUPERREADER) and more!
Superhero Quilt Patterns, Pillows and more..
Take your creativity to the next level and use the "Be A Superhero" Panels to make Quilts, Pillows and more! The "Be A Superhero" Quilt Pattern transforms the recipient INTO a Superhero when they lay under the quilt! Or build your own story with the Comic Book Quilt Pattern!!! Why not encourage good reading habits with the Super Reader Pillow pattern?
Let's build our confidence, encourage our creativity and inspire the next generation!