June has been galloping by, so I'm a bit behind with my Chunky Thread feature this time – but here we are!
It's summer finally in the Pacific Northwest. June has been unusually cool and rainy here, so the very hot weather is still delayed and we are not complaining about that. But because of the constant temperature fluctuations, it's hard to dress the little ones for both the warm days and the cool evenings.
Cotton layering garments are the perfect solution, so I pulled out my Swing-in-a-Circle Infant Bolero pattern and gave it a refresh with Chunky Thread for my 18-month-old.
Circle garments are fun to make, and a lot easier than other types of garments if you are new to crochet. This one can be finished and ready to wear in a remarkably short time. Chunky Thread is a great fiber and weight for warm weather crocheting, so I decided to show the pattern in two versions for mix-and-match ability, and to show the difference that color choice can make with the same project.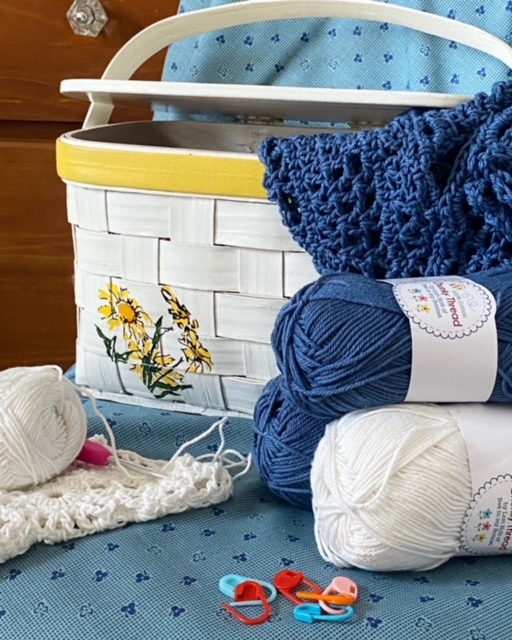 The original pattern was all one color, so I did one version in Denim (such a pretty blue color!)
But of course with crochet the possibilities of playing with color are endless. I decided to try a second version with the sleeve shaping round in a contrast, and love the little edging it gives to the sleeves.
A little easy flower corsage decorations one shoulder and holds the collar in place at the same time. This would also be a fun place to use a felt flower or other types of decoration as well.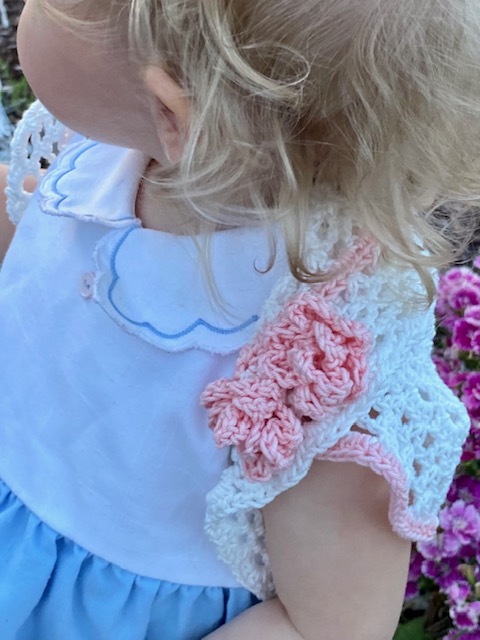 The cotton holds its shape well for a baby garment, and it's completely washable – definitely a win-win! I definitely recommend using it for your summer crochet projects, whether they are home dec or garments.
Thanks for following along with my crochet adventures!
Till next time, Kristen from Verity Vintage Studio