One of the most unique elements of our event is the quilt display. The gorgeous Ashton Gardens are filled with YOUR quilts. Hanging from trees, suspended above the grassy areas, and on display frames under tents. The quilts on display truly take this event to the next level.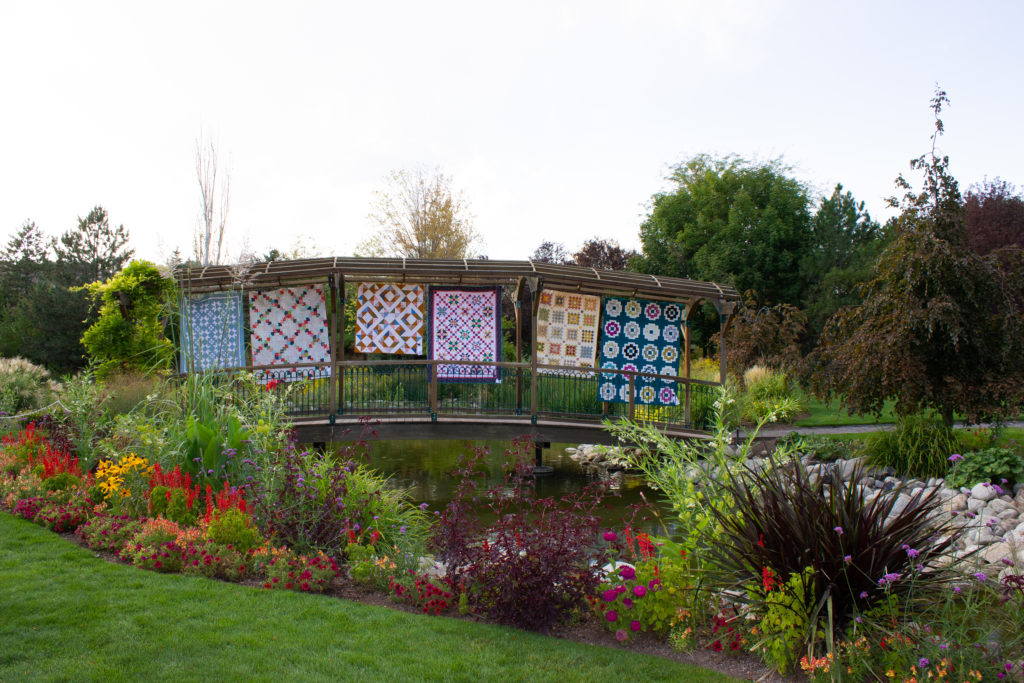 Over the years we have only increased the number of quilts on display. We showcase all types of quilts from mini quilts to king sized, from beginner to advanced, from modern to traditional.
We would love to have your quilts on display for our 2023 event! Please read on for FAQ's and details about the quilt submission process.
FAQ's
What about rain or bad weather?
We appreciate that each quilt is a valuable work of art and we have processes and systems in place to protect the quilts from loss or damage to the best of our ability. Quilt protection is a priority and taken very seriously by us. Ultimately, the Garden of Quilts is an outdoor event. As such, displayed quilts will be subject to the elements. These conditions can include (but are not limited to): sun, wind, rain, dust, dirt, smoke, damage from wild animals, etc. All that said, on your quilt tag you have the opportunity to indicate if you want your quilt taken down in the case of rain. If you are submitting a red quilt that might run we would recommend that go under a tent. However, we have left many of our personal quilts up during rain and no damaged was noted.
Could my quilt be stolen during the event?
We take the security of the quilts very seriously! On your application you will find a section to mark your consent that we pin an RFID security tracker to your quilt. These tags ensure that no quilt leaves its designated area and alarms will literally sound if someone were to attempt to take a quilt from the campus. Fortunately we have never encountered an issue with theft.
I am a beginner quilter and I don't know if my quilts are good enough to display. Should I submit my quilts?
YES! We have displayed a huge variety of quilts. Every quilt has something to offer. From simple patchwork to tee shirt quilts, we have seen it all. You never know who will be inspired by your quilt. This event truly welcomes all skill levels and we would love to see your quilts.
For more details about quilt submissions and to apply, please visit our event website below. We hope to see your quilts in the gardens!