I love sewing curves! It hasn't always been that way, but after some practice and finding the right tools, curves are fun! Hello, friends, I'm Julia from Bayhill Studio, and today I'm sharing my super curvy November Nights quilt featuring fabric from the Painter's Watercolor Swirl collection designed by the lovely and talented J. Wecker Frisch.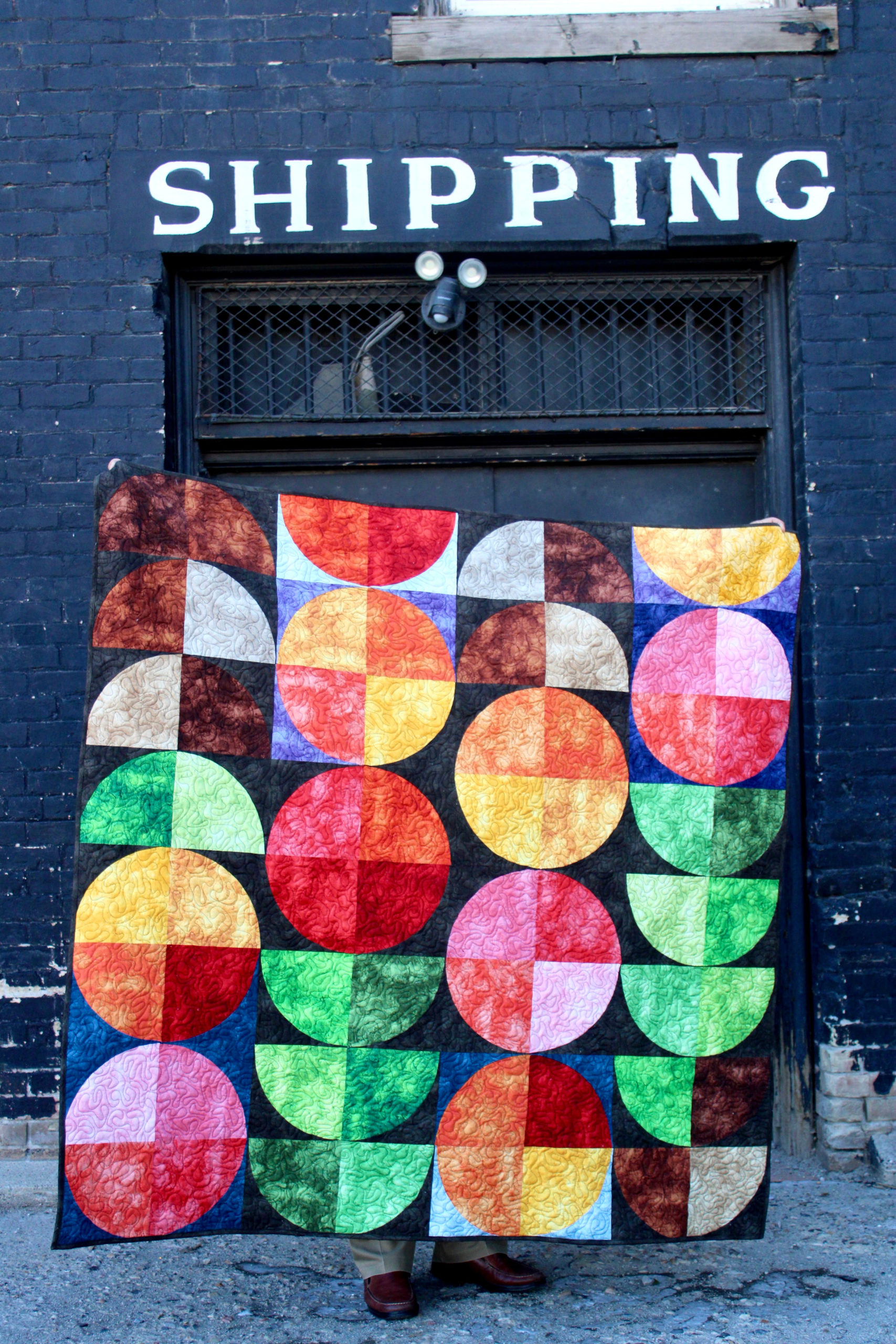 This quilt was inspired by the flowers I see as I look out my kitchen window. As the nighttime temperatures drop this time of year, the stems are turning brown, with just a bit of green hanging on, and the bright colors of the petals are starting to fade.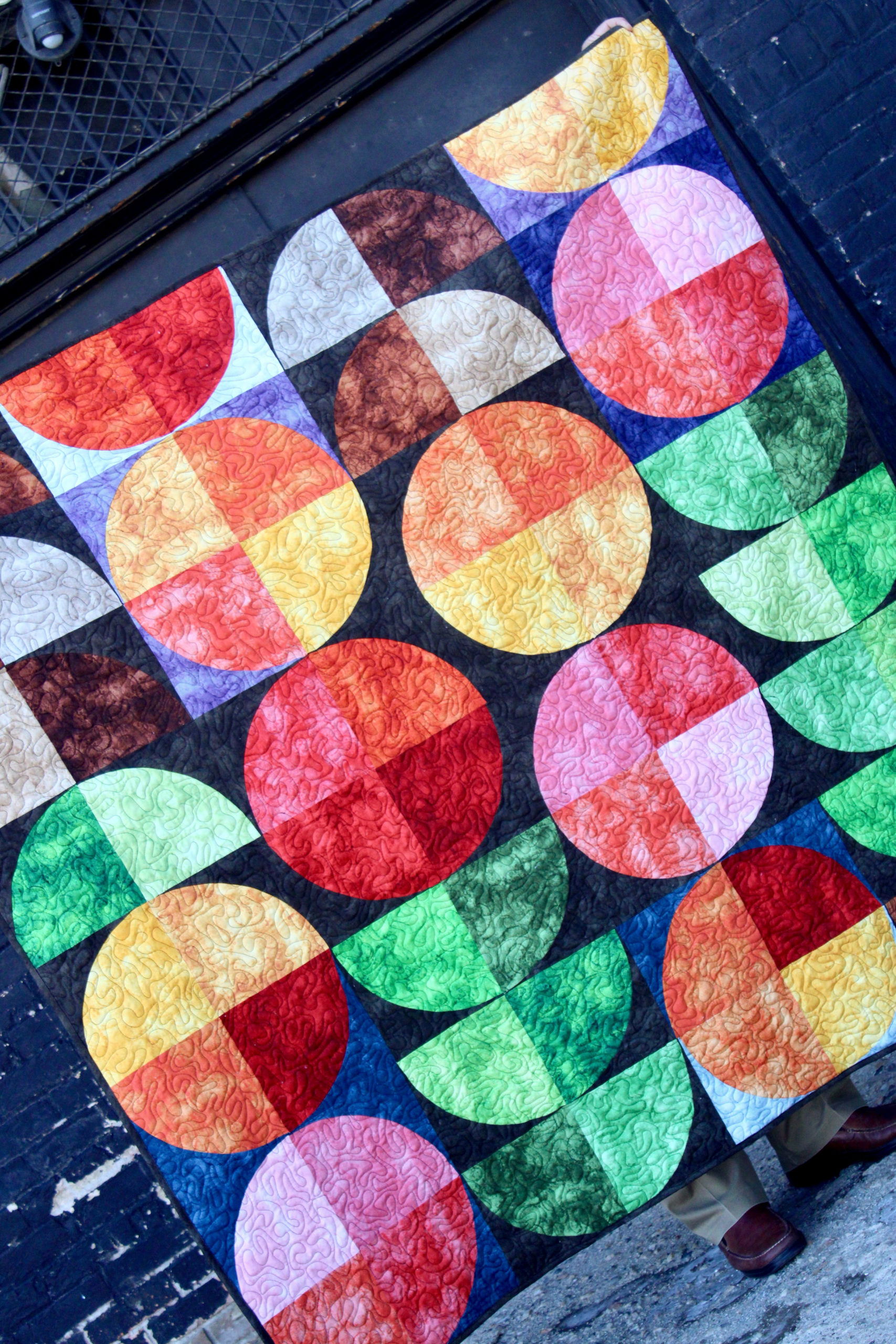 The backdrop is a dusk sky, with a few shades of lighter blue along with some deeper ultramarine, periwinkle, royal, and then a gorgeous deep shade of charcoal.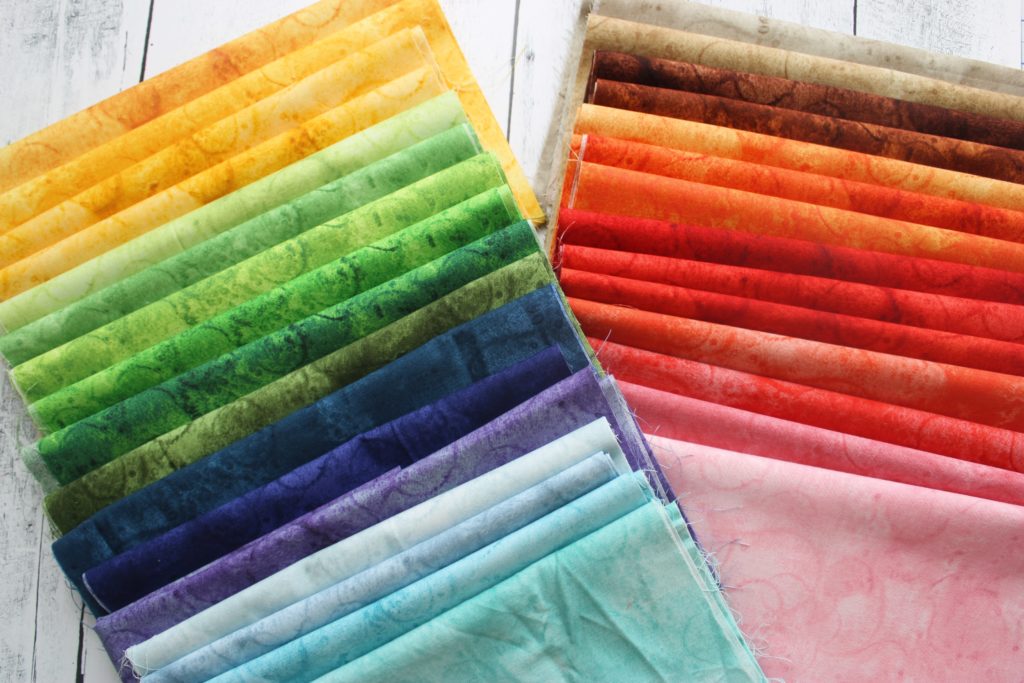 Here is a look at the colors I used. Aren't they gorgeous? The fabrics come from the Painter's Watercolor Swirl collection by J. Wecker Frisch and they are pure eye candy! All of the fabrics are 1/4 yard cuts, with the exception of the charcoal. I used about 1-1/2 yards of charcoal for the background and binding.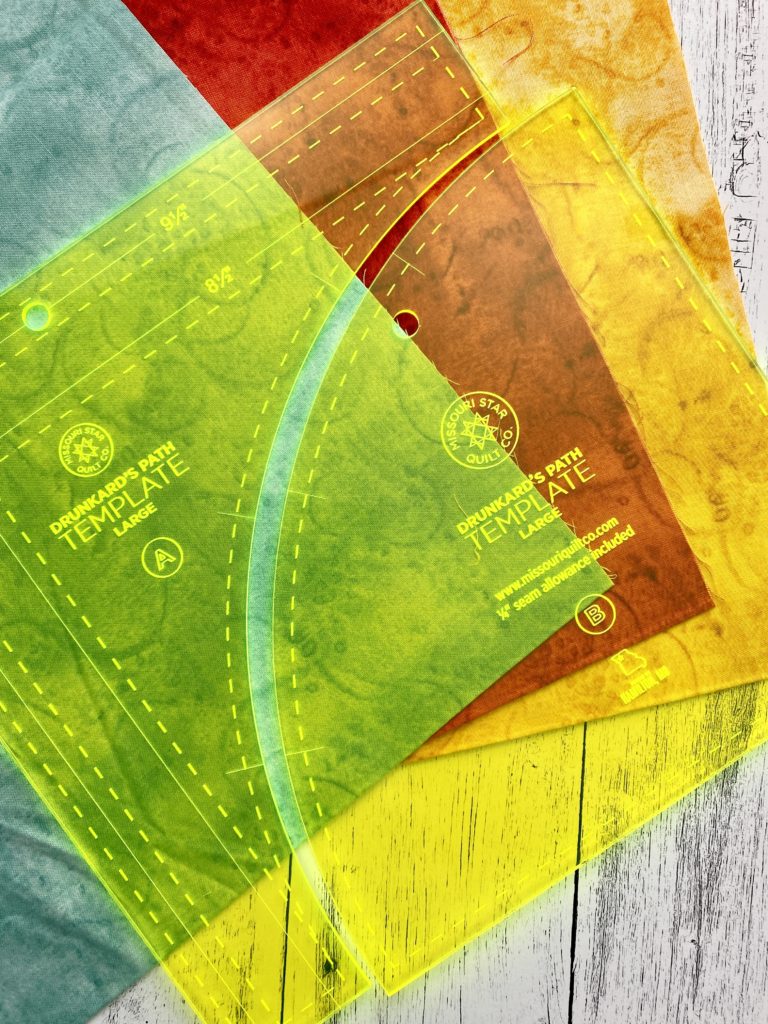 To simplify the drunkard's path block, I used this awesome TEMPLATE from Missouri Star Quilt Co. The template is designed for making large drunkard's path blocks measuring either 8-1/2″ or 9-1/2″ square. I made the 8-1/2″ blocks for the entire quilt.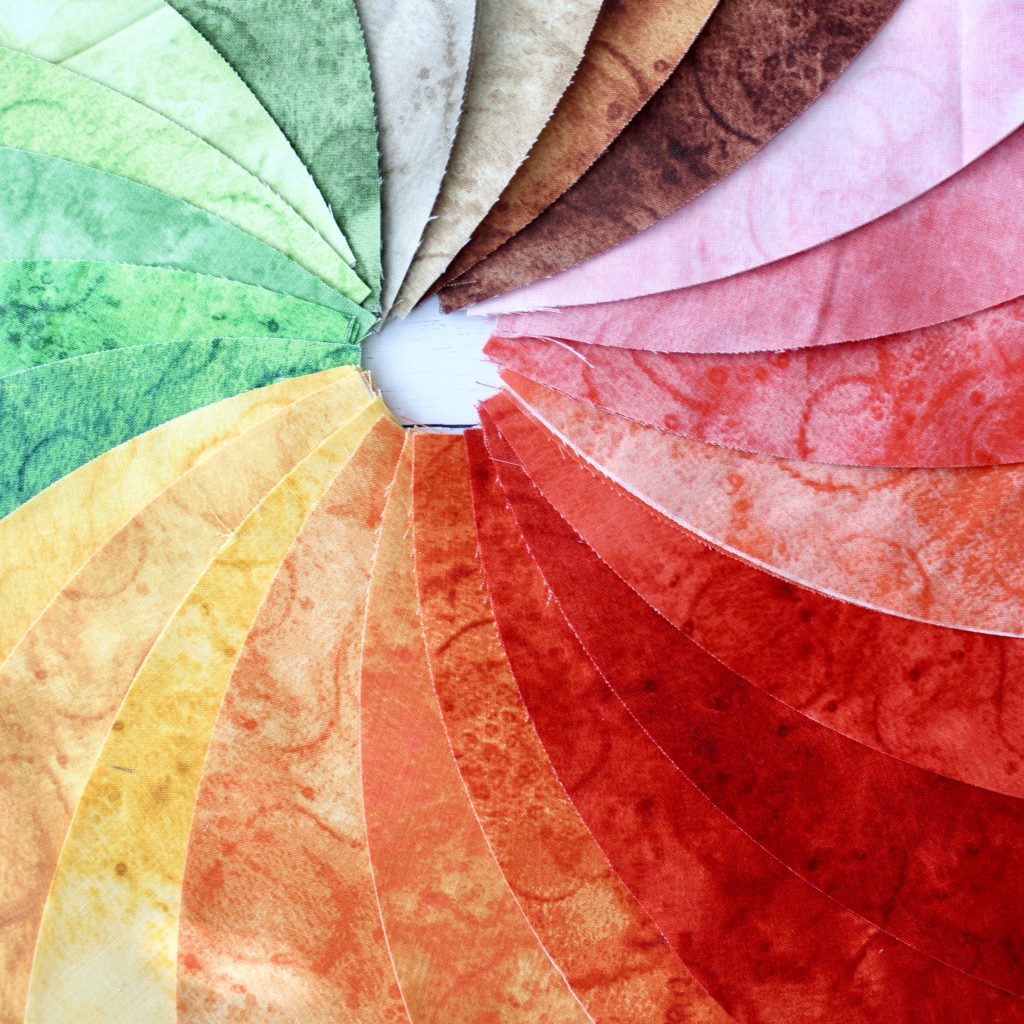 I had to take a photo of the cut fabrics. Here you can really see the tonal swirls and subtle color variation in all of the fabrics.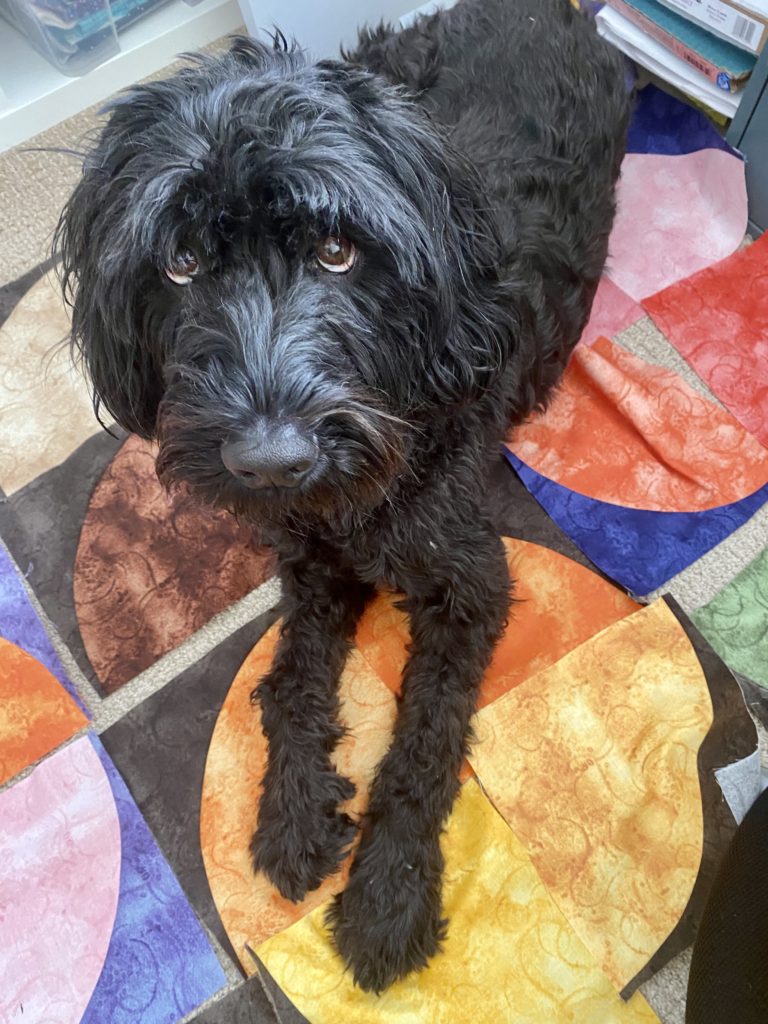 Because the blocks look so much alike, with similar shades of color, yet varying in their backgrounds, I had to be really careful in labeling them and laying them out as I went along. My scroungy looking pup, of course, had to make himself comfortable right in the middle of it all, because that's what dogs do, am I right?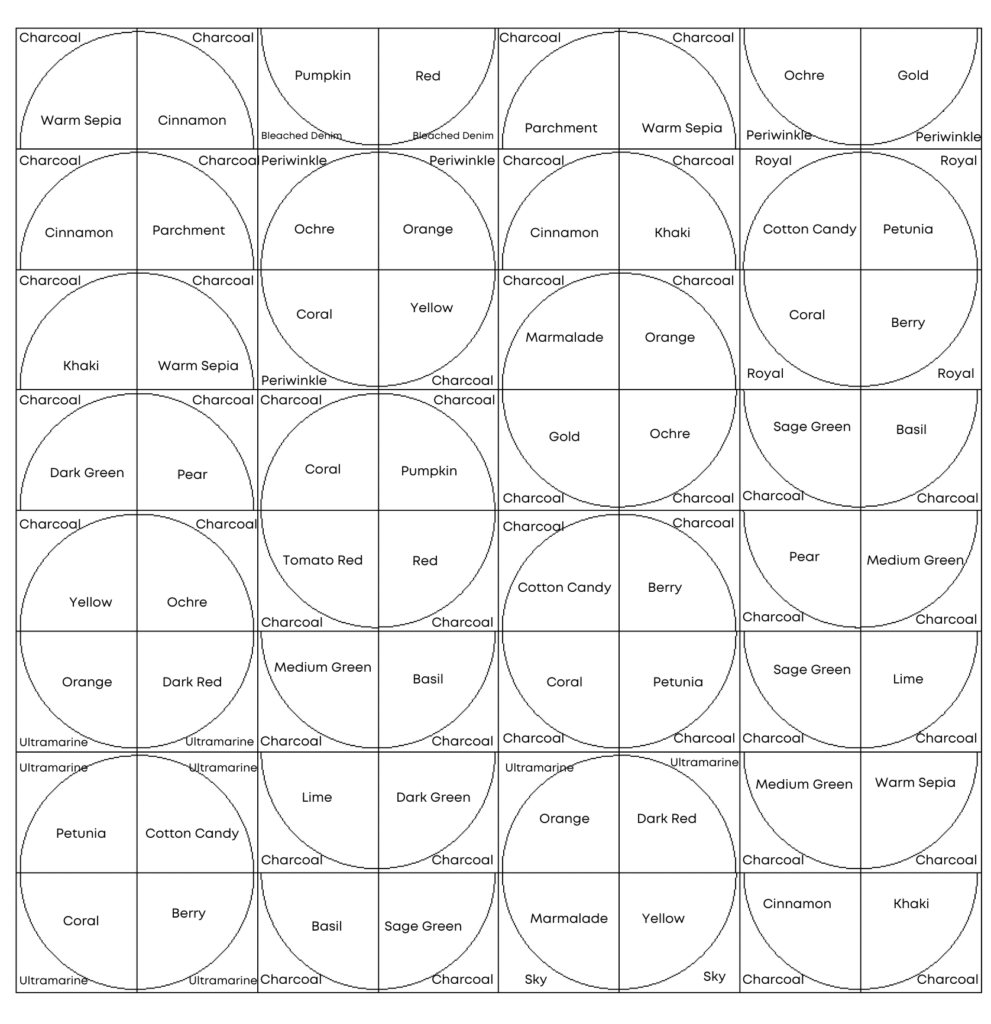 Here is a printable outline showing the colors that I used and how I positioned them on the quilt. You can use the outline to replicate this exact quilt, or you can use it as a springboard to get creative and design your own color palette if you like.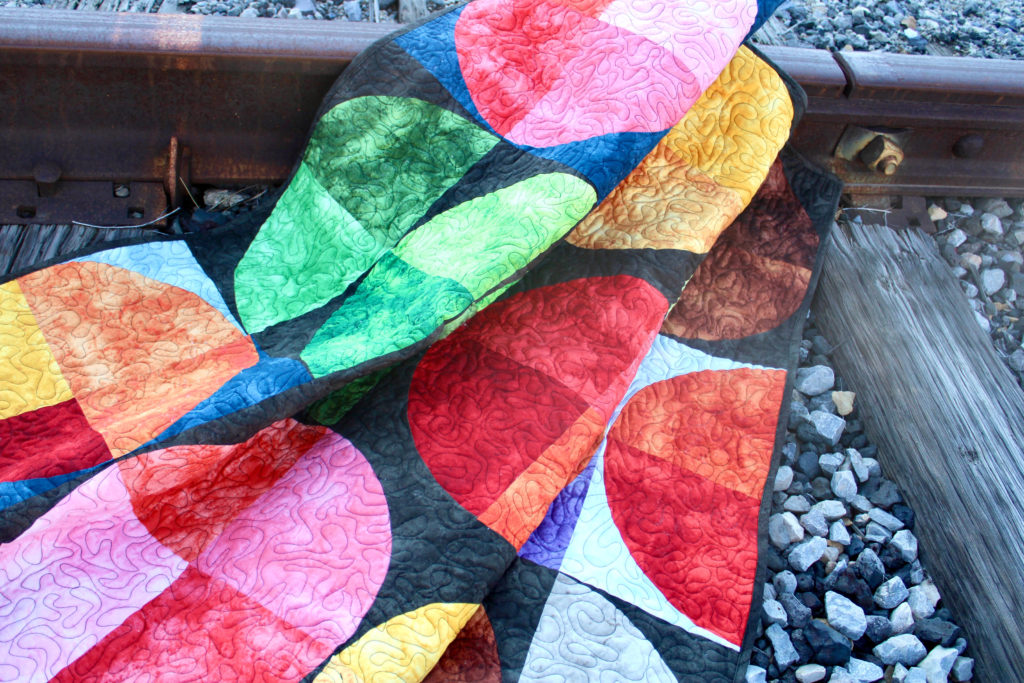 As I laid out the blocks, I did rearrange a few colors here and there until I had it exactly how I liked it. This isn't a quilt design that is set in stone. Play around with backgrounds and color and have fun with it!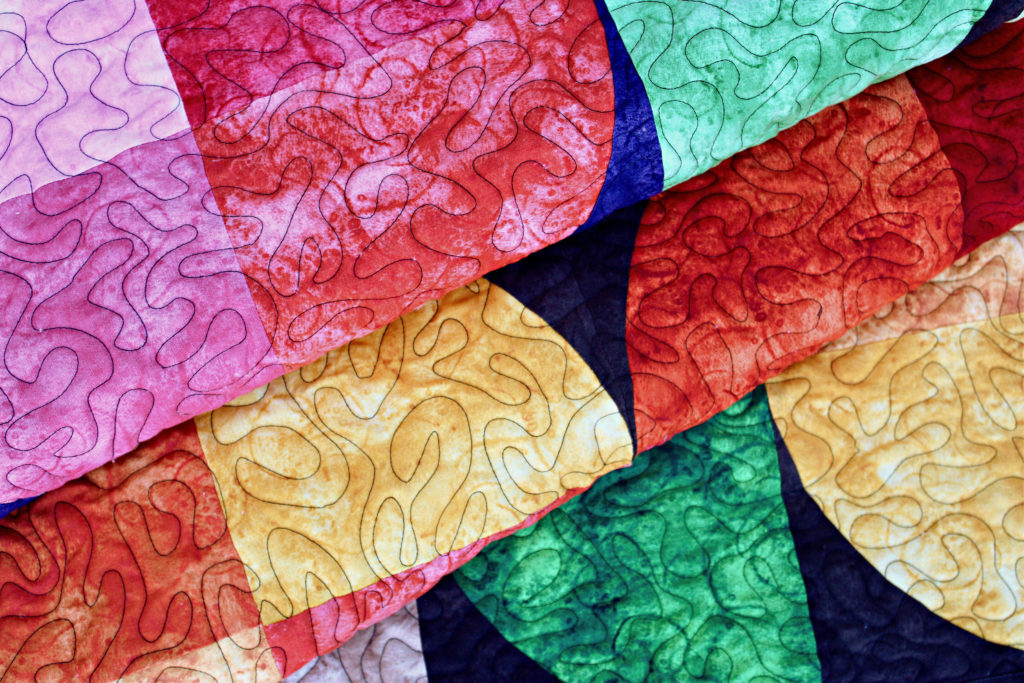 Here's where I had to get really brave. I really debated what color thread to use. Ultimately, I decided I needed the quilting to blend in with the background, which is predominantly charcoal and deep blues, so I opted for black thread. This meant that it would REALLY show against the bright colors. I had to be really careful to not make any glaring mistakes that would show. I LOVE how the black thread turned out. I think it added a beautiful stained glass effect to the overall quilt.
I decided to go with a meandering design because 1) I love this design, 2) it is very forgiving, and 3) the large blocks had large pieces of fabric as their focal point. When you quilt with large, unpieced fabrics, they can have a tendency to pull when you quilt them. I knew if I did straight line quilting, they would do exactly that. This meandering design helps to maintain the integrity of the overall quilt design by not allowing the fabrics to veer off in any one direction in the quilting process.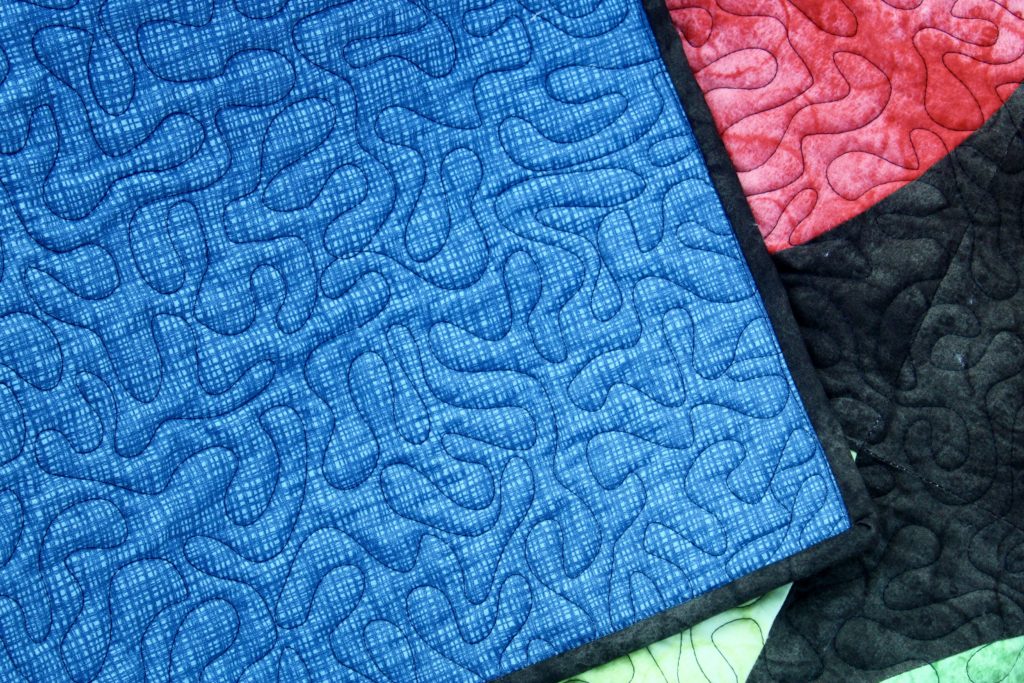 For the quilt back, I used Denim Texture, part of the Texture Basics by Sandy Gervais. I love the tonal look of the texture and I think it adds a balance of cool, casual against the more rigid modern quilt front.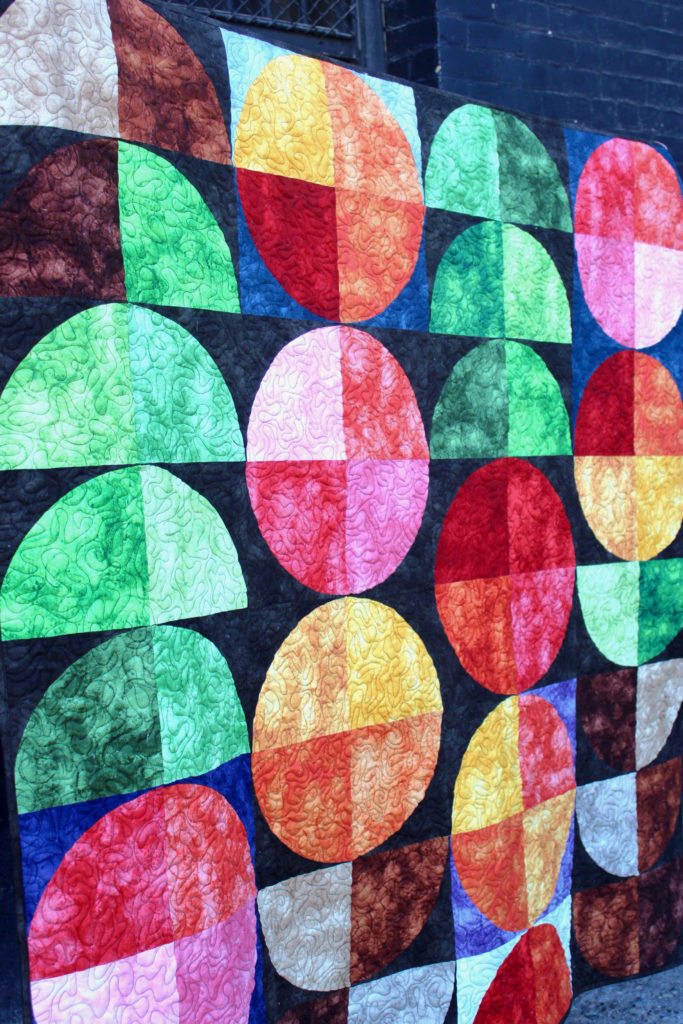 I used the charcoal Painter's Watercolor Swirl print for the binding. I love how the binding basically disappears and the quilt top holds all of the focus.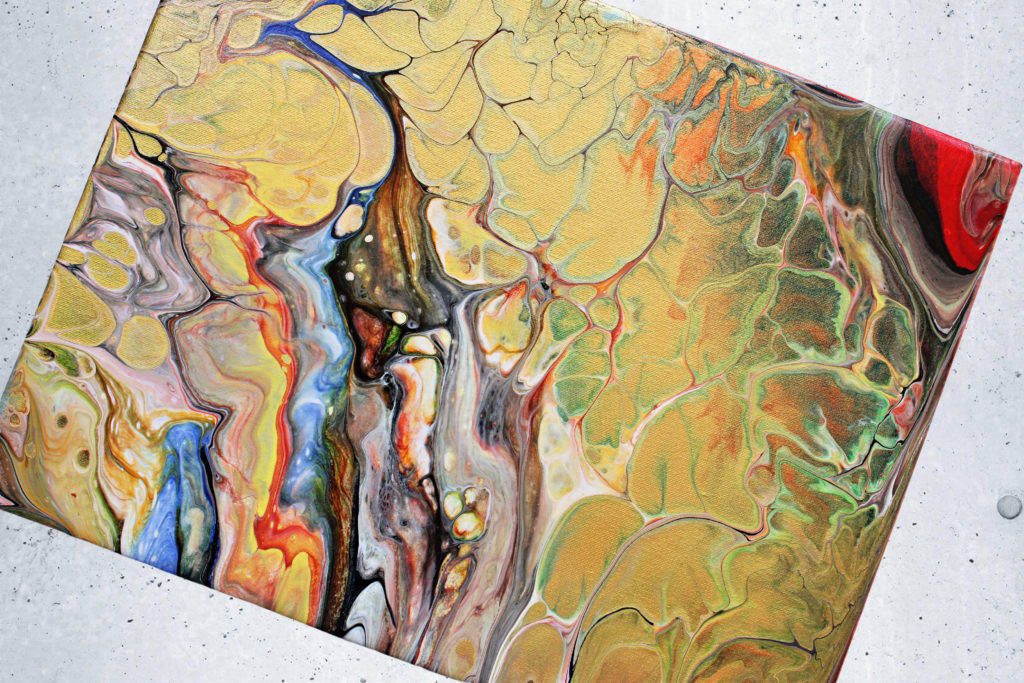 If you follow me on Instagram, you know I also love to paint. I created this 11″ x 14″ painting, also titled "November Nights" using the same color palette I used in the quilt, except with a big splash of gold for good measure.
Check out the video above to watch me create this painting and keep scrolling to find out how you can enter to win it!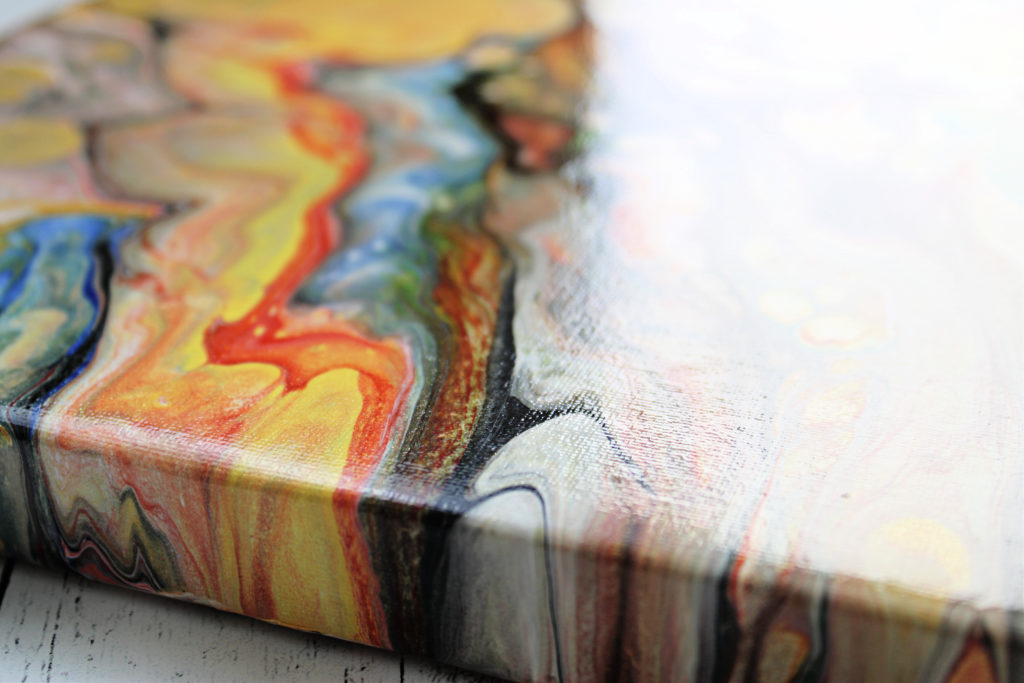 I used a fluid art technique on a 7/8″ canvas. One of my favorite parts about fluid art is seeing how the art flows over to the sides of the canvas.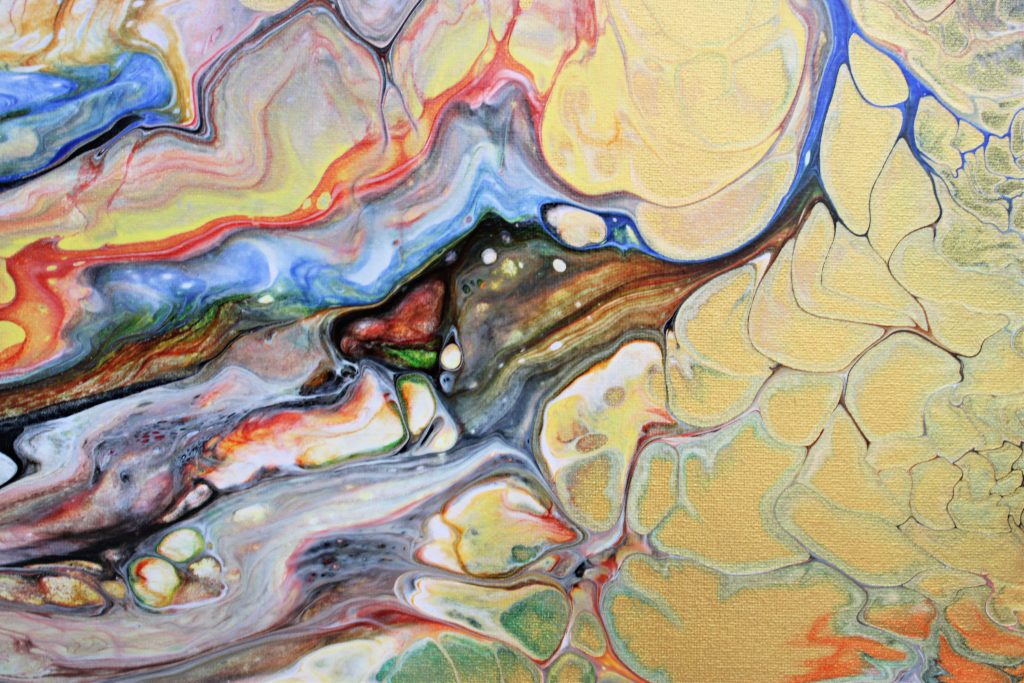 I also love how totally unpredictable it is. It's amazing to me how the same color palette I used in my quilt was able to look so entirely different in the painting. There is really no way to predict the outcome when you begin a painting, which is totally freeing and exhilarating.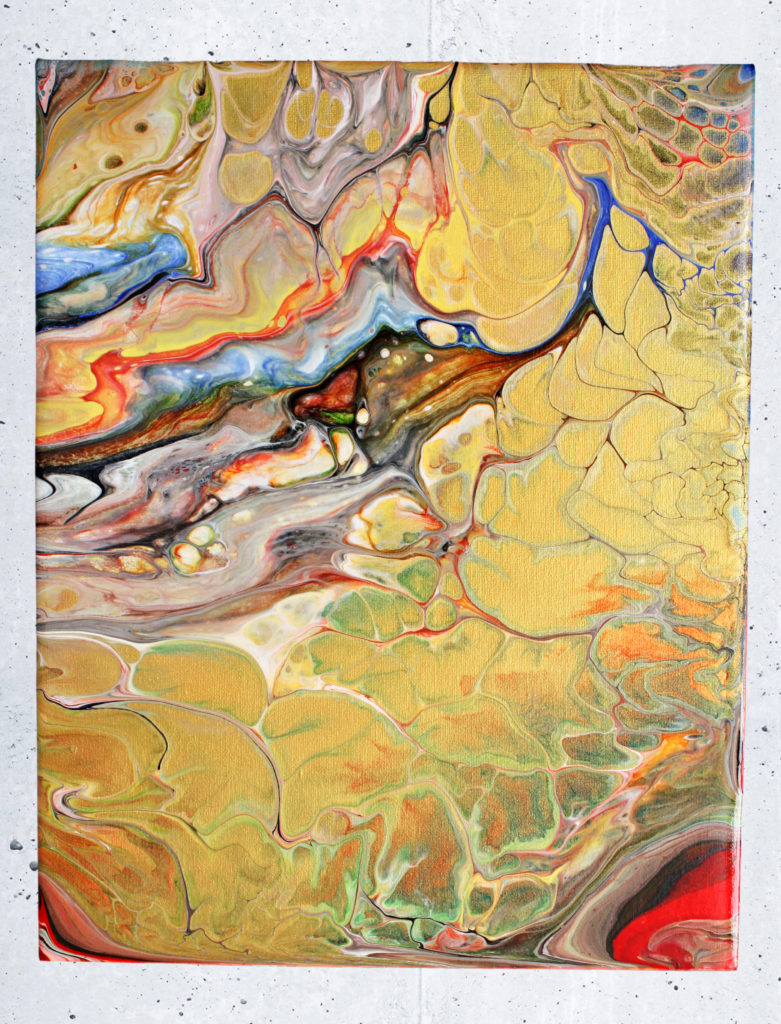 I'm super excited to announce that I will be giving away this painting to a lucky winner! Enter the giveaway using the link below! Prize includes November Nights & a bundle of Painter's Watercolor Swirl fabrics. Open Worldwide!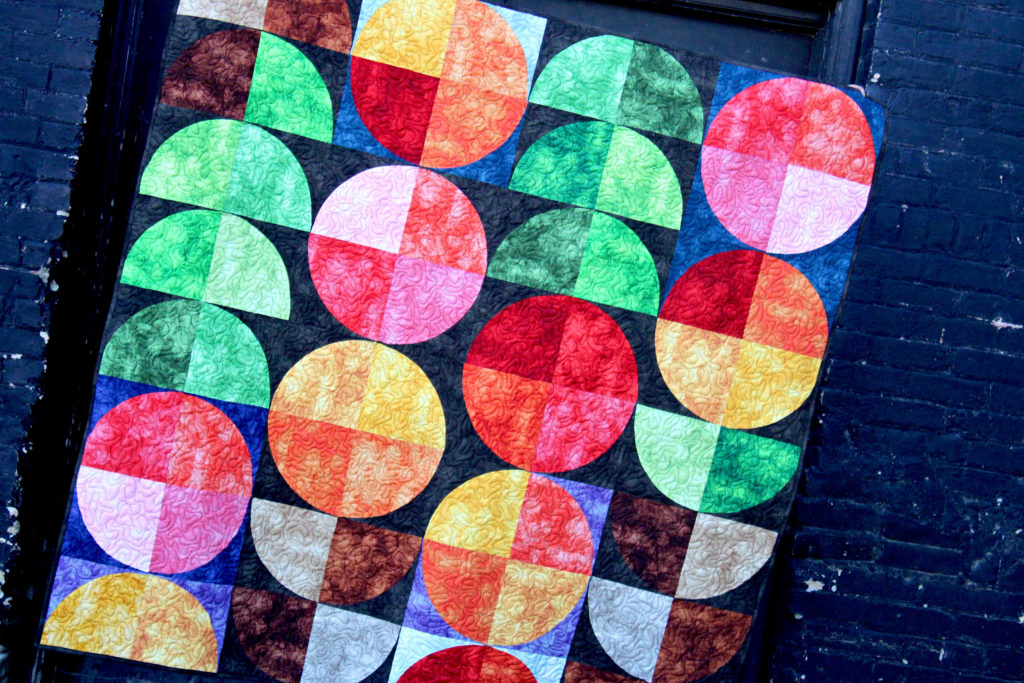 Back to the November Nights quilt — Hop on over to Instagram and tag me @bayhillstudio to share your versions of this quilt. I can't wait to see what you come up with!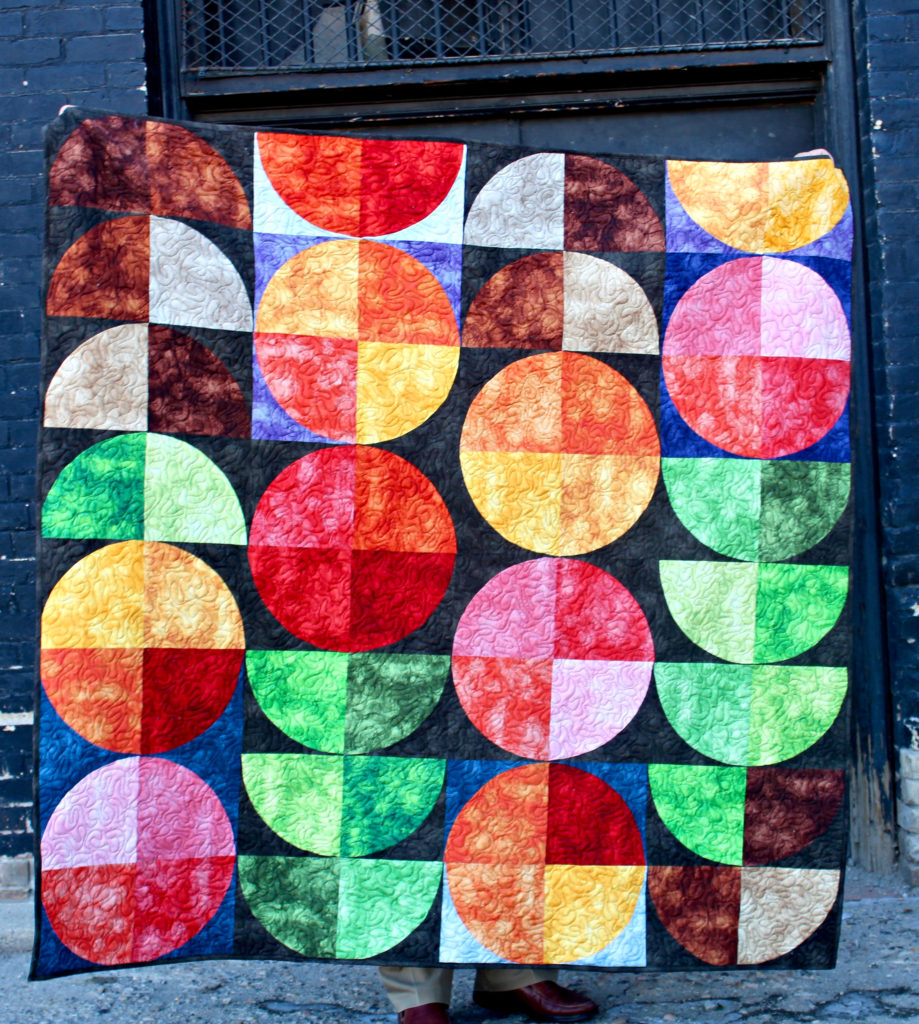 Thank you for stopping by! Be sure to enter the giveaway and follow my accounts on Instagram and YouTube for more creative content and project inspiration. Have a blessed day!