Do you want a fun, modern project to kick off the new year?
Hi, I'm Emily from Homemade Emily Jane. I'm a modern quilt pattern designer, online quilt teacher, aspiring quilt shop owner, and avid instagrammer. You can find lots of quilting tutorials from me on YouTube, or see my favorite projects on instagram at @homemadeemilyjane. I absolutely love using Riley Blake fabrics, and I'm excited to use Confetti Cottons in my upcoming Paradigm Sew Along!
Paradigm Sew Along
From January 24th – February 27th, 2022 I'll be hosting a Sew Along to make my most popular quilt pattern – the Paradigm Quilt Pattern! Each week we will make small bits of progress towards making a completed quilt top!
Each week I will send out an email with the Sew Along specifics for that week, and I will have a video to discuss the week's tasks and share my own tips for success.
The videos will be posted to my YouTube channel every Monday throughout the Sew Along. The emails will be sent out shortly after! Find out more about the Sew Along in this quick video:
Paradigm Sew Along Schedule
Over the next 5 weeks we will make progress towards a pieced Paradigm Quilt top. Here's the breakdown of the schedule. Please note you're welcome to work ahead or take it at your own pace! The weekly videos will be available on my YouTube channel for you to watch later on too. The quilt comes together super super fast, so you only need to dedicate a short time each week to make your progress. It's perfect if you're busy but want some motivation to sew at least a little bit each week.
Jan. 24 – 30: Get pattern & fabrics
Jan. 31 – Feb. 6: Cut fabrics & make 4 Corner Units
Feb. 7 – 13: Make 1 Economy Quilt Block
Feb. 14 – 20: Make 16 Flying Geese Blocks
Feb. 21 – 27: Piece all your Blocks Together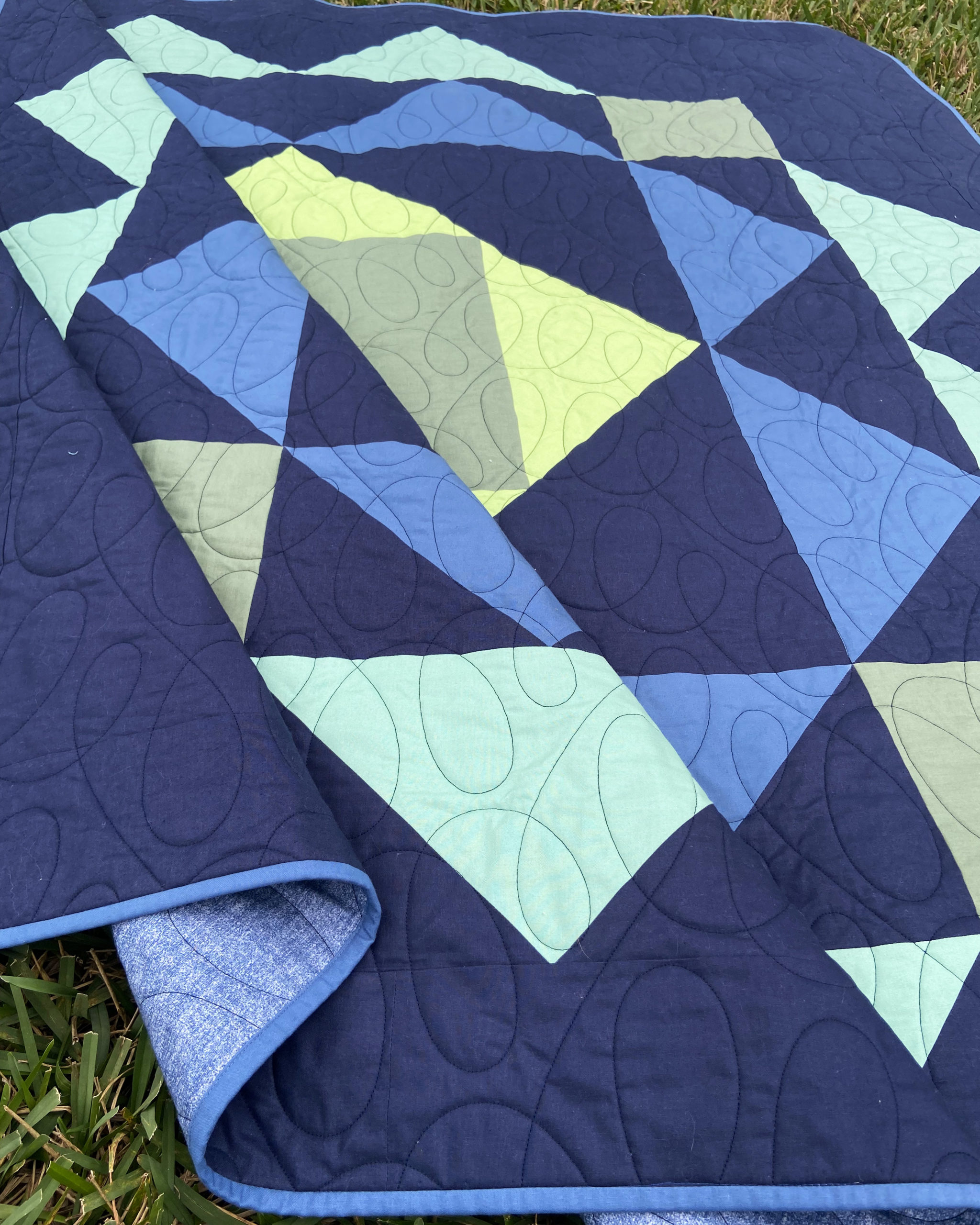 Paradigm Quilt Pattern
The Paradigm Quilt Pattern is an easy, fun, bold, and FAST pattern that is perfect for learning some classic quilt blocks! By the end of this sew along, you'll be able to make Flying Geese and the Economy Block, and have put them both into your own Paradigm quilt! If you want to join this Sew Along, be sure to grab the Paradigm quilt pattern in my shop! (pro tip: you'll get a coupon code emailed to you when you sign up for the Sew Along!)
I offer both PDF download patterns and printed paper patterns in my shop. You can also get a quilt kit too! Check out more details further below!
The pattern is filled with easy to follow diagrams for every step of the pattern, and includes instructions and coloring sheets for Pillow, Baby, and Throw quilt sizes.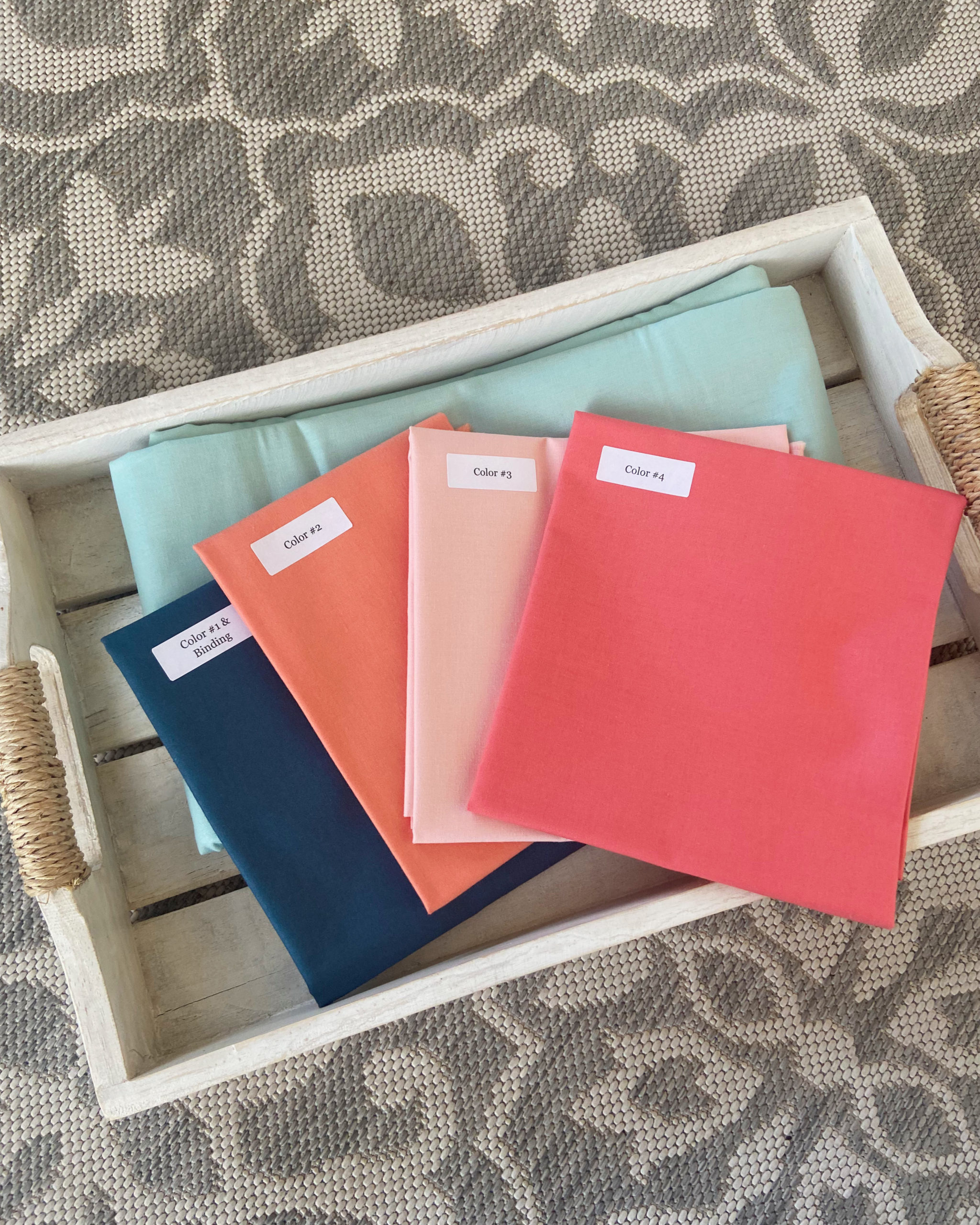 Fun & Bold Quilt Kits
Now for the most fun part! If you're in for the Paradigm sew along, I'm sure you're wondering about getting some Riley Blake fabrics to use for your quilt! I've curated two different options featuring Confetti Cottons.
Both of these Paradigm quilt kits makes a generous throw size quilt that measures 72″ x 72″. Each quilt kit includes fabric for the quilt top, binding fabric, and a paper pattern for the Paradigm Quilt.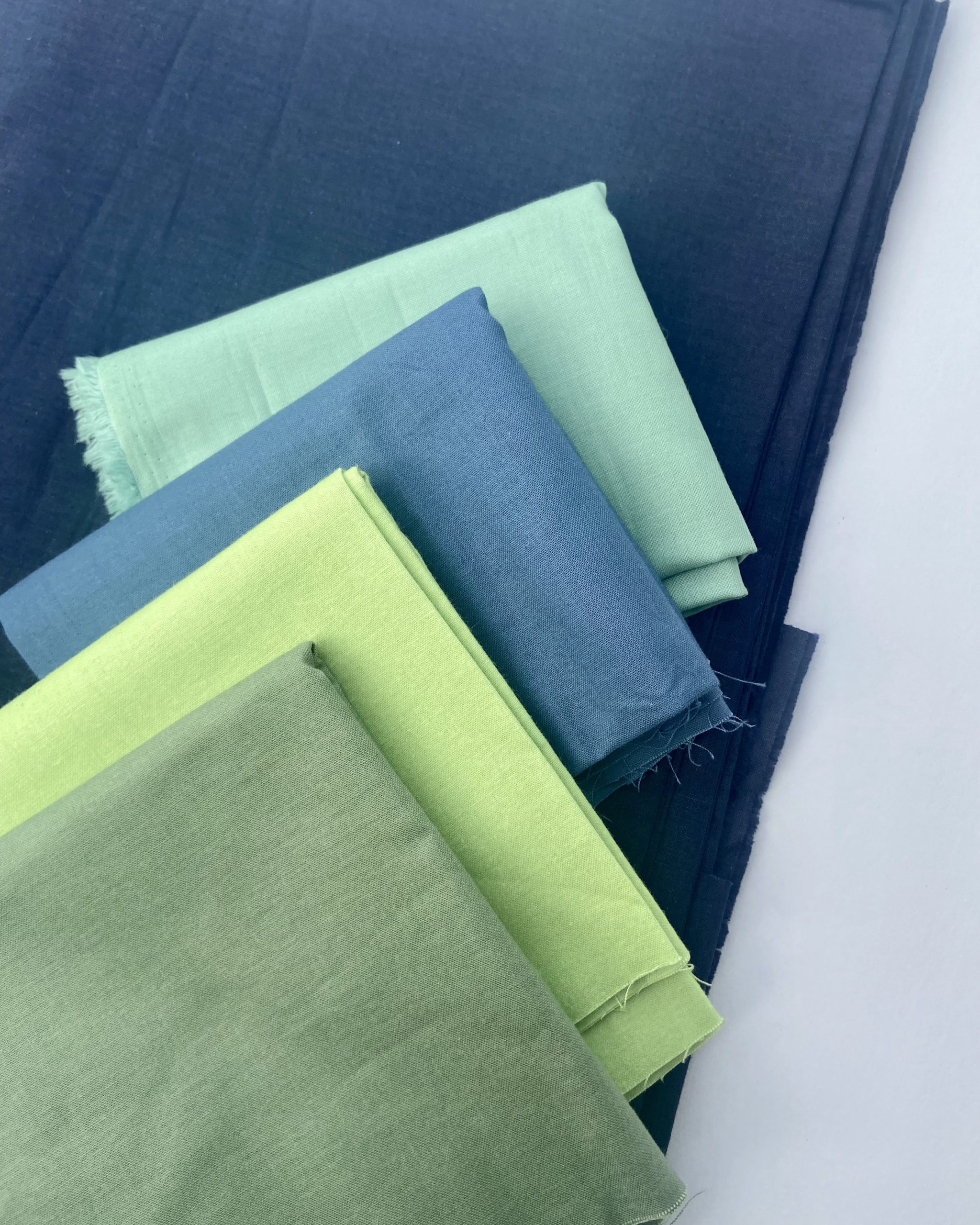 Adventurer Quilt Kit
Do you want to make a quilt inspired by mountains and the great outdoors? Use these solid blue and green fabrics to make a bold throw size modern quilt! This Outdoor-friendly Adventurer Throw Size Paradigm Quilt Kit makes a bold quilt with a navy background.
The fabrics in this quilt kit are Riley Navy, Coastal Blue, Scrubs, Spring Green, and Lodge Pole.
As you can see, even my dog Beau loves this quilt: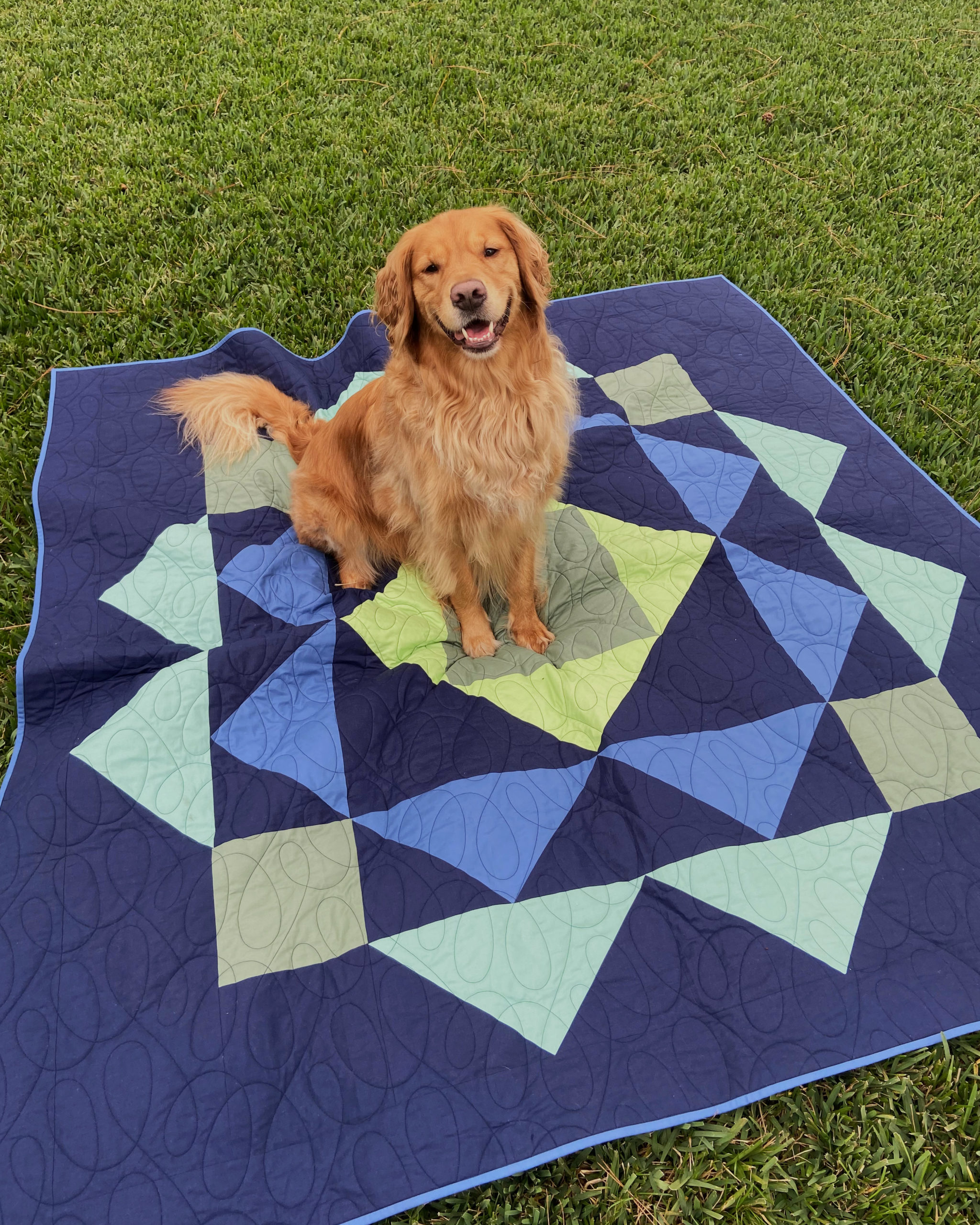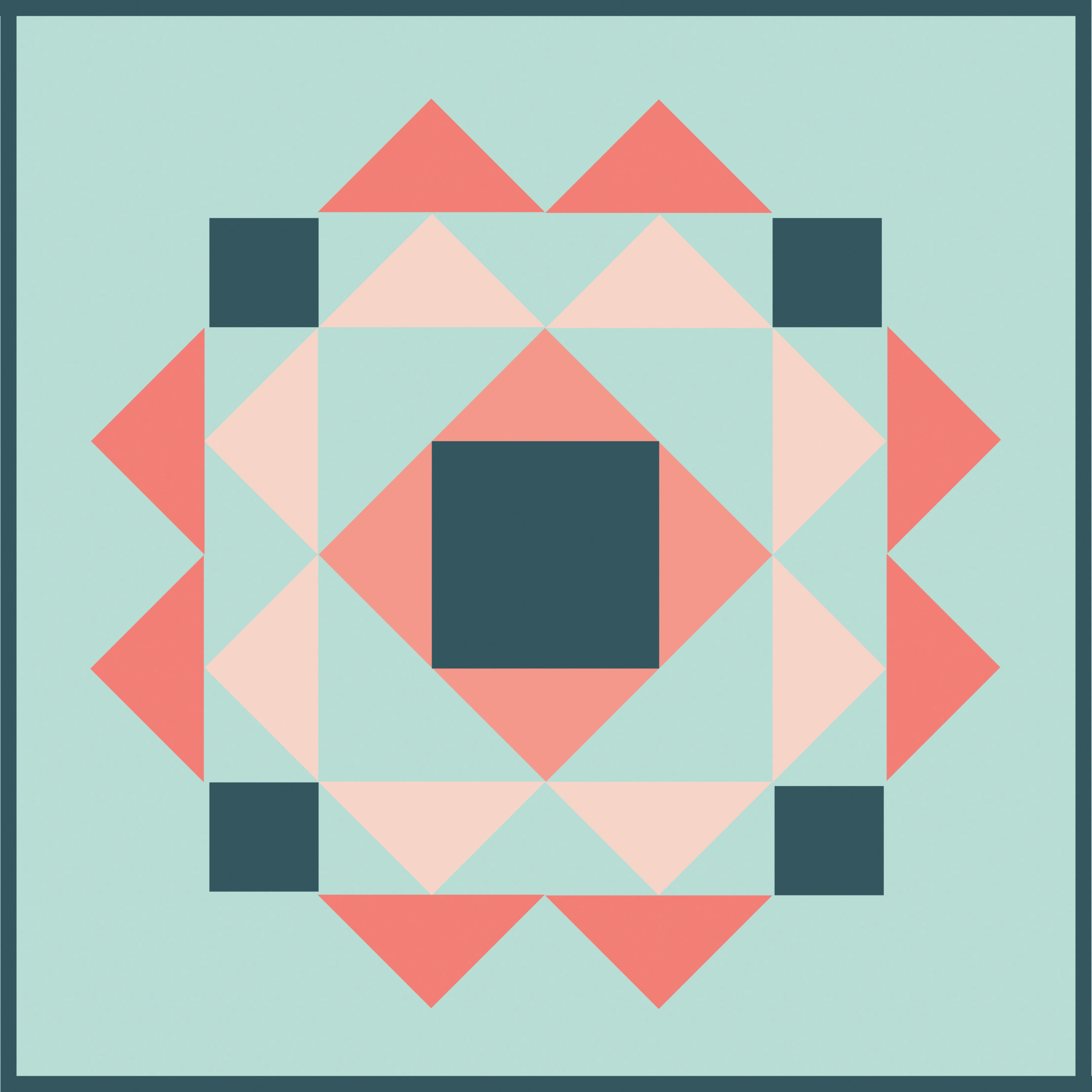 Seaside Quilt Kit
The Seaside fabric bundle is actually exactly what I will be using throughout the Sew Along to make my own Paradigm quilt! This kit features Confetti Cottons in colors Songbird, Lipstick, Salmon, Peaches n Cream, and Mediterranean.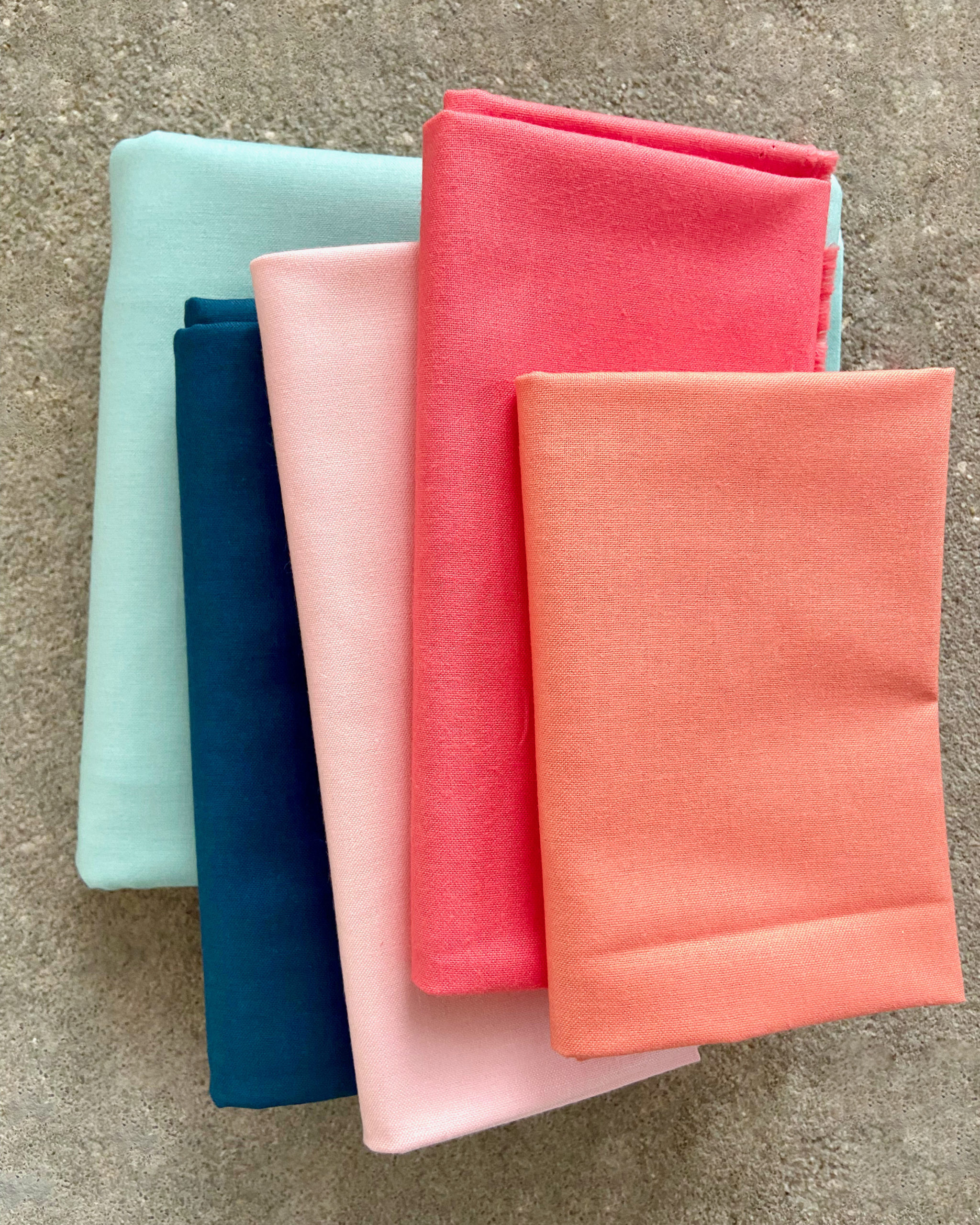 ---
Riley Blake Designs Confetti Cottons are available now at your favorite local and online quilt shops. Pick up yours today and start creating! We love to see what you are making — share your makes with us on Instagram using #rbdbasics, #confetticottons, #rileyblakedesigns, #iloverileyblake, and tag us @rileyblakedesigns