Hello, friends! Today I am seriously excited to share this fun little quilt with you!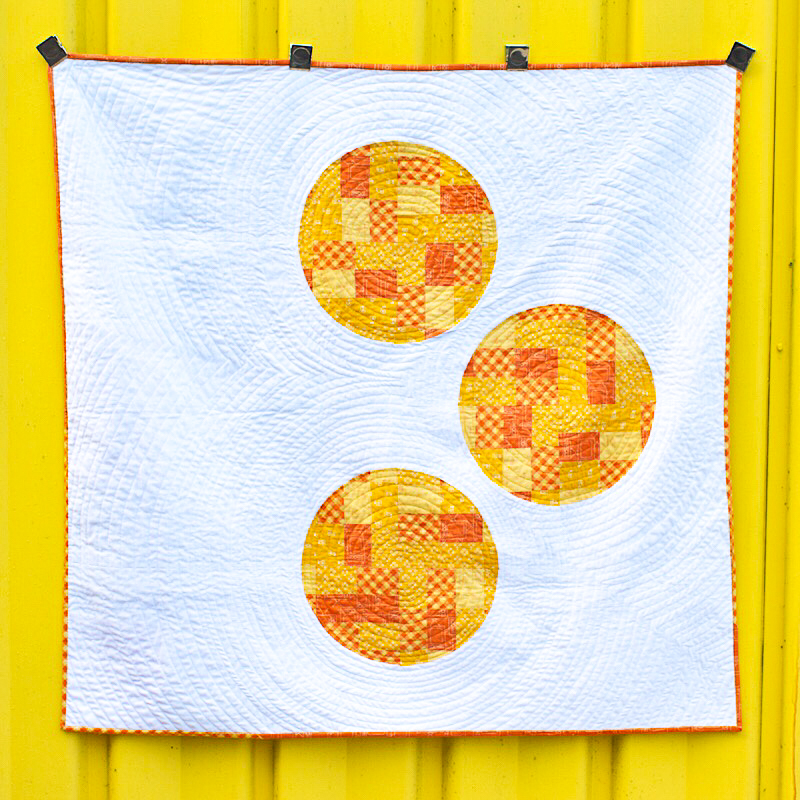 When I got my hands on Lori Holt's new Bee Basics fabrics (available in stores this month), I was impressed by how bright and how saturated the colors were.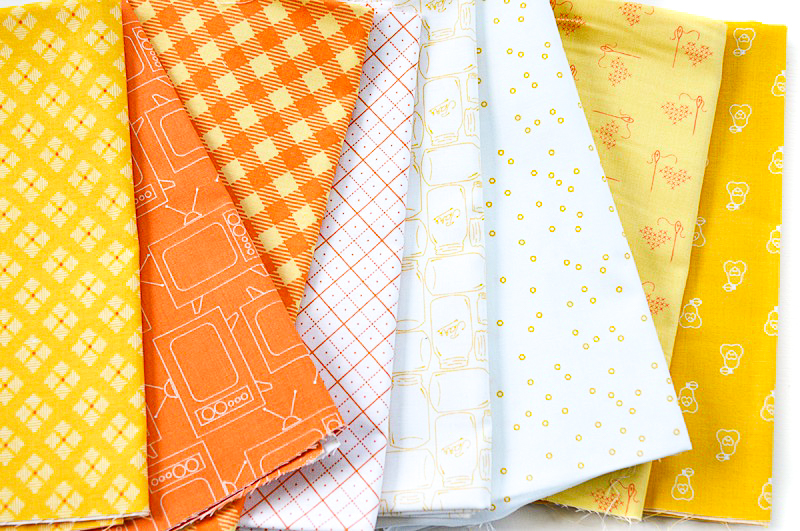 The yellows and oranges were so gorgeous, I knew immediately I wanted to use them to make the Trinity Quilt featured in Siobhan Rogers' BY THE BLOCK book.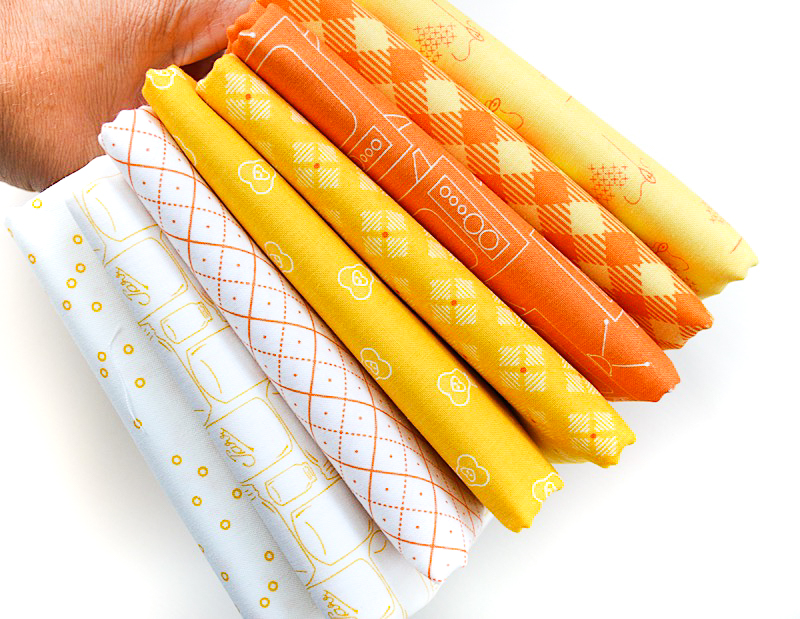 This quilt features three patchwork circles on a solid background, which really makes those circles pop! This is my first time making a quilt with curves, and while it really wasn't difficult, I did learn a lot as I was machine quilting it.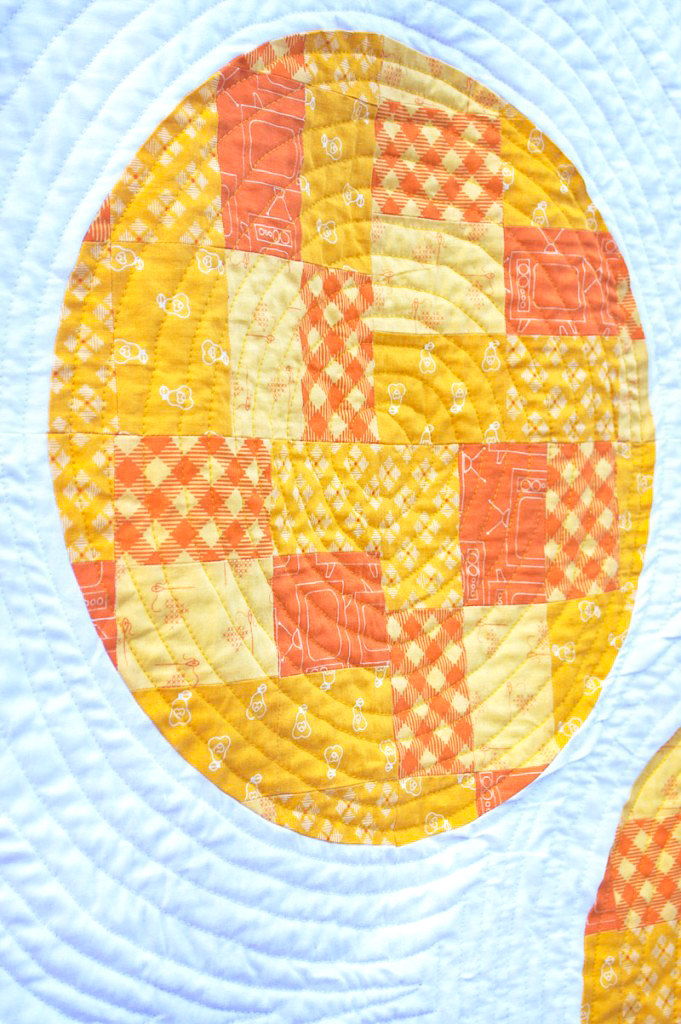 Notice the lower right of the top circle — The fabric ended up bunching a little here. That is something I would need to think about next time as I am basting so I make sure the fabric is nice and taught in those curved areas.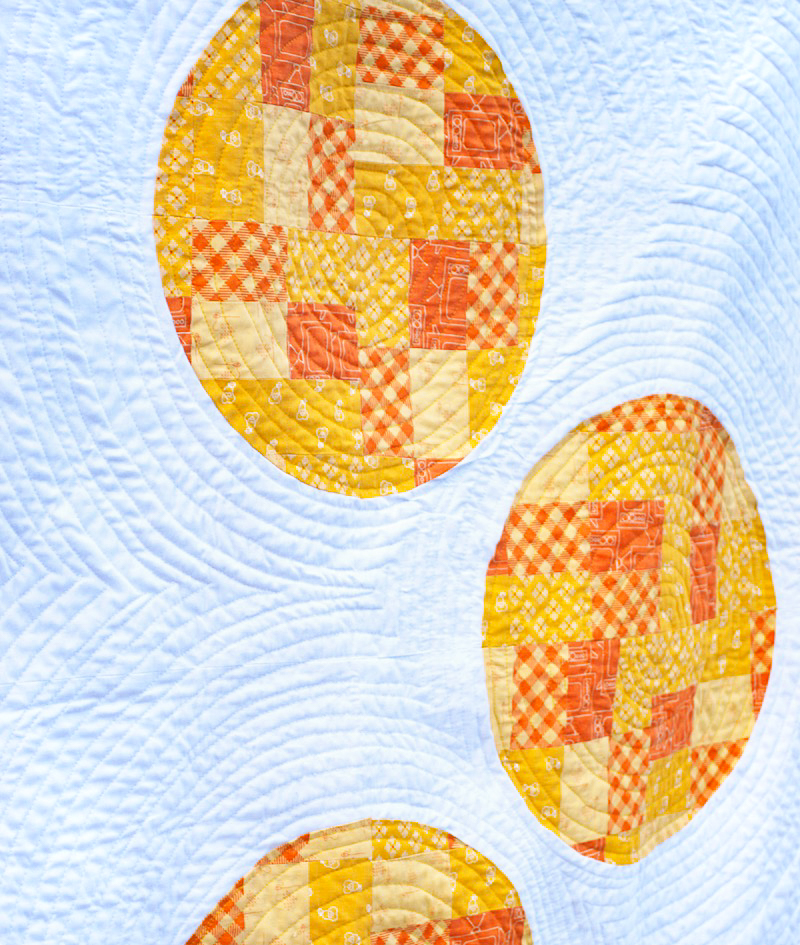 I used the "echo quilting" technique, meaning I simply followed the shape of the circles. In her BOOK, Siobhan says that for machine quilting, this technique and straight-line quilting are good choices.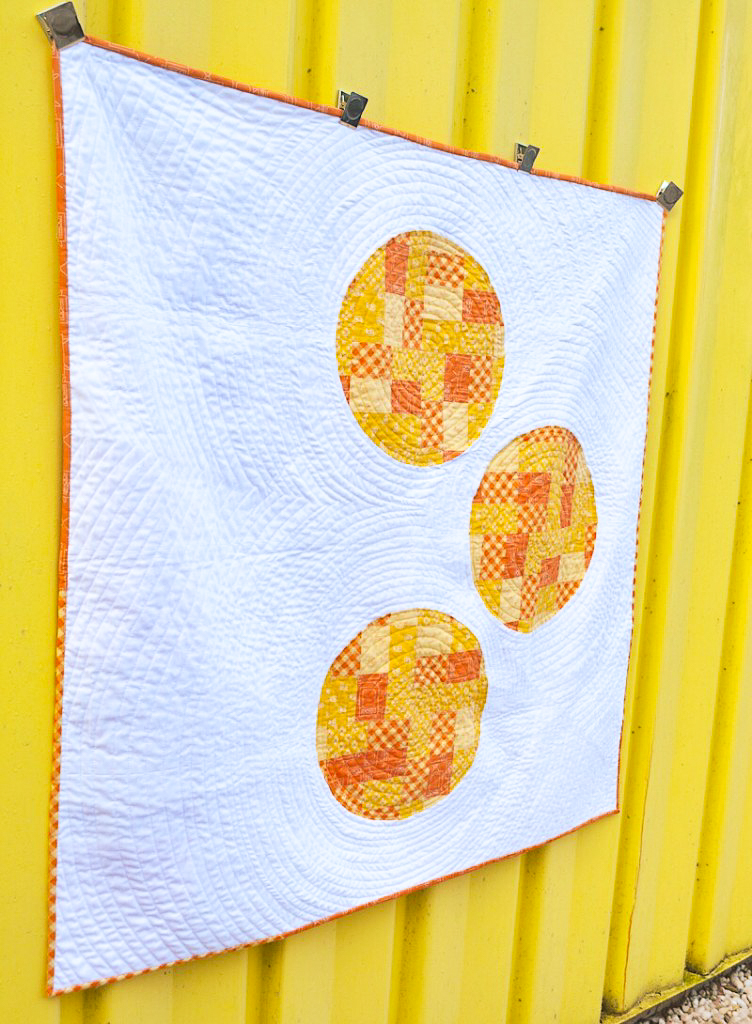 This quilt is much larger in the book, but I opted to make it smaller, which works perfectly for a baby quilt or even a throw.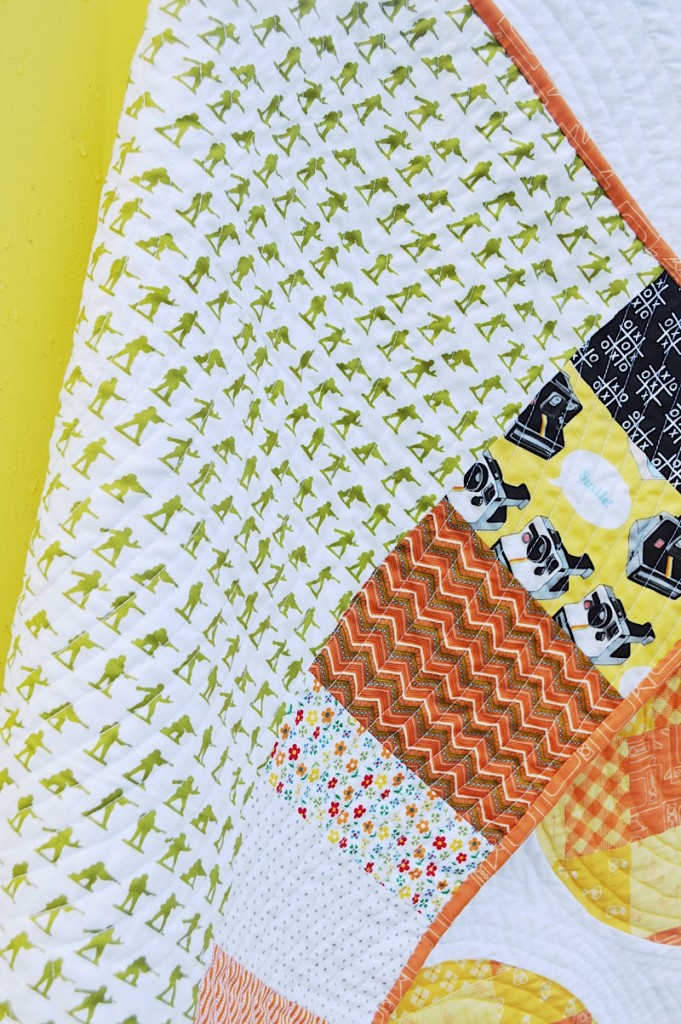 You know when it comes to the quilt back, I love to have a little fun. This time, I decided to use the totally awesome Military Max Military Men print with some additional scraps along the side.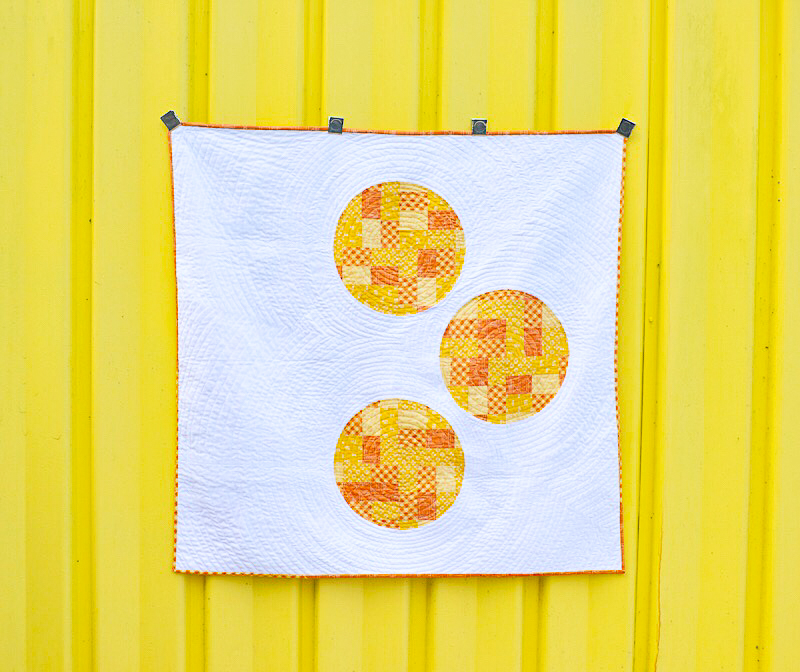 Isn't she gorgeous? I love the idea of keeping baby quilts simple so they are sure to get lots of love and wear and tear. Make them too fancy and mom will feel like it's too nice to use. You don't have to sacrifice style when you make them simple. This quilt is proof that a simple design can make a big impact!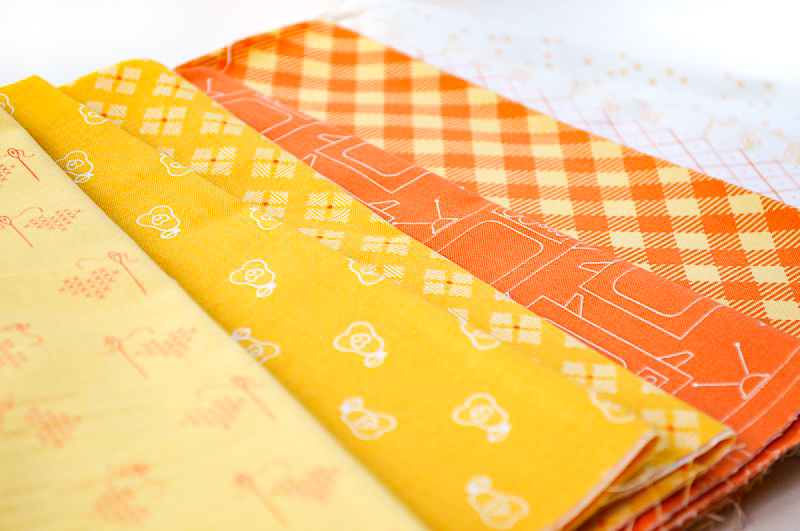 LOVE these colors! And did you notice the low volume prints? Lori has designed a fantastic array of Bee Backgrounds that you will not be able to live without!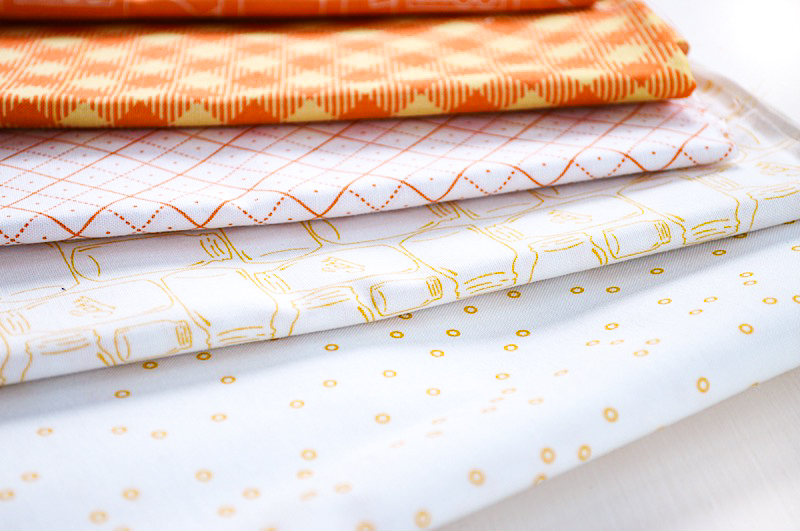 Lori Holt's Bee Basics are available now at your favorite local and online quilt shops. Pick up yours today and share your makes with us on Instagram using #beebasicsfabric, #rileyblakedesigns, #iloverileyblake, and tag us @rileyblakedesigns.
Happy Quilting!