We're excited to share a fun quilt with you today featuring fabric from the Riley Blake Designs Animal Kingdom collection!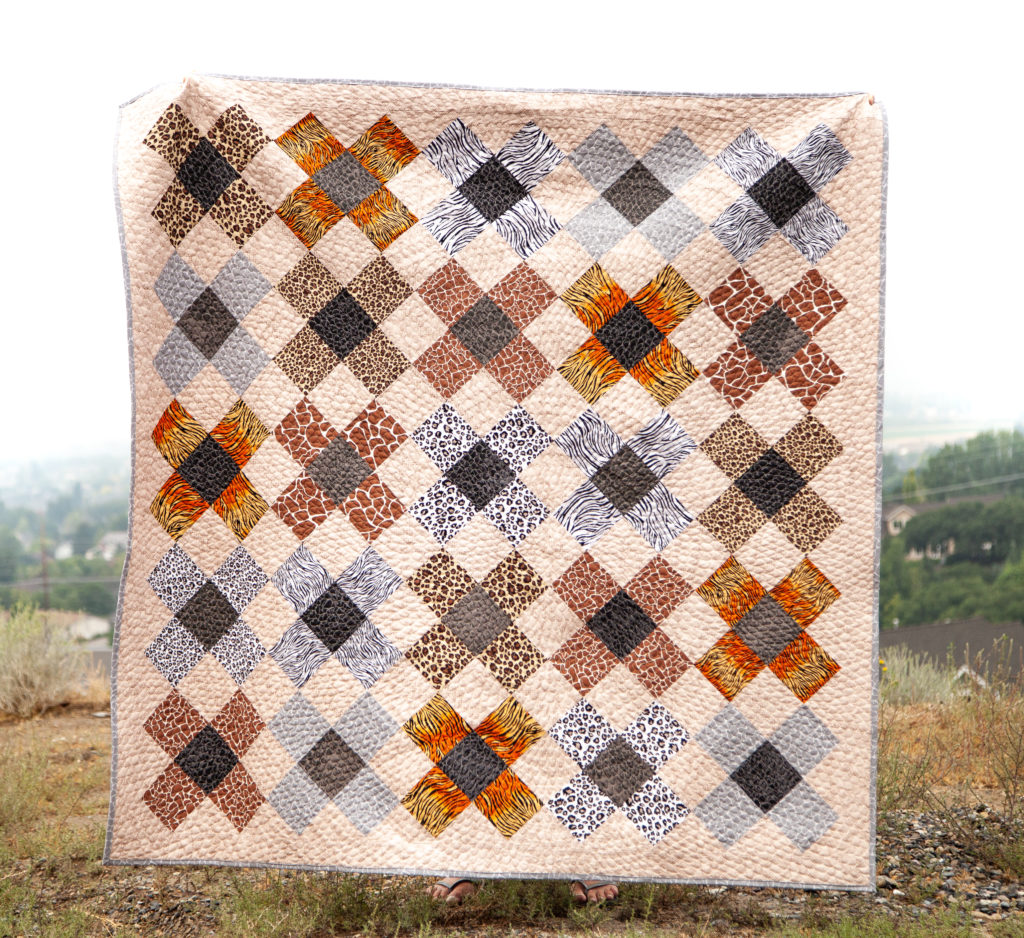 To make this quilt I used the FREE Honey Quilt Pattern (pattern found HERE) by Jessica Dayon, paired with a fun stack of Animal Kingdom fabrics.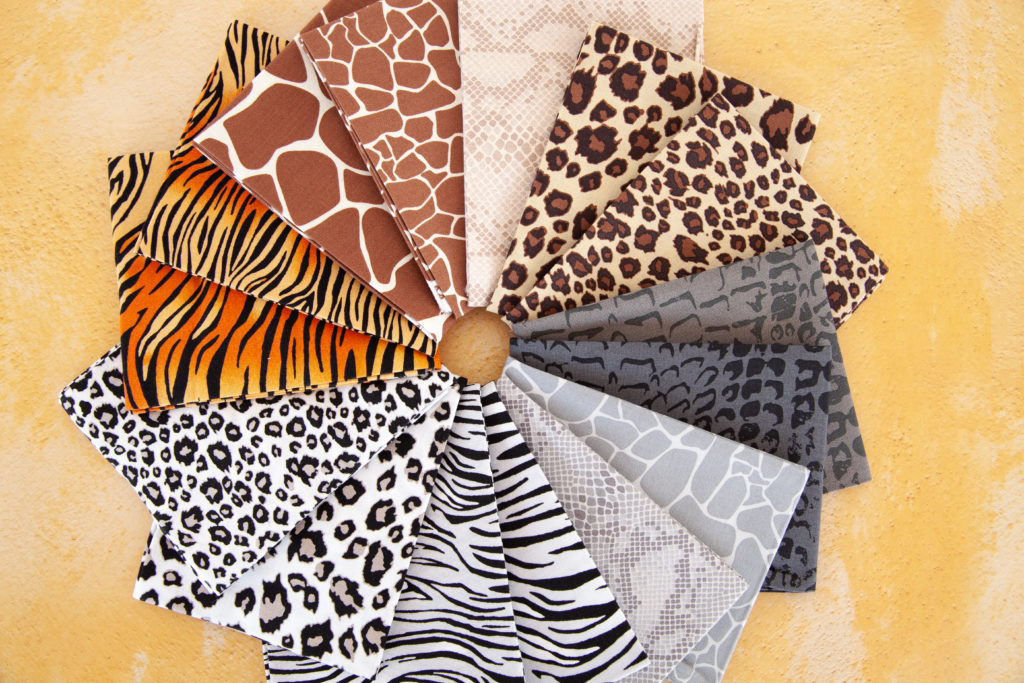 This collection features Giraffe, Elephant, Crocodile, Leopard, Bengal, and Snake Skin designs. So cool!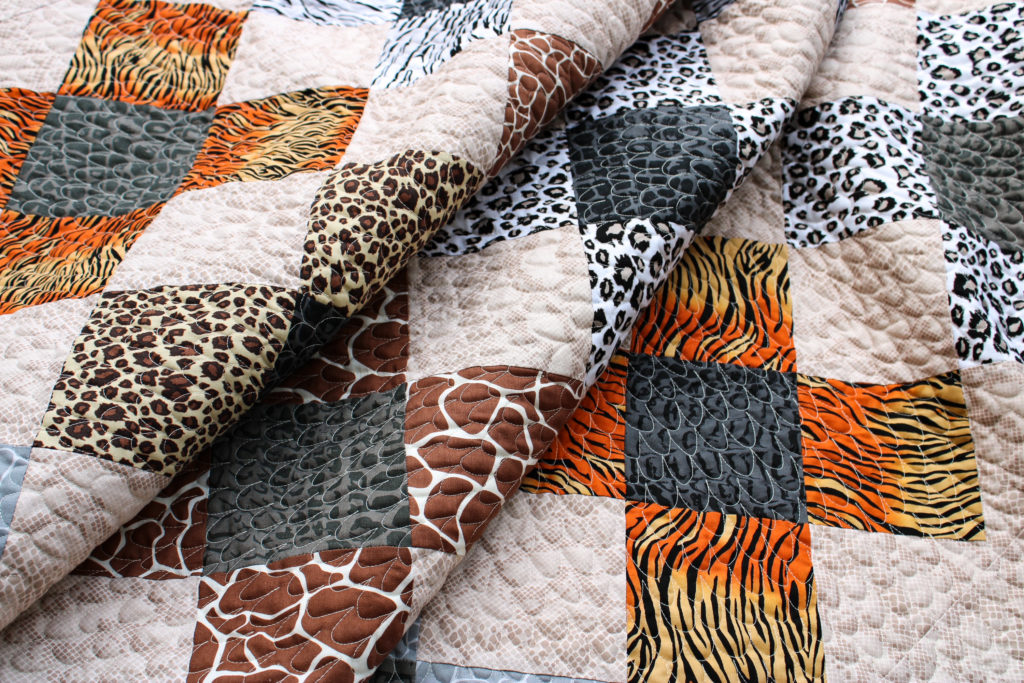 The background and border fabric is Tan Snake Skin. I alternated squares of Black and Brown Crocodile for the center if each unit.
I made just a few changes to this quilt that differ from the original pattern.
I used 5″ squares instead of the 4 1/2″ square Jessica calls for in her pattern. This created a few changes in my setting and corner triangles.
For the setting triangles, I used 8 1/2″ squares instead of the 7″ squares in the original pattern.
For the corner triangles, I used 4 1/2″ squares instead of the 3 3/4″ squares called for in the original pattern.
I also adjusted the rows from six units to five.
I added a 3″ Tan Snake Skin border, which brought the finished quilt measurement to 64″ x 64″.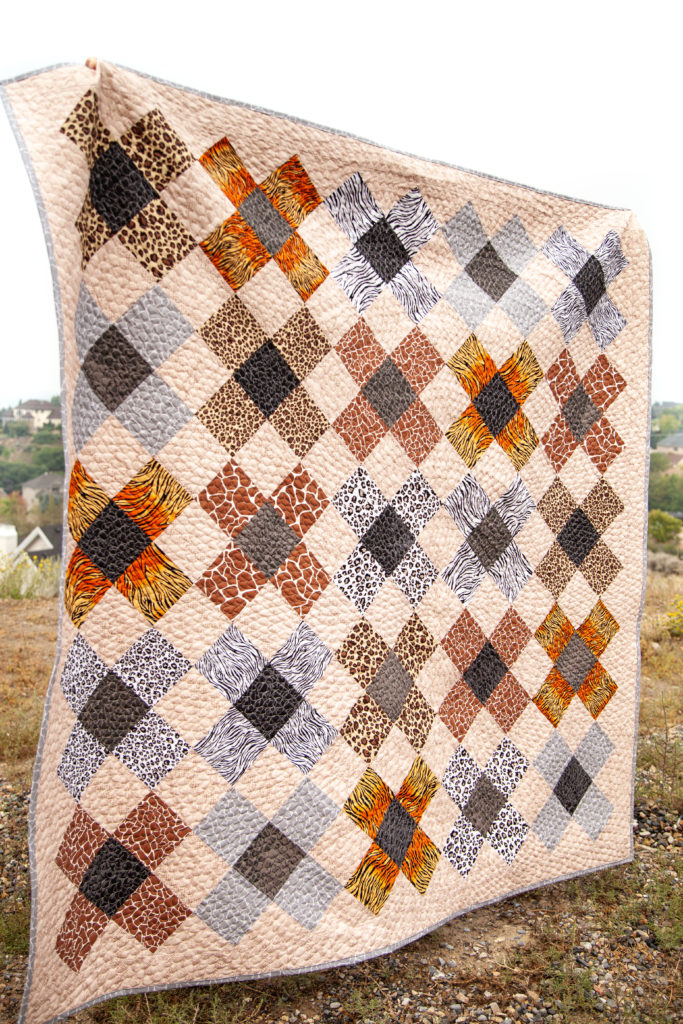 I love how the border extends the quilt backdrop, making it look as if the blocks are floating. I quilted this on my domestic machine. I started slightly off-center (only because I didn't want the center circle to show on the Black Crocodile center square and become a focal point). I stitched a small circle (about 1″ around), and created little "petals," or in this case "scales" extending outward from the beginning circle.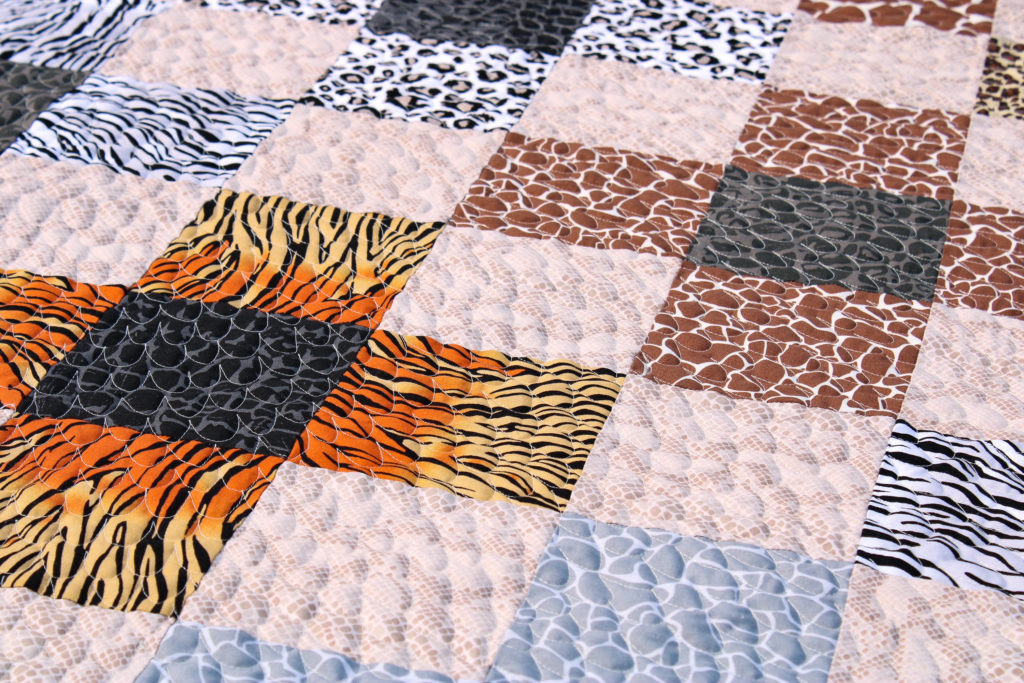 This is an easy, beginner-friendly design that yields amazing results. I love how the little bumps take on the look of scales, which is a perfect motif to match this fabric.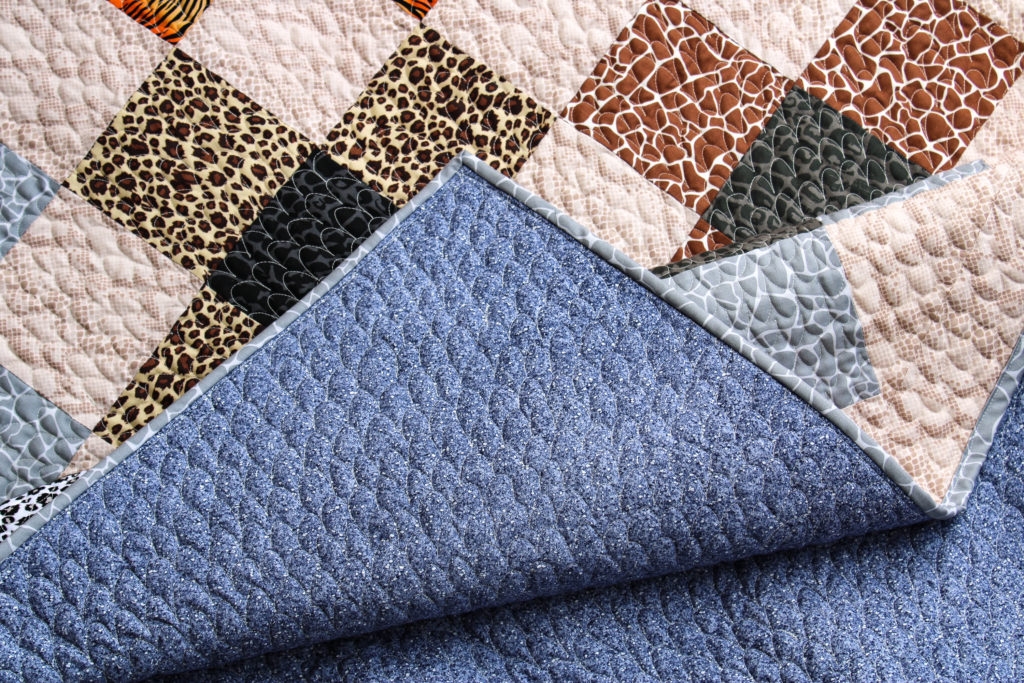 For the quilt back, I used our Trento Basics in a cool Cosmos blue. The binding is the fun Animal Kingdom Giraffe print.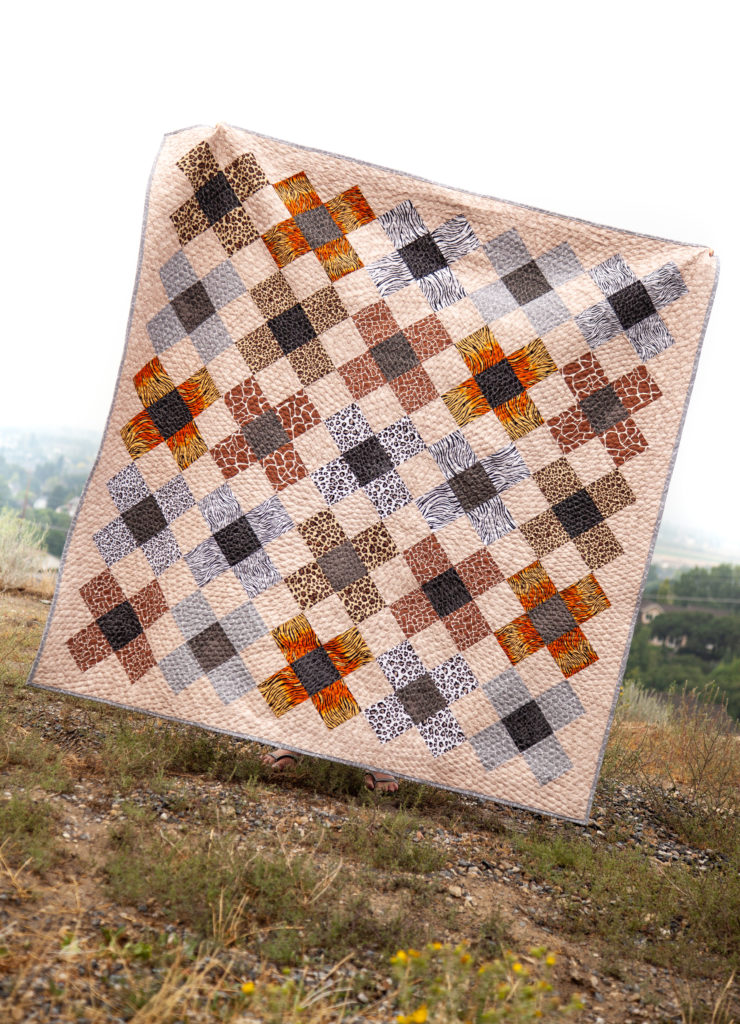 Such a fun and fast quilt! Thank you, Jessica, for the FREE PATTERN!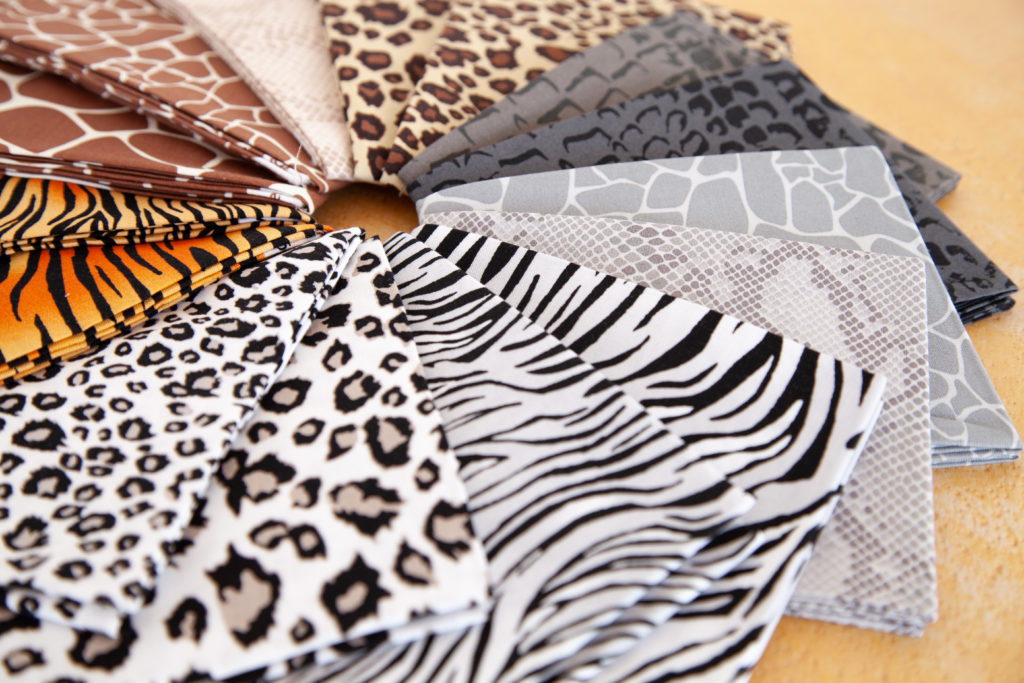 Animal Kingdom is available now at your favorite local quilt shops and online retailers. Pick up yours today and share your makes with us on Instagram using #animalkingdomfabric #rileyblakedesigns #iloverileyblake and tag us @rileyblakedesigns.