Hi! I'm Casey Chatham from Sew Worthy Mama. I create quilt patterns designed with motherhood in mind.
Today, I'm sharing my latest pattern, "Pockets Full of Blessings" — a table runner made in beautiful Bee Cross Stitch Basics. I used Daisy, Pumpkin, Barn Red, and On Cloud Pumpkin.
Bee Cross Stitch and my Pockets Full of Blessings pattern — with printable gratitude journaling cards and a keepsake pouch pattern included — are the perfect recipe for starting a new family tradition this year. Let me explain why this table runner has pockets, how it creates a tradition, and why you'll want to sew up more than one!
Get a BONUS set of printable quote cards when you purchase the pattern by November 7!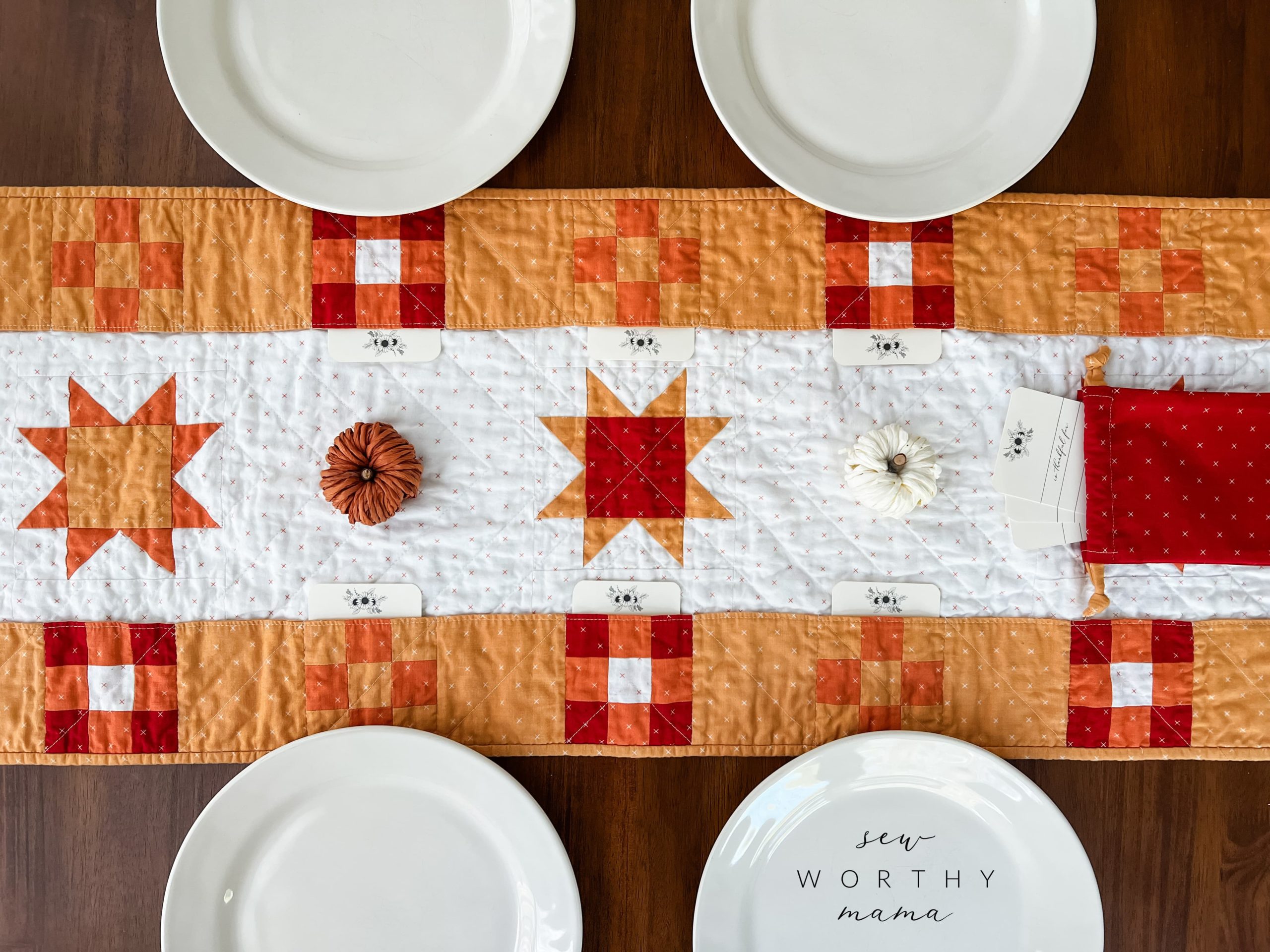 Let's set the scene…
The day is young, and plans are underway. The scent of cranberries, turkey, and sweet potatoes wafts in the air. Thanksgiving is here, and before all the hustle and bustle begins, you want to spend a few minutes with your family to be intentional and take stock of your many blessings. You want your children or grandchildren to make connections between the holiday and sincere gratitude.
So, you've created a handmade table runner, and you're starting a new family tradition. Tucked inside its pockets are small cards, peeking out. You begin a conversation by sharing what you are thankful for with the entire family. Then, your partner, children, and other family members share their blessings. You pull the cards out of their pockets and encourage each family member to record their gratitude. Older children can fill out a card for themselves while you assist younger ones with theirs.
Each year, your family fills in new cards, slowly building a family keepsake — a record of blessings and reflections written by each family member to look back on fondly. Imagine showing your future high school senior what they were most thankful for at age 2, 3, 4…
(That's why I also included the simple Keepsake Pouch pattern to store your cards and protect your family memories. Collect and save your cards year after year.)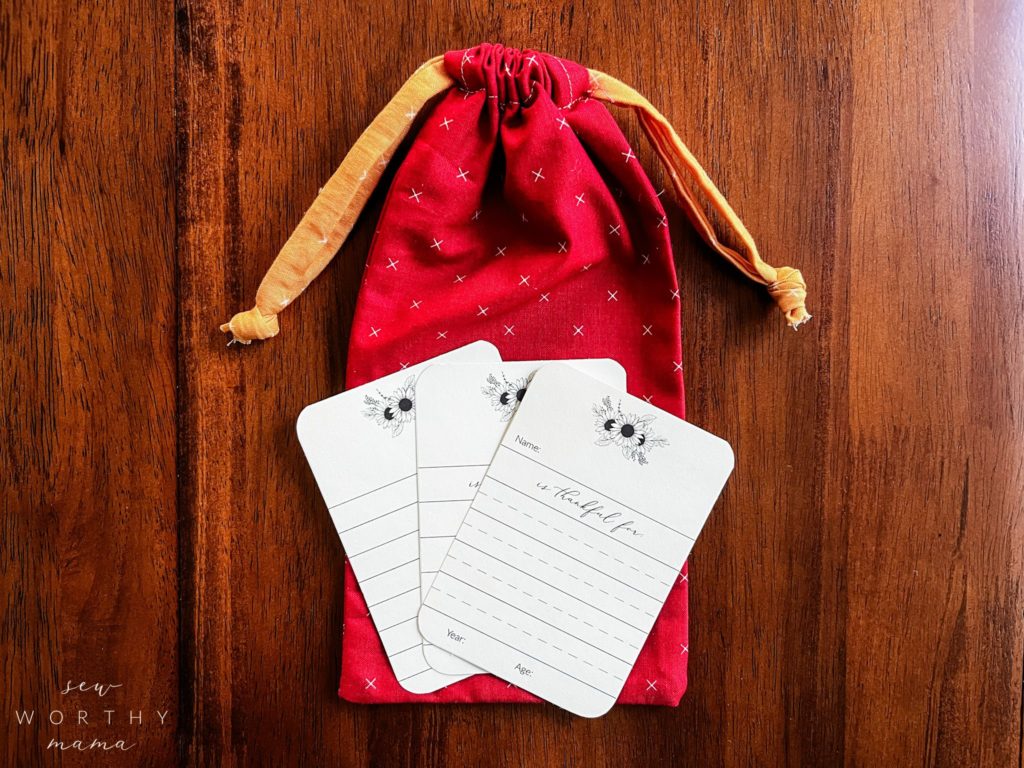 That's my vision for how you and your family will use "Pockets Full of Blessings" — a quilted table runner, printable set of gratitude journaling cards, and a keepsake pouch — to create a family tradition of reflection and gratitude year after year as you celebrate together.
Gratitude Journaling Cards | 4 Styles
There are 4 styles of gratitude journaling cards. Mix and match the styles, or choose your favorite to build your own collection that fits your family best.
Unlined (best for pre-writers to draw their blessings)
Tri-lined (best for early writers) with prompts for name, year, and age.
Lined (best for older kids and adults)

Provided with and without "is thankful for" prompt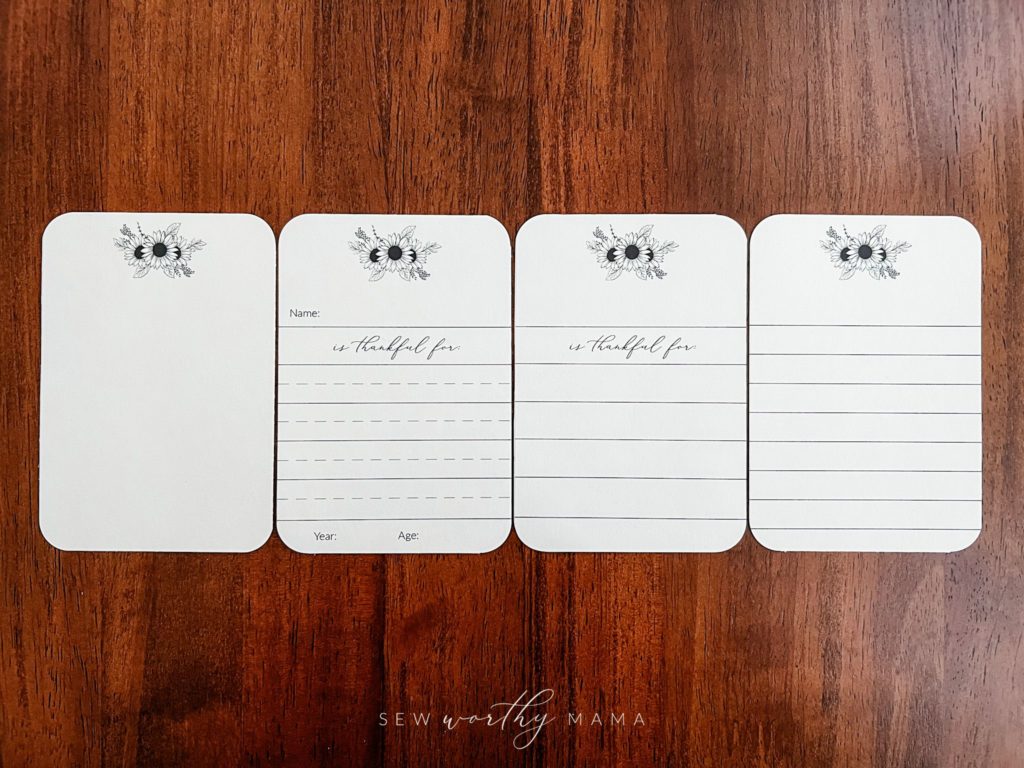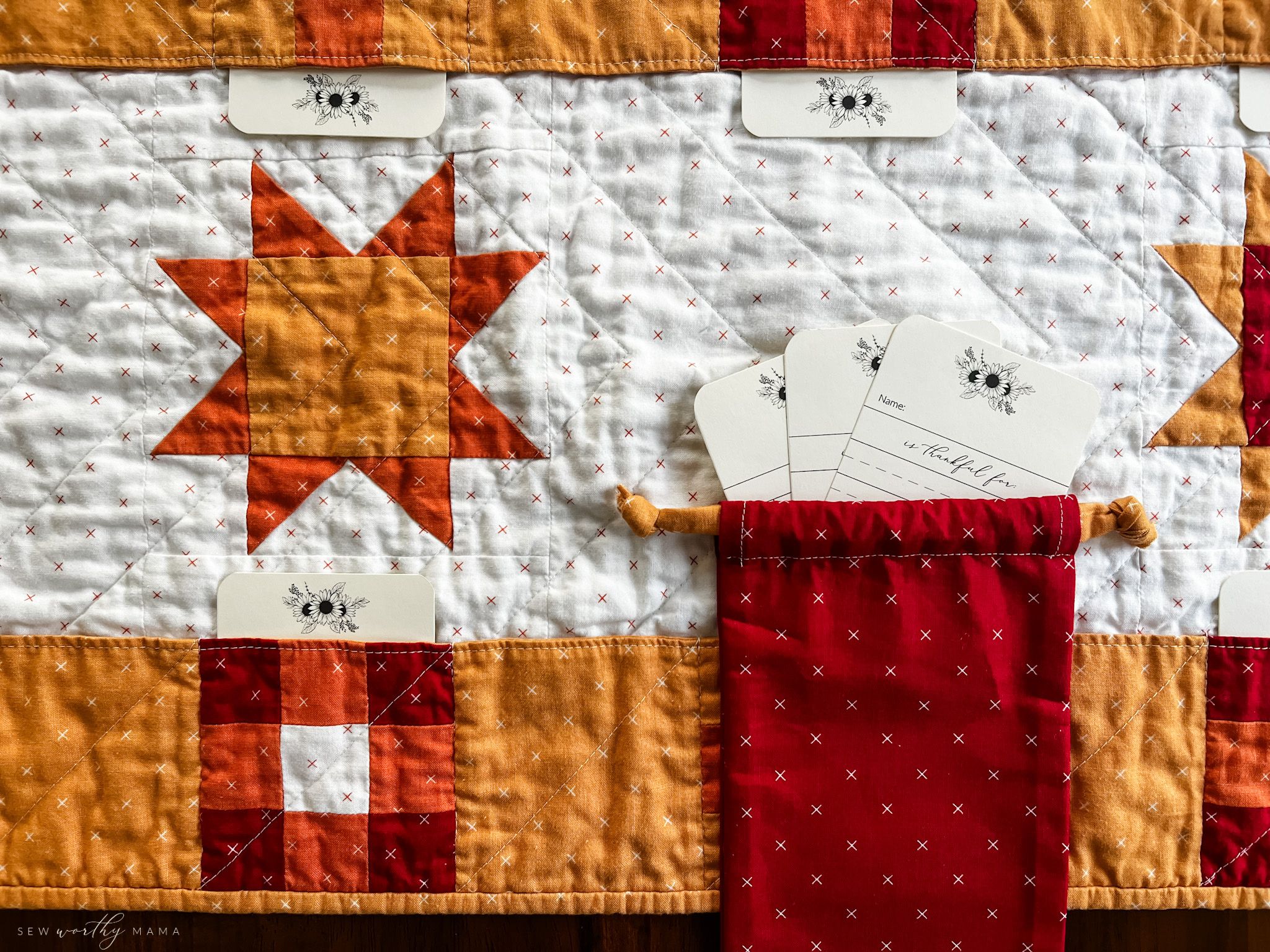 Quote Card Set
Purchase the Pockets Full of Blessings pattern now through Tuesday, November 7, and you'll get a BONUS set of printable quote cards for FREE! No code needed.
The printable quote cards include these inspirational insights on gratitude:
"I awoke this morning with devout thanksgiving for my friends, the old and the new." -Ralph Waldo Emerson
"I would maintain that thanks are the highest form of thought; and that gratitude is happiness doubled by wonder." -G.K. Chesterton
"Wear gratitude like a cloak, and it will feed every corner of your life." -Rumi
"O Lord that lends me life, lend me a heart replete with thankfulness." -William Shakespeare
"Reflect upon your present blessings, of which every man has plenty; not on your past misfortunes, of which all men have some." -Charles Dickens
"One single grateful thought raised to Heaven is the most perfect prayer." -G.E. Lessing
"Love casts out fear, and gratitude can conquer pride." -Louisa May Alcott
"Piglet noticed that even though he had a Very Small Heart, it could hold a rather large amount of Gratitude." -A.A. Milne
Remember, this bonus set of printable quote cards is free with purchase of the pattern — but only through November 7!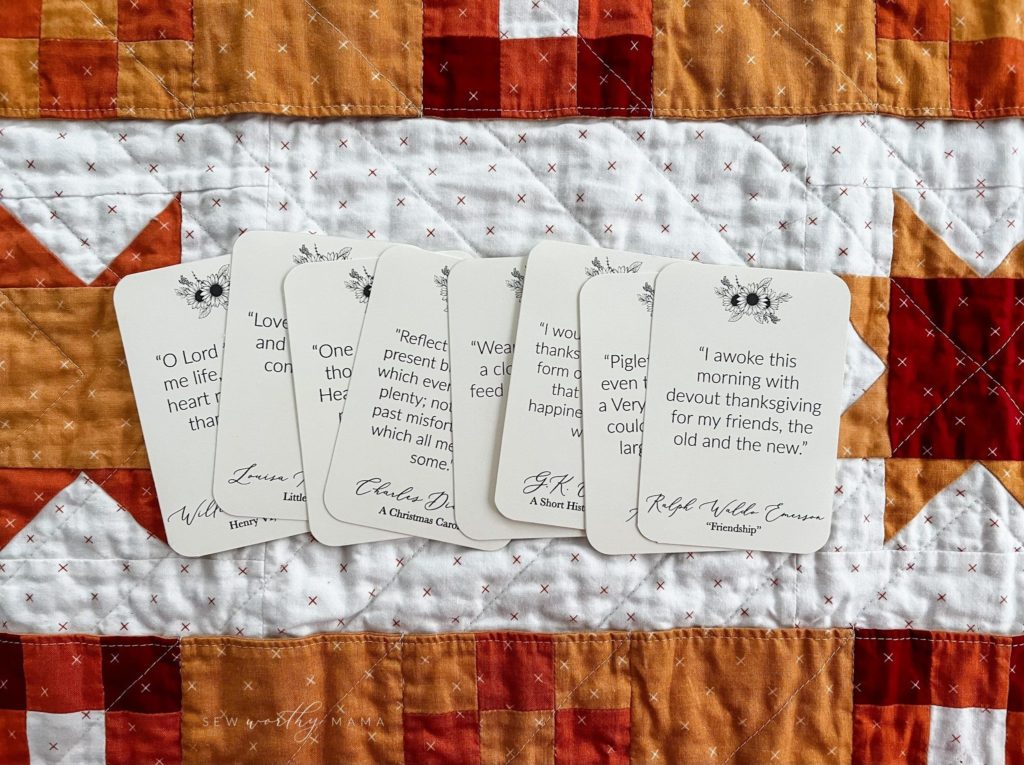 Perfect Hostess Gift
If you don't host Thanksgiving at your own home, a Pockets Full of Blessings table runner makes a wonderful hostess gift! Make one to use at home leading up to Thanksgiving and one to gift your hostess on turkey day.
And if you're not in the US, you can choose your own day to reflect on your blessings with your family year after year.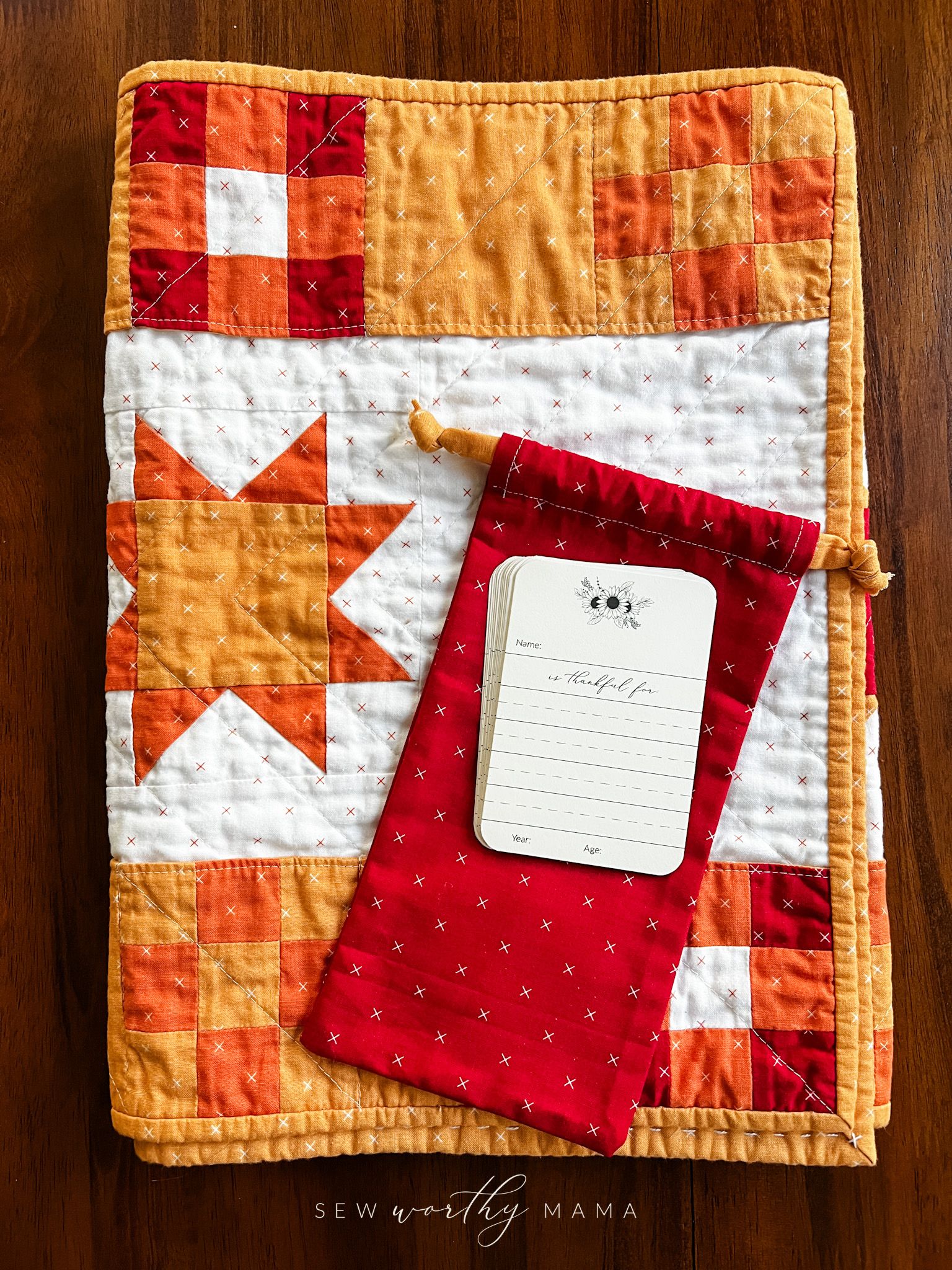 I hope you are filled with joy as you create this project that will become a tradition for your family for years to come!
Read more about this pattern, see pattern tester versions, and get tips for printing and cutting perfect journaling cards, here.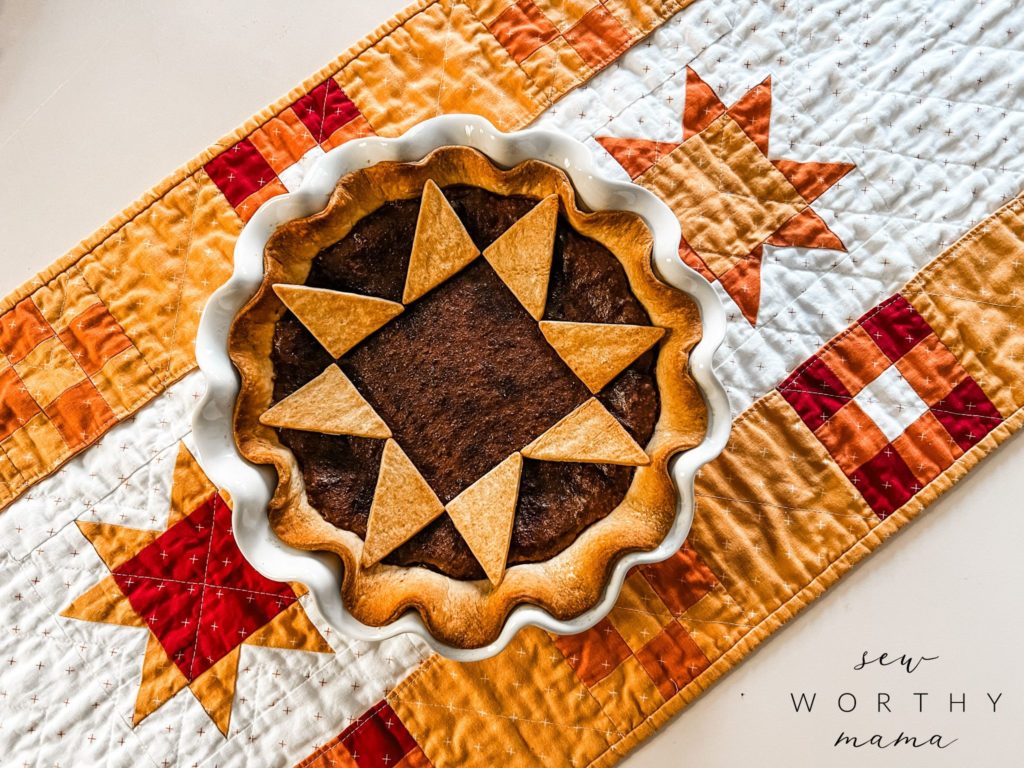 For more patterns designed with motherhood in mind, visit Sew Worthy Mama or follow me on Instagram. Follow #SWMPocketsFullofBlessings and post your make there, too!
Check out the full Bee Cross Stitch fabric line. There are lots of colors that are perfect for Thanksgiving, and the tiny Xs add the sweetest little touch!