We have another fun fabric panel project for you – this time from the festive Christmas Memories collection.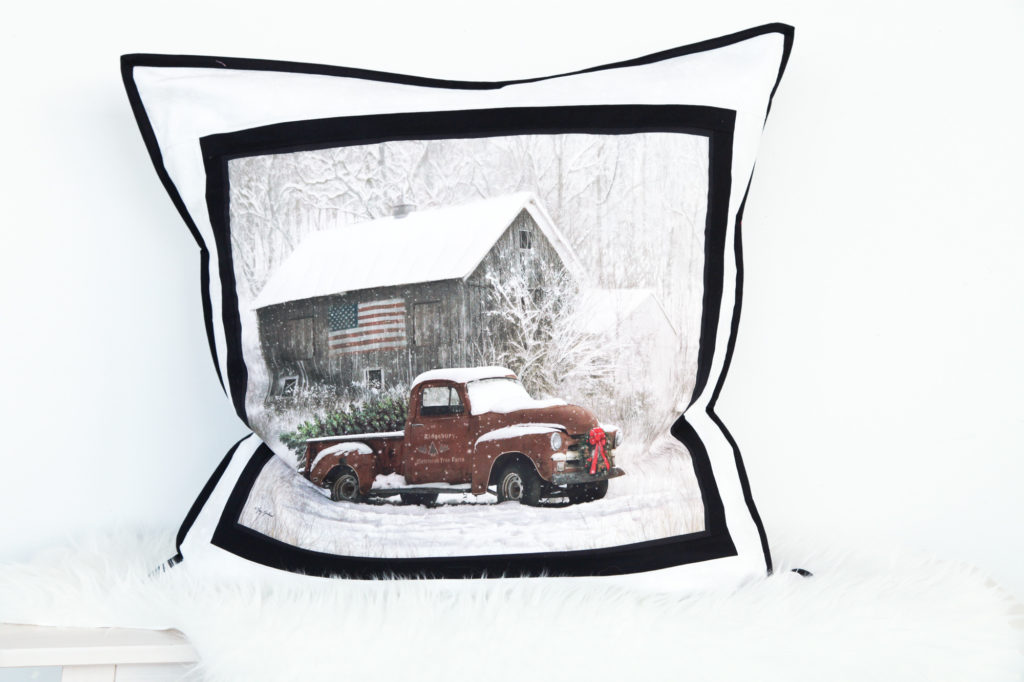 We love giant, squishy pillows at our house. They are perfect for throwing on the sofa or piling on the floor as we watch our favorite holiday movies.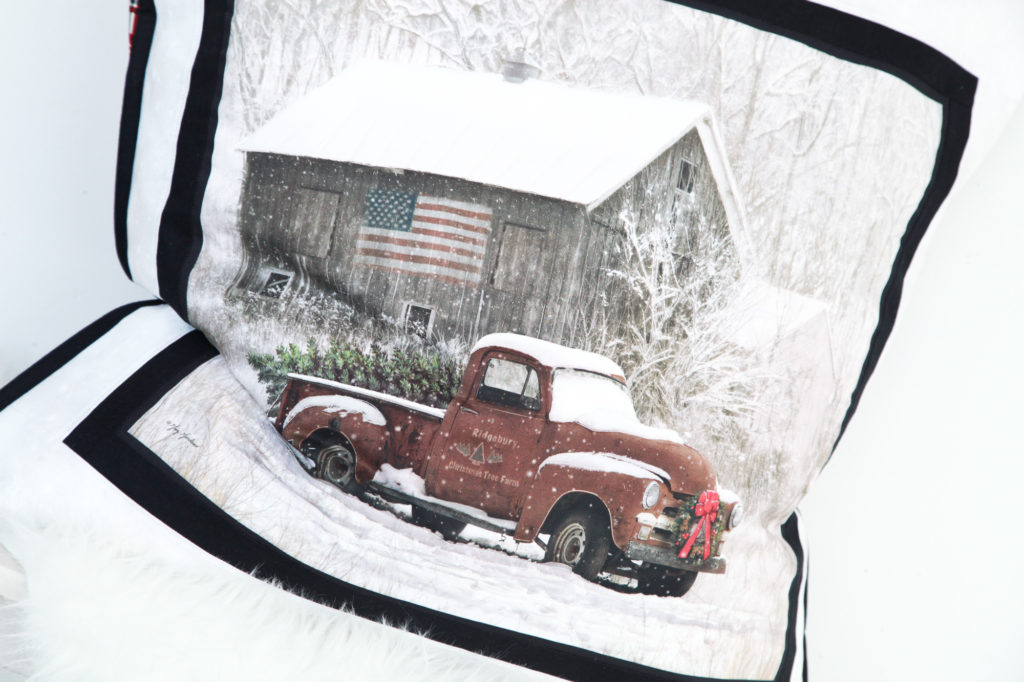 For pillows that are going to get frequent use, I like to use down pillow inserts. They are luxuriously soft, and they can be re-fluffed again and again, holding their shape for years. This "Euro Throw Pillow" measures 28″ square.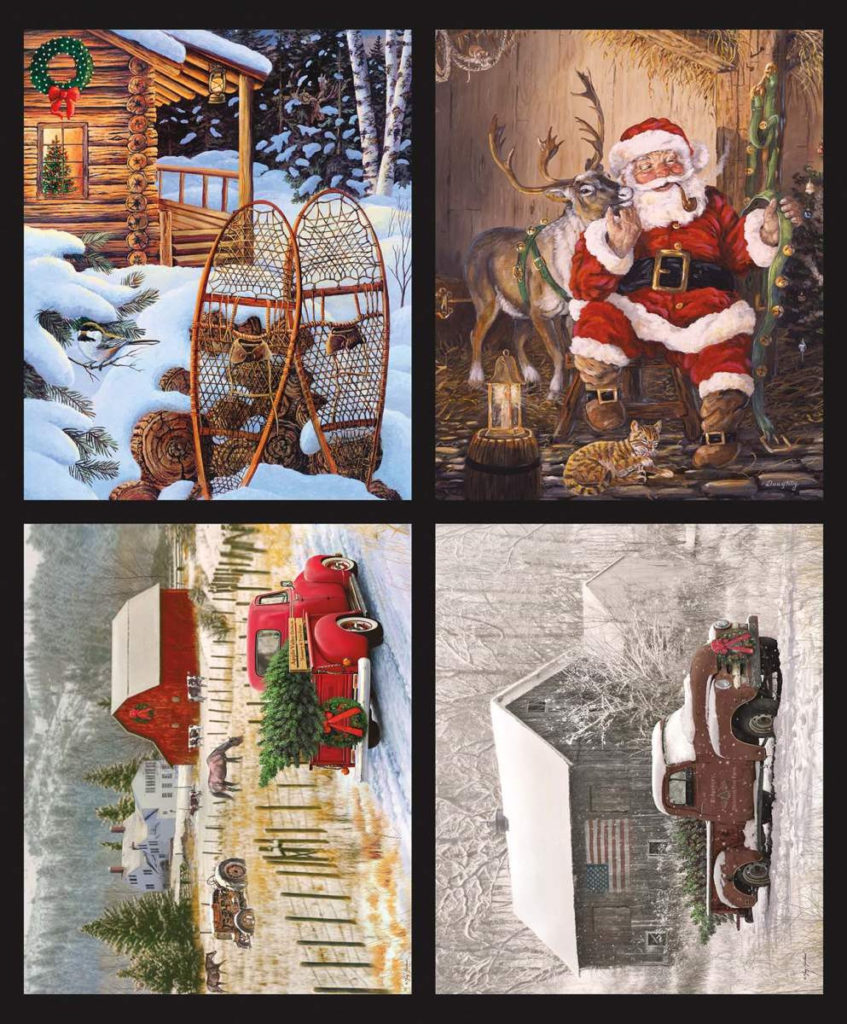 The Christmas Memories collection has this fun pillow panel, featuring four different holiday scenes, each measuring approximately 16 1/2″ x 19 1/2″. The entire panel of four measures 36″ x 44/45″.
I decided to use the Americana Truck print. I love the grayscale wintery look with a pop of color in the truck and flag. This image lends itself to both modern and traditional decor.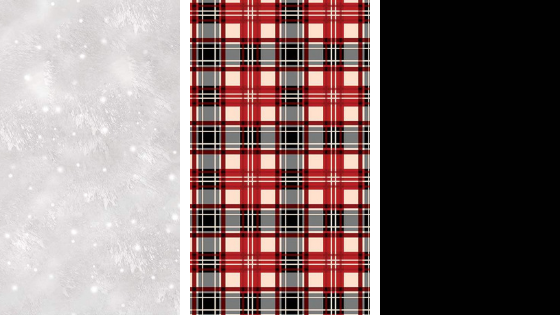 Because I love playing with a modern look, I decided to border the panel with simple 1 1/2″ strips of Riley Blake Confetti Cotton in Riley Black. When trimming the panel, I left about 1/2″ of the black, which matched the Riley Black Confetti Cotton perfectly.
I then added a border of Snow Flurry in Gray. The side strips ended up measuring about 3″ and the top and bottom strips were about 4″. Because your measurements might be a little off based on how close to the panel you trim, I suggest adding 5″ strips of the Gray Snow Flurry to all sides. Then trim the entire pillow top down to 28″ square.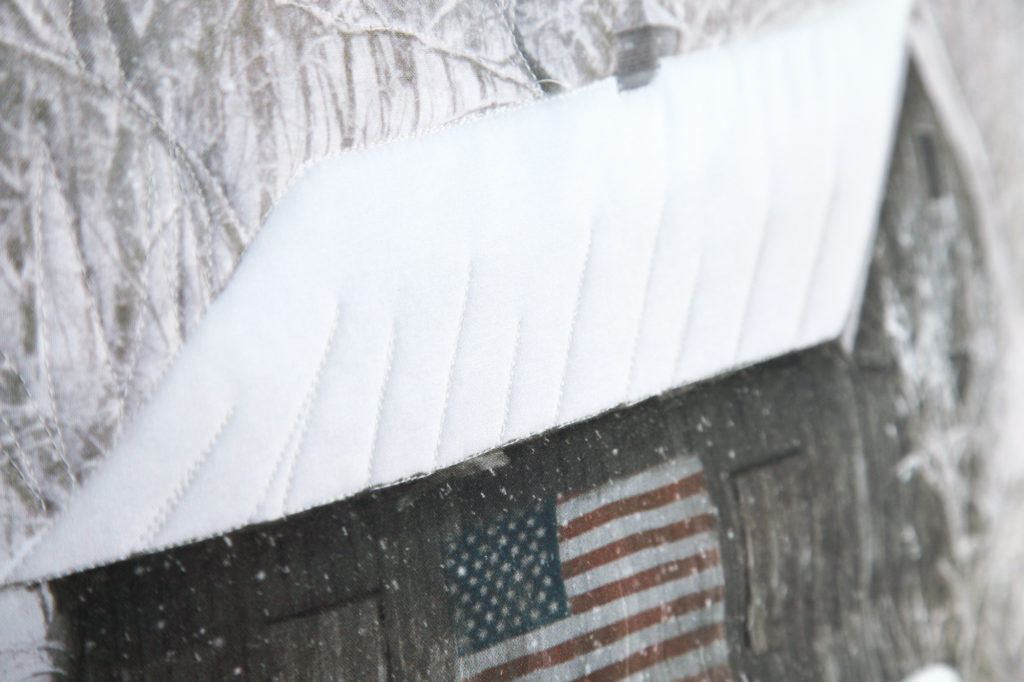 I decided to add a little trapunto quilting to the snow covered barn roof and to the snow on the truck.
"Trapunto is a technique used to add another dimension to a quilt. Puffy, raised areas of quilting add a unique texture to a flat piece of art. Italian for embroider, this is also known as the "stuffing technique" because specific parts of the quilt are filled."
You can find a good pictorial demonstration of trapunto HERE, and, of course, there are many great videos on YouTube demonstrating the technique.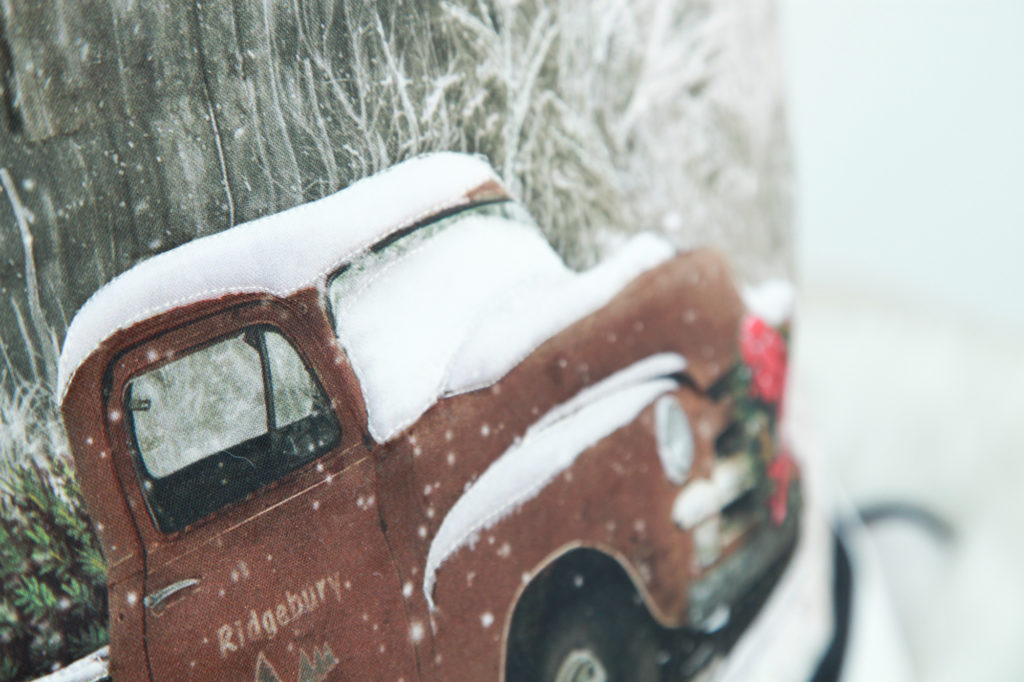 The trapunto adds a bit of dimension which always a fun surprise to everyone who sees it.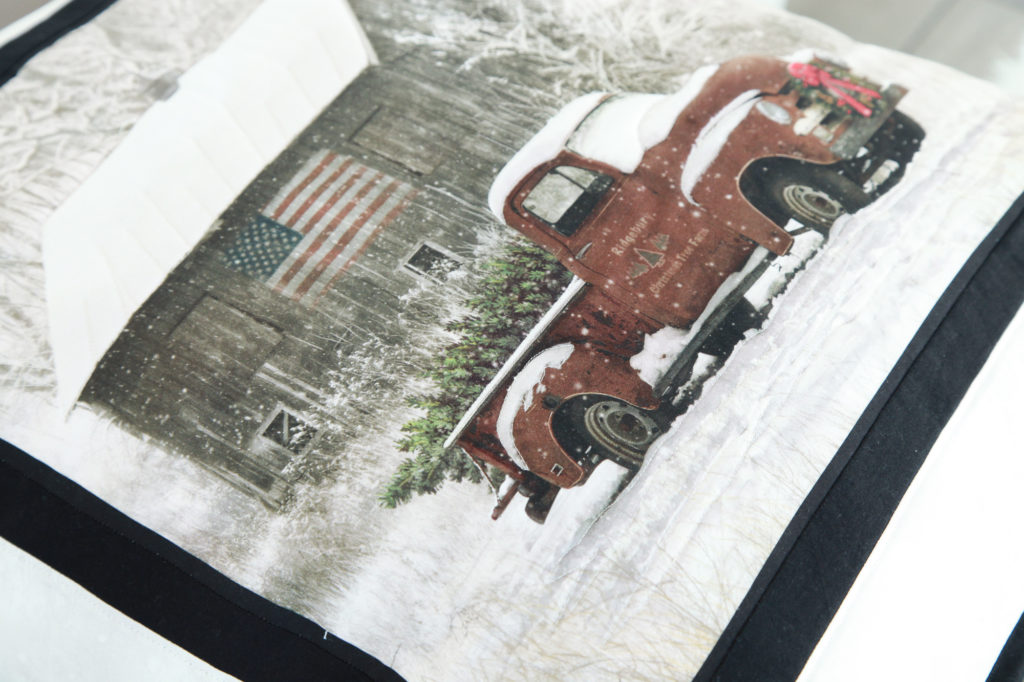 The rest of the panel was quilted by randomly following tree lines and outlines in the snowy ground. It is easy to take a few extra minutes to do this, and the added texture and interest it gives is well worth it.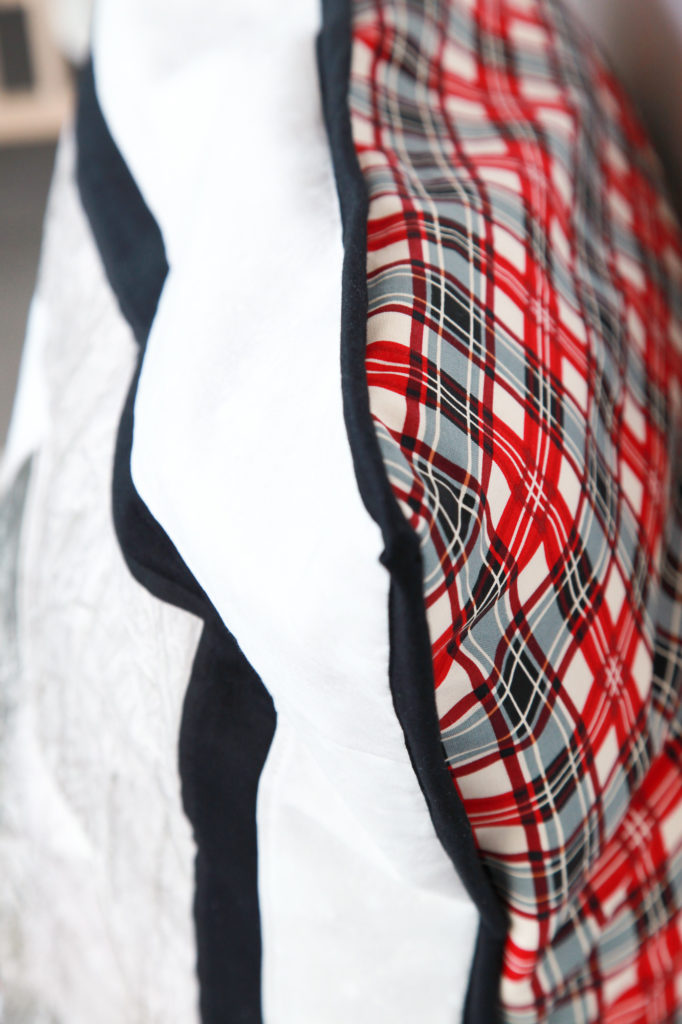 For the pillow back, I used the Christmas Memories Red Plaid. You can follow this fantastic TUTORIAL for making the envelope pillow back.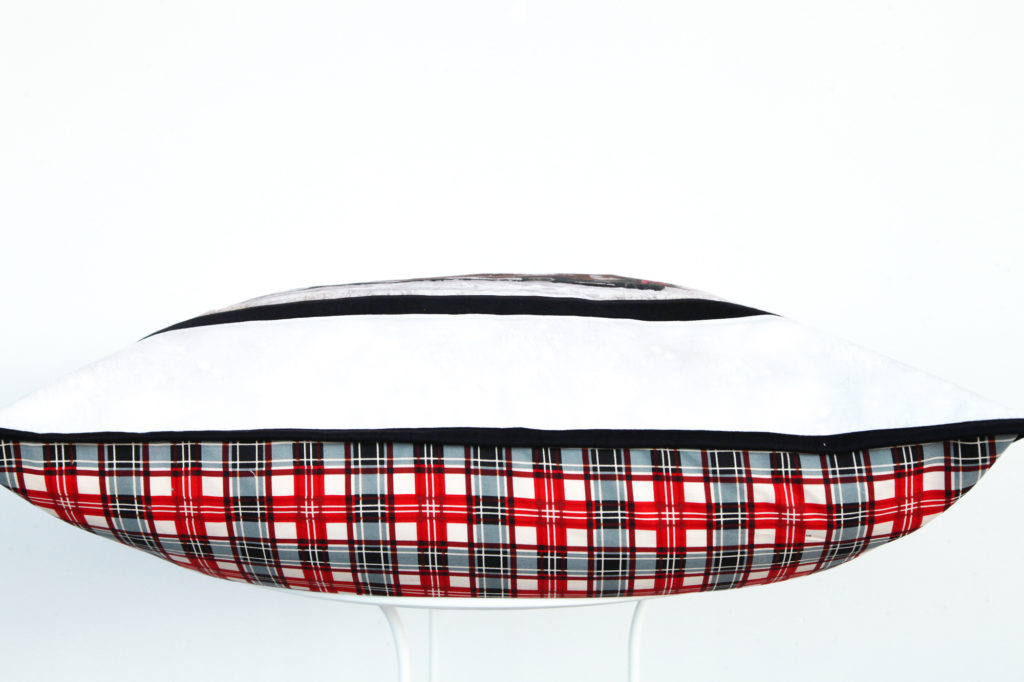 I used a traditional binding technique used in quilting to add another pop of Riley Black Confetti Cotton around the pillow edge. I love how it frames the pillow.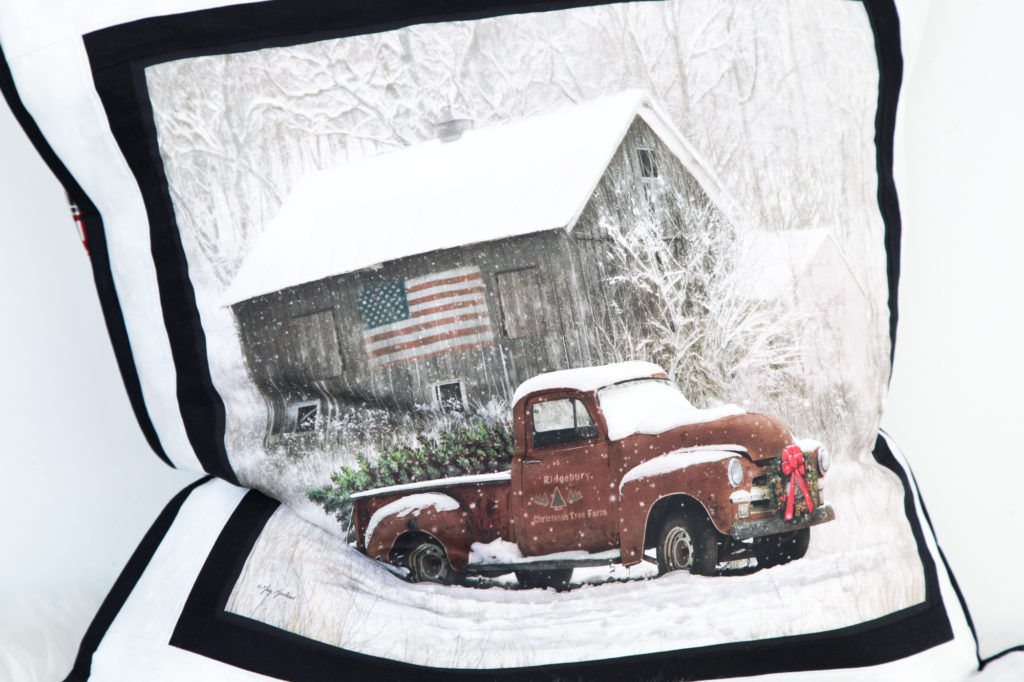 What I love about this pillow is how versatile it is. From shabby chic to traditional to modern, this giant Euro Throw pillow can fit right in!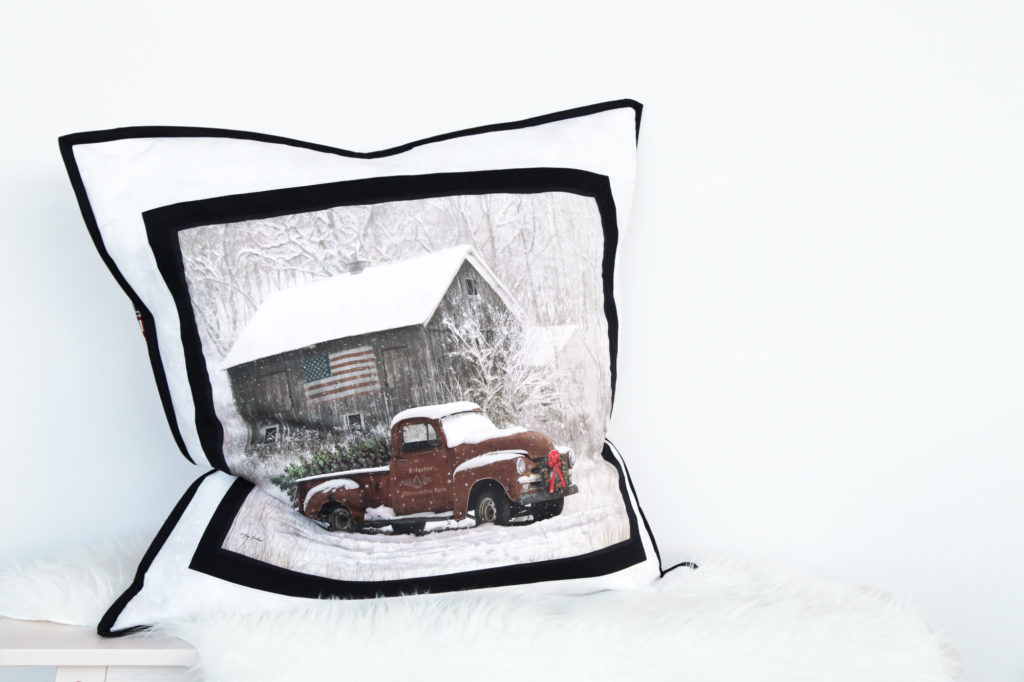 The best part about fabric panels is the gorgeous artwork you get to play with. The bonus is that the panels make whipping up a quilt or project super easy and super satisfying!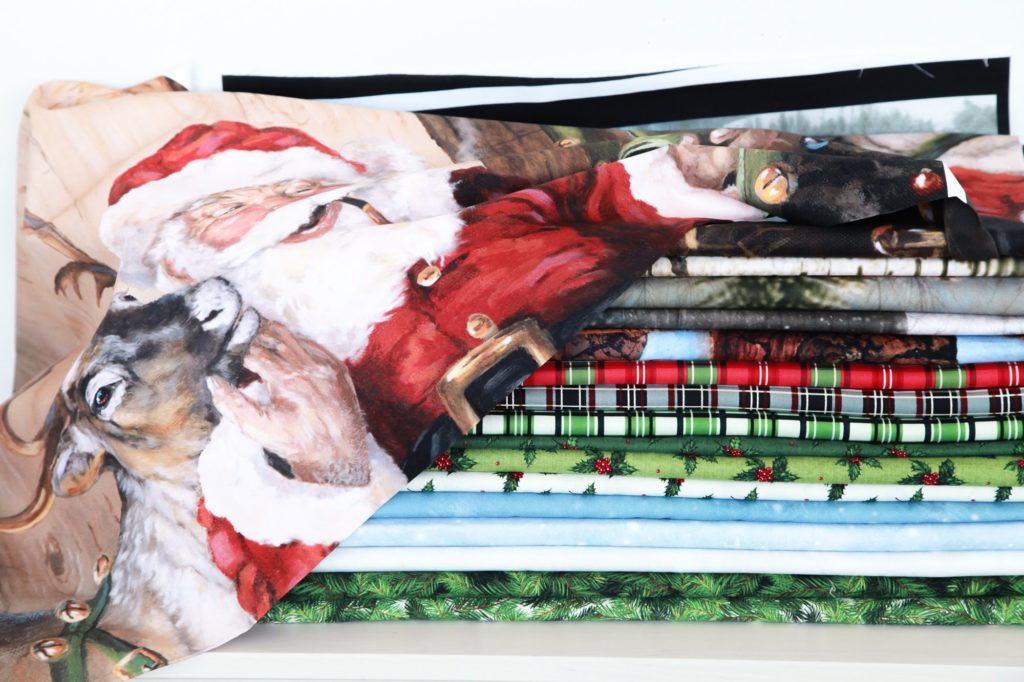 The Christmas Memories collection is available now at your favorite local and online quilt shops. Pick up yours today and share your makes with us on Instagram using #rileyblakedesigns #iloverileyblake #fabricismyfun, and be sure to tag us @rileyblakedesigns.
Thanks for stopping by!