Patty Young's Club Havana collection has arrived just in time for Summer, and I couldn't be happier! This fun collection features bright, saturated, tropical inspired designs that will have you dreaming of relaxing, sunny drives along the the coast with your favorite tunes playing on the radio.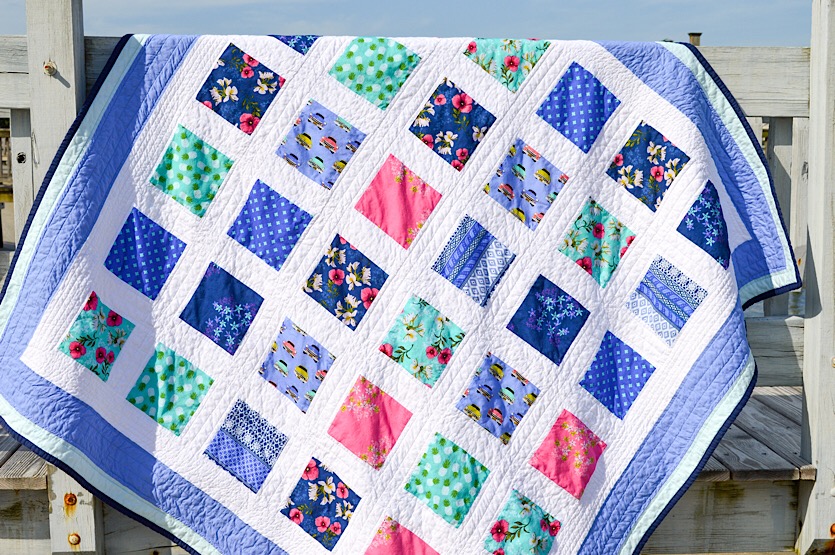 I am calling this the Snapshot Quilt because as I started assembling the quilt, I thought that each square looks like a fun little snapshot from a tropical vacation. Snapshots of beautiful flowers, textiles, food and cars!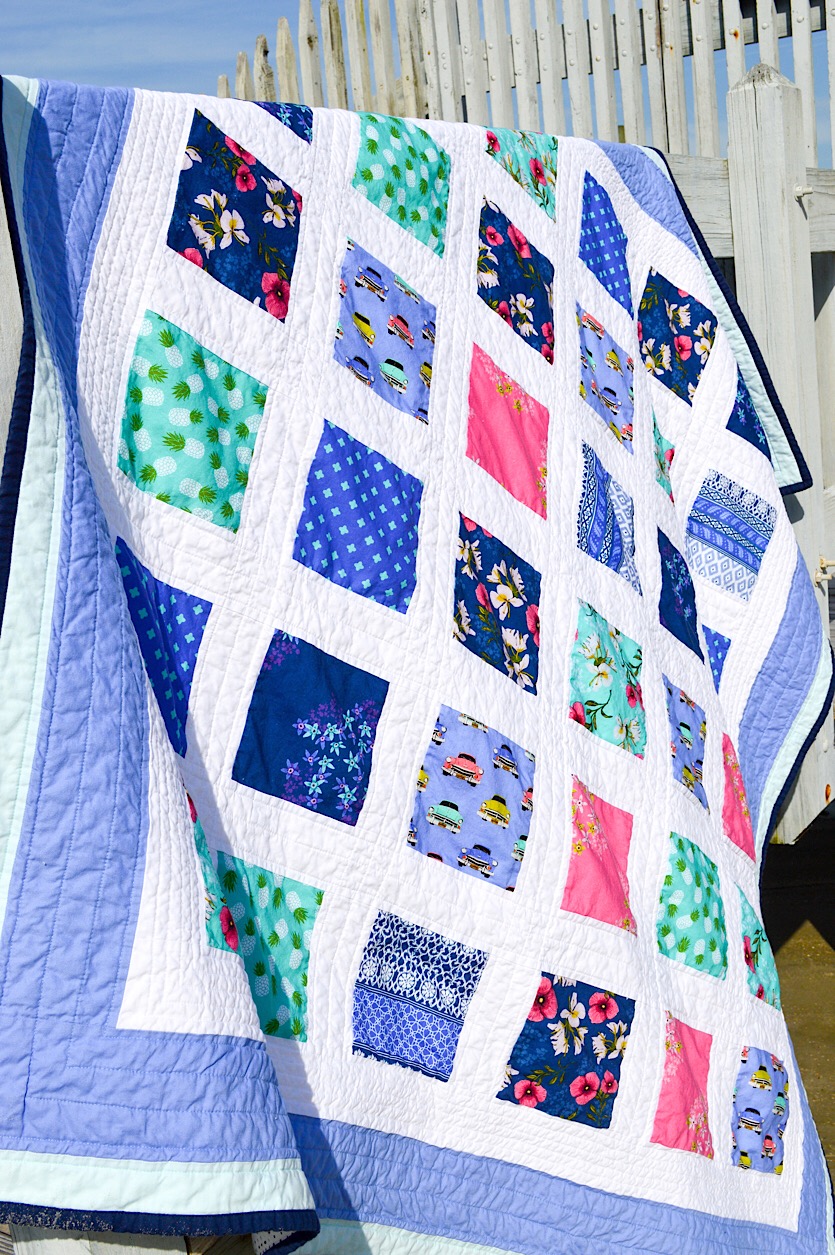 Aren't these colors just amazing? Everyone who sees these prints has a favorite. Mine would have to be the Florecita in all color ways! I love the delicate floral print on the bold backgrounds. My son loves the Havana Main. It reminds him of men's Hawaiian shirts, which are popular where we live.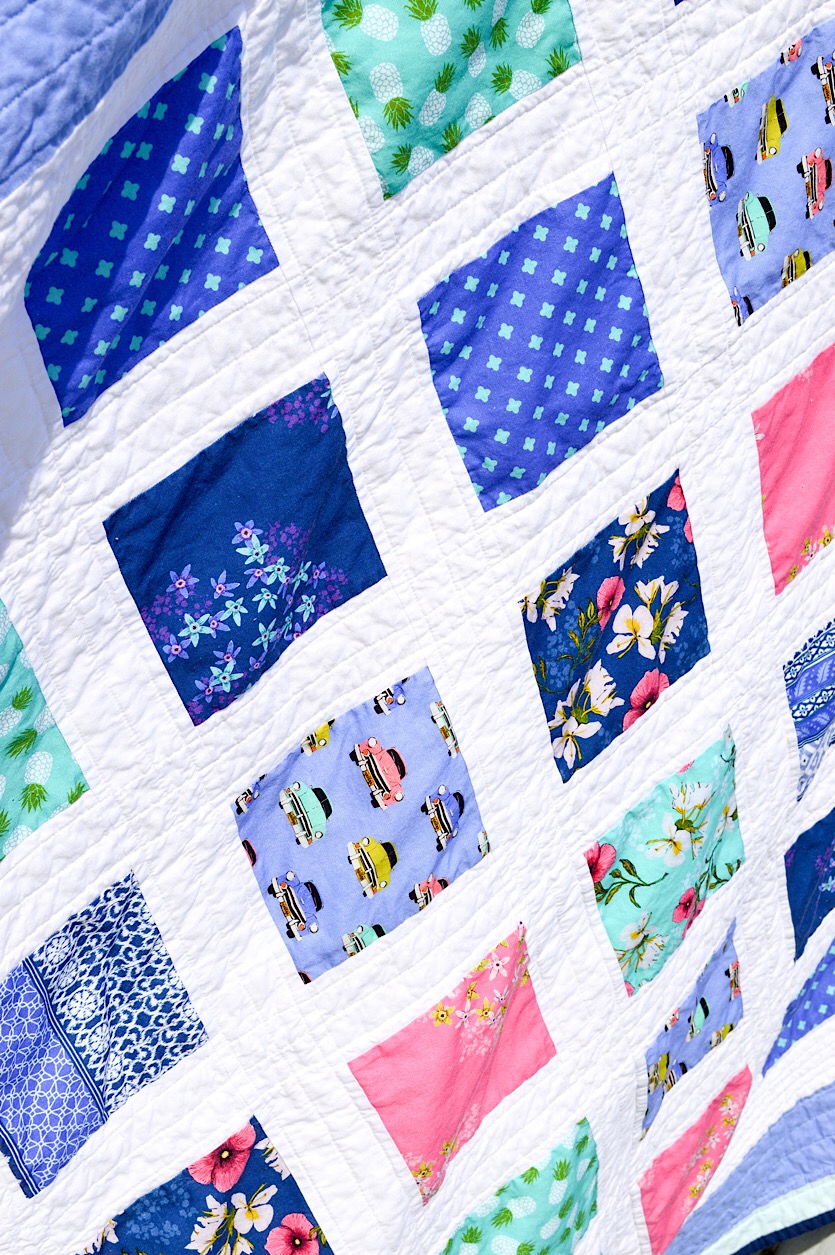 The Havana Boteros print is fabulous! Those vintage cars in gorgeous colors add a great punch of fun to this already brilliant collection!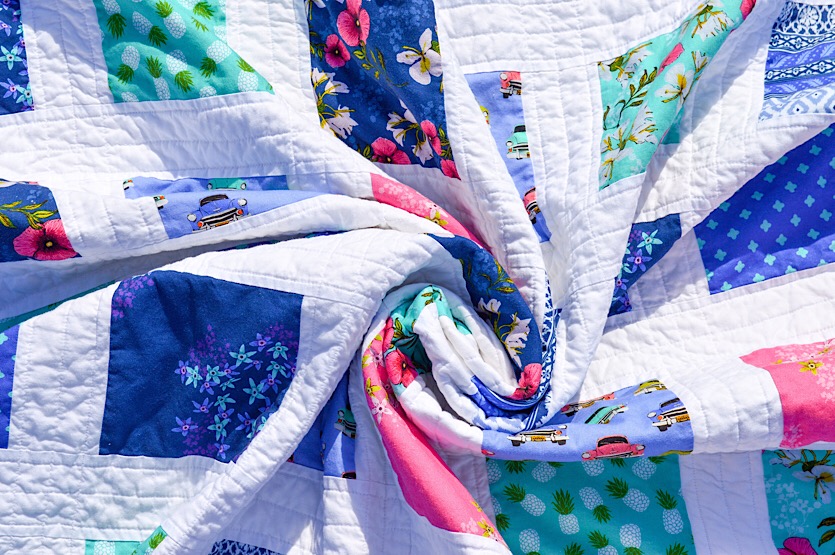 Make this quilt as a throw to cuddle up with while reading a good book, or throw it in the car for a summer picnic. Because of the simplicity of design and construction, you won't be afraid to use this quilt time and again.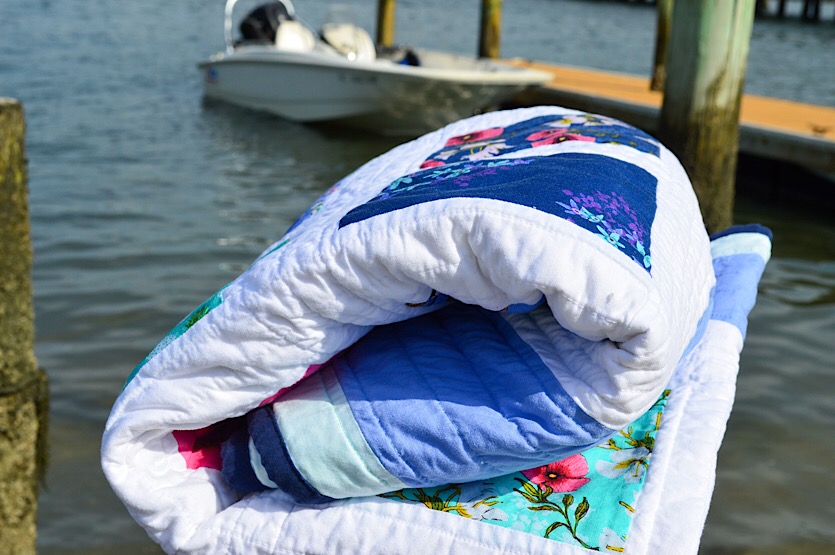 This quilt measures approximately 60" x 60", although it would be easy to make it smaller or larger by adding or subtracting squares and rows.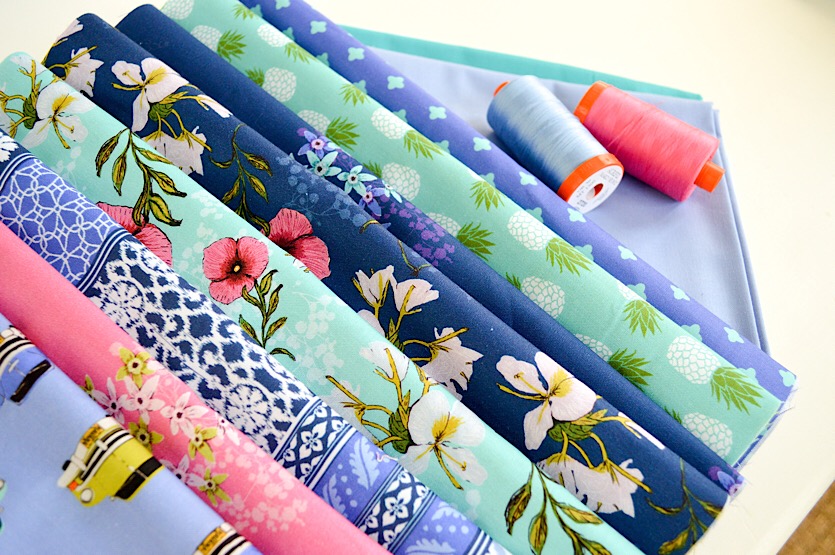 To make this quilt, you will need:
36 – 6" squares in various fabric from the Club Havana collection.
1 1/4 yard Riley White Confetti Cotton fabric cut into 3" x WOF strips
6 – 4" x WOF strips Crayola Periwinkle solid from the Riley Blake Crayola collection
6 – 2" x WOF strips Bleached Denim Confetti Cotton
1/2 yard Riley Navy Confetti Cotton for binding
quilt batting
fabric for quilt back
From the Riley White 3" strips, cut thirty 6" strips. As shown in the graphic below, sew 6" Havana squares to 3" x 6" Riley White strips, alternating so that each row has 6 squares and 5 white sashing strips. Press seams toward dark fabric. Repeat until you have 6 rows.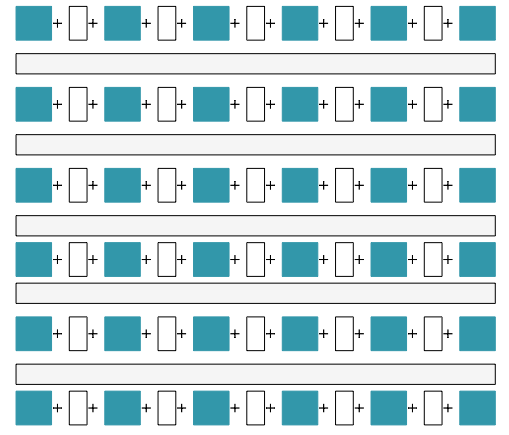 To save time, I like to sew all of the remaining 3" x WOF Riley White strips along the short ends, so you have one very long 3" strip of fabric. Press seams. Now use that 3" strip to add the long horizontal sashing strip in between each row, as shown above. As you finish each row, trim the strip so it is flush with the edge of the row. Press seams.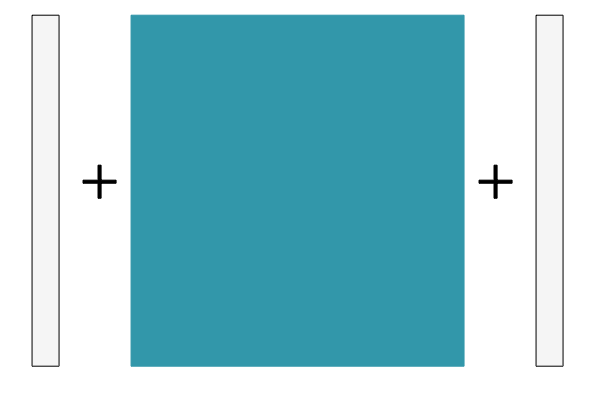 Now it's time to add the borders. Continuing with the Riley White, add a border strip to each side. Again, trim the white border strip so it is flush with the edge of the quilt. Press seams.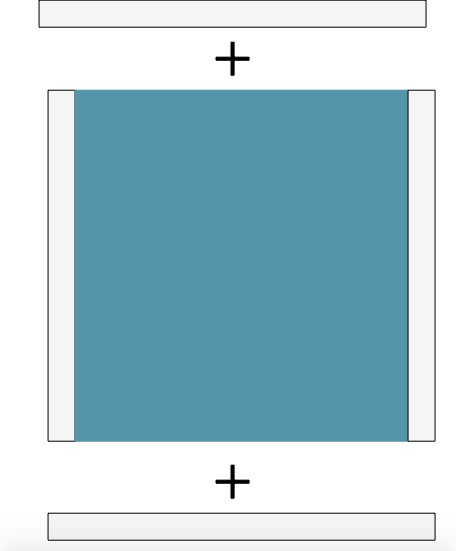 Add a white border to the quilt top and bottom. Press seams.
Sew all of the 6" Periwinkle strips along the short ends so you have one long 6" wide strip.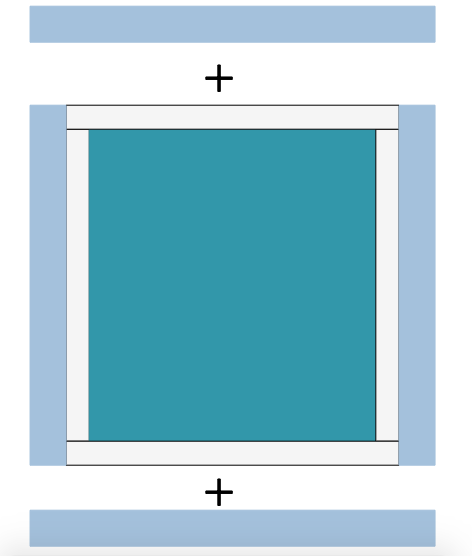 Sew the Periwinkle to the quilt sides and then to the quilt top and bottom, pressing seams as you go.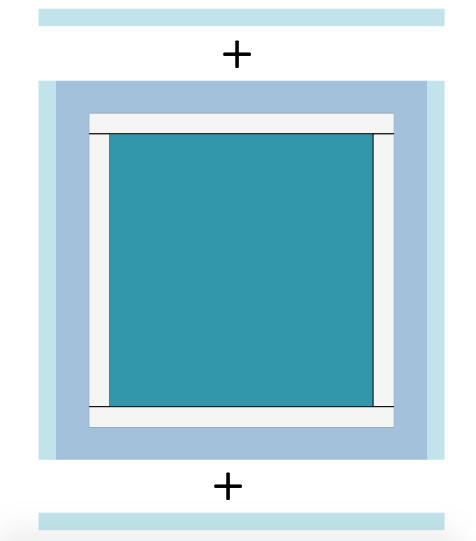 Repeat the same steps to add the 2" Bleached Denim Border.
Make your quilt sandwich (quilt back + quilt batting + quilt top). Baste.
Machine or hand quilt using your favorite design. I opted to quilt with straight lines along the sashings and borders, leaving the Havana squares unquilted.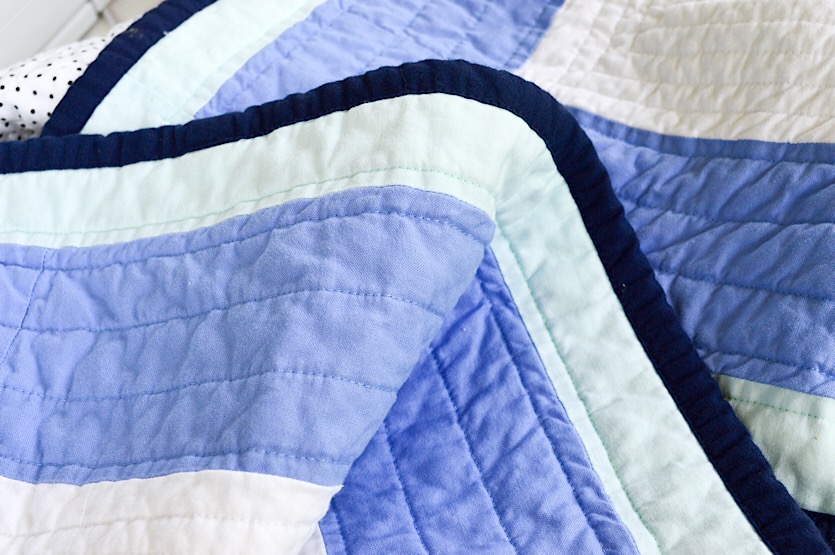 After you finish quilting, add your Riley Navy binding.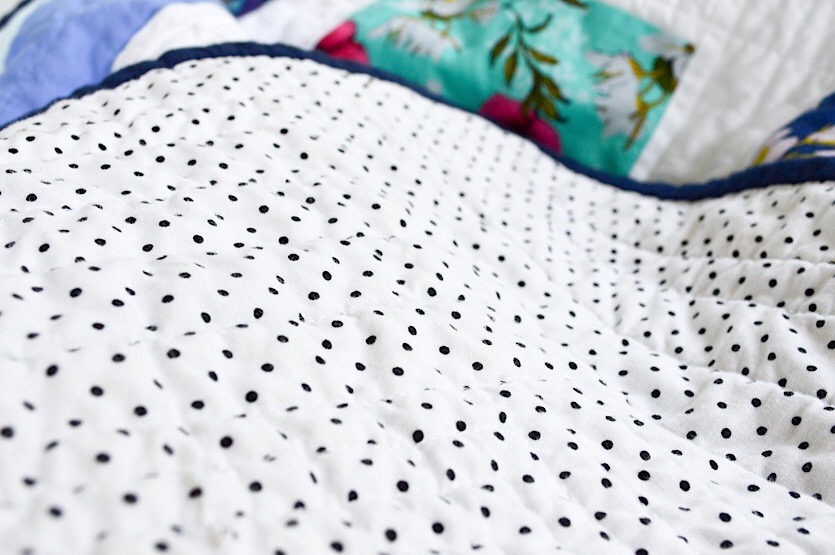 For the quilt back, I used one of my favorites – Navy Reversed Swiss Dot. This Riley Blake basic is so versatile and timeless, that I find myself using it over and over again.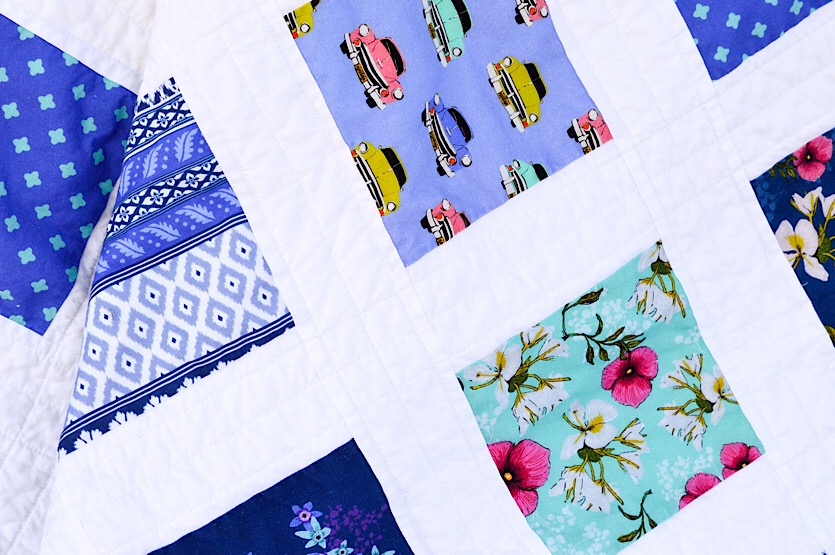 I love using white sashing to highlight gorgeous fabric prints, and as you can see, Patty's Havana fabrics POP in this simple quilt design!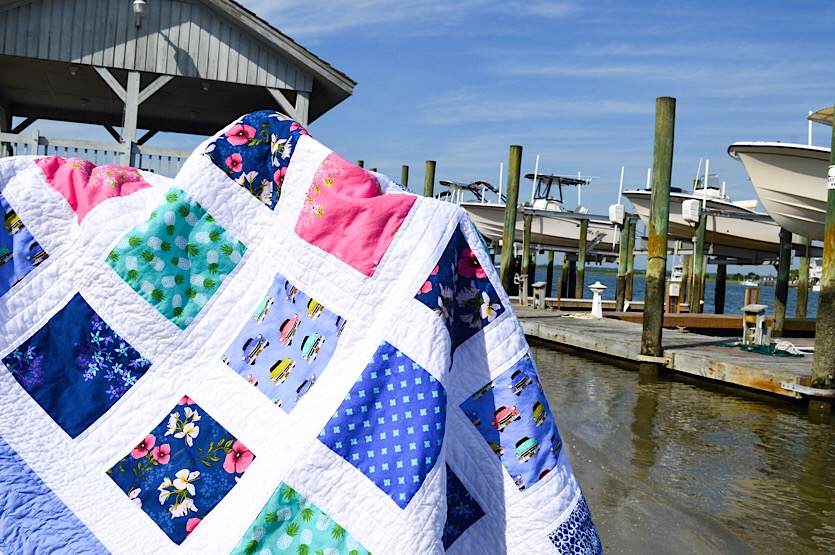 The calming navy blue paired with the sweet periwinkle and hot pink are a winning combination.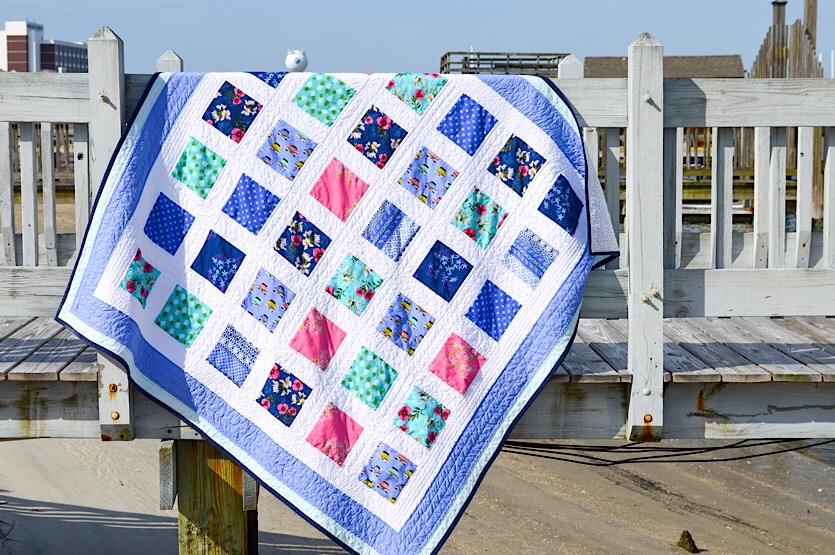 I love how the solid Crayola Periwinkle border brings out the same color in the Havana prints, while the navy binding provides a beautiful frame that does a great job drawing your eye to the navy tones in the quilt. Easy and dramatic, this is a great project for beginners who want to learn the basics of sewing sashings and borders.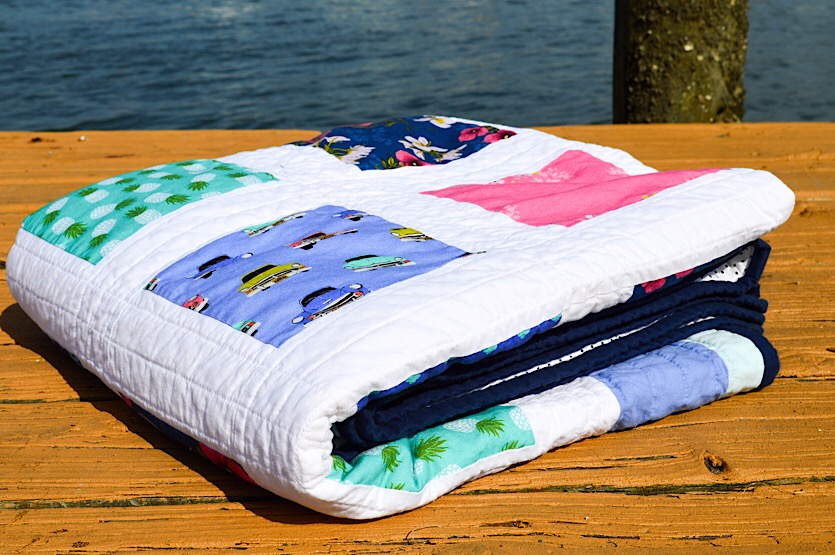 Club Havana is available now at your favorite local and online quilt shops. Be sure to follow Club Havana designer Patty Young on Instagram @pattyyoung.
Happy Quilting!