Each year Pantone Announces the Color of the Year. For the second time in 22 years, Pantone has selected 2 colors to represent this year. Those colors signal optimism and strength.
We have selected 8 Confetti Cotton colors that we feel capture the essence of the color (or should we say colors) of the year. We're re-releasing 12 projects, one each month as well as a quarterly FREE quilt pattern or tutorial that feature our dazzling range of colors.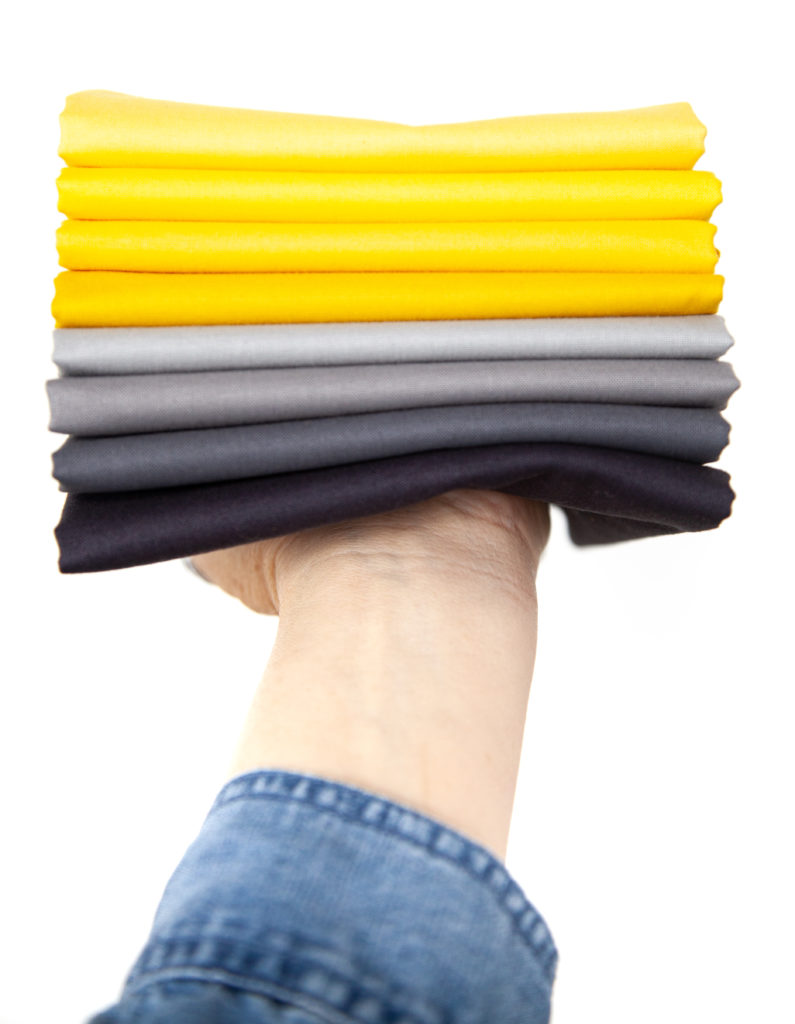 Aren't these colors delicious? They are: Lemon Zest, Riley Yellow, Dandelions, Honey, Silver, Riley Gray, Iron, and Charcoal
Click on play to watch this little 15 second video for a closer look at the fabrics.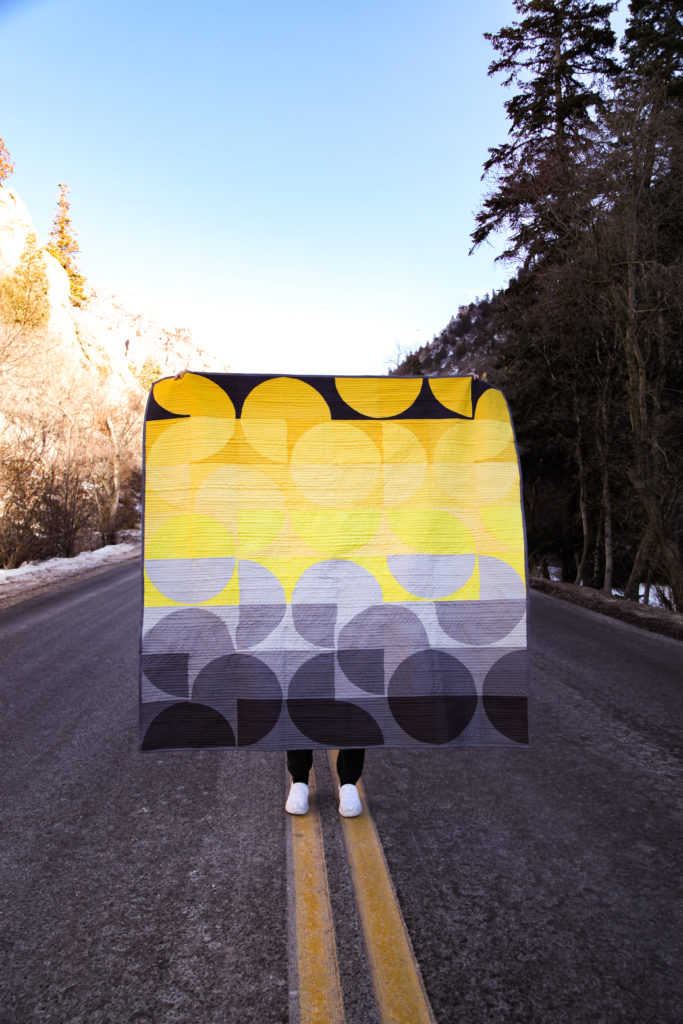 The first quilt we are making is called the "Night and Day Quilt." This is a throw sized quilt, measuring approximately 64″. It consists of one block design…yes, you read that right…you are making just one type of block called a Drunkard's Path block. The block has two parts: the inner curve and the outer curve. Each row on this quilt is made up of 8 blocks for a grand total of 64 blocks.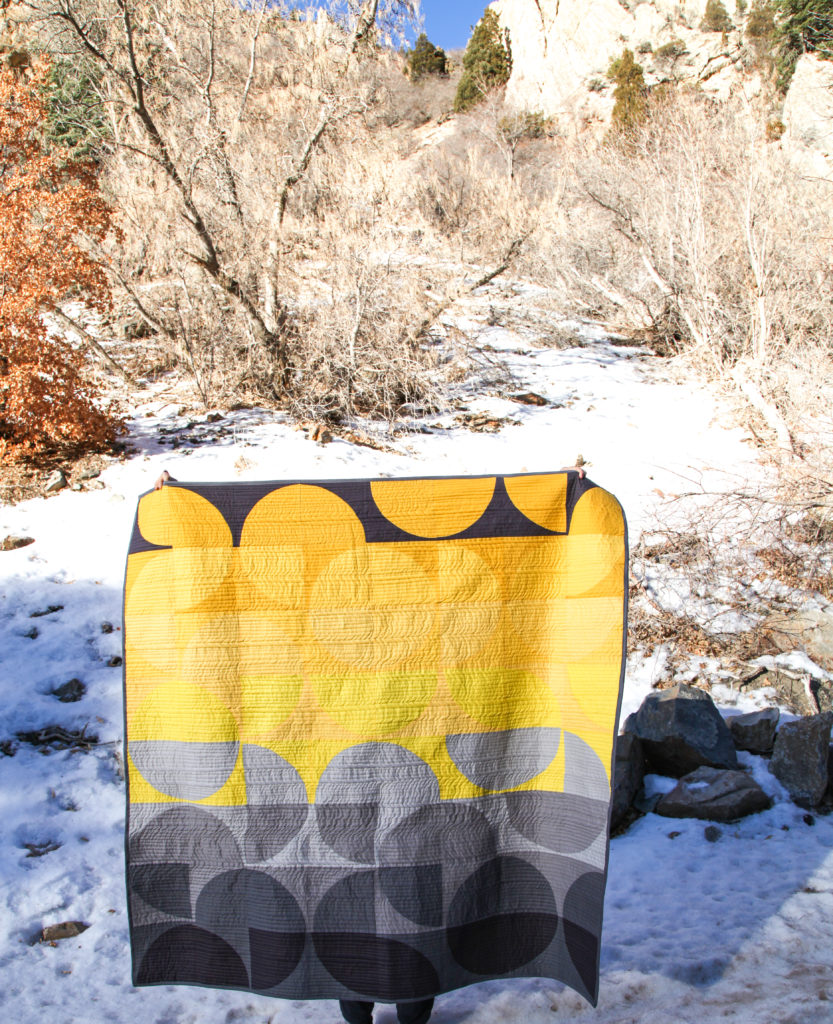 To make this quilt, you will need:
2/3 yard Confetti Cotton Lemon Zest
2/3 yard Confetti Cotton Riley Yellow
2/3 yard Confetti Cotton Dandelions
2/3 yard Confetti Cotton Honey
2/3 yard Confetti Cotton Silver
2/3 yard Confetti Cotton Riley Gray
2/3 yard Confetti Cotton Iron
2/3 yard Confetti Cotton Charcoal
Printable Drunkard's Path TEMPLATE
Quilt Batting
Fabric for quilt back
Fabric for binding
Print your drunkard's path block template and tape the two outer curve (labeled A) sections together. Next tape the inner curve (labeled B) sections together.
Using the inner curve template, cut 8 pieces from each of the yellow and gray Confetti Cotton colors. Next, take the outer curve template and cut 8 pieces from each of the yellow and gray Confetti Cotton pieces.
I find it easiest to separate the pieces for each row at this point. Make 8 stacks of fabric with the following parings:
Row 1: Honey (B) + Charcoal (A)
Row 2: Riley Yellow (B) + Honey (A)
Row 3: Dandelions (B) + Riley Yellow (A)
Row 4: Lemon Zest (B) + Dandelions (A)
Row 5: Silver (B) + Lemon Zest (A)
Row 6: Riley Gray (B) + Silver (A)
Row 7: Iron (B) + Riley Gray (A)
Row 8: Charcoal (B) + Iron (A)
Below, I am going to give step by step instructions for sewing a drunkard's path block. In the pictures, I am using the fabrics for Row 1 (Honey and Charcoal). I also created a short video showing how to make the block. I am hoping that seeing the photos and watching the video will take away any fear you may have when it comes to sewing curves. They are actually quite fun and easy!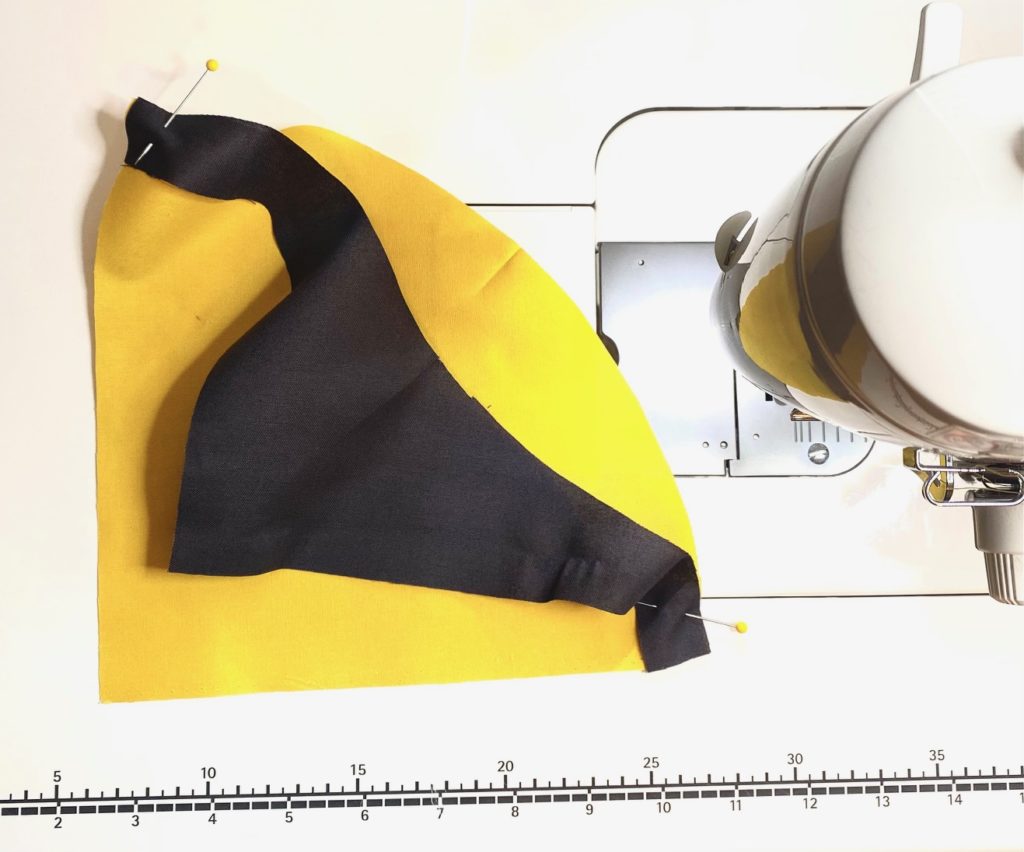 Step 1: Pin the edges of the inner and outer curve pieces together as shown above. Notice how I marked the center of each curve (I used my fingernail to create the temporary mark). You will want to have these marked for the next step.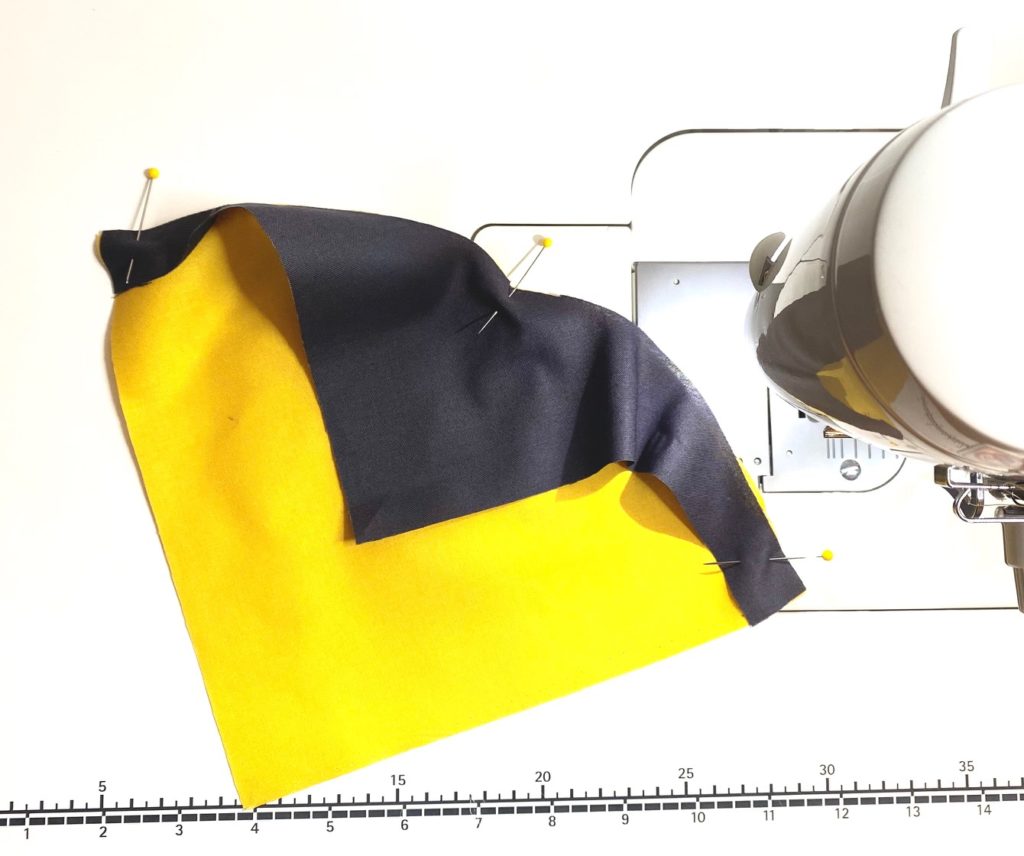 Align those little center marks and pin together.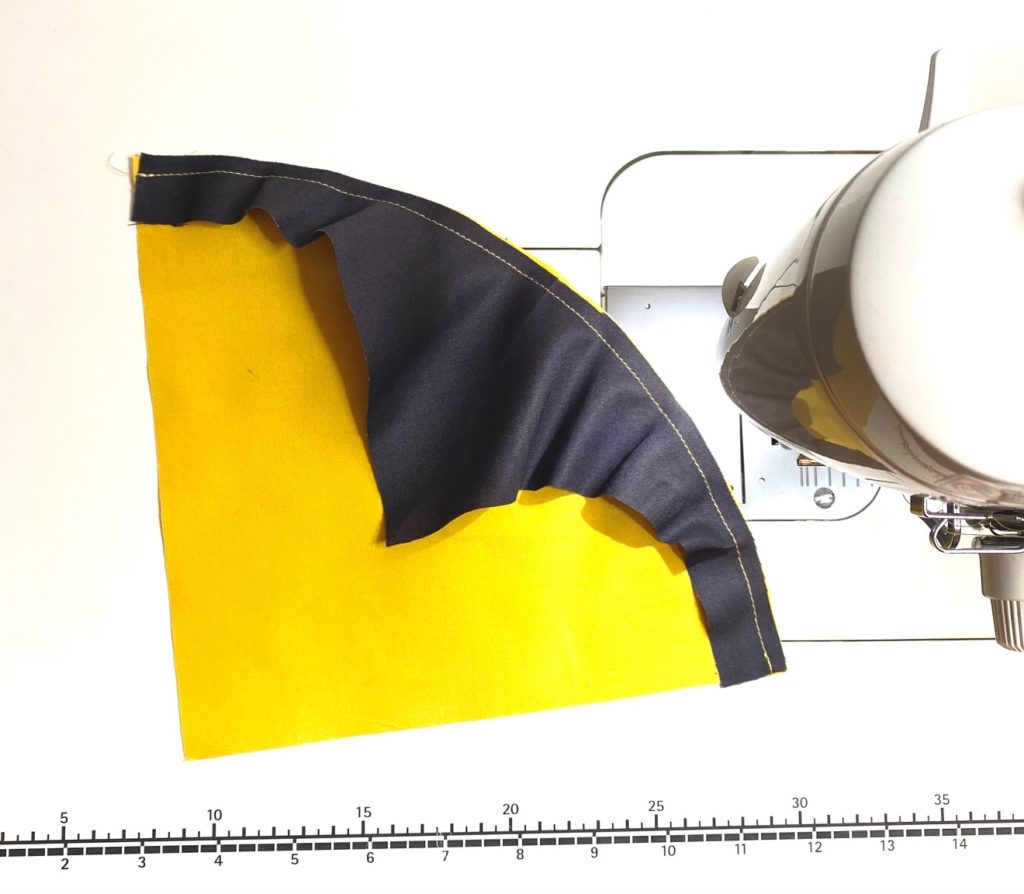 Now simply sew the two pieces together using a scant 1/4″ seam allowance. Take your time and work your way through the curve being careful not to stretch out the fabric as you sew.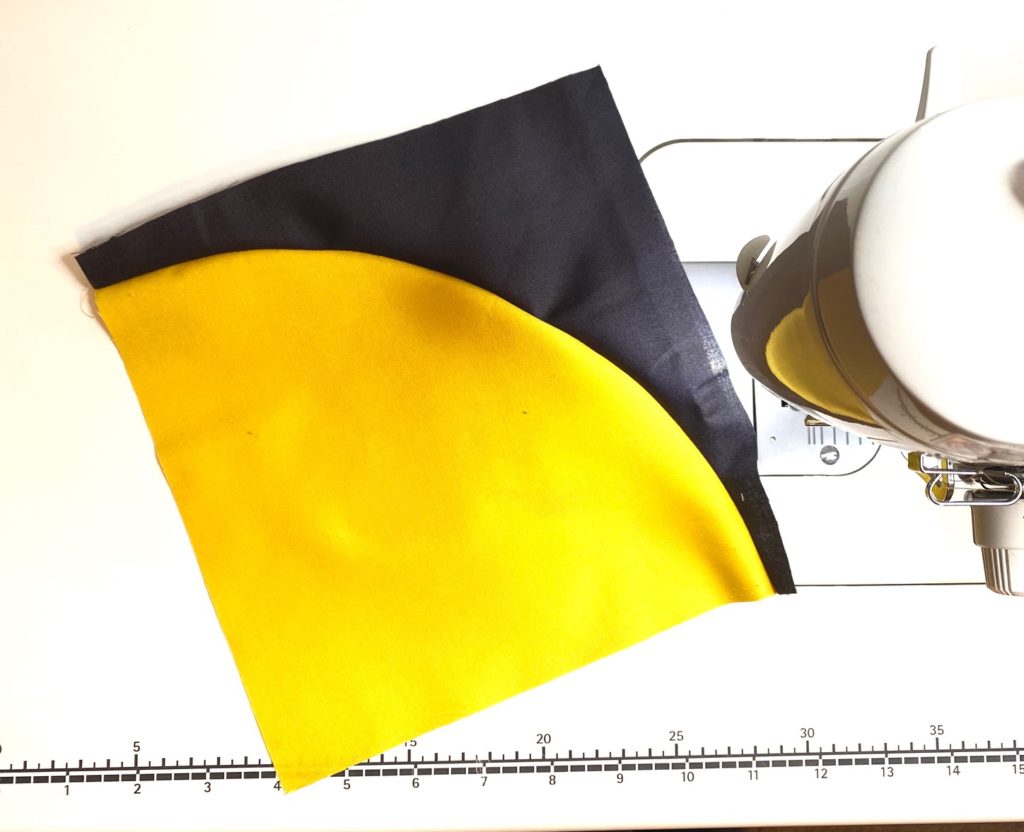 Flip the pieces open, and press toward the outer curve.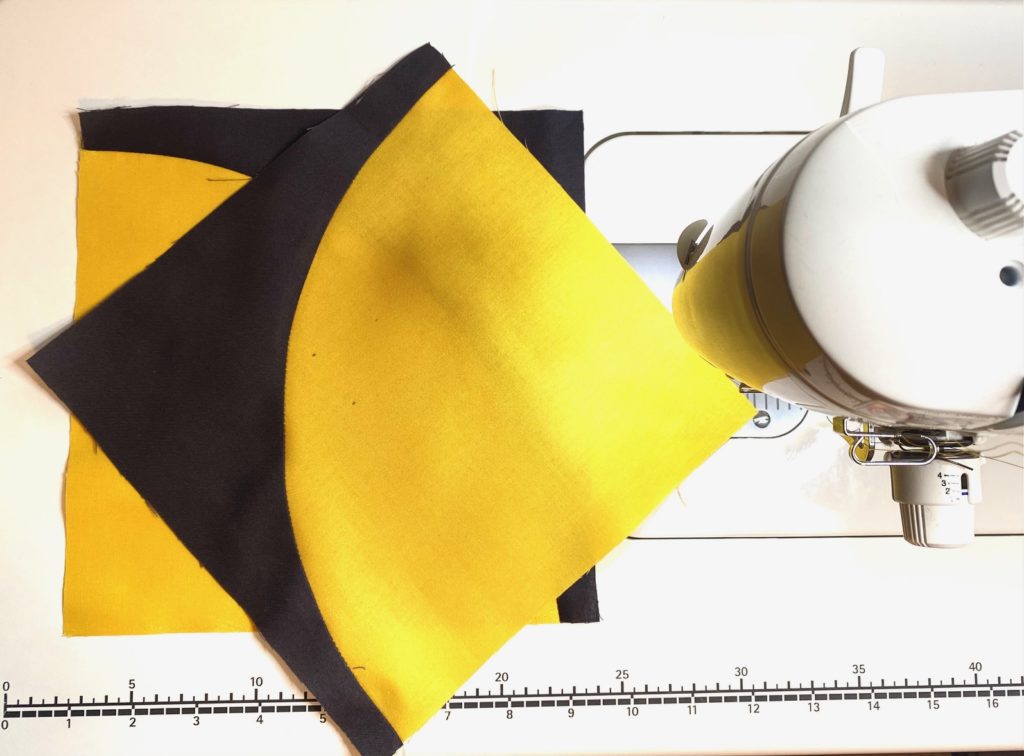 Trim the blocks so they measure 8 1/2″ square.
Here is a quick little video showing the process of making the block.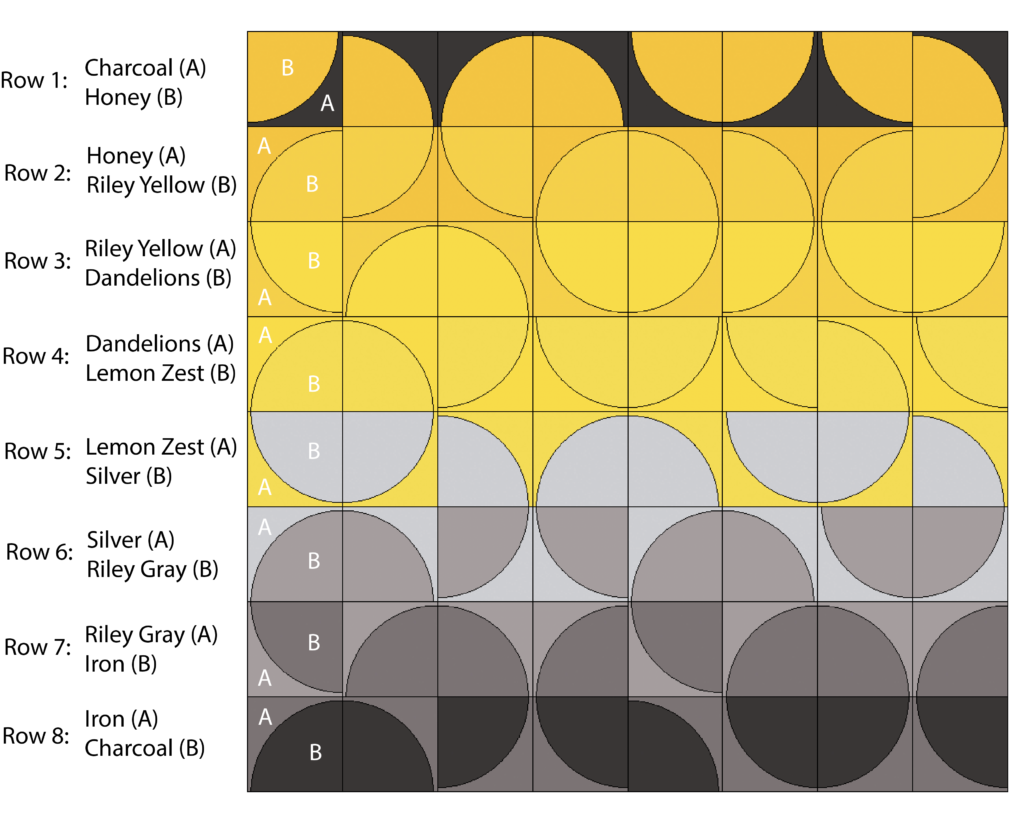 Once you have mastered one block, you have mastered the entire quilt! Sew all of the drunkard's path blocks in exactly the same way.
After the blocks are completed, sew the rows together. Use the diagram above for reference for the placement and rotation of the blocks.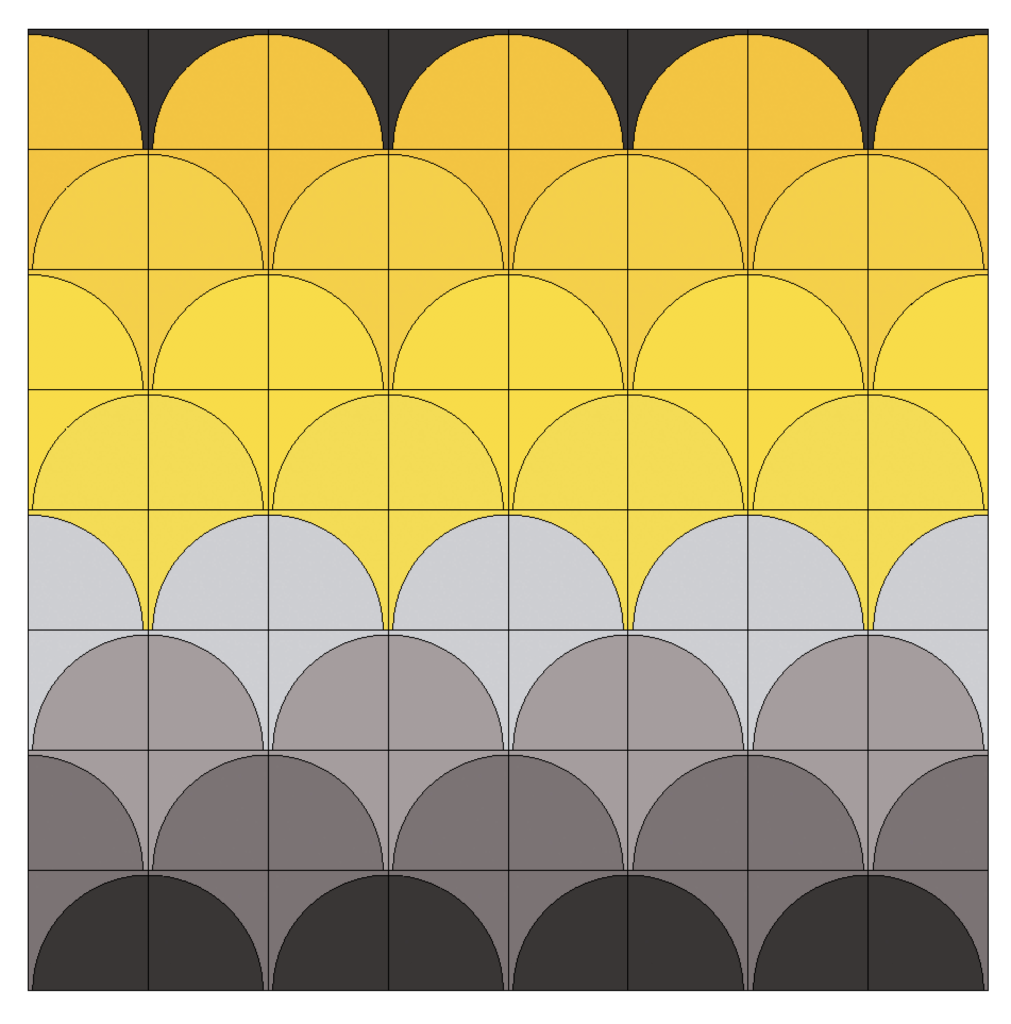 Here is an alternate design you might want to try out. This clamshell design uses the exact same blocks with the exact same color and row arrangement. The only difference is that the blocks are rotated differently. How fun is that?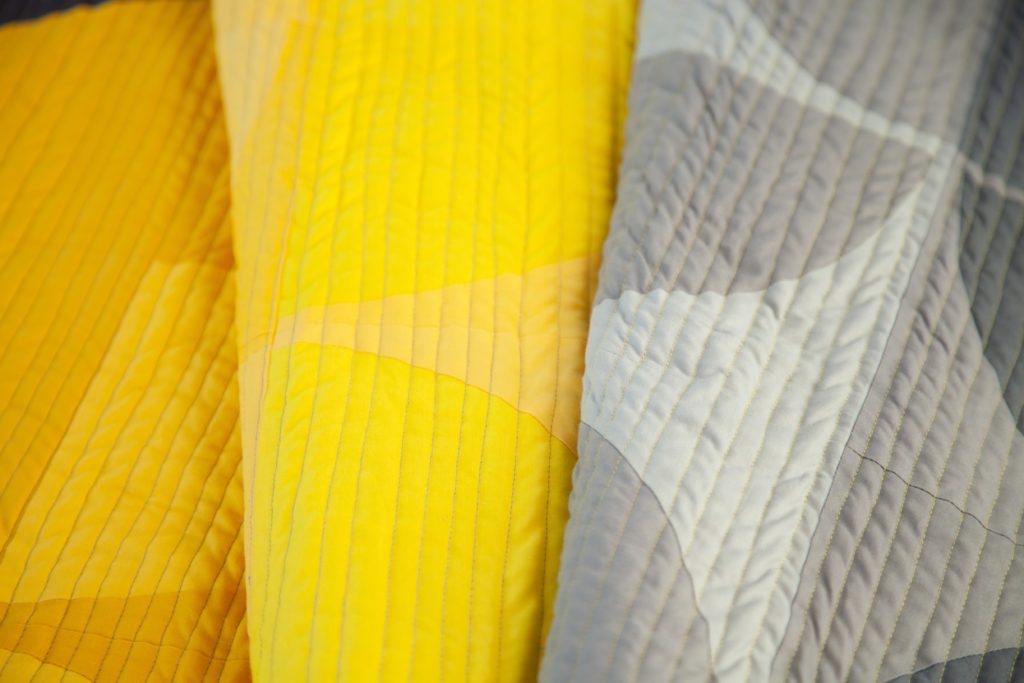 I used two different threads to quilt this. For the yellow half of the quilt, I used a medium grey thread. For the Grey half of the quilt, I used a sunny yellow thread. I love the little bit of contrast the thread colors add.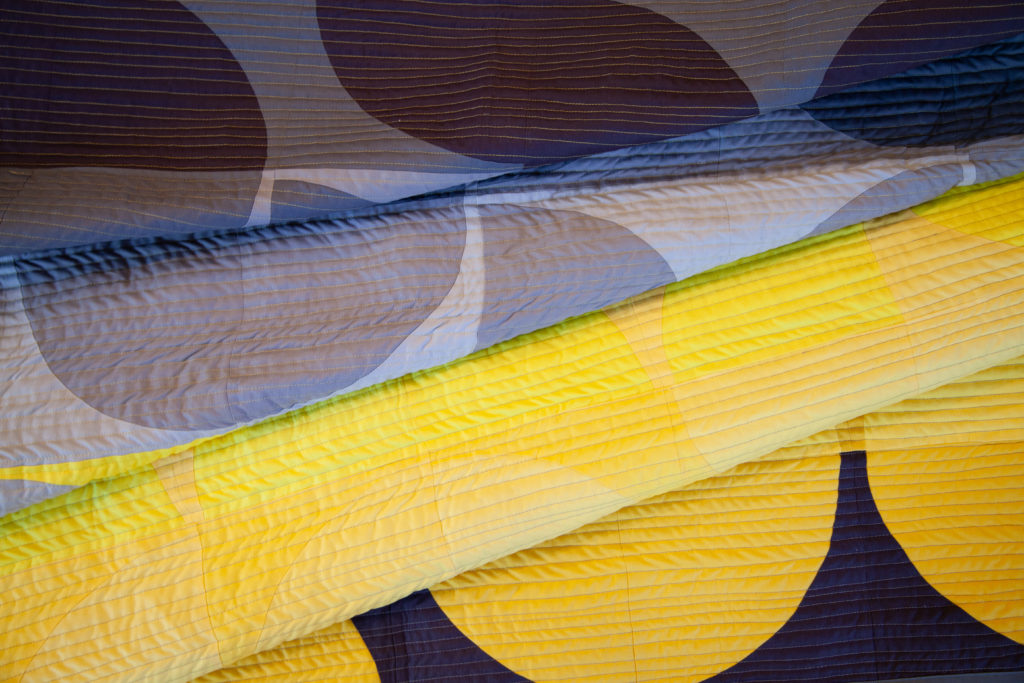 I quilted this using straight-ish lines about 1/4″ – 1/2″ apart. Let me tell you, don't straight line quilt in a hurry. I ended up with ripples as far as the eye could see, and if that bothers you, try a different design when in a time crunch. The ripples don't bother me — it all looks scrunchy after it has gone through the wash — but I know for some that could be very frustrating.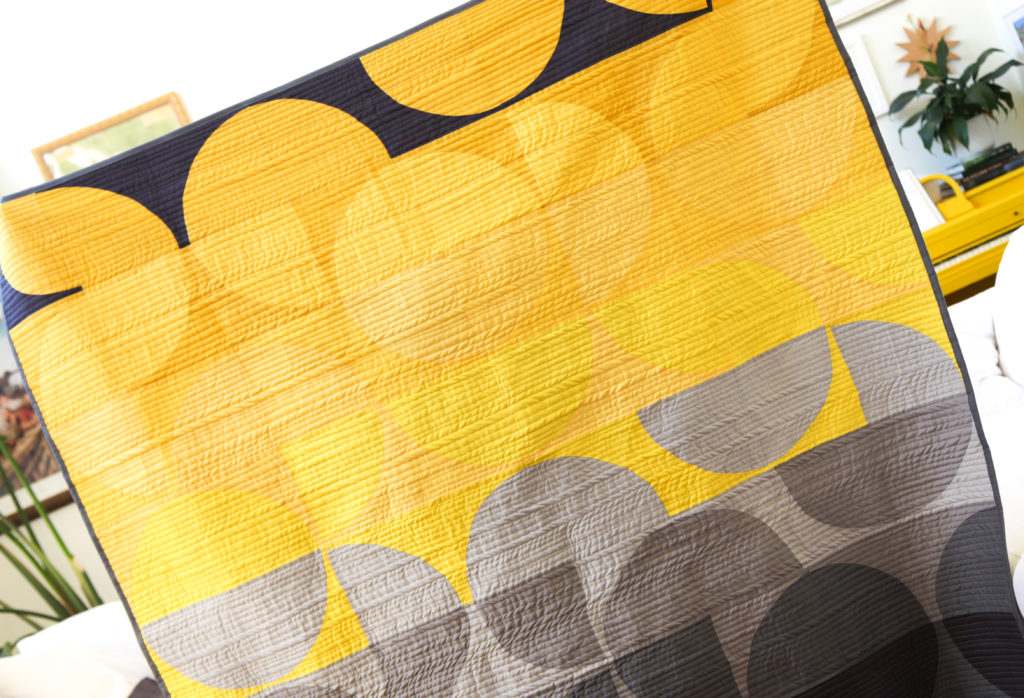 I LOVE the way this quilt transitions from dark to light, cool to warm, with subtle color variations happening in that progression. And the modern curves are so much fun to play with. Once you have your blocks made, the options really are endless!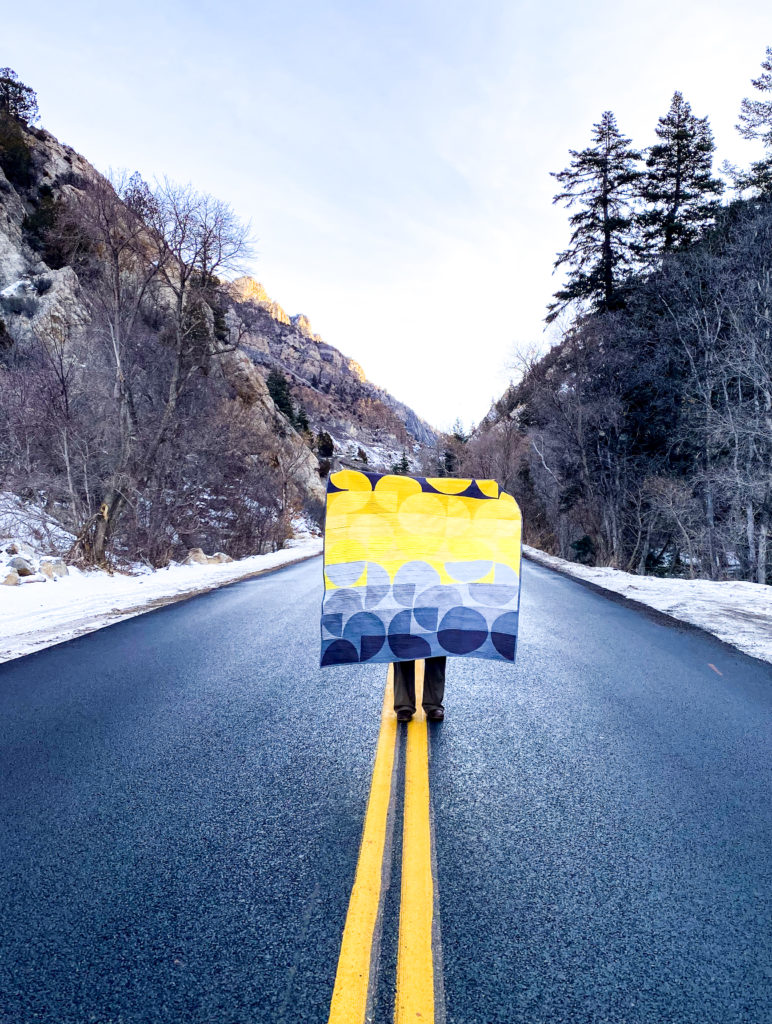 We have many more free quilt patterns and project ideas coming your way throughout the year, so stay tuned!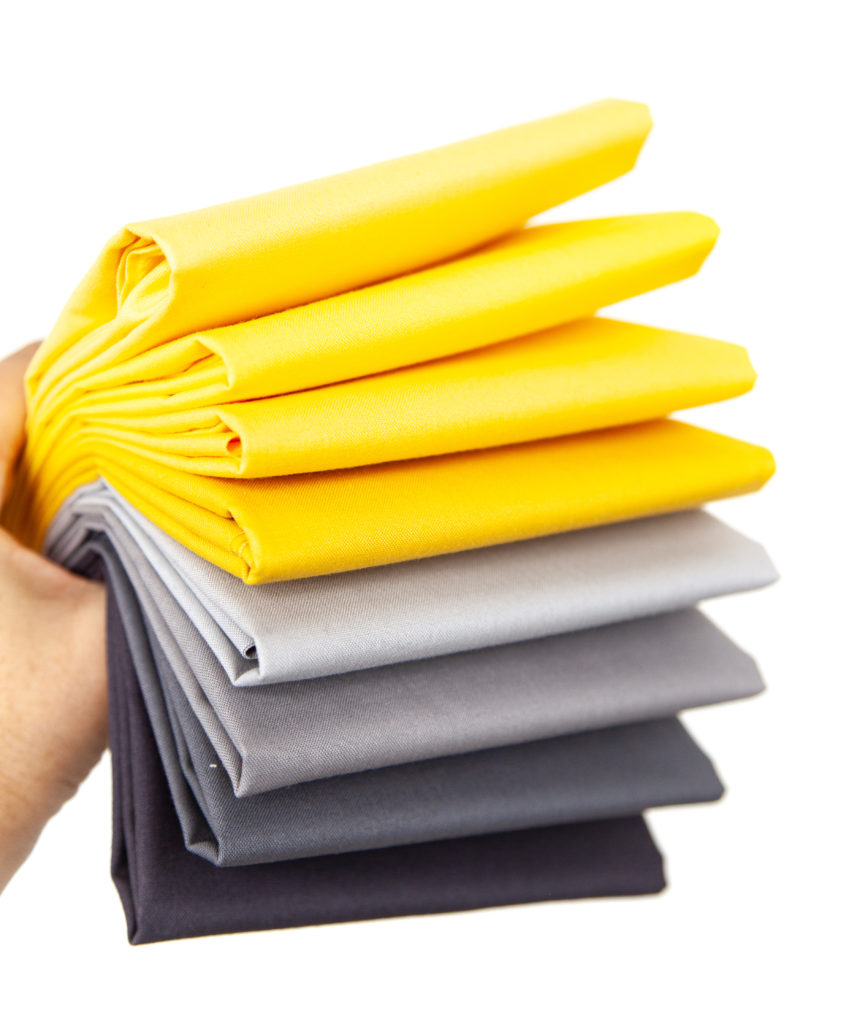 Confetti Cotton Color of the Year yardage and fabric bundles are available for purchase at your favorite local and online quilt shops. Pick up yours today and share your makes with us on Instagram using #rbdcoty, #rbdcreatecolorfully, #rileyblakedesigns, #iloverileyblake, and tag us @rileyblakedesigns.