Dorothy's Journey, designed by the lovely and talented Jill Howarth, is hitting stores, and we couldn't be more excited!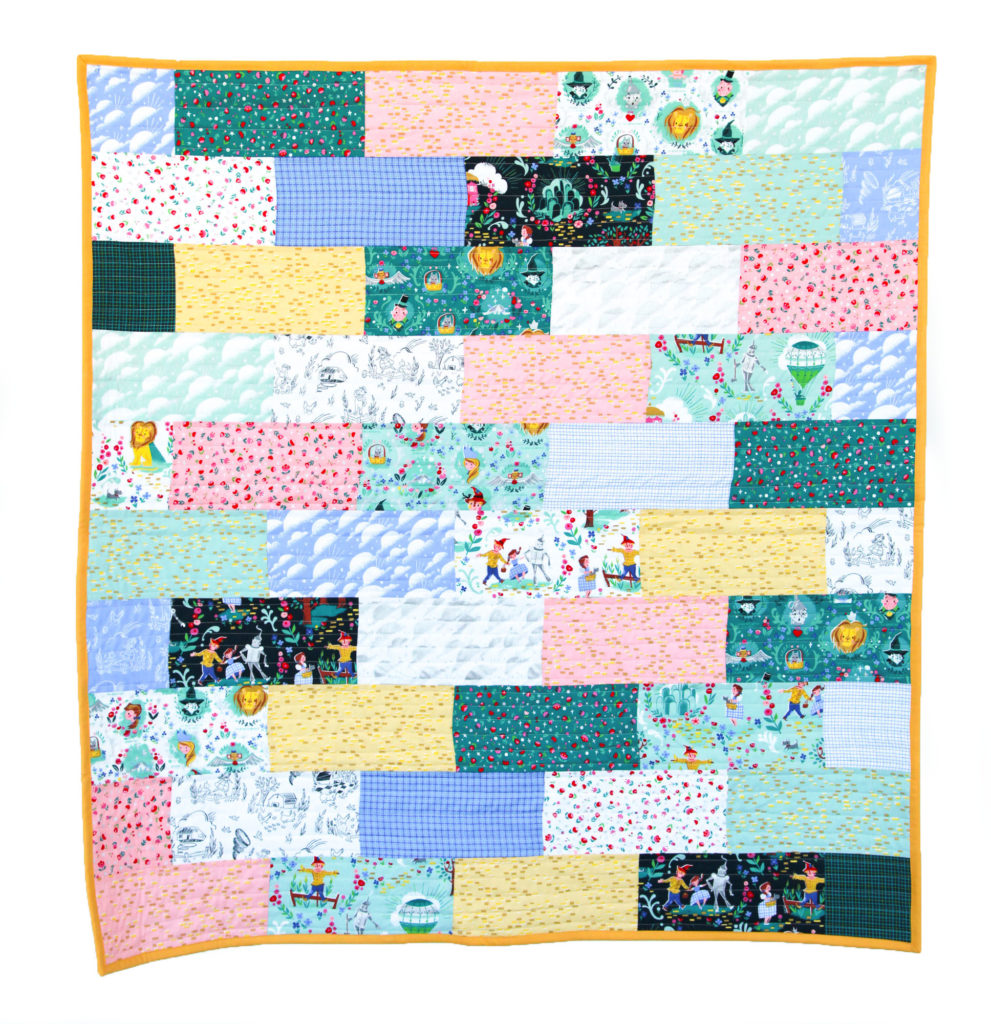 Jill's artistry comes alive with this joyful collection of Wizard of Oz themed prints. The artwork hints of the charming illustrations of vintage storybooks. Combined with a fresh, modern color palette, the collection has a breathtaking, timeless appeal.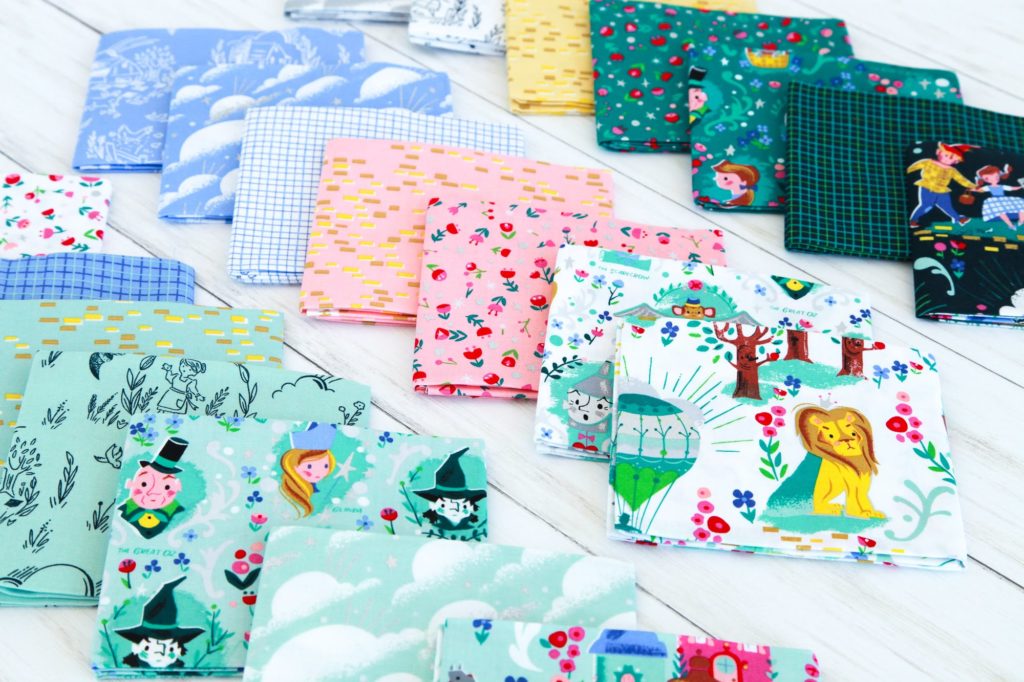 Looking through the fabric line, you'll see your favorite Oz scenes and characters come to life – from twisters, to hot air balloons, to a Tin Man that really sparkles!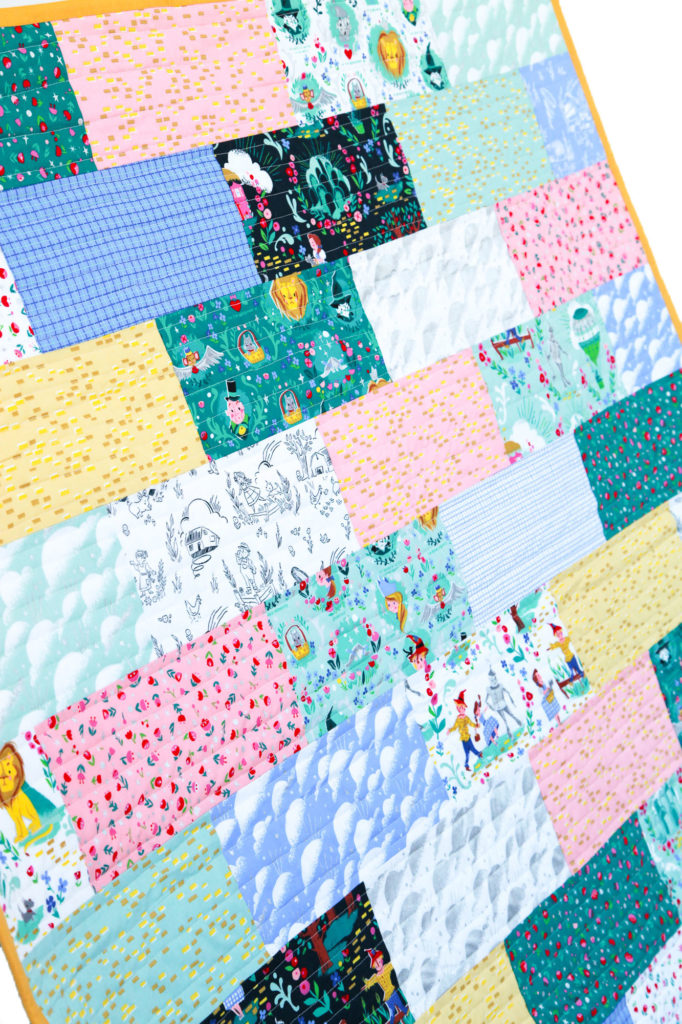 What's more fitting for an Oz themed quilt than a brick path pattern? The truth is, this might be one of the easiest quilts you could ever make.
Start with a 10″ stacker, or cut your own 10″ squares. (You'll need 23 – 10″ squares to make a baby quilt measuring approximately 42″ x 45″.)
Cut the 10″ square in half, so you end up with 5″ x 10″ "bricks." **Note, most of the fabrics in this collection are directional, so be sure to cut the squares horizontally.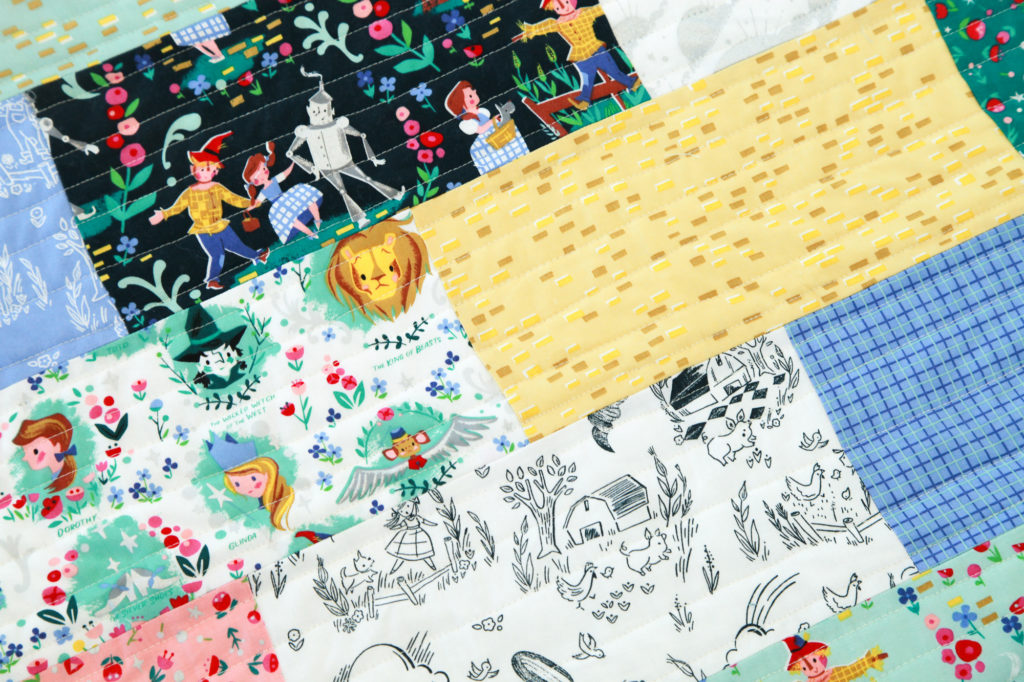 Next, lay out the bricks in a staggered pattern so you have them arranged exactly how you want them. For the little end pieces, cut a brick in half.
Each row in this quilt uses 4 bricks + 1 half brick on the end. There are 10 rows total.
Now sew the bricks together into rows and then sew the rows together, pressing as you go.
That's all there is to it! Easy peasy!
If you'd like to watch a video showing exactly how the brick path comes together, MQS has a great one HERE.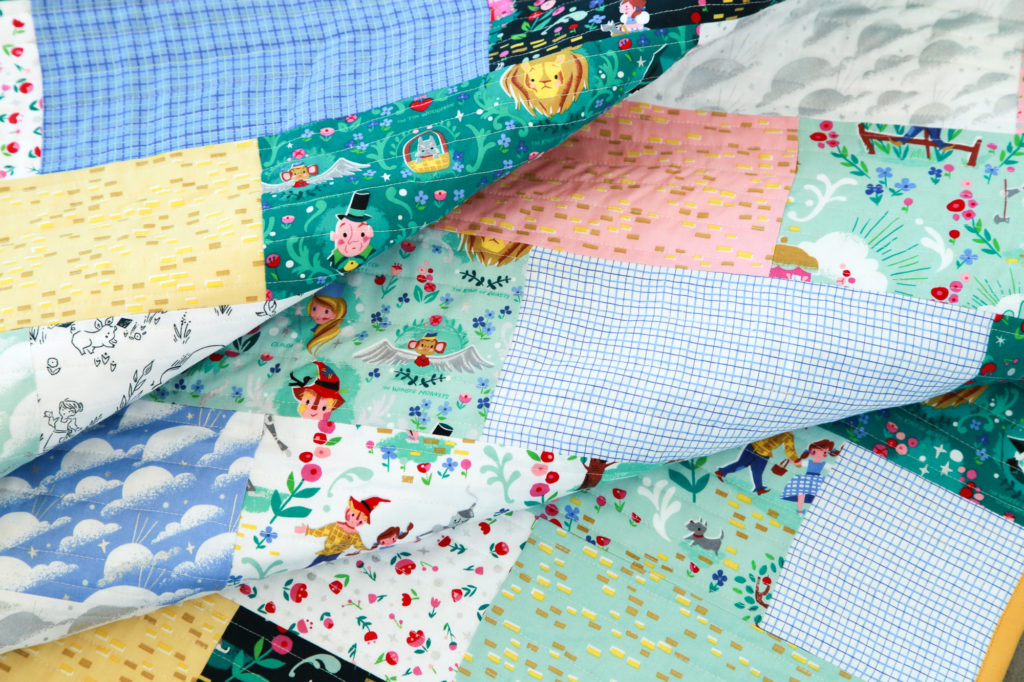 Isn't it beautiful?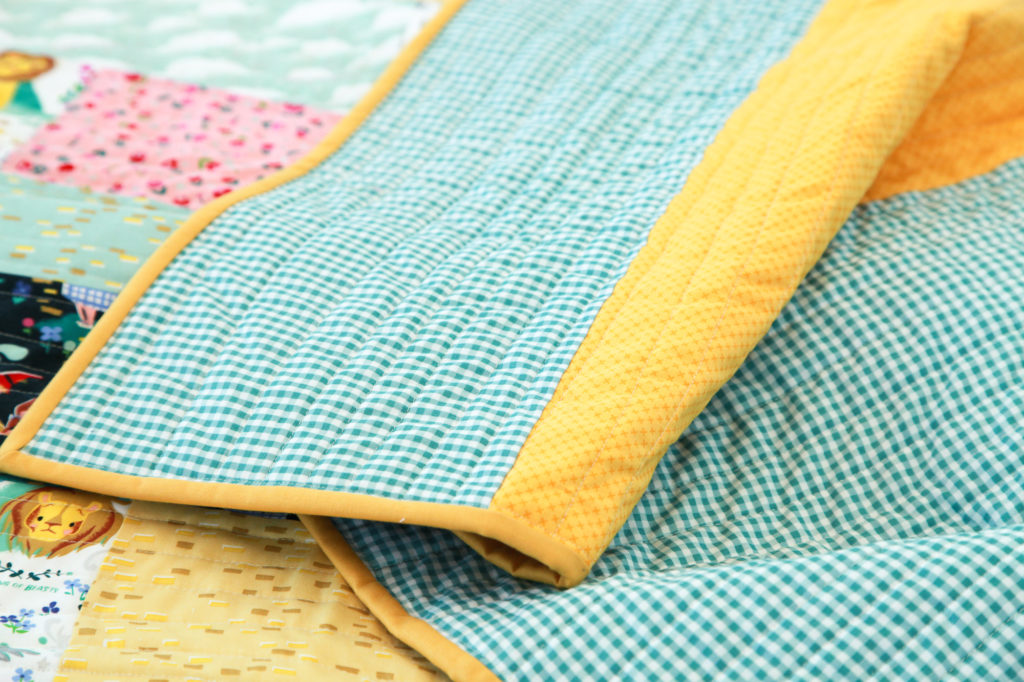 I used Riley Blake Teal 1/8″ Gingham and Honey Kisses for the quilt back, and Confetti Cottons in Honey for the binding.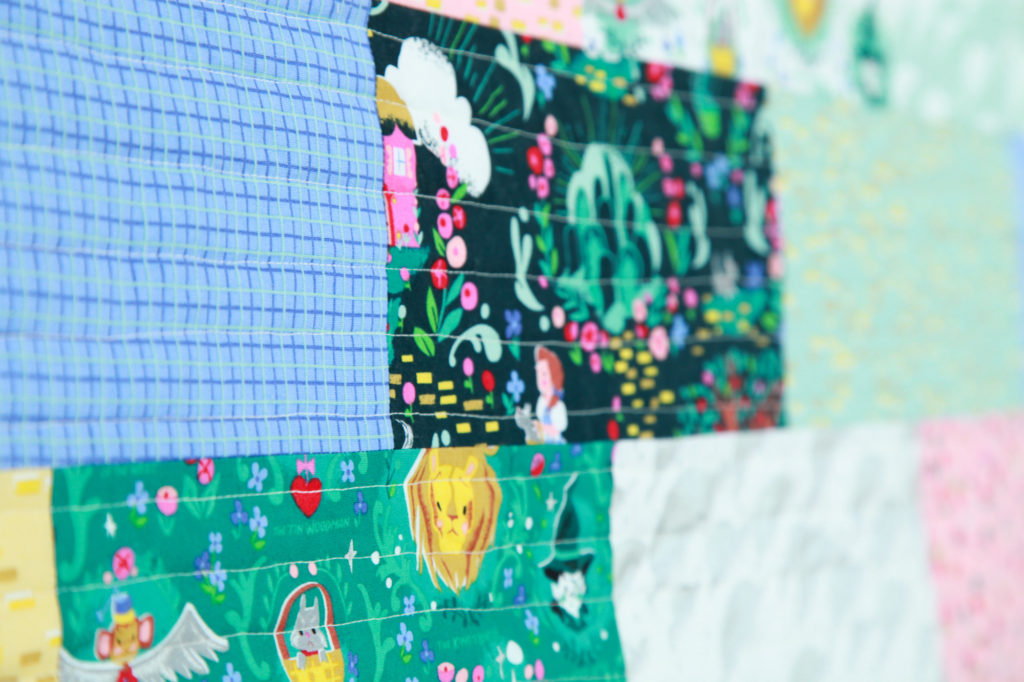 I stitched straight-ish lines horizontally to emphasize the horizontal direction of the brick path. Any quilting design would be fabulous here!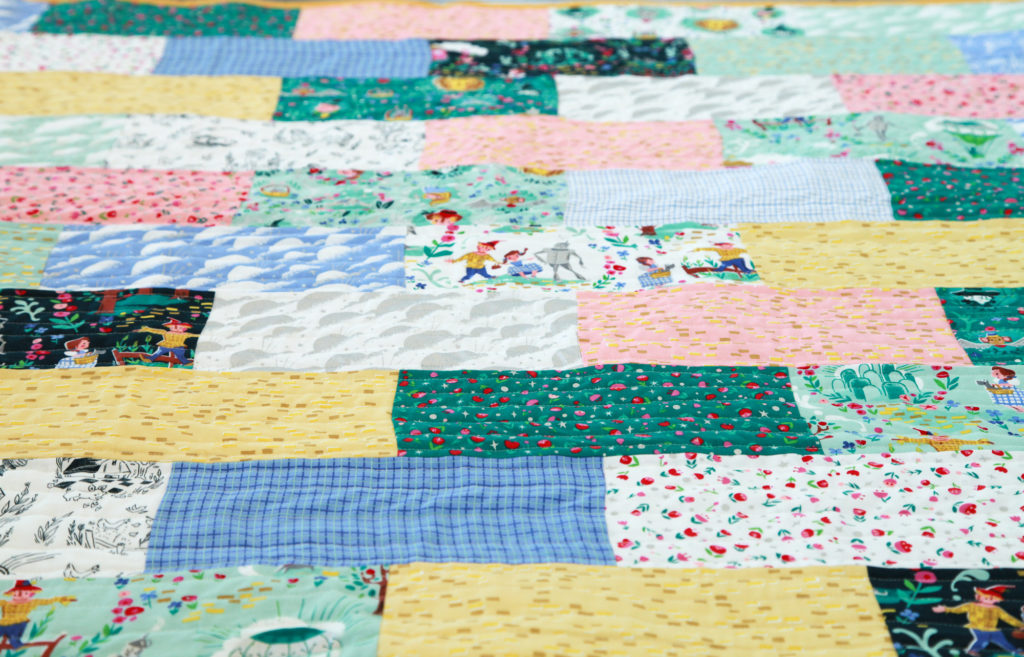 Simple and sweet.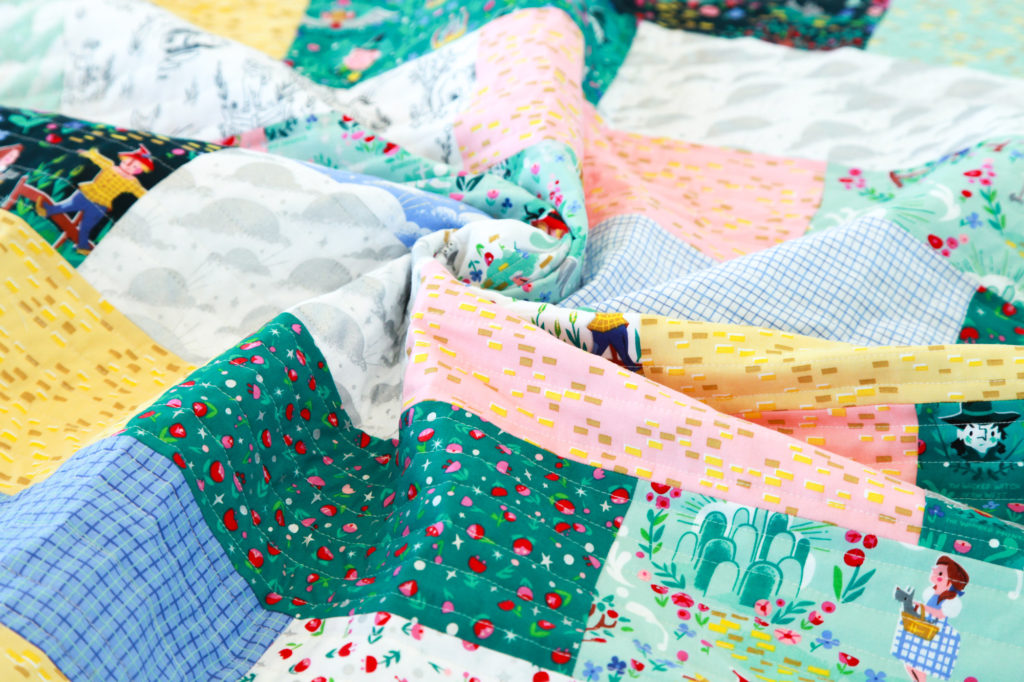 Don't these colors just make you happy?!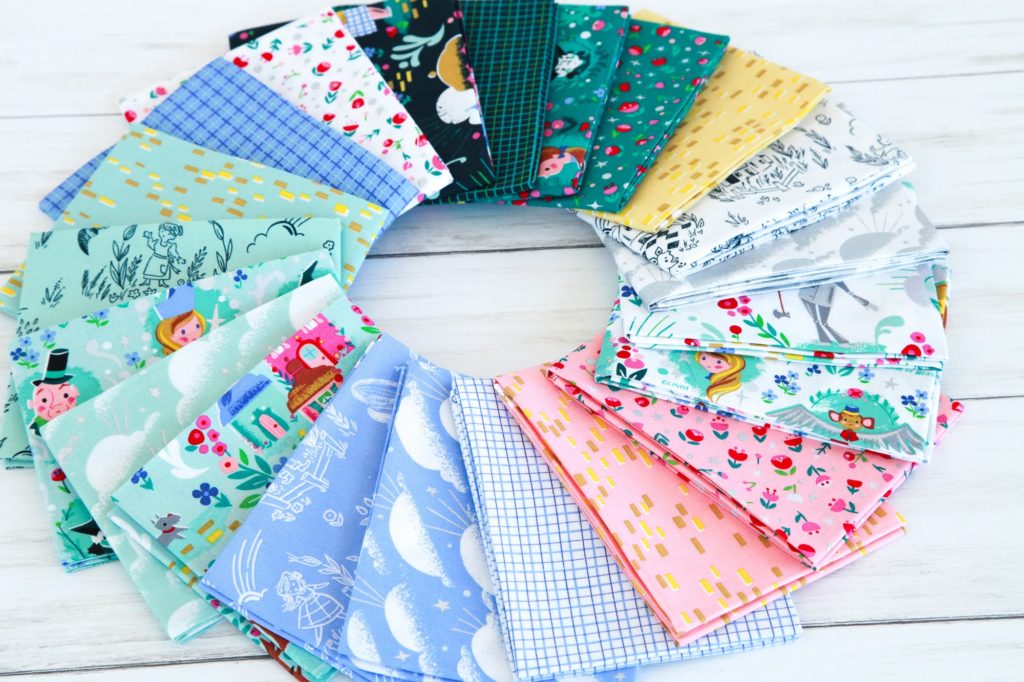 Dorothy's Journey, designed by Jill Howarth, is available now at your favorite local and online quilt shops. Pick up yours today and share your makes with us on Instagram using #rileyblakedesigns #iloverileyblake #fabricismyfun, and be sure to tag us @rileyblakedesigns.
Happy Quilting!