We are so excited to open up registration for our 5th annual Garden of Quilts event with Thanksgiving Point! This event is unlike any other. If you are not familiar with Garden of Quilts, be sure to check out our event recap videos from prior years to see what its all about.
Our 2023 event will be held in Lehi, Utah USA from September 13-16
The event is made up of incredible classes from your favorite sewlebrities, a stunning display of quilts throughout the Ashton Gardens, vendor shopping, special evening events, and free lectures and trunk shows in the gardens. Read on for helpful links and information about this years event.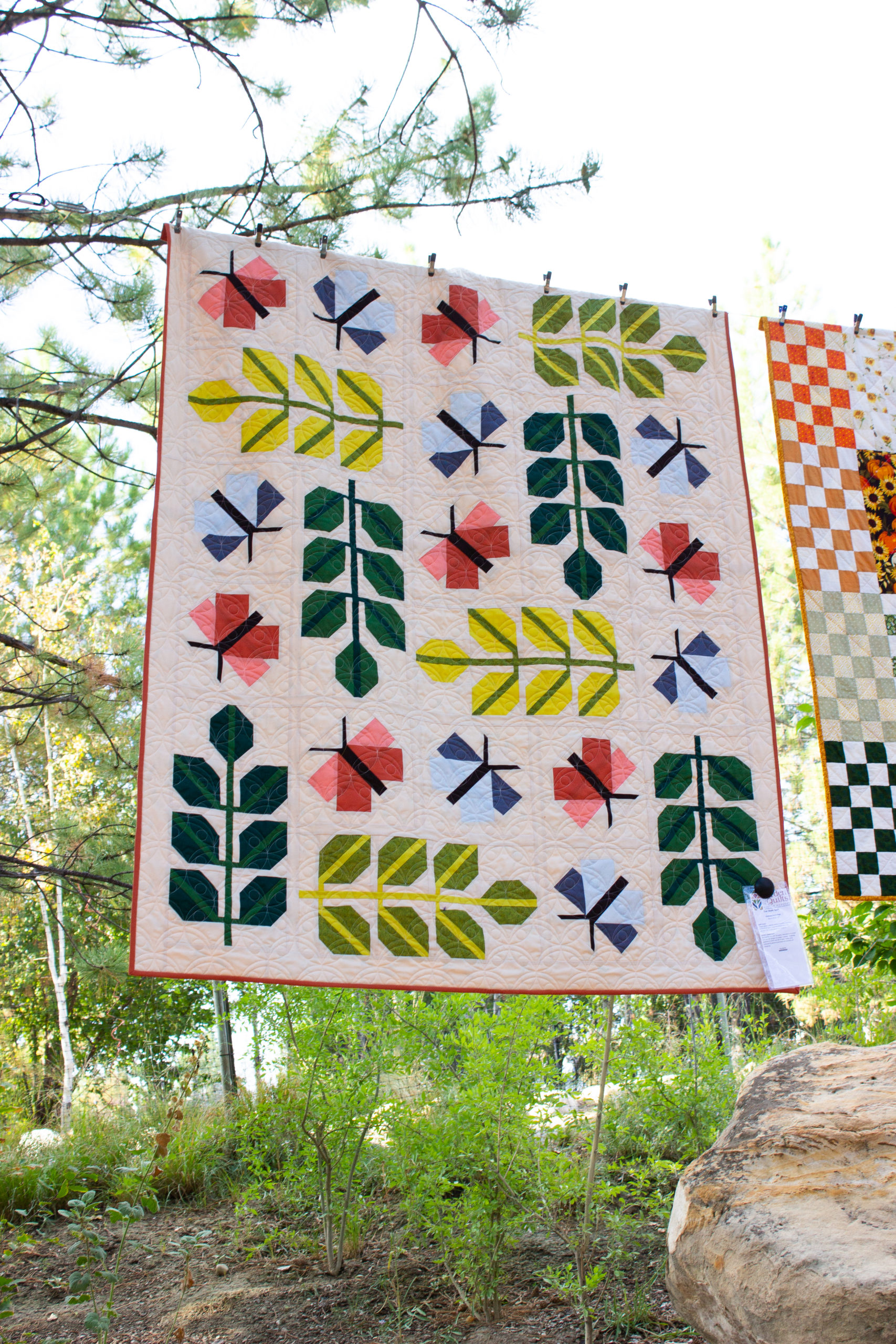 Browse & Register for Classes
Class registration is live now! Browse the class catalog and visit our event website to register. The classes at the Garden of Quilts are designed to be on the smaller side so that attendees are able to get the attention and guidance they need from the instructor.
Each class outlines the skill level of the project, the supplies needed, and information about the kit if one is provided. Classes include a wide variety of projects and there is something for everyone! Please note that entry to the gardens is separate from classes.
Do I need to bring my sewing machine?
Machine rentals are one of our most asked about amenities. Reserve a machine for the duration of the festival and we will make sure that there is a machine set-up in your classes with your name on it—ready and waiting just for you! Sewing Machine Rentals are available HERE.
What does a class registration include?
The class fee covers the teachers fee and tuition for the class only.
What is a kit fee?
A kit fee includes all of the consumable materials needed to complete the project being covered in the class. For instance, the fabric and notions to create the quilt.
What are supplies?
Supplies are typically additional tools you will need to complete your project during class. These typically include things like scissors, pins, marking pencils, etc. Fabric may also be listed in a supplies list if the class does not include a kit. Larger equipment not on the list, such as irons, will be provided for each class.
Enjoy the Gardens
If you are not interested in taking a class there is still so much to do and see at Garden of Quilts! Friday and Saturday (September 15 & 16) the Ashton Gardens will be full of stunning displays of quilts for you to see! The quilts are hung throughout the gardens and the gardens themselves are beautiful. It's a lovely walk and throughout you will find vendors, food trucks, free lectures and trunk shows, and more! We have places to sit and rest throughout the gardens as well as a running route of golf cart drivers to talk you where you need to be.
Tickets for the gardens are also available at the door! We hope to see you in the gardens.
Submit a Quilt
Garden of Quilts is first and foremost a celebration of the quilting community. A big part of that is YOU! The garden display is made up of quilts from all over the country (and the world!) of all different skill levels and styles. We invite you to submit your quilts to hang in the gardens this year! We have different sections of display and you are able to note if your project is delicate or would need to be under a tent. The quilt submission application has more details pertaining to quilt security, weather, and more.
Please know that we take the care of your quilts very seriously. There is a team of people charged with the tracking, handling, and shipping of the quilts.
Afternoon Tea
Wednesday, Thursday, Friday, Saturday | Seatings at 12 PM, 12:30 PM and 1 PM
Gather your friends and come experience an afternoon of decadence during our Afternoon Tea Party. This Garden of Quilts crowd favorite offers the same delectable delights in a dreamy settling under the clear-top tent in the beautiful Loggia Garden on the Water Tower Campus.
Join us for this exclusive Garden of Quilts event. Enjoy English style scones with jam and clotted cream, canapes, finger sandwiches, tea pastries, trifles and a selection of assorted teas and other beverages. This is a special event you will not want to miss. Space is limited and sells out early every year.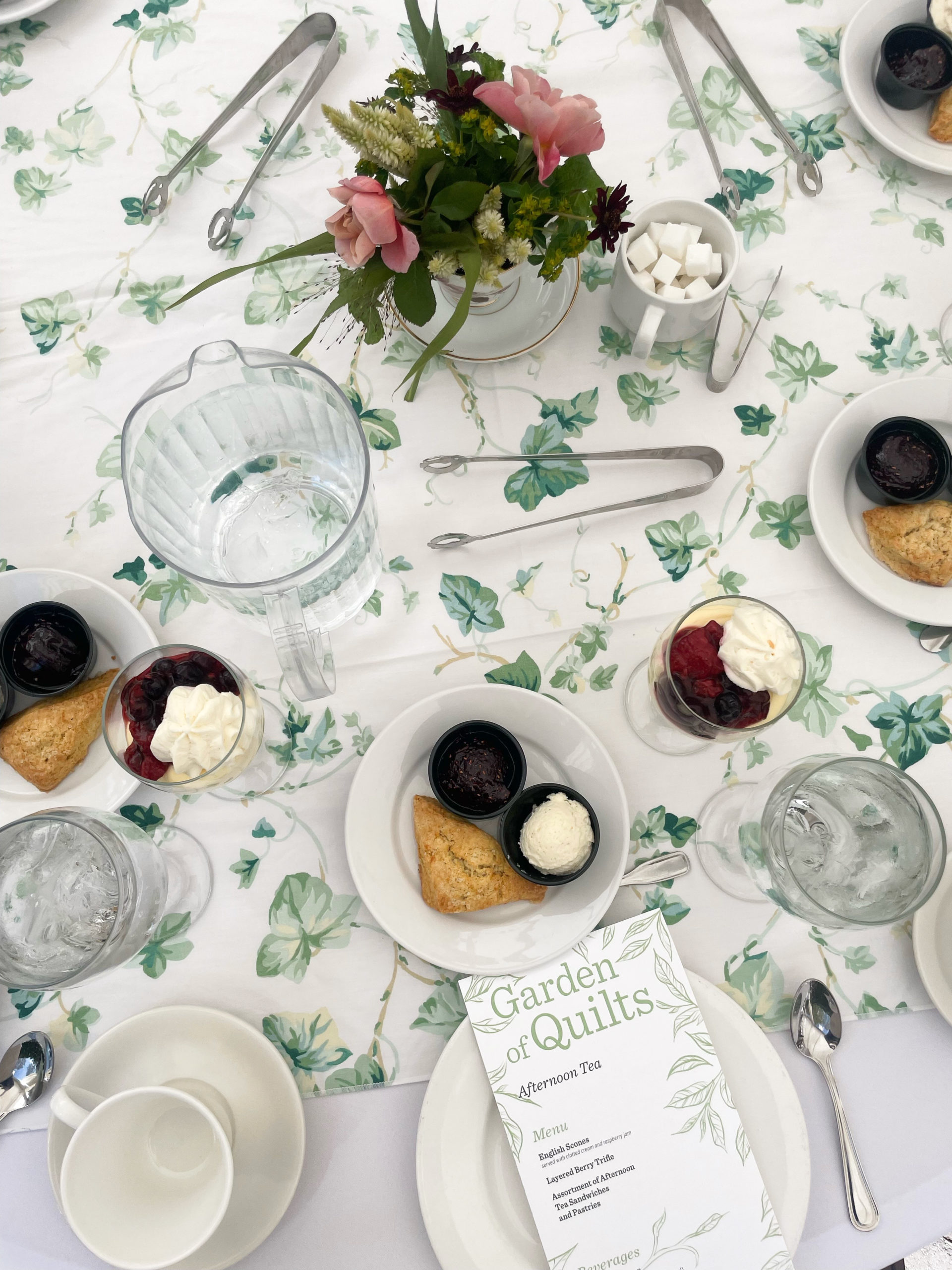 Evening Events
Over the years we have added even more events for quilters to gather in the evenings after classes are over and the gardens close. These events have been SO much fun and we are excited to add one more this year.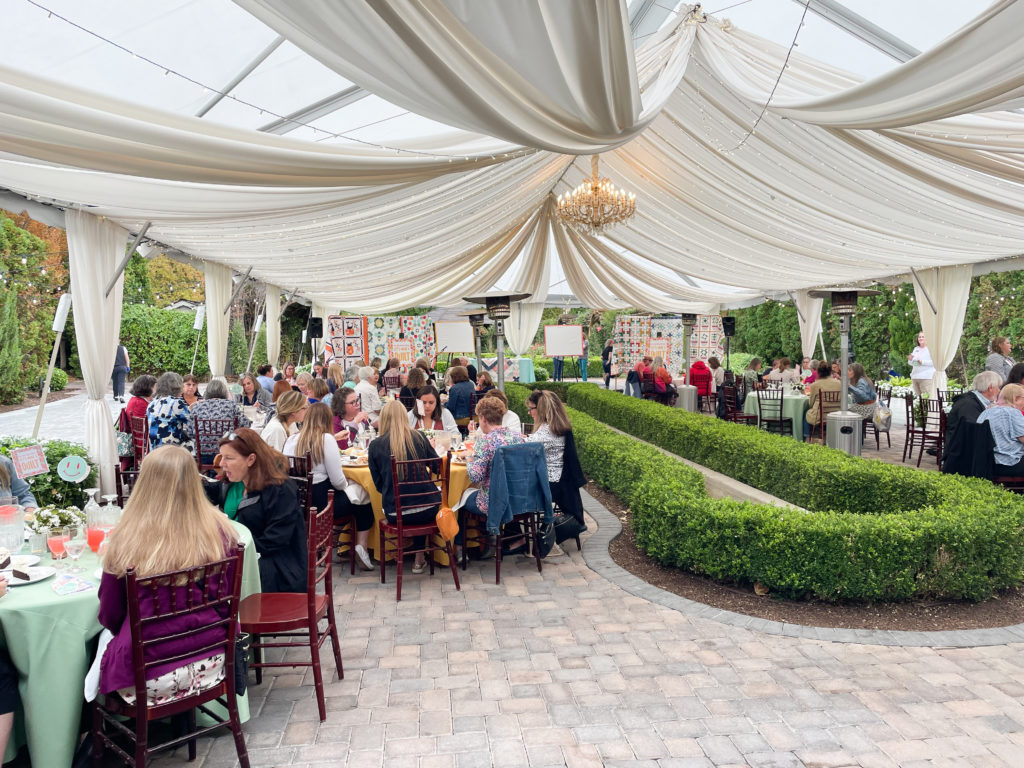 Ice Breaker Dinner
Looking for a fun opportunity to meet your fellow Garden of Quilts attendees and mingle with designers? Kick off your Garden of Quilts adventure with this fun opening-night event that was the highlight of last year's event. Join favorite designers Amanda Niederhauser, Bev McCullough, and Christopher Thompson for a delicious, buffet dinner and some high energy, quilty fun! This game show style evening will not only inspire you, but get you on your feet, and meeting your new best friends. If you are lucky, you might even go home with a prize!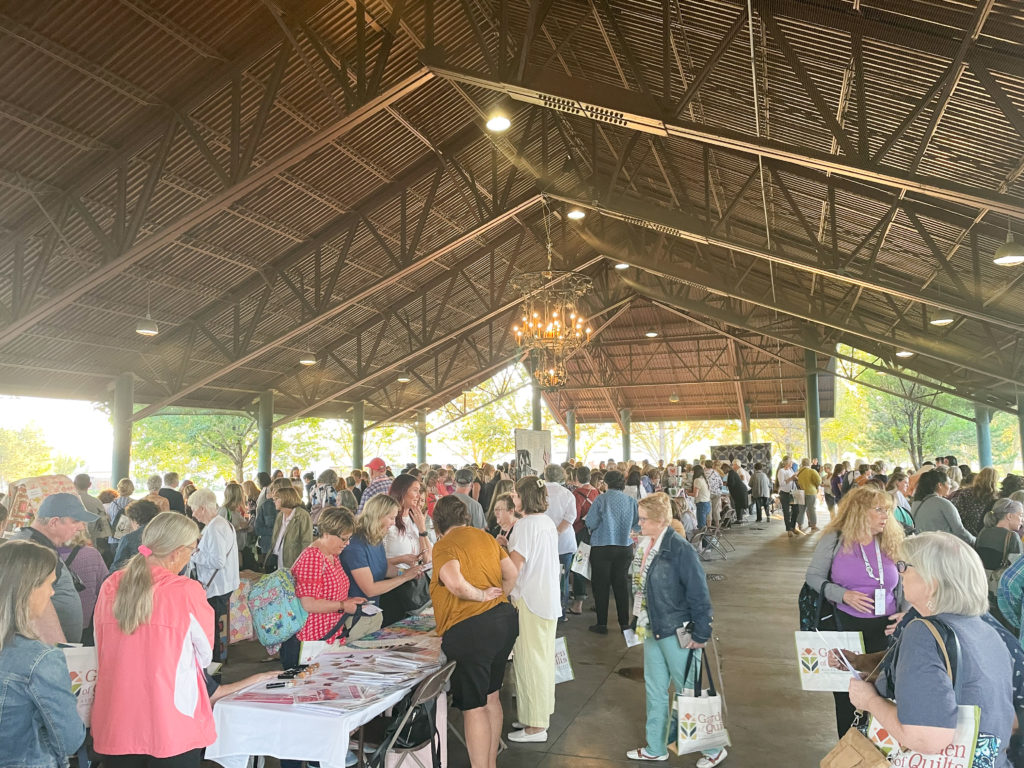 Meet the Maker
Held Friday evening, our Meet the Maker event is a perennial guest favorite. We are delighted to invite you to this year's chance to get up close and personal with all your favorite designers and sewlebrities. Come mingle and shop the display tables of your favorite designers and discover new favorites! Get entered to win one of several amazing door prizes It's a fun, inspiring evening, please join us!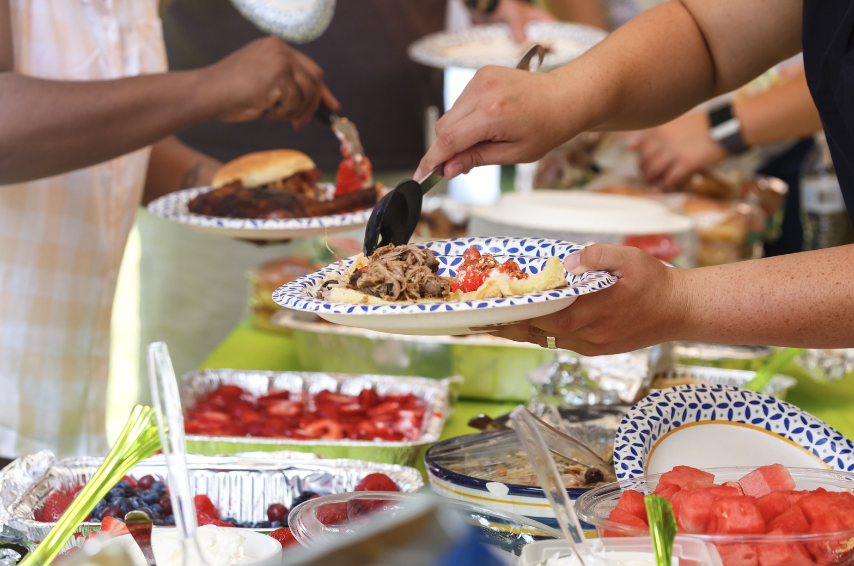 NEW! Maker BBQ
Interested in attending Meet the Maker? If so, we invite you to come early and mingle with the designers and fellow guests before the event at this delicious picnic dinner. We will be firing up the grill and serving BBQ favorites like hamburgers, chicken, potato salad, corn on the cob, and more. After dinner our Meet the Maker event kicks off bringing even more fun, shopping, games, and door prizes—no passport required. It's a fun, inspiring evening, please join us! These tickets include entry to Meet the Maker!
VIP Packages
We offer 4 different VIP Packages at the Garden of Quilts. These custom curated packages are very popular and have limited availability. If you are interested, don't delay! *Update, Quilters Weekend Escape and Better with a Bestie are SOLD OUT. Click below for the current available VIP Packages!
UPDATE: We have been BLOWN away with the interest for the VIP packages. We are working hard to see if we can possibly open up any more spaces for the ones that have sold out. If you would like to be notified if more spaces become available, please contact the Thanksgiving Point Box Office at 801 768 2300 to be added to the waitlist.
Traveling
People travel from far and wide to join us at Garden of Quilts!
What options are there for lodging near the venue?
Ashton Gardens is ideally situated near several hotel properties. Our preferred partner is the Home2 Suites by Hilton in Lehi, Utah.
Where is the nearest airport?
The Salt Lake International Airport is located 30 miles to the North of the Ashton Gardens. In ideal traffic, it is a 40-60 minute commute. The Provo Regional Airport is situated 22 miles to the South of us and is approximately a 30 drive in ideal traffic.
Machines are available in many of the classes and are first come, first serve. If you want to ensure you have a machine to use throughout the event, rentals are available here. And don't worry, if you do want to bring your own machine you won't have to tote it all over the gardens, we have a machine coat check.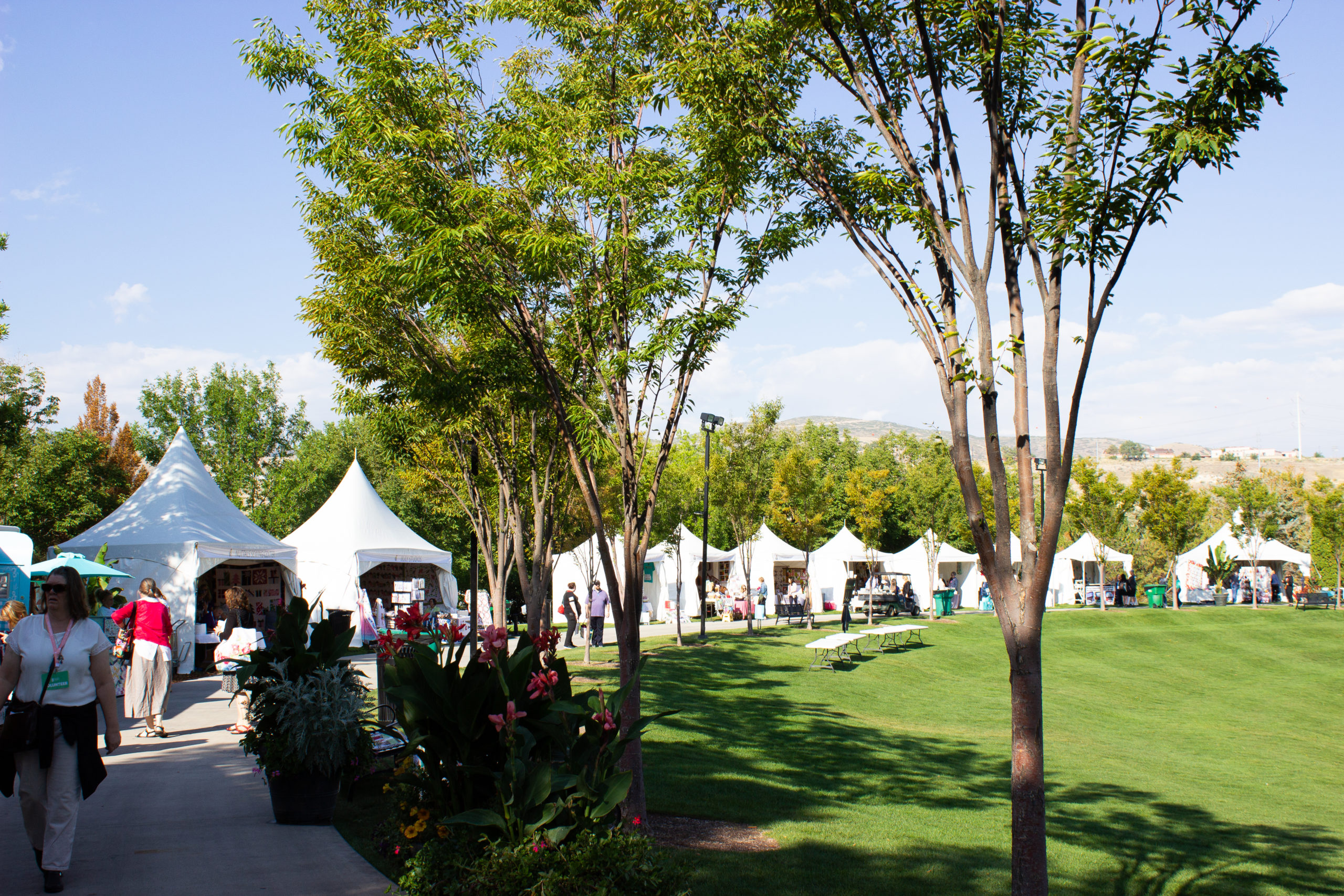 Questions?
If you need assistance or have questions about this event we are happy to assist you! We want to make sure your questions are answered, and needs are met. Please call our main Thanksgiving Point information line at 801-768-2300 and one of our representatives will be happy to assist you with your registration over the phone.
We hope to see you at our 2023 Garden of Quilts!