Another fun highlight at the Garden of Quilts event was getting to see in person the creativity and talent displayed by the Modern Quilt Guild Finalists! While the winning quilt had to be whisked off to another destination, we took this opportunity to photograph and share the other nine prize winning quilts with you.
Our first quilt is called "Which Way Do I Go?" by Chris Juliano. Chris placed emphasis on the blue fabrics, giving this quilt a cool, but still very modern vibe.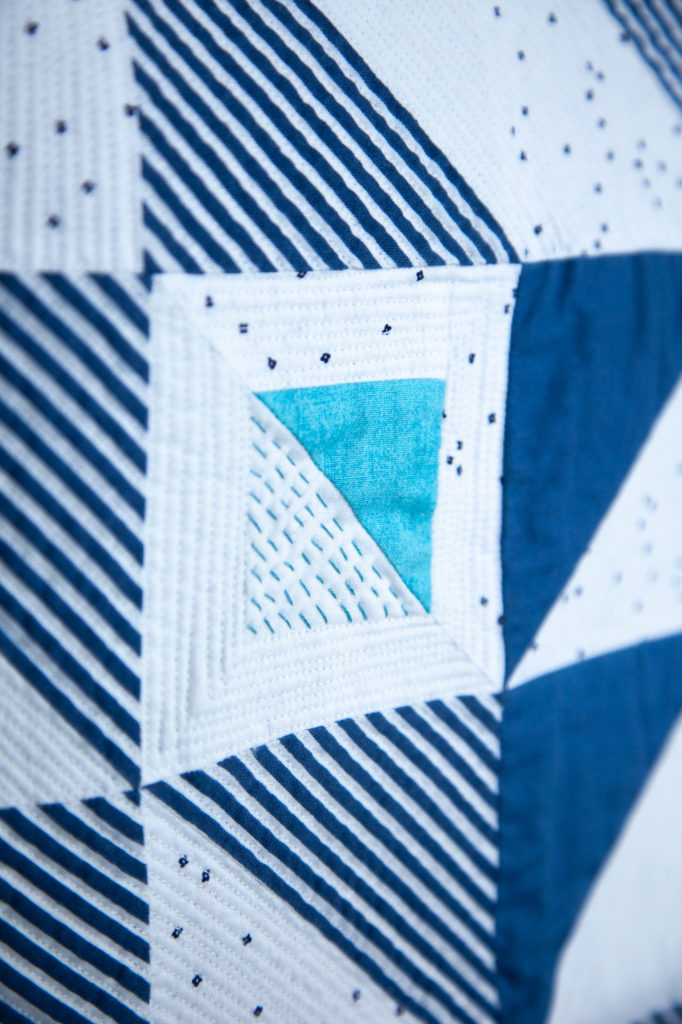 Chris added surprises like her tiny matchstick quilting and lovely hand quilting in the white halves of the little half square triangles.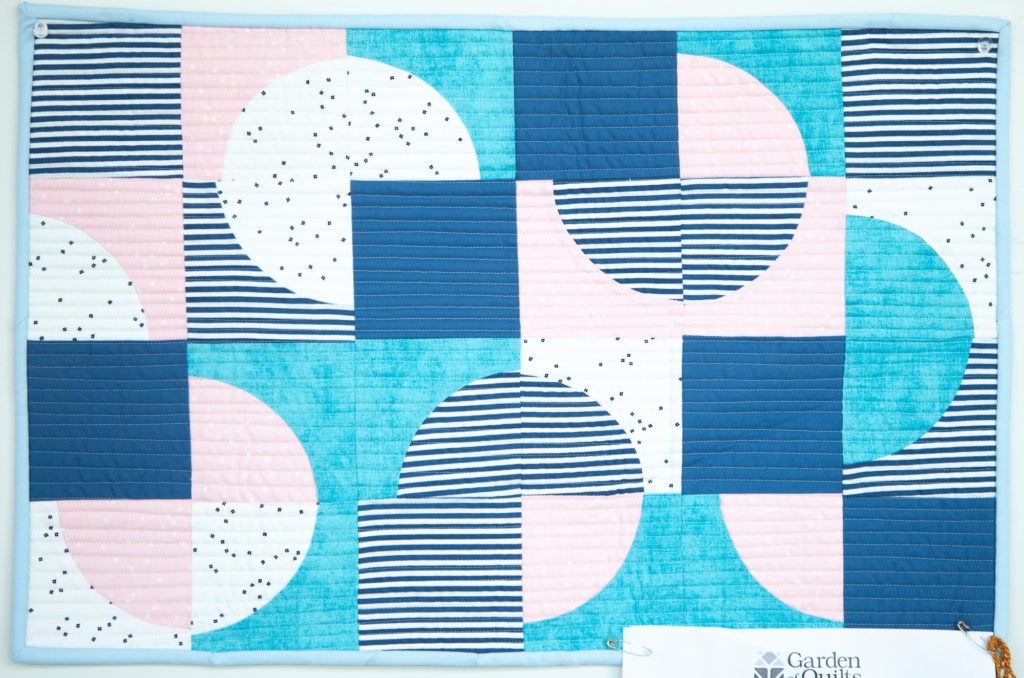 This playful mini quilt by Jackie White really gets your head spinning with quarter, half, and three quarter circles!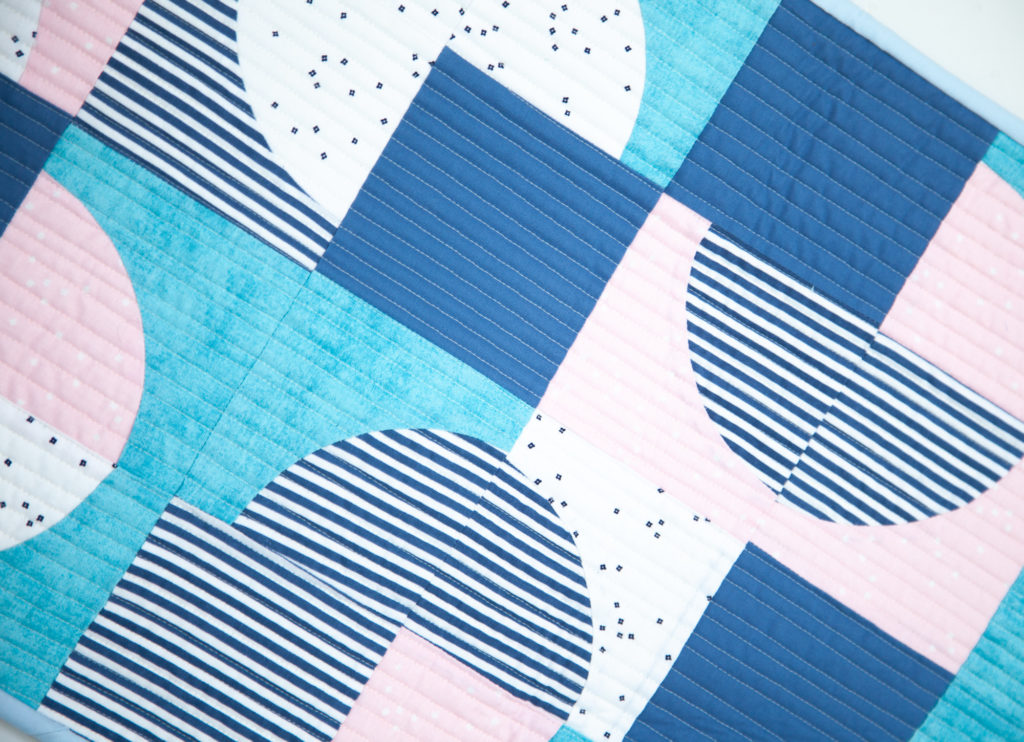 And here is a closer look at those curves. Well done, Jackie!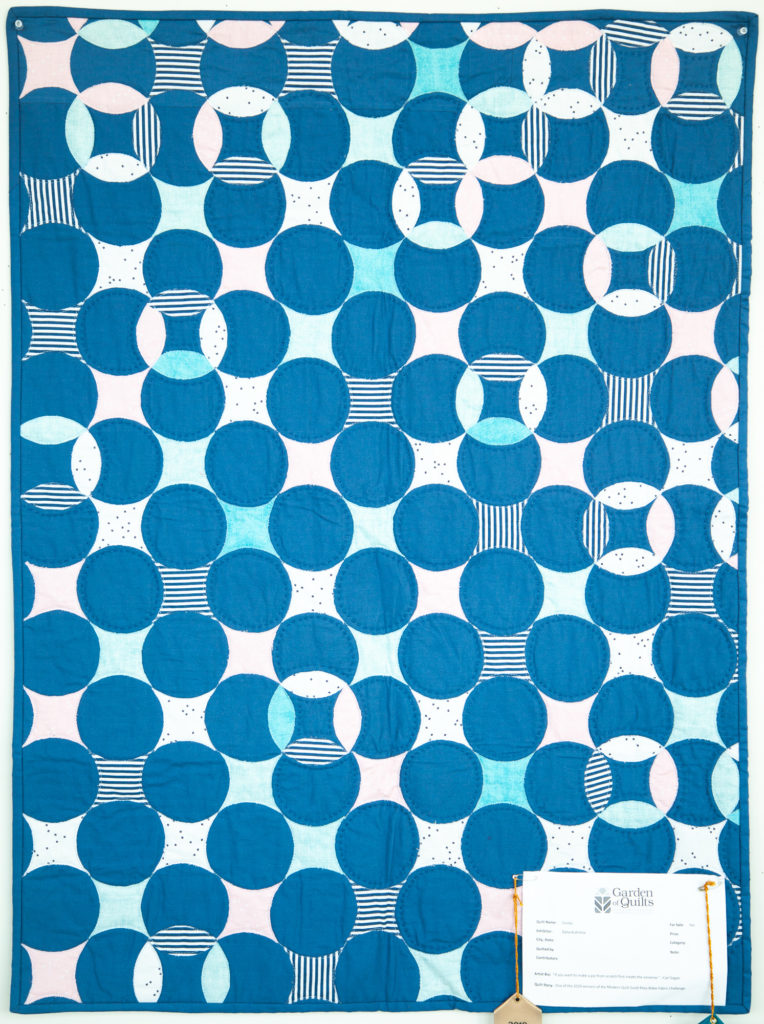 We are completely enamored with Dana Kuhnline's "Circles" quilt! Dana's emphasis on the Coastal Blue Confetti Cotton skillfully gives the eye a place to rest.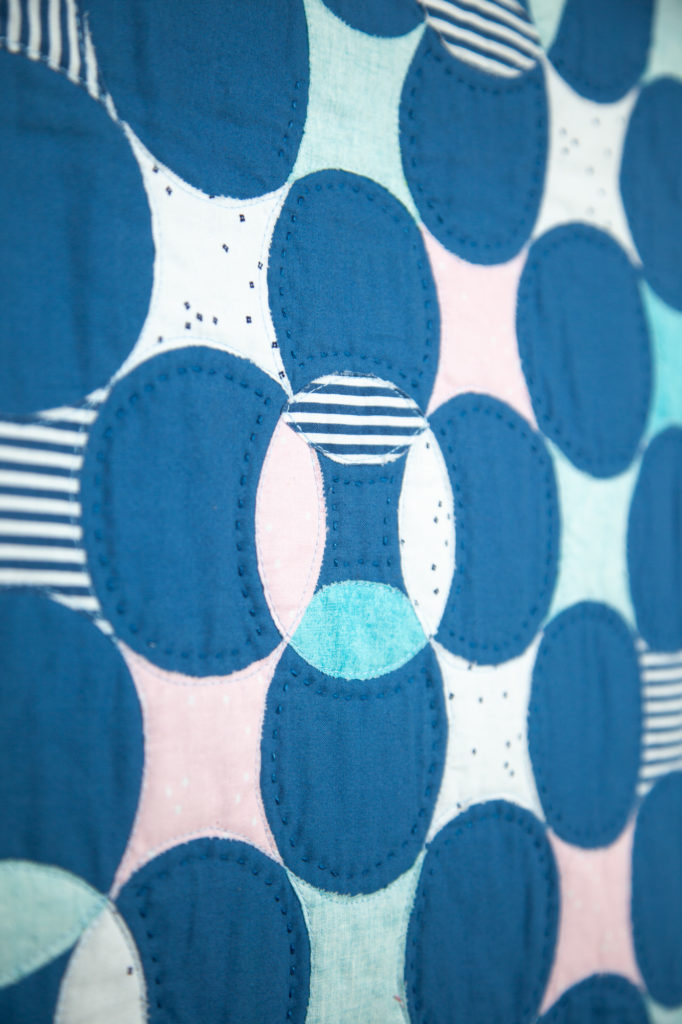 Dana hand stitched the solid blue circles, giving the quilt an extra level of charm!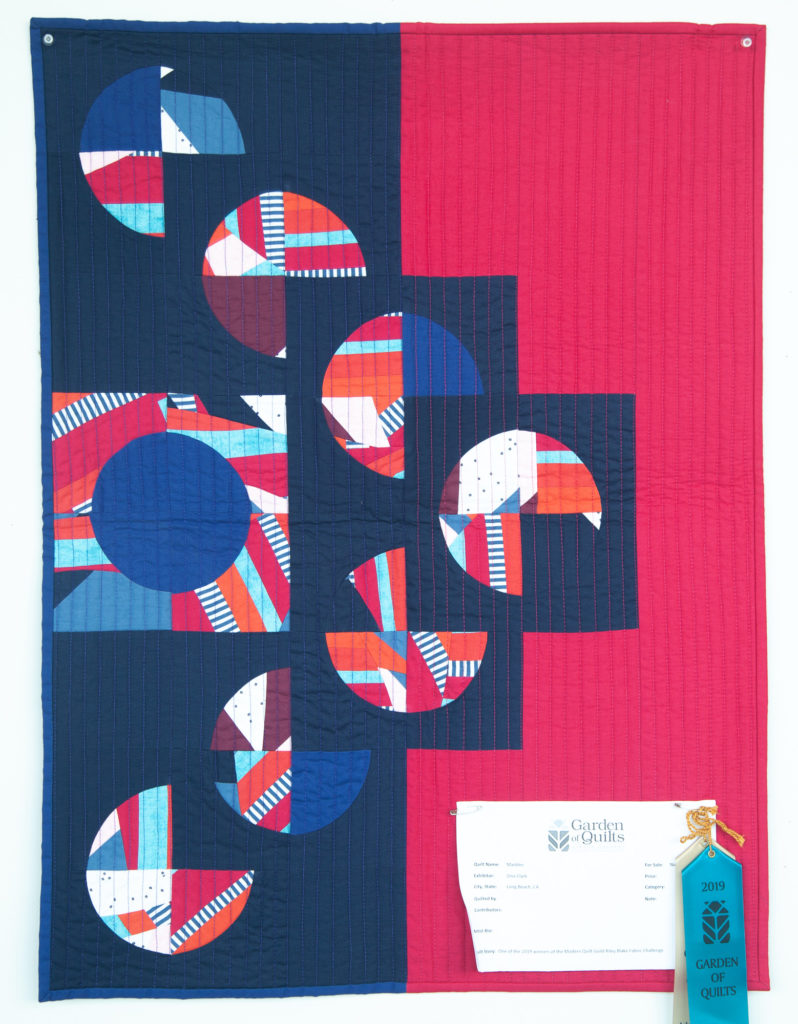 "Marbles," by Zina Clark, is a bold, lively quilt featuring circles that look like…you guessed it – marbles!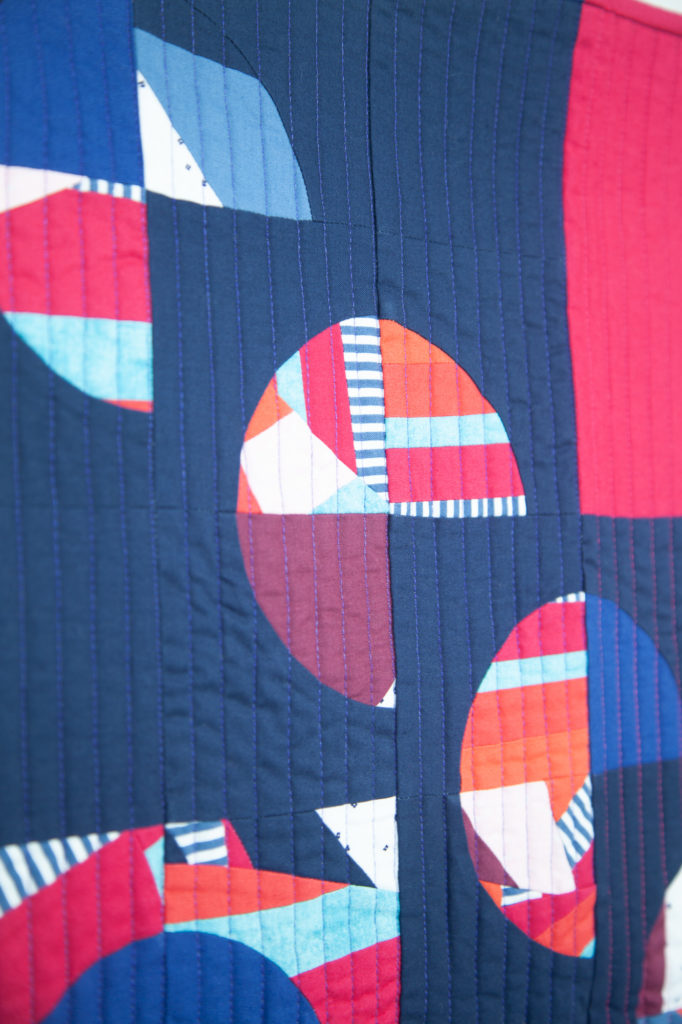 We love how Zina created the marble effect by making the circle pieces super scrappy. Clever!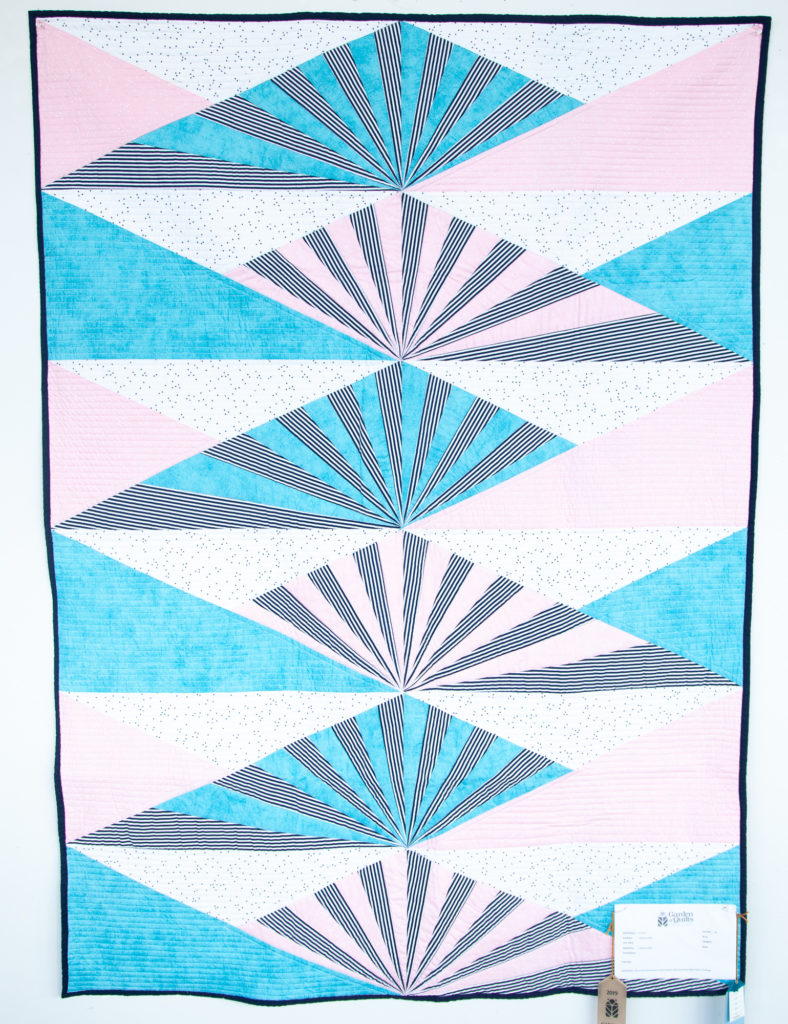 The aptly named "Sunrise" quilt by Carissa Luking really does look like a series of modern sunrises. We love how Carissa used the stripe to mimic the sun's rays.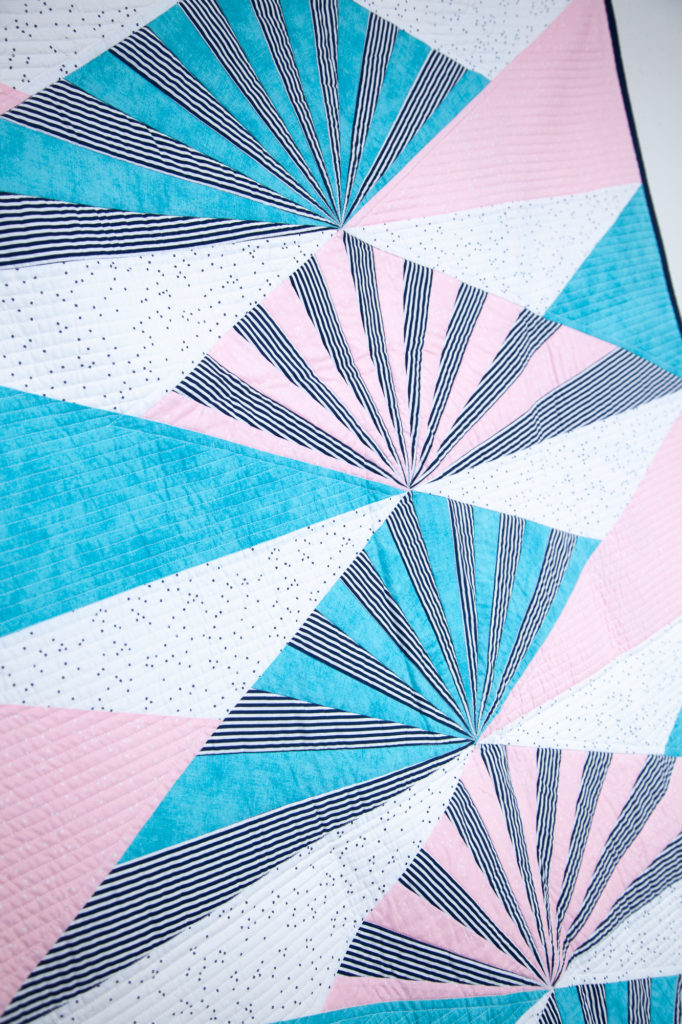 Such a well thought out and executed design. Fabulous!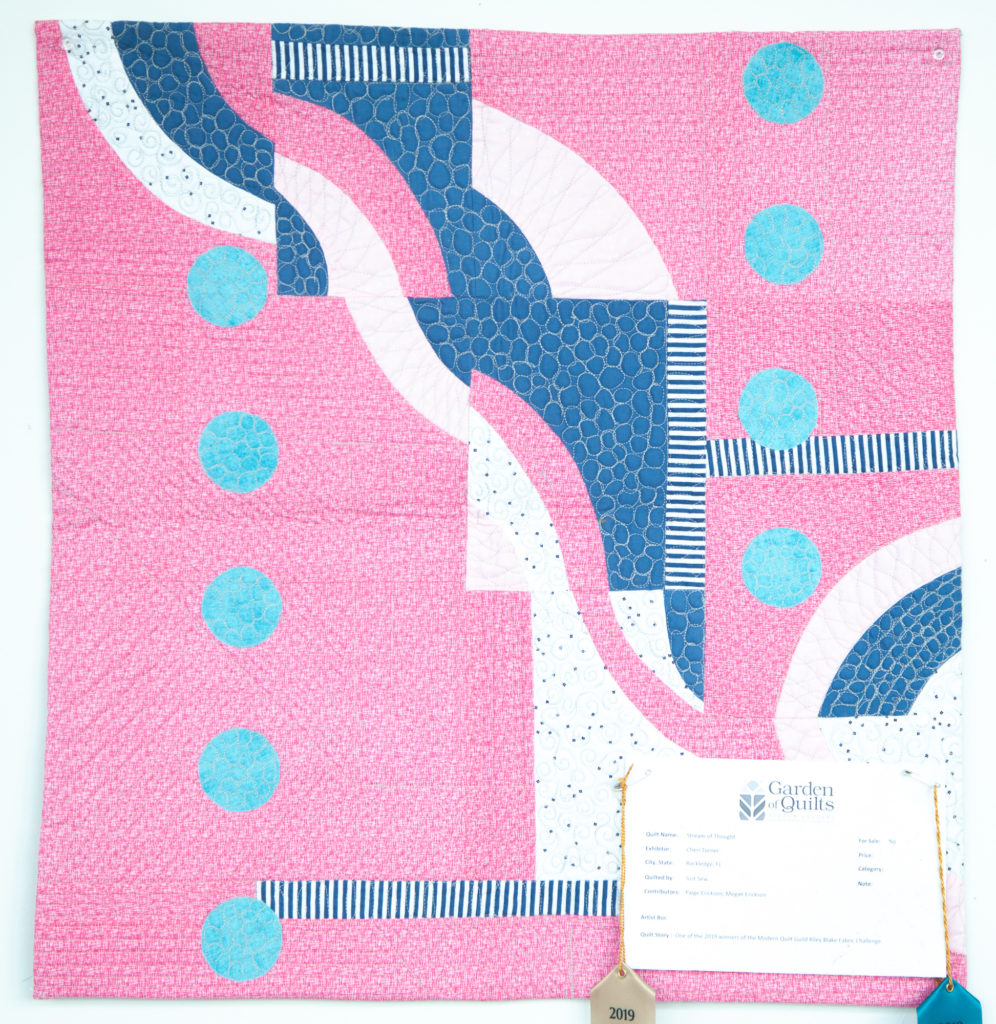 Cheri Turner's "Stream of Thought" quilt features beautiful curves and improve piecing. Cheri used Riley Blake Hot Pink Mini Hashtag fabric for her backdrop, creating a bright and chic aesthetic.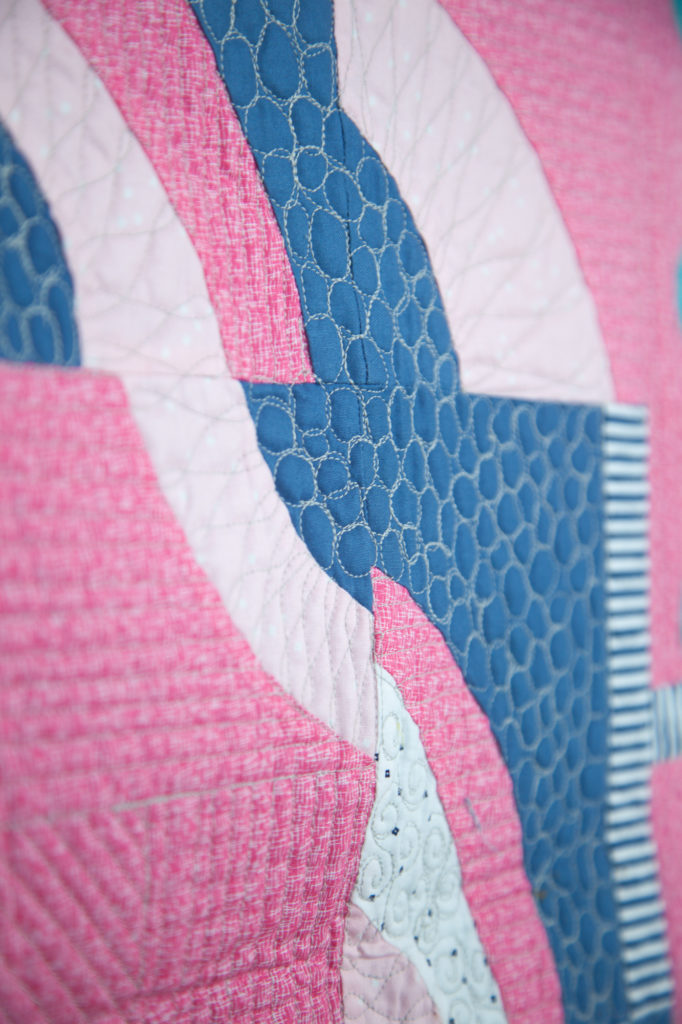 Cheri repeated the circle motif with this fun bubble quilting and a swirl design in other sections. Nice!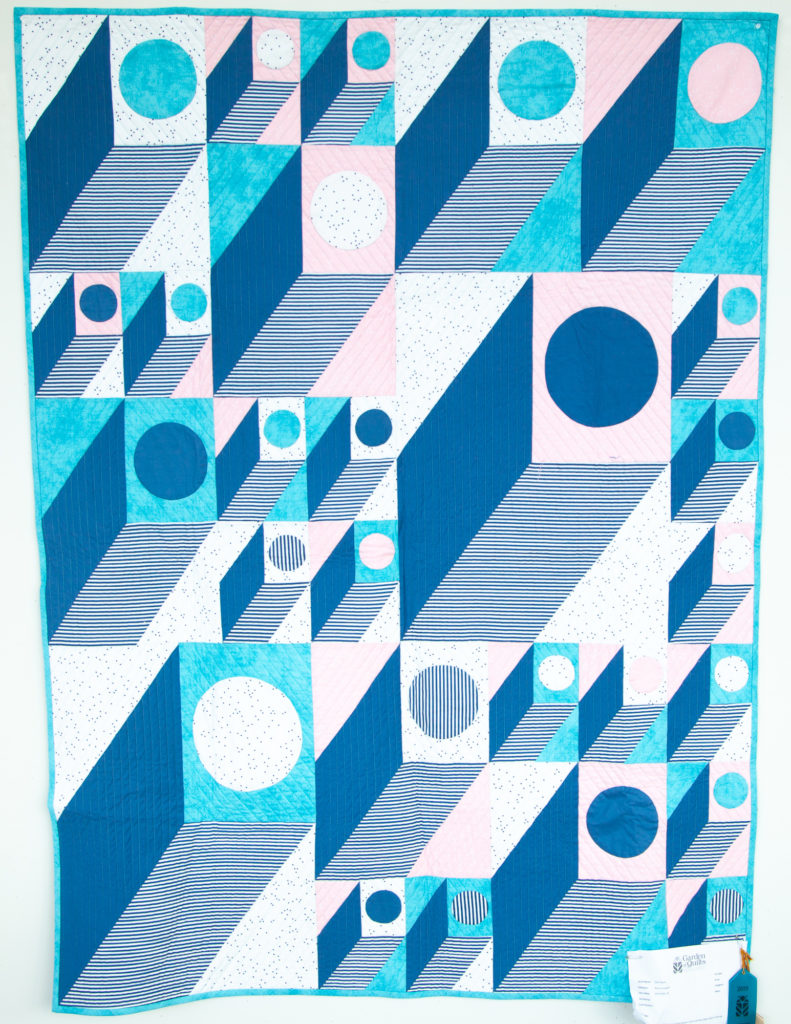 "Quiltropolis" by Betsy Vinegrad is a feast for the eyes with its many circles and three dimensional shapes that make it appear as if you are looking down on a bustling city scape!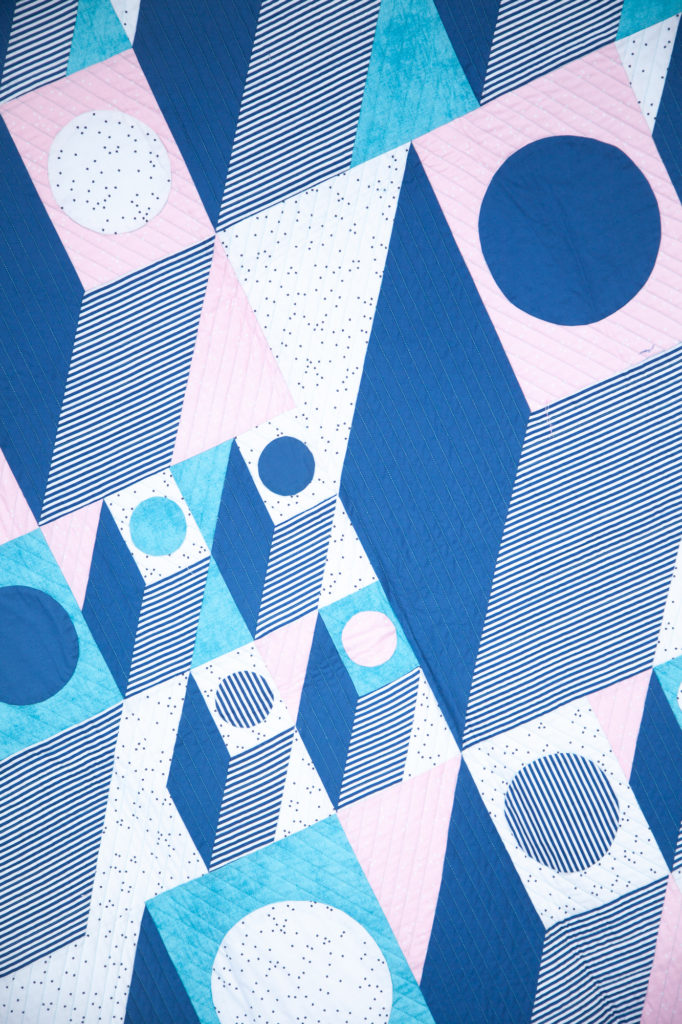 Here is a closer look. Notice how the direction of the quilting changes constantly, adding to the visual interest. Amazing!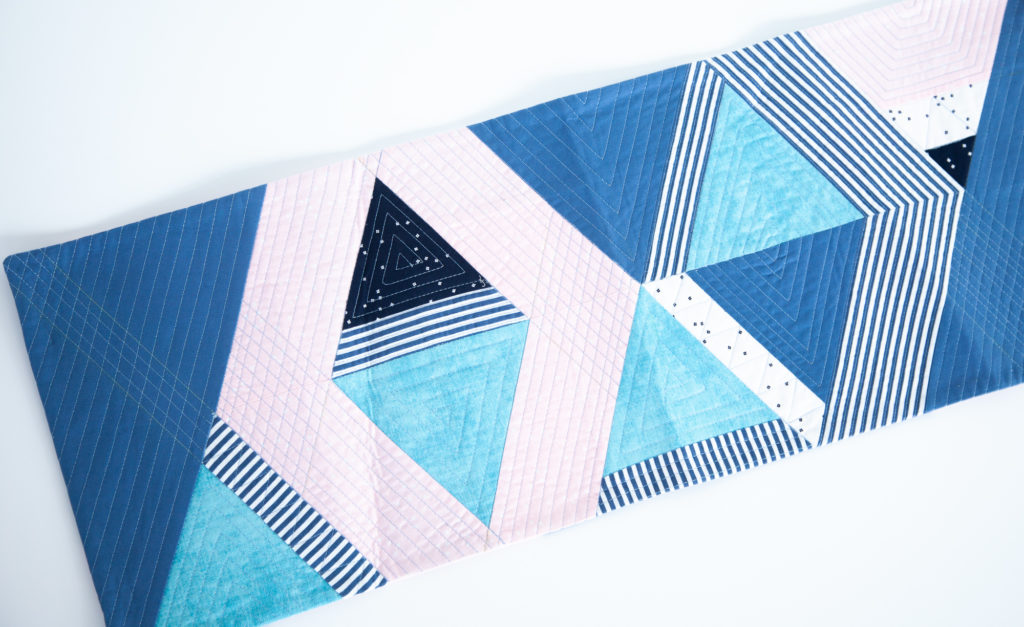 This sweet little mini is called "Reflections". Made by Laura Shaw, Reflections features triangles – each pieced together differently and paired opposite other – to create the illusion of an actual reflection.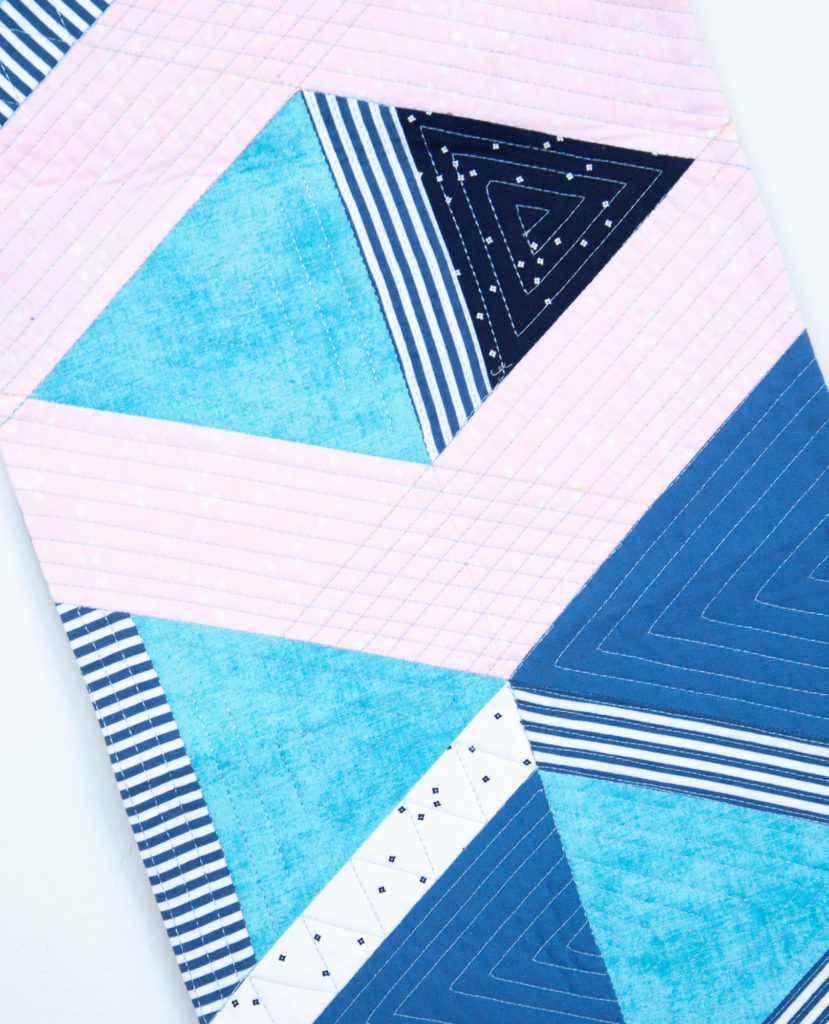 Laura's linear stitching lines further reflect the triangle shapes. Love this!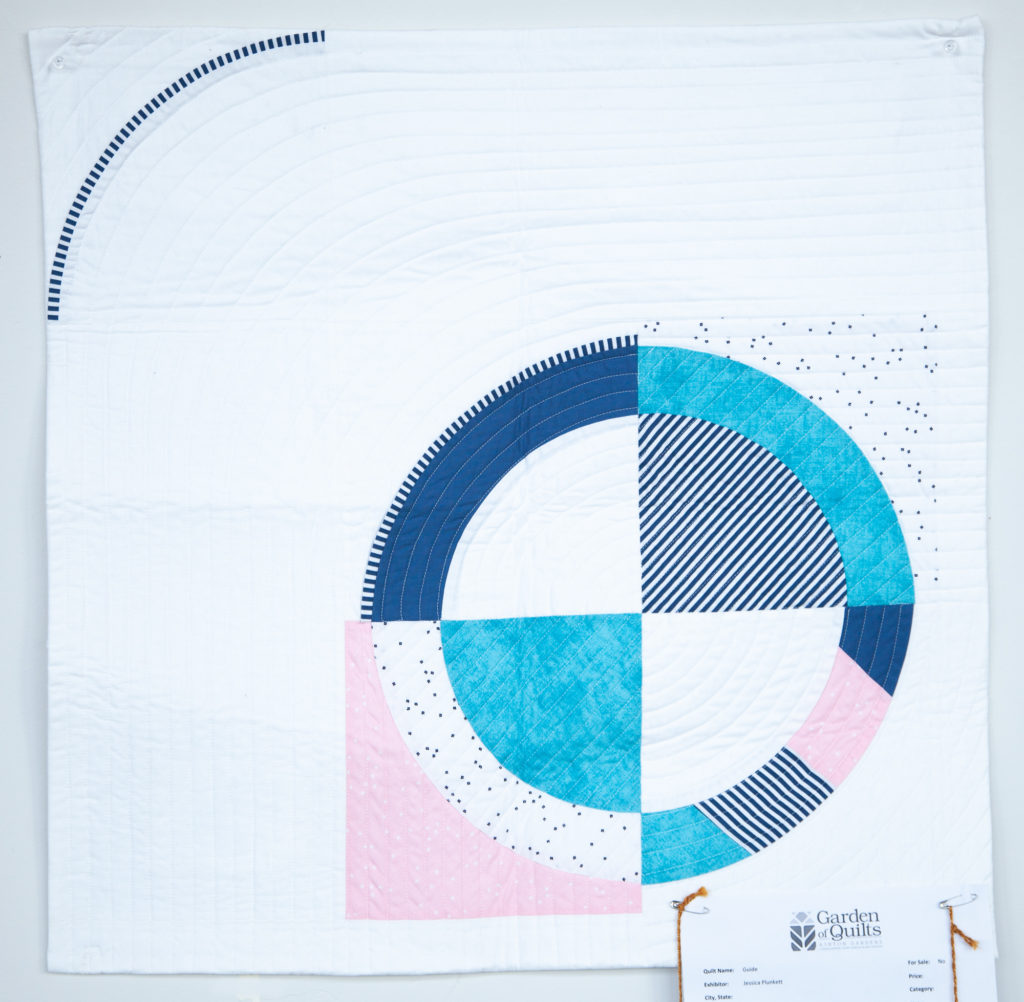 "Guide," by Jessica Plunkett features some amazing curves and a three dimensional faux piped border section, all set on a crisp white backdrop. Jessica's design did a great job of emphasizing the light, breezy color palette.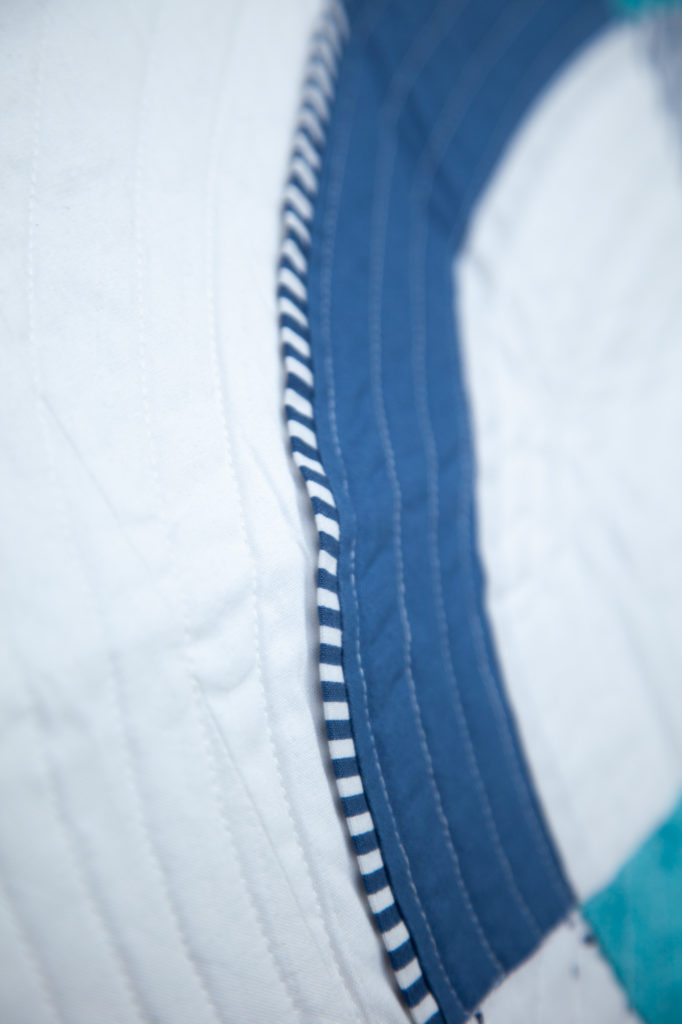 This faux piping is such a fun surprise! Brilliant!
We hope you have enjoyed a closer look at these brilliant quilts. Studying the planning, design, and detail in these quilts has been so inspiring! Now that we're inspired, let's grab our fabric and scissors and start creating!
Happy Quilting!