Garden of Quilts wouldn't be the event that it is without YOU! It's the fabulous garden display of quilts by makers all over the world that create such a unique experience. We are excited to share that the quilt submission form for our 2022 event is now open!
In this post we will be answering some FAQ's about the process and discussing the different kinds of quilts we will have on display. First of all, if this isn't your first rodeo and you want to get right to the form, click below!
You might be thinking, "Wow, this sounds cool but my quilts are not good enough to be on display". We want to stop you right there! We encourage EVERYONE of all skill levels to submit their quilts to hang in the gardens. In past events we have had quilts on display from the most simple patchwork to the most complex FPP and each quilt is special in its own way. Having quilts that are more simple and approachable is key to the display. We can't tell you how many times we heard people say "I think I could make this one!" and decide to embark on their own quilting adventures after seeing a beginner-friendly design. It is a really cool experience to see your own quilt hanging in a quilt show as fabulous as this! Ok, let's answer some of your questions!
FAQ's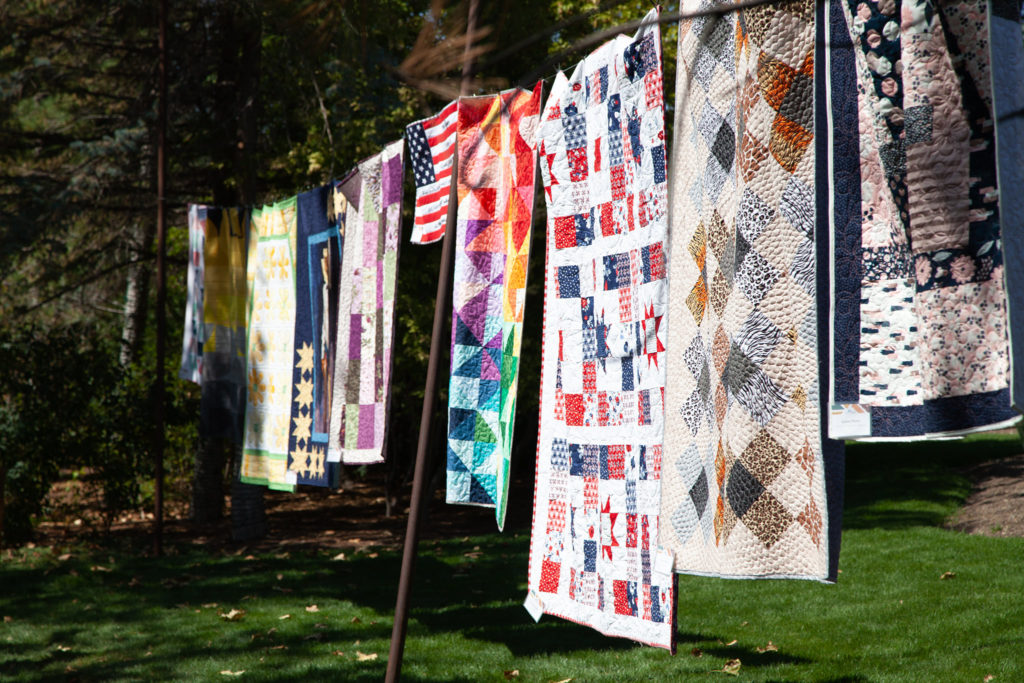 Q: What is the process
for submitting a quilt?
A: The process is pretty straightforward. You will fill out an application form for each quilt you want to submit. Our jury will review all applications and notify you of your acceptance. Then, you will mail in your quilts to the show. After the event your quilts will then be returned to you.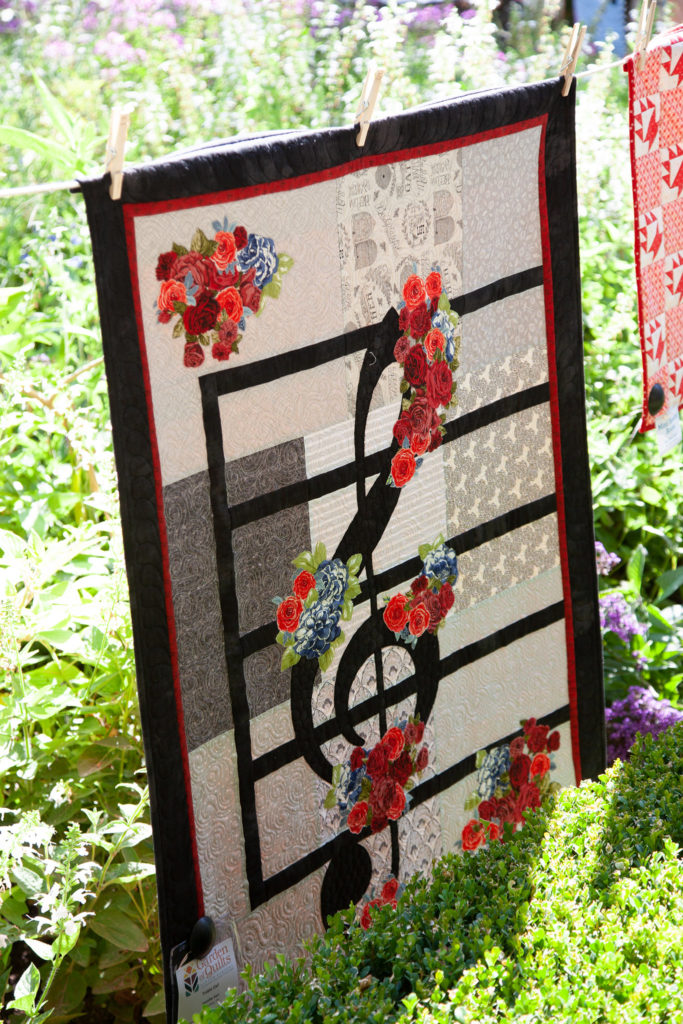 Q: How many
quilts can I submit?
A: Each maker can submit up to 8 quilts.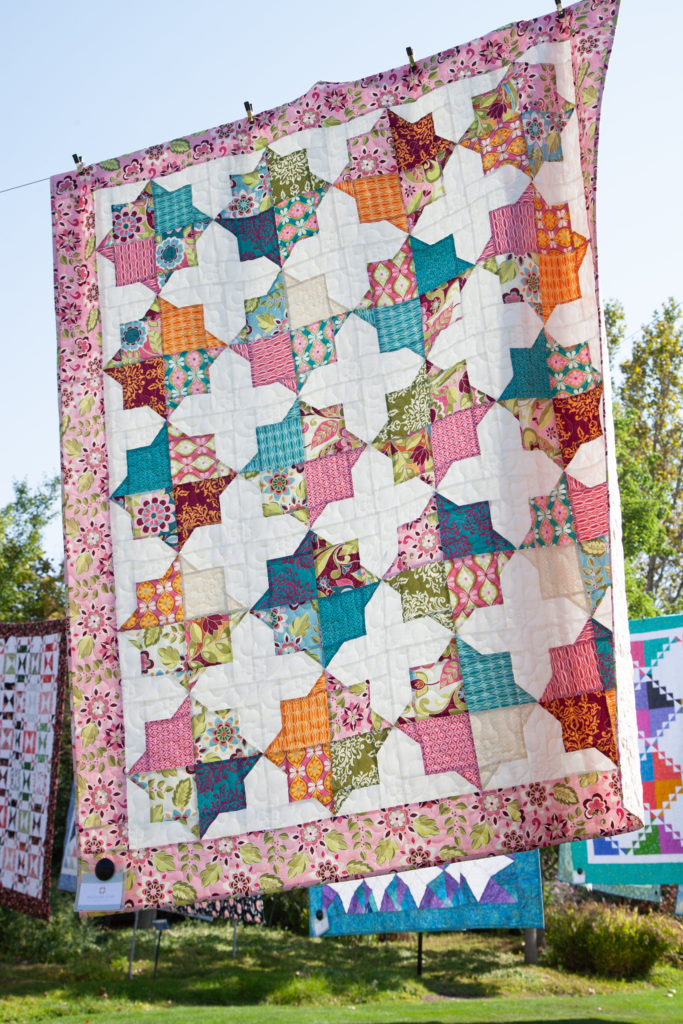 Q: How much does
it cost to apply?
A: There is no cost to apply however, there is a $25 inclusion fee if your quilts are accepted. The $25 fee covers up to the max 8 quilts per person. Thanksgiving Point is a non-profit organization and will apply this fee to offset the substantial costs involved in handling, protecting, and returning each quilt–therefore making the show sustainable for years to come.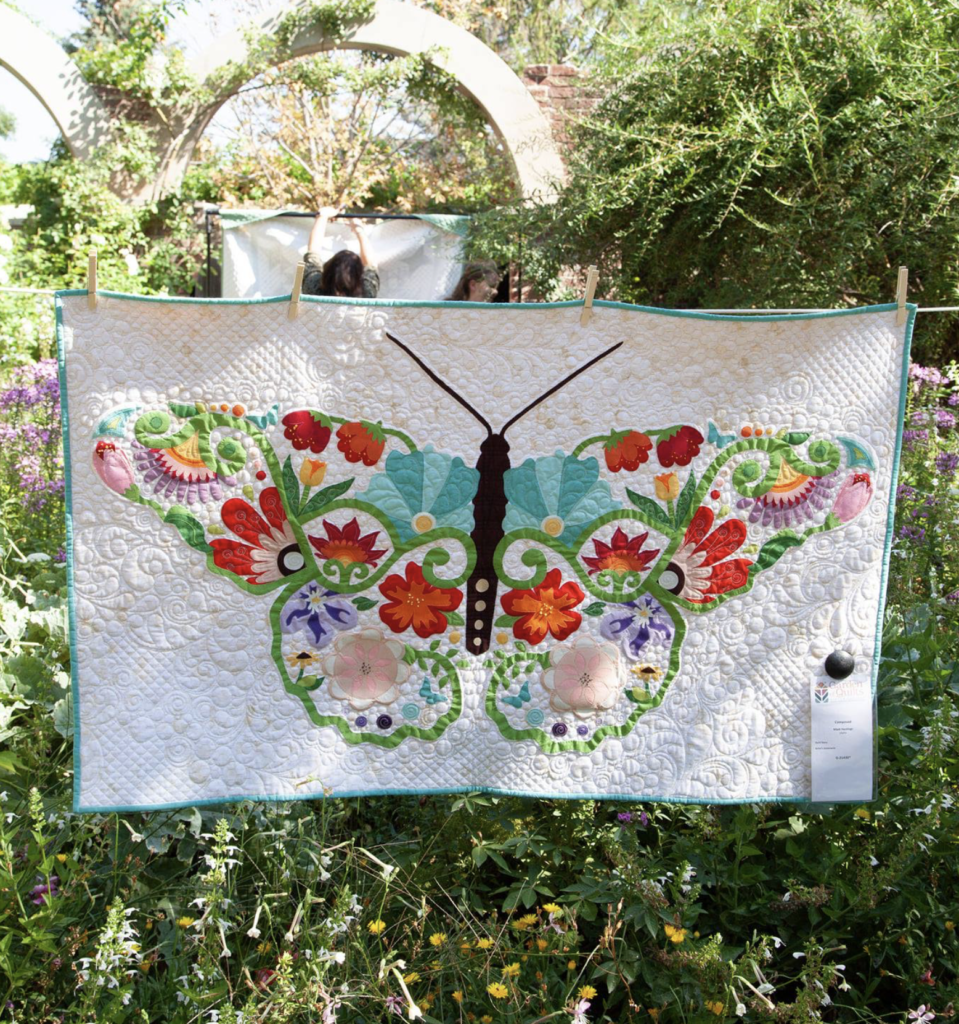 Q: How can I ensure
my quilts are not lost?
A: We know your quilts are very special and we treat each one like a treasure! The team at Thanksgiving Point has a wonderful system to ensure that the quilts are carefully recorded and returned. Each quilt is required to have a detailed label. During the event, security tags are placed in the quilt label. These devices blare a loud alarm should anyone try to remove a quilt from the premises during the event. You are able to dictate on your form if you prefer in-person pick up and drop off, if you want a signature to be required with shipping, or for your shipped packages to be insured. We assure you, every effort is made to ensure your quilt's safe return to you!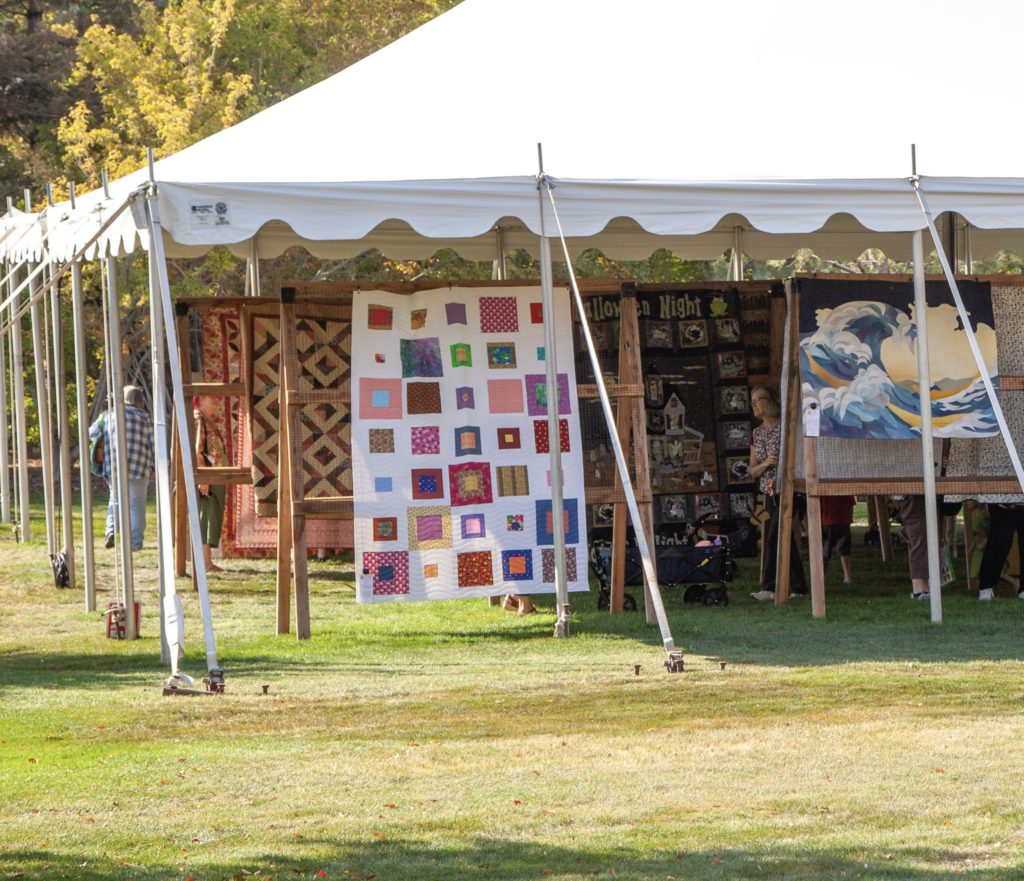 Q: It's an
outdoor show.
What about
rain/ the weather?
A: Since the show is outside, the display is subject to the elements. We do include a release form as part of the application process that outlines the potential risks. New this year we have a section on the form that allows you to indicate if you want your quilt taken down in case of rain. Last year we experienced some light rain. The quilts that remained up from our collection were unaffected by the rain and washed after the show. We keep quilts that are more precious, vintage, etc under tents to protect them from the weather.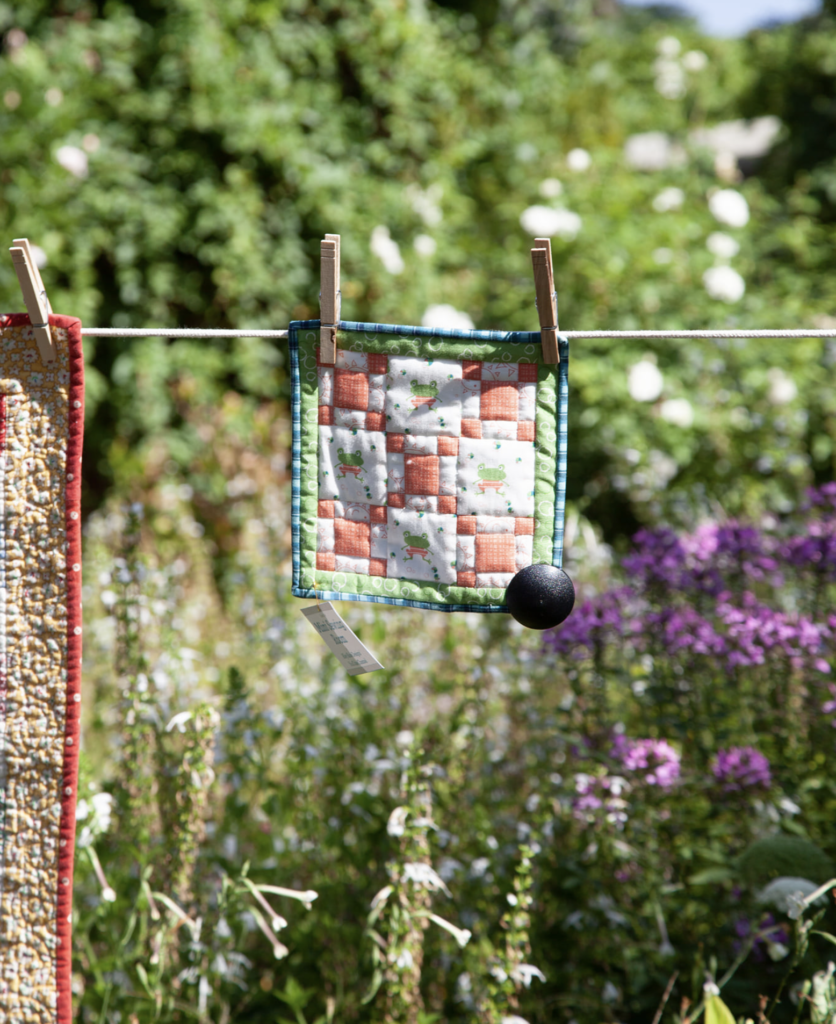 Q: Can I submit small
quilting projects?
A: Of course! We have a special display just for mini quilts and would be delighted to have as many as possible. Last year our smallest quilt on display measured about 7″ by 7″.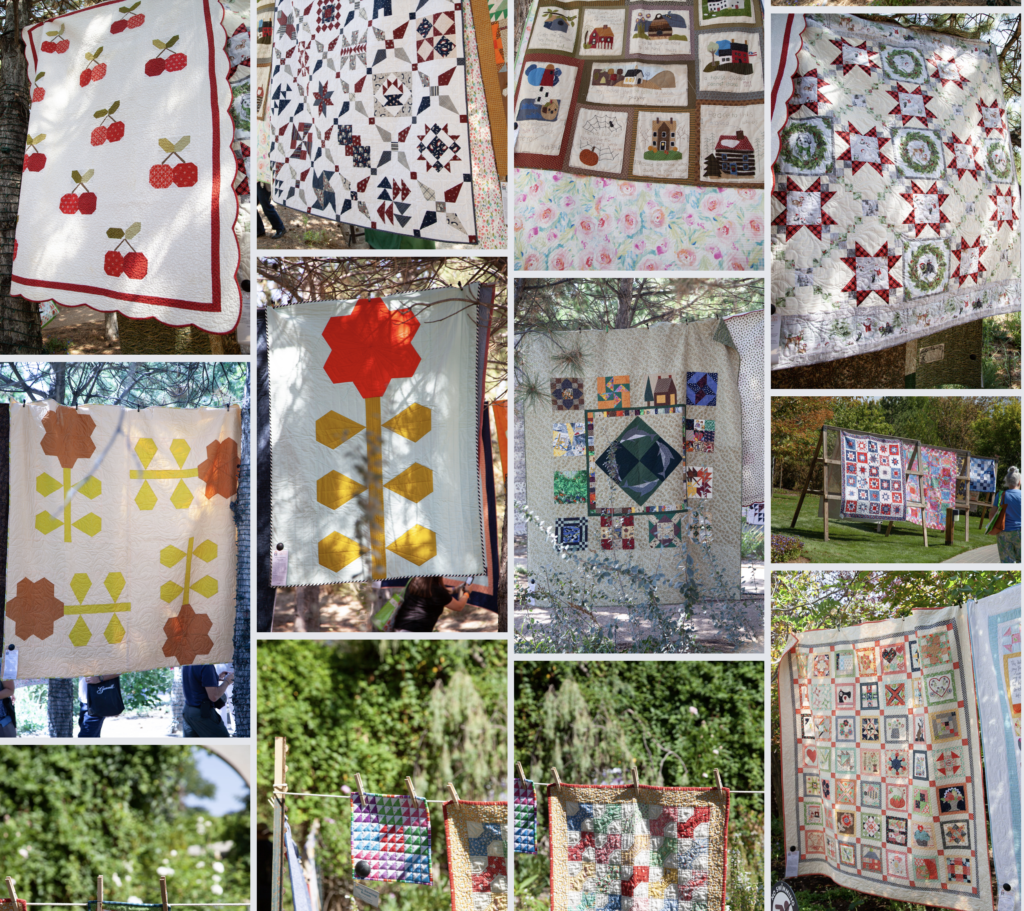 Q: I want to submit
a quilt but,
regretfully, will not
be able to
attend the show.
Can I still see
my quilts on display?
A: We're sad you won't be able to attend but delighted you still want to submit your quilt! During the event, many people post photos on social media and we share on our official Instagram regularly throughout. Additionally, our photographers go through the whole gardens and document each and every quilt on display to be posted to a FB Album. This way, you can go through the album after the event and find images of your quilts on display! See last year's event HERE.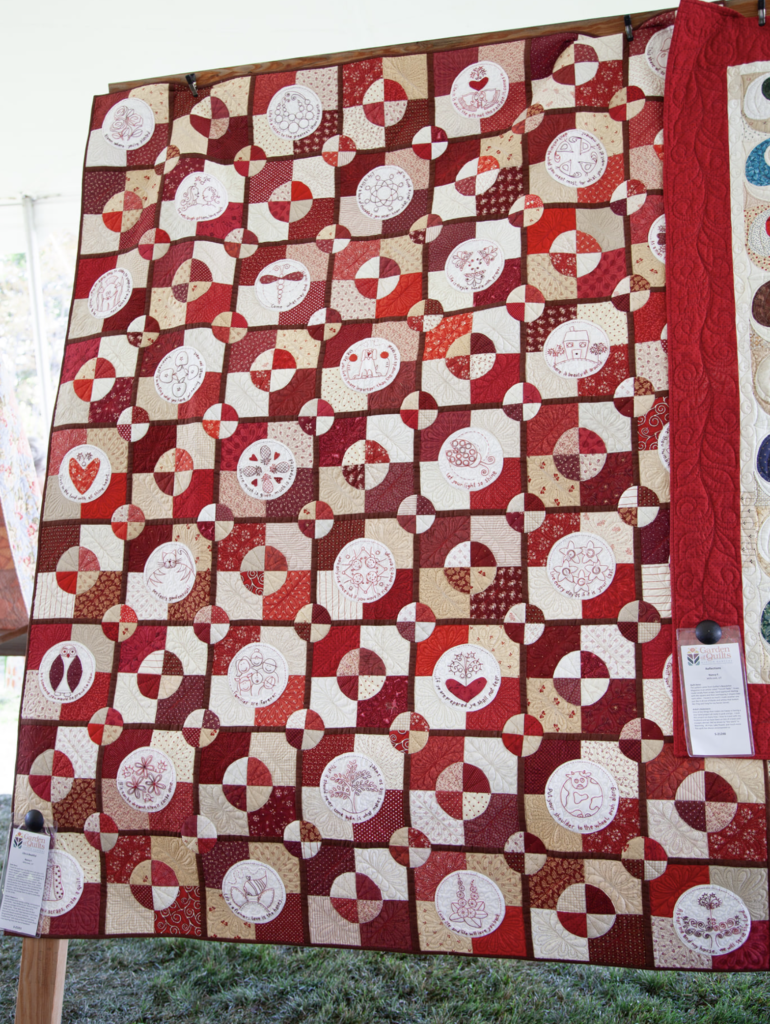 Q: Is there time for
me to make
something new?
A: Yes! The deadline for applications in July 31st so you do have time to make something new. This year we will have a special display for red & white quilts, mini quilts, and for our Quilt Block Challenge: What do you Meme if you feel inclined to create something in that category! If you need further inspiration we have free patterns for our RBD Block Challenge Quilt, RBD Building Blocks, and more on our website.
If you have questions that were not answered here or on the application page, please reach out to us at 801-768-2300 for one-on-one assistance.
We look forward to seeing your quilts in the garden this year!