I have a fun quilt to share with you today! This simple Alternating Nine Patch Quilt is a great way to master the classic nine patch block.
Because this quilt happened very off the cuff, I will give a very basic tutorial. Feel free to make your own changes and adjustments as you see fit. This makes a great throw sized quilt, measuring approximately 60″ x 66″.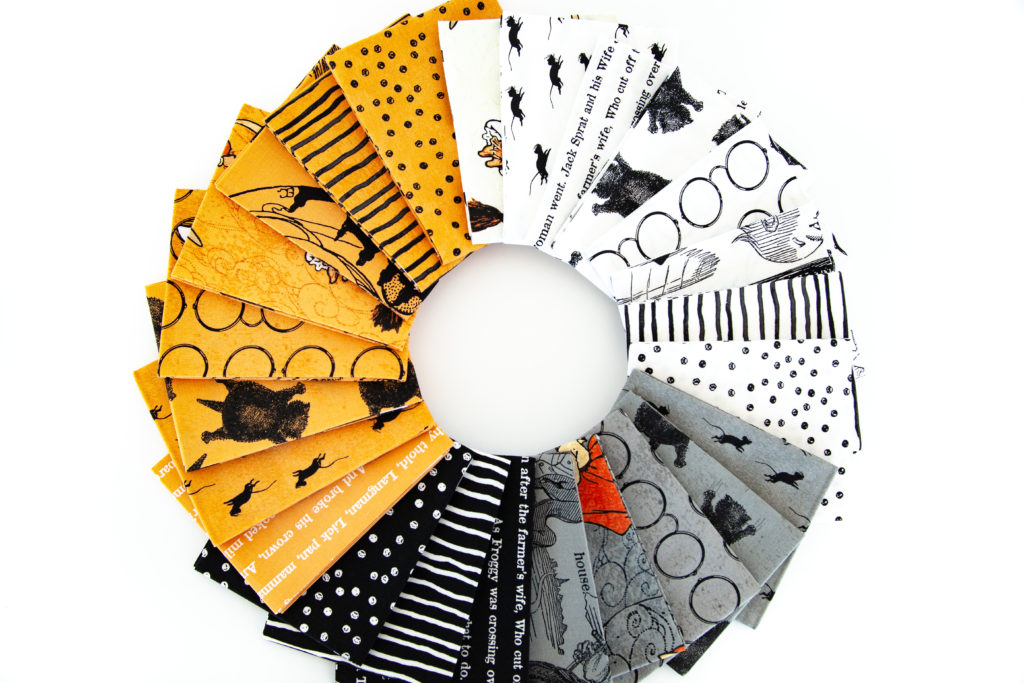 The Goose Tales collection, by J. Wecker Frisch, is a fun, slightly spooky spin on traditional fairy tales. You'll find delightful vintage fairy tale artwork, along with a fun text print, scurrying mice, cats, old fashioned spectacles, flying Mother Goose witches, and more!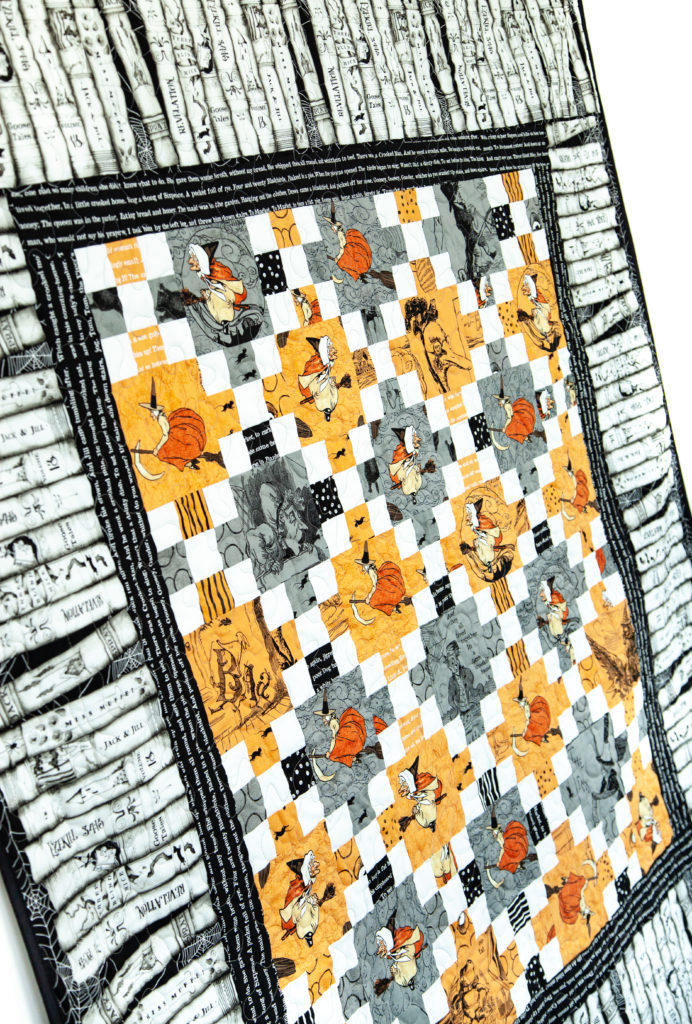 To create this quilt, I fussy cut 12 gray Mother Goose and fairy tale artwork from the All Over Motifs print — all blocks are 6″ square. For the orange blocks I fussy cut 16 blocks from the same two prints.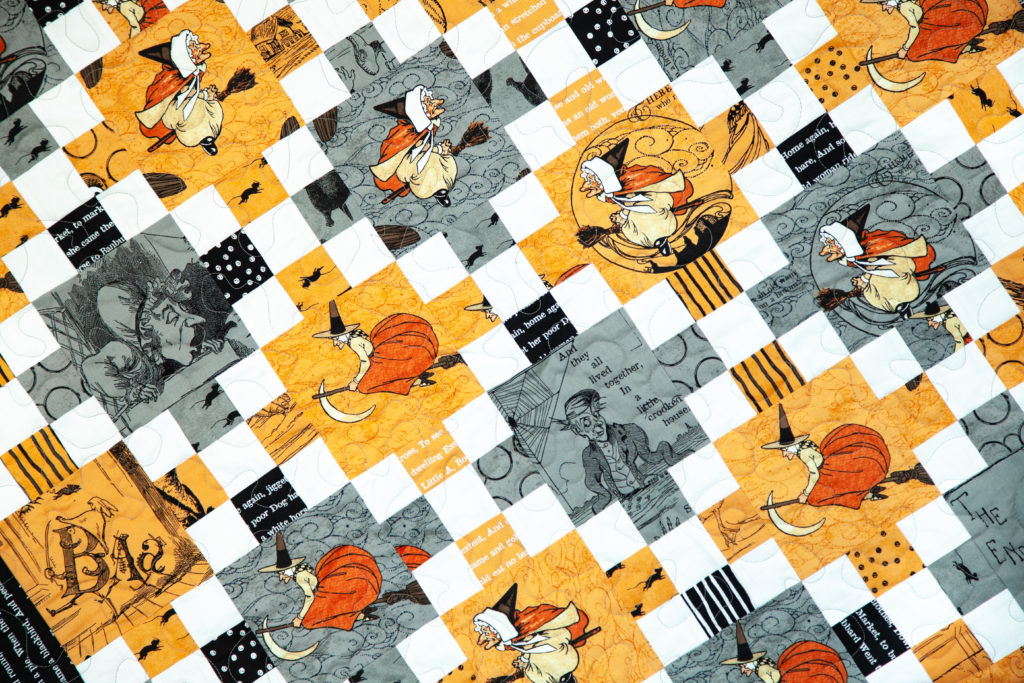 I used 2 1/2" strips, and alternated Confetti Cotton Cloud with the gray and orange fabrics to create the nine patch blocks, which creates a lovely Irish Chain effect. The nine patch block is easy to make, especially when strip piecing. You can find a great strip piecing tutorial HERE. My finished nine patch blocks were 6″ square.
The only unique aspect of these nine patch blocks is that I needed to alternate gray rows and orange rows, so that the little gray blocks butted up against the 6″ gray blocks, and the orange blocks butted up against the 6″ orange blocks.
The center of this quilt calls for 7 blocks across and 8 blocks down. All blocks are 6″ square.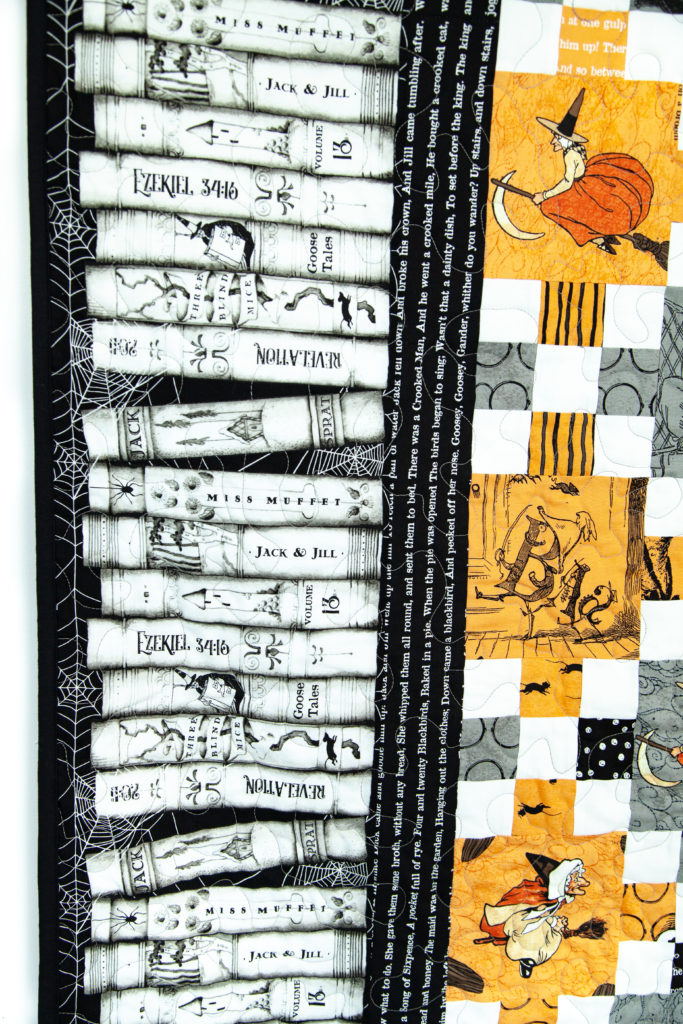 The inside border is made up of 6 – 3″ strips of the Black Text print. I love how this print frames the center of the quilt.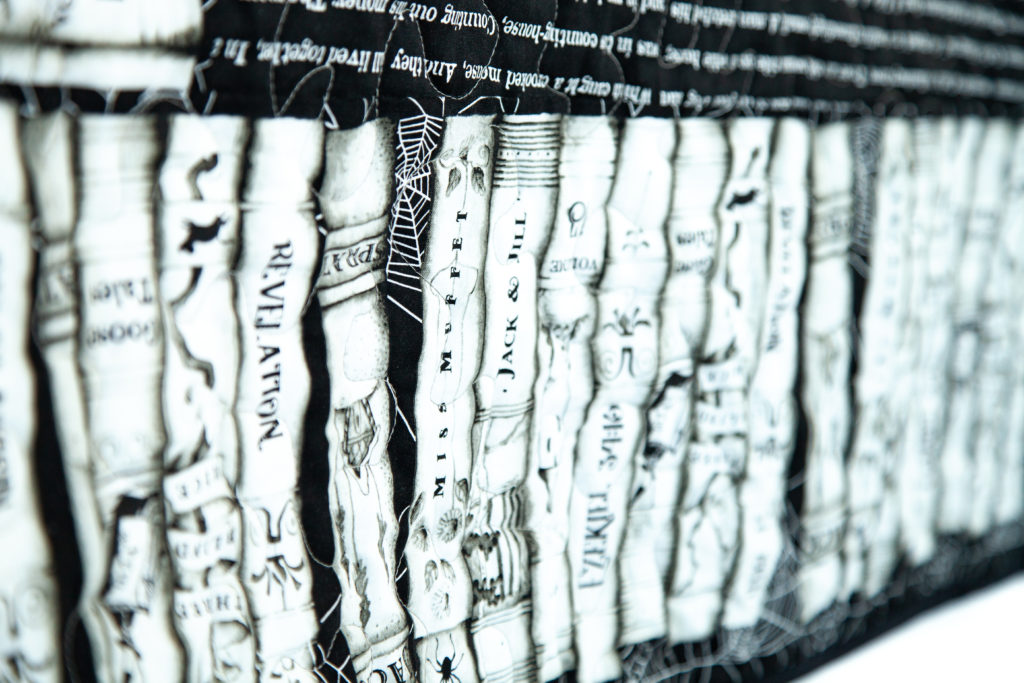 The outside border is made from the Book Spines Border Stripe. The nice thing about this print is that within the width of fabric, there are four stripes — perfect for the four sides of the quilt. 1 3/4 yards of this print will give you all four borders. I trimmed 1.2″ from the bottom of the books. At the top of the books, there is a white line in the spiderweb design. I used that as a guide and cut 1″ above that line. These measurements gave me a nice, uniform cut for all of the borders.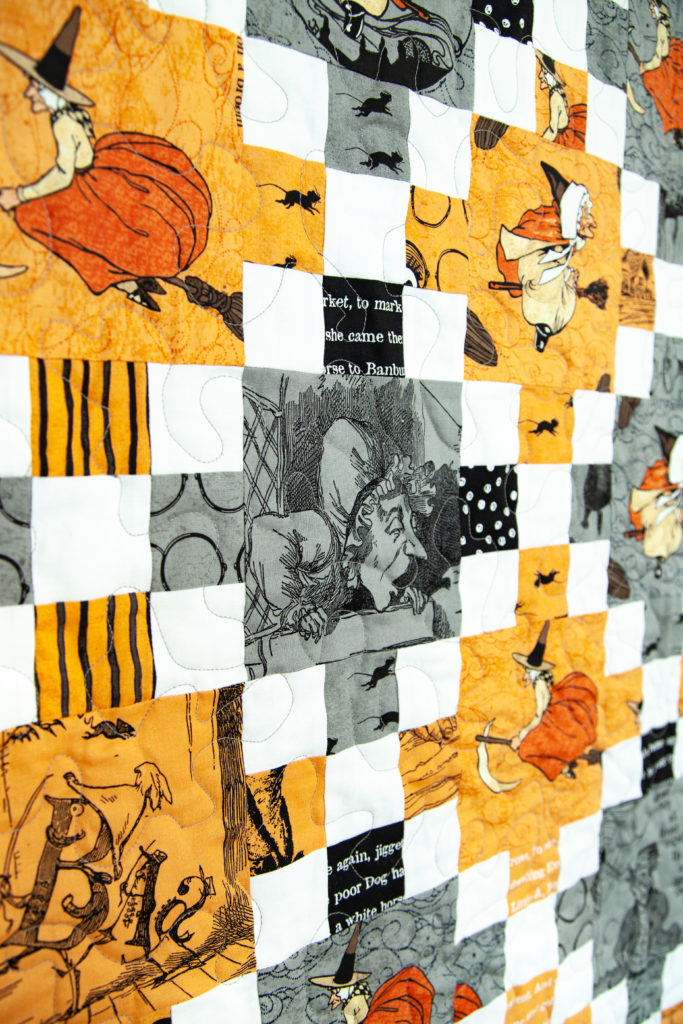 I quilted this with a simple all over stipple design — far from perfect, but quick and easy. This is a great design for people who are just learning to quilt on their home machines, because it is very forgiving. As soon as you wash and dry your quilt, any small imperfections will disappear into all of the lovely crinkles.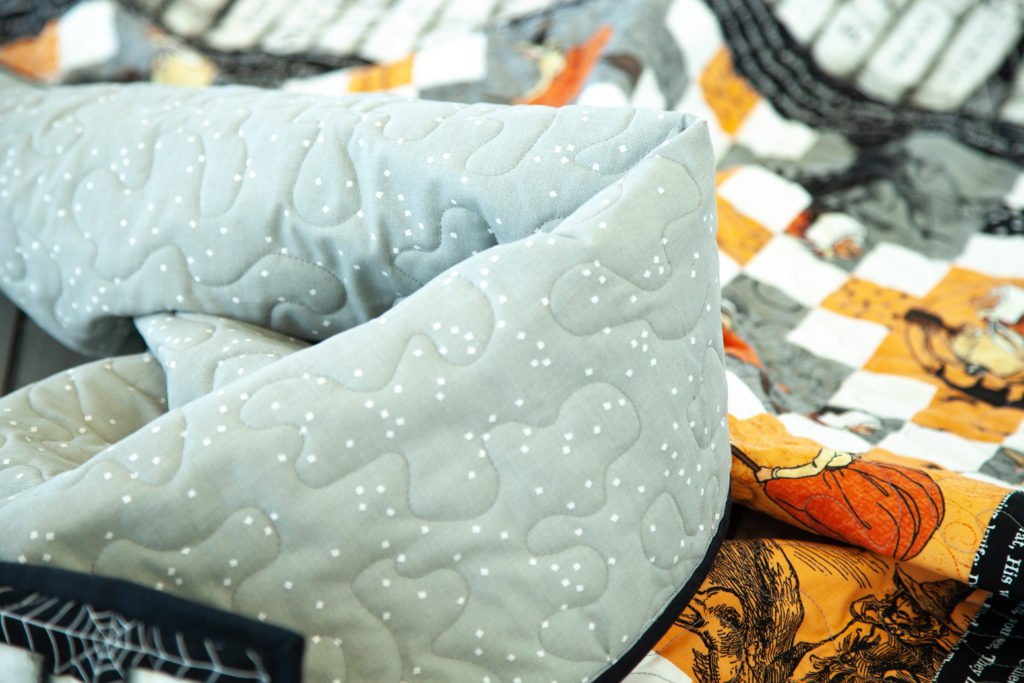 The quilt back is our fabulous Wide Back Blossom fabric by Christopher Thompson. Oh, how I love using wide backs!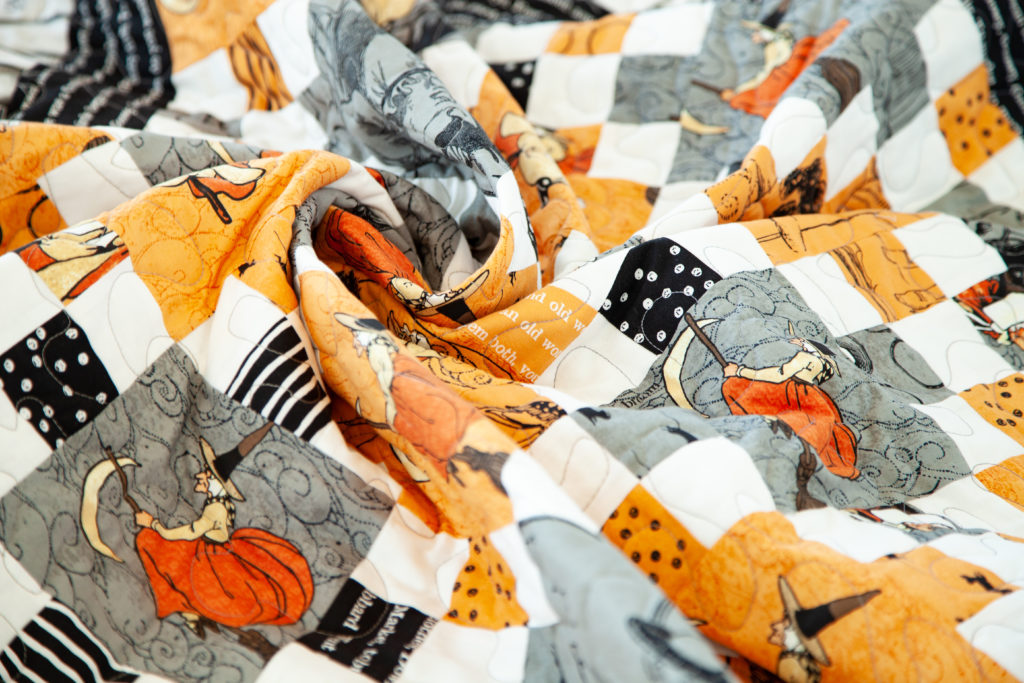 Isn't this fun? We are seriously loving these hilarious flying Mother Goose witches!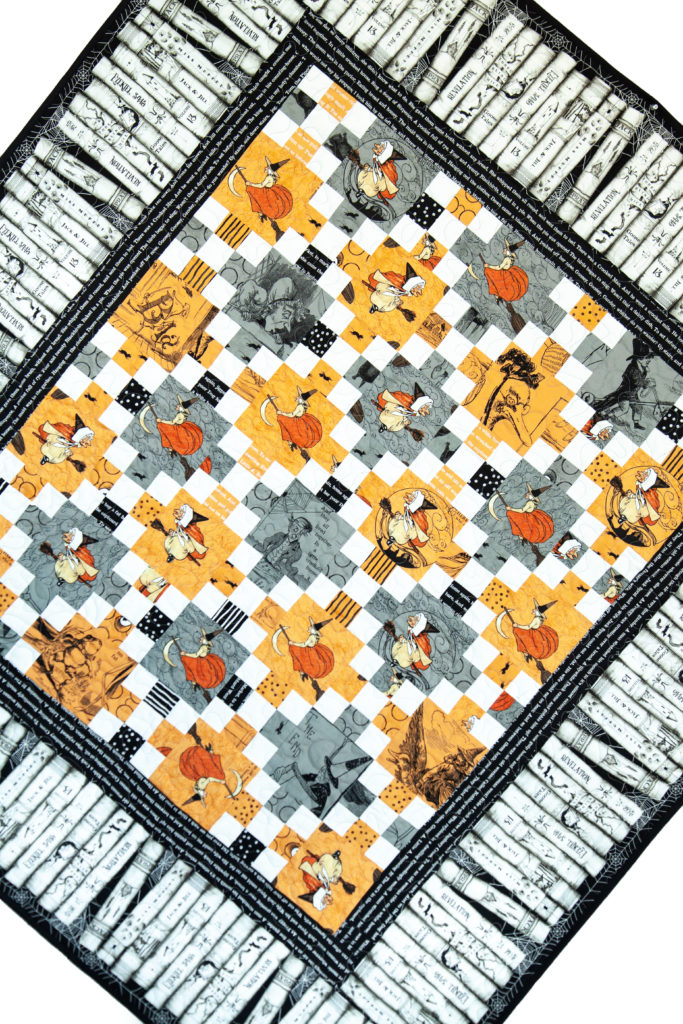 And the book border turned out awesome!!! I seriously can't wait to pull this out for Halloween!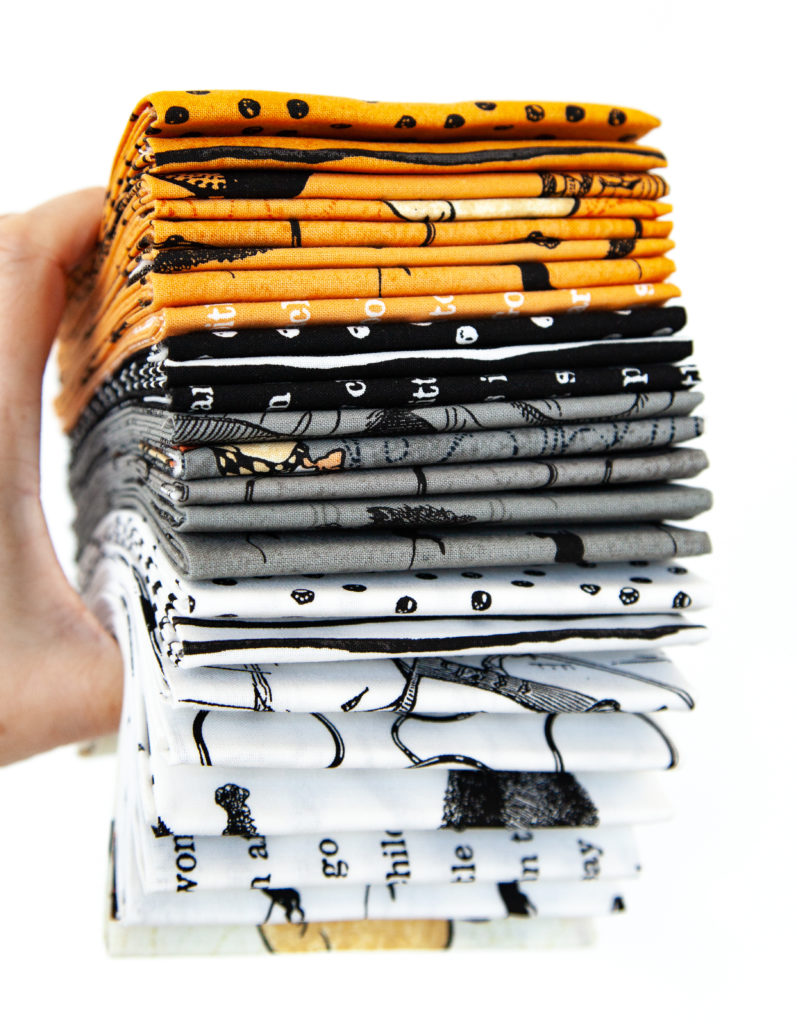 Goose Tales, designed by J. Wecker Frisch, is available now at your favorite local and online quilt shops. Pick up yours today and share your makes with us on Instagram using #goosetalesfabric, #rileyblakedesigns, #iloverileyblake, and tag us @rileyblakedesigns.
Happy Quilting!