Lori Holt's Granny Chic fabric collection is here and we just couldn't wait to get our hands on it!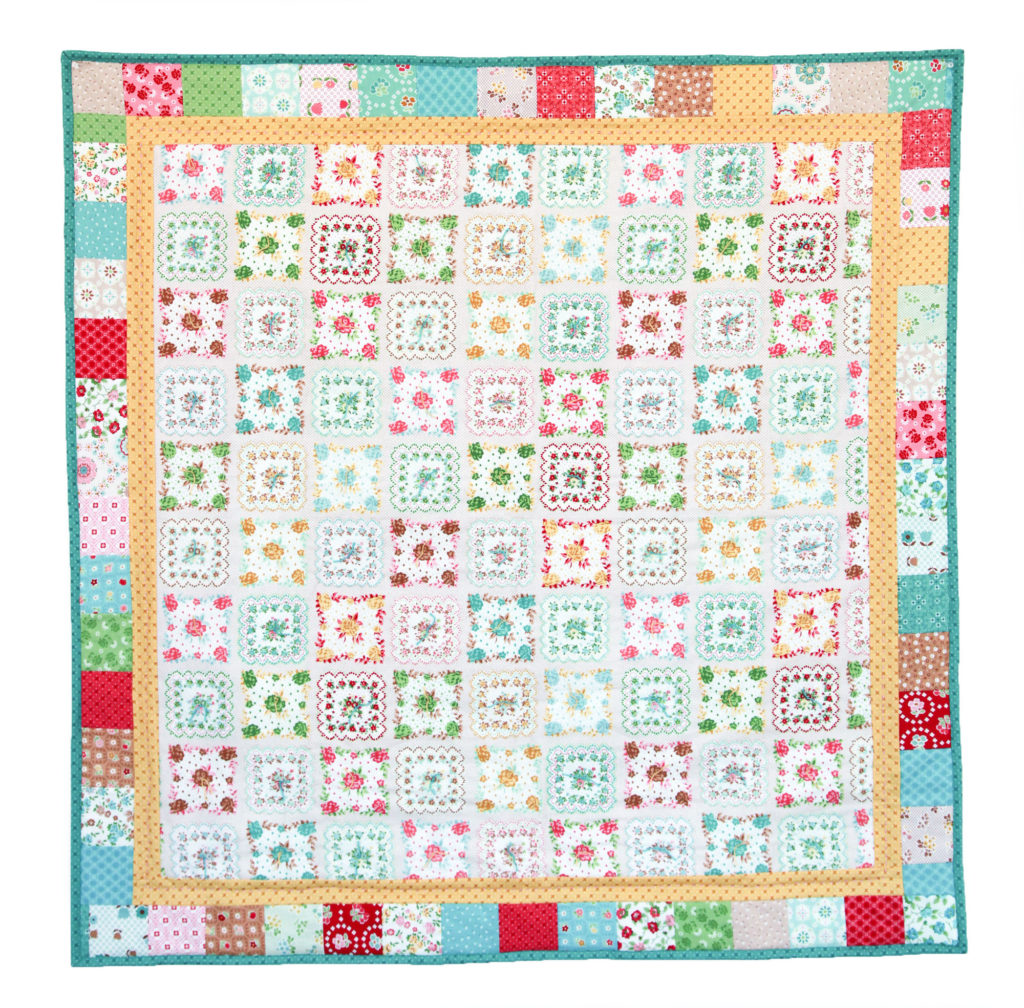 The happy colors and vintage inspired prints are reminiscent of grandma's linens, homemade jam, cookie jars, and grandma's apron. Don't you think?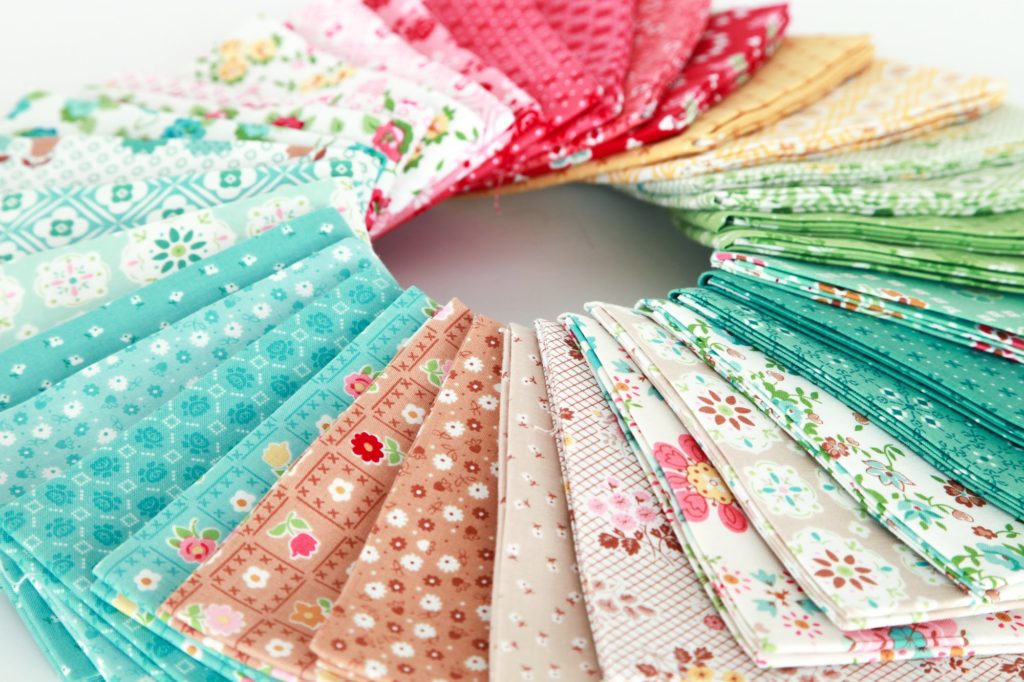 Lori says, "This collection was inspired by my grandma and her 5 sisters …(my great aunts) whom I had the privilege to live by while growing up in our small town:) Each of their sweet little homes were filled with lovingly handmade items…from quilts to embroidery to crochet:) I also loved their wallpaper…vintage dishes…vintage sheets, etc., and the prints are reminiscent of those things."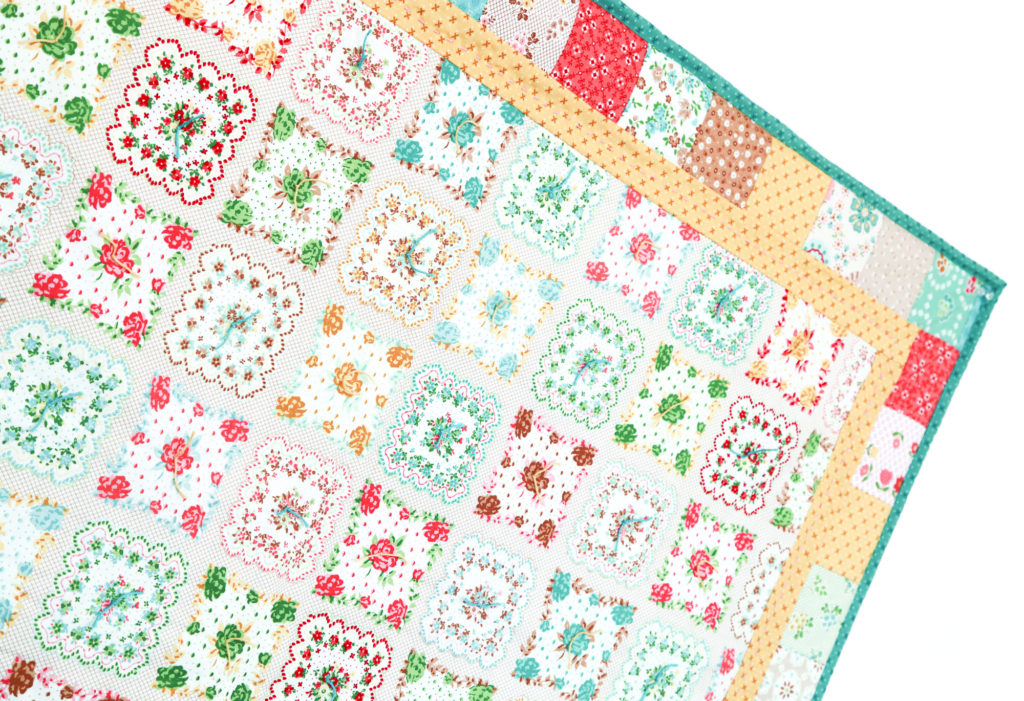 I fell in love with this Handkerchief print in particular, and really wanted to make a whole cloth quilt with it. However, the other prints were all too cute, so I decided to add a little patchwork border so every print had an opportunity to shine.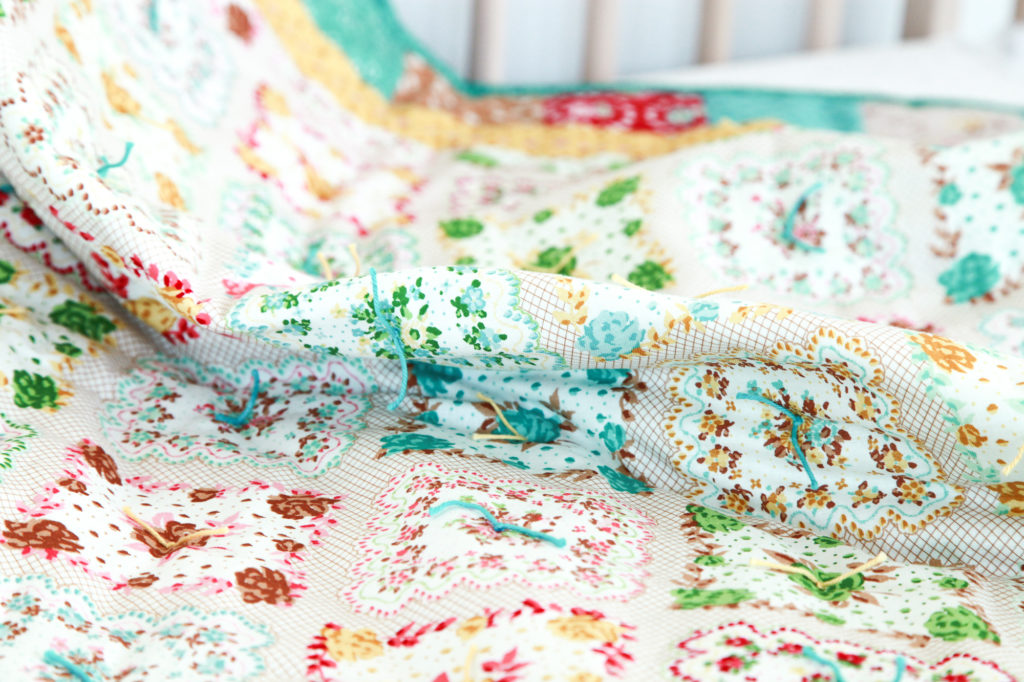 In order to really emphasize the vintage charm of these fabrics, I opted to hand tie the quilt, and I am loving the result!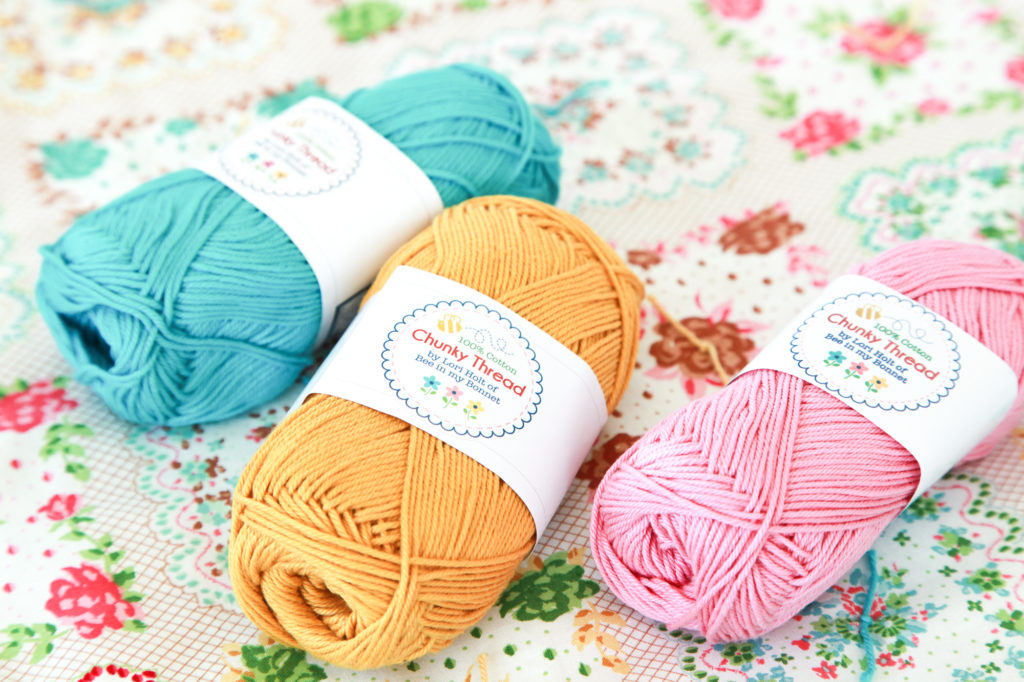 Lori Holt came out with a beautiful line of Chunky Thread, which coordinates with her fabric collections. They are 100% Cotton, Size 2 yarns, and can be used for crochet, knitting, quilt tying, and many other sewing and craft projects. I decided to use the Peacock, Honey, and Peony colors. Aren't they lovely?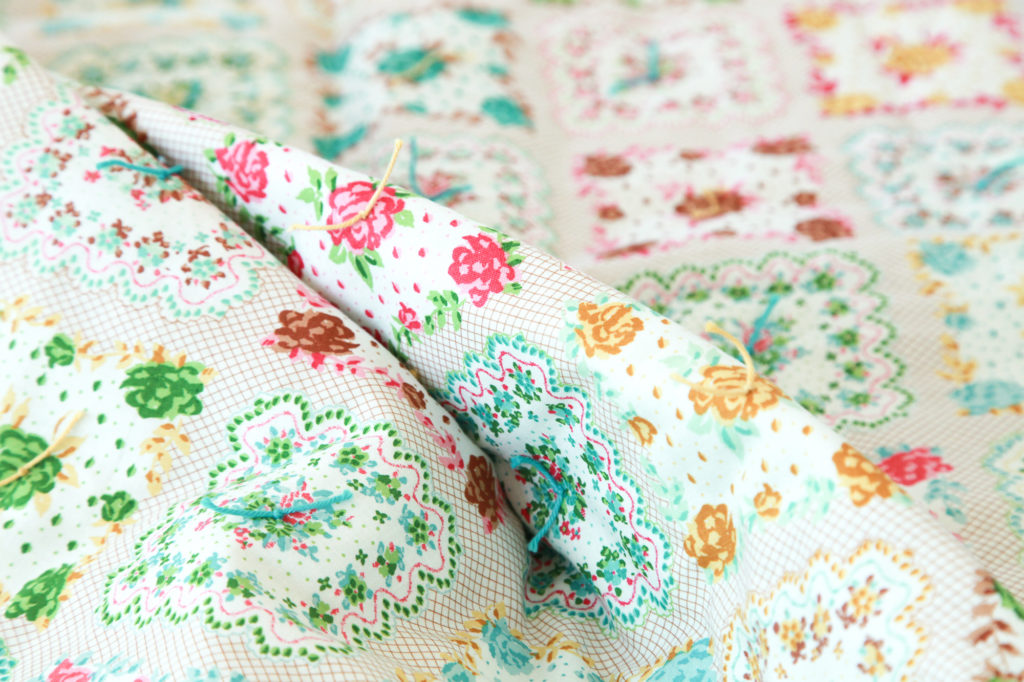 Tying was a breeze. I was pleasantly surprised to find that my thread didn't end up in a tangled up mess as it is prone to do with other yarns, and pretty, yet subtle it looks on the finished quilt. I used the Peacock and the Honey threads on the main panel (which I cut to 36″ square), tying a square knot in the center of each handkerchief.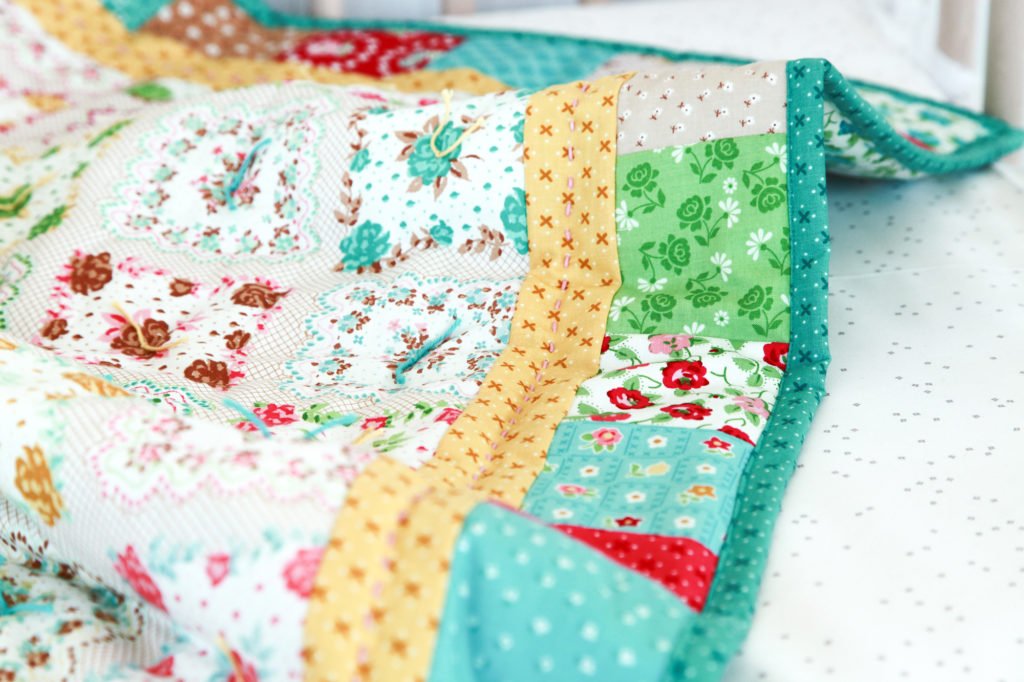 I bordered the panel with a 2″ strip of the Yellow Kisses, followed by a patchwork border of 3 1/2″ squares.
I used the Peony Chunky Thread to make a running stitch along the center of the Yellow Kisses border around the entire quilt.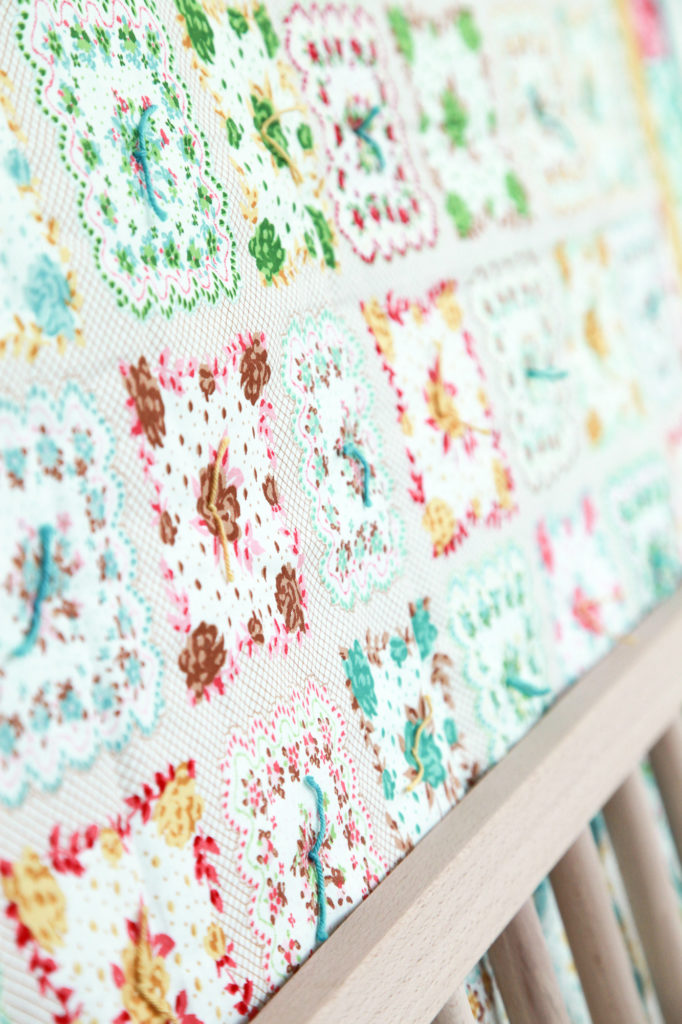 In this side view, you can see that I alternated the Peacock and Honey threads. You could add as many or few colors as you like. I decided to keep it simple with two colors.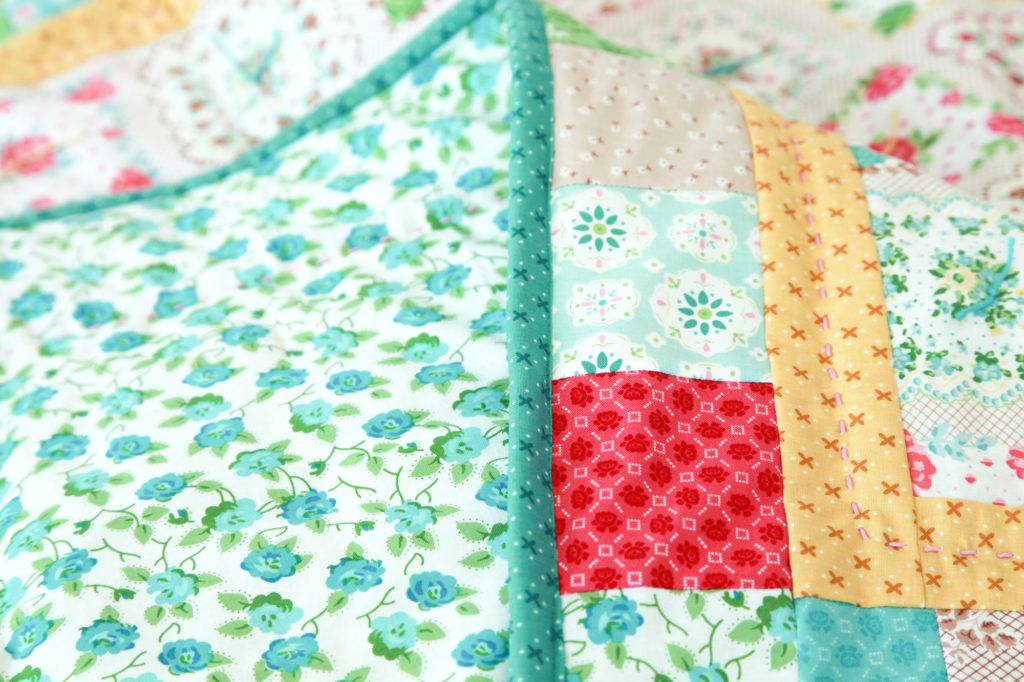 The quilt is backed with the Blue Dishes print, which reminds me of vintage sheets from my childhood. The binding is Teal Kisses, and I love how the Teal creates a lovely frame for the quilt.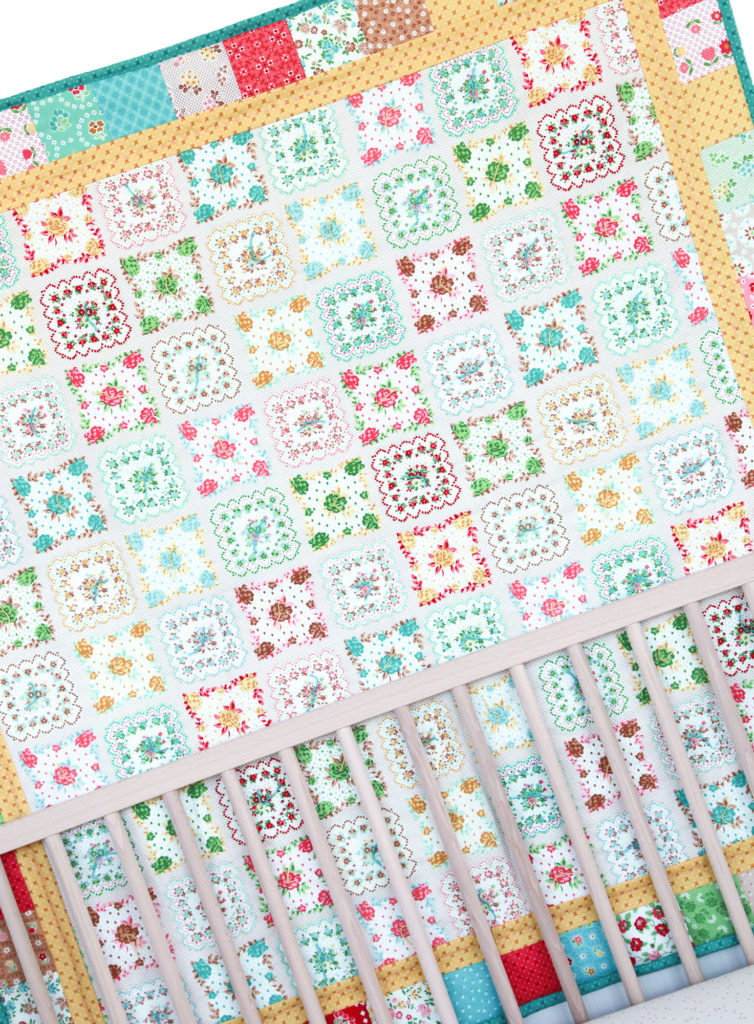 The finished quilt measures about 46″ x 46″. A nice size for a growing toddler. You could always make the quilt smaller by starting with a smaller center panel.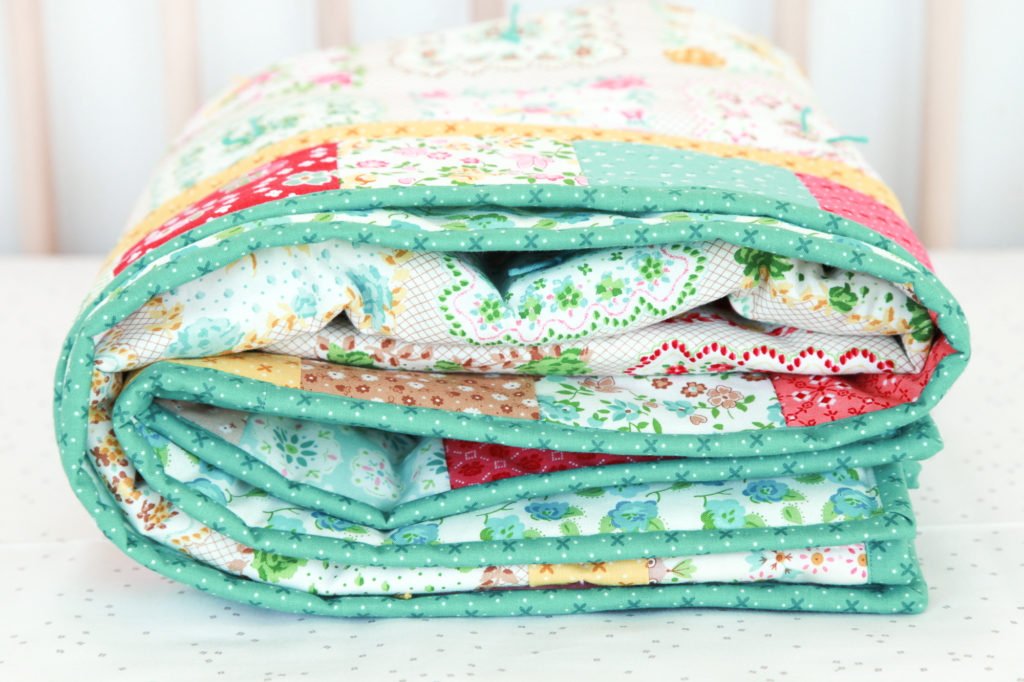 The timeless appeal of this fabric collection guarantees this quilt we be loved for years to come. And because it is so easy to make, there will be no hesitation in letting little ones cuddle and carry this everywhere they go.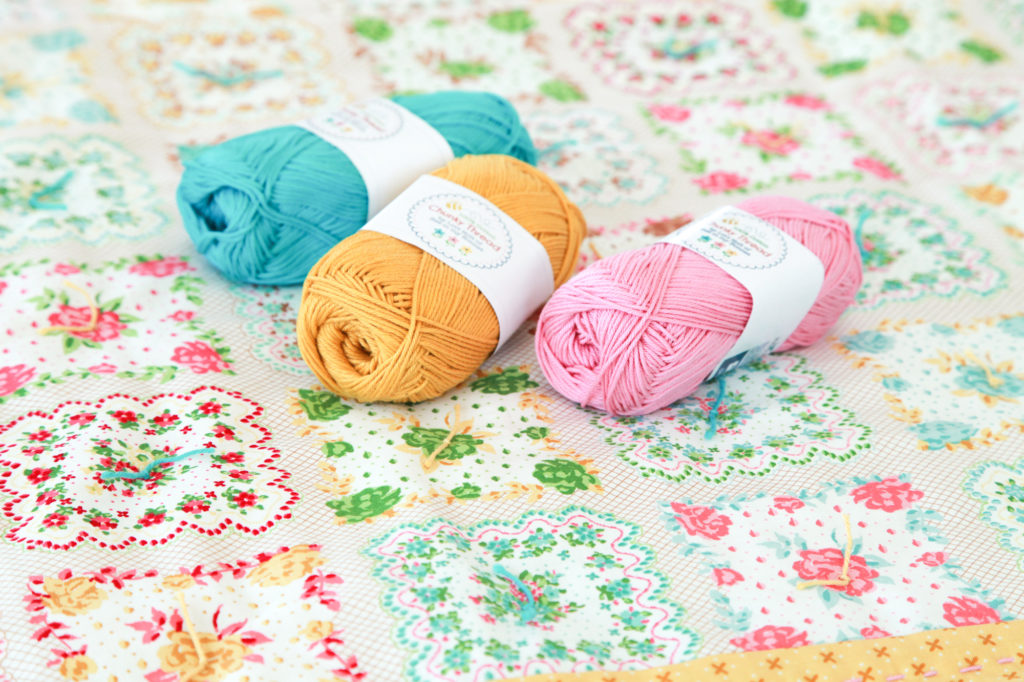 Lori Holt's Granny Chic fabric collection and Chunky Threads are available now at your favorite local and online quilt shops. Pick up yours today and share your makes with us on Instagram using @rileyblakedesigns, #rileyblakedesigns, #iloverileyblake, and #fabricismyfun.
Happy Quilting!