It's that time of year when we all begin our holiday sewing, and we all know a little one who loves her dolls! Doll dresses are easy to make and they make perfect gifts! Erin Hentzel has written another fabulous book featuring patterns and easy instructions to make your very own 18″ doll dresses. I loved the simplicity and versatility of the patterns. Add embellishments, change the sleeves or collar…so my options to create a wide variety of beautiful dresses!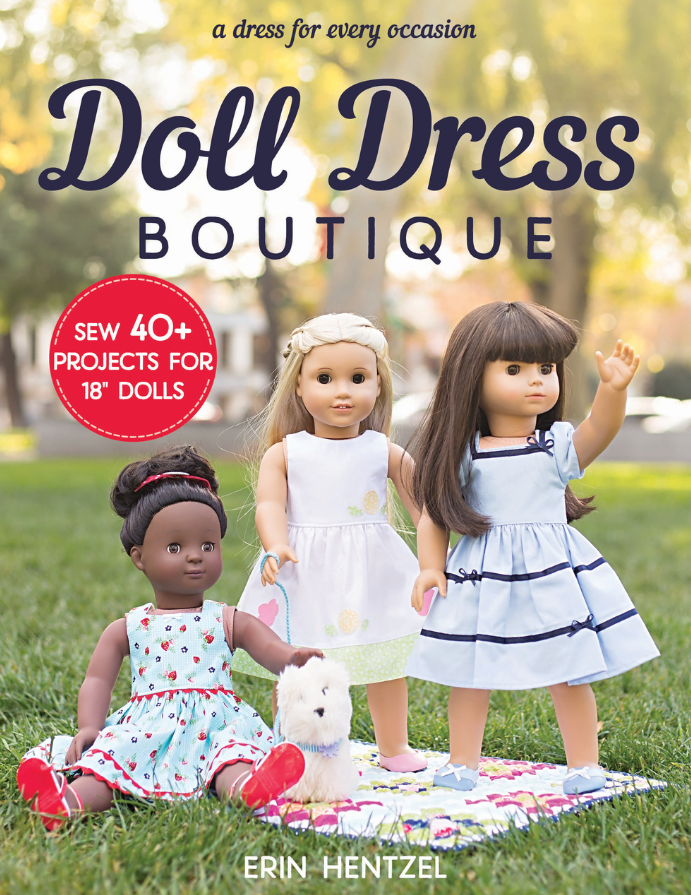 I chose to make Classic Sleeveless and an Absolutely A-Line dresses.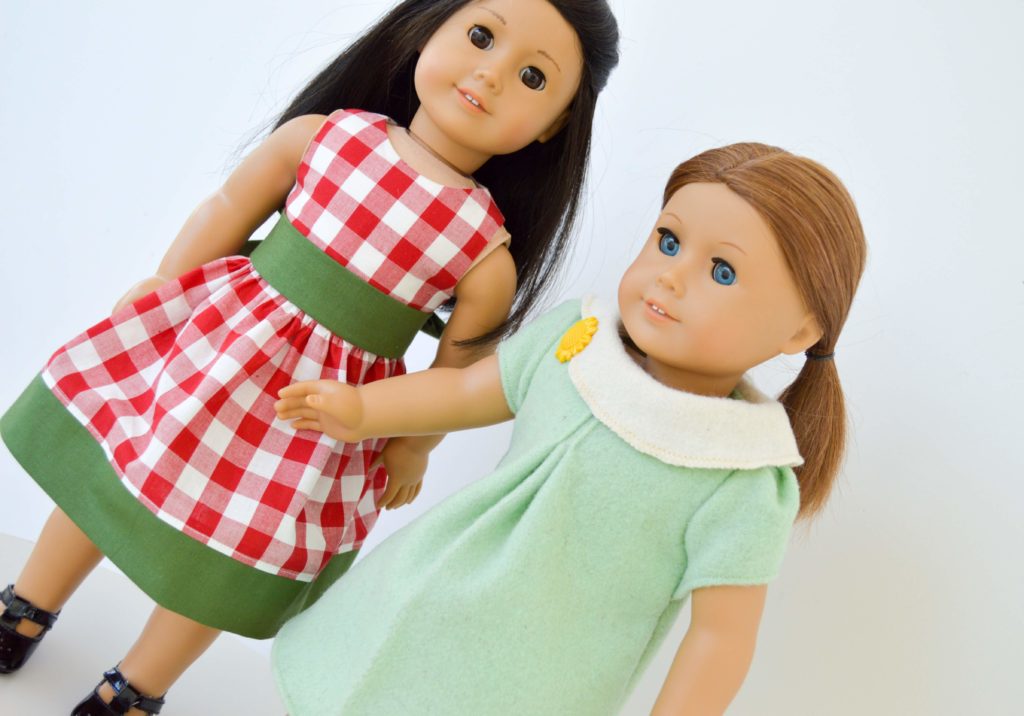 I used Riley Blake Woven Gingham and the Hunter Green Confetti Cotton for the sleeveless dress. For the A-line, I used our Riley Blake Wool in Sweet Mint with a Cream collar.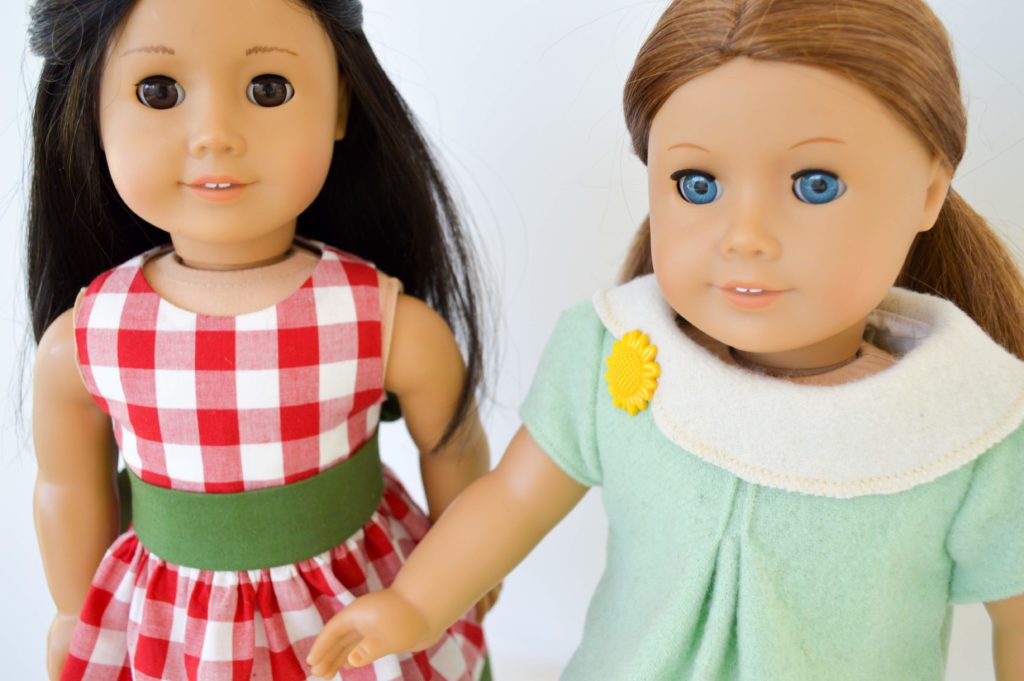 Aren't they fabulous?! We have all decided we want these dresses in grown-up sizes!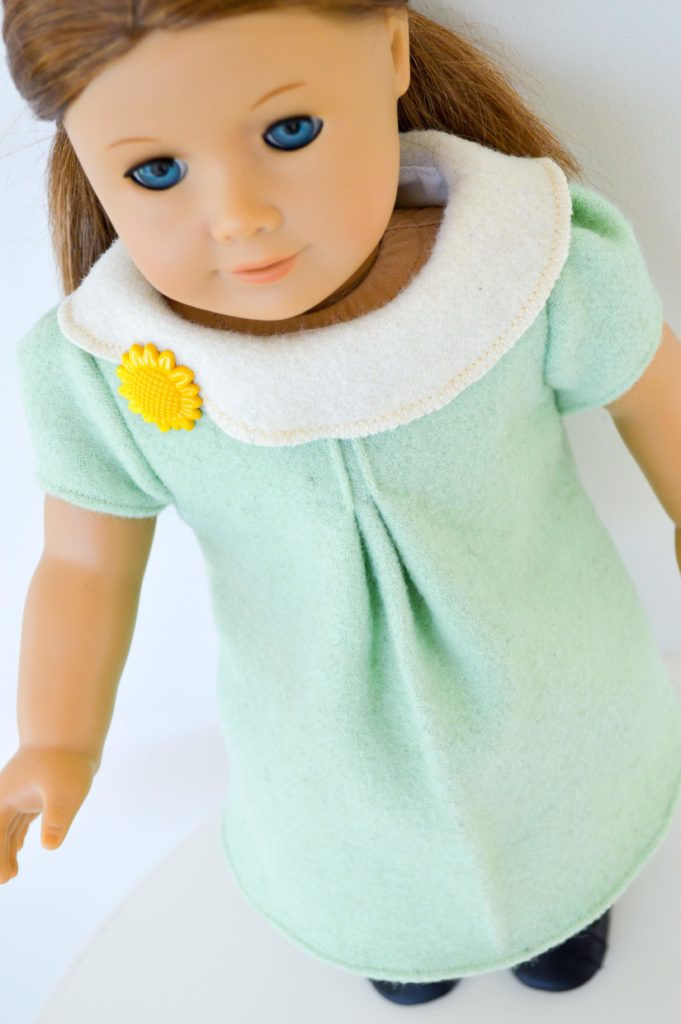 Because the wool is thick and sturdy, I skipped the lining and only added one pleat instead of two. I used a simple blanket stitch on the collar edge. Adding a ribbon embellishment to the hemline or collar could be another fun touch to add some pizzazz.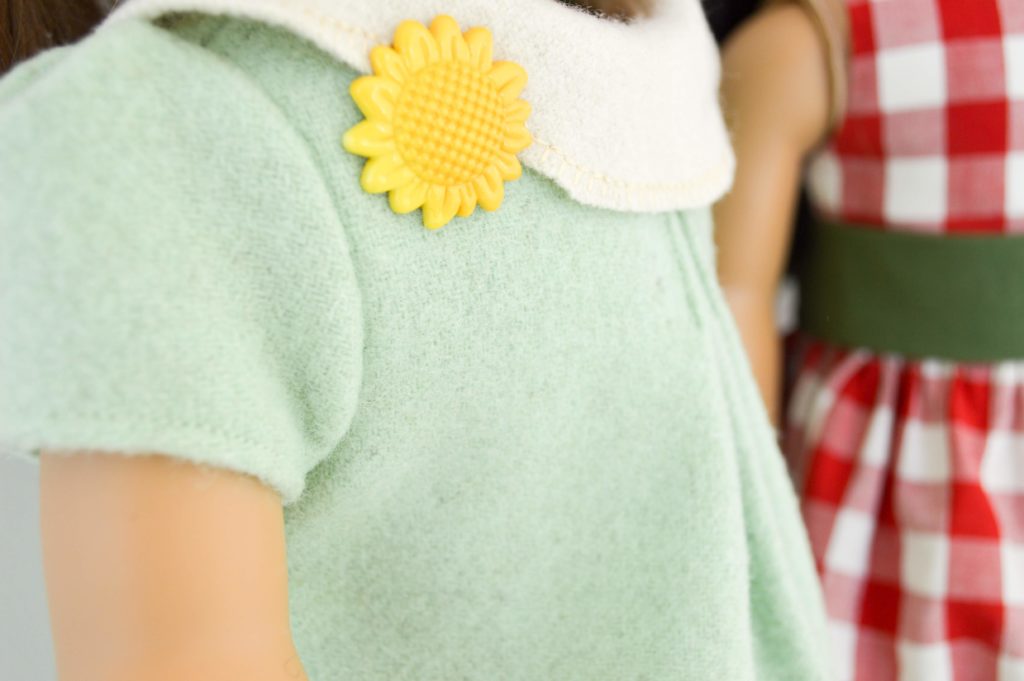 Instead of adding a bow, I added a cute little sunflower button. A brooch or gold button could be a lovely way to dress it up.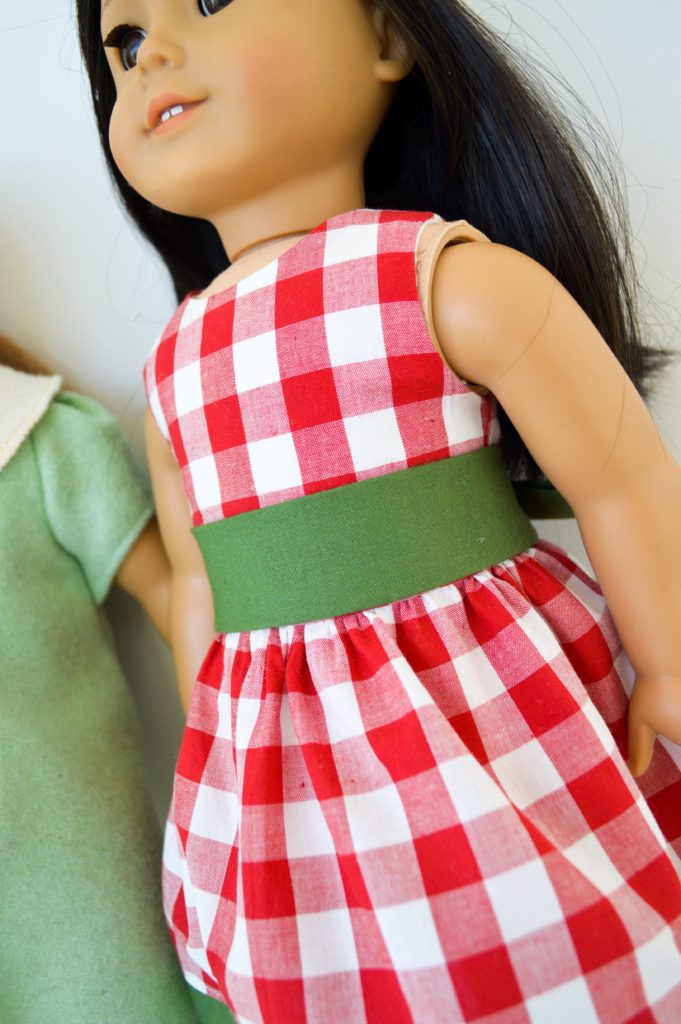 The woven gingham works beautifully in clothing, and this doll dress was no exception. I paired the red and green for a festive holiday look. Adding decorative stitches at the hem, a pretty white blouse, or a simple pearl necklace would be an easy way to take this from daytime to an evening party dress.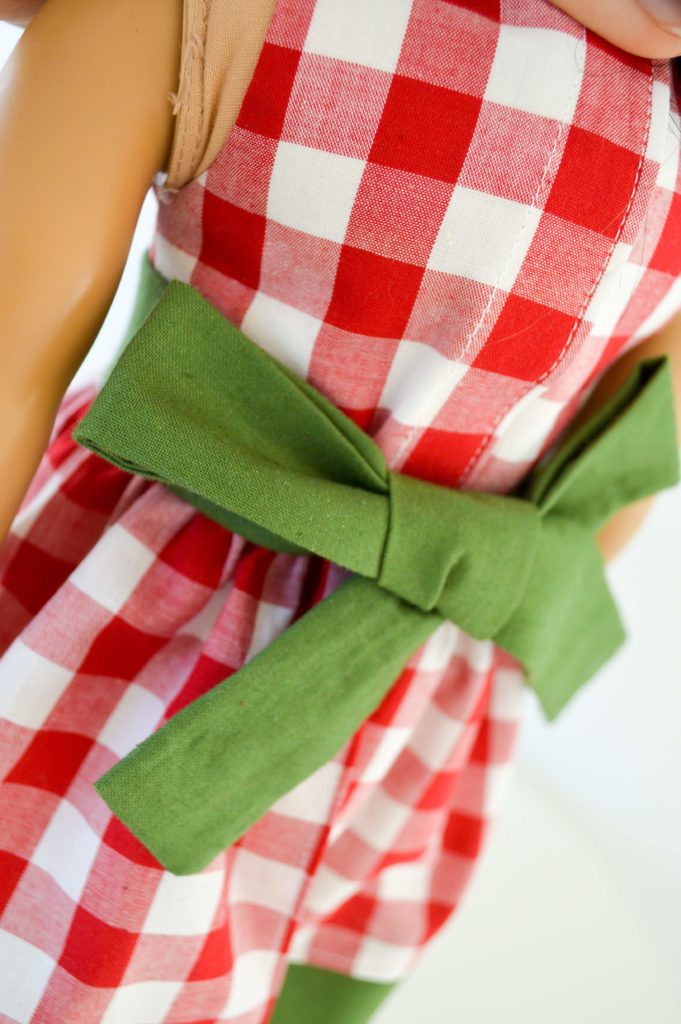 The sash tied in the back creates even more contrast and is super easy to make.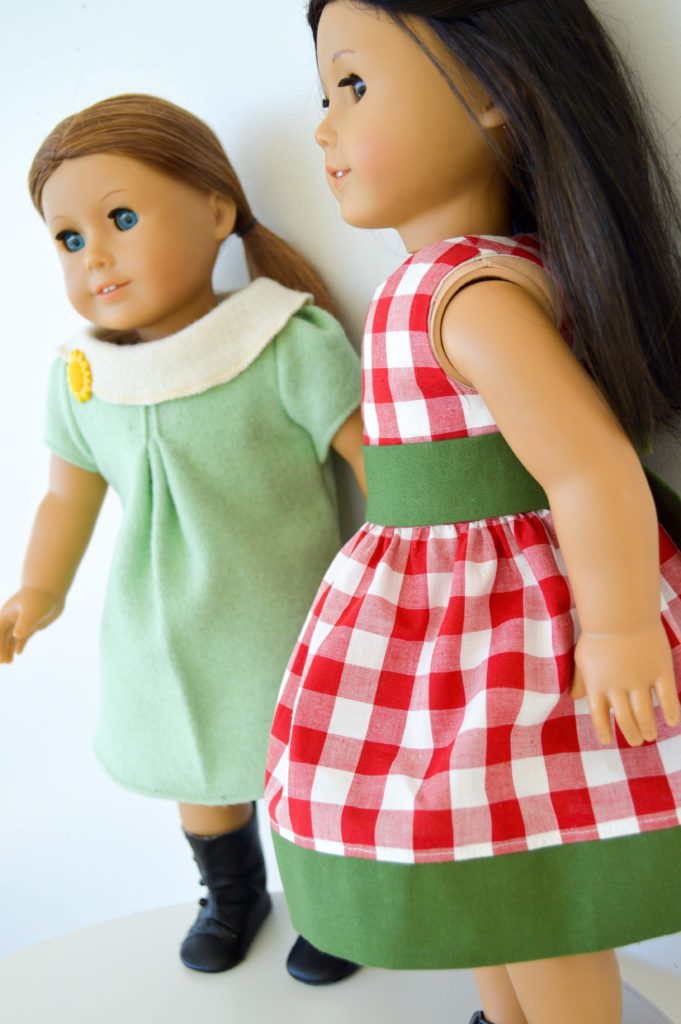 Riley Blake Woven Gingham and Wool are available now at your favorite local and online quilt shops, so pick up yours today! If you are looking to add a few handmade gifts to your list this holiday season, 18″ doll dresses are always a hit and guaranteed to be cherished right along with their dolls for a very long time.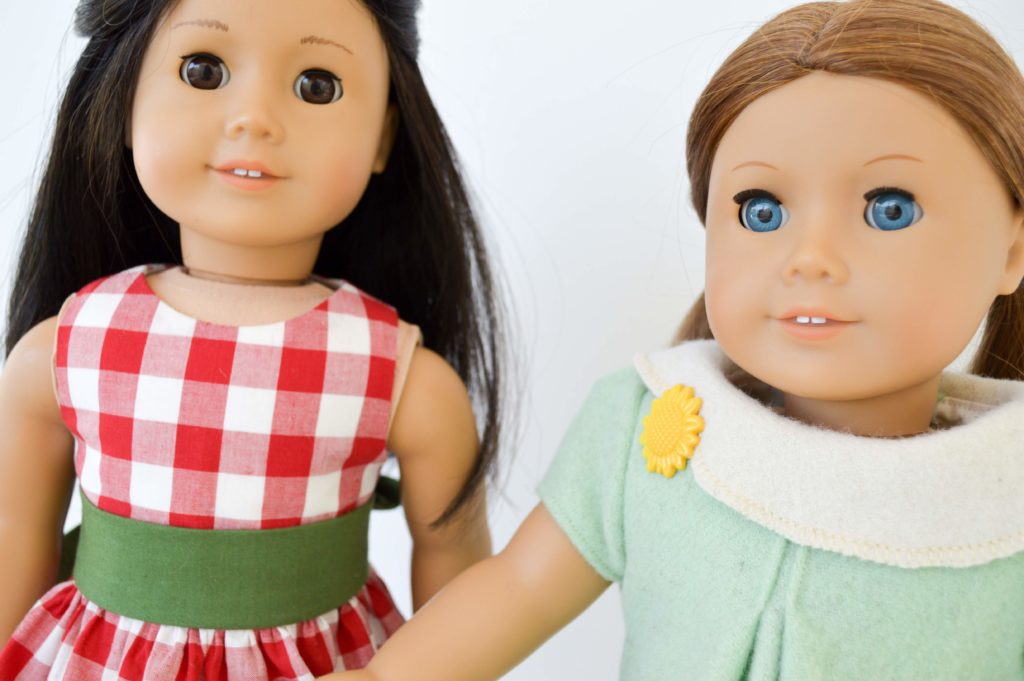 Doll Dress Boutique can be found at various local and online retailers, or an ebook is available HERE.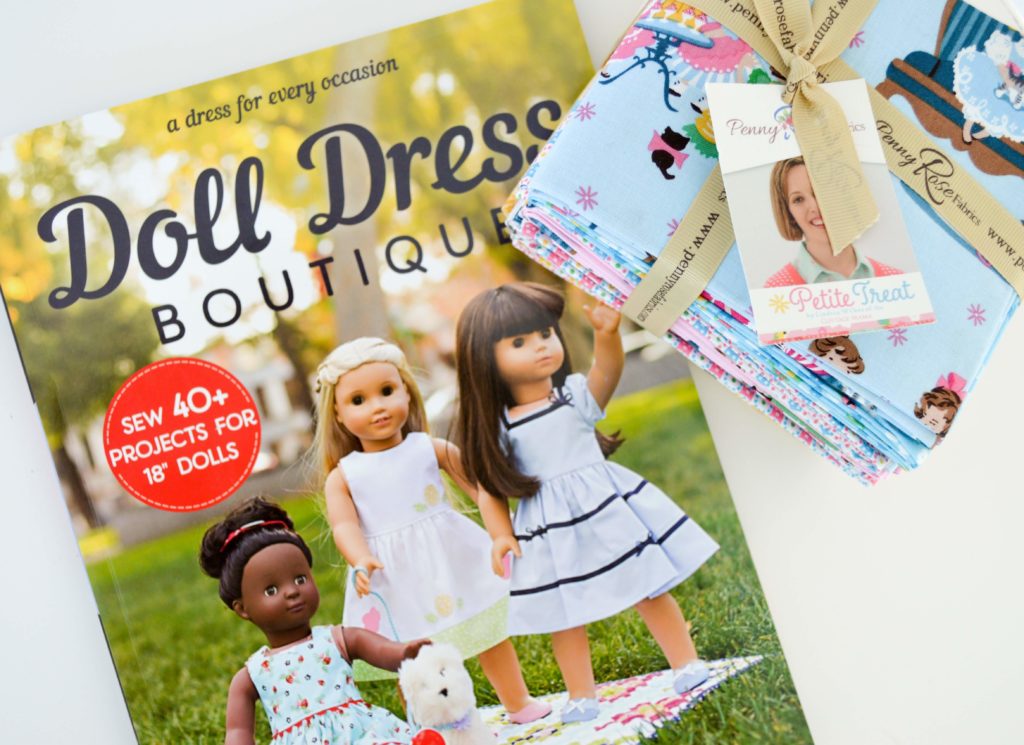 We are giving away a copy of Doll Dress Boutique and a Fat Quarter Bundle of Lindsay Wilke's fabric collection, Petite Treat. Click HERE to enter to win!!
Thanks for stopping by!
Monday, November 12: C&T Publishing: Erin
Tuesday, November 13: Jane Wilkes
http://www.janiecarrolldesigns.com/
Wednesday, November 14: Sulky
Thursday, November 15: Teri Lucas
Friday, November 16: Riley Blake Designs
https://imaginewithrileyblake.com/blog/
Monday, November 18
Tuesday, November 19: Tammy Silvers
Wednesday, November 20: Erin