We are excited to share our version of the Seeing Stars Quilt with you today, featuring fabric from the Let Freedom Soar collection designed by Tara Reed.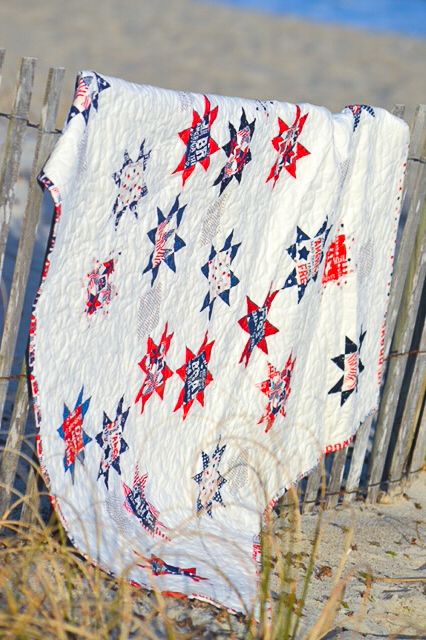 The Seeing Stars quilt pattern, by Make Star Quilts, can be found HERE.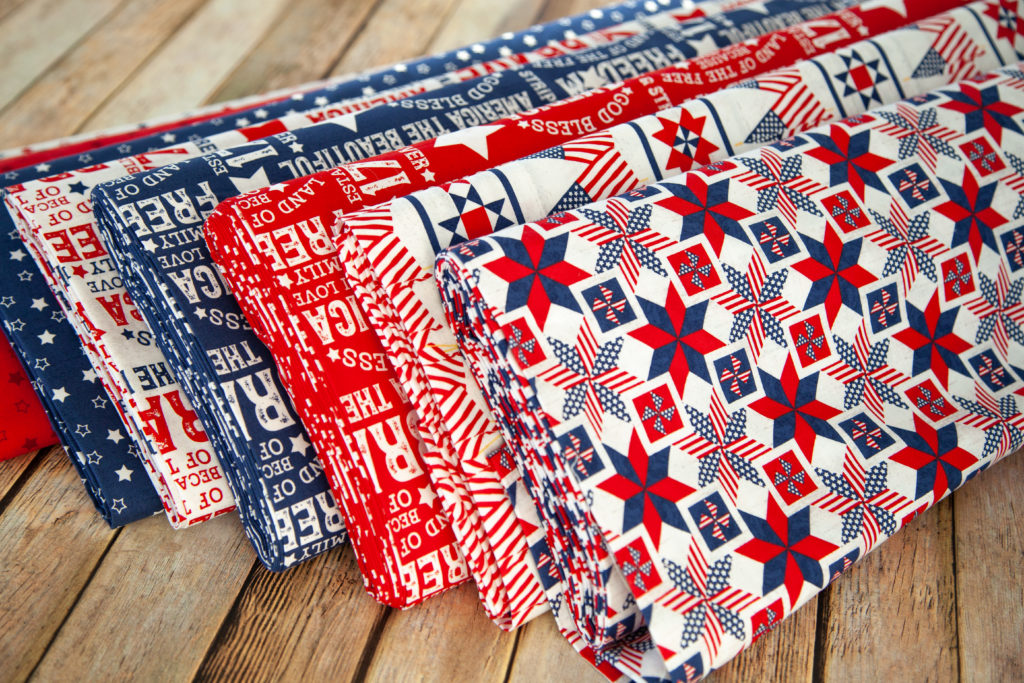 When we saw Seeing Stars, we knew it would be a great way to showcase the bright, festive prints in Tara Reed's brand new mini collection: Let Freedom Soar. The fabrics feature a blend of patriotic themes in the color palette, flag, and text prints, paired with a quilting theme seen in the mini star and pinwheel blocks.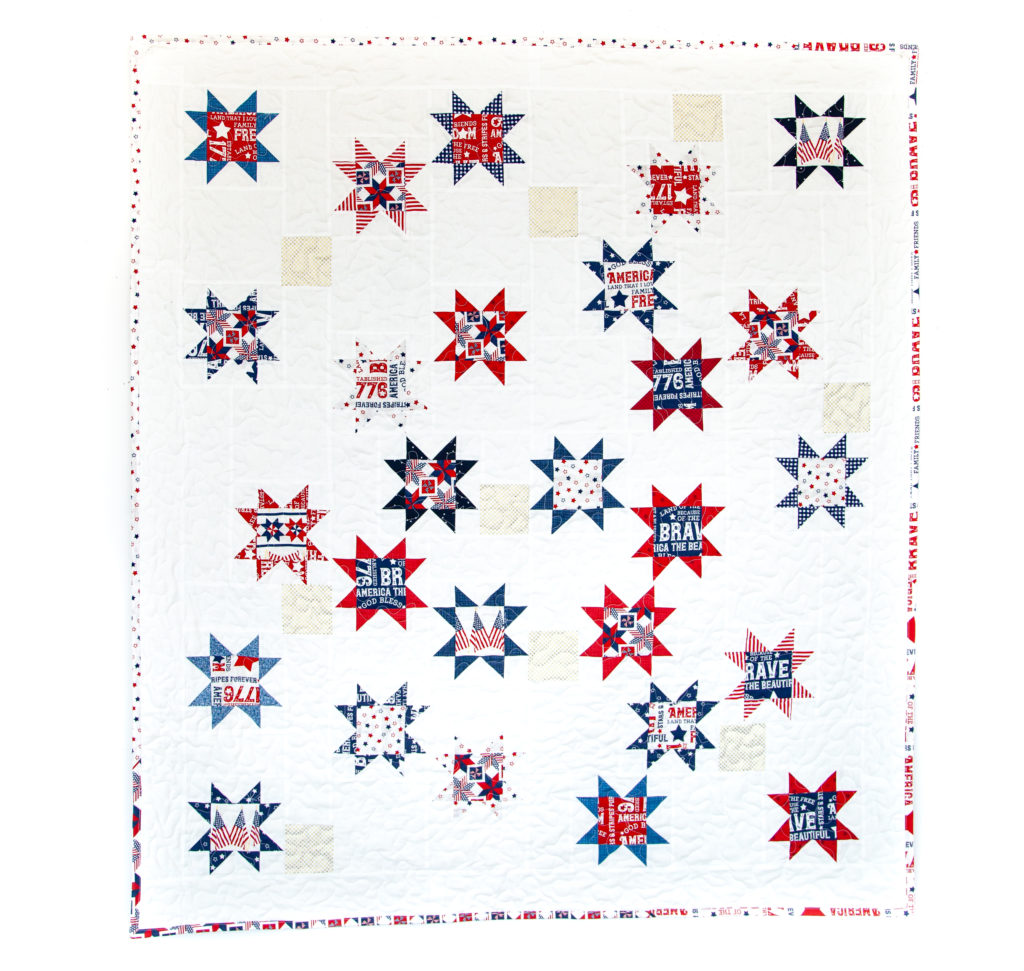 The quilt features 27 Sawtooth Star Blocks scattered throughout in a seemingly random pattern.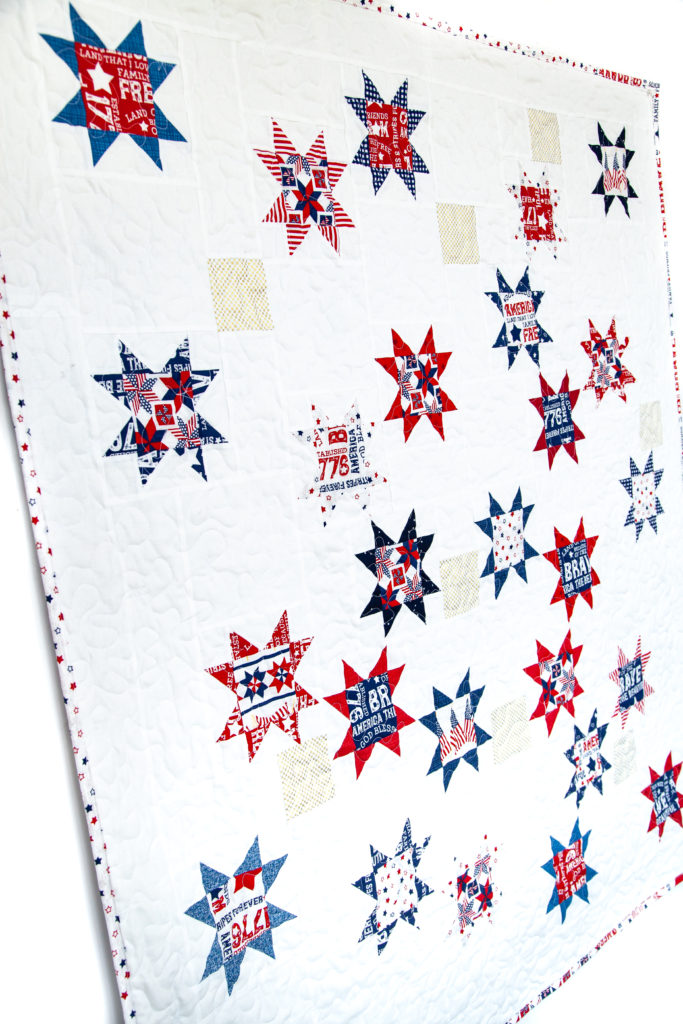 Also mixed into the design are 3″ low-volume squares that add a fun depth and visual interest to the quilt. I opted to use the Riley Blake Gold Sparkle Kisses Basic as my low-volume print. I love the fun sparkly touch it adds to the quilt.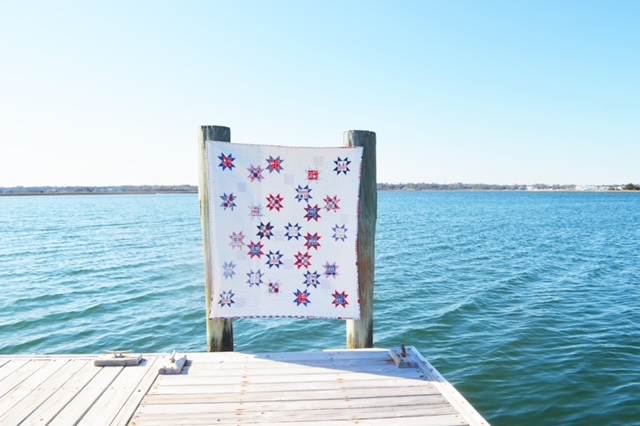 Looking from a distance, you can see how the low-volume squares add depth and texture to the quilt.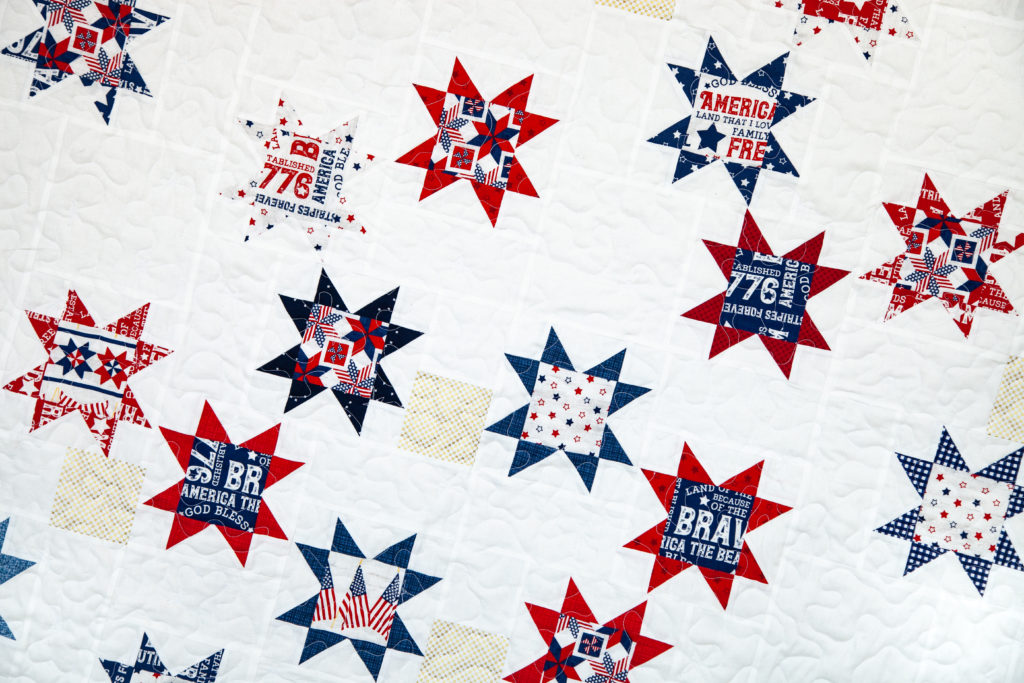 I also mixed in Gingham, Kisses, Stripes, Texture and Blossom Riley Blake Basics to use for many of the star points.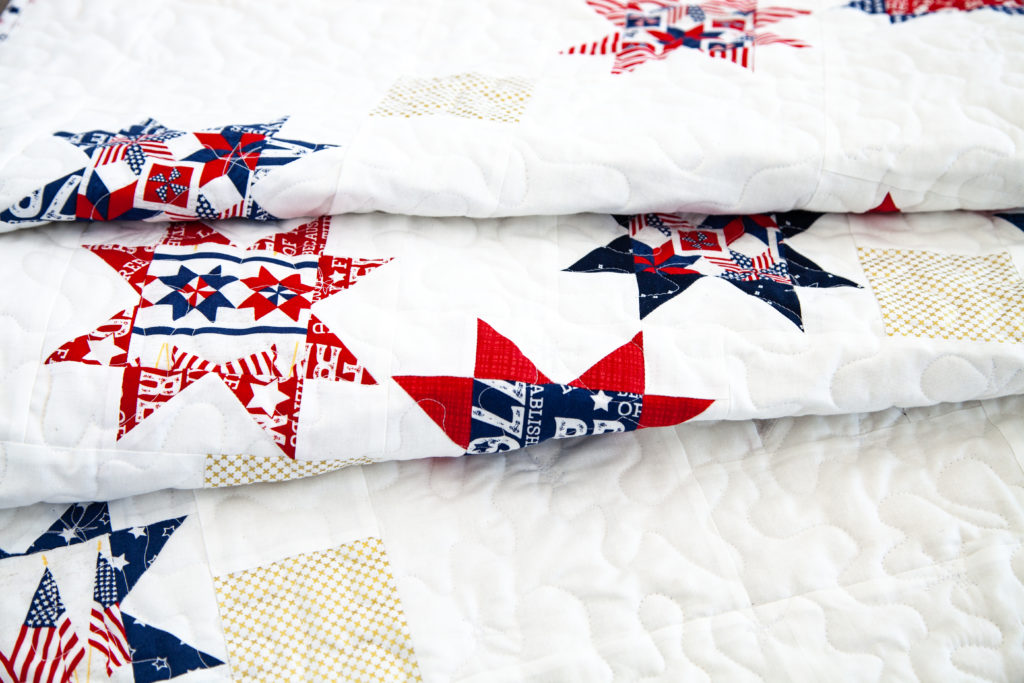 Here is a closer look at how the fabric from the Let Freedom Soar collection and some of our Riley Blake Basics play together.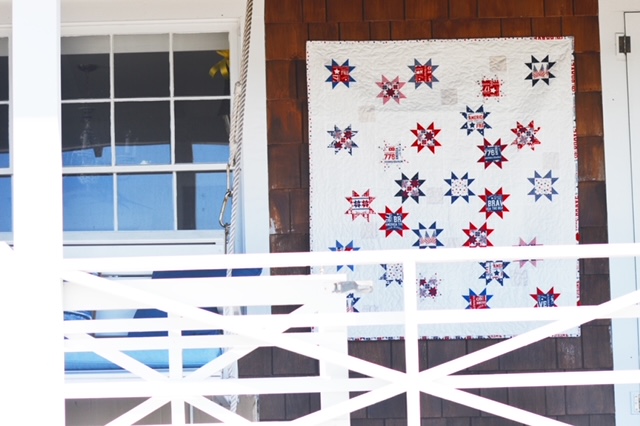 Two things to point out when using this pattern. 1) The pattern assumes you know how to make 4 at-a-time Flying Geese Blocks. If you do not know this technique, you'll find a fantastic tutorial by Patchwork & Poodles HERE. 2) I opted not to add the faux piping border called for in the quilt pattern. I wanted a more clean, modern look to the quilt, so I skipped that portion entirely.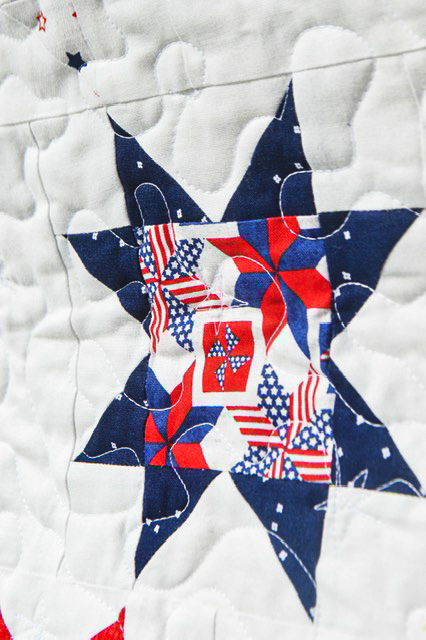 For the quilting, I used my home machine using an all over meandering design. Every now and then I added little stars. This is super easy to incorporate into a meandering, or straight line, or any quilting design. If you are unsure about it, practice with pen and paper first.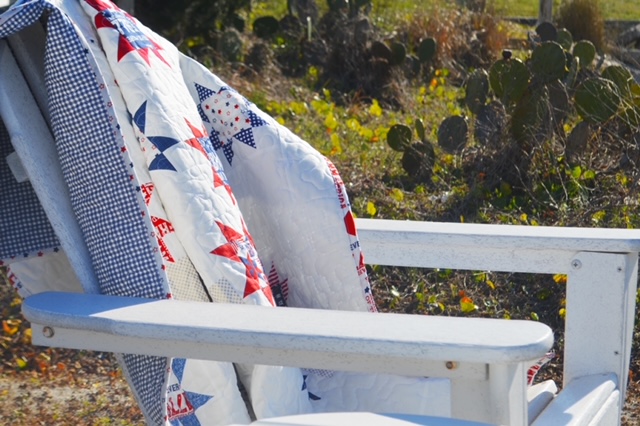 For the quilt back, I used a blue/white gingham print from Lori Holt's Farm Girl Vintage collection.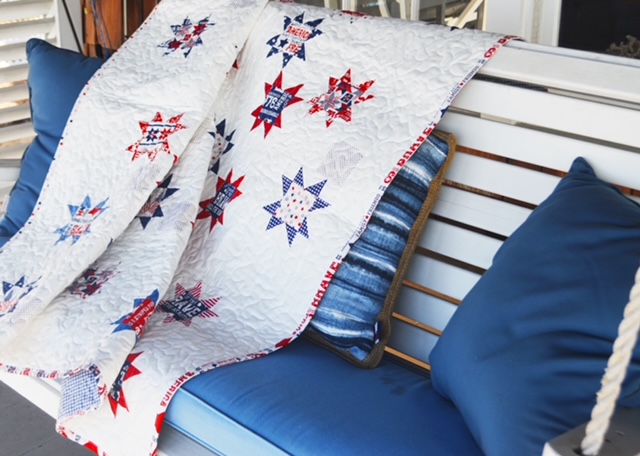 For the quilt binding, I used 3 different prints from the collection, creating a charming, scrappy look.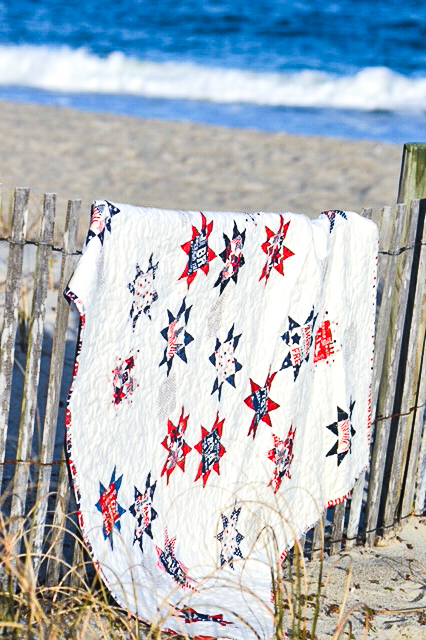 The finished quilt measures 48 1/2″ x 54 1/2″, making it the perfect toddler size quilt, lap quilt, or picnic at the park (or beach in this case) quilt!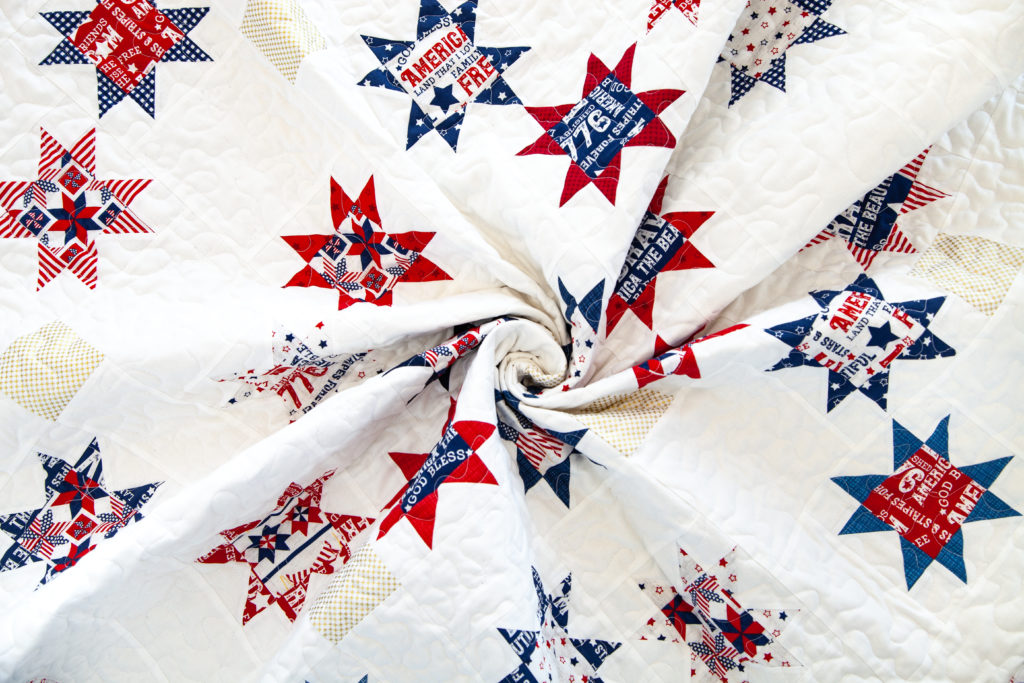 You'll find the link to the free Seeing Stars quilt pattern by Make Star Quilts HERE, courtesy of C&T Publishing.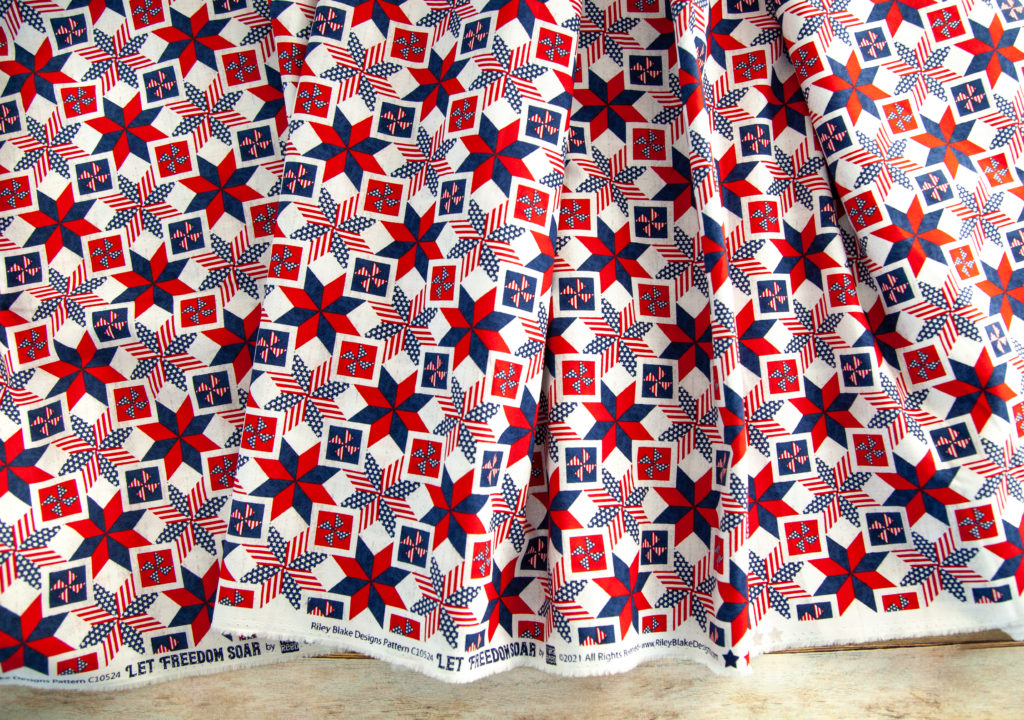 Let Freedom Soar, designed by Tara Reed, is available now at your favorite local and online quilt shops. Pick up yours today and share your makes with us on Instagram using #letfreedomsoarfabric, #rileyblakedesigns, #iloverileyblake, and tag us @rileyblakedesigns.