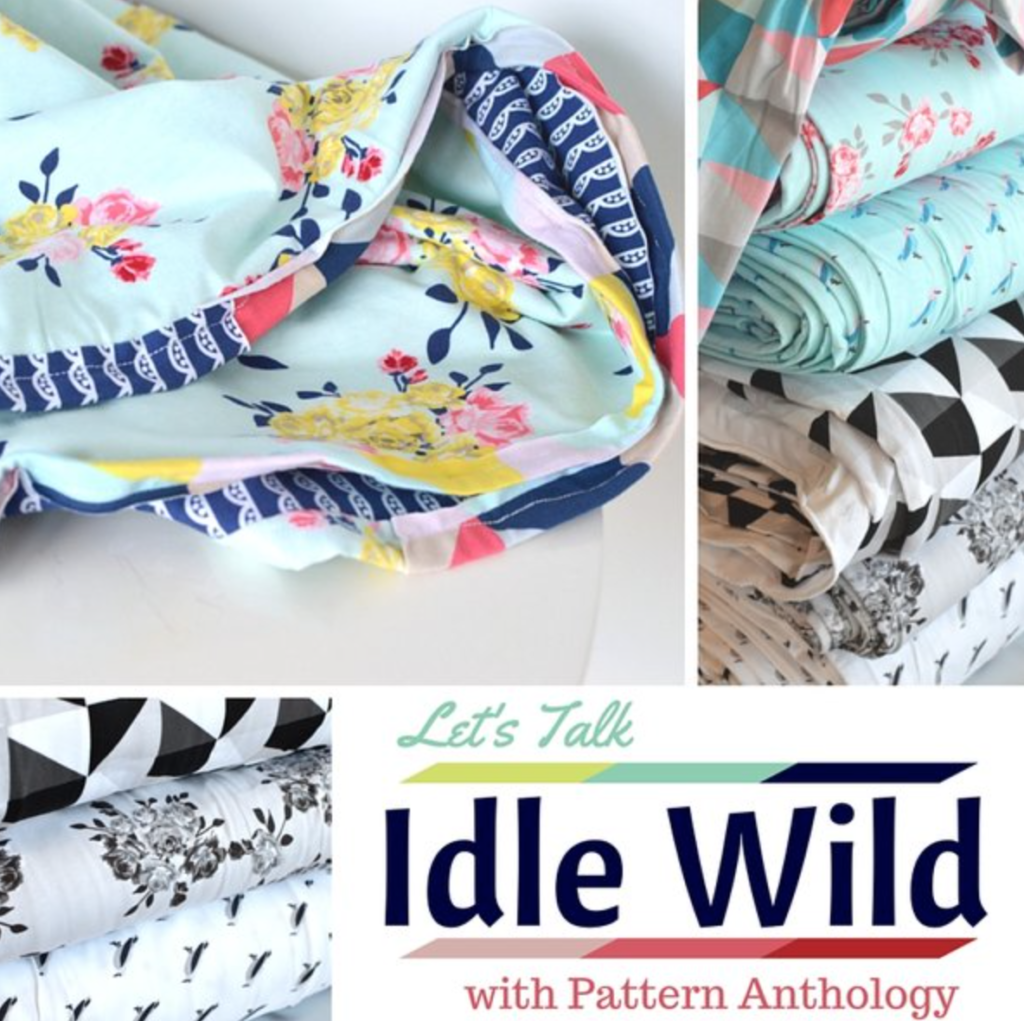 "Let's Talk" today with Pattern Anthology about their newly released Idle Wild fabric collection. Idle Wild is available exclusively in jersey knit and is available in stores now. Idle Wild is the brainchild of 4 creative minds coming together to create a beautiful, uniquely eclectic collection. It brings together classic florals and traditional soft color palettes with modern geometrics, prints and color palettes. The result is truly eye-catching.
Pattern Anthology is made up of four talented women: Kate Blocher of See Kate Sew, Melissa Mora of Mell Sews, Shauna Wightman and Andrea Panell.
We threw our hard-hitting questions out there and Melissa decided she would bite. Here is her Q&A:
1. On t.v. I like to binge watch… so many things. I'm a total TV junkie. Right now I'm watching Felicity because I missed it the first time around.
2. Favorite song at the moment… "First" by Cold War Kids
3. Do you speak a foreign language… I speak enough Spanish to get by. We spent a summer in Spain and that was the most fluent I've ever been, but that was 8 years ago and it's slipped since then.
4. Strangest thing in your purse…A decorative stone that was a gift from my mentor when I first started teaching
5. Favorite Holiday… Christmas
5. On rainy days I like to…drink tea and read a book
6. Do you have any pets…two dogs and two horses
7. In high school I was… the best actress
8. Nickname… I actually didn't have one before starting the blog, ha! Everyone in real life calls me Melissa, but I liked the flow of Melly Sews better than Melissa Sews, so I went with Melly and now people who know me from the blog call me Melly.
9. PC or Mac…Mac
10. I wish I could…clone myself some days. It's hard to do all the things!
Thank you, Melissa, it was fun getting to know you a little better and a big hats off to all of the Pattern Anthology ladies for a job well done!
If you feel like you have already seen Idle Wild floating around the internet, it's because you have! The ladies of Pattern Anthology have hosted a fabric tour spotlighting various projects made by very talented bloggers. The result is a variety of interpretations, inspiration and eye-candy! In case you missed this fabric tour, we have teaser photos and links for you: