Today, we are excited to introduce you to Beverly McCullough of Flamingo Toes.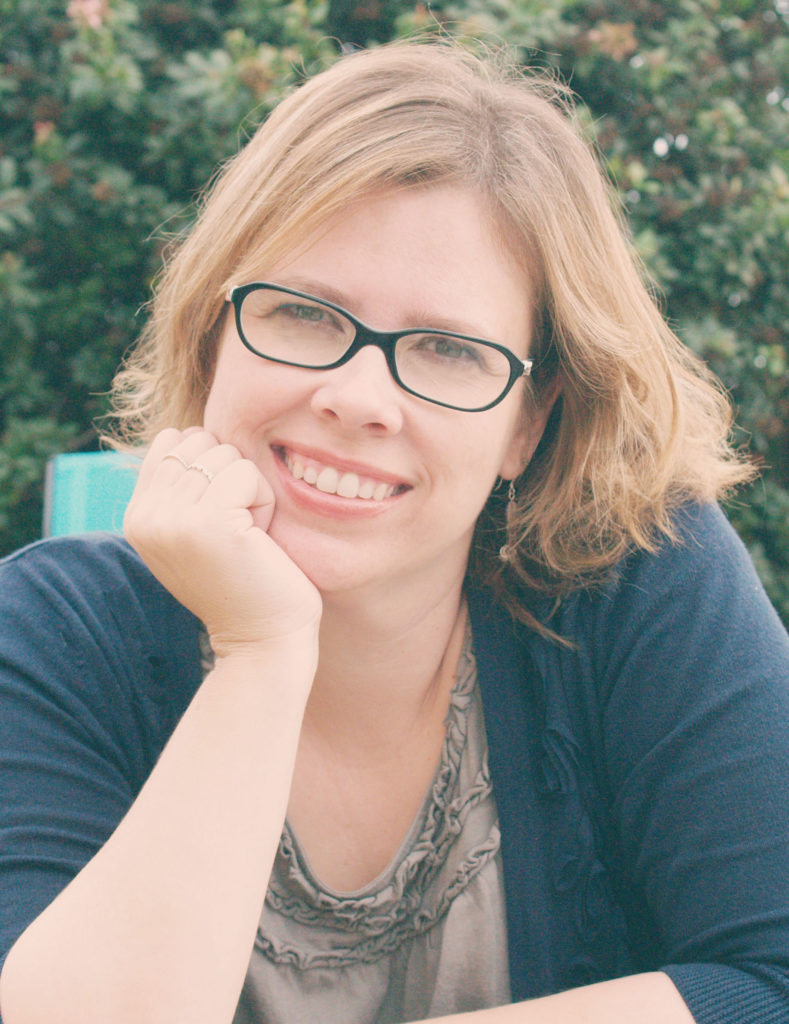 Beverly grew up in a creative family of artists and seamstresses so it is no surprise that she loves to create. She began sewing and doing needlework as a teenager and made her own clothes and room décor even then. That love for sewing and crafting has grown to include jewelry making, furniture refinishing and anything else she can learn, and her blog, Flamingo Toes, was born out of a love of sharing those projects. Her style could probably be described best as a mix between modern and vintage – she loves taking old styles and making them new and fun again. She is married to her high school sweetheart and is a recent transplant to Nashville, Tennessee.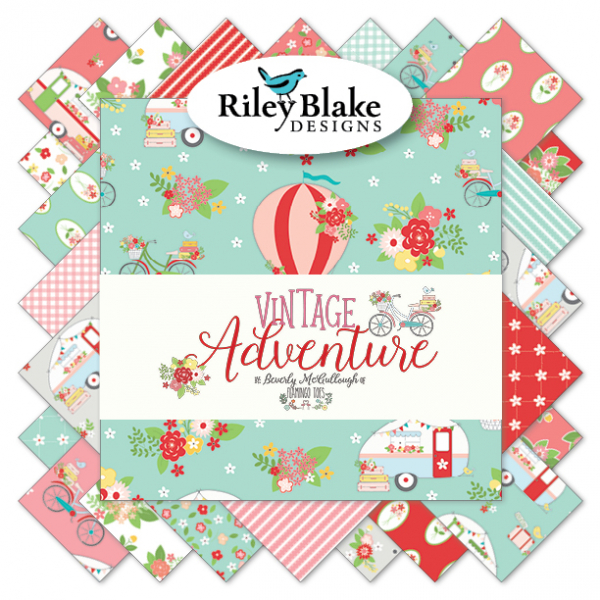 Beverly's newest collection, Vintage Adventure, features retro glampers, hot air balloons and bicycles, in bright, cheerful shades of aqua, red and pink.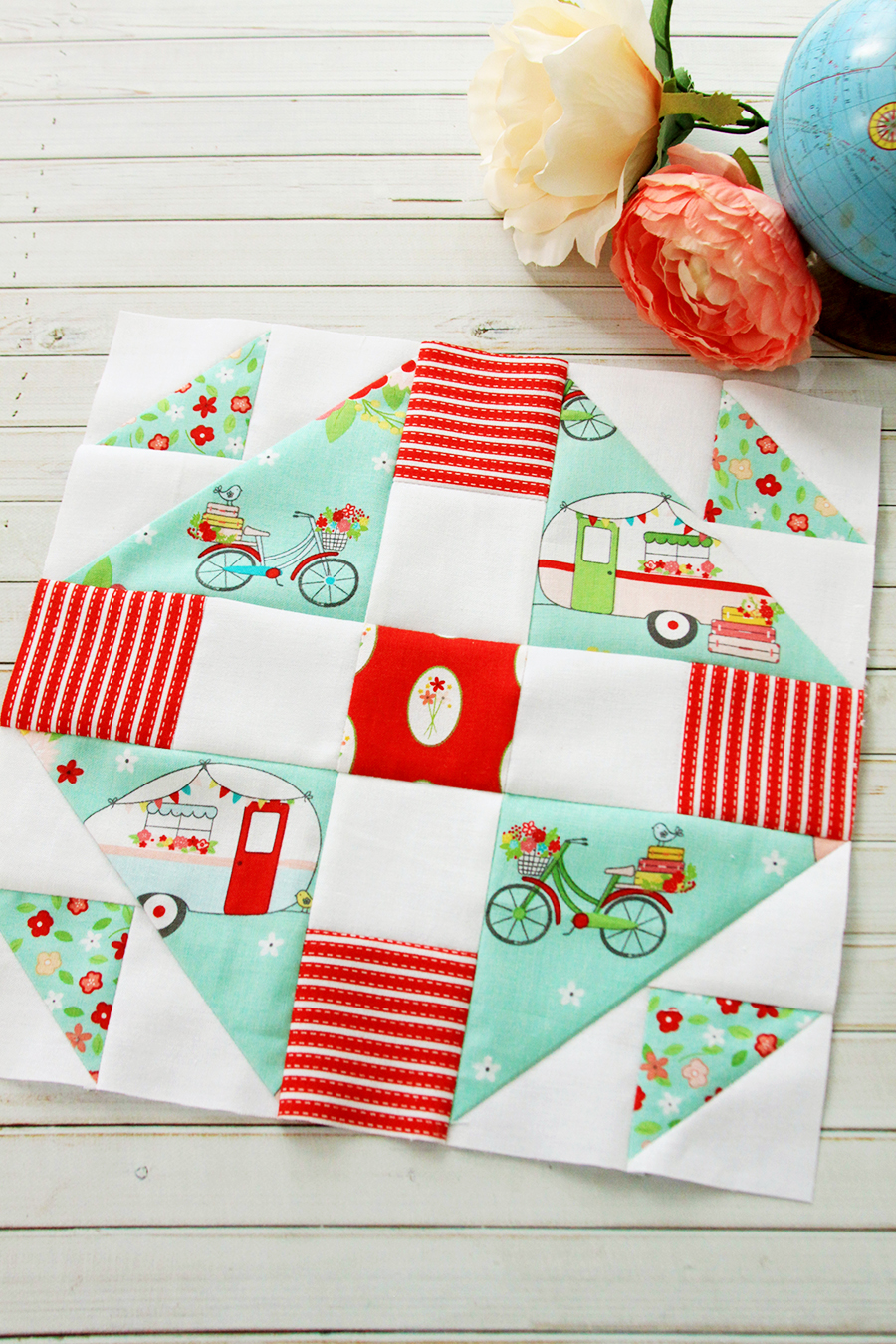 For Block 2 of the Meet the Makers Quilt, Beverly fussy cut the glampers and bicycles, which added a fun touch to this beautiful block.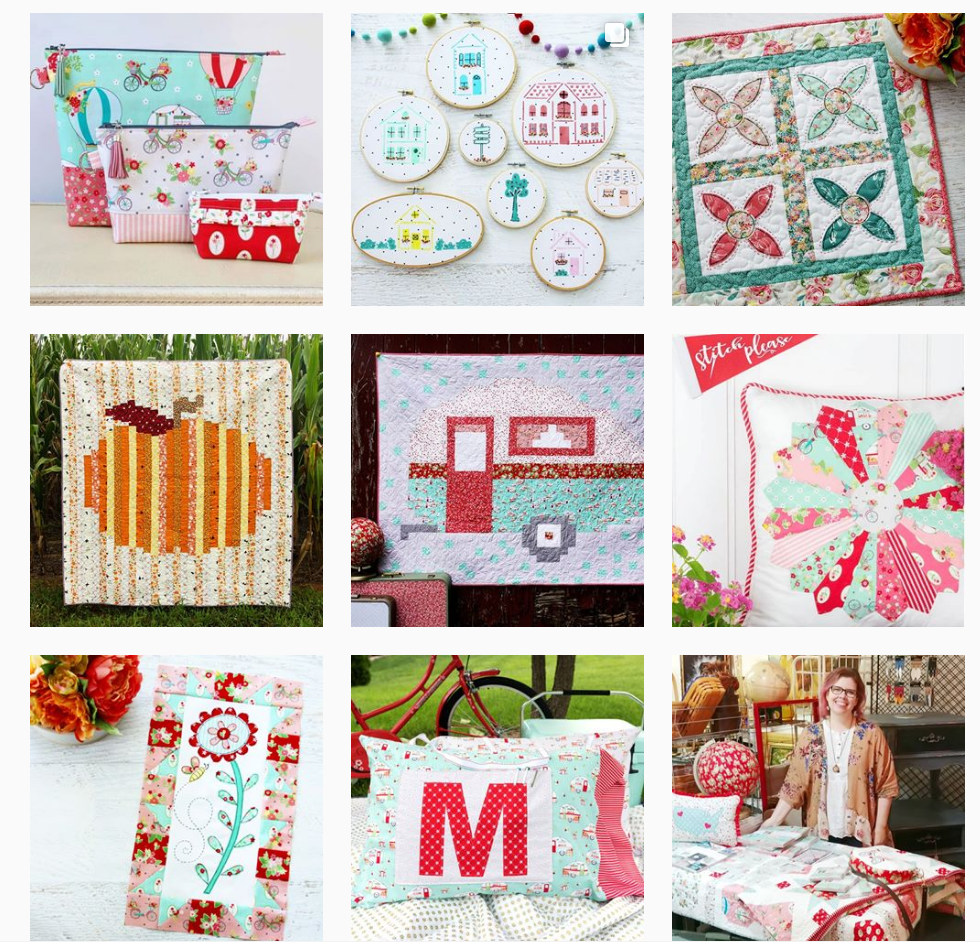 Take a look at Beverly's Instagram @flamingotoes, and be sure to follow her for tons of beautiful photos, ideas and inspiration!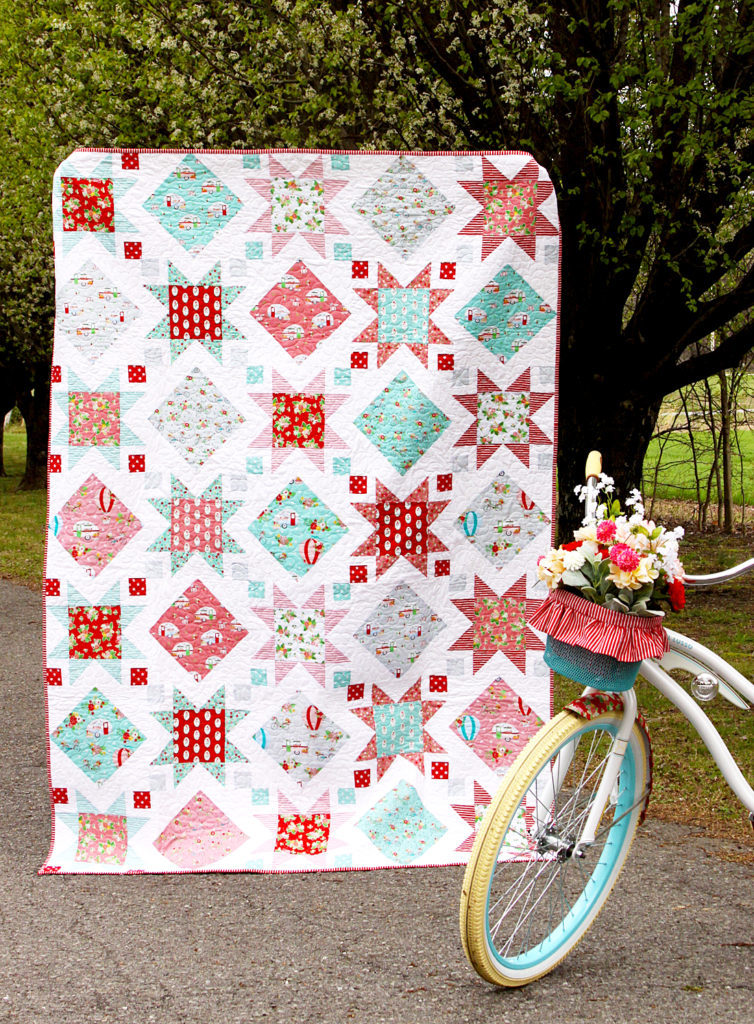 In order to get to know Beverly a little better, we gave her a list of words in alphabetical order to which she could give any reply that came to mind. Enjoy this fun and refreshing look at life from Beverly's unique perspective!
Autumn: Best time of year in the South – and I can finally use all the quilts I've sewn all summer!
Blue: Aqua please!
Can't: pass up an Antique store
Dogs: We have 2 – Alice is our 3 yr old German Shepherd and Sadie is our 1 year old Golden Retriever
Extra: I always need an extra pair of embroidery scissors – it's a must!
Family: My favorite – we have two kids ages 25 and 23
Great: The greatest episode of the Office is when Pam and Jim get married.
Hero: I'd have to go with superhero here – and that would be Starlord. Because. . . Starlord.
If: I had to eat one type of food for the rest of my life – Mexican. All the way.
Jokes: I don't tell sewing jokes – I'm always running out of material. (borrowed from My Sewing Box) cause I couldn't think of a sewing joke!
Key: to life – Never resist a cute pair of shoes!
Lake: I'm more of an ocean girl – we lived in Carlsbad, CA for 9 years
Morning: Only if there's coffee!
Next: Fabric line is coming in January 2019 – I'm so excited!
Open: I'm always open to trying new recipes – we love to cook around here.
Possibility: There is a high possibility of dessert after dinner. Actually – it's more than a possibility.
Quilts: Colorful and Vintagey
Rollercoaster: Only if they don't go upside down!
Sewing: Best way to spend the day!
Ticket: If it's a ticket on the Hogwarts Express?! Yes please!
Ugh: I dropped my needle on the floor! Oh wait – that wouldn't have happened if I'd used a cute Flamingo Toes needle minder! #shamelessplug
Vacation: My dream trip is to Ireland – someday!
Window: I won't even tell you how many antique windows I have but it's more than the number of walls in my house.
X-ray: The name of our cat! Seriously!
Yarn: I love to crochet but never seem to find the time.
Zoo: The constant state of affairs around here!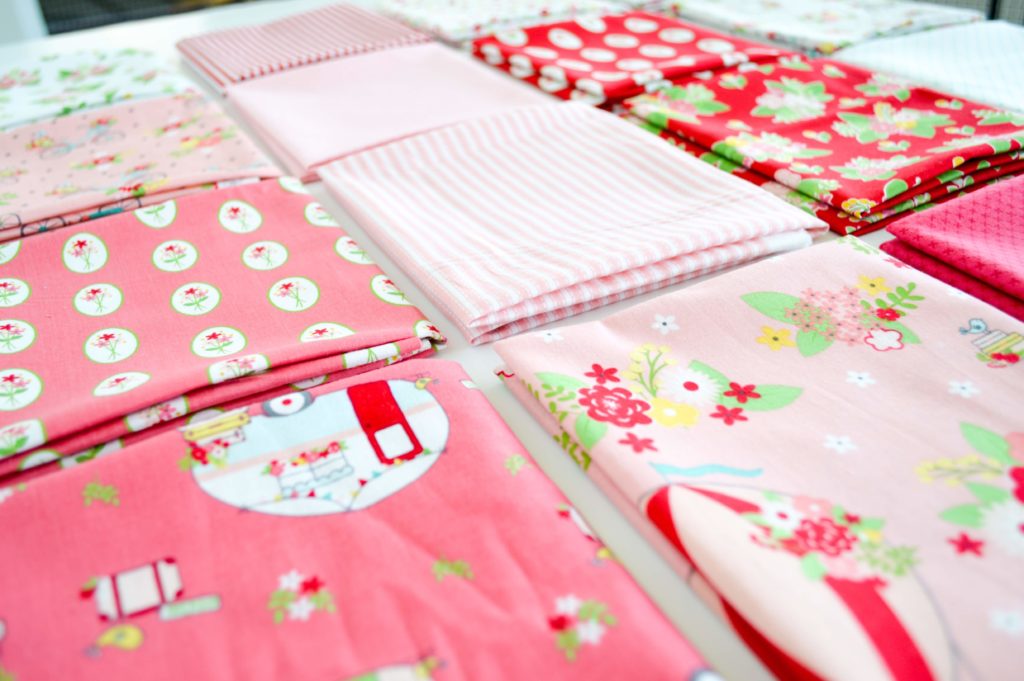 Thank you Bev for sharing your fun answers with us!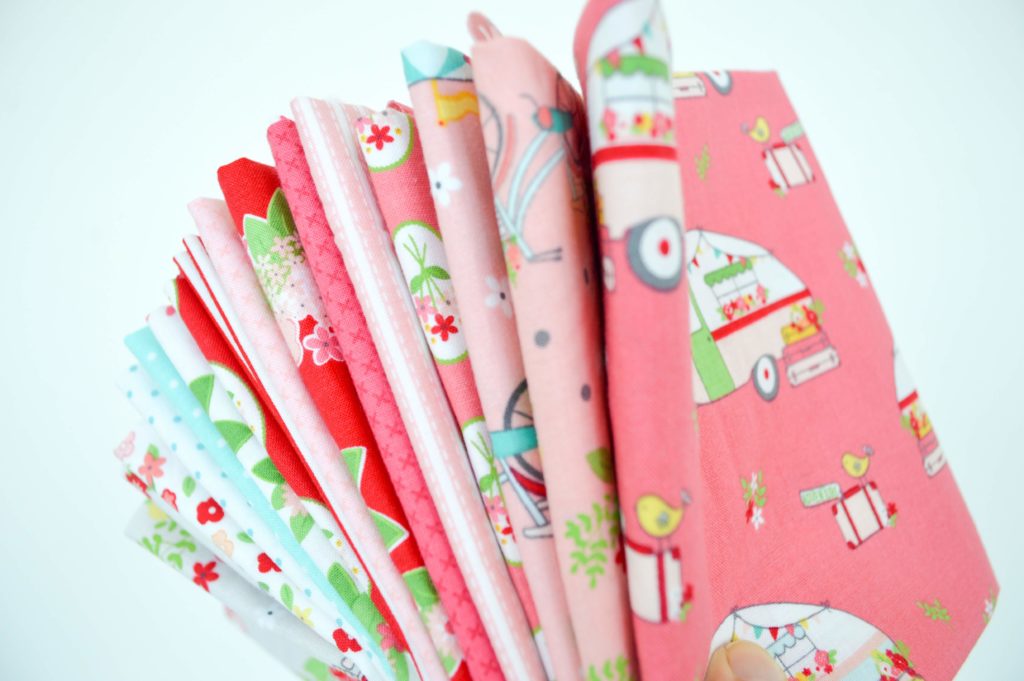 Beverly's Vintage Adventure fabric collection is available now at your favorite local and online quilt shops so be sure to pick up yours today…..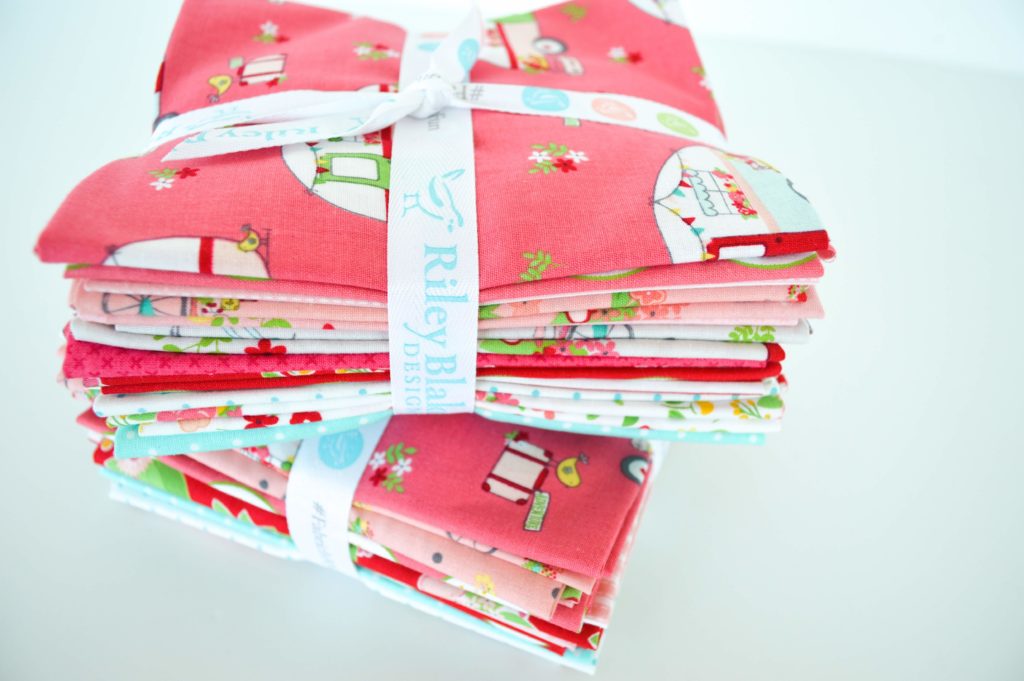 ….Or hop on over to our Riley Blake Designs Instagram feed to find out how you can win a FREE fat quarter bundle of Vintage Adventure and coordinating Riley Blake Basics!
Happy Sewing!