Today we are excited to introduce you to Riley Blake Designer, Deena Rutter!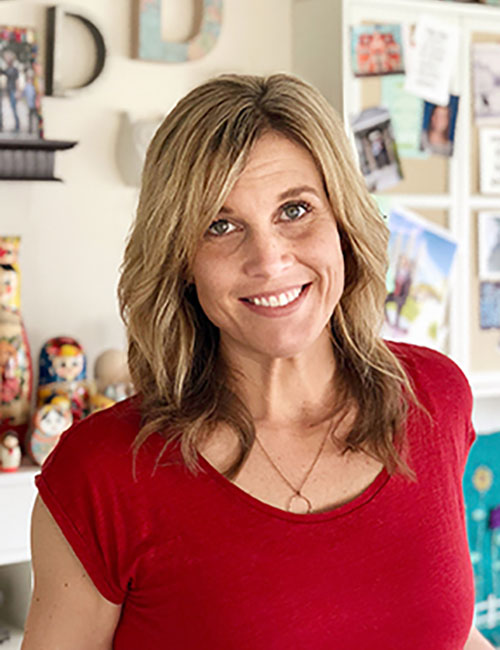 "Since I was a young girl, I have always needed a creative outlet to express myself. Whether it is through painting, playing the piano and guitar, decorating my home, or graphic designing, artistic expression brings me much fulfillment. I have been designing for the craft industry since 1999. Much of my inspiration comes from nature, music, and architecture. I also come from a long line of quilters. My grandmother and mother sew countless quilts and receiving blankets each year. I am happy to be making my contribution to the fabric world with my own fabric designs. Fabric is such a versatile medium with the possibilities seeming endless.
Since I am completely right-brained, it is only fitting that I would find my compliment on the other side of the spectrum. I married a Biochemistry professor. We have three great boys and one sweet little girl. We hope our different talents will help our children be more well-rounded than we seem to be. I currently live on an amazing little circle in Salt Lake City, Utah. When I am not designing, I love being out with the kids. Some of my other interests include exercising outdoors, playing the piano and guitar, and I love all sorts of music genres. I have some sort of affinity to the singer songwriters of the 70s…maybe because it is the decade of my birth. Music is a big part of my inspiration. A big perk to my job includes getting to listen to my own musical selections while I design.
I have always hoped my designs will inspire a creativity in others. I believe we all have a creative spark within us, waiting to be displayed. Sometimes we design fabric, sometimes we sew a quilt that we share with someone, sometimes we need to be creative in our friendships or child rearing. If we all share our unique creativity with one another, what a great inspiring world we would live in." — Deena Rutter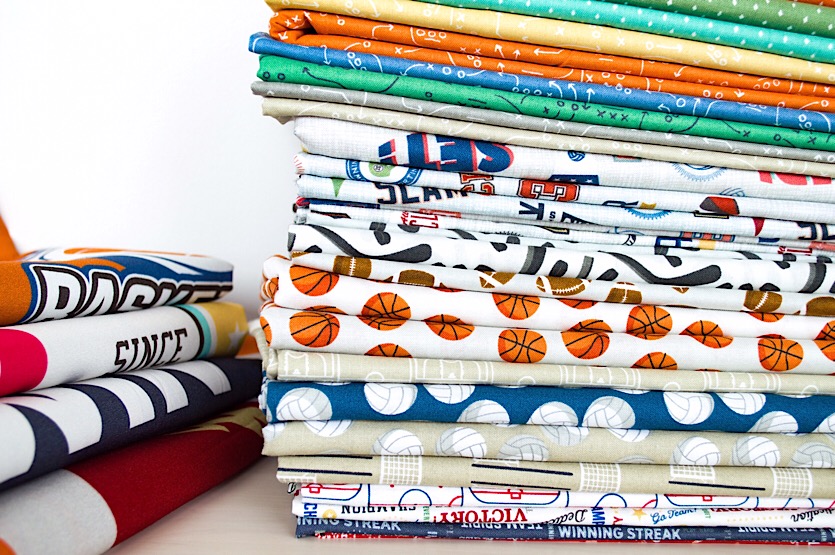 Deena's latest collection, Varsity, features prints from four sports: Basketball, Football, Volleyball and Hockey. Deena will be releasing a 2nd Varsity collection this spring with four new sports. We can't wait!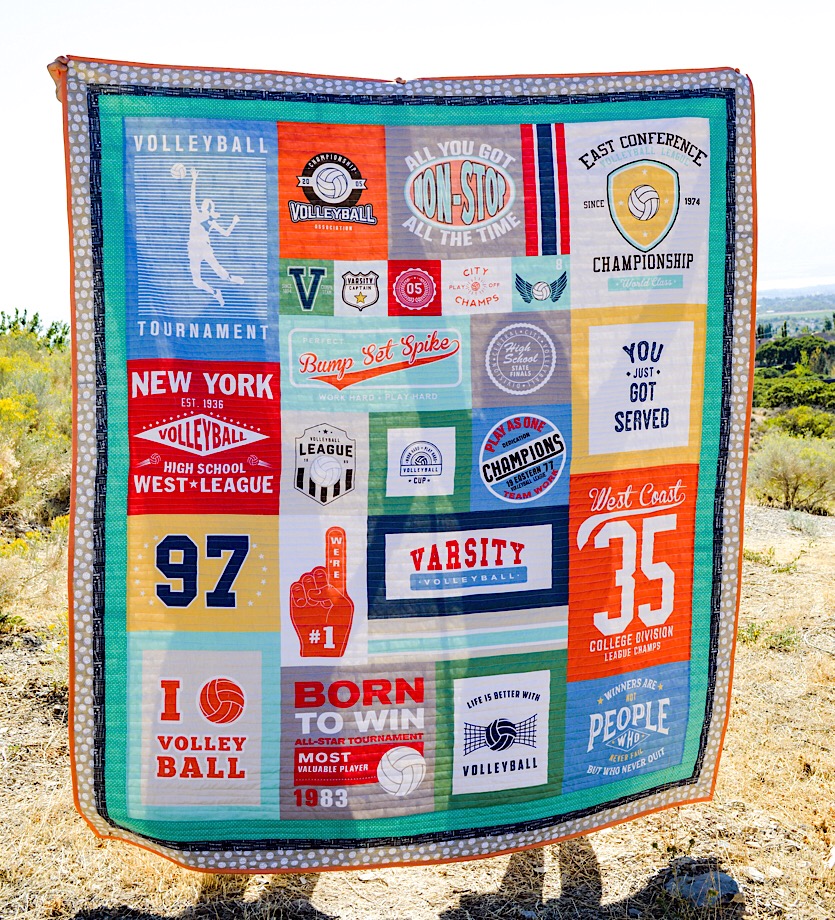 This FREE Tutorial using the Volleyball panel is available on the BLOG.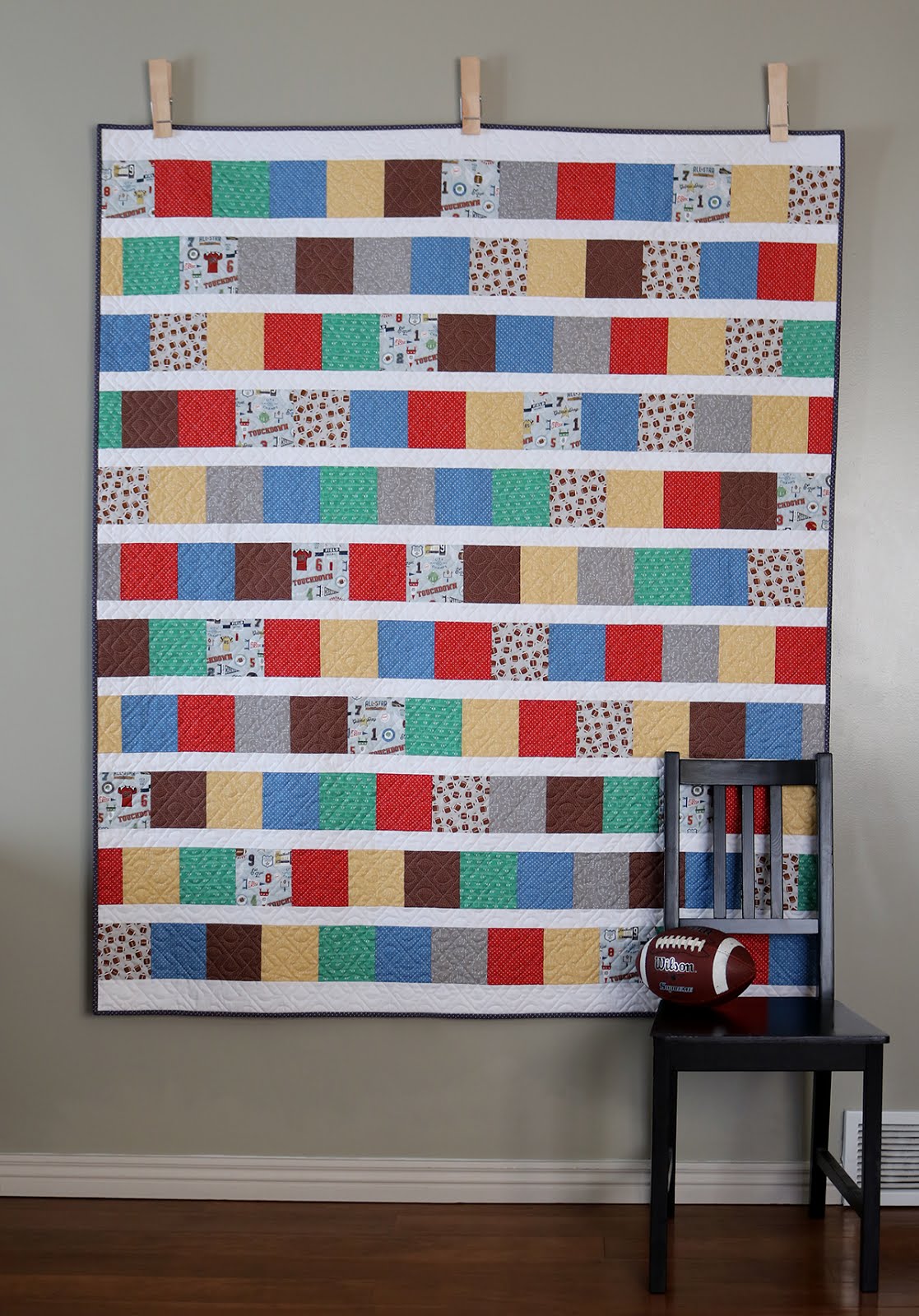 You'll also find a FREE Tutorial for this awesome VARSITY LINE UP QUILT.
In order to get to know Deena better, we gave her a list of words in alphabetical order to which she could give any reply that came to mind. Enjoy this fun and refreshing look at life from Deena's unique perspective!
Annoying: When I run out of ice at my house. I love a big drink at all times full of ice.
Begin: I'm a big believer in just getting in there and BEGIN something that you have a passion to learn more about.
Can't: imagine my life without having a creative outlet
Dogs: Love them! I have THREE!
Extra: Fry sauce
Family: Any activity my kids are doing, I'm there!
Great:
Hero: My sweet angel mother
If:
Jokes: I can never quite execute one where I don't end up confusing everyone
Keeper: Fabric Keeper. Every yard I've ever designed is being kept for my future grandchildren to create with.
Lake: Louise. Reminds me of motorhome trips with my family growing up.
Monday: I love Mondays! It's a new fresh slate with time to create.
Next: Always excited about the next project
Open: heart and mind. Life is still unfolding and I'm always looking for new ways to grow.
Possibility: We can become whomever we want to be – our possibilities are endless
Quilts: Mother, grandmother, sisters, mother-in-law. They send love to others in the form of a quilt.
Rollercoaster: Double-looped, please!
Sewing: I leave this to the experts! I'd rather be doodling fabric designs.
Tricky: Sewing! 😉
Undo: Favorite Adobe Illustrator feature
Vacation: Weeklong excursions to new parts of the world – next stop Australia!
Window: Give me a mountain or ocean view
X-ray: Never have a broken a bone
Yarn: Let's make some pom-poms!
Zoo: My house has been called a zoo when the kids all have friends over and the dogs are chasing the cat through the halls. Good times!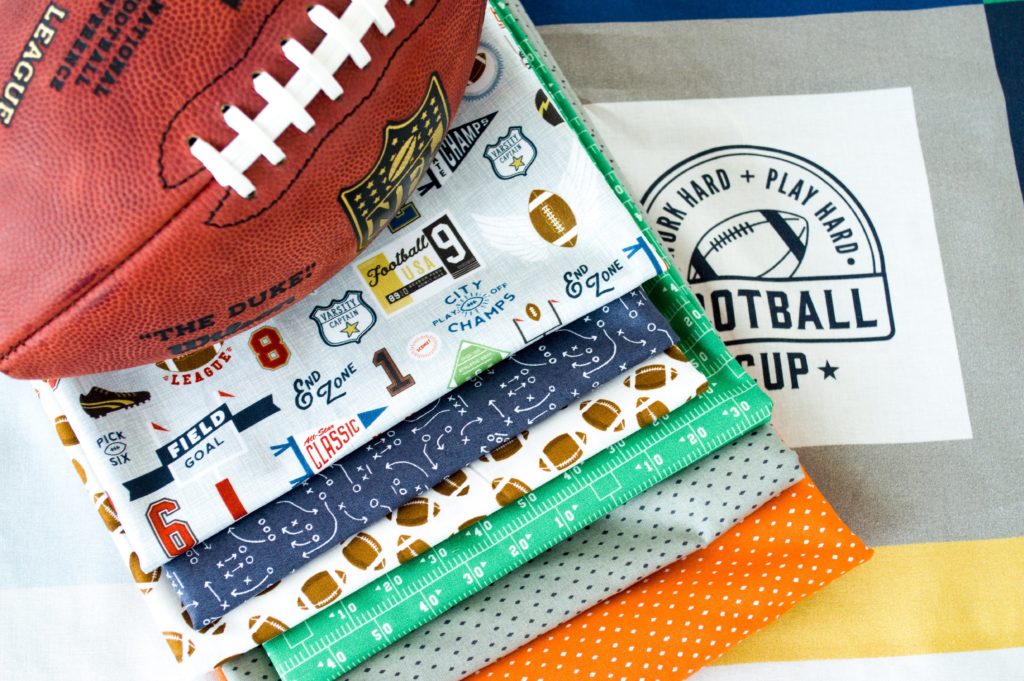 What fun answers! Thank you, Deena, for allowing us to get to know you! Deena's Varsity fabric collection is available now at your favorite local and online quilt shops so be sure to pick up yours today…..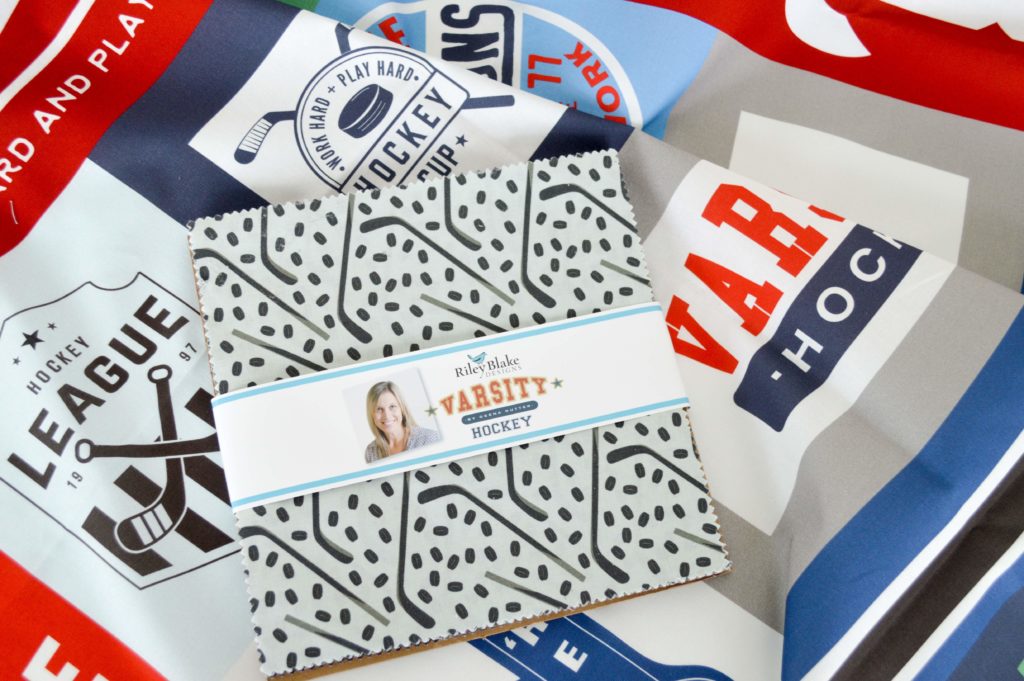 ….Or hop on over to our Riley Blake Designs Instagram feed to find out how you can win a FREE Hockey quilt panel + Hockey 10″ Stacker!
Happy Sewing!