Meet Gerri Robinson, an RBD Designer who started her brand, Planted Seed Designs in 2005 after a career in sales and marketing. Gerri had been quilting for 7 years when she decided it was time to take the next step and create her own designs. Planted Seed Designs comes from Gerri's love of classic, traditional fabrics and quilts. She said, "I try to capture that classic feel in my fabric designs by updating reproduction prints in colors and scales that work in today's home decor." Her quilt designs lean toward classic too with an emphasis on stars and pinwheels – her two favorite block elements. Gerri also enjoys designing outdoor spaces and garden beds and-unlike most people-finding ways to take the indoors out.
Today we are excited to feature Gerri's new booklet, Quilts in Bloom!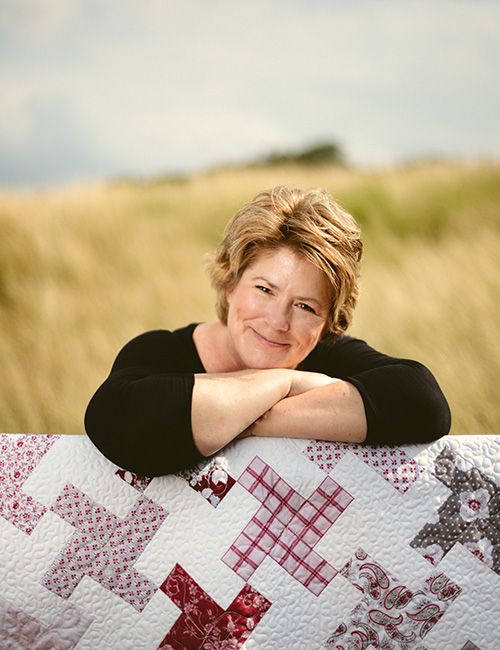 ---
We're excited to introduce you to Gerri's booklet, Quilts in Bloom. This booklet features 17 stunning quilts and a few quilt-inspired projects, like a gorgeous table runner. Make these projects for yourself or give them as a gift!
The designs in Quilts in Bloom are constructed using some of Gerri's favorite block elements. Several of the quilts are beginner and pre-cut friendly. Gerri also included a few designs that are a bit more involved for the advanced beginner quilter – there's something for everyone!
Get a head start on your spring planting (we mean planning) with this delightful book. You can purchase the Quilts in Bloom booklet at your local quilt shop or favorite online retailer now!
Are you ready for a serious dose of inspiration? Check out some of the gorgeous quilts you will find in Quilts in Bloom!
Gerri came to the RBD Studio to tell us more about Quilts in Bloom. Click below to watch!
The fabric featured is Gerri's latest collection, Buttercup Blooms. This gorgeous fabric is available now at your favorite local or online quilt shop. Already dreaming of what you will make? Be sure to share your creations with #buttercupbloomsfabric!
Be sure to follow along with @plantedseeddesigns to stay up to date on all the exciting things Gerri has in the works!