A huge 'Thank You' to all the incredible makers who took the time to apply to our program. We are delighted to announce the members of our 2024 Influencer Program! Please welcome these makers to the RBD family and give them a follow.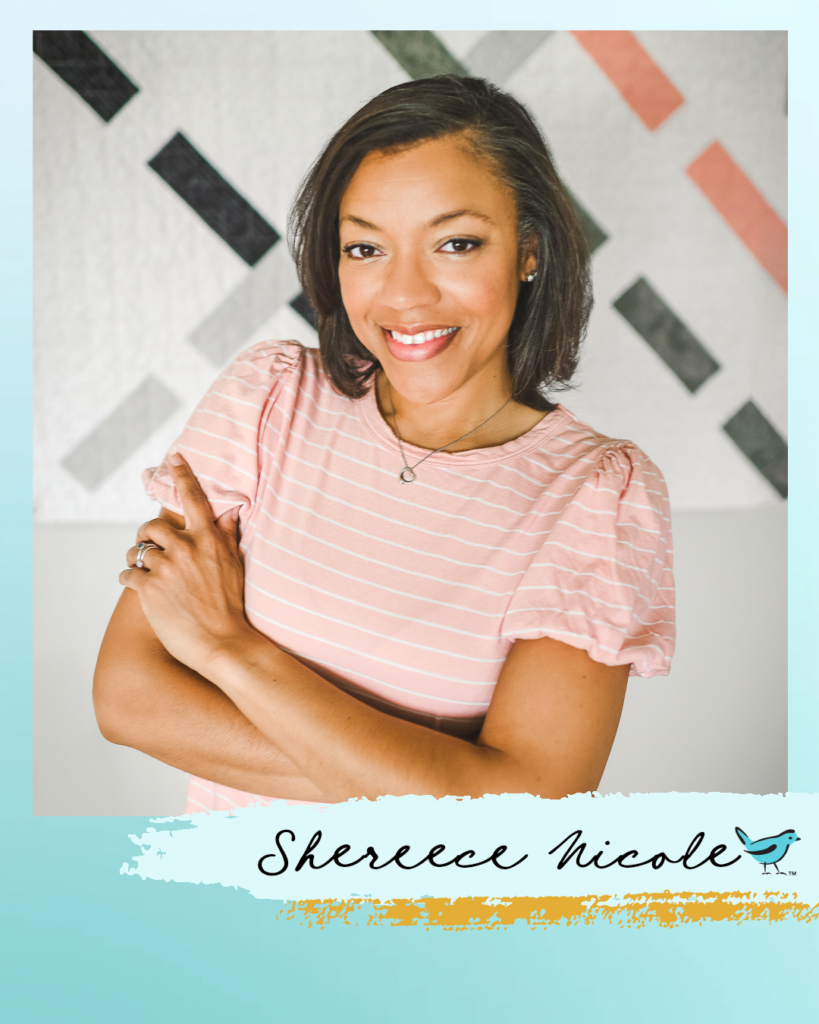 Hello, I'm Shereece Nicole! My quilting journey began in 2010 out of boredom. I was living in a new, small town and I was looking to meet new people. Thanks to a local program, I started to learn to crochet. Then I was reintroduced to quilting (the "correct" way). My travels and everyday life began to inspire patterns I wanted to create. And now, I'm sharing those designs with you and teaching quilting skills I've learned along the way.
I help busy, modern quilters maximize their sewing time by providing quicker patterns and time saving tips so you can turn off the sewing machine feeling accomplished.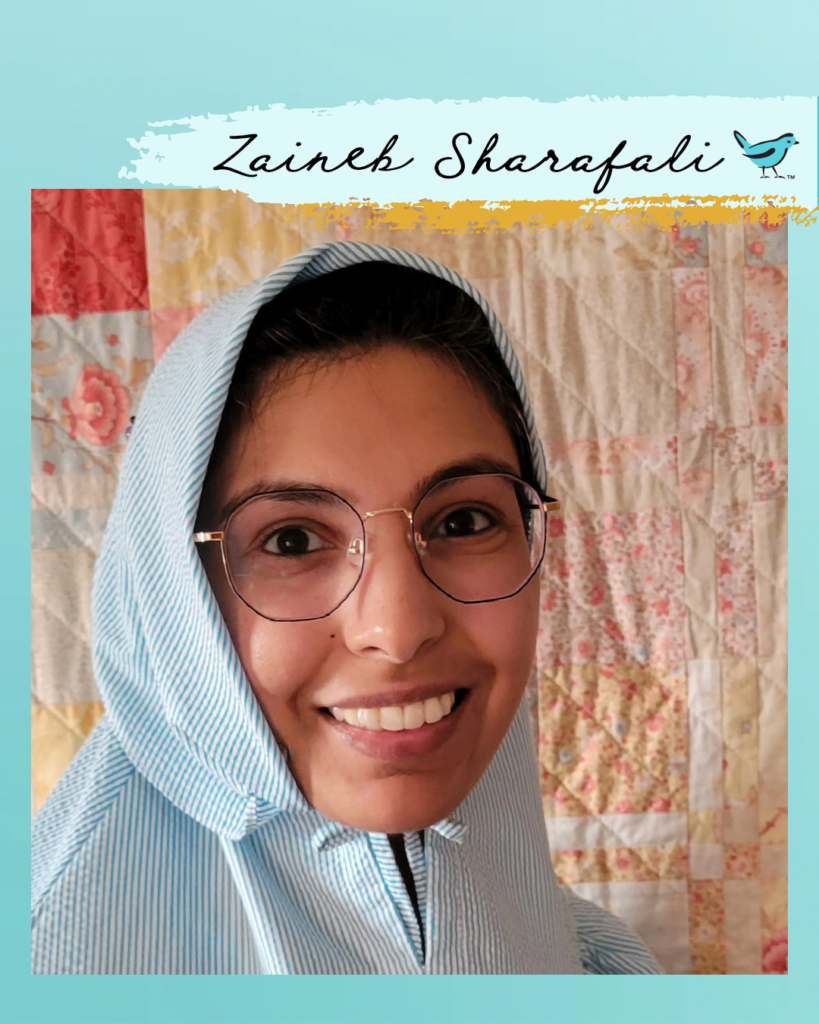 Hi, I'm Zaineb! I grew up outside of Detroit, Michigan and currently live the beautiful San Francisco Bay Area. I started quilting about 10 years ago when I came across an adorable jelly roll online. I purchased the jelly roll without knowing much about quilting because the fabric was too cute to pass up. I started watching Youtube videos about quilting and getting books from the library. I feel in love with the process and quickly became addicted to the satisfaction of finishing a project. I'd describe my personal style as scrappy and bright. I love mixing colors and prints in a project.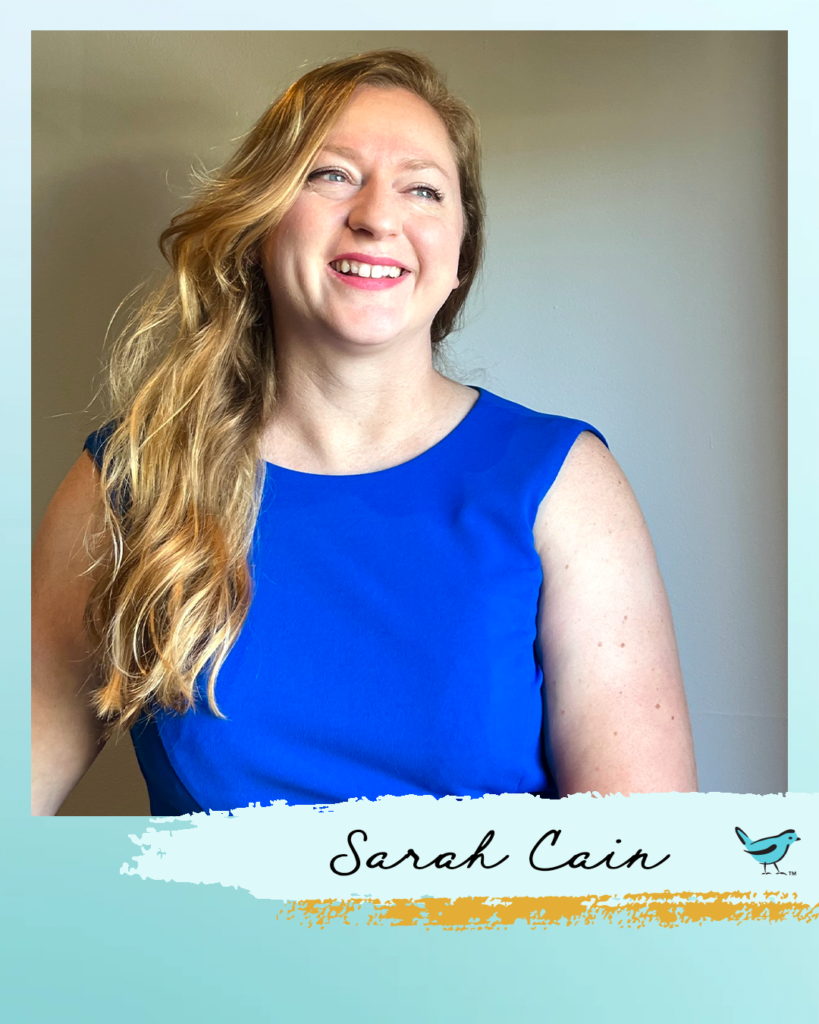 I'm Sarah Cain of Sarah Jean Makes! Sarah Jean Makes is Modern Quilt Design Boldly Created in the City of San Francisco. I'm a modern quilt pattern designer who draws inspiration directly from the aesthetic and energy of the city that I live in: San Francisco. I mixes in bright colors, bold shapes, high contrast elements, and incorporate a variety of skills in my creations. I began my making journey as most makers do, dabbling here and there across mediums until finding something that sticks. I made my first quilt when pregnant with my eldest about eight years ago and fell in love with the craft. Since then, I have been expanding my skill set beyond quilt making and enjoy adding a pop of color and vibrancy to all of my makes.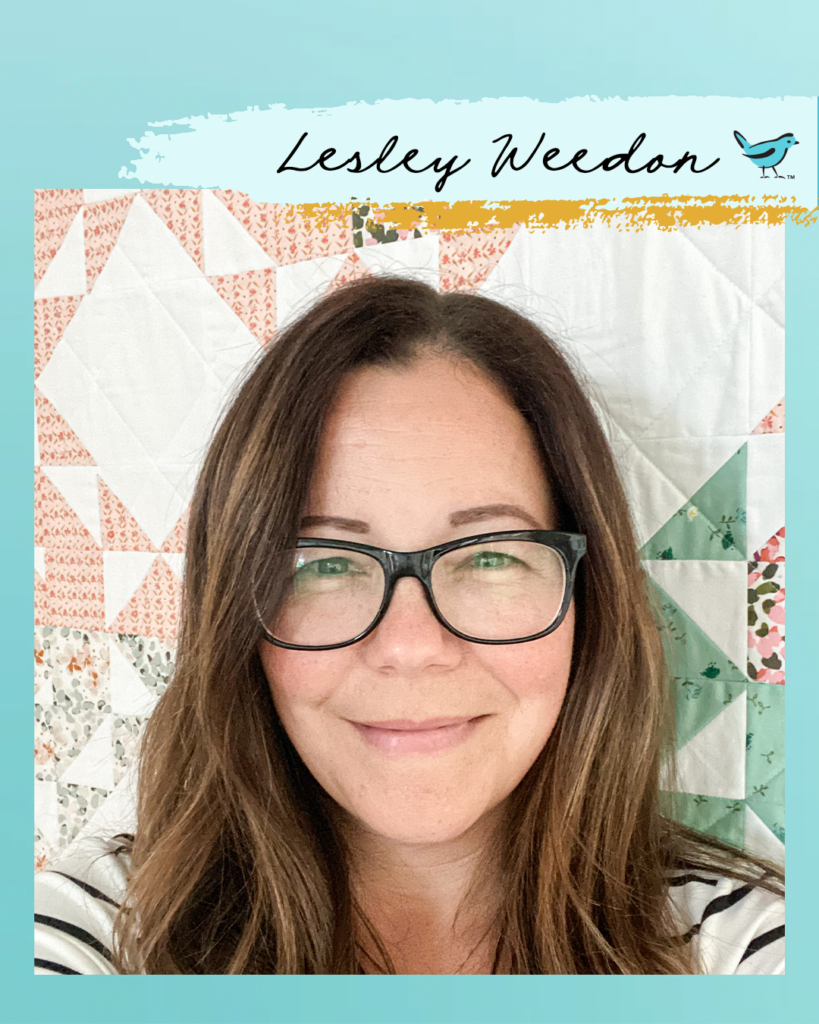 Hi! My name is Lesley Weedon. For over 10 years I have dabbled in the quilting world, and have really accumulated some serious hours on my sewing machine the last 3 years. I've loved figuring out my personal quilting style with a pretty and playful palette, and the added scrappy project -I love using up those scraps! I live in the prairies of Manitoba, Canada and when I'm not quilting you can usually find me reading or living at the hockey rink with my kids 😉
My name is Sandy, and I am the maker, longarm quilter, and designer behind Thai Charm LLC. I was born and raised in a little town near Bangkok, Thailand. But I now live with my husband , 2 girls and a 10-year-old Australian shepherd here in Minnesota. I am a self-taught quilter, started out of curiosity and fell in love with every process of making heirloom quilts that would last and pass on to the next generation. I love colors and floral prints, and I find that the combination of those makes my dream quilts! Traditional piecing is my favorite technique, but I like to add a little bit of modern spin to my designs to fit with our home decor, or even our clothing. There's always a way to add quilted items to everything!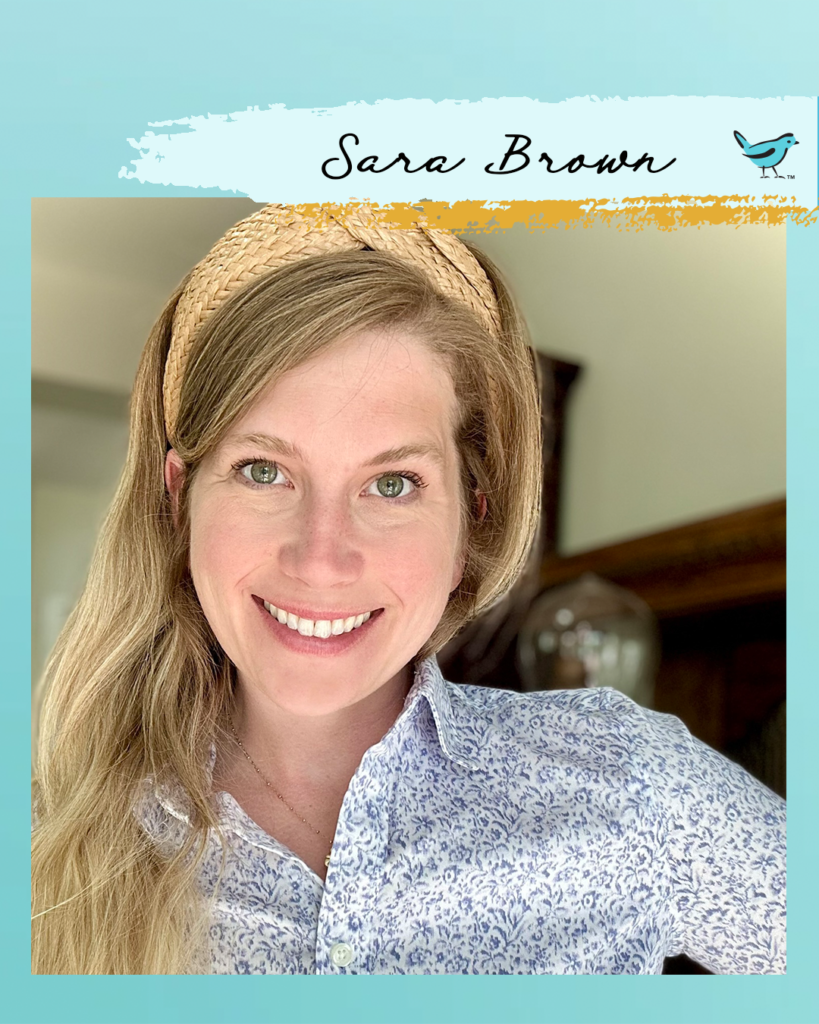 Hi! I am Sara Brown and I live in Ann Arbor, Michigan with my husband, two boys, and two wild dogs! I am an industrial designer, turned lawyer and US Army Officer, turned stay-at-home mom who loves to sew. I started sewing 3 years ago and have been constantly striving to expand my skill set and create more ever since. I sew to overcome my grief from loss and to carve out some "me time" in my kids' busy schedules. I lean toward bright and cheery fabrics, with a focus on cute prints and fussy cuts! I love scrappy, busy, and fun fabric selections, and truly believe "more is more" when it comes to quilting! While I enjoy machine sewing, my passion is hand sewing of any kind. If you see me out in public, I likely have an EPP or appliqué project in hand! I have been blown away by the generosity and kindness of quilting community and can't wait to get to know more of you!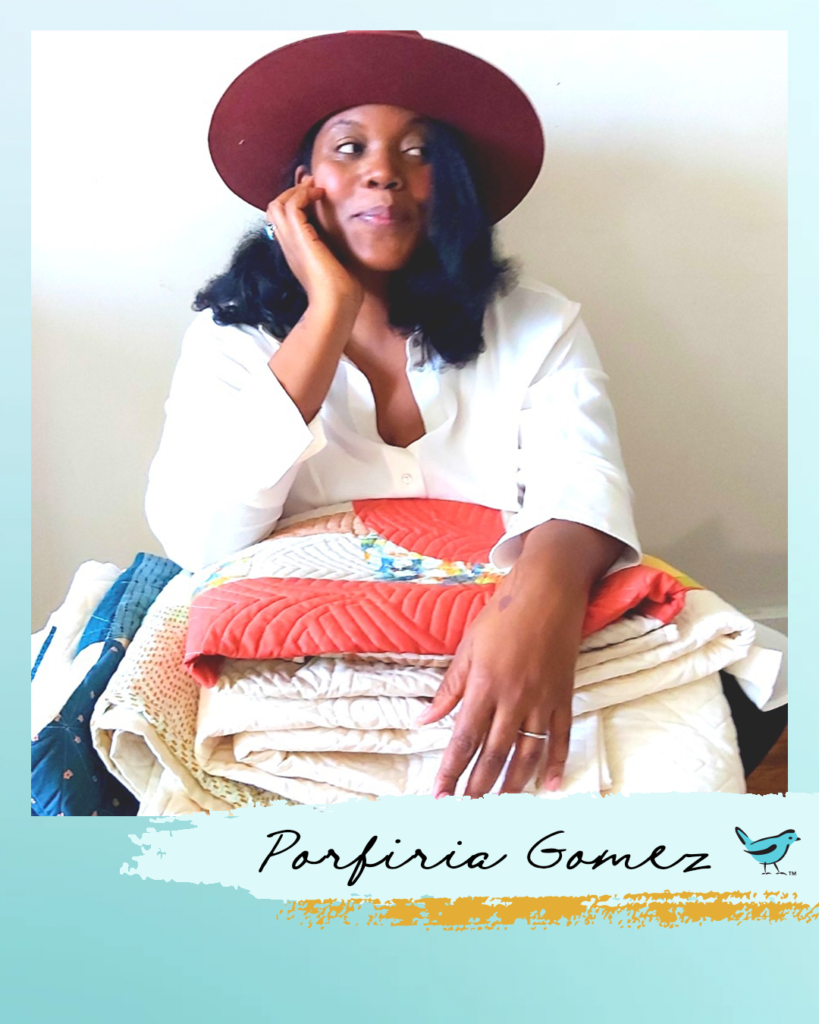 Bonjour! I am a sewing enthusiast, self-proclaimed designer and blogger. I am a native New Yorker with a heart that was born in the countryside of France. I am based in Brooklyn NY and I've been sewing since I was a child, and I've been Quilting most of my adult years I consider my personal style to be modern, Clean and bit of bohemian!
My name is Sara Fernandez and I grew up in Spain where I learned the basics of sewing from my grandmother, who was a talented seamstress. When I was 16, I was volunteering in the school library and expressed an interest in learning how to quilt. The librarian said 'well, you're in luck, because I am the president of the local quilters' guild' – true story! She taught me traditional piecing, FPP and basic quilting skills, and I got to play with her very large fabric stash. Since then, quilting is where I've spent most of my creative energy. I love working with bright colours and fun prints, and big medallion quilts are my favourite thing. I live in Oxford (UK), where I get to teach quilting and share the love of fabric with other people.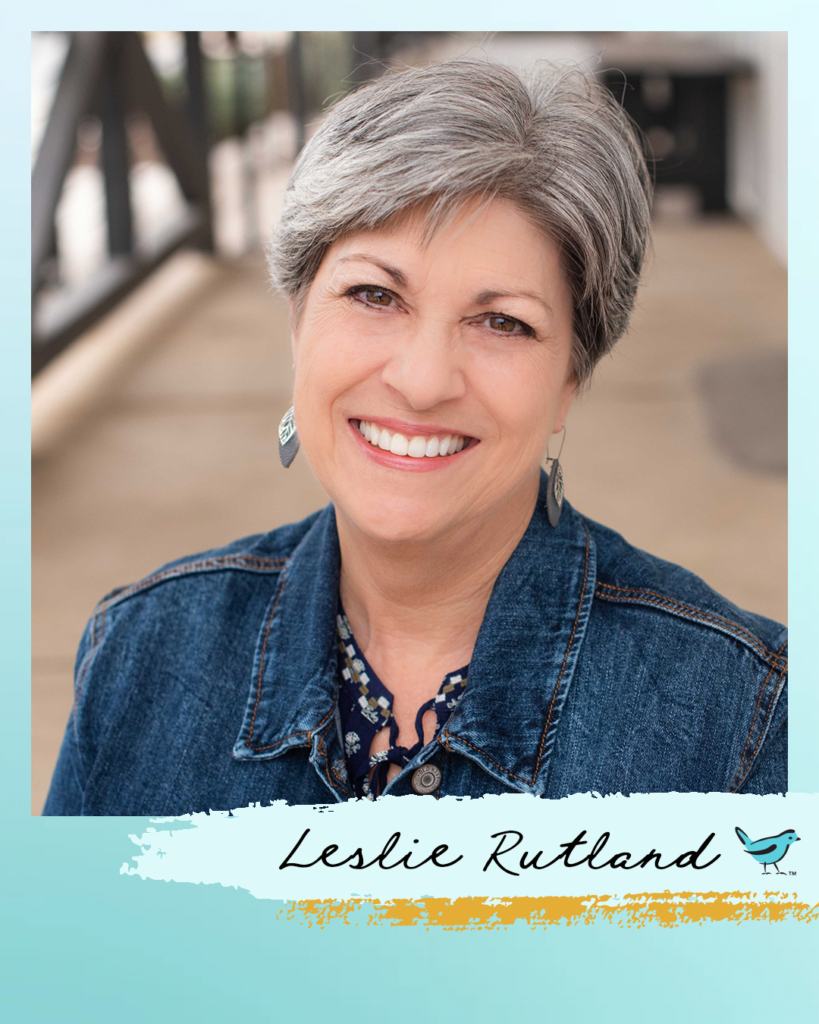 Hello, I'm Leslie Rutland, the founder of The Seasoned Homemaker where I share simple quilting, sewing, and crafty projects for women looking to connect with their inner-maker.
I grew up around creative women who were always turning fabric into clothes, quilts, or home decor. At age 12 I received a sewing machine for Christmas and have been sewing my way through life ever since. I love working with traditional quilt designs and adding in a modern twist through fabric choice or pattern design. My husband and I have two grown daughters, four grandchildren, and live in Austin, TX.
Hi there! I'm Amy Mogren, the designer and owner of Ritual Quilt Company. I live in the Lake Tahoe area of northern California with my young family and two giant dogs. I found quilting in 2019 after a years-long creative hiatus spent pursuing a high stress healthcare career. The idea of sewing had always intimidated me, but I longed to learn so that I could create a unique, stylish home for my family. With the help of friends, books, and online tutorials, I picked up quilting as my nightly ritual and never looked back. I design quilts that are earthy yet feminine; bold yet comforting; and bohemian yet refined. I find joy from leaning into the changing seasons and bringing the qualities of each season to life through quilts. It's my mission to inspire quilters to create beautiful, one-of-a-kind textiles that make their home feel like a true reflection of who they are.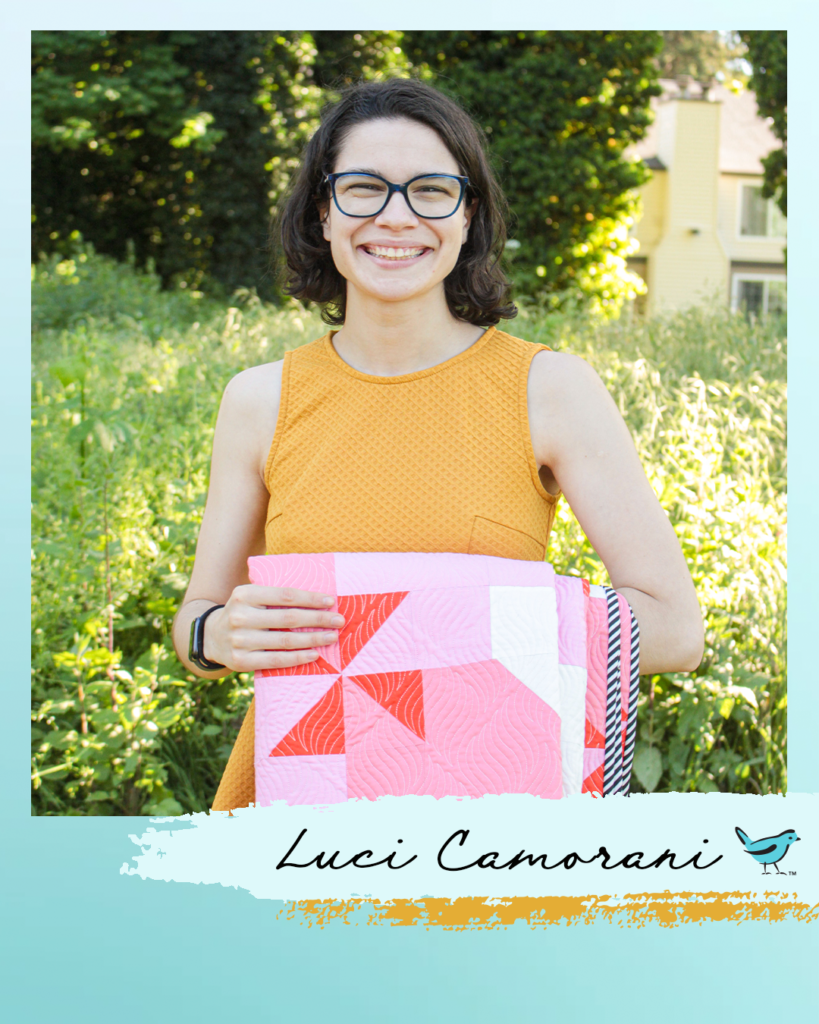 Hi! My name is Luci Camorani and I am a quilt pattern designer and quilter. I currently live in Eugene, Oregon, and still have strong ties with my hometown of Minneapolis, Minnesota. By day, I work for my county providing services for children with intellectual and developmental disabilites. I am really passionate about disability justice, as I have multiple disabilities myself. I started quilting just a couple of years ago and learned from online blog posts and social media. I would describe my style as vibrant, modern, and playful.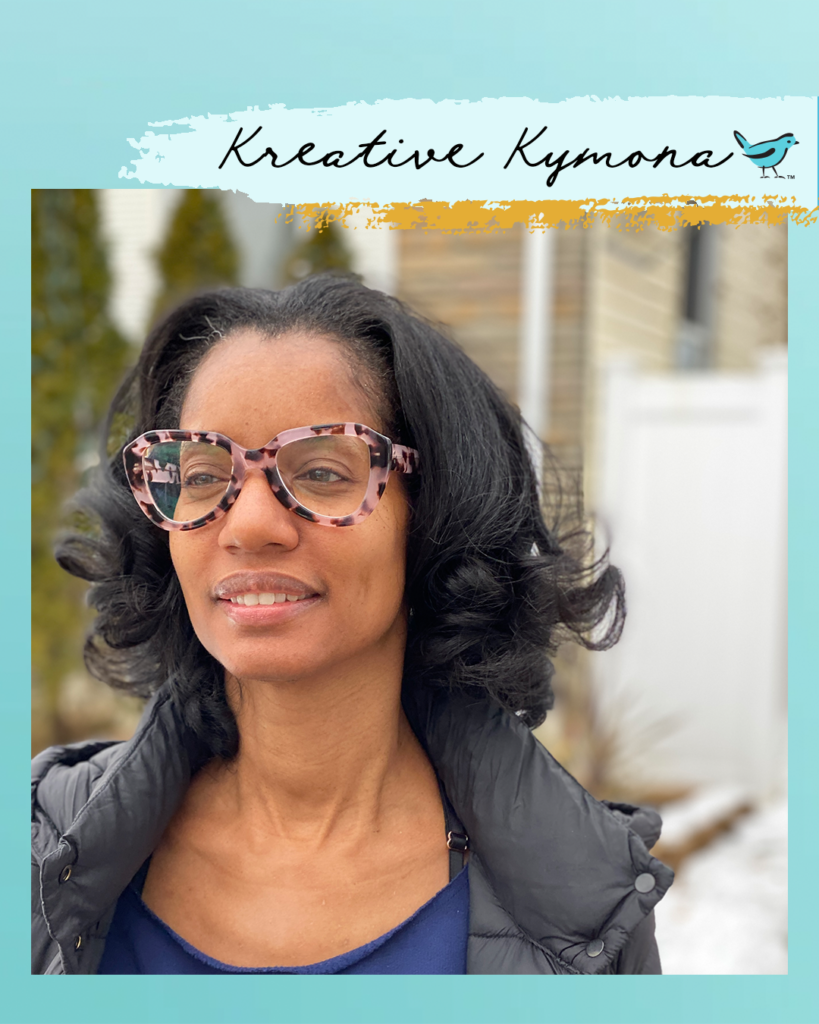 Hello, I'm Kymona Tracey. Who am I, you ask? I am a woman who never slows down and loves it. Yes… I am the energizer bunny's sister! I keep going and going. I am a single mother of two beautiful children who are eight years apart, living in New York. Besides hanging out with them, I work full-time at a hospital (public health background), teach high school students on the weekends, love traveling, and immensely love learning new things. My sewing journey started seven years ago when my then 10-year-old daughter taught me how to sew my first tote bag. I've been hooked ever since, learning to make bags and pouches—then moving on to making quilts. I have a clean and simple modern style of sewing and quilting. As a frequent collaborator with the quilt industry businesses, I'm a BERNINA Ambassador and a contributing writer for Creative Machine Embroidery Magazine and Love Patchwork and Quilting Magazine. In addition to quilting and sewing, I dabble in leather crafting, weaving, woodworking, and bookbinding. You can follow my sewing and quilting adventures on Instagram @kreativekymona.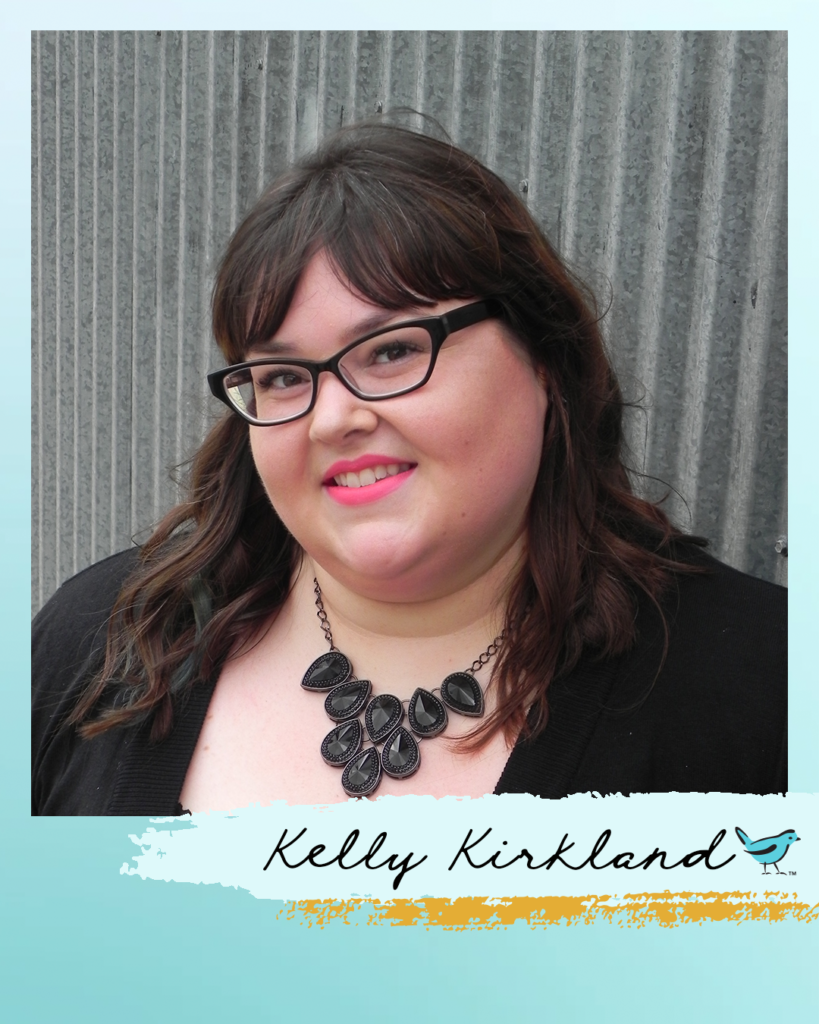 Hello, I am Kelly R. Kirkland, a San Antonio, Texas based modern quilt pattern designer, illustrator and daydreamer of joyful, nostalgic and playful at heart designs. With a wittily creative, but simply sophisticated approach my goal is to artfully create sewing projects that bring joy. In 2017, I started sewing, after my grandmother who introduced me to the quilting world, suddenly passed away with complications from Alzheimers disease. Her passion for sewing and quilting has blossomed into my passion, and just like she shared with me, I want to share with you all the joys sewing and quilting brings.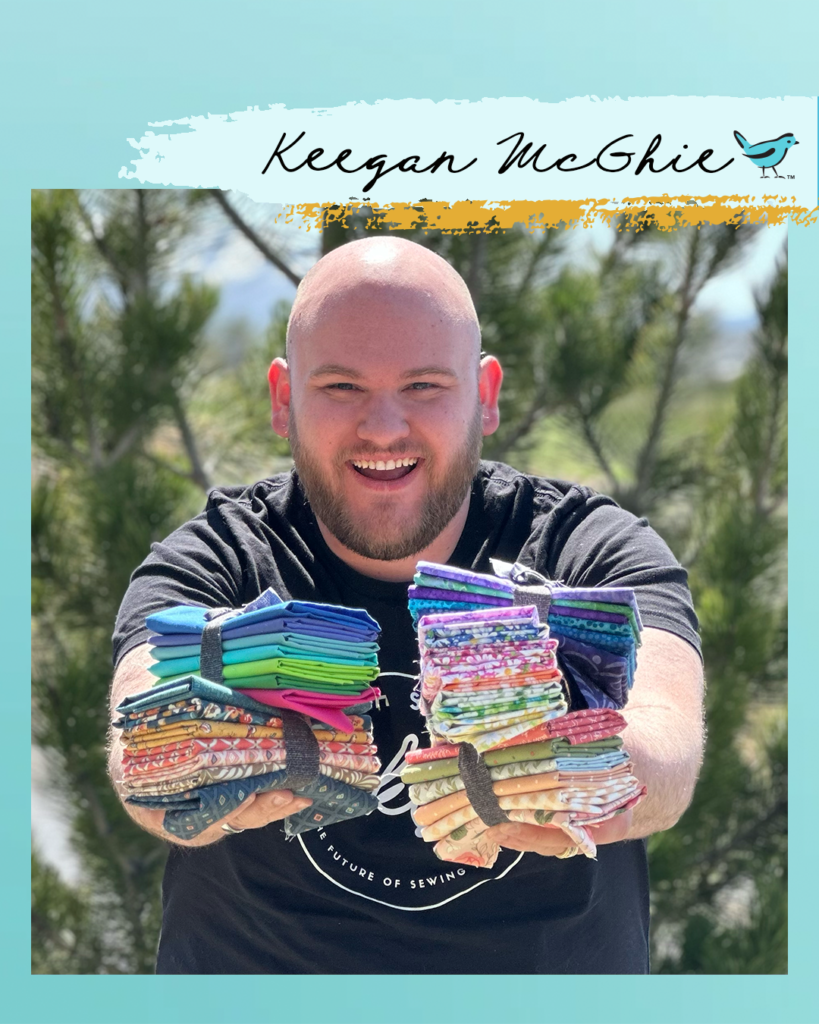 From the age of 5, I fell in love with the art of sewing, and it's a passion that has been woven into the fabric of my life ever since. With deep-rooted family traditions of sewing, I grew up in a quilt shop from the age of 8 in Reno, Nevada, learning the intricate details of this timeless craft. My journey in the world of fabrics and textiles led me to work and design for several renowned quilt shops before taking the plunge to open my own sanctuary for fabric enthusiasts, Kloth Studio in Orem, UT, in 2023. Along this colorful path, I've been honored to receive awards for my piecing and longarm quilting, and I've had the privilege to design countless patterns, block of the month programs, and embroidery design creations under the Kloth Studio and Serger Savvy labels. Year after year, our annual block of the month program at Kloth Studio has grown, with nearly 400 dedicated participants stitching along. It's a testament to the vibrant community that surrounds our shared love for textiles and learning new techniques. My mission is to infuse a modern twist into timeless classics, redefining the boundaries of creativity with each stitch. Whether it's through my vibrant social media presence, or teaching fellow sewists all around the world the latest tips and tricks, I'm dedicated to helping you master any technique with ease. Join me on this exciting journey through the world of fabrics and discover the endless possibilities that await. Let's sew the future together!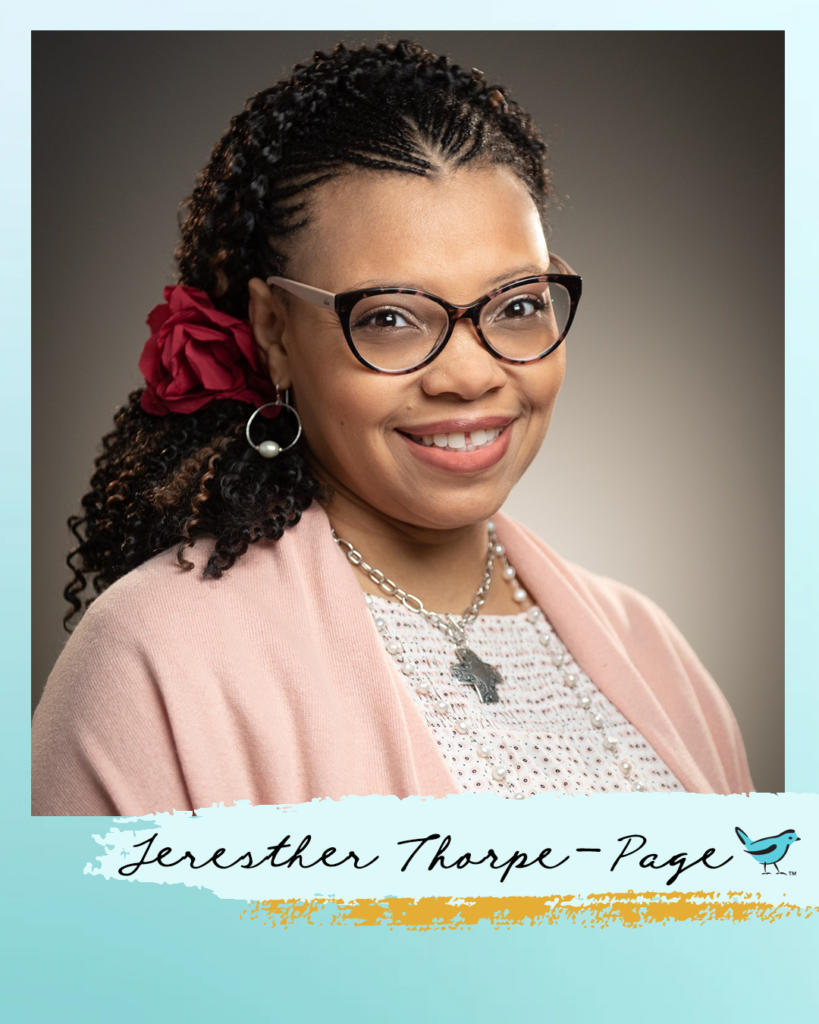 My name is Jeresther Thorpe-Page, currently live in Nashville, TN, Music City. I have had the joy and pleasure of raising my children across 8 different States, from small towns to BIG Cities. I am an Elementary School Principal, I love ALL things teaching and learning. I started piecing and quilting when my family moved to Maryland, I fell in love with the idea of piecing fabrics together to make something beautiful. I believe every quilt tells a story and we share our stories through our craft. As a life-long learner, I describe myself as the forever Confident, Courageous Beginner (CCB)! I love teaching and learning alongside other CCBs. Paper piecing, appliqued and big piecing are my favorite. Honestly, I just love to trying and learn new techniques. There is NO STRESS in creating, stitching and quilting.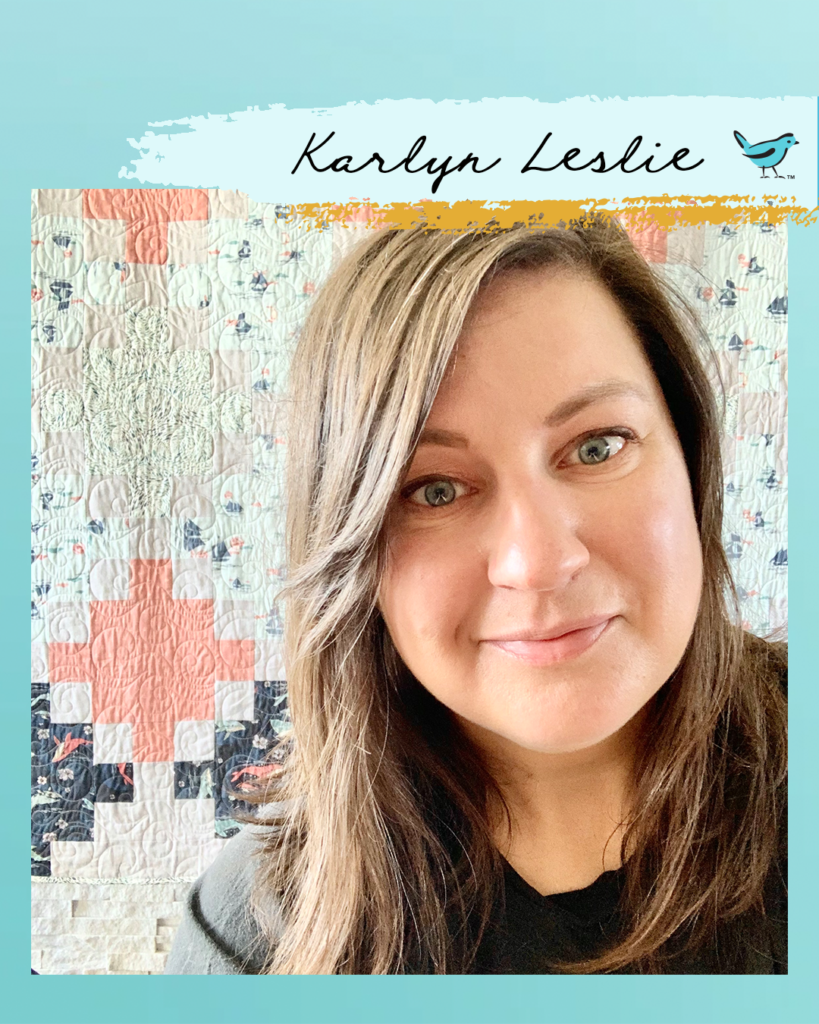 Hello from Canada! My name is Karlyn Leslie and I am the sole-proprietor of Charlie Bear Quilts. Born and raised in Manitoba (picture an endless patchwork of prairie fields), my love of sewing started young. I have been sewing "seriously" for 18 years… it all started with "Quilting 101" at Tiger Lily Quilts in Saskatchewan. Needless to say, I fell in love and it sparked the creative part of me that had been dormant for a while. I love to design, sketch, quilt, hold and pet fabric. I am opening myself up to dream MORE, so this fun adventure with Riley Blake Designs is exquisitely timed! My heart is drawn to the pinks and creams of my childhood bedroom, ditsy florals and soft prints. I yearn for cozy quilts, those cabin vibes that bring a sense of nostalgic calm. I love to create pieces of art that become the focal point of a room, but can also be swept around your shoulders for an afternoon of reading. I want to create happiness through quilting because I think it is the greatest gift of comfort in this fast-paced world.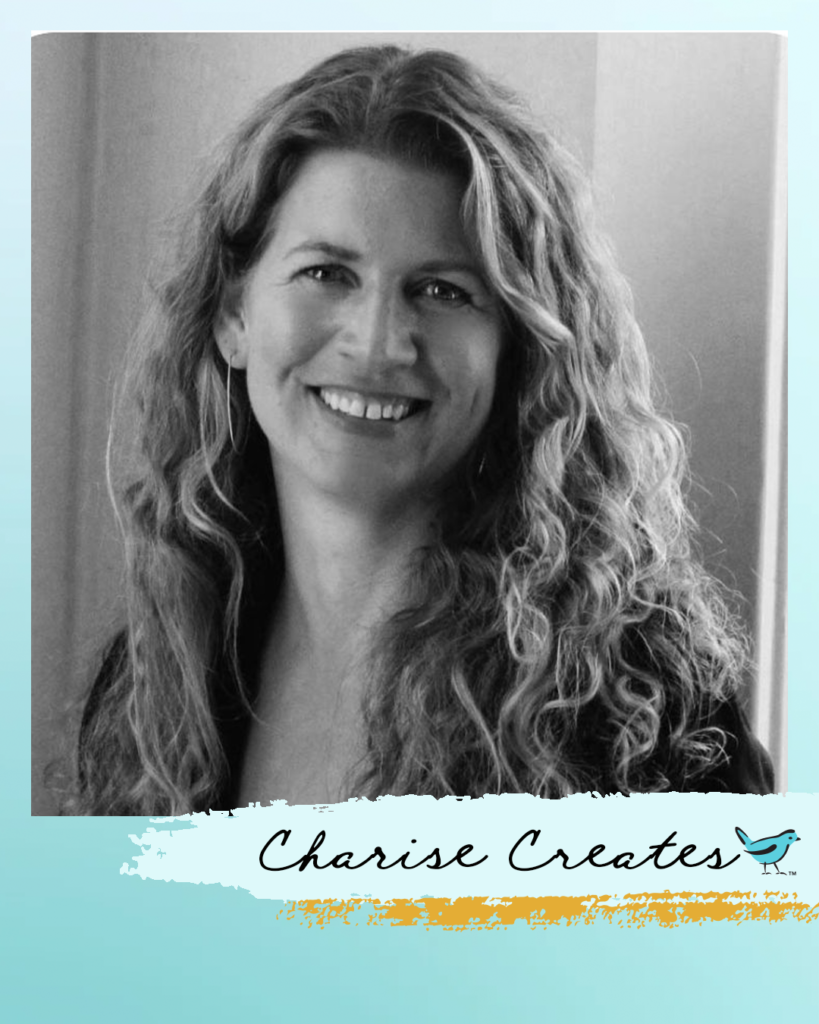 Hi there! I am Charise Randell of Charise Creates. I'm an author and designer, and have designed women's apparel for over 20 years and now spends my days designing sewing and quilting patterns. My mother taught me to sew when I was just 6 years old, designing and sewing clothes for my Barbie dolls.
My style is inspired by vintage domestic arts and the beauty of simple craft. You can find my quilt and accessory patterns at ChariseCreates.blogspot.com. I live in Seattle with my husband and two sons.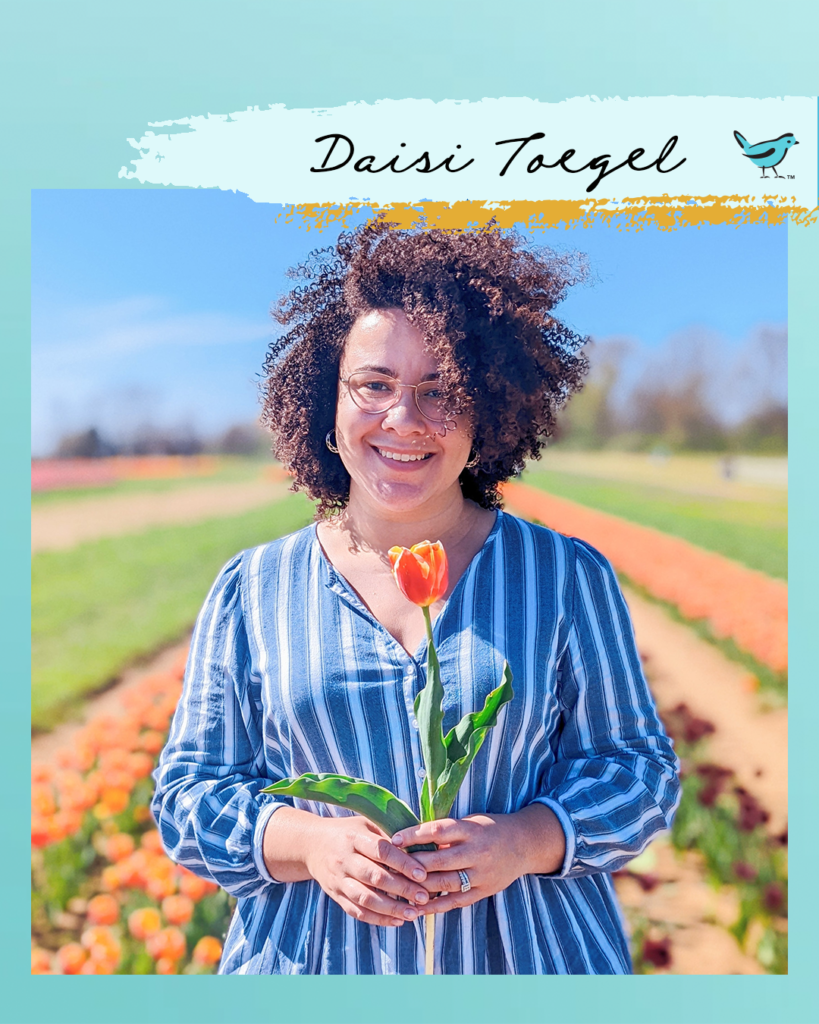 Hi, I'm Daisi Toegel! I'm a Brazilian-American artist currently living in New Jersey, US. I started sewing bags in 2016 to sell at Craft Shows all over New Jersey. In 2020 I fell in love with quilting and designed my first quilt pattern. Currently I have published over 15 patterns between quilts and bags for magazines and independently. I love traditional quilting style with a modern twist and lots of colors.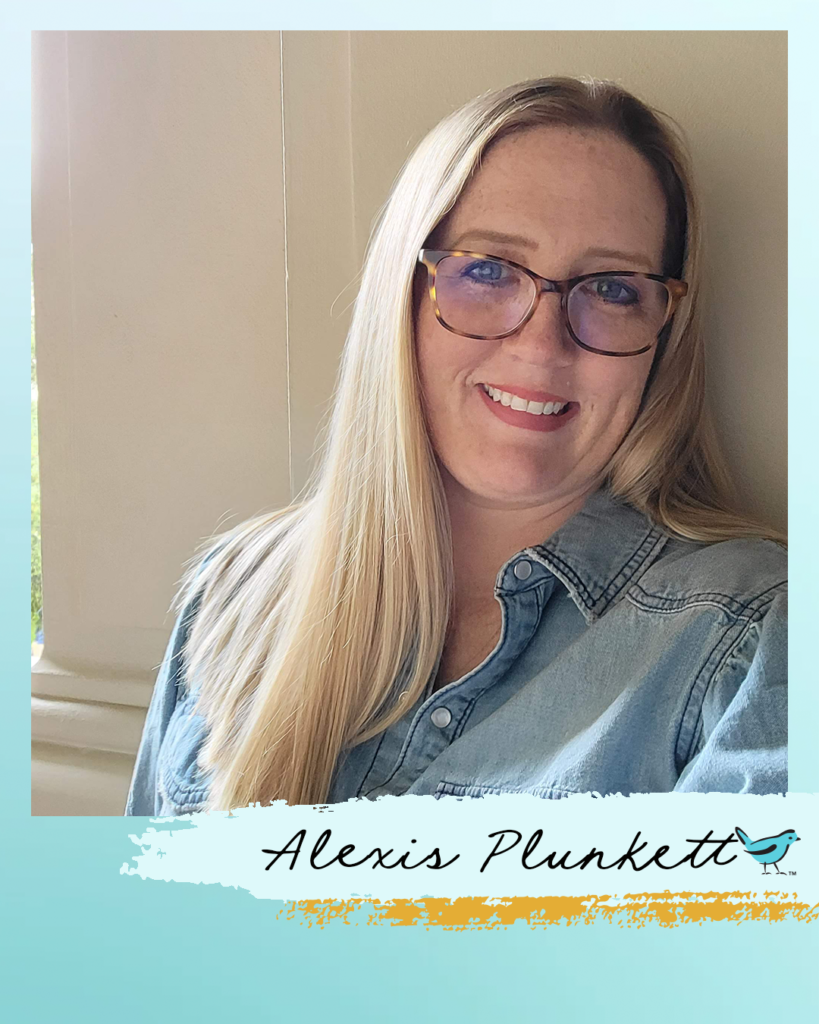 I am Alexis Plunkett, a passionate enthusiast of quilting and photography for over 20 years. I reside in sunny Southern California, nestled centrally between mountains, beaches, and Disneyland! My style is best described as modern traditional, paying homage to my ancestors through traditional blocks and patterns, while infusing a contemporary twist with modern fabrics and vibrant colors.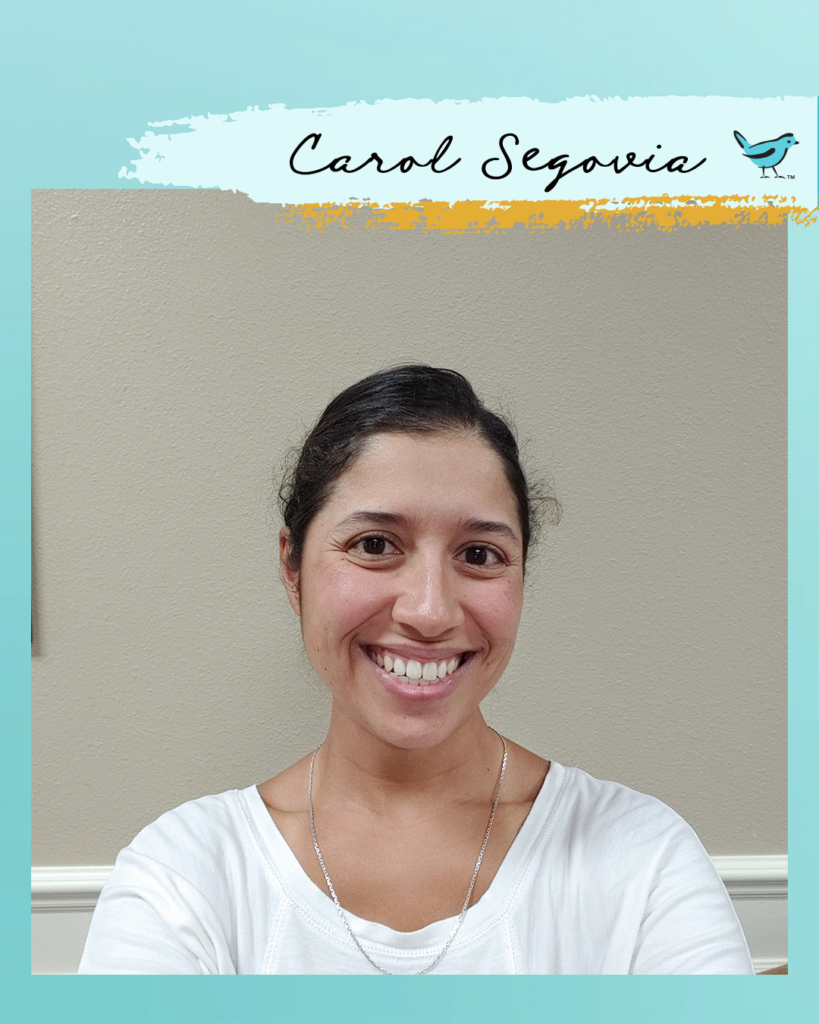 I'm Carol Segovia & I'm the owner of Segovia Quilts! While I was born and raised in San Antonio, Texas, my family and I currently live in Holiday, Florida. I started my quilting journey after serving in the Marine Corps. My first quilt I made was for my step-daughter and honestly, it was terrible! I had no idea what I was doing and while it measured about 60×60, I used six large buttons to "quilt" it together. Needless to say, it didn't last long! But that sparked my desire to learn how to do it properly and I've been learning and quilting ever since! I turned my gift of making collage style t-shirt quilts into a business. I've made hundreds of t-shirt quilts for clients over the years. The really exciting part is, I don't use a pattern for any of my client quilts. Ever! Each one is custom made and no quilt is the same design. I've taken this "fly by the seat of my pants" style and moved over into making more "traditional" quilts. Making a quilt without using a pattern is scary, exciting & adventurous! Being able to take a general idea in your head and turn it into a finished piece of art is very rewarding! This is what I love about my style of quilting! I hope you love it as much as I do.