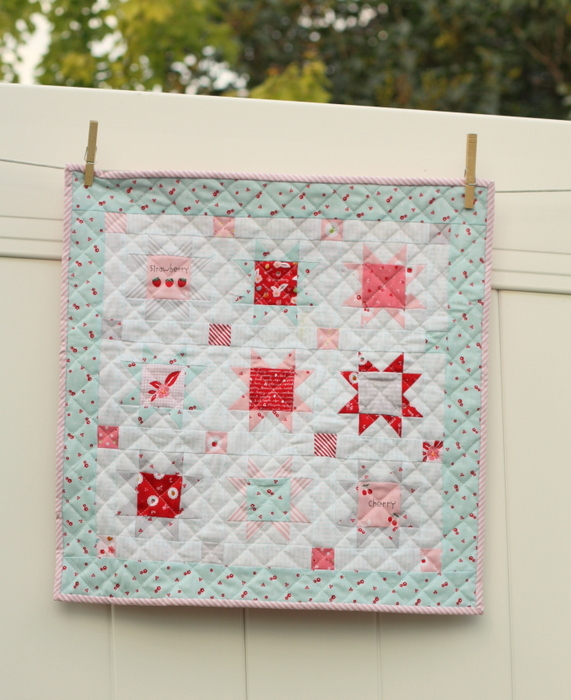 Hello my fellow fabric friends! I'm Amy Smart and I share my fabric obsession projects at my blog Diary of a Quilter. Last week I made a cute little mini stars quilt using Sedef Imer's Sweet Orchard collection of which you can see an abundance of adorable projects here this week).
I chose to use the pink, blues, reds, and grays from this collection to play with in a little mini quilt. So many cute small-scale prints that worked so perfectly for a small-scale project.
I'm especially smitten with the bias stripe – so perfect for binding, but it also creates some dramatic elements in the pieced blocks as well as you can see in the star points below.
These basic 8-point star quilt blocks (or Sawtooth Stars as they're sometimes called) are one of the most traditional quilt motifs. And I think they're one of my all-time favorites. They're just so versatile and they never fail to look sharp. I think they're staying power is due to the fact that they always make a statement.
Today on my blog Diary of a Quilter I'm going to be sharing a simple tutorial for making these Sawtooth Stars. And I have a free printable guide for scaling the block into 10 different sizes. The best part of these stars is that they're made with my favorite no-waste shortcut for piecing the star points.
This same method is used for making four Flying Geese blocks at a time – made from one large square for the "goose" and four smaller squares for the "sky".
Here's a sample of some large Flying Geese blocks made with the squares pictured above (using Deena Rutter's collection Knock on Wood fabric.) These same Flying Geese blocks can also be used for the points of the Sawtooth Star. Pretty clever, eh? (I make no claims of coming up with this on my own. Minds far superior to mine figured this stuff out. I just love passing it on to others. Especially the part about no-fabric-waste. Because I'm a fabric obsessor, remember?) I also have a free-printable with fabric requirements for Flying Geese in 9 different sizes. All of this can be found here.
And, just for fun, I also have a fat quarter bundle of Sweet Orchard to give away. So stop by if you'd like a chance to win!
And in parting, here's a quick picture of the back of my little stars mini quilt. I used the sweet 'cheater' print from Sweet Orchard which gives the look of a darling, simple patchwork quilt. So if you're low on time and want to have something adorable fast, Sedef has done all the work to help you out. Enjoy!