We have a quick and easy quilt to share with you today! This beginner-friendly St. Louis 16-Patch Quilt features fabric from the adorable new Set Sail America collection designed by Lindsay Wilkes.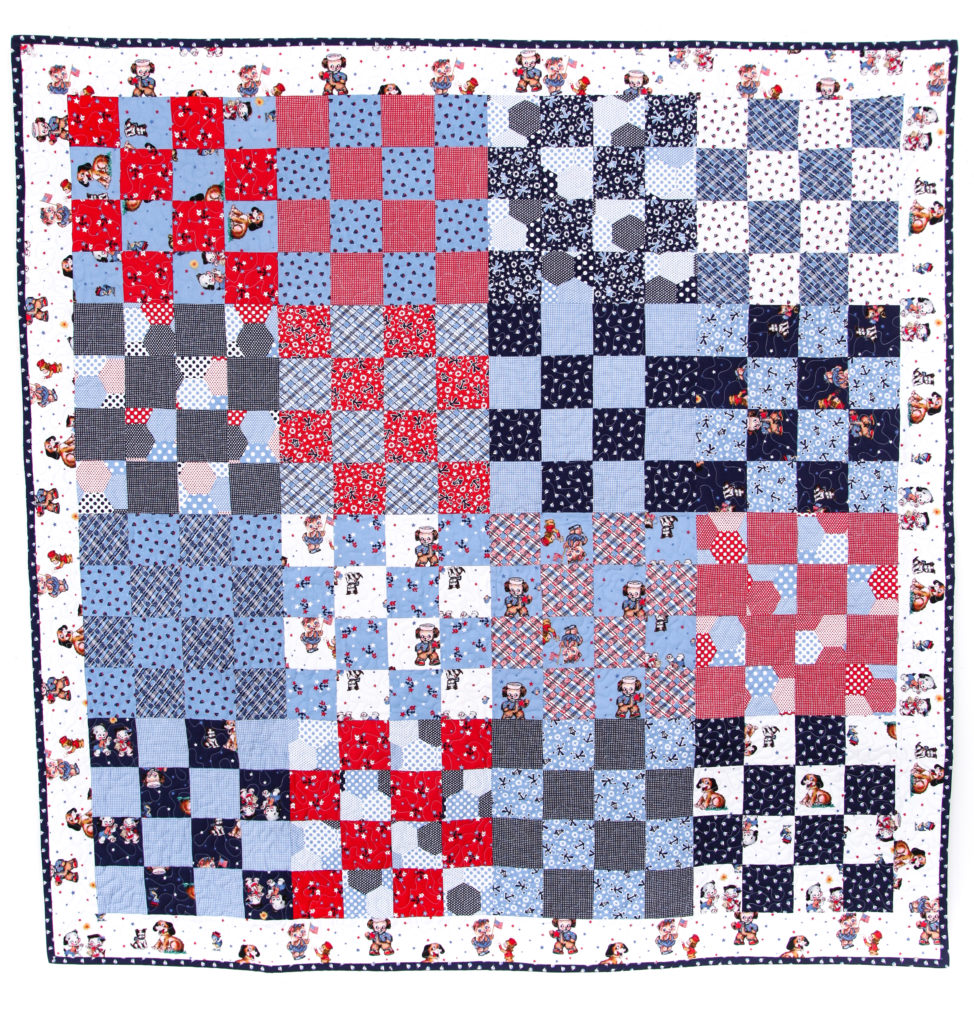 Our quilt measures approximately 52″ x 52″ — a generous sized crib, toddler, picnic, or lap quilt. We love the scrappy look of this quilt, the speed with which it comes together, and how easy it is to adjust the block size to fit your needs.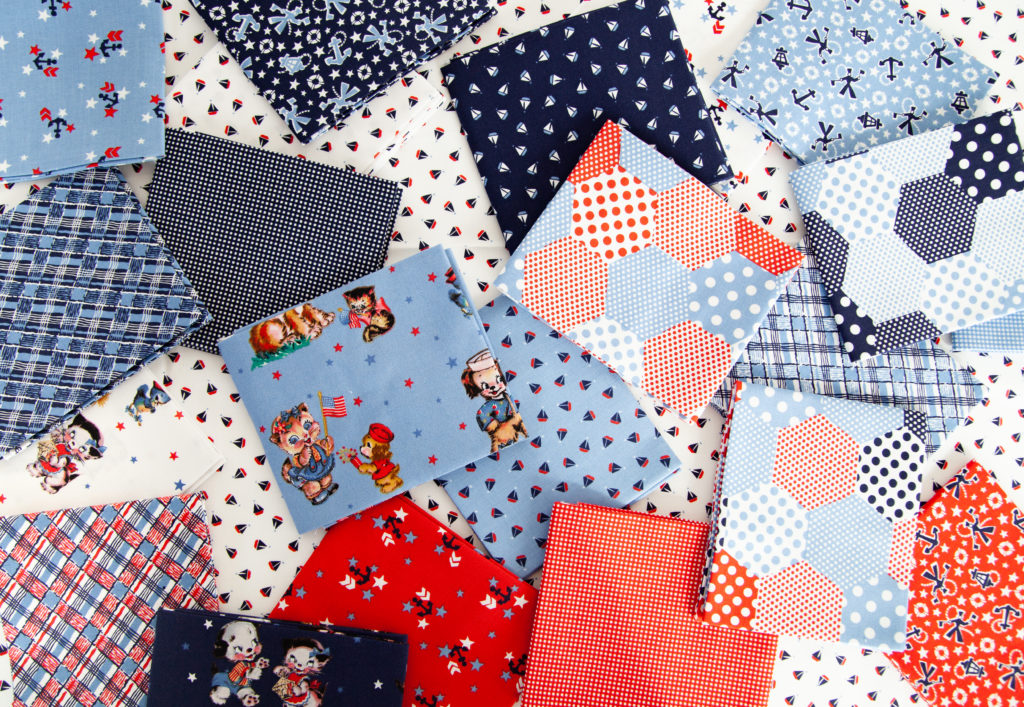 The Set Sail America collection was a fun choice for this quilt, with it's red, white, and blue fabrics filled with charming vintage-inspired designs.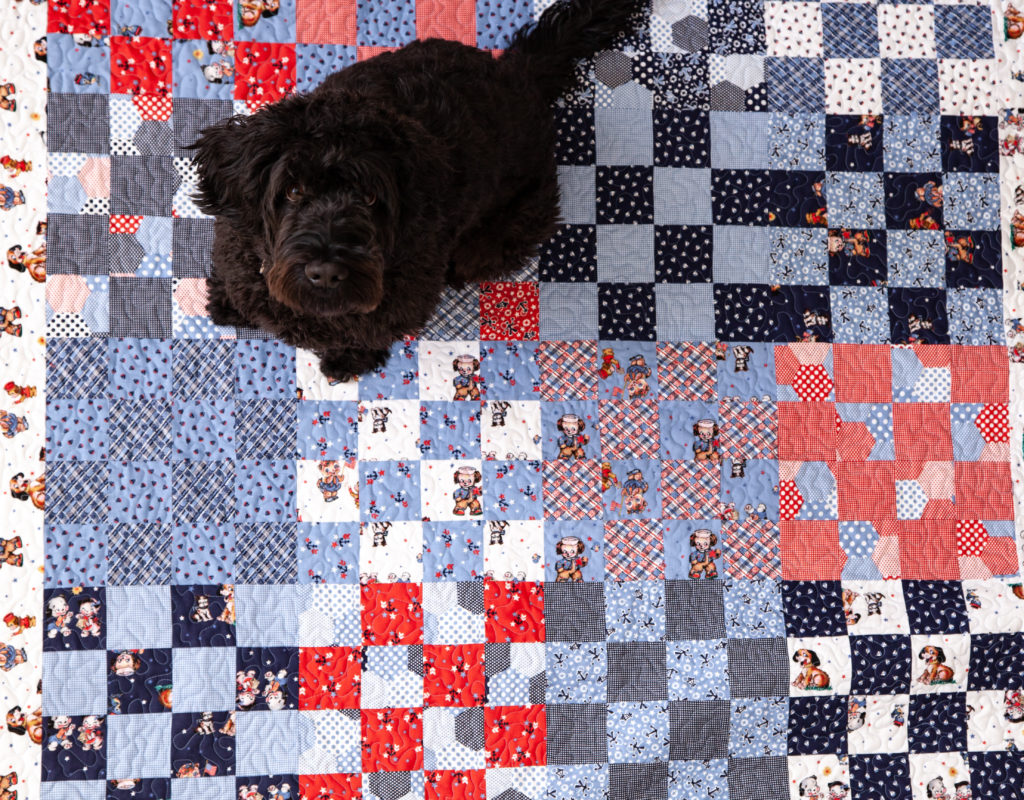 I used the strip piecing method to create my blocks. To make this quilt, you will need:
1/8 – 1/4 yard each of various fabrics. I used 19 different prints. Some prints I used twice, while others I only used once.
6 – 3 1/2″ x WOF strips for border
batting
quilt back
Here is a quick video demonstrating how easy it is to make this block.
I wanted my finished blocks to measure 12″ square, so my fabric strips needed to measure 3 1/2″ x 29″ (although I made them more like 32″ to allow room for error).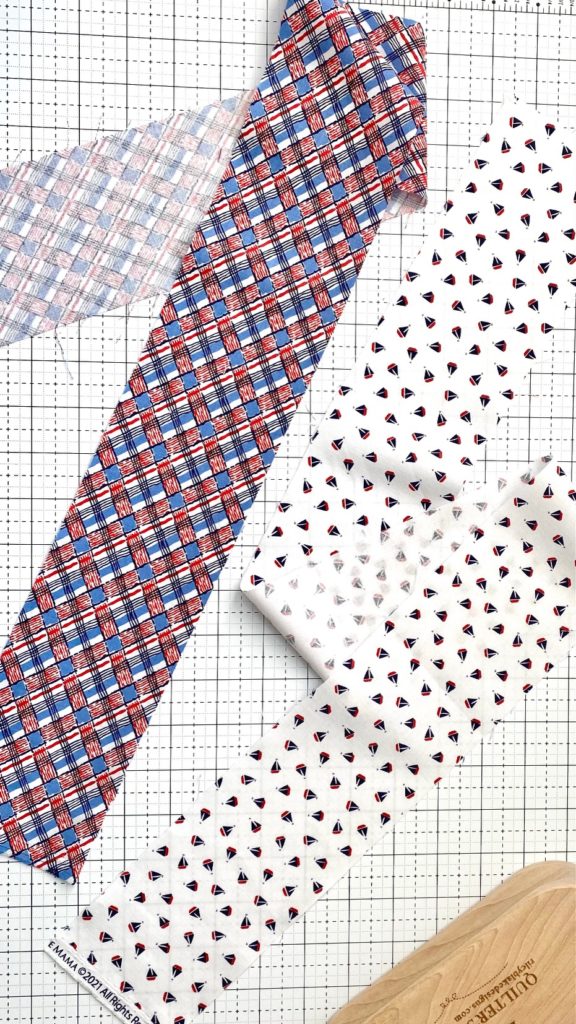 I didn't know ahead of time which fabrics I would use more than once, so I cut two 3 1/2″ x 32″ strips of each of my fabrics. The extras will be used in a future project.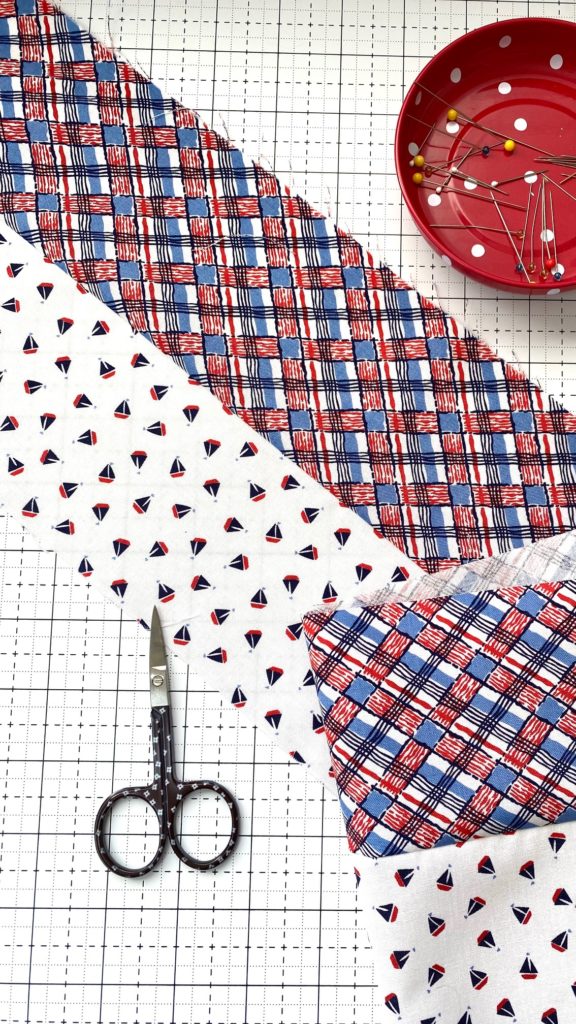 To begin making the block, take two strips and place them right sides together. Sew a 1/4″ seam along the length of the strip. Press seam toward darker fabric.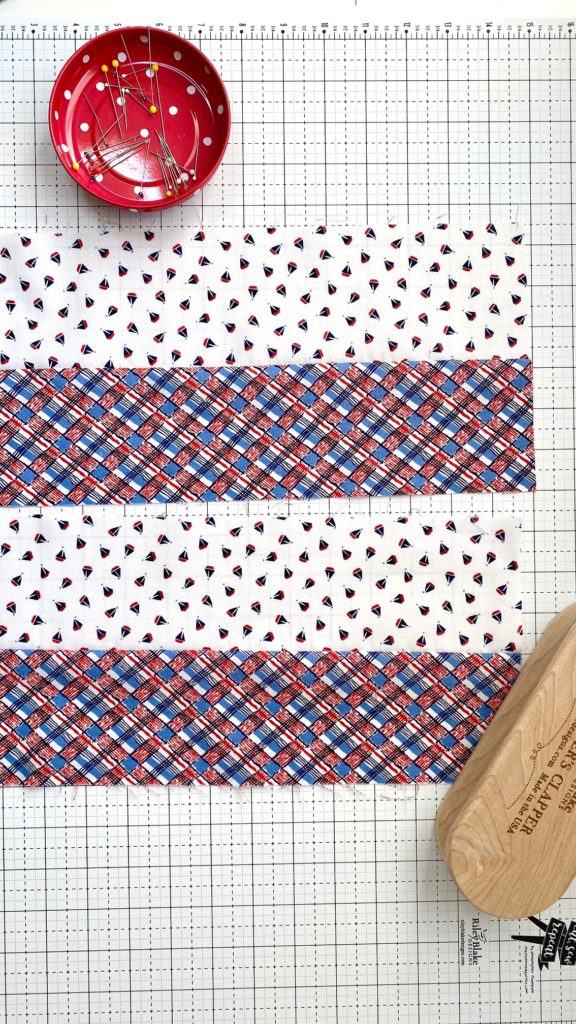 Cut the strip in half, making two 16″ lengths.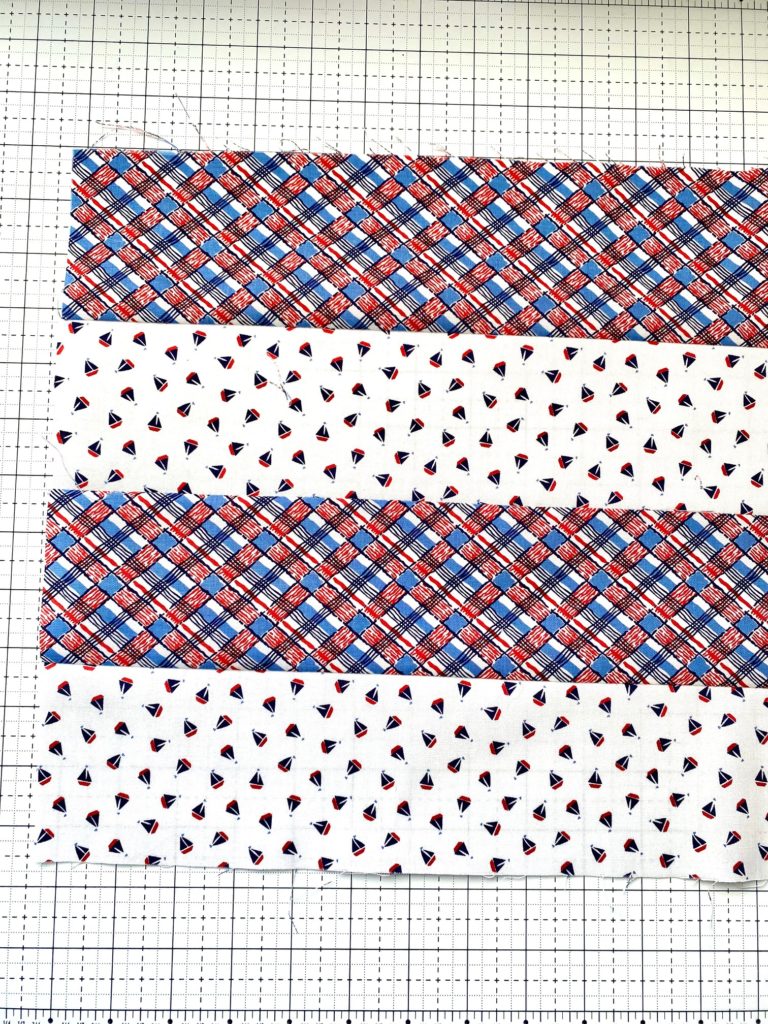 Sew the two sections together so the prints are alternating. Press seam toward darker fabric.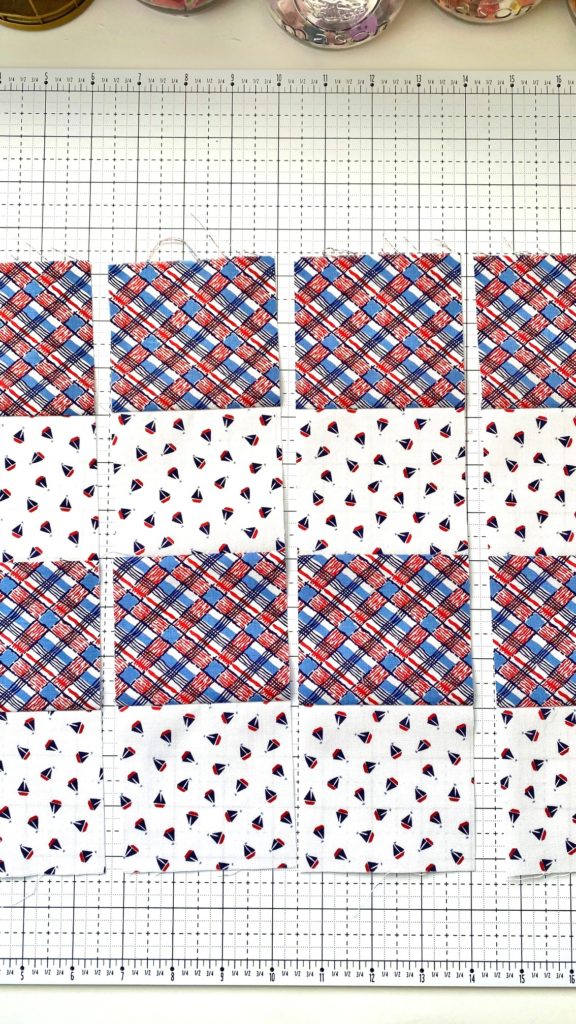 Next, use your ruler to measure and cut four 3 1/2″ strips. Lay out the strips in a row (shown above), then flip the 2nd and 4th row so the Sailboat print (or whatever alternating print you are using) is on the top.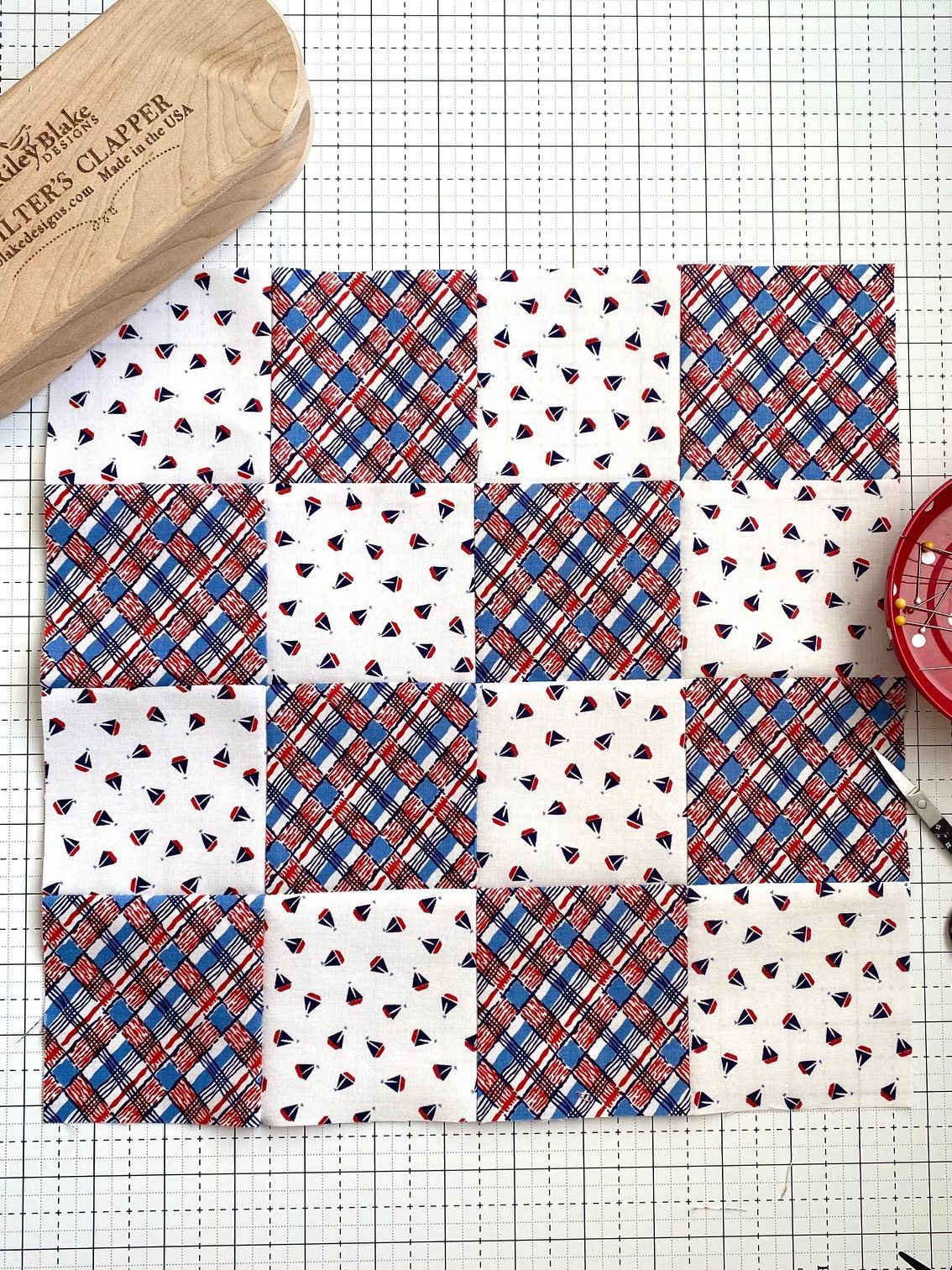 Sew the strips together. When you press the seams, you can either press the seams open or press them all in one direction. Trim block to 12 1/2″ square. The finished block will measure 12″
Repeat to make 16 blocks total. After you have made all of your blocks lay them out 4 per row and sew together. I opted to add a 3.5″ border which takes this quilt from a baby quilt to a good sized toddler or lap quilt. Leave the border off if you want a 48″ square quilt. Add the border if you want it a bit bigger. And that's it!
You can use any width strips you want. If you have 2 1/5″ strips, your finished blocks will measure 8″ square. I opted for larger blocks to show off the cute characters in this fabric line, but feel free to adjust the size however you want.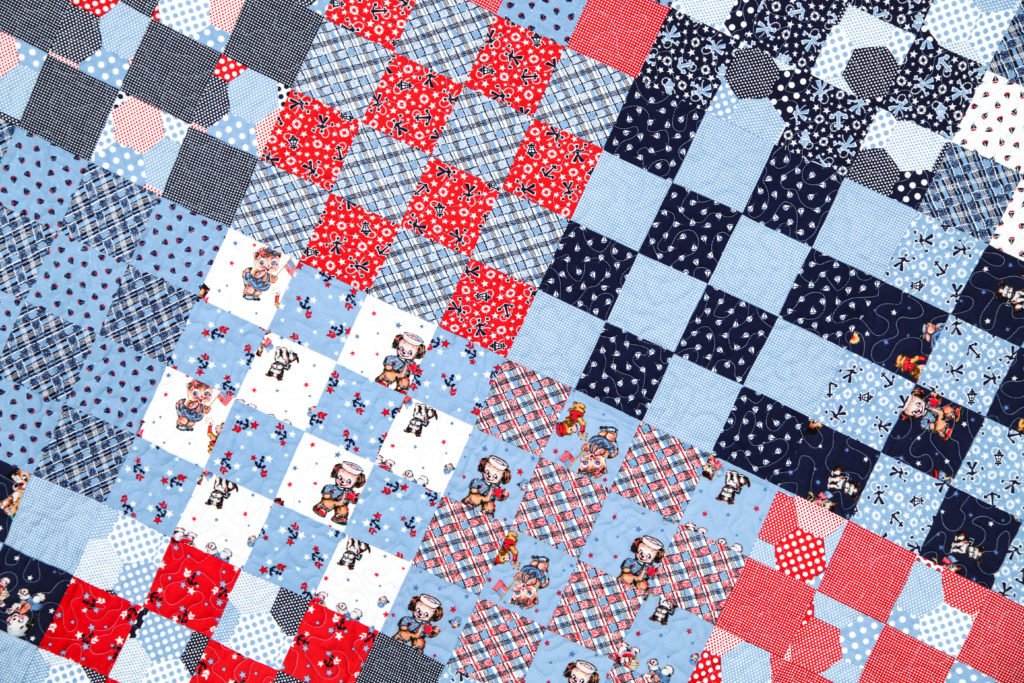 I love the classic, scrappy look of this quilt design. The block is beginner-friendly, so if you are new to quilting, this is a great place to start!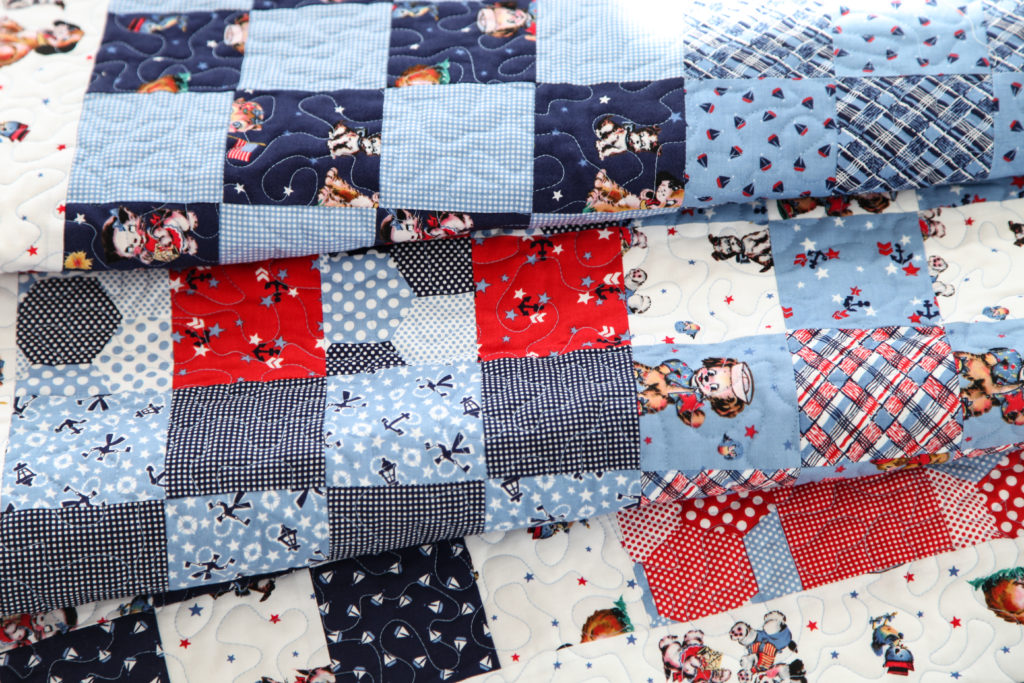 I quilted this on my home machine using an all over meandering design.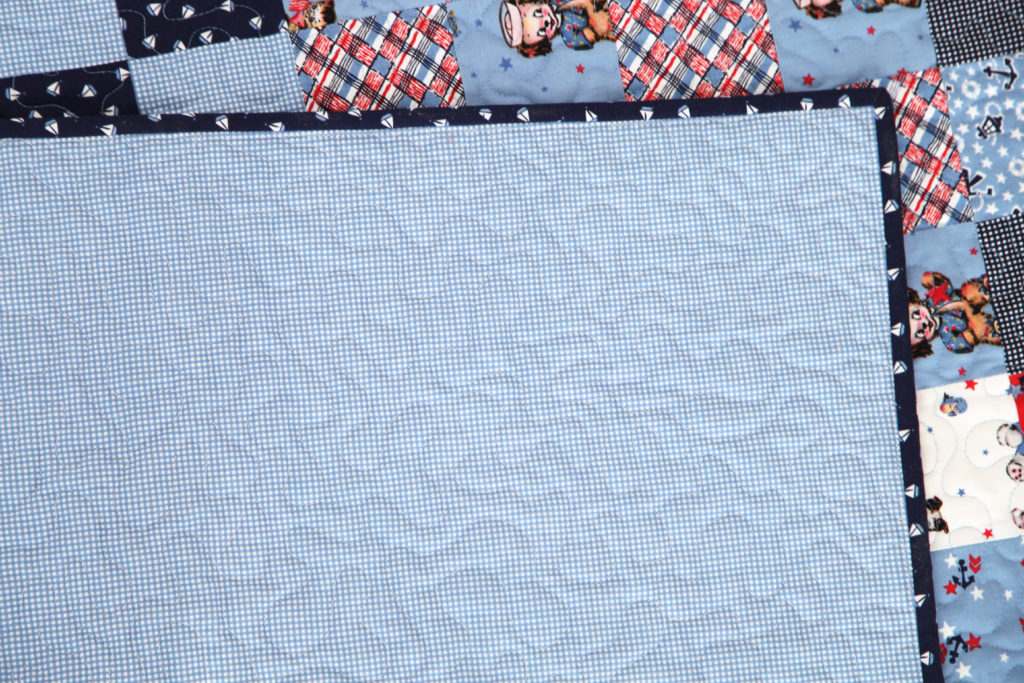 For the quilt back, I used the tiny Blue Gingham check. How cute is that?!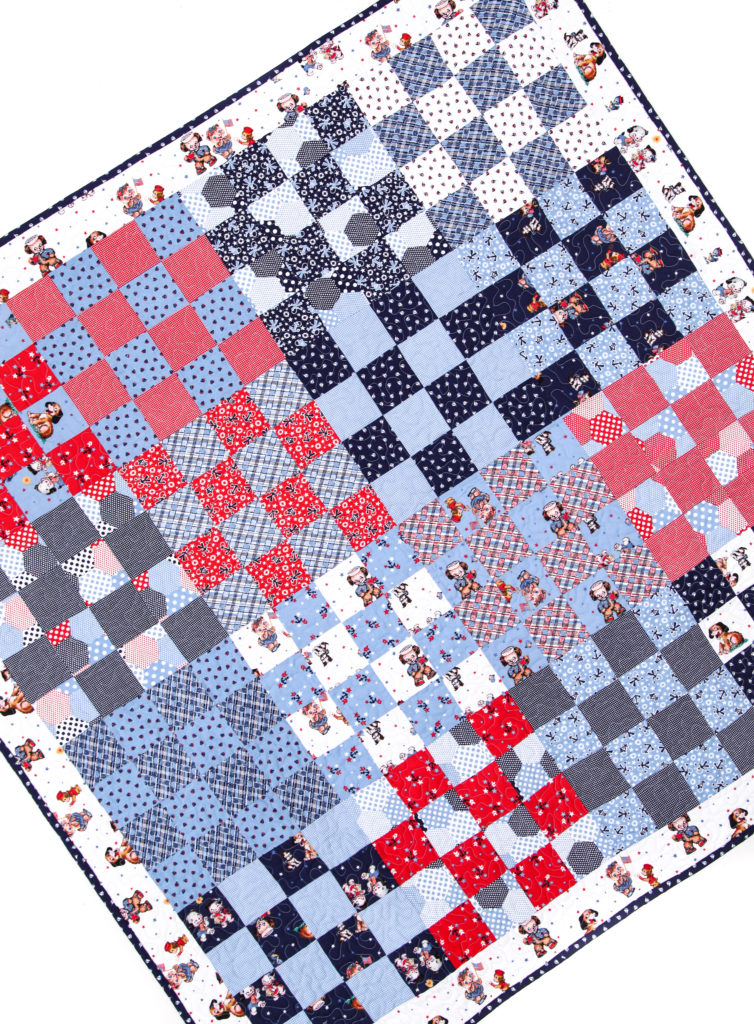 For the binding, I wanted a dark navy blue print to really frame out the quilt. I used the Navy Sailboats.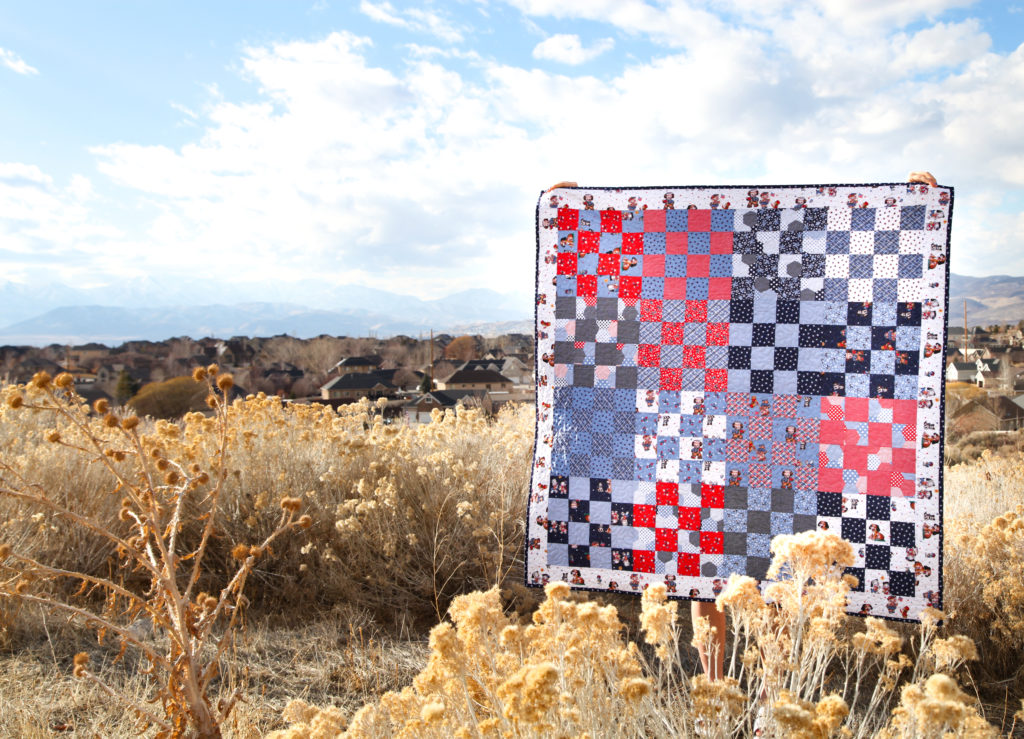 Here is the finished quilt, and it is seriously adorable! We can't wait to see what you make with Set Sail America!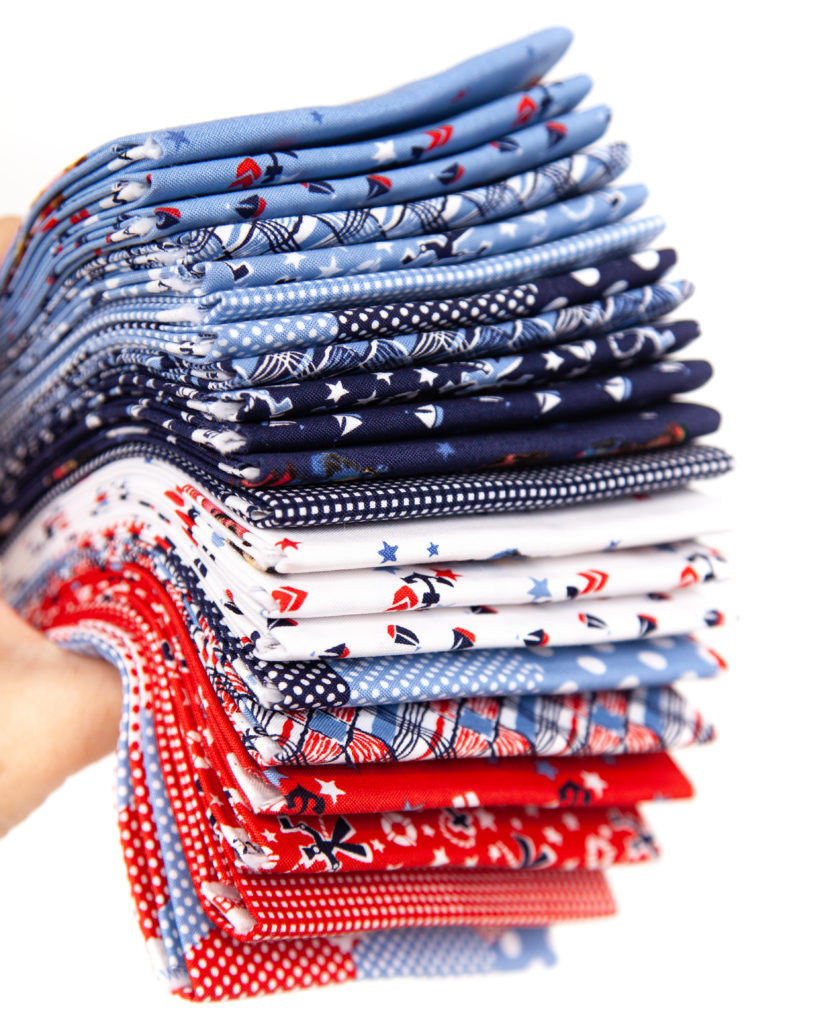 Set Sail America, designed by Lindsay Wilkes, is on its way to your favorite local and online quilt shops. Pre-order yours today to get your hands on one of these bundles of cuteness, and share your makes with us on Instagram using #setsailamericafabric, #rileyblakedesigns, #iloverileyblake, and tag us @rileyblakedesigns.