We have a fun, fast, and super cute quilt to share with you today!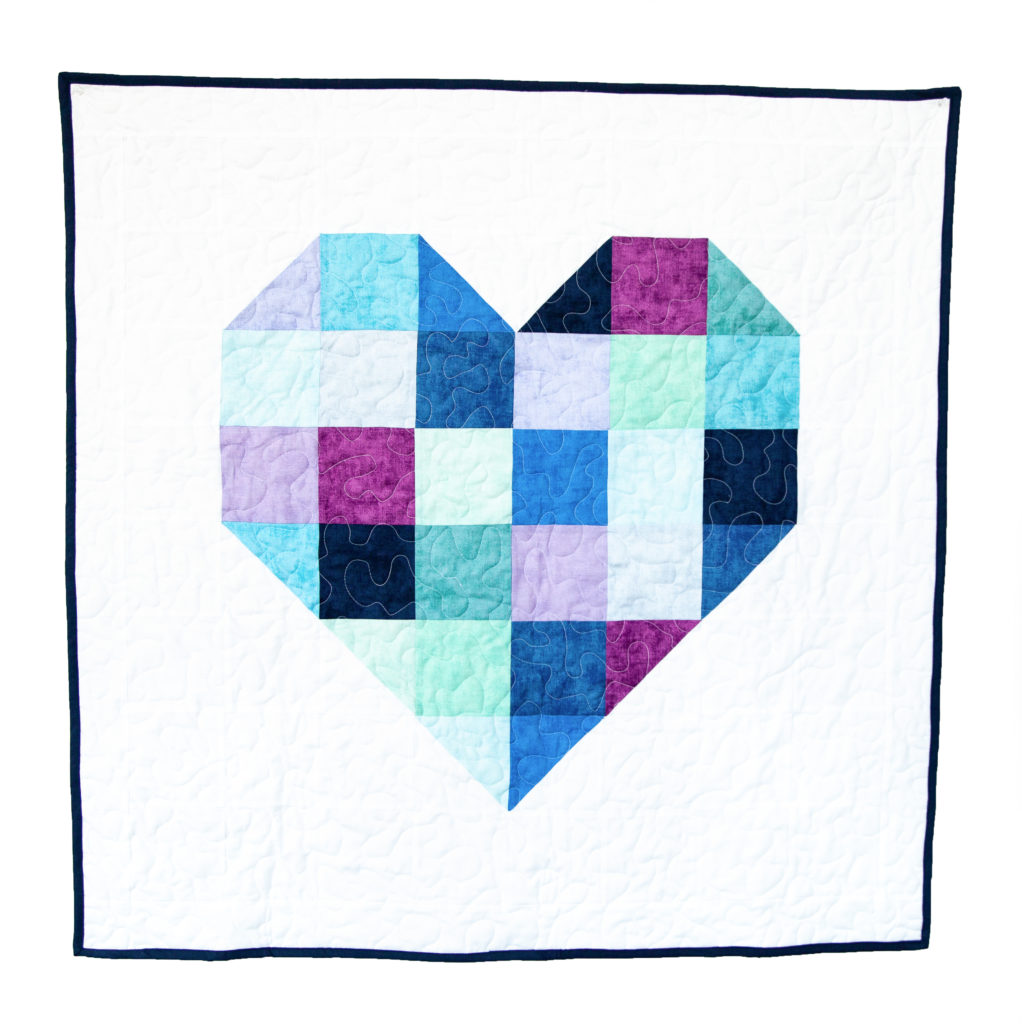 Meet the Modern Blue Heart Baby Quilt — possible the coolest and easiest little baby quilt you've ever made! Seriously, if you can sew squares together, you can make this quilt!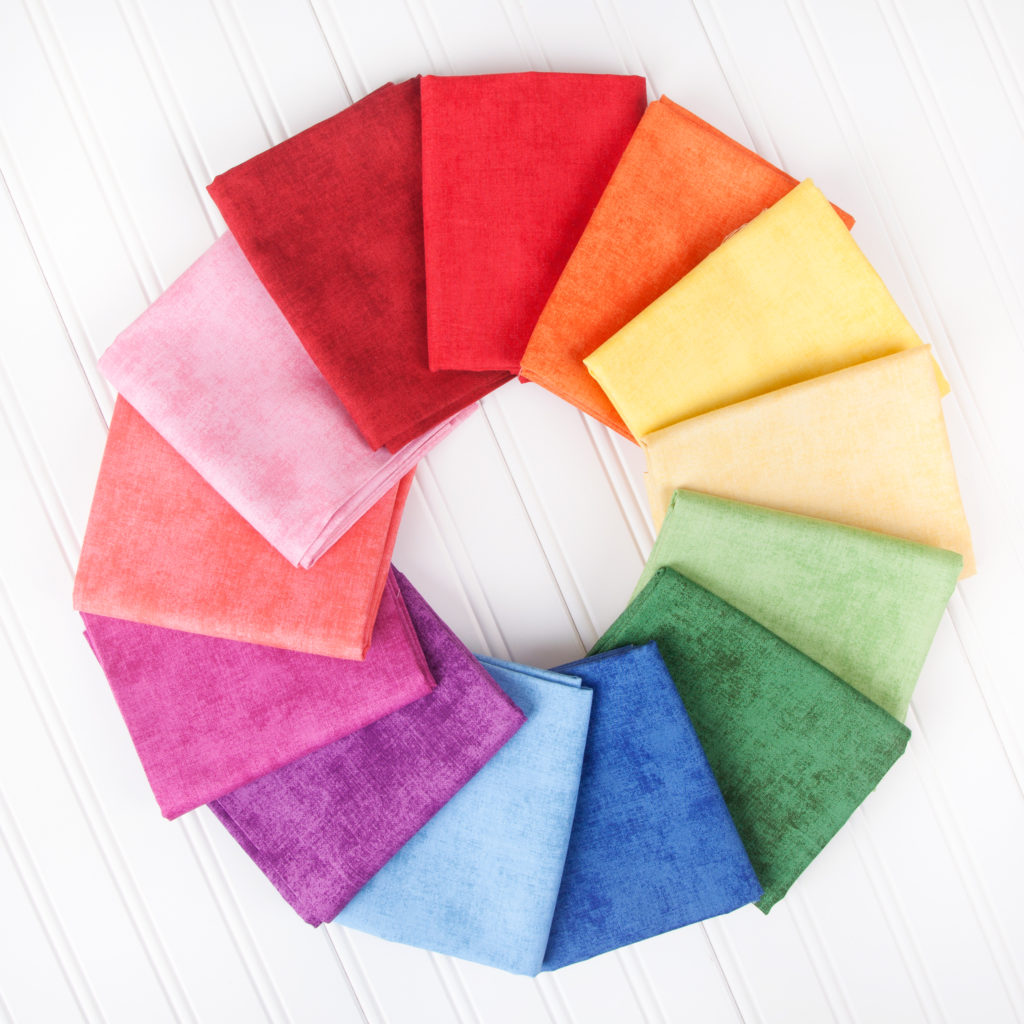 The patchwork blue heart is made up of various blue and purple fabrics from our collection of Riley Blake Shades Basics. We love the texture in Shades — it's exactly what we wanted to contrast with the stark white backdrop of this baby quilt.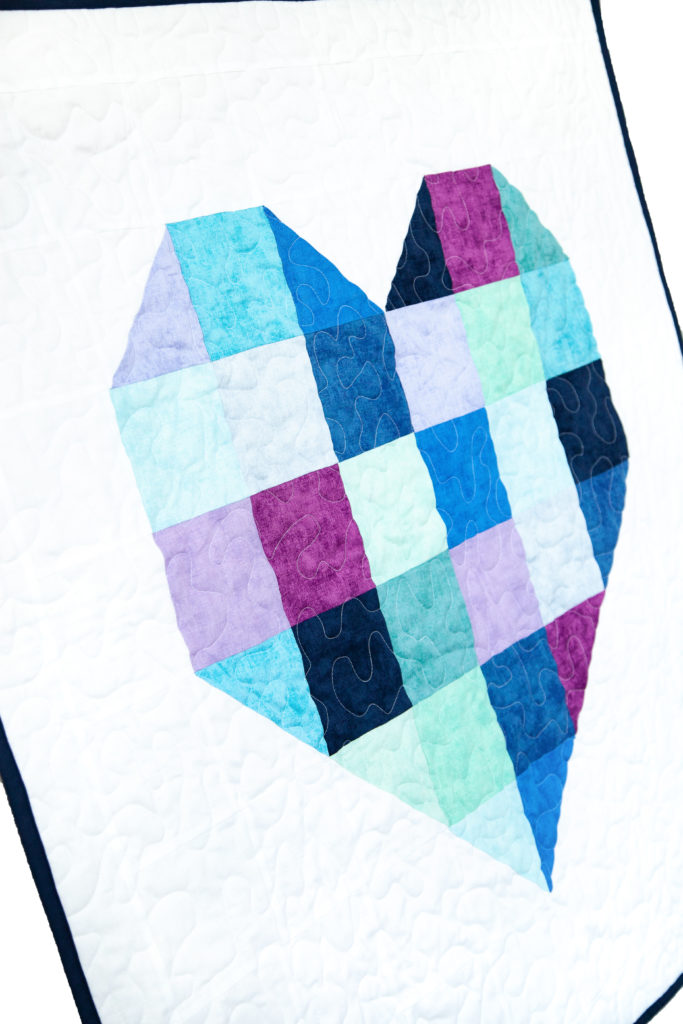 The finished baby quilt measures approximately 40″ x 40″.
To make this quilt you will need:
36 – 5″ White Squares in Riley White
20 – 5″ Squares Riley Blake Shades in a variety of blues and purples
16 – 6″ White Square in Riley White Confetti Cotton
16″ – 6″ Squares Riley Blake Shades in a variety of blues and purples
4 – 2 1/2″ x WOF strips Riley White Confetti Cotton
5 – 2 1/2″ strips Navy Confetti Cotton for binding
quilt batting
fabric for quilt back
Begin by making 16 half square triangles (or HST) using the 6″ white squares paired with the 6″ shades squares. If you aren't familiar with making half square triangles, Fabric.com has a great TUTORIAL. (I used the traditional method shown in their video). Each square will make two half square triangles. You will only need one, so set aside the extra for a future project, or work them into your quilt back to continue the fun, scrappy look.
Trim the HST to 5″ square.
Now it's time to lay out all of your squares! This part is very self explanatory, but here are some basic instructions. Refer to the picture to determine the direction of the half square triangles:
Row 1: Lay out 8 white squares
Row 2: 1 white square, 1 HST, 1 color square, 2 HST, 1 color square, 1 HST, 1 white square.
Row 3: 1 white square, 6 color squares, 1 white square
Row 4: same as Row 3
Row 5: 1 white square, 1 HST, 4 color squares, 1 HST, 1 white square
Row 6: 2 white squares, 1 HST, 2 color squares, 1 HST, 2 white squares
Row 7: 3 white squares, 2 HST, 3 white squares
Row 8: 8 white squares.
Sew the rows together, or divide the quilt into 4 sections — completing each section, then sewing all four sections together, as shown below. Either way works fine.
Press as you go for a nice, crisp finish.
Now it's time to add the border. Without the border, the unfinished quilt top measures about 36″ x 36″. A nice size baby quilt. I like my baby quilts just a little larger to take them into the toddler years, so I opted to add a 2.5″ border around all four sides. (The green line in the image below marks where the border begins.) With the additional white border, the quilt measures about 40″ x 40″.
Add border strips to each side of the quilt. Press. Then add border strips to the top and bottom of the quilt. Press.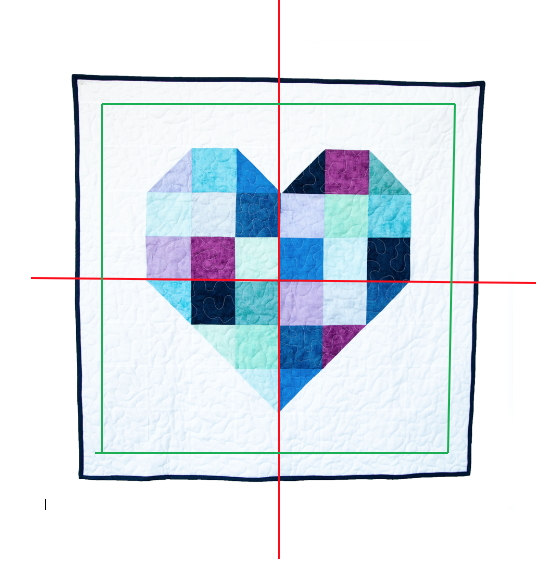 That's it! Now all that is left is to make your quilt sandwich (quilt back + batting + quilt top), baste and quilt! For binding, I opted to use Riley Navy Confetti Cotton to give it a bold frame.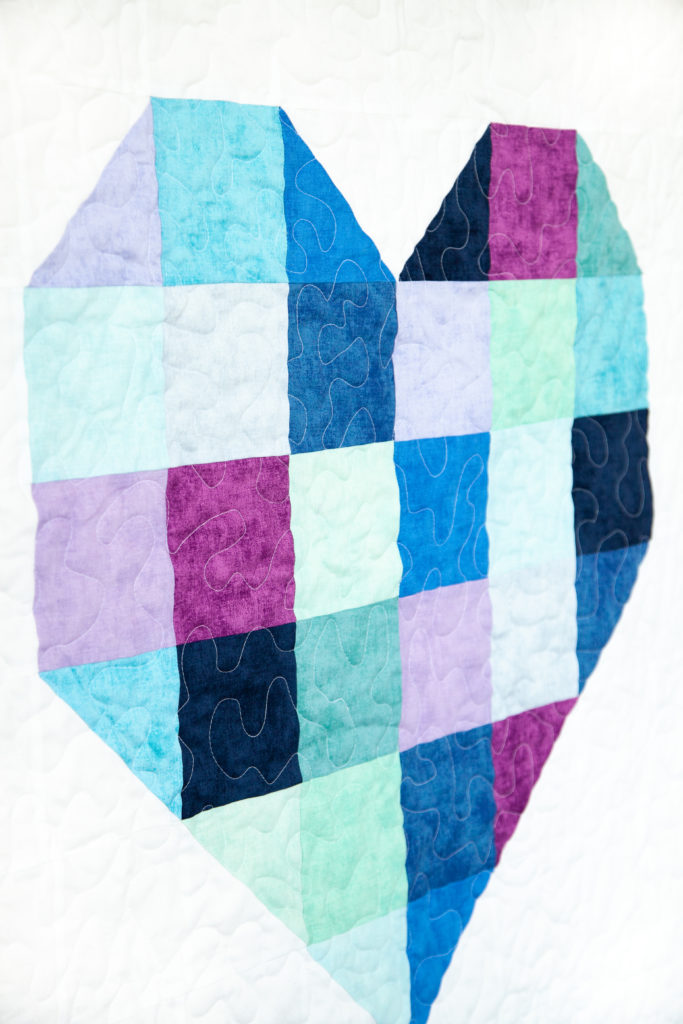 I quilted this on my home machine with an easy large stipple design (I call it scribble). I am totally in love with this design — it's so fast & easy!
You could easily change this up by making the squares larger and turning it into a throw or twin size quilt. A larger version of this would make a fun birthday, Valentine, or wedding gift!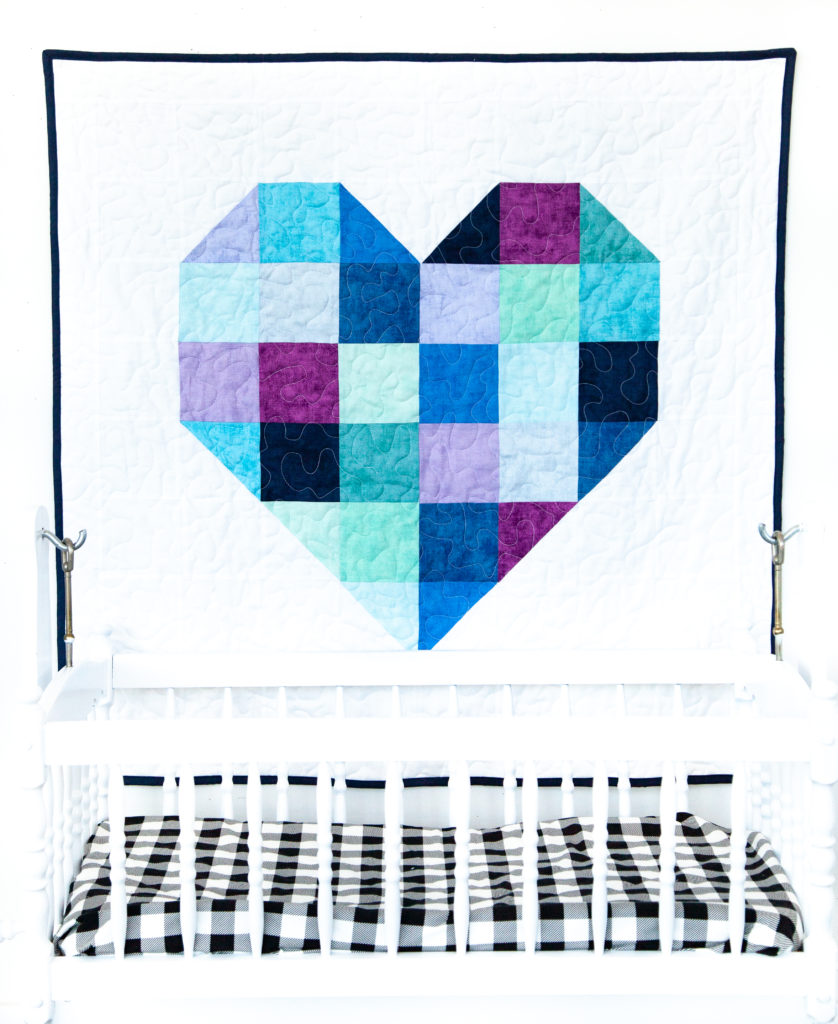 Riley Blake Shades Basics are available now at your favorite local and online quilt shops. Pick up yours today and share your makes with us on Instagram using #rbdbasics, #shadesfabrics, #rileyblakedesigns, #iloverileyblake, and tag us @rileyblakedesigns.
Happy Quilting!