Are you ready for a sneak peek? Today we're previewing Adel in Autumn designed by Sandy Gervais.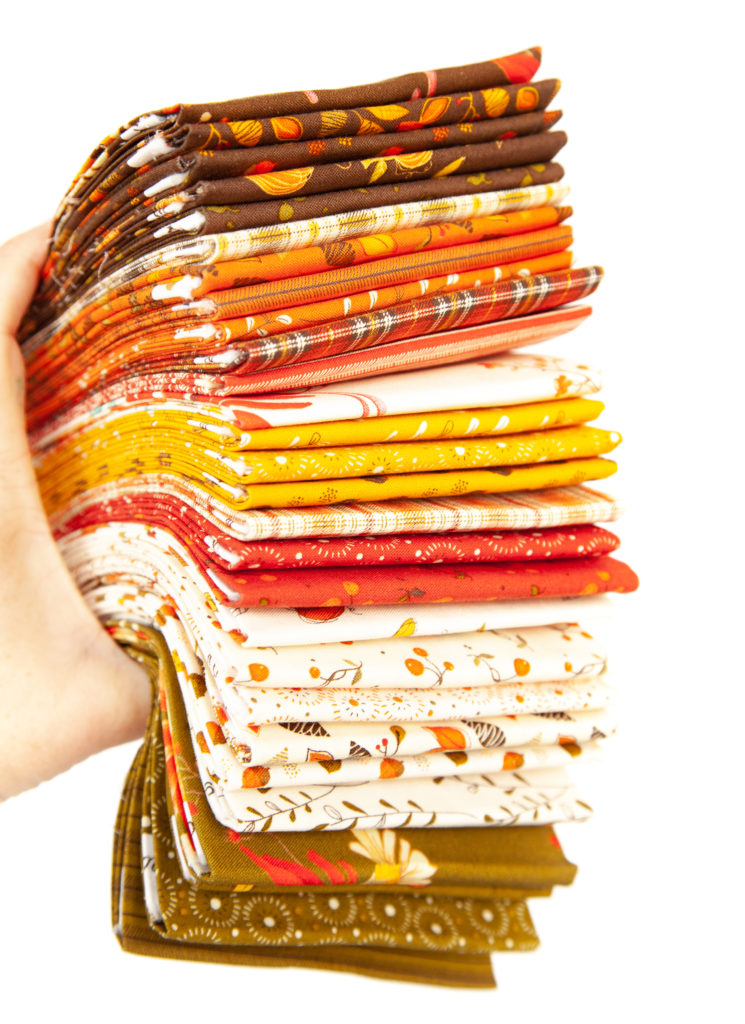 Adel in Autumn, by Sandy Gervais, will have you craving pumpkin spice any time of year! Sandy's collection is brimming with images of fall: leaves, acorns, pumpkins, berries and cozy plaids and stripes.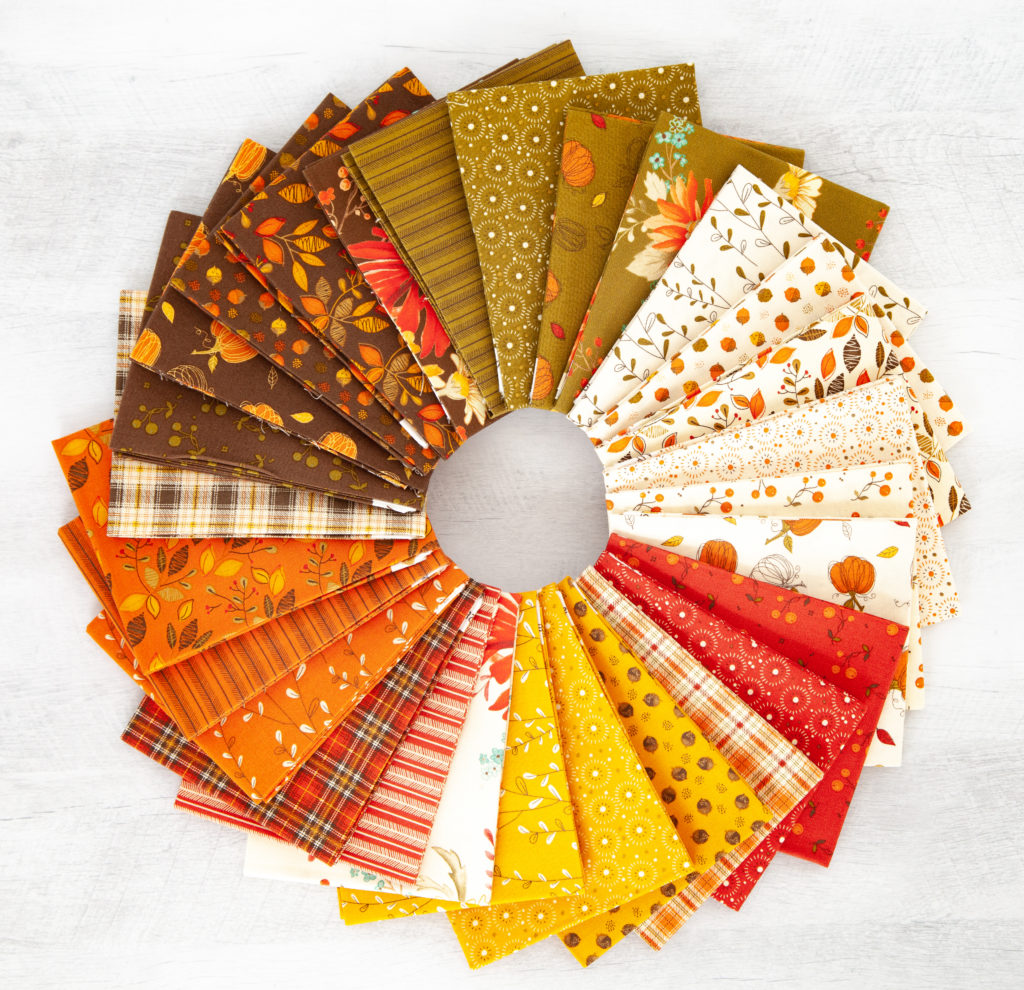 The toasty fall color palette of Chocolate, Olive, Cream, Orange, Gold, and Persimmon will bring the beautiful outdoors in, and allow those breathtaking changing colors linger in your decor throughout the season.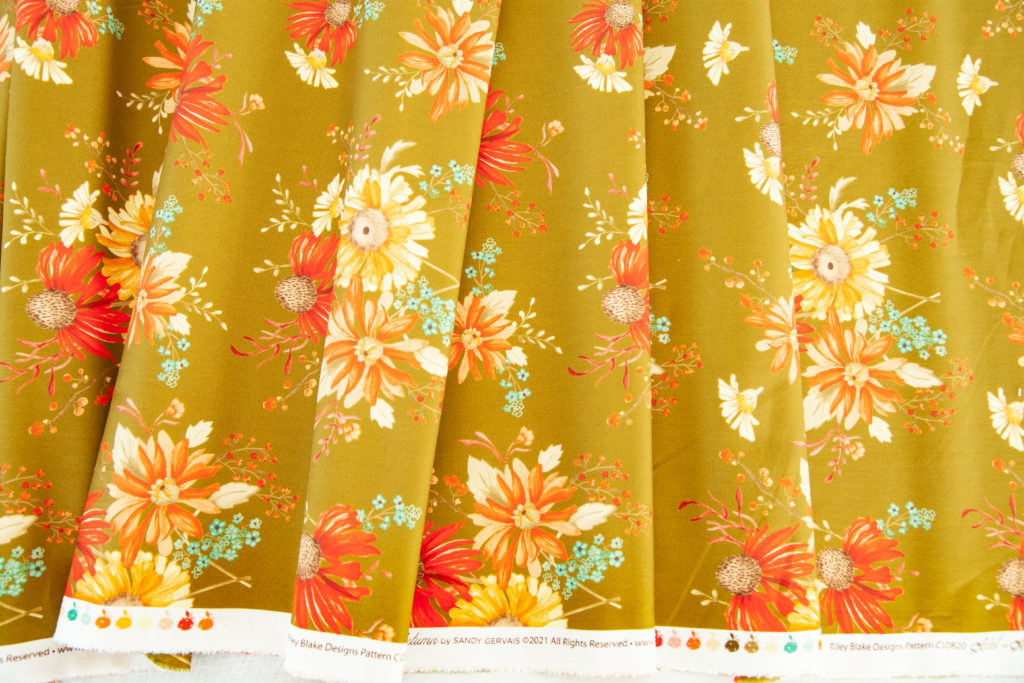 Take a look at the stunning Main floral print. We are in LOVE with these blooms and stems that show evidence of thinning petals and leaves as the plants ready themselves for winter. The Main floral print will be available in Olive (seen here), Cream and Chocolate.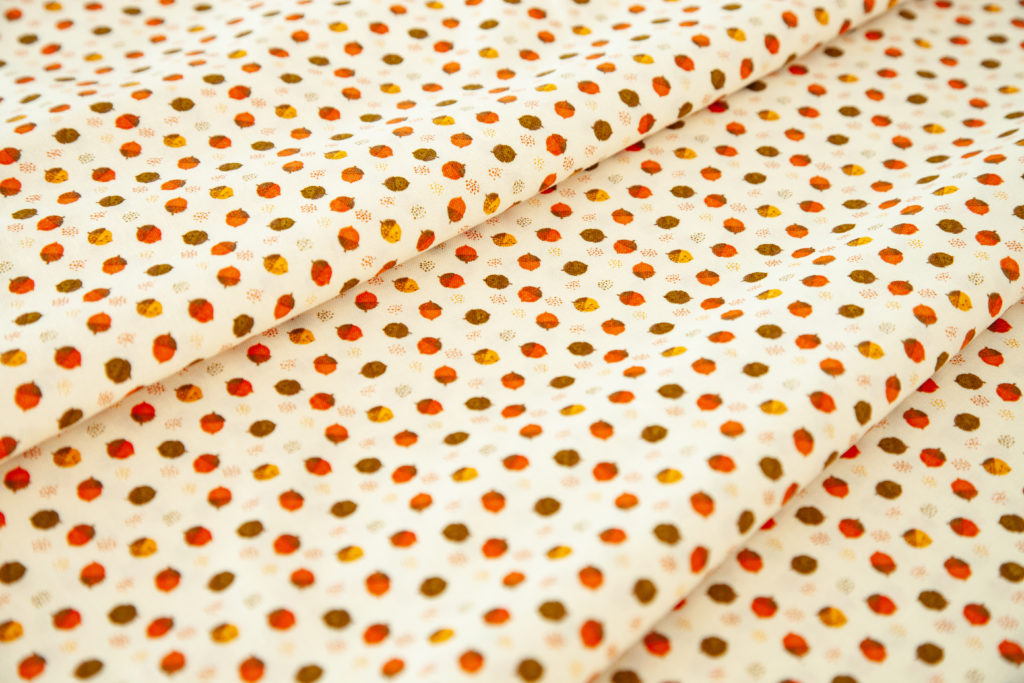 The Acorns print is a fun spin on the traditional dot. The Acorn print will be available in Cream and Chocolate, both of which feature the multi-colored acorns seen here, while the third color option, Gold, features only the brown acorns on the gold backdrop.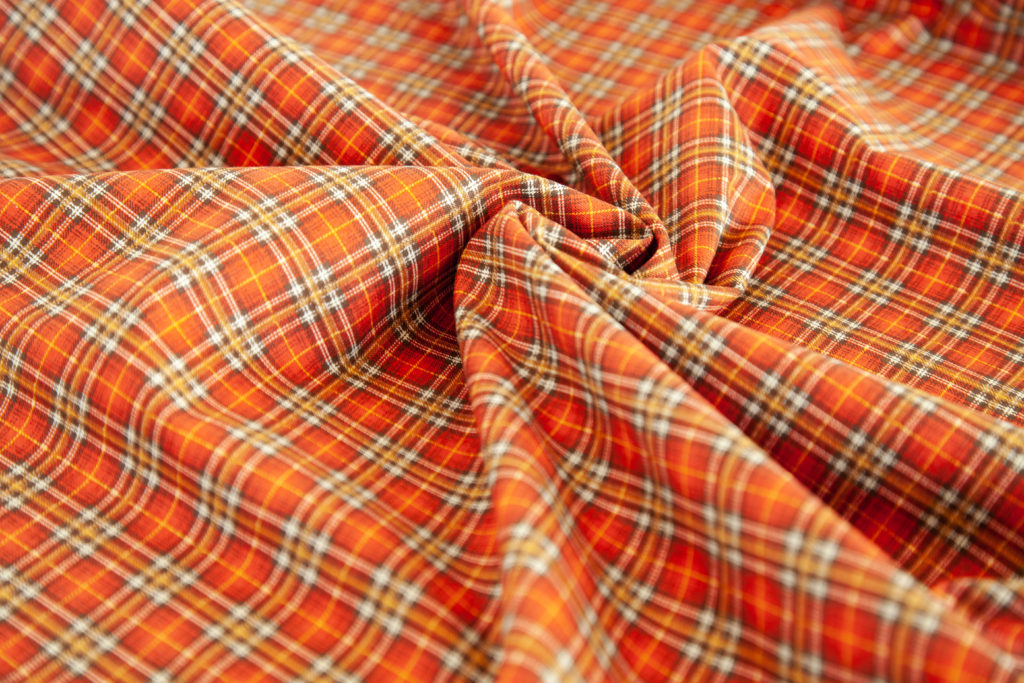 We are totally smitten with the plaids in the Adel in Autumn collection! The plaids have a surprisingly textural feel to them, and the orange, gold, brown, and olive colors give these plaids a fun retro vibe.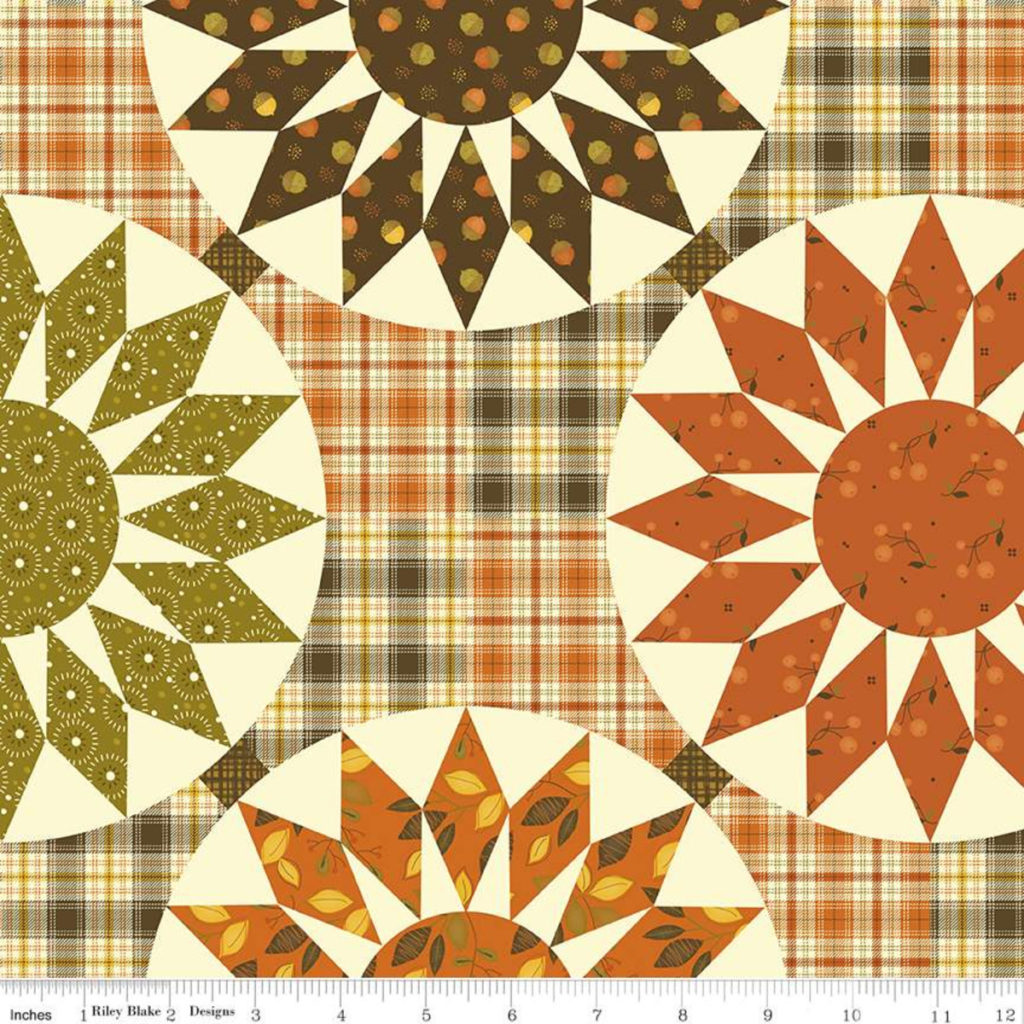 Another must-see print in this collection is the fabulous Cheater Panel. The bold, flower shaped medallions look as if they have been meticulously paper pieced. Quilt this as-is for an easy whole cloth quilt, or add some borders and you have something that looks as if it took months to put together!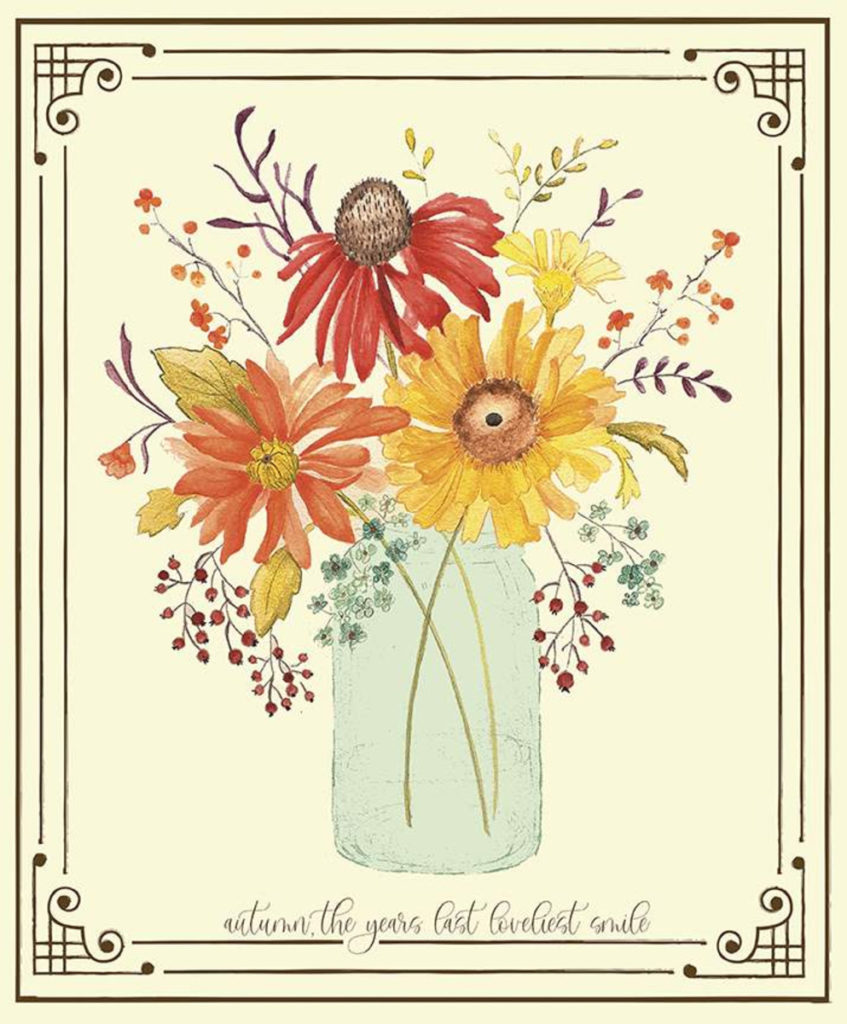 If you love panel quilts, you'll adore this Adel in Autumn fabric panel. Sandy's beautiful artistry shines in this panel as the larger than life blooms take center stage. The text at the bottom reads: "Autumn, the years last loveliest smile." Love this so much! The panel measures 36″ x WOF.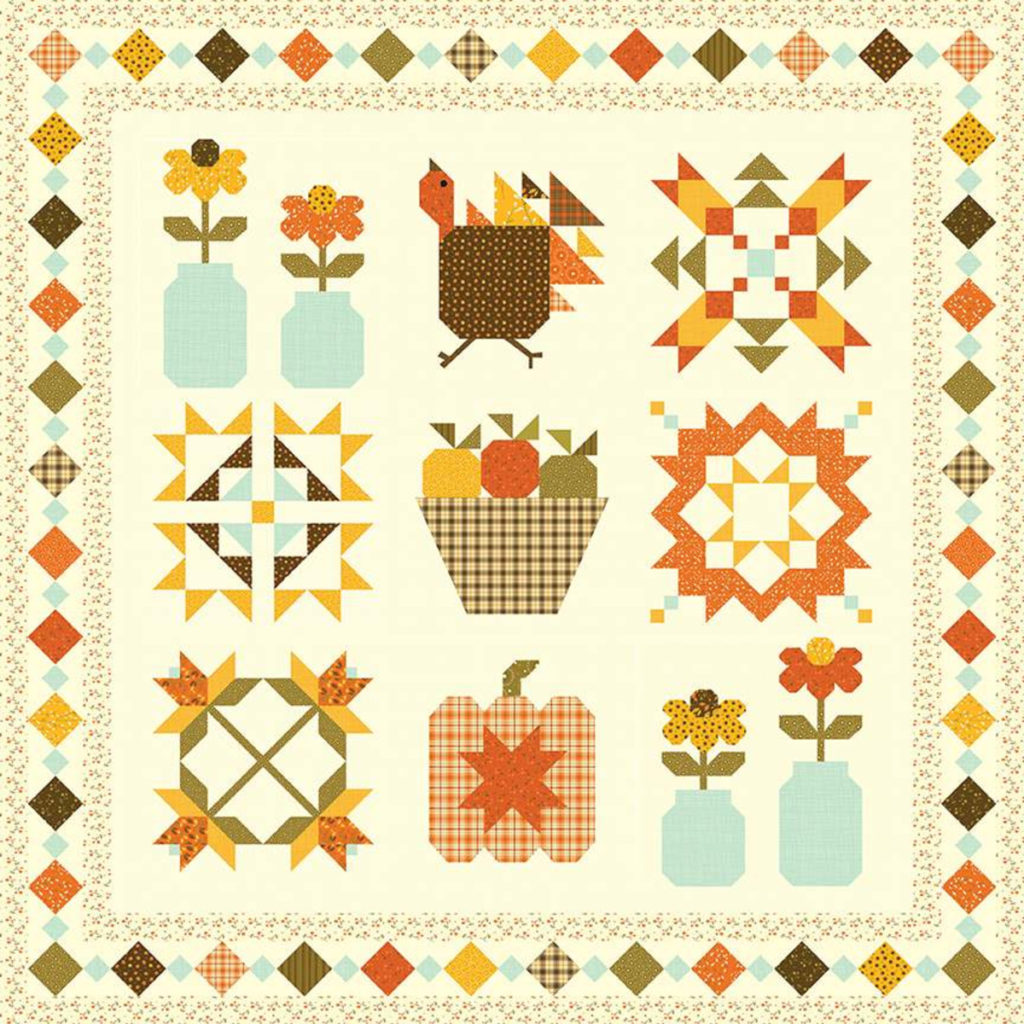 Need project ideas? How about this Fall Gatherings Sampler Quilt designed by Sandy Gervais? Each unique block provides fun way to grow your skills and create something beautiful! Quilt measures 74″ x 74″.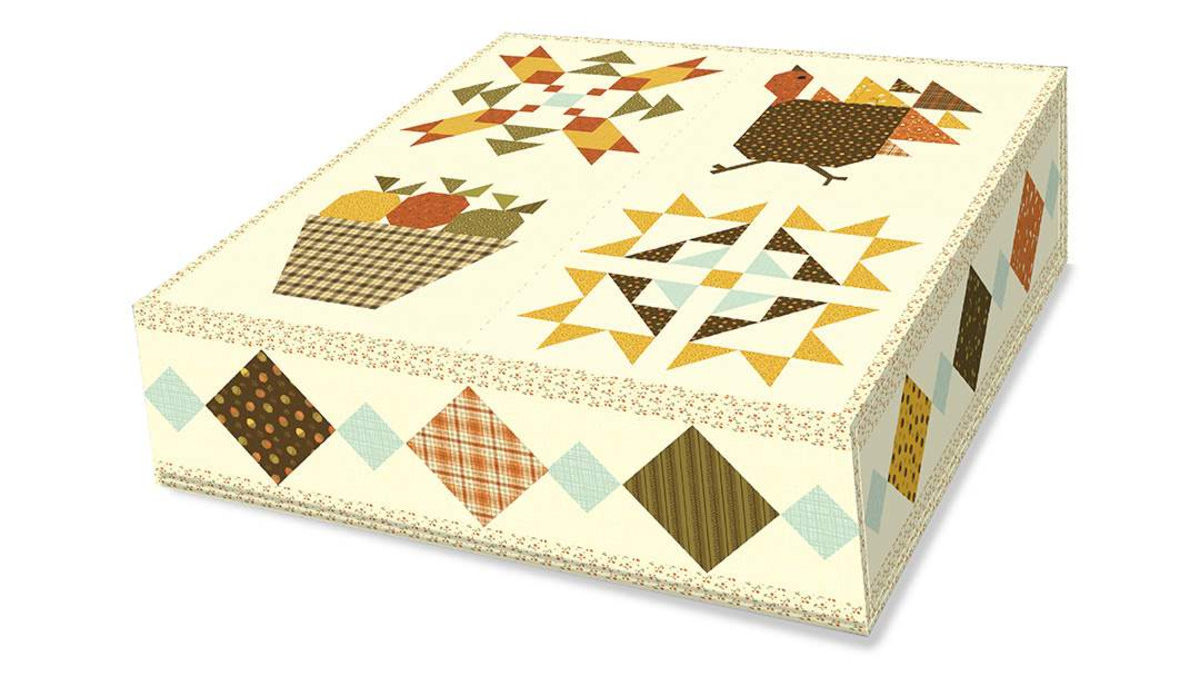 The great news is that the Fall Gathering Sampler Quilt will come to you in a boxed kit which includes fabric for the quilt top and binding. The box itself is a beautiful keepsake, and can be used to store your project in progress. When you're done, use it for decorative storage, or use it as a lovely gift box! The box measures 11″ x 11″ x 4″. The Fall Gathering Sampler Quilt Kit will be arriving in stores in August.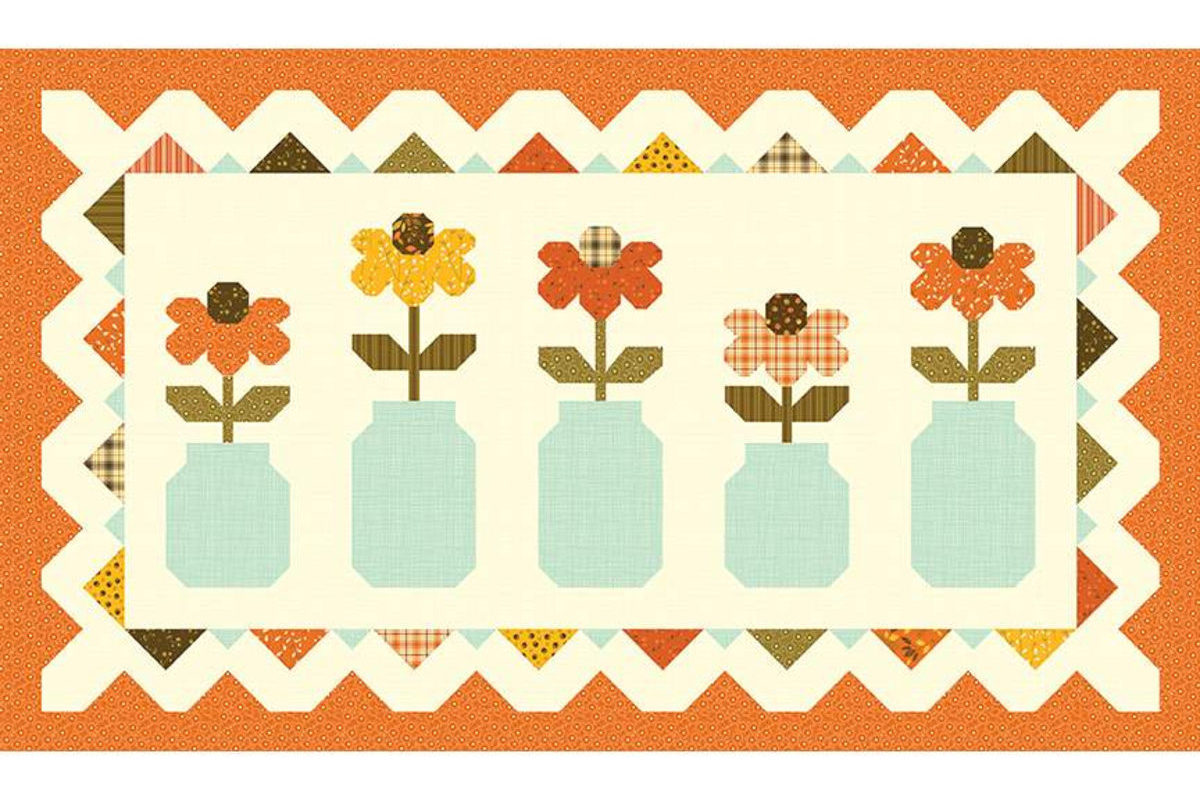 If you're looking for a smaller project, this Fruit Jar Autumn Runner, also designed by Sandy Gervais, might be just the ticket! Charming canning jars turned into flower vases showcase all of the amazing prints in this fabric line. The finished runner measures 32″ x 56″.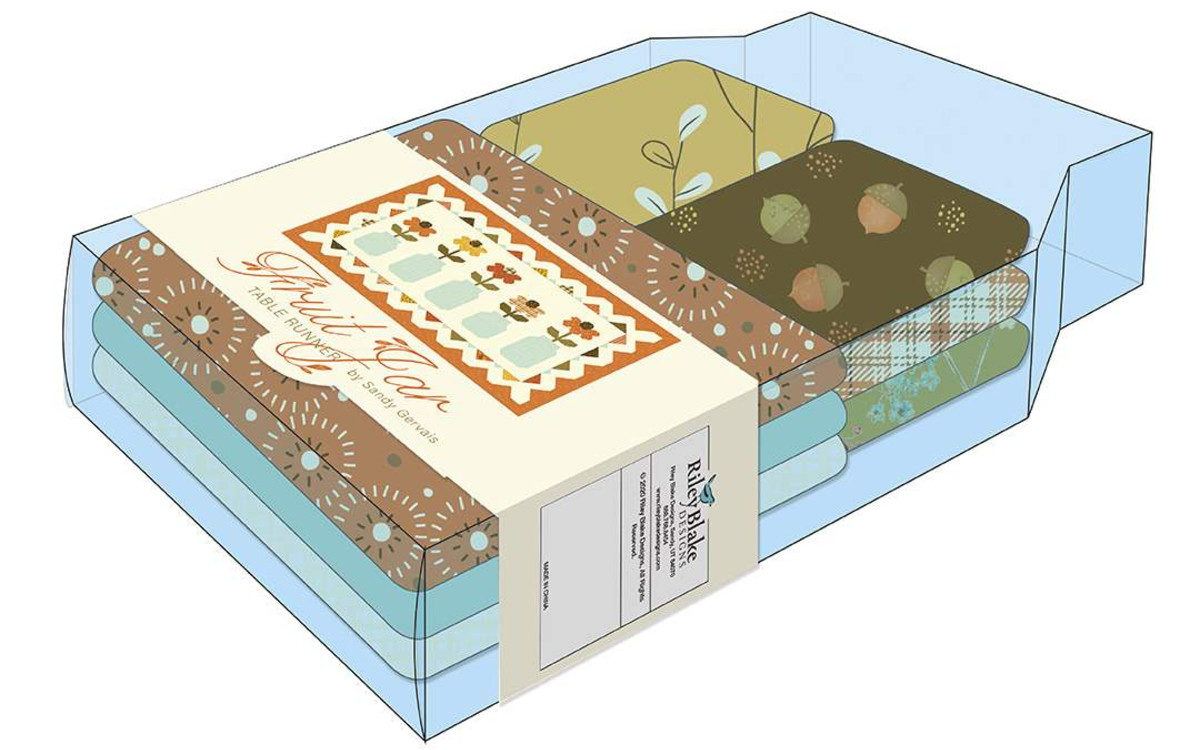 The Fruit Jar Autumn Runner will also come in a kit. This sturdy plastic case looks like a canning jar filled with fabric. Fun! The Fruit Jar Autumn Runner is expected to arrive in stores in August.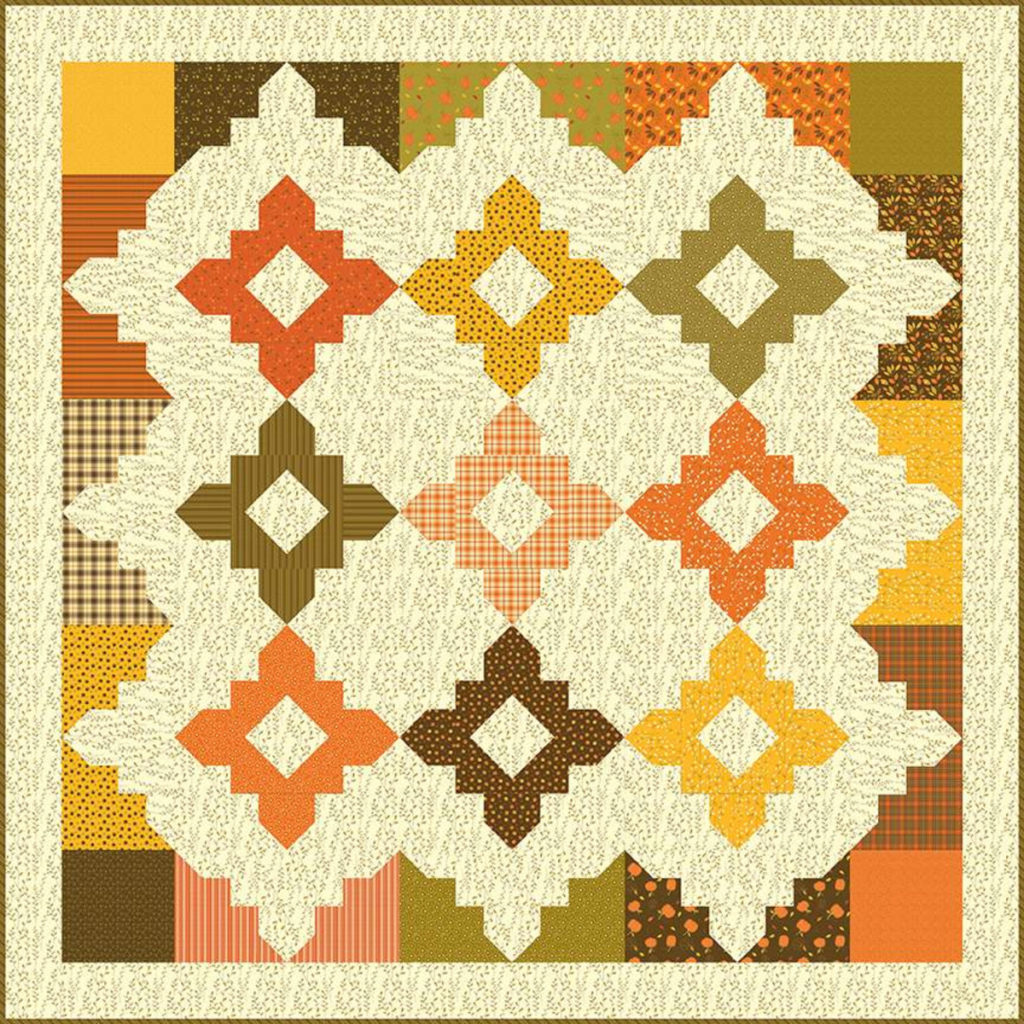 Finally, Sandy designed this more modern "Loveliness Quilt" pattern. We love the bold geometric shapes paired with the earthy warm colors. The Loveliness Quilt Pattern is coming soon!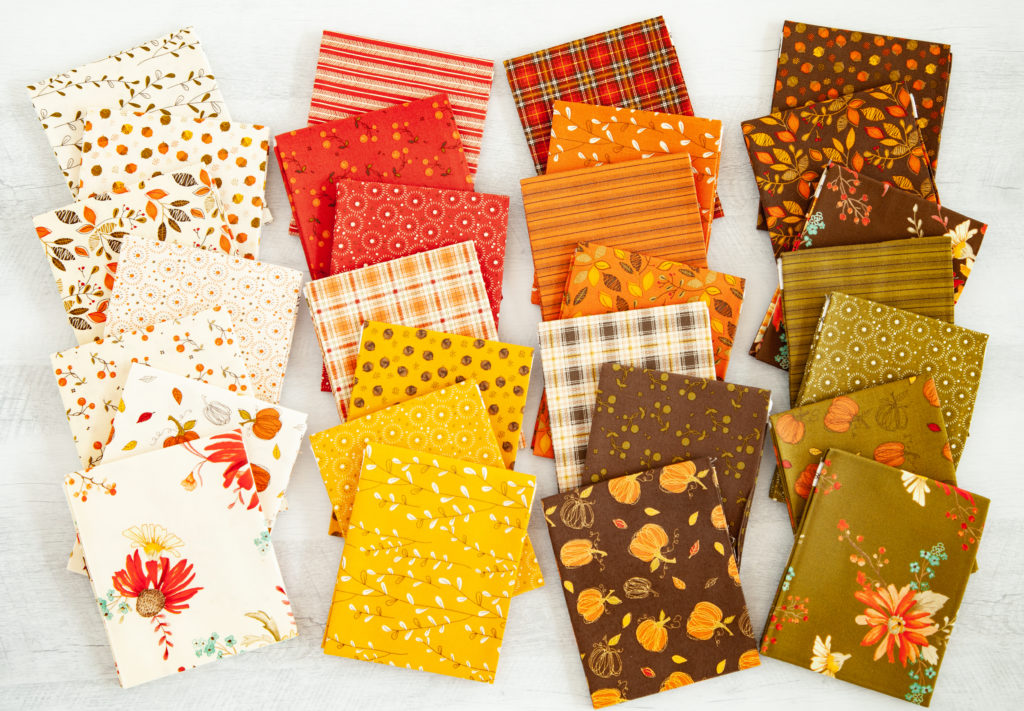 We can't wait to start creating with Adel in Autumn! We're dreaming up quilts, aprons, pillows, table toppers and more. What will you make with Adel in Autumn?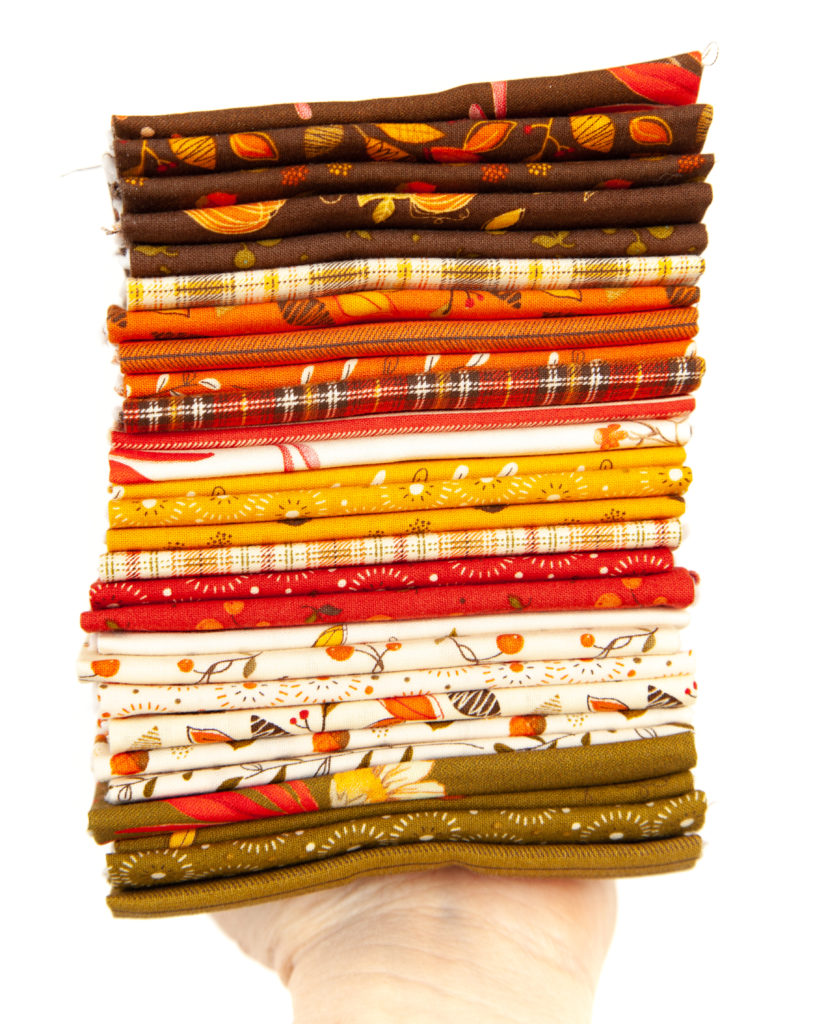 Adel in Autumn, designed by Sandy Gervais, is expected to arrive on the shelves of your favorite local and online quilt shops in July. Pre-order yours today to get your hands on one of these gorgeous bundles, and share your makes with us on Instagram using #adelinautumnfabric, #rileyblakedesigns, #iloverileyblake, and tag us @rileyblakedesigns.