Meet Barn Quilts, the newest collection by Tara Reed is arriving in August and we can't wait!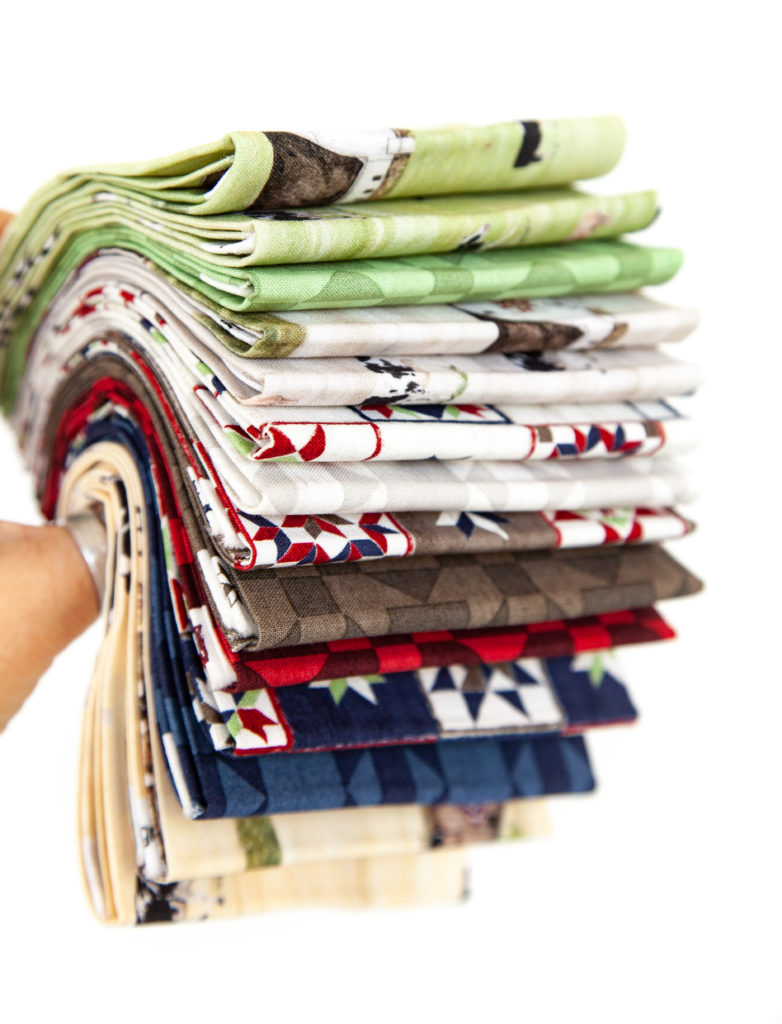 We asked Tara about the inspiration behind Barn Quilts. She said: "I didn't grow up on a farm or even in the country but I had an early affinity for barns. My dad was a college professor and an avid reader. I have many memories of trips to Baldwin's Book Barn – a used bookstore housed in the most amazing dairy barn near our home in West Chester, PA. Built in 1822, this 5 story barn had so many nooks and crannies, odd staircases and interesting doors to explore! My love of barns began with books – an unusual combination I know, but one that has me fascinated with the sizes, shapes and stories of barns to this day."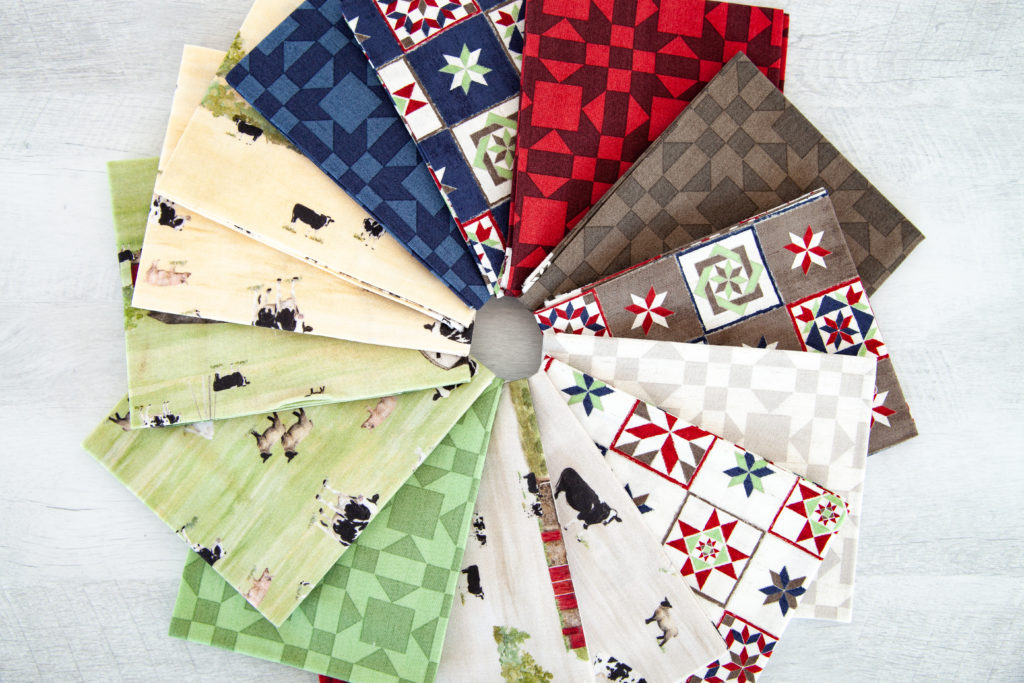 What an unexpected story and tribute to childhood wonder and curiosity! We love how Tara turned that childhood wonder into beautiful fabric line, full of artistry and charm. For this collection, Tara curated a warm, yet fresh palette of blue, red, parchment, green and yellow. Beautiful!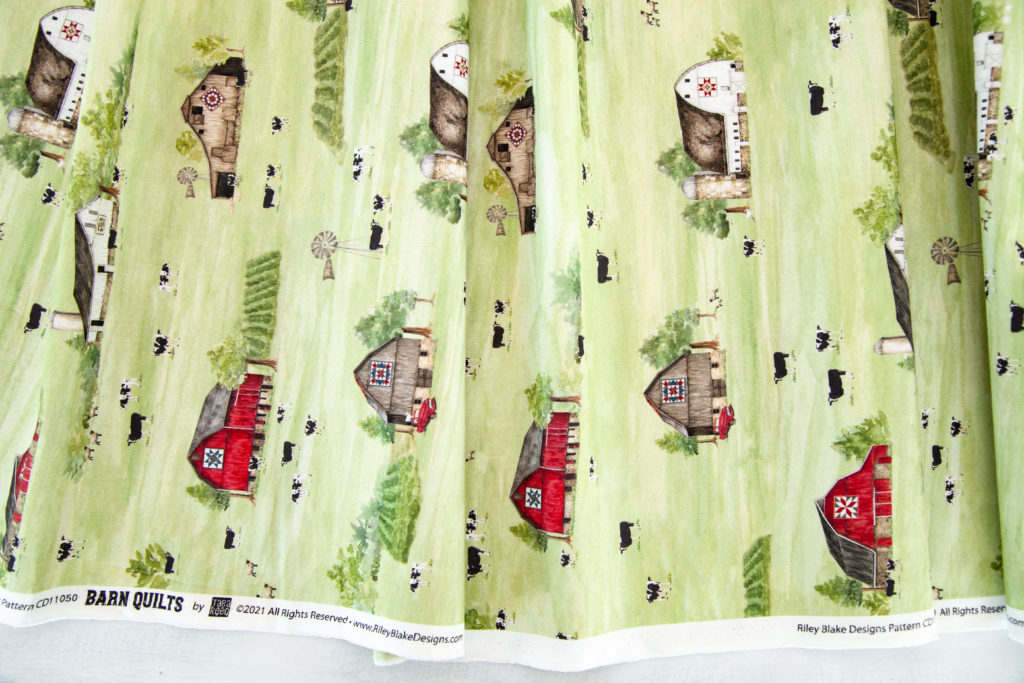 Take a look at the Main Print, which features an idyllic scene of barns, pastures, windmills, rows of crops, and tiny black and white cows. You can almost feel a warm breeze drifting by and hear cows calling for their calfs in the distance. Just lovely! The Main print will be available in Green (seen here), Parchment, and Wheat.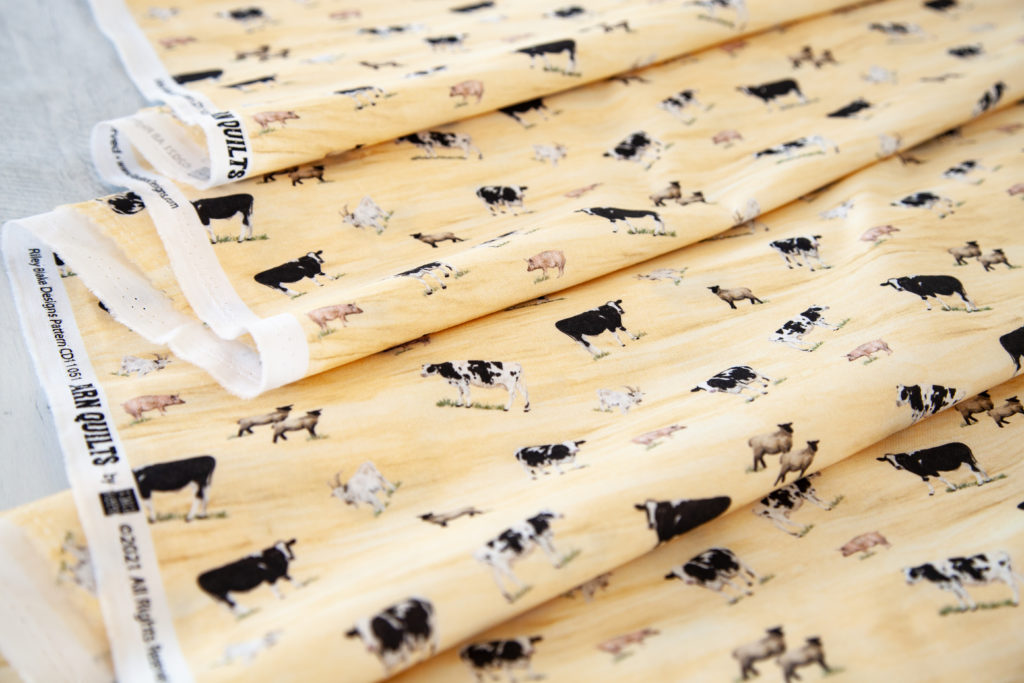 We absolutely adore this Animals print with its cows, sheep, goats, and pigs. What a great accent print for quilts and other projects! Animals will be available in Wheat (seen here), Green, and Parchment.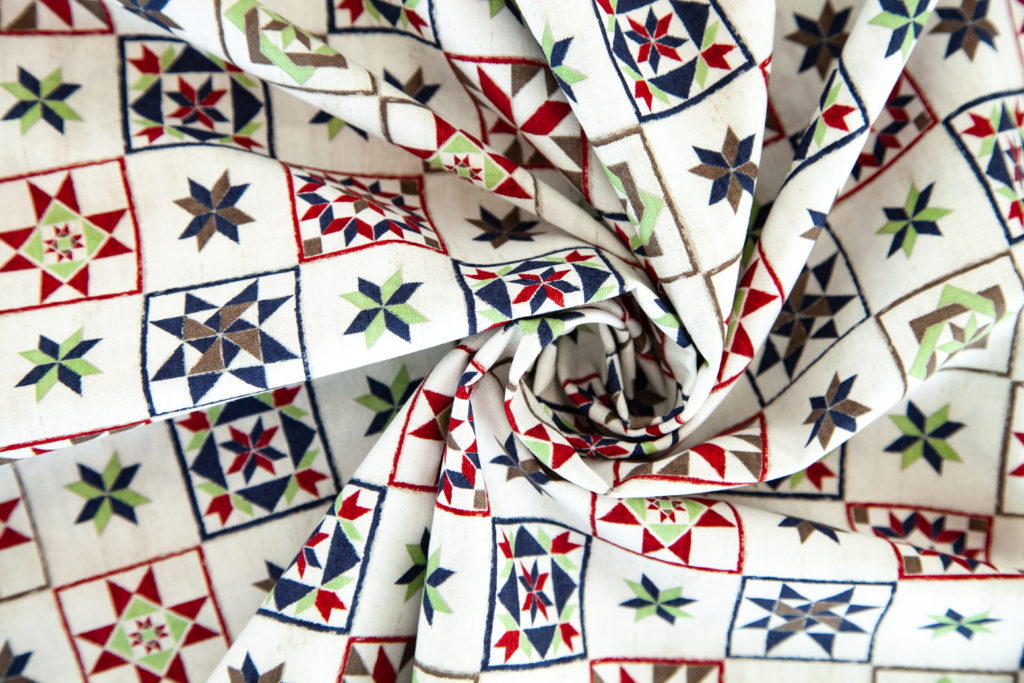 One of our absolute favorites is the Patchwork print. Tara created these teeny tiny classic quilt blocks, often seen painted on barns around the American countryside, and she put them altogether in what looks like a miniature patchwork quilt. Brilliant! Patchwork will be available in Parchment (seen here), Blue, and Brown.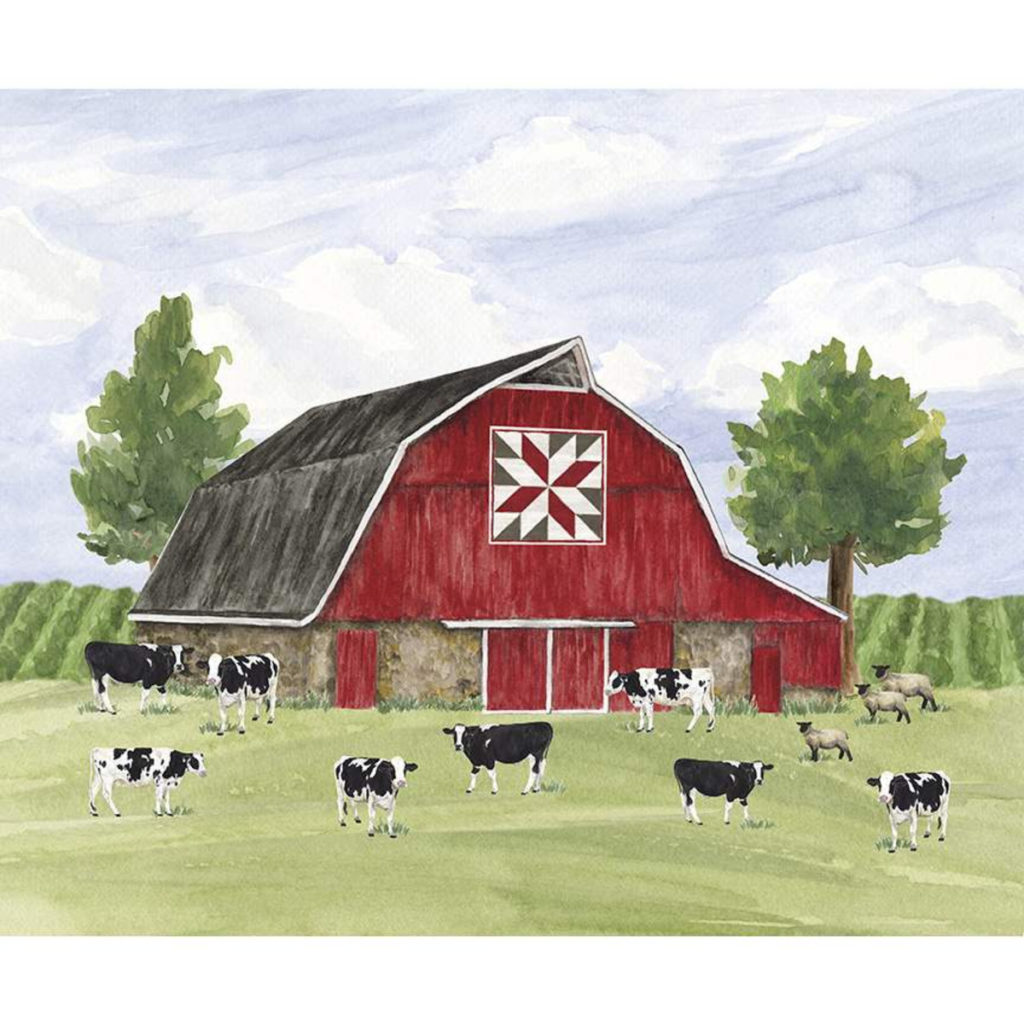 Barn quilts also features two gorgeous fabric panels. This Big Red Barn Panel measures 36″ x WOF. You can see Tara's artistry in the details and charm of this panel. Such a peaceful scene!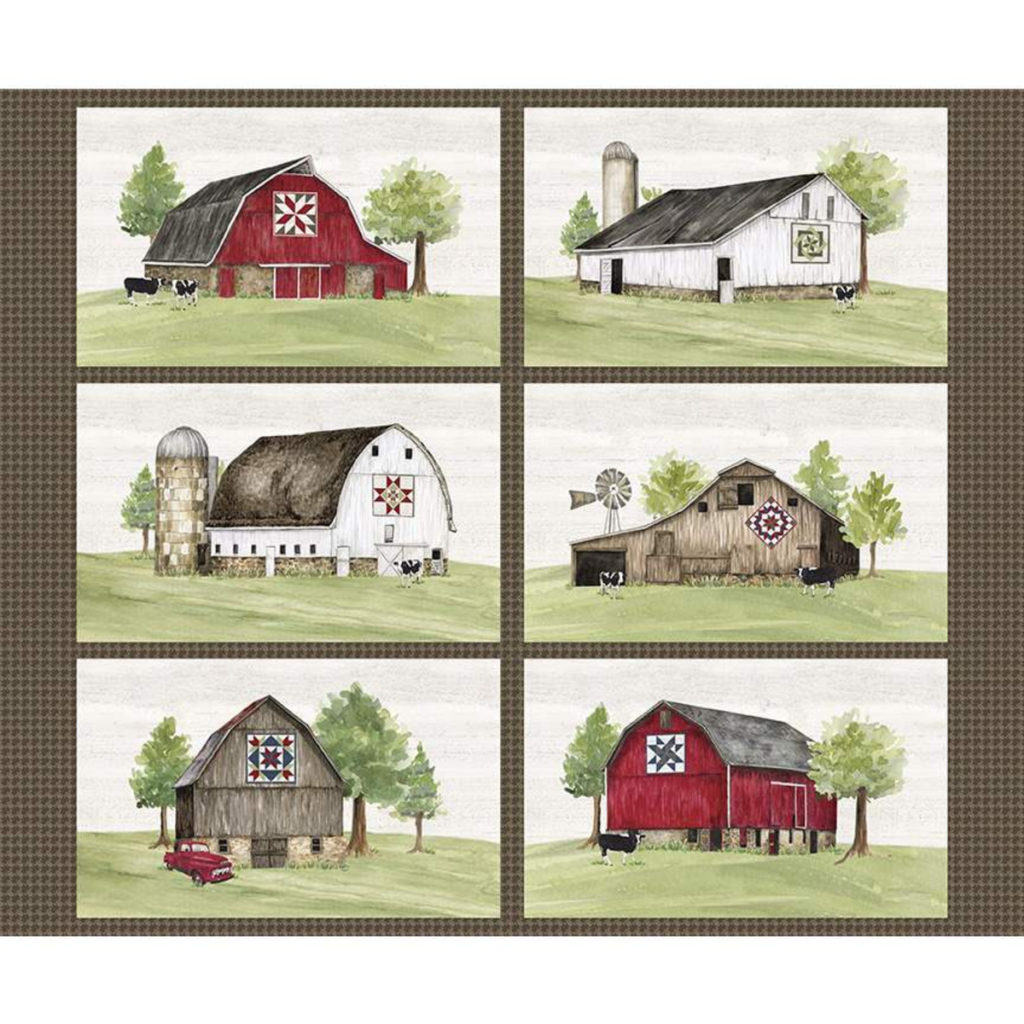 Tara also created this 36″ x WOF Barn Placemat Panel. Add instant charm to your decor by sewing each rectangle into quick and easy placemats. Fun!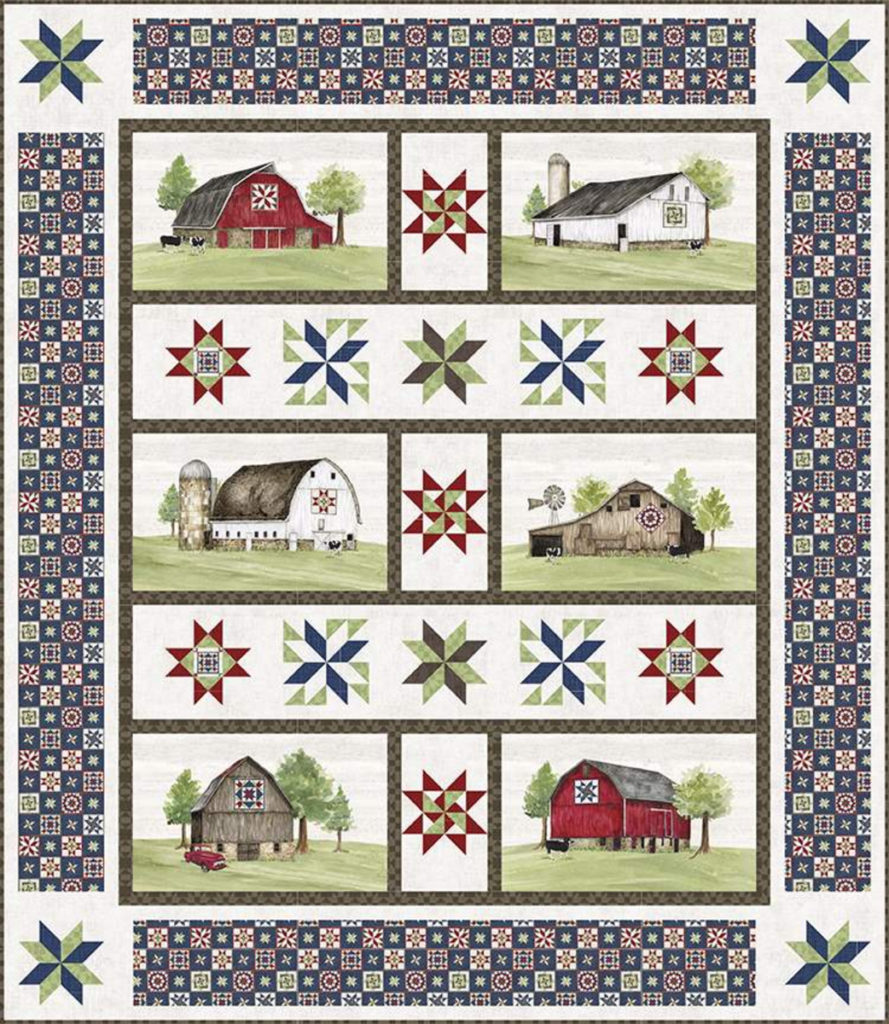 Need project inspiration? Look no further! The Quilt Trail Boxed Quilt Kit has everything you need to make this amazing quilt top and binding. The finished quilt measures 61 1/2″ x 71″.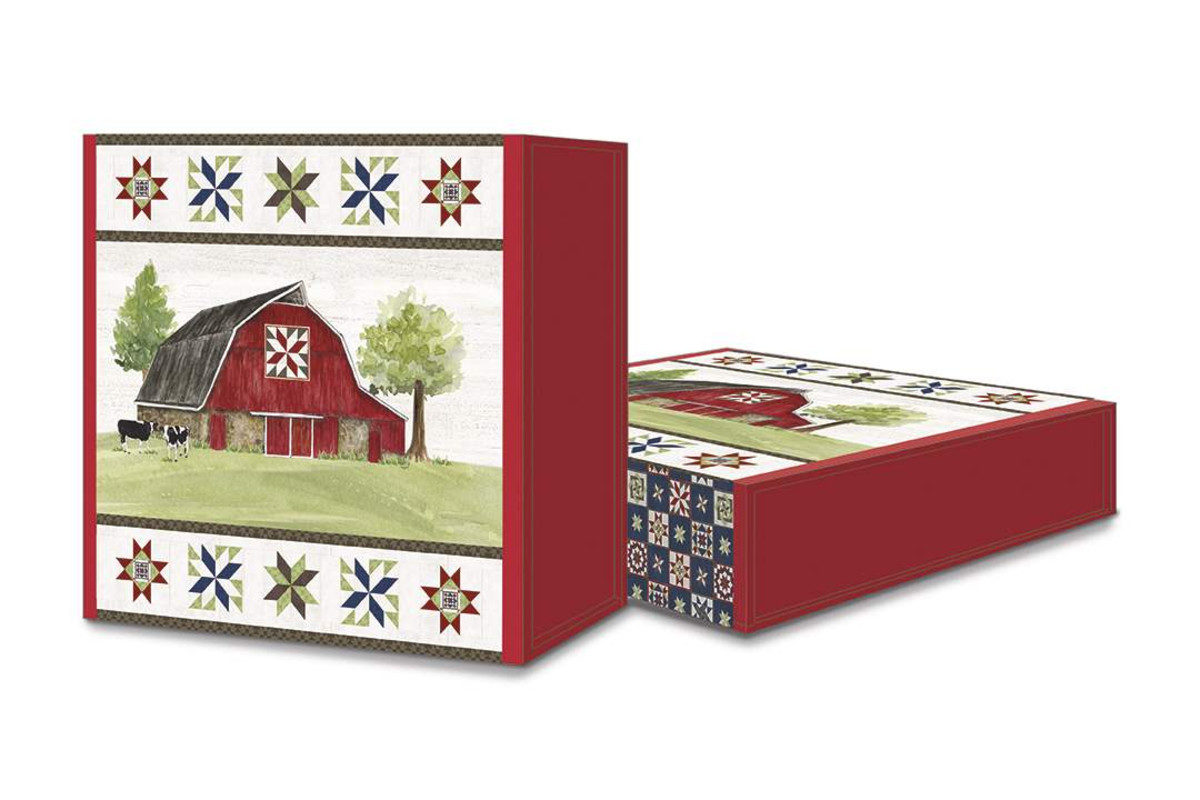 The quilt kit will arrive in this sturdy matching keepsake box, perfect for storing your work in progress. The box features the same barn seen throughout the fabric line, along with various quilt blocks. The Quilt Trail Boxed Quilt Kit is expected to arrive in stores in September.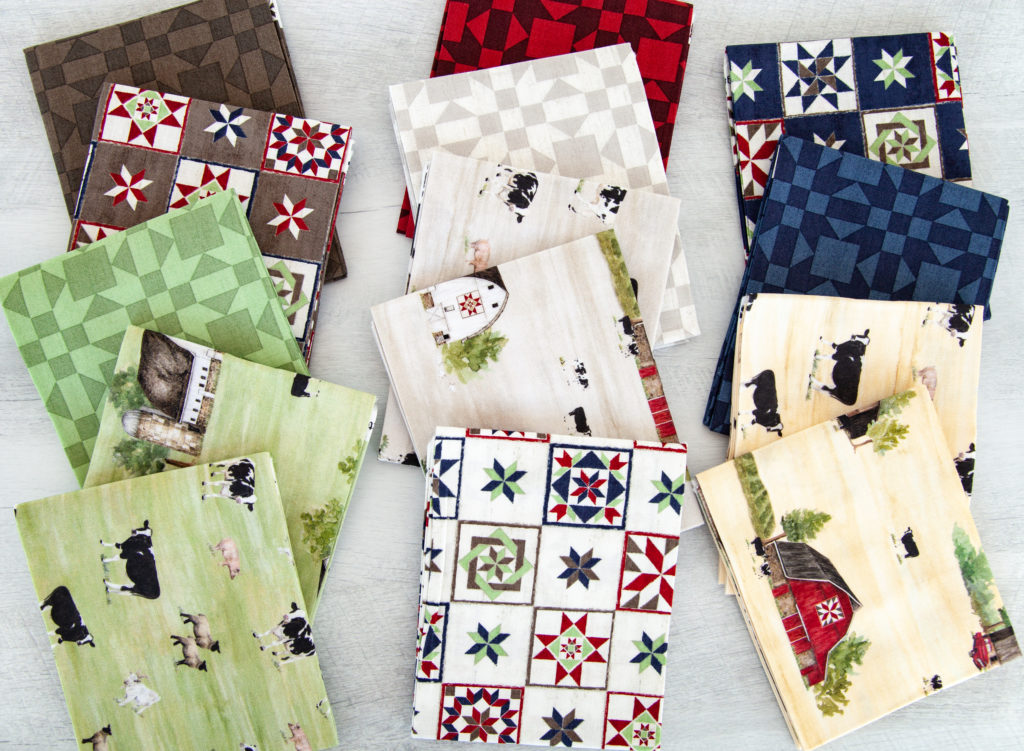 We can't wait to start creating with Barn Quilts! We're dreaming up quilts, table runners, placemats, aprons, and more! What will you make with Barn Quilts?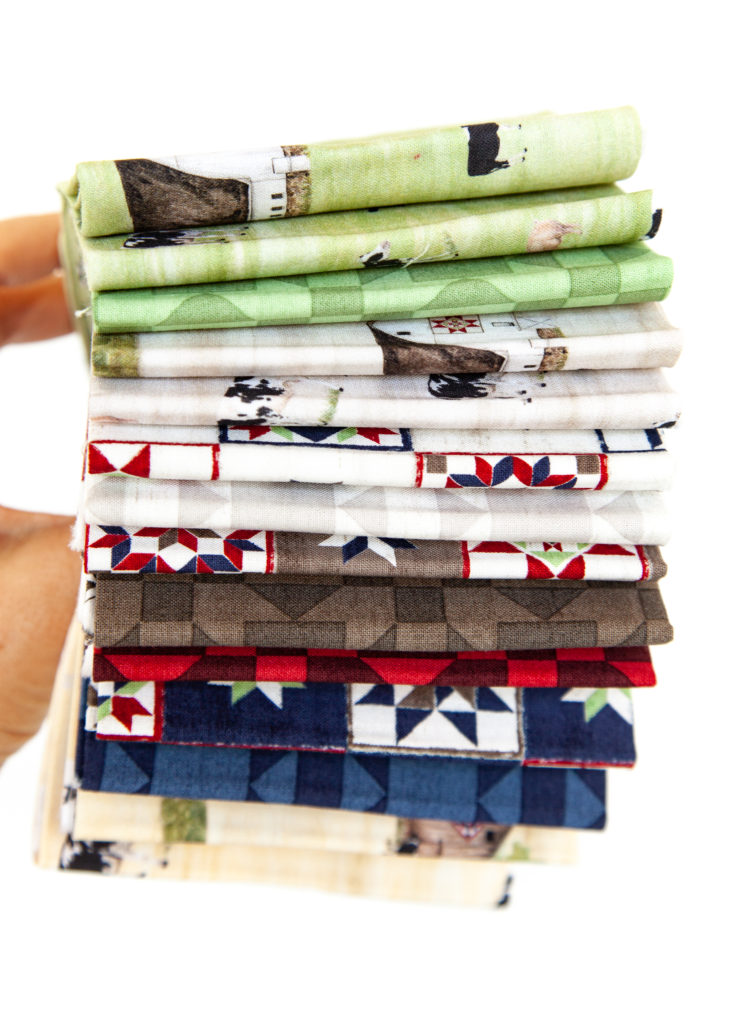 Barn Quilts, designed by Tara Reed, is expected to arrive on the shelves of your favorite local and online quilt shops in August. Pre-order yours today to get reserve one of these gorgeous bundles, and share your makes with us on Instagram using #barnquiltsfabric, #rileyblakedesigns, #iloverileyblake, and tag us @rileyblakedesigns.