It's time for another sneak peek, and today we're excited to preview the Petals & Pedals collection designed by Jill Finley of Jillily Studio!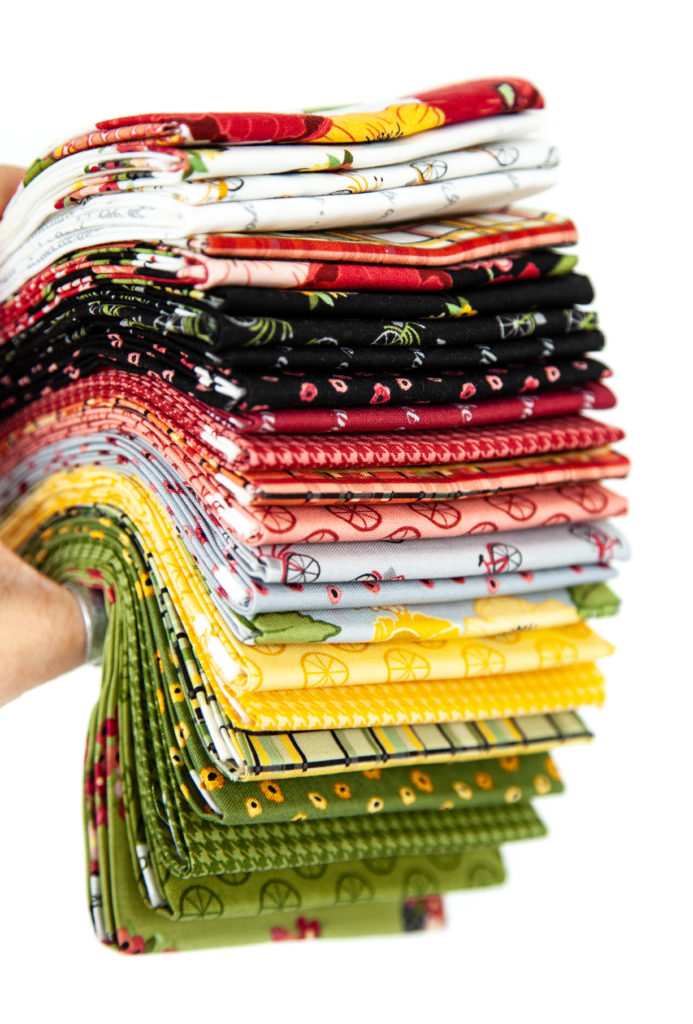 We asked Jill about the inspiration behind her collection. Here's what she said: "Not far from my home is a beautiful natural park with lots of biking and hiking trails. Locals know it as the site of a delightful tradition "Going to the Poppies." This park is the site of an old historic stone home which was built by some of the early founders here. Only a few of the stone walls of the house remain, but these pioneers left something else for us to enjoy, more than 100 years later — a field full of poppies!
Every year, the beautiful flowers that were started so long ago re-bloom. Bright red poppies and yellow roses scatter across the landscape among oaks, maples, and sagebrush. Every day I would see happy bikers pedaling up and down the bumpy dirt trails to visit the poppies. Happy pedaling — and I hope you can find some poppies along the way!"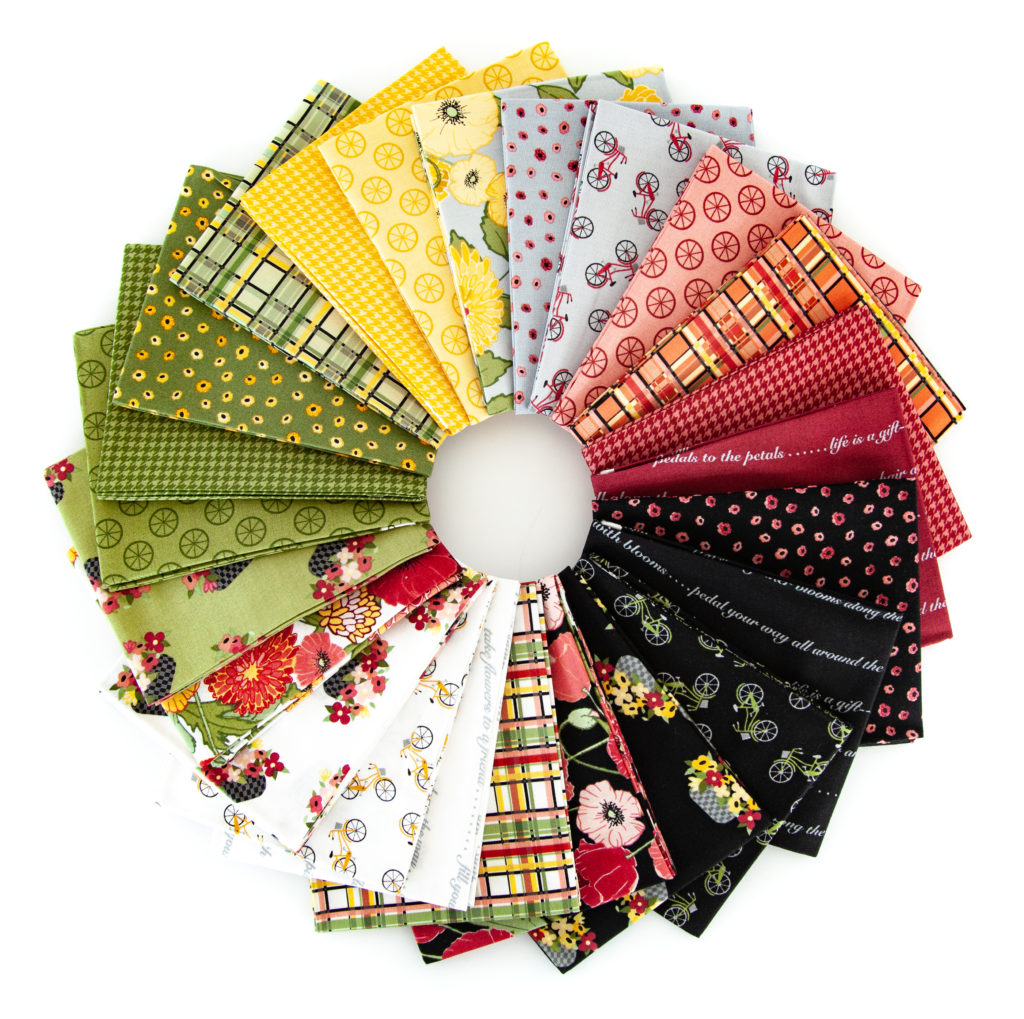 What a lovely description giving the perfect backdrop for this beautiful fabric line! Jill curated a rich yet cheerful color palette of red, gray, black, coral, yellow, and green, bringing life to flowers, fun, and tradition.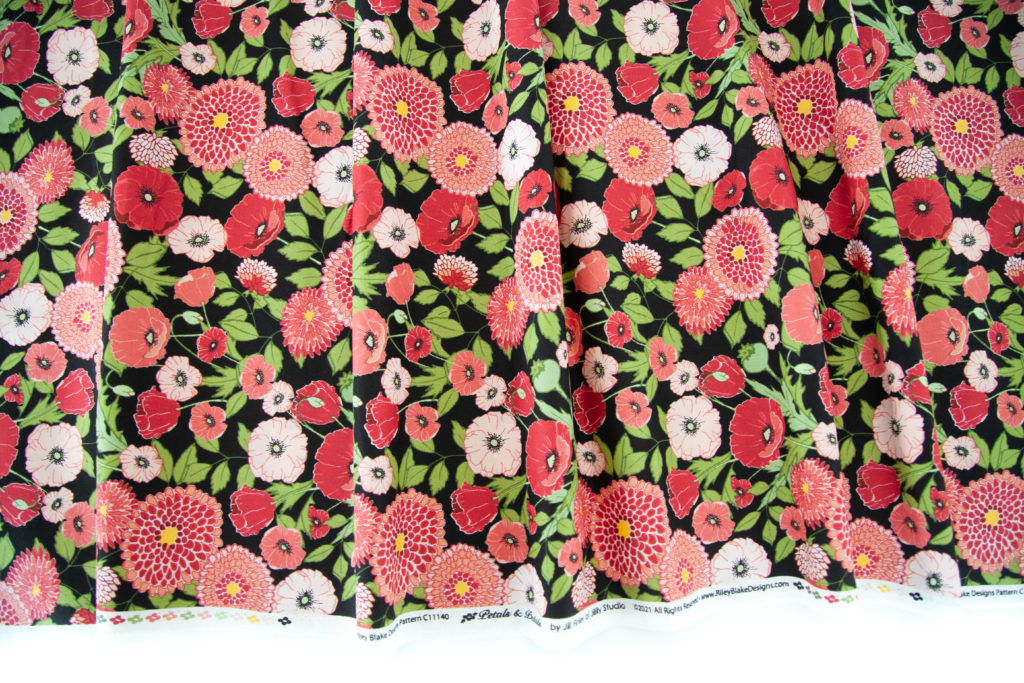 Take a closer look at the Main print. These poppies and flowers are bursting with color and the energy that comes with the promise of warm weather. Gorgeous! The Petals & Pedals Main print will be available in Black (seen here), Gray, and White.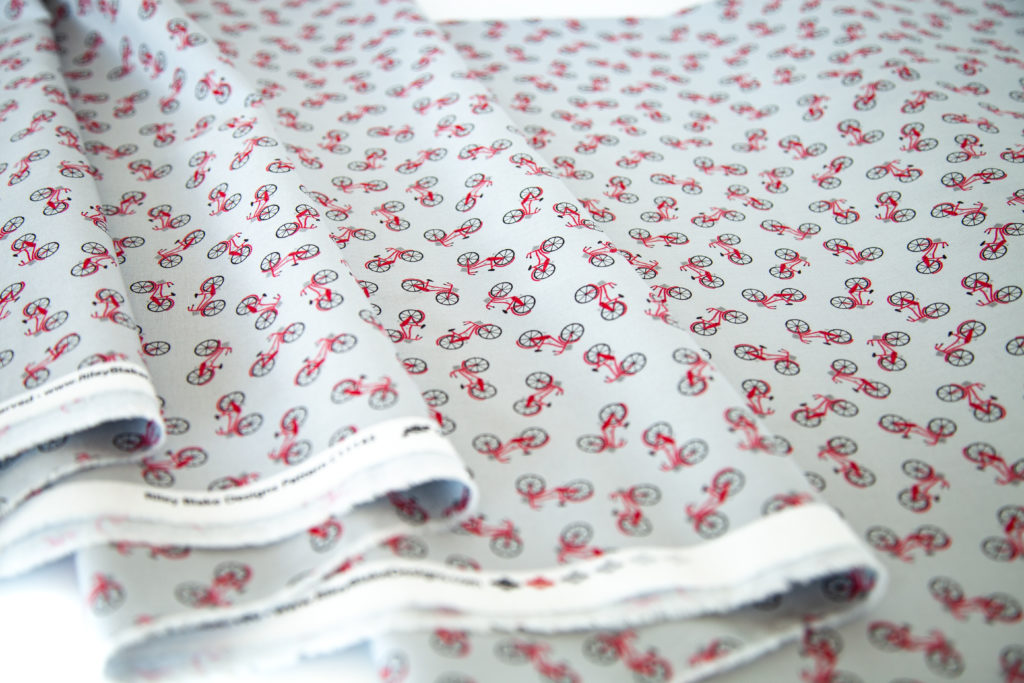 Of course, we had to share a closer peek at the Bikes. The miniature tossed bikes have a chill "Saturday bike ride" vibe to them. So cute! Bikes will be available in Gray (seen here), White, and Black.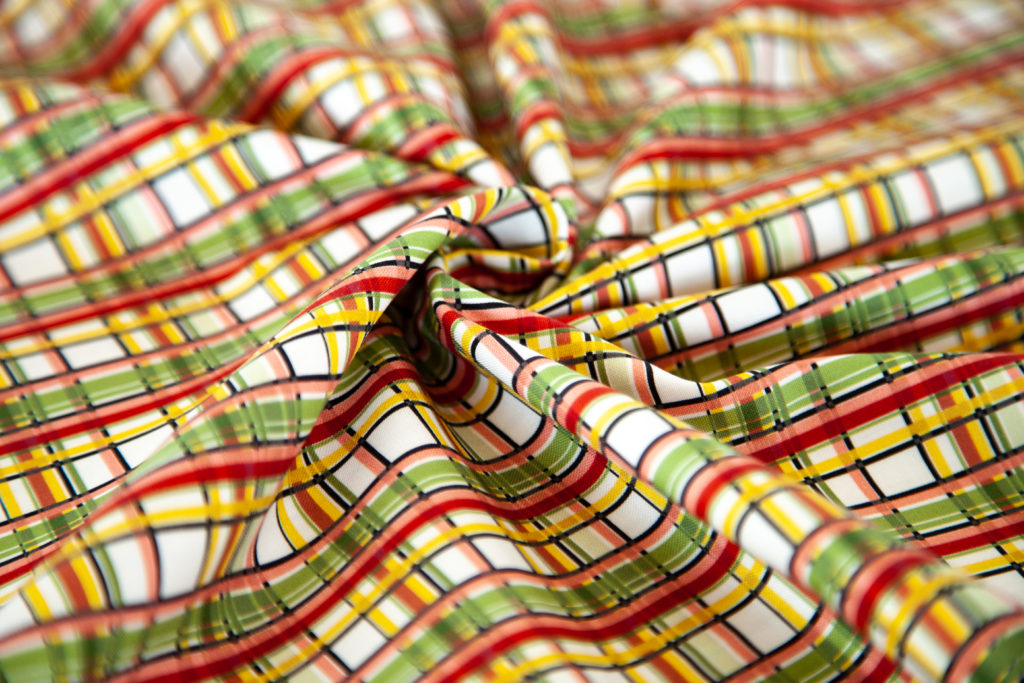 We can't talk about this fabric collection without pointing out the stunning Plaid. The deeply saturated colors are pure eye candy! We love this fresh combination of coral, red, green, black, and yellow. Plaid will be available in White (seen here), Coral, and Green.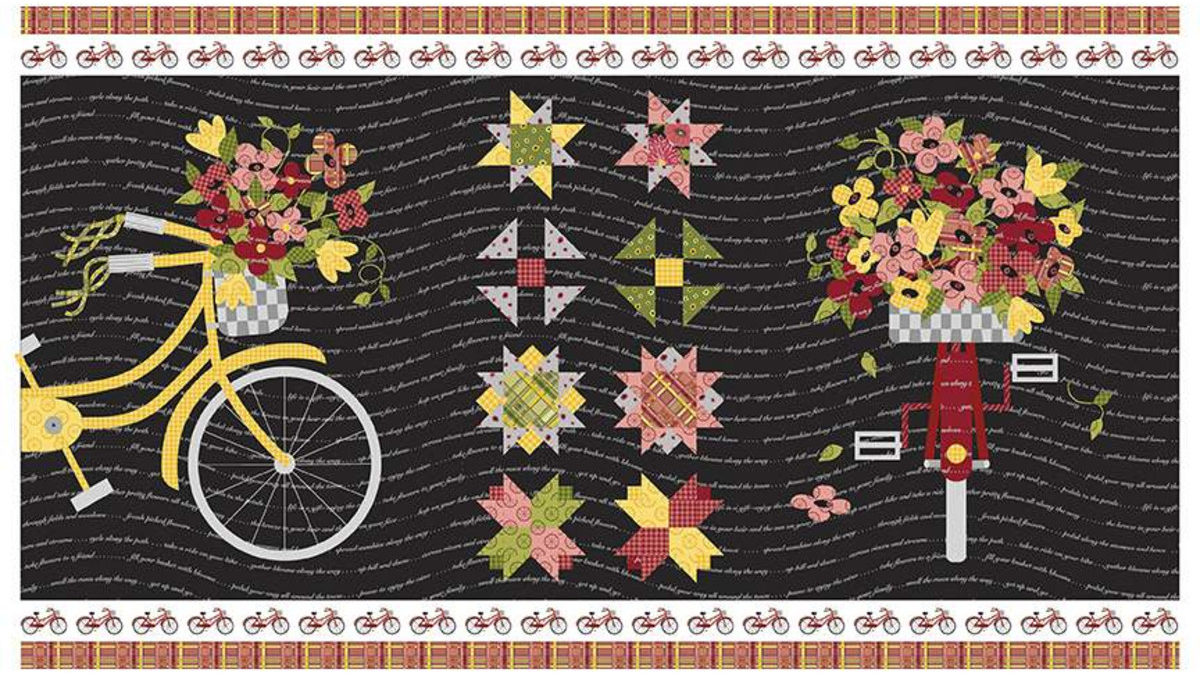 The Petals & Pedals collection also features this fun 24″ x WOF panel. The large scale bicycles look as if they have been meticulously appliquéd, and the adorable blocks look as if each were hand pieced. This panel has so many possibilities to it — incorporate it into bags, pillows, borders, and more!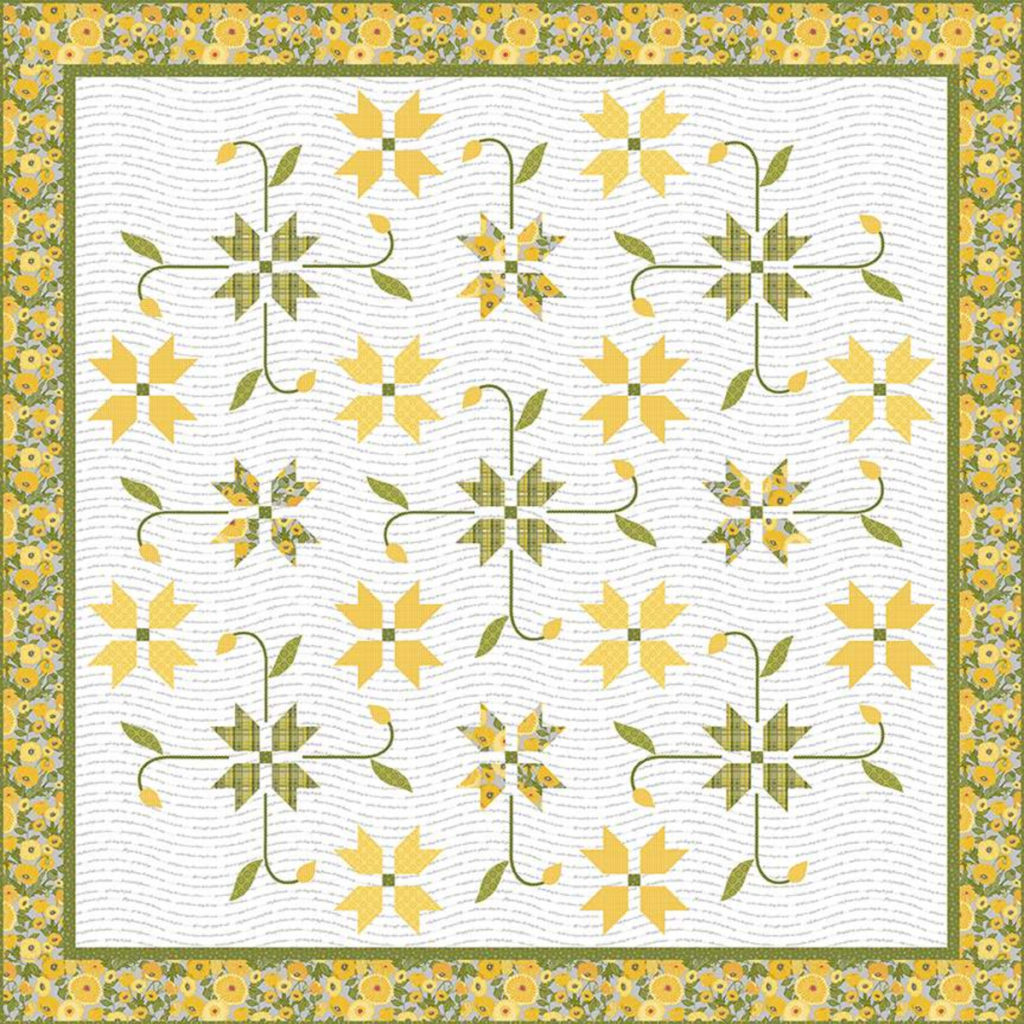 Are you looking for some project ideas? Take a look at these quilt patterns Jill designed to bring her fabrics to life. We love the sunny color palette Jill used in this Meadowland Quilt. The quilt measures 83″ x 83″ — a perfect piece to brighten up a room!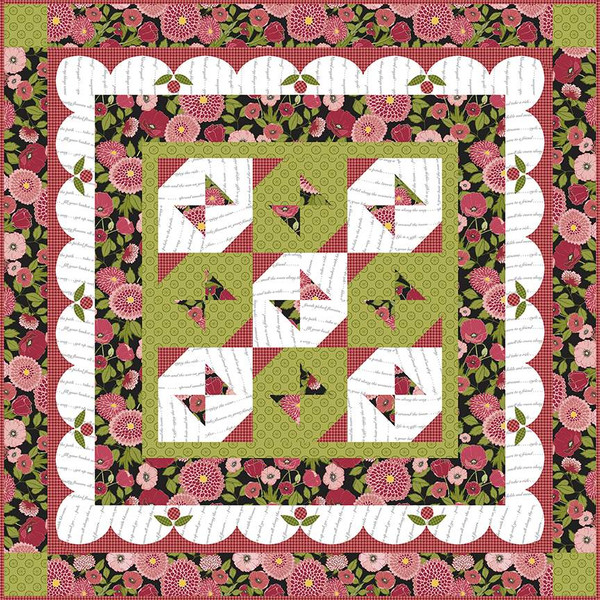 If you are drawn to the deeper red, green and black tones, you'll love Poppy Fields. This quilt features six blocks at the center, along with several borders, including a charming scalloped border. The quilt measures 40″ x 40″.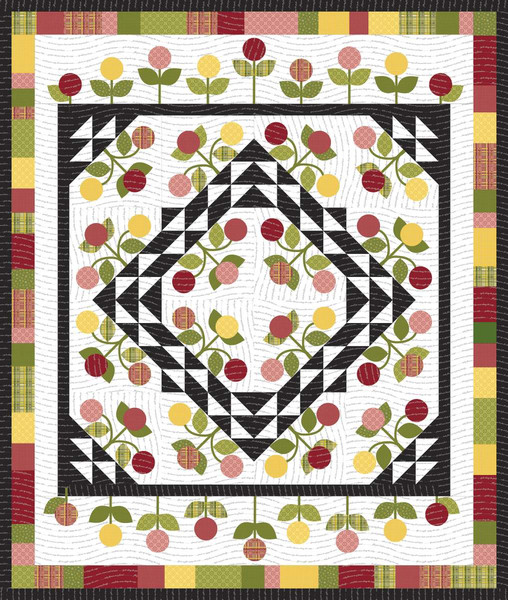 Posy Party, measuring 63″ x 75″, showcases the entire color palette with lovely circle shaped flowers adorning a bold, geometric focal point. Love this!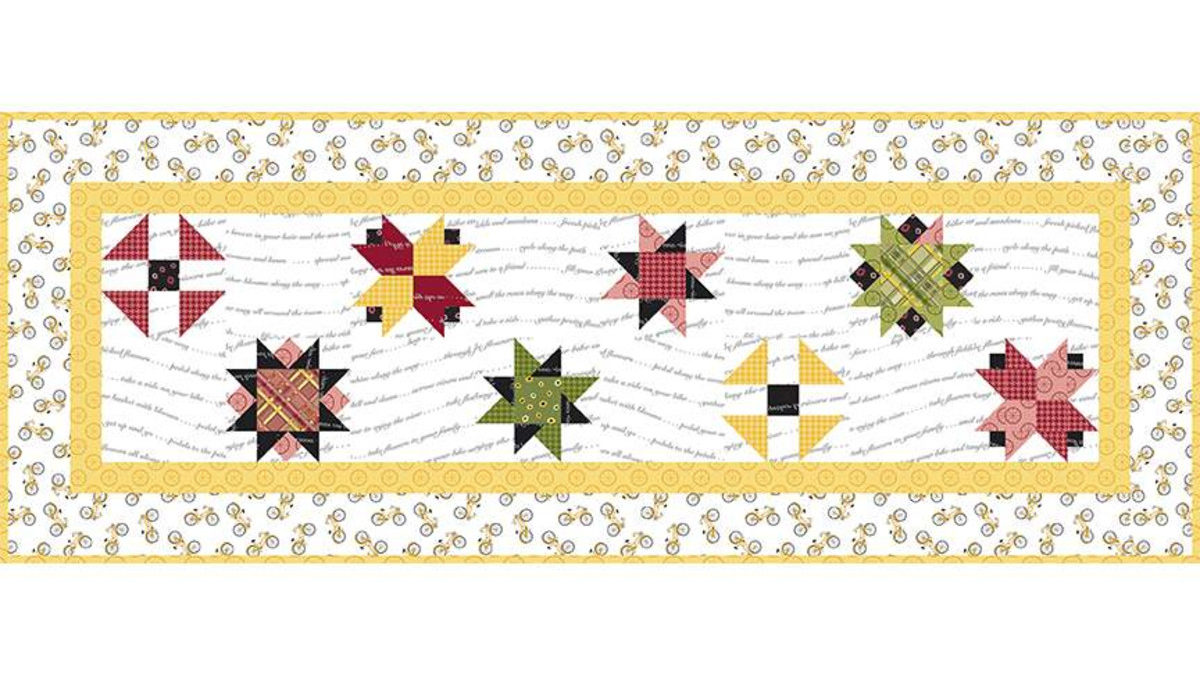 Jill also designed this charming Spokes Runner, measuring 14″ x 38″. What a lovely way to decorate a table!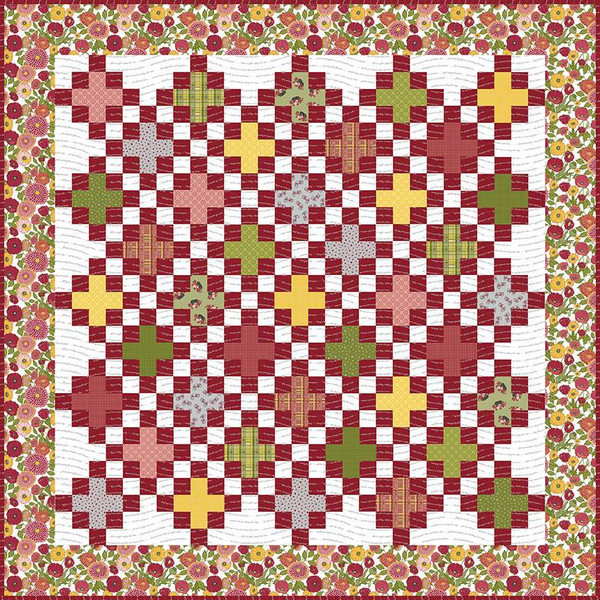 The Think Positive quilt has all the charm of a vintage quilt with its classic chain blocks, however there is a definite modern vibe sneaking through thanks to the white Text background fabric. Fun!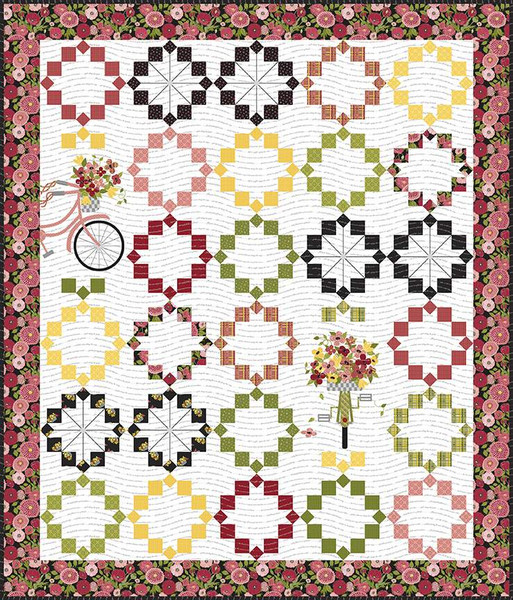 If you like projects that come in a kit, all ready to sew, you'll love the Pedal Pushers Remix quilt. This quilt incorporates the two bicycles from the fabric panel, and surrounds them with a happy array of color and design. The quilt measures 70″ x 82″. And the best part is that everything you need to make this quilt will be available in a boxed kit. Perfect!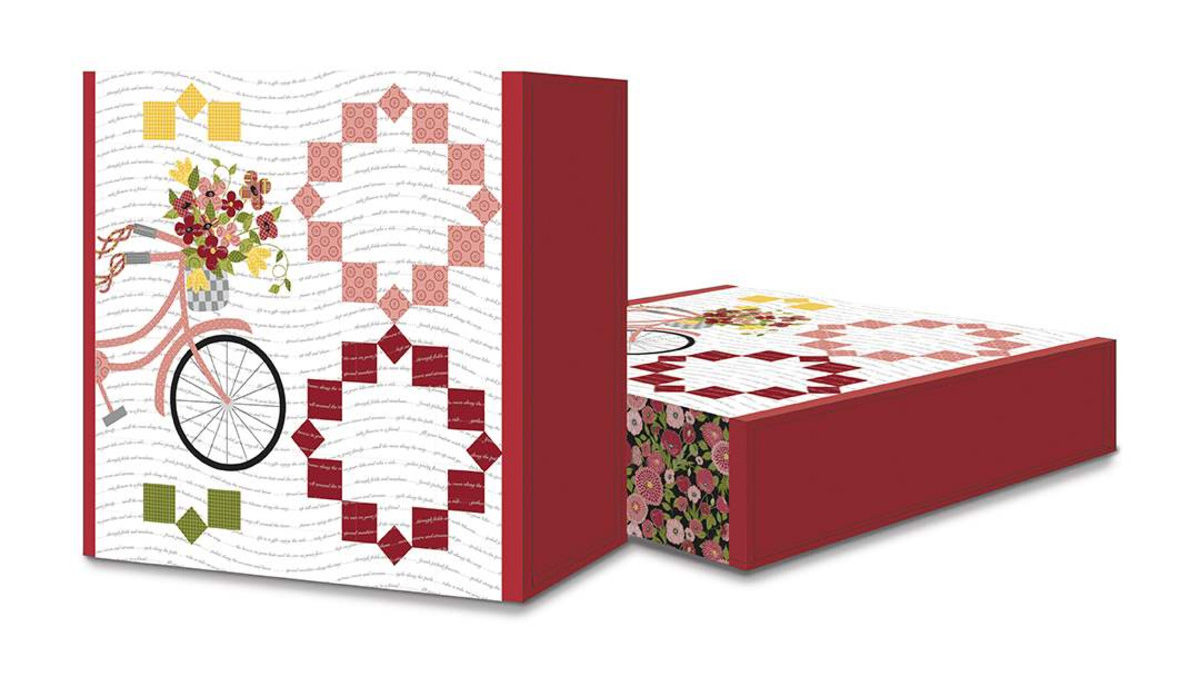 The sturdy collectible box measures 11″ x 11″ x 4″. It contains the pattern and fabric for the quilt top and binding. The Pedal Pushers Remix Boxed Kit will be available in September.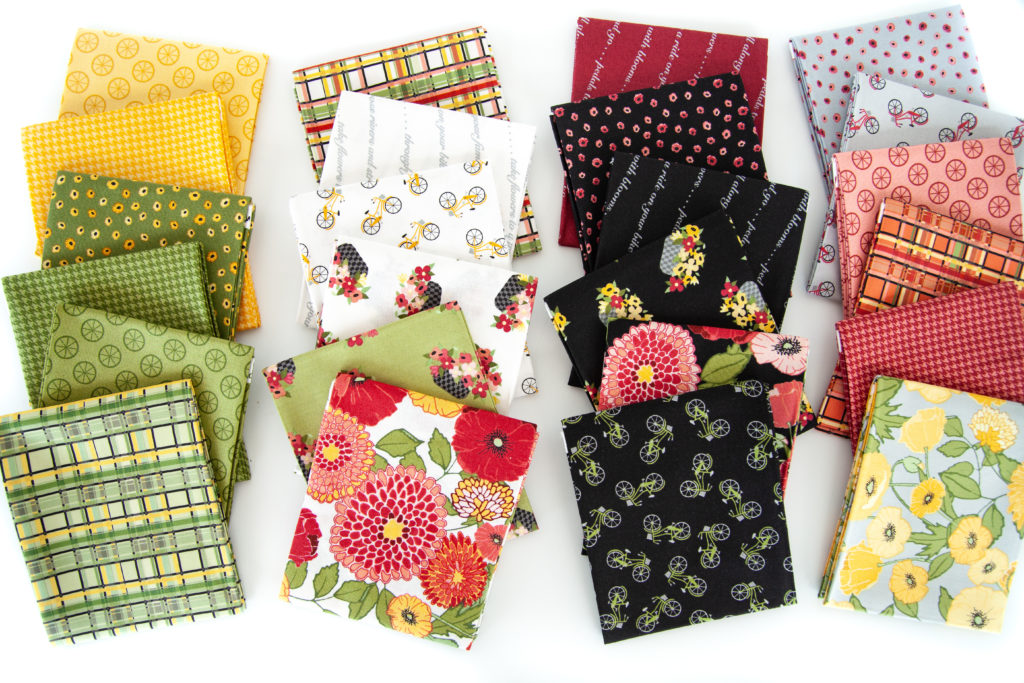 We can't wait to start creating with Petals & Pedals! We're dreaming up quilts, table runners, bags, pillows, aprons and more. What will you make with Petals & Pedals?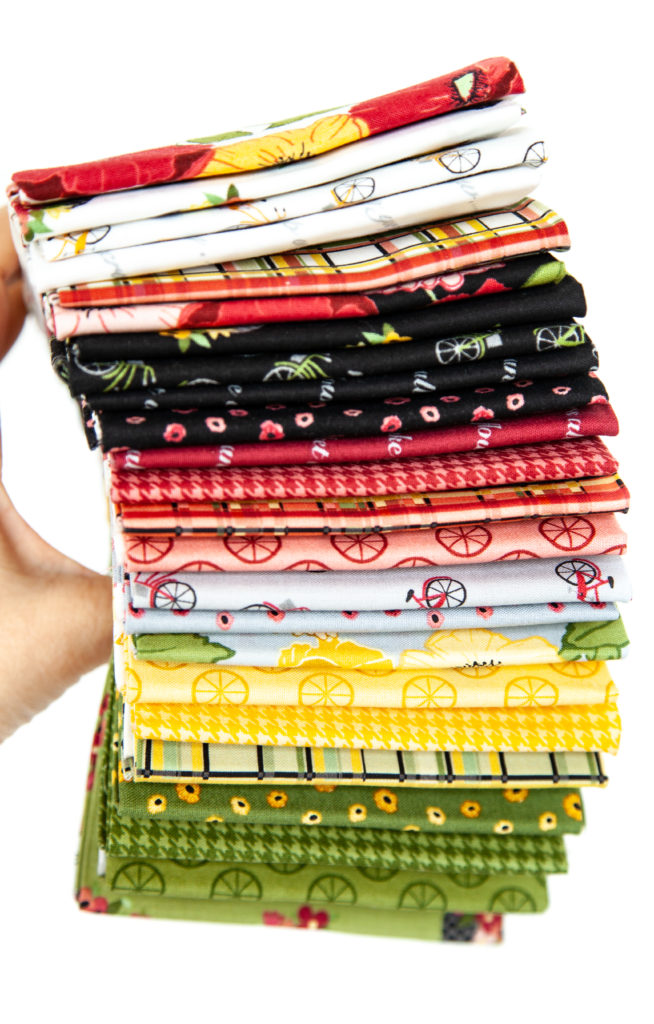 Petals & Pedals, designed by Jill Finley of Jillily Studio, is expected to arrive on the shelves of your favorite local quilt shops and online retailers in August. Pre-order yours today and share your makes with us on Instagram using #petalsandpedalsfabric, #rileyblakedesigns, #iloverileyblake, and tag us @rileyblakedesigns.