Meet Saturday in Paris! This dreamy new collection designed by Christopher Thompson, aka The Tattooed Quilter, is coming soon and we can't wait!
Close your eyes and imagine waking up in Paris, France. Your hotel room is bright and sunny, you jump out of bed, get dressed and head out to one of the many markets. It's Saturday and the hustle and bustle of the city is making you smile. You run into a friend, grab and espresso, a croissant, and plan your day, which of course includes a visit to the Eiffel Tower.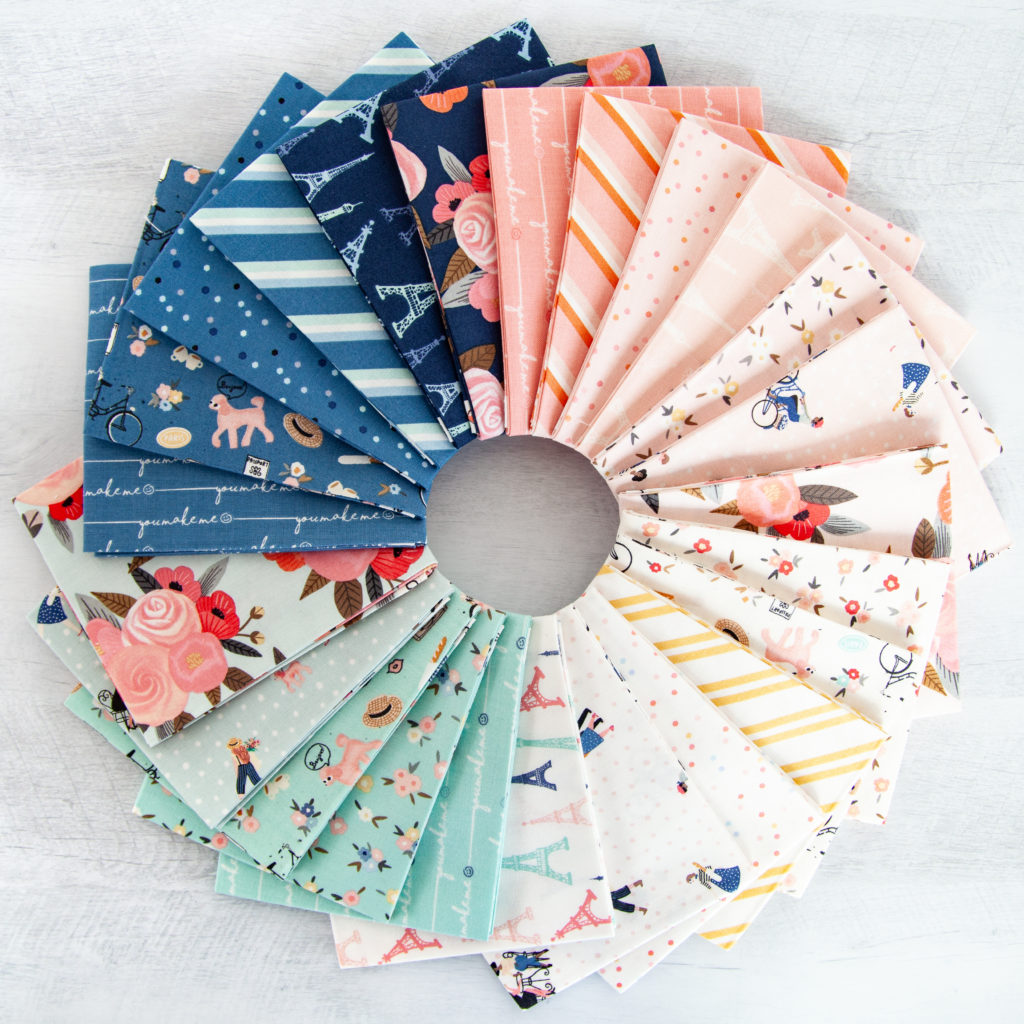 Sounds quite lovely, doesn't it? Saturday in Paris was designed to give you that joyous feeling with classic stripes, beautiful flowers, Parisian icons, and of course, a pink poodle. The possibilities are endless with this beautiful collection.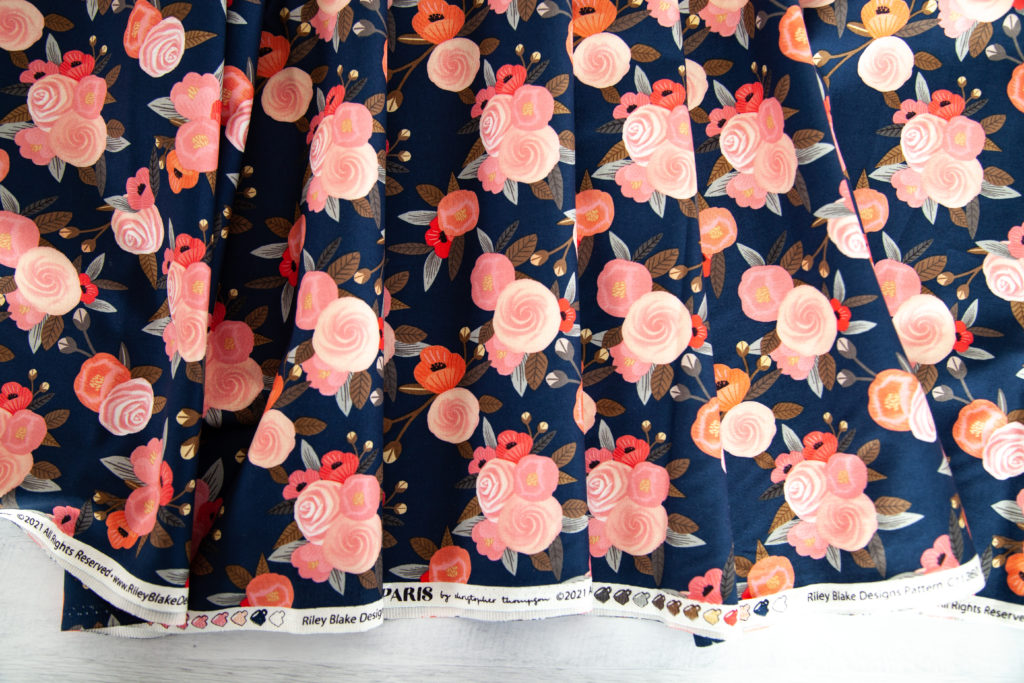 The Main print boasts bold floral bouquets you might find at a Parisian flower shop. The pink and coral clusters look as if they are loaded with a sweet floral fragrance. The Main print will be available in Navy (seen here), Pink, and Mint.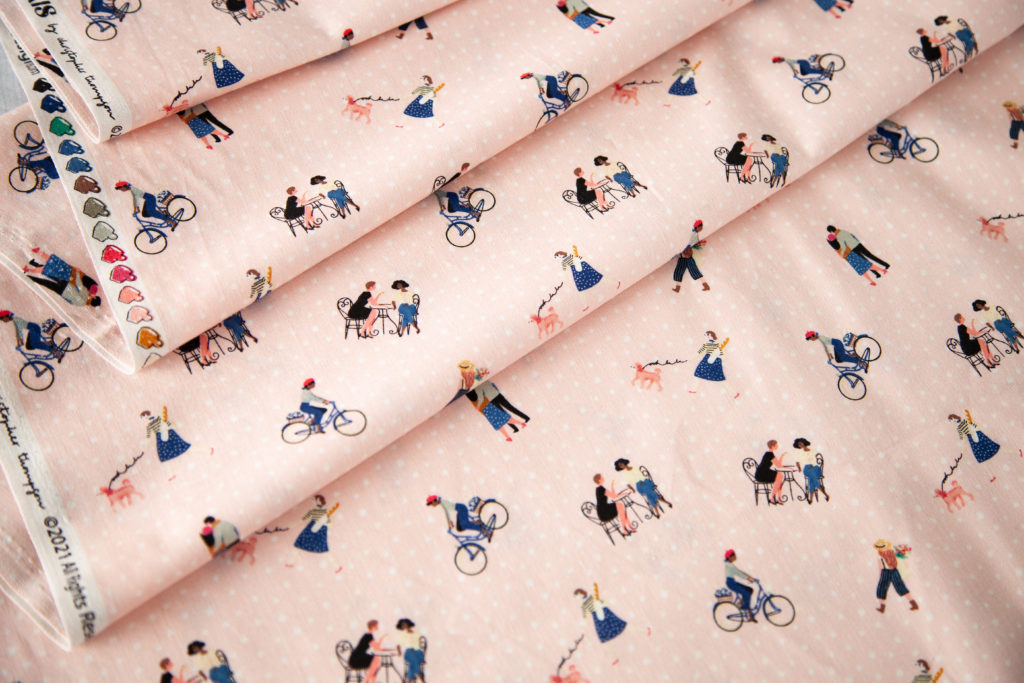 Friends is a whimsical print featuring tiny vignettes of people at various activities in Paris. Women chatting at a bistro, a couple strolling down the lane, a bicycle rider and shoppers all give this fabric energy and appreciation for each simple daily task. Friends will be available in Pink (seen here), White, and Mint.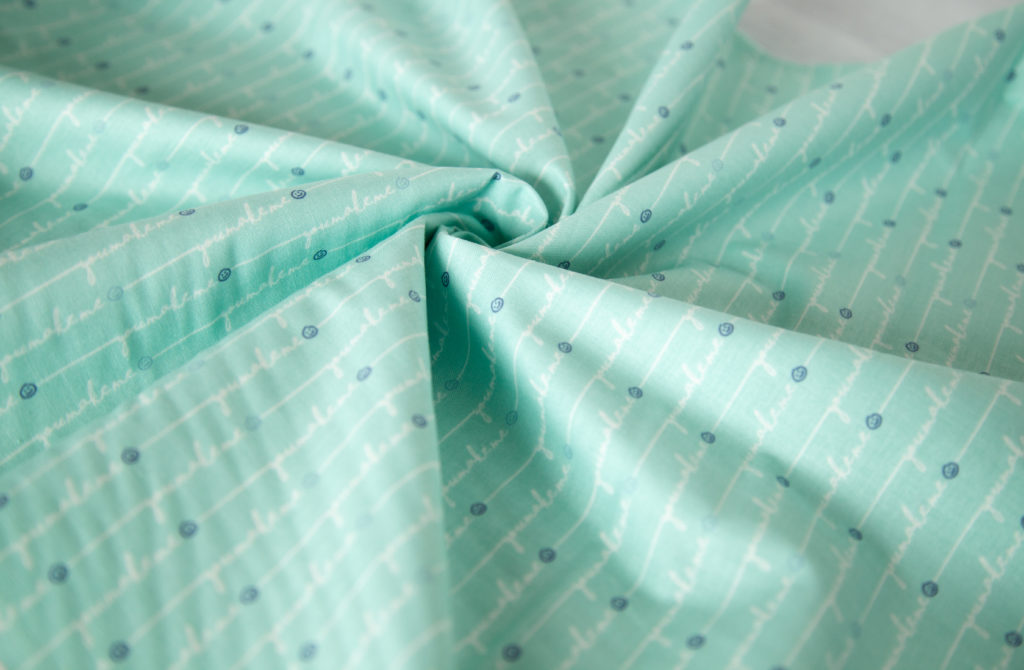 You know we love text prints, and we are completely smitten with Smile. The tiny cursive print reads "You make me" followed by a smiley face. Cute! Smile will be available in Songbird (seen here), Coral, and Denim.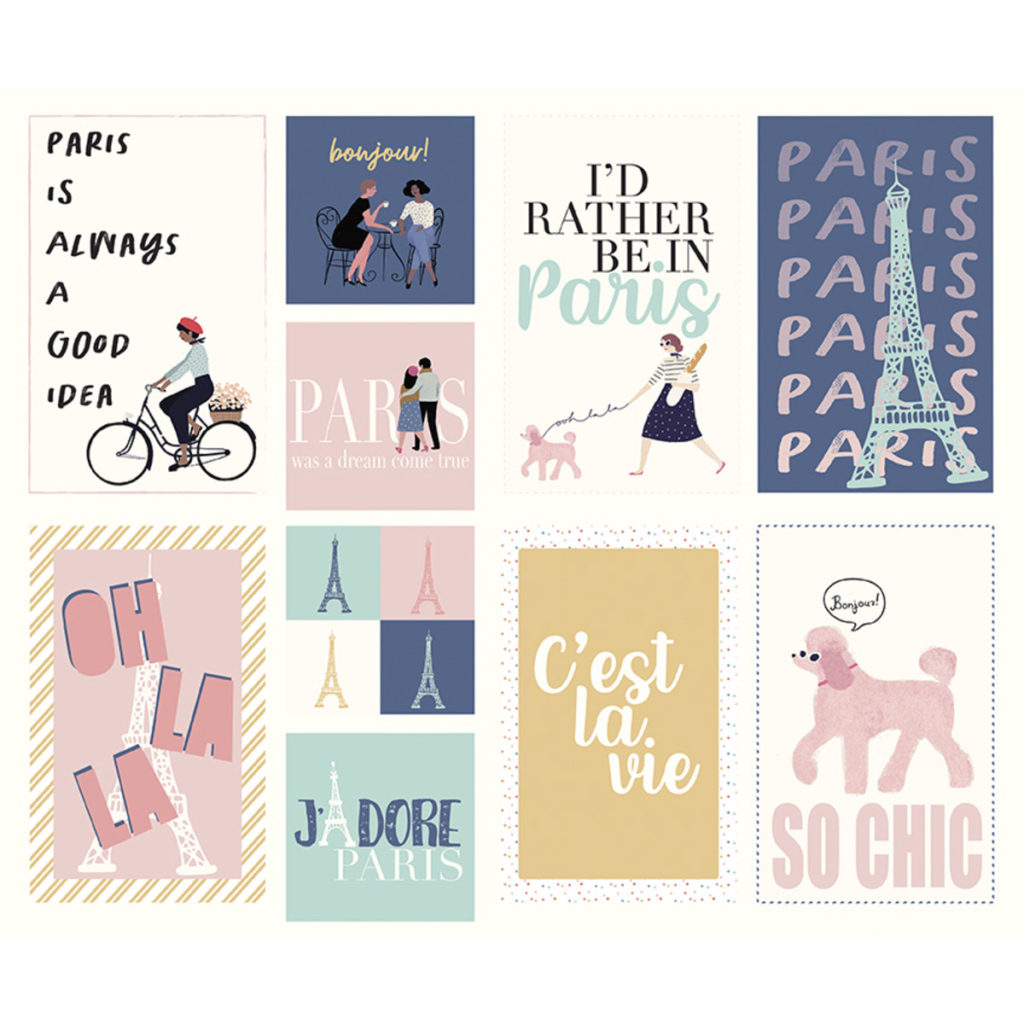 That's not all! The Saturday in Paris collection includes this FABulous 36″ x WOF fabric panel. This panel features a patchwork of Paris-themed phrases and scenes. Each block can be fussy cut and incorporated into quilts, bags, table toppers and more. Fun! The Saturday in Paris fabric panel will be available in Cream (seen here) and Mint.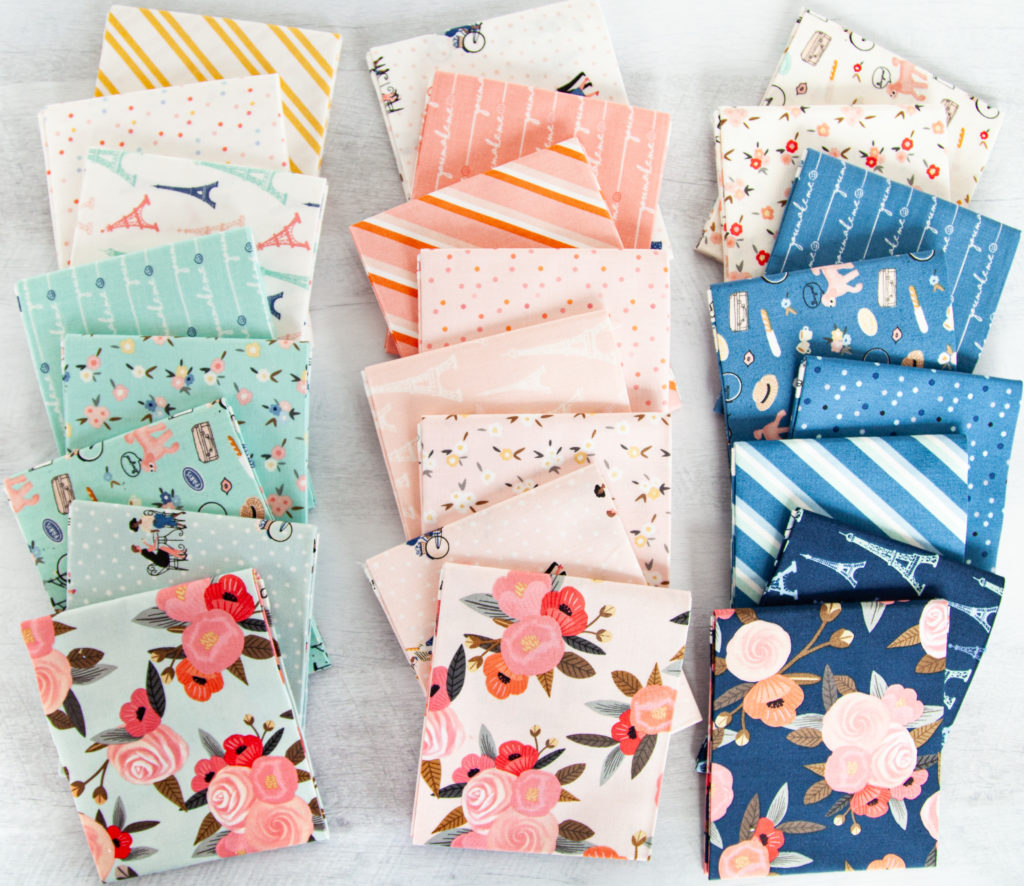 We can't wait to start creating with Saturday in Paris! We're dreaming up quilts, bags, pillows, aprons and more. What will you make with Saturday in Paris?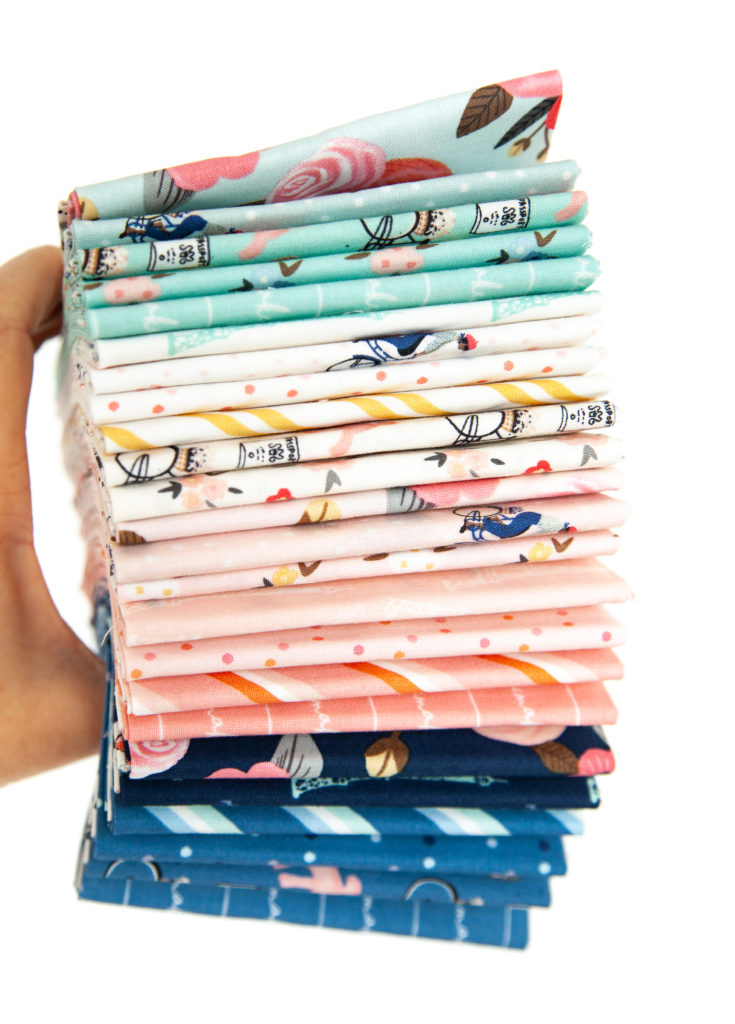 Saturday in Paris, designed by Christopher Thompson, aka, The Tattooed Quilter, is expected to arrive on the shelves of your favorite local quilt shops and online retailers next month! Pre-order yours today and share your makes with us on Instagram using #saturdayinparisfabric #rileyblakedesigns #iloverileyblake and tag us @rileyblakedesigns.