Hello friends, this is Jennifer Long from Bee Sew Inspired, back on the Riley Blake Designs Blog with a fun and quick, softie craft tutorial!!!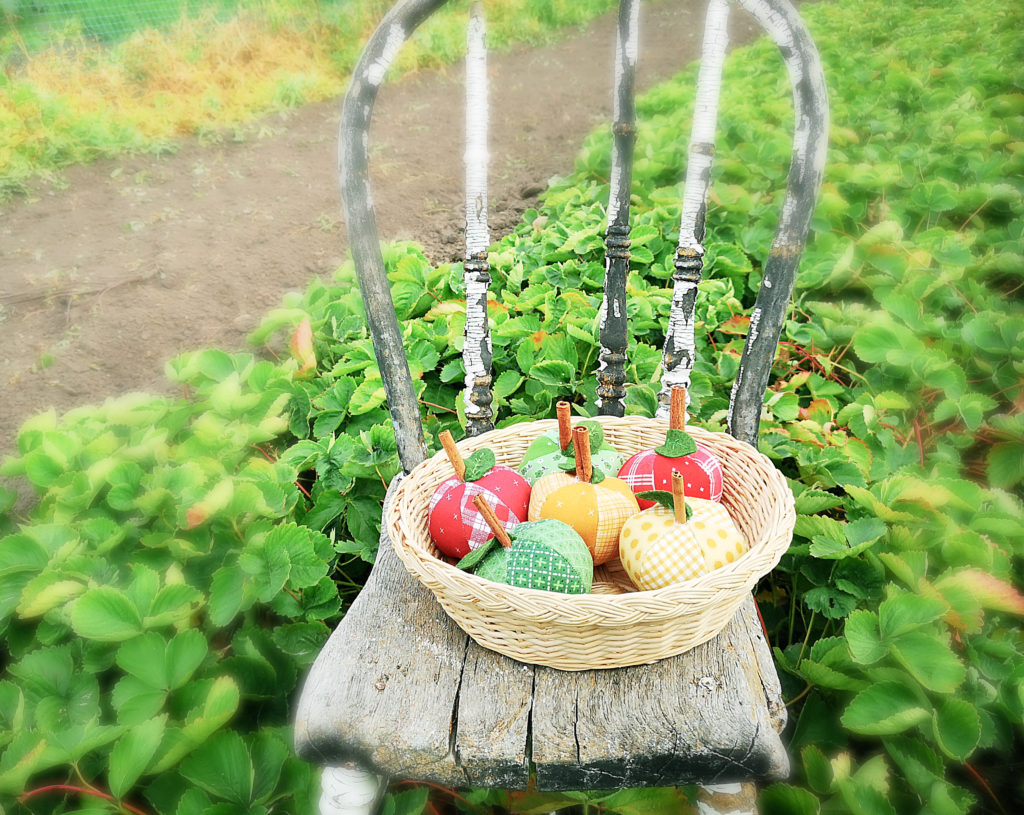 One of my favorite times of the year is apple season! I think of all the fun yummy smells and warm baking like apple butter in the slow cooker, Dutch apple pie, apple turn-overs and those delicious apple crumble breakfast muffins. Even fresh and smooth apple sauce!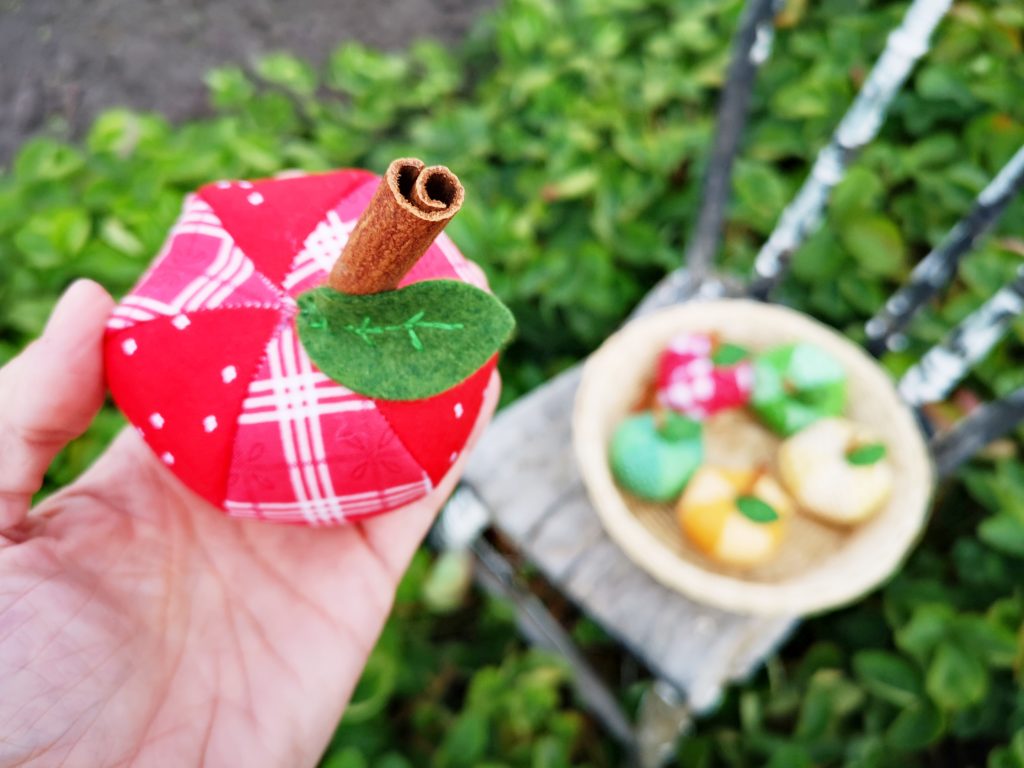 Can you just smell the apple and cinnamon aroma in the air? This is exactly why we've decided to create this stuffed apple tutorial with cinnamon stick stems. They are so beautiful for home decor all season, and the bonus is, you get to enjoy the wonderful smell of cinnamon!
I used the beautiful Bee Plaids Basic fabric by Lori Holt to make my stuffed apples. You can make these apples stuffies as scrappy as you like, or all one color. I simply used the leftover scraps from my Apple Season Quilt Pattern. If you don't have cinnamon sticks on hand that's okay, just use a small twig instead if you're aching to get this project done to decorate your home for the Fall season. The pattern template comes in three sizes and you can download the template as part of the Bee Sew Inspired Maker's Club HERE, select the size you want to make choose your fabric!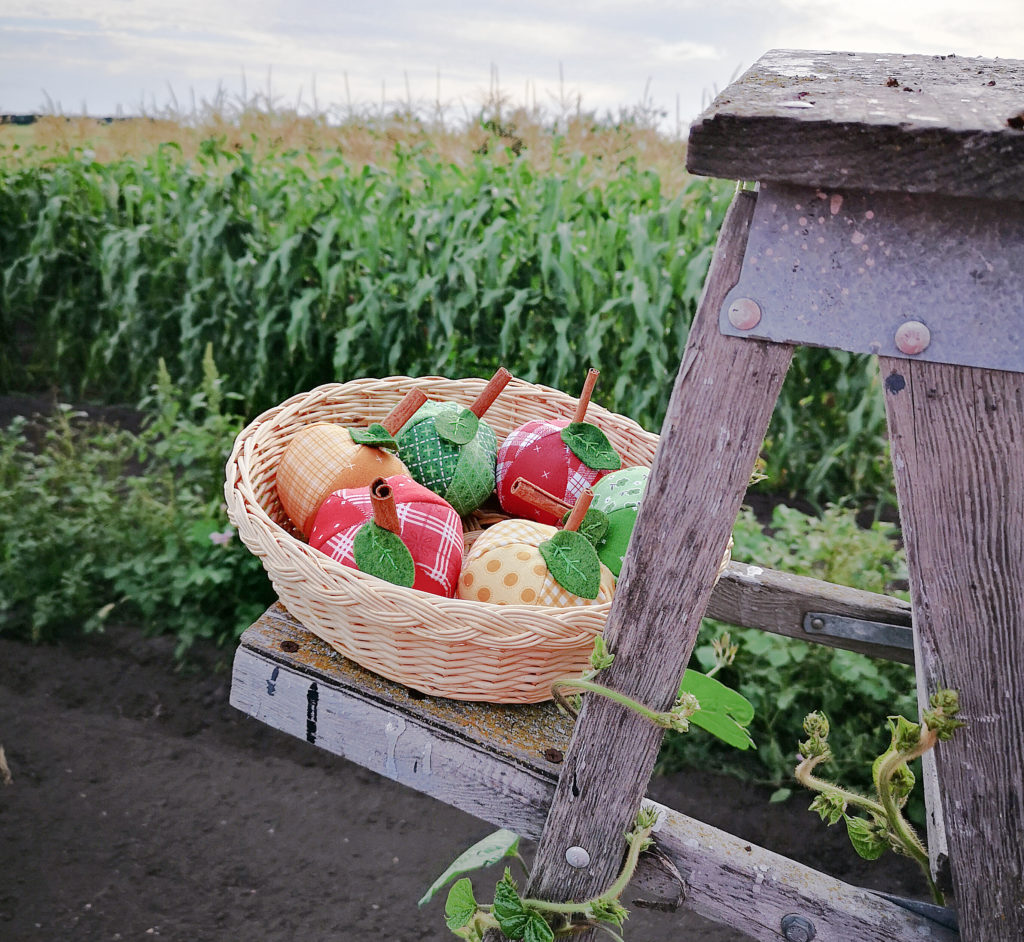 If you love apples as much as I do, you are invited to join me throughout the month of September for a FREE Apple Sew-Along! September is Apple Season month at Bee Sew Inspired and we are making "An apple a day!" Come and join us for one or all of the days this month and make some sweet, fabric apples. Join the Apple Season SAL HERE.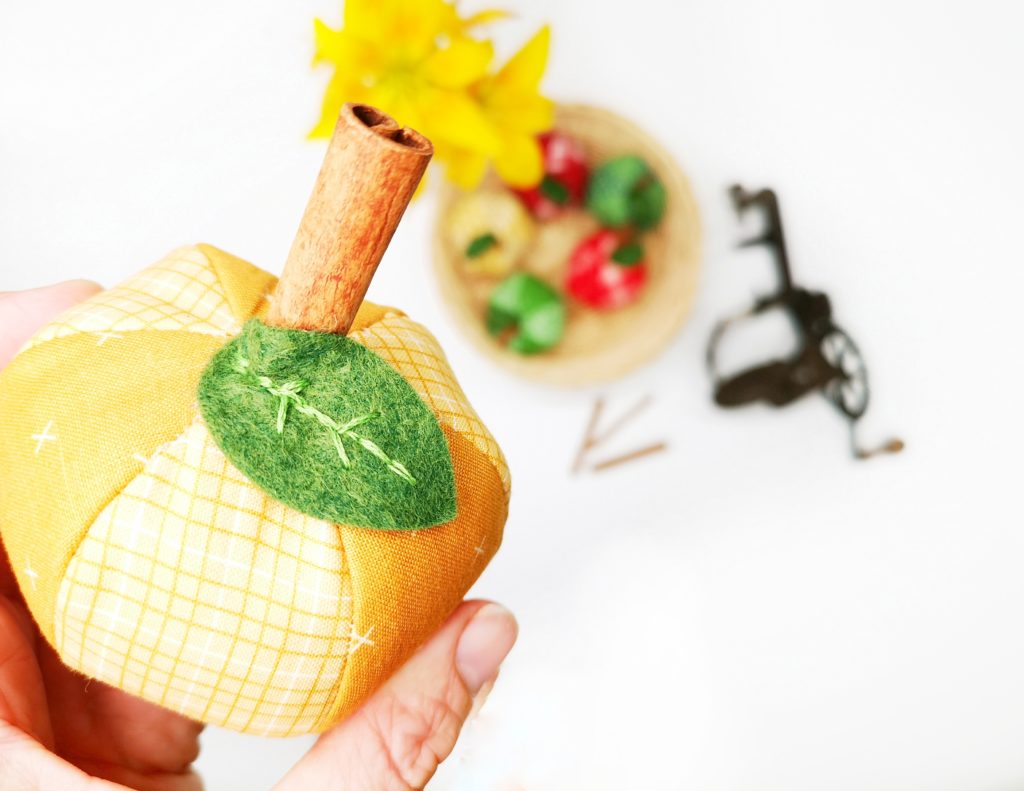 Let's get creative! Just gather the supplies below, then download the pattern/files through our Maker's Club. Don't forget to share your project on social media using the hashtag #beesewinspired and tag @beesewinspired.
Supplies: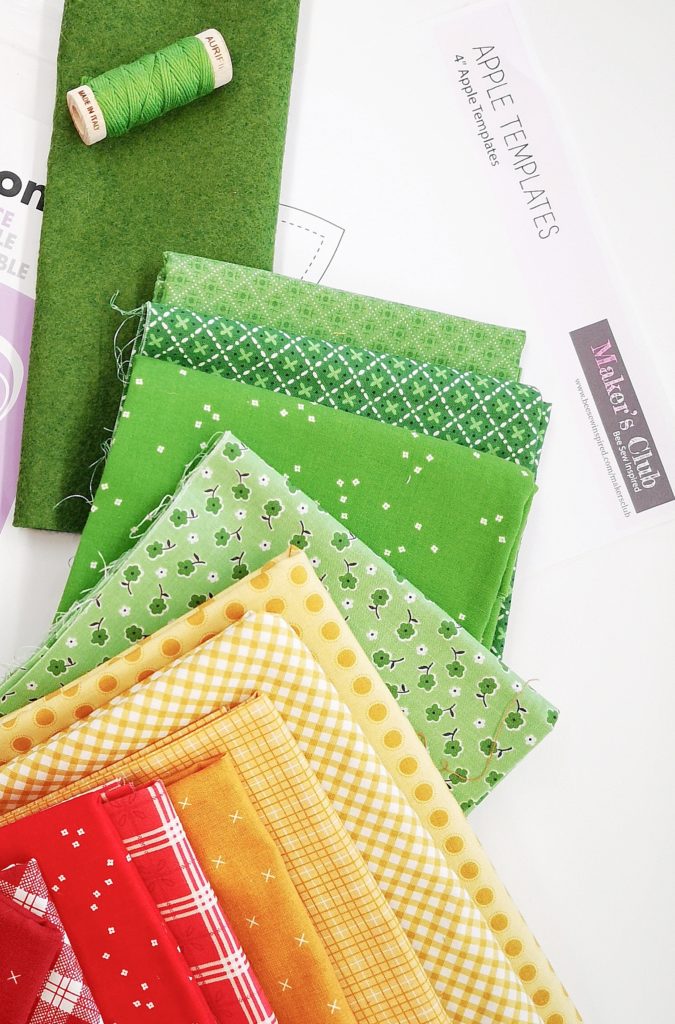 Scraps of your favorite cotton fabrics in red, green and yellow. (I used Lori Holt's Bee Plaids for Riley Blake Designs.)
Green Wool-Blend Felt
Embroidery Thread in matching colors
Thread
Small amount of Polyester Fiber Fill
Cinnamon sticks or small twigs for apple stem
Instructions: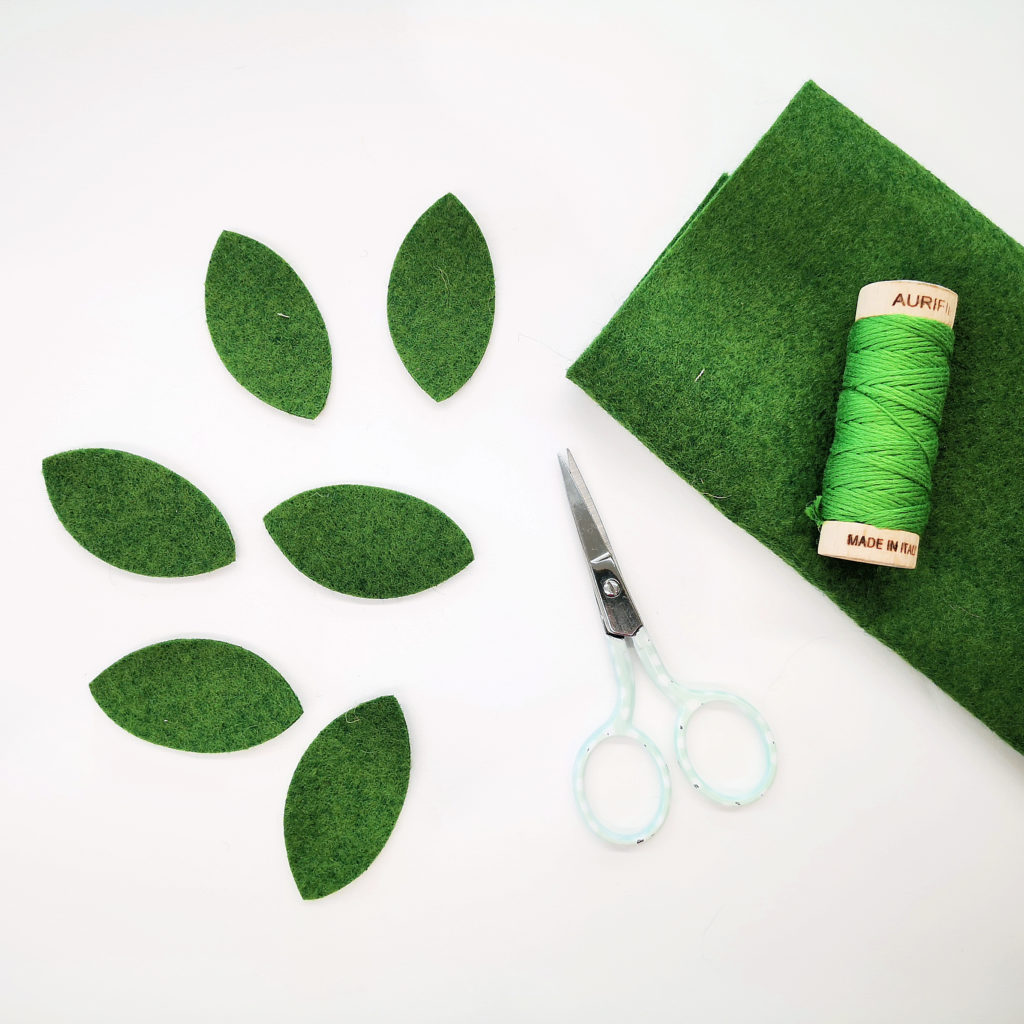 1. Download the Apple Pattern designed by Bee Sew Inspired Maker's Club. You can choose either the PDF Pattern to hand cut your shapes, or the SVG Cut File and follow the directions to have your Cricut Maker cut the felt shapes. Make sure to use your rotary blade and set the fabric to felt. Use the template to cut out six panels in total.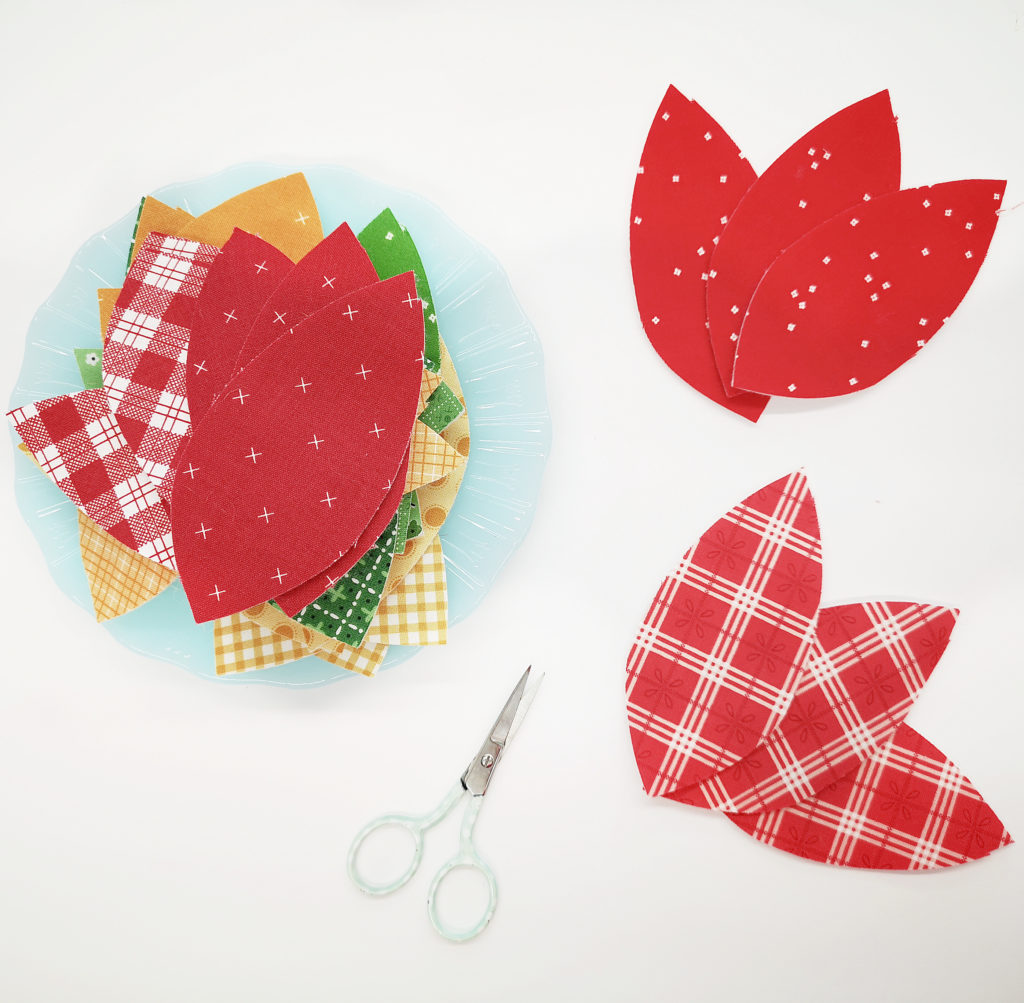 2. Fuse the Heat-N-Bond Fleece to the wrong side of your decorative fabrics BEFORE cutting the shape. This will help keep the fabric stable while cutting out the curved edges. Choose fabrics in two designs or up to six if you'd like each panel to be different.
3. Using the templates cut out the apple shape.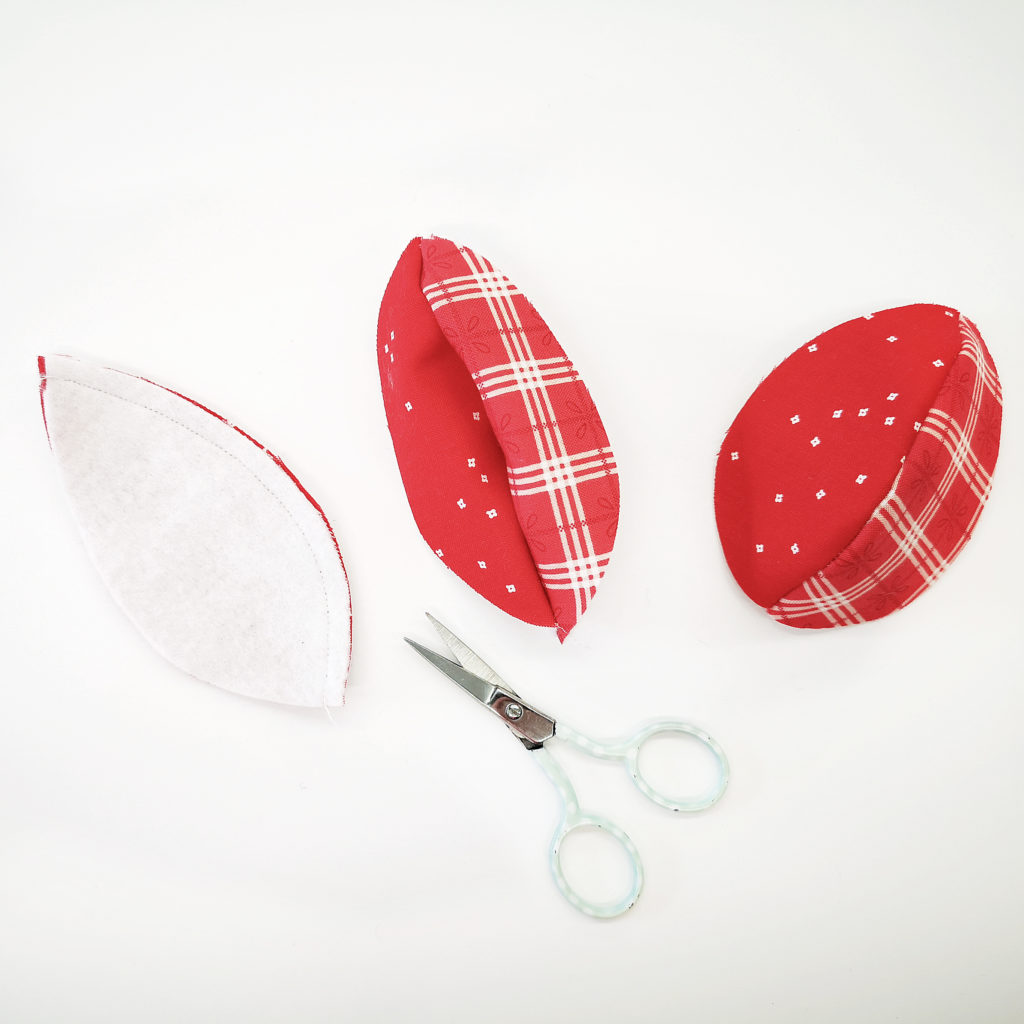 4. Take two adjacent panels and place right sides together. Stitch down one edge using a 1/4″ seam allowance.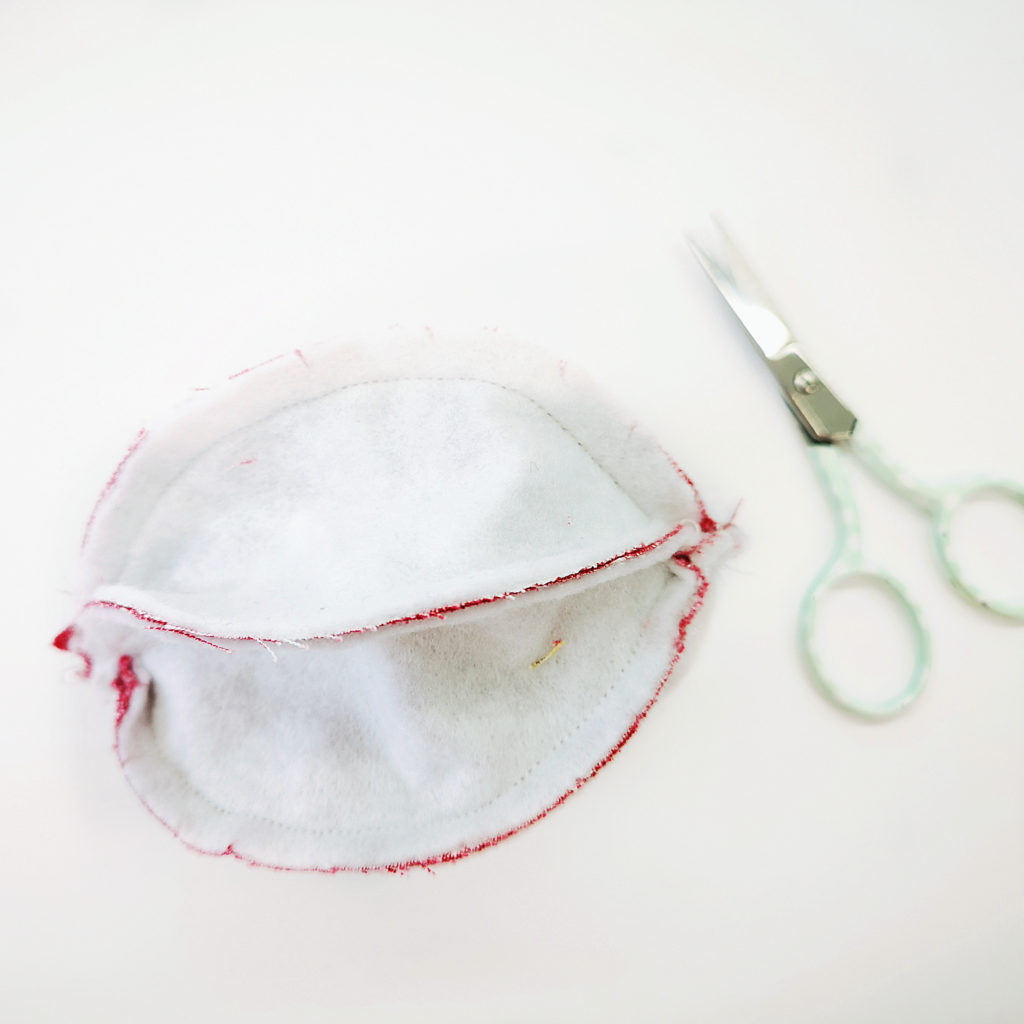 5. Repeat until all six panels are joined together, with the fabrics alternating. To join the fruit up, stitch the edges of the first and last panels together. Stitch down from the top and stop around 1/2″ from the end, to leave a hole for the filling.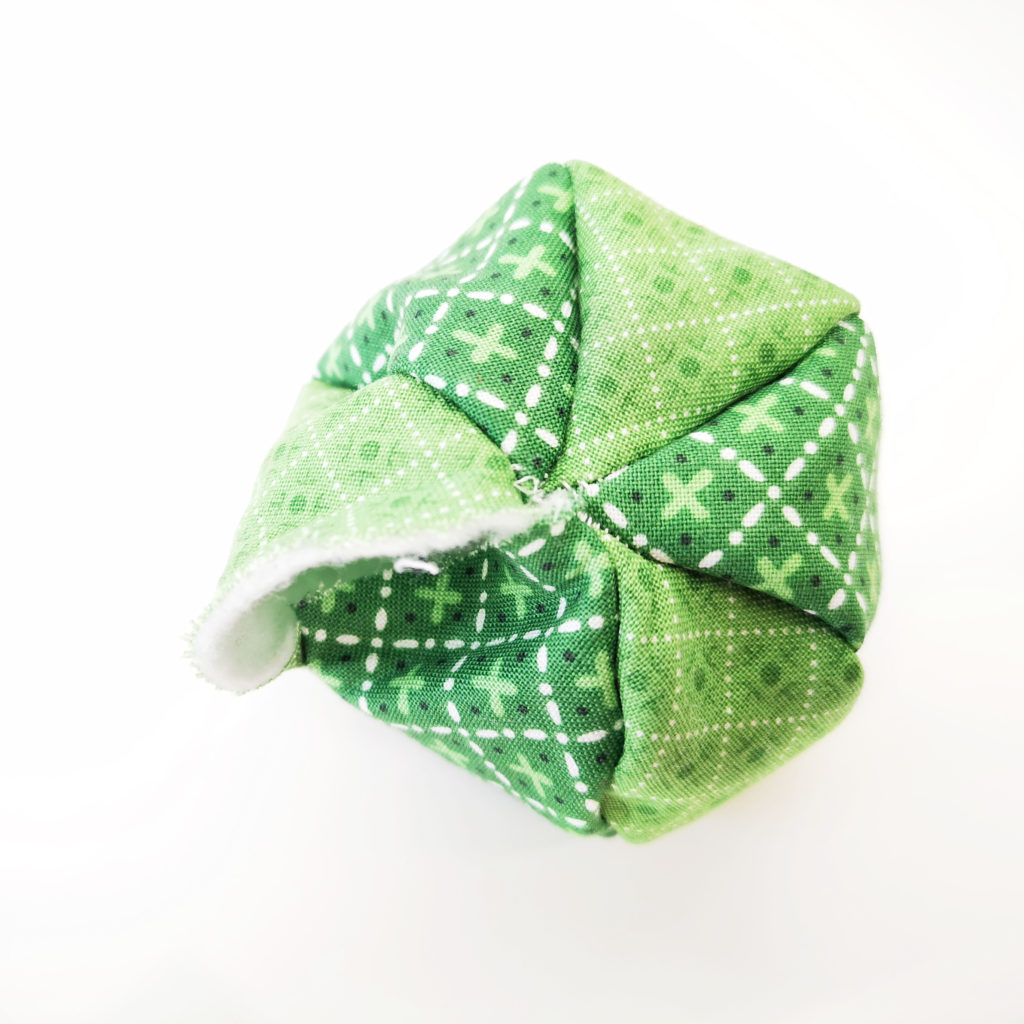 6. Turn your apple right side out so it is ready to be filled. Don't underestimate how much toy filling you need! Keep pushing wisps in until it's tightly packed. Here is the trick: BEFORE you close your apple opening in the next step, insert a cinnamon stick into the center of the apple. Push through all the stuffing so it is well secured and stable. For extra durability, you can add some hot glue inside the apple to the stick.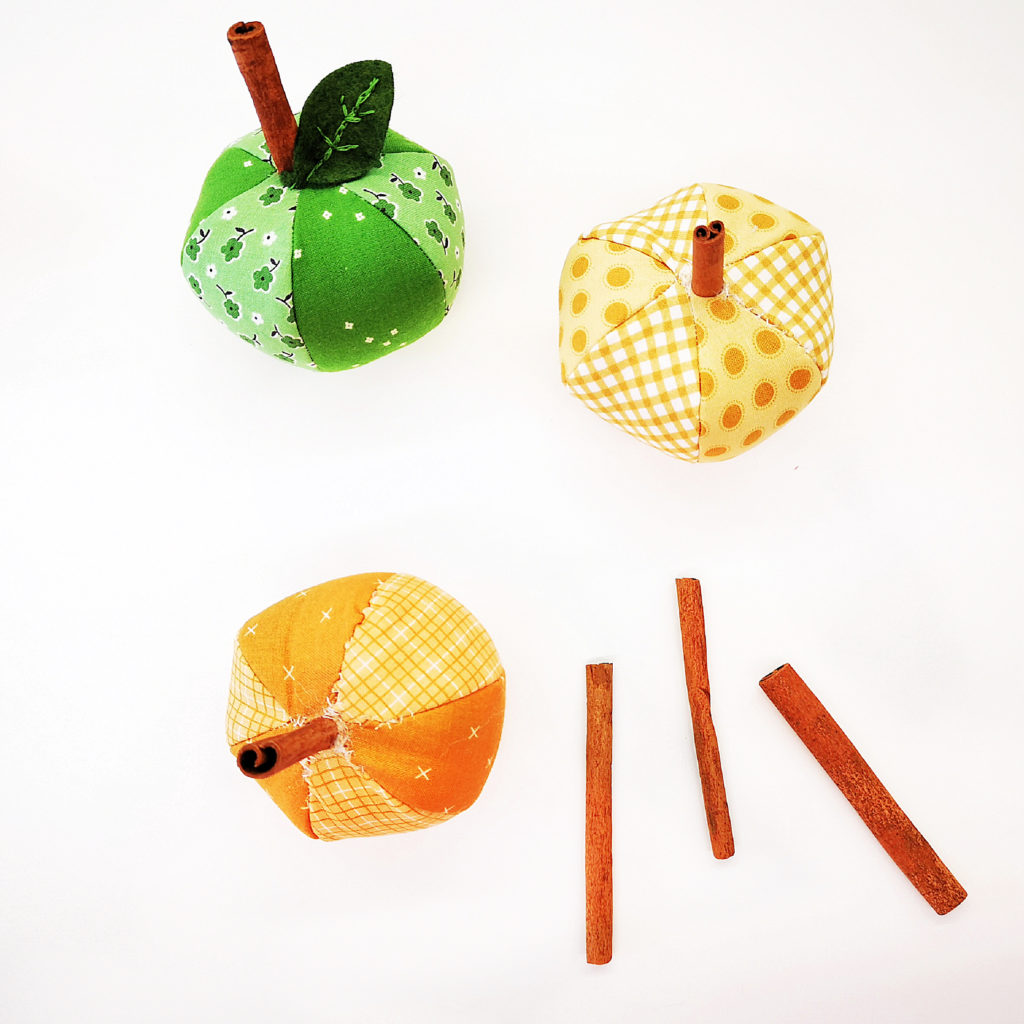 7. Oversew the gap to close it and finish off securely. I like to use a invisible ladder stitch.
8. Knot and secure your thread but leave a nice long end ready to attach leaf with a few discreet stitches. And there you have it – one perfect apple!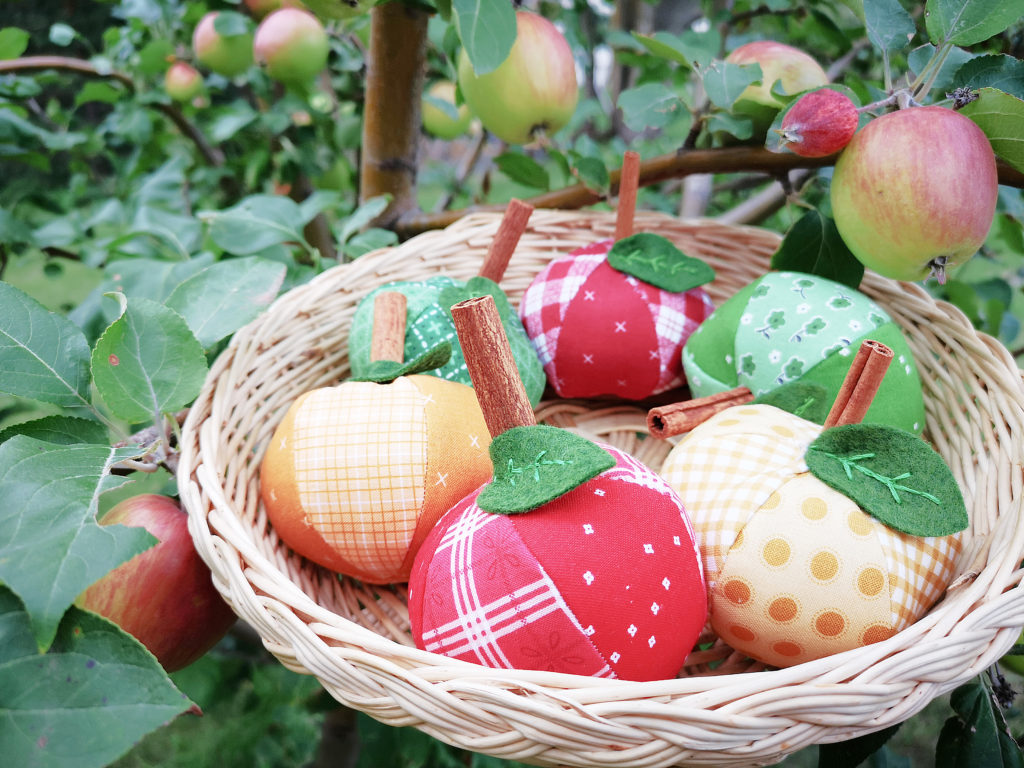 Your Stuffed Apple is complete!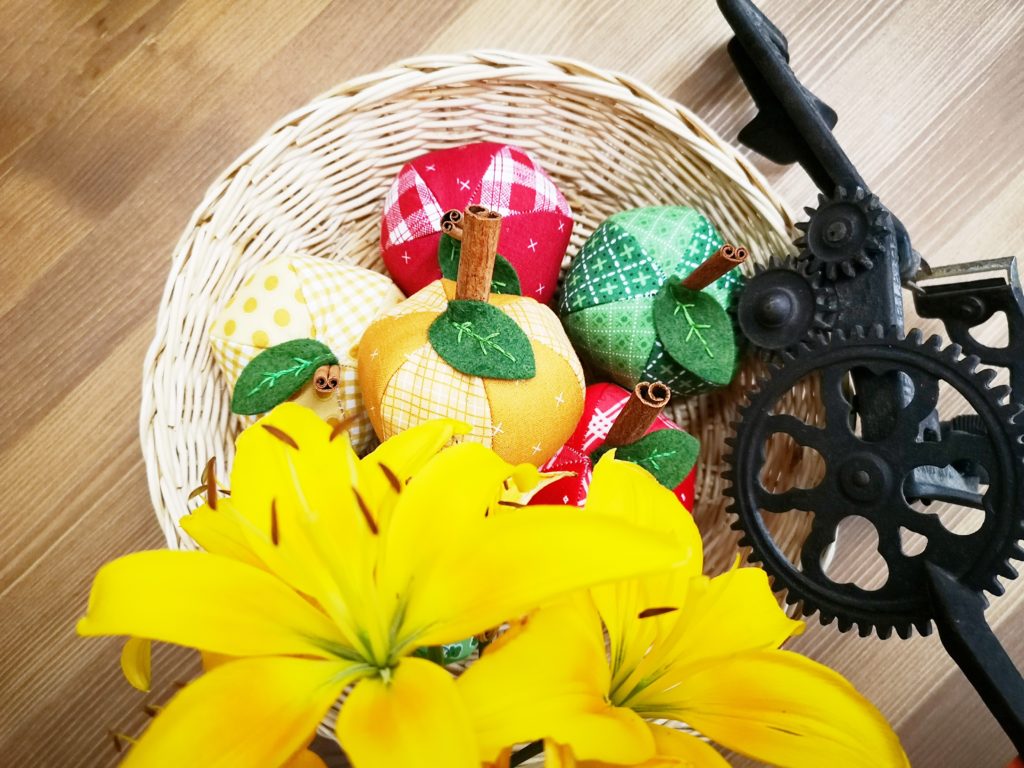 I hope you enjoyed making this little, stuffed apple with me! You can use this apple as pin cushion, home decor, shelf sitter and more! Don't forget to come over to Bee Sew Inspired and join our Maker's Club to be inspired by weekly projects and have access to download weekly PDFs, templates, SVG cut files, machine embroidery files, quilt blocks and more!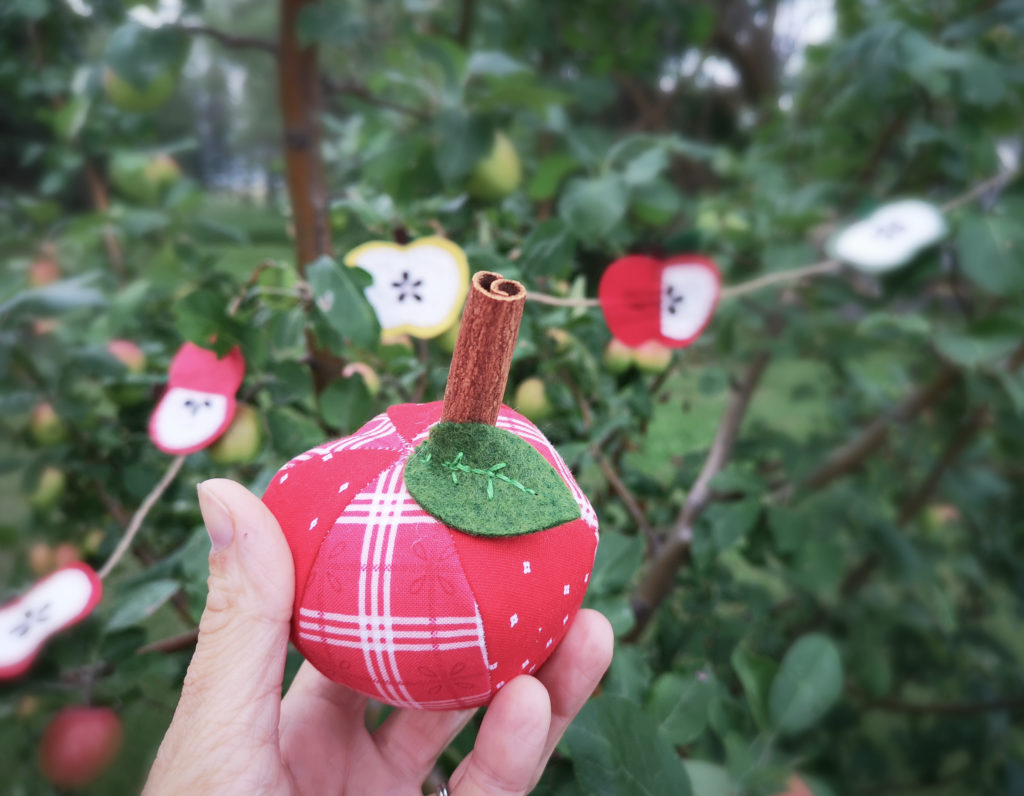 If you liked this tutorial and want to be inspired every week with new, creative sewing ideas, follow me, Jennifer Long – Bee Sew Inspired, on Instagram HERE, or sign up for my weekly newsletter HERE.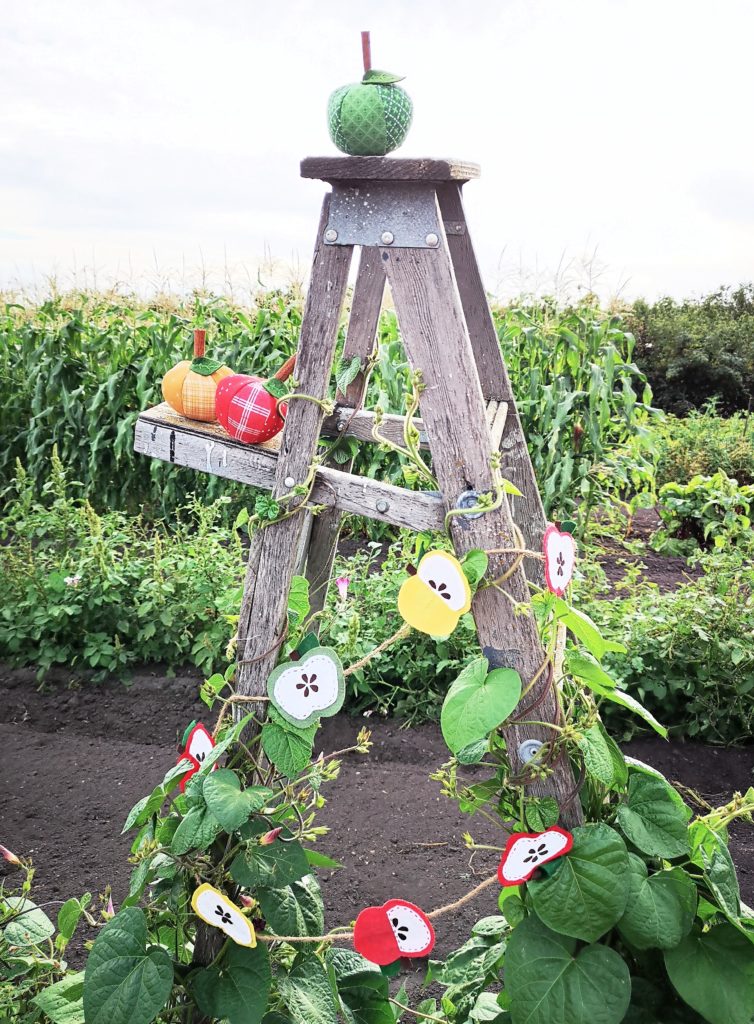 Thank you for being here today – and have a very creative day! – Jennifer Long – Riley Blake Designs Fabric Designer