Wild at Heart is here, and our hearts are going pitter-patter over this fabulous new collection by Lori Whitlock!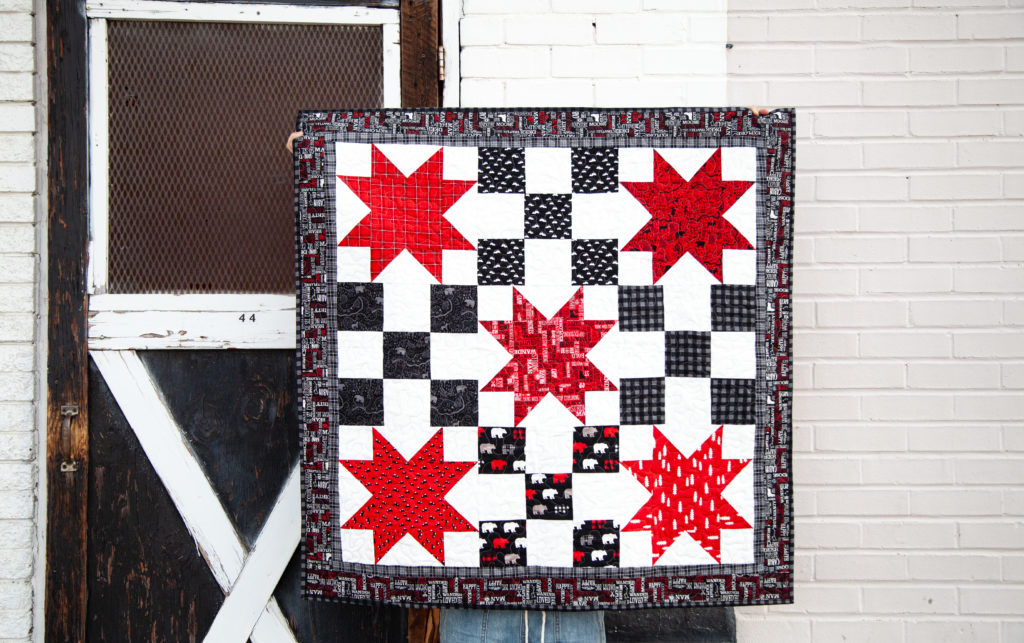 I whipped up this simple quilt I am calling "Hidden Arrows" (can you find the hidden arrows?) and have a very basic tutorial for you so you can make your own. The finished quilt measures approximately 42″ x 42″.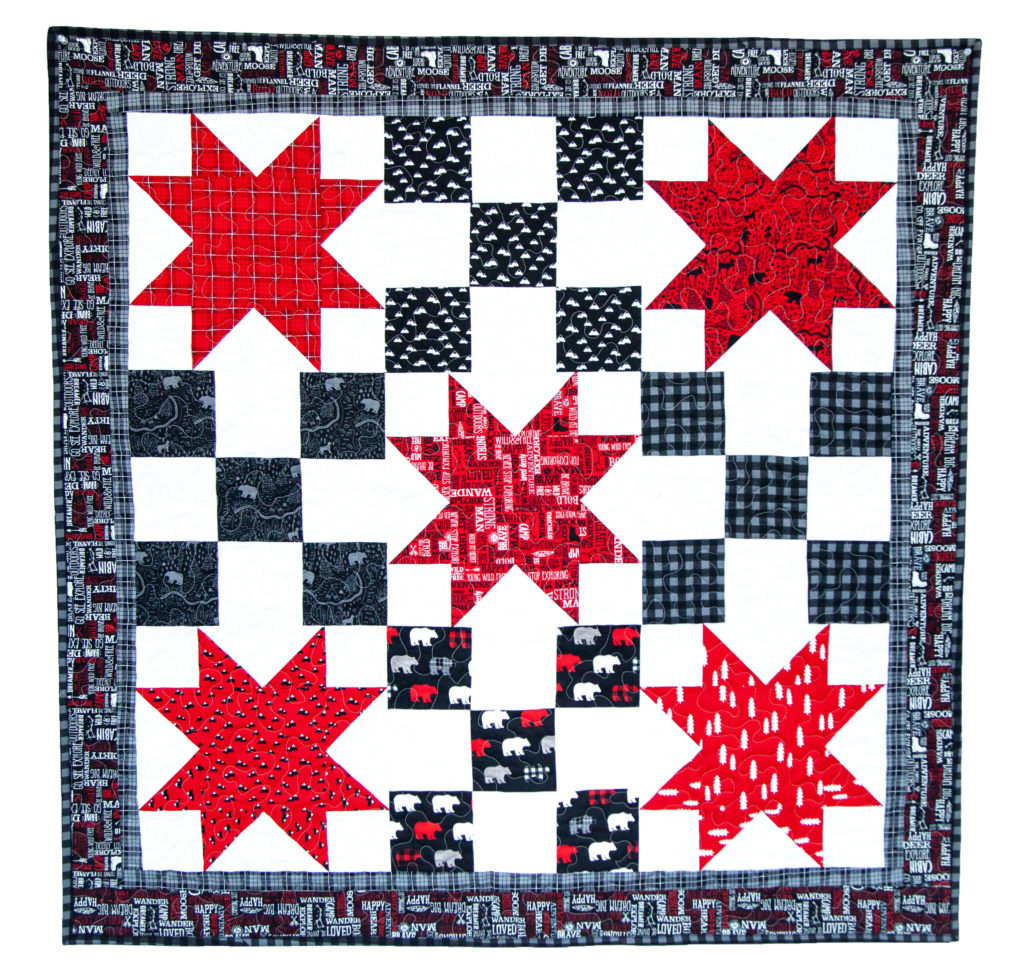 The collection has a woodsy theme, with wildlife, trees, mountains, maps, and cozy plaids and checks — all in a bold, modern color palette. I called it the Hidden Arrows Quilt because I love how the white background fabric forms the shape of an arrow. This was unintentional, and a fun surprise to see when the quilt top was all assembled!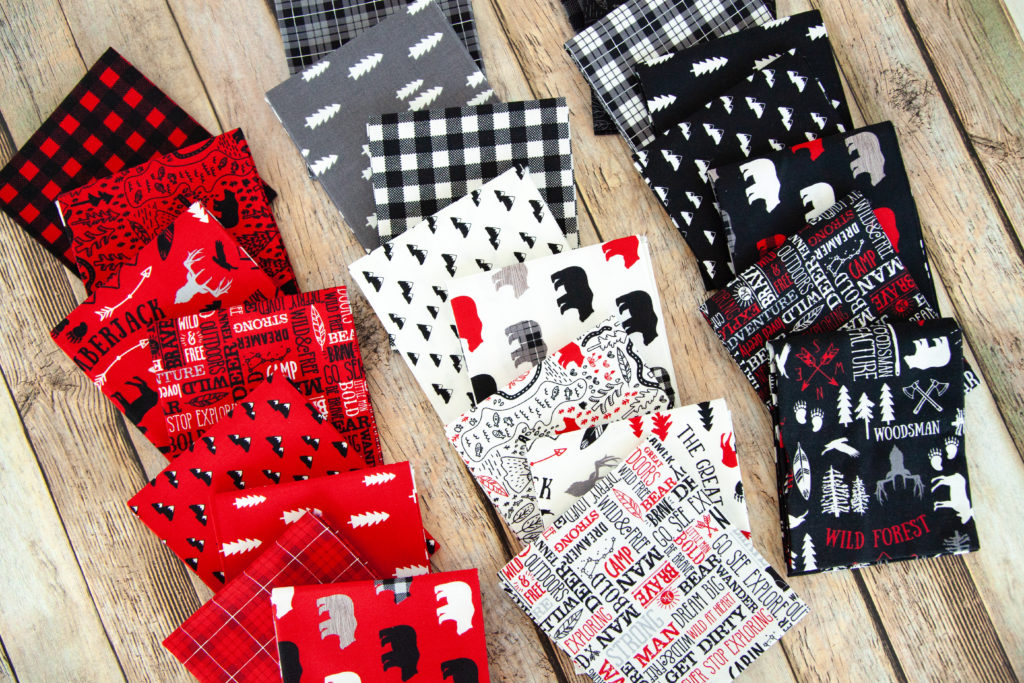 We are seriously in love with this simple palette of red, black, cream, and gray. Too cool!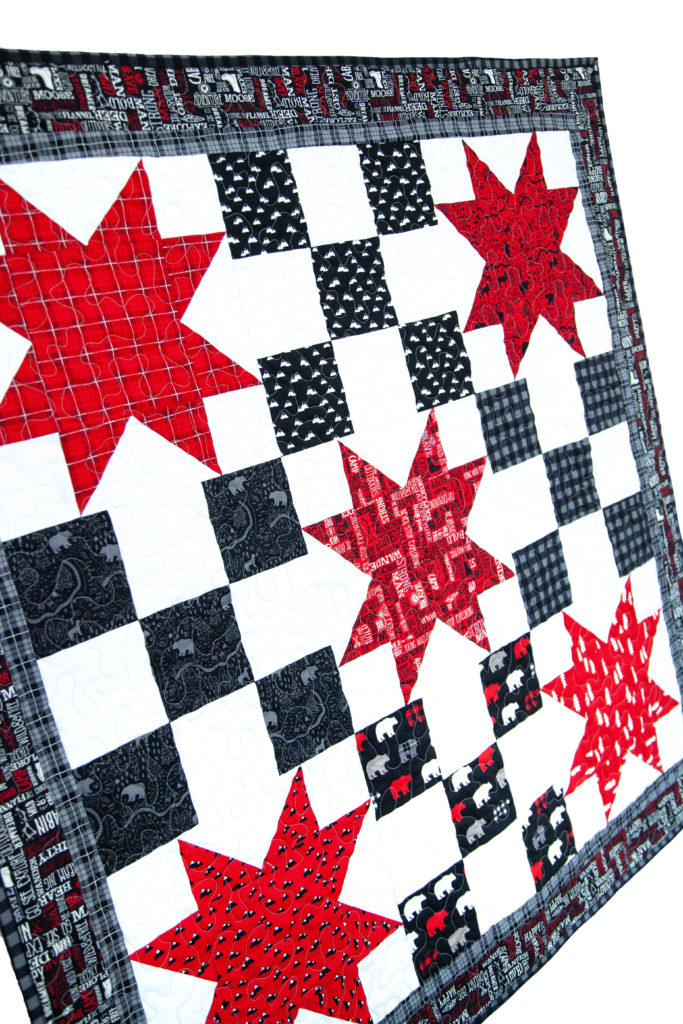 To make this quilt you will need:
3/4 yard Confetti Cotton – Cloud
1/2 yard Wild at Heart Black Words – cut into Four 3″ x WOF strips for border #2
1/4 yard Wild at Heart Red Plaid
1/4 yard Wild at Heart Red Trees
1/4 yard Wild at Heart Red Map
1/4 yard Wild at Heart Red Mountains
1/4 yard Wild at Heart Gray Plaid
1/4 yard Wild at Heart Gray Buffalo Plaid – cut into 4 – 1/2″ x WOF strips for Border #1
1/8 yard Wild at Heart Black Bears
1/8 yard Wild at Heart Black Mountains
1/8 yard Wild at Heart Black Map
4 – 2 1/2″ x WOF strips Gray Buffalo Plaid for Binding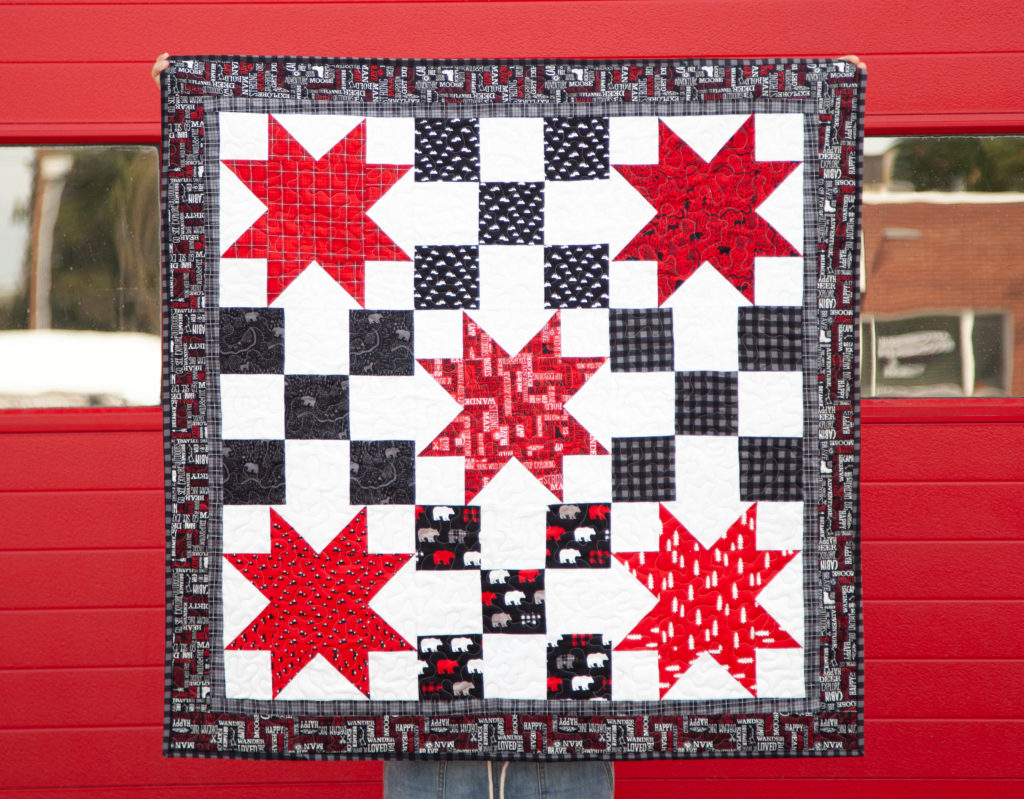 Make 4 nine-patch BLOCKS. Cut 16 – 4 1/2″ squares of the Cloud Confetti Cotton. For each block, you will also need 5 – 4 1/2″ squares of the Wild at Heart print (black map, black bears, black mountains, gray buffalo check). Sew the squares into nine-patch blocks and press seams. Set the blocks aside for now.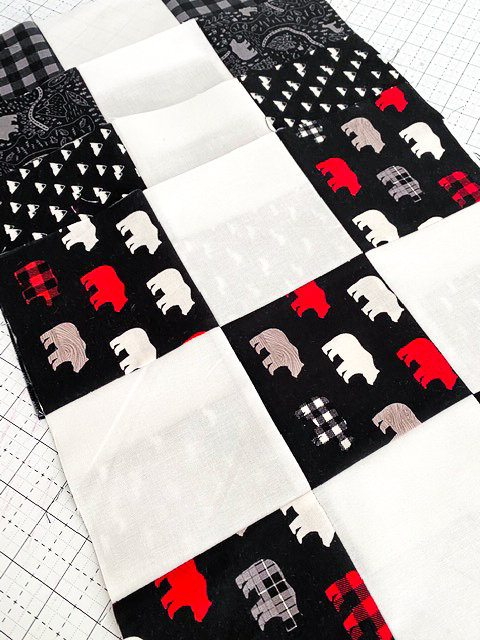 To make the stars, I used this easy TUTORIAL from Diary of a Quilter. From her chart, I used the measurements for the 12″ x 12″ block. Just remember that in the diagram, Goose and Center Square = Wild at Heart Fabric. Sky and Outside Squares = Confetti Cotton Cloud.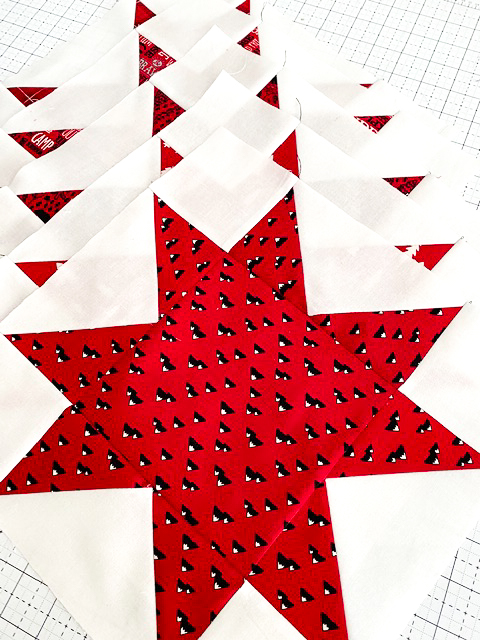 After all of the star blocks and nine-patch blocks are made, sew them together, alternating them like I did in the image above.
Add your Gray Plaid border, followed by the Black Words border.
Make your quilt sandwich (quilt back + batting + quilt top). Baste. Quilt as desired.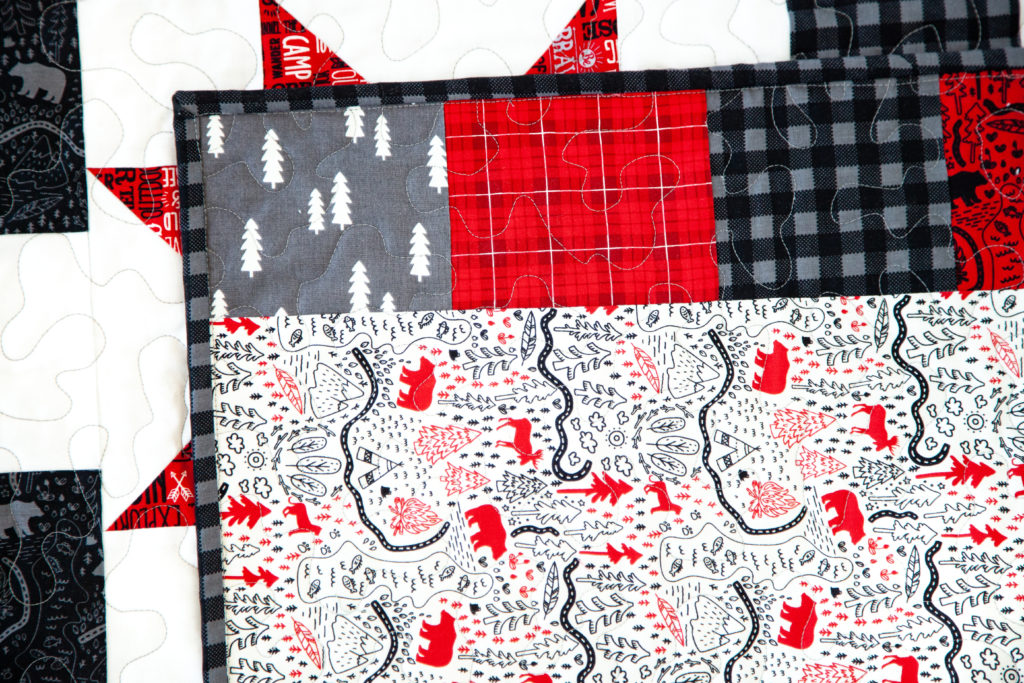 For the quilt back, I used the Cream Map along with a strip of scraps along the side.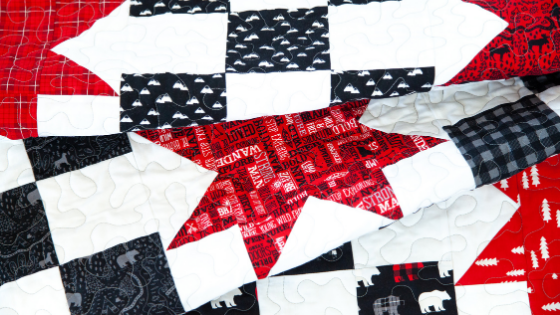 I used a medium gray thread and an all over meandering design for the quilting.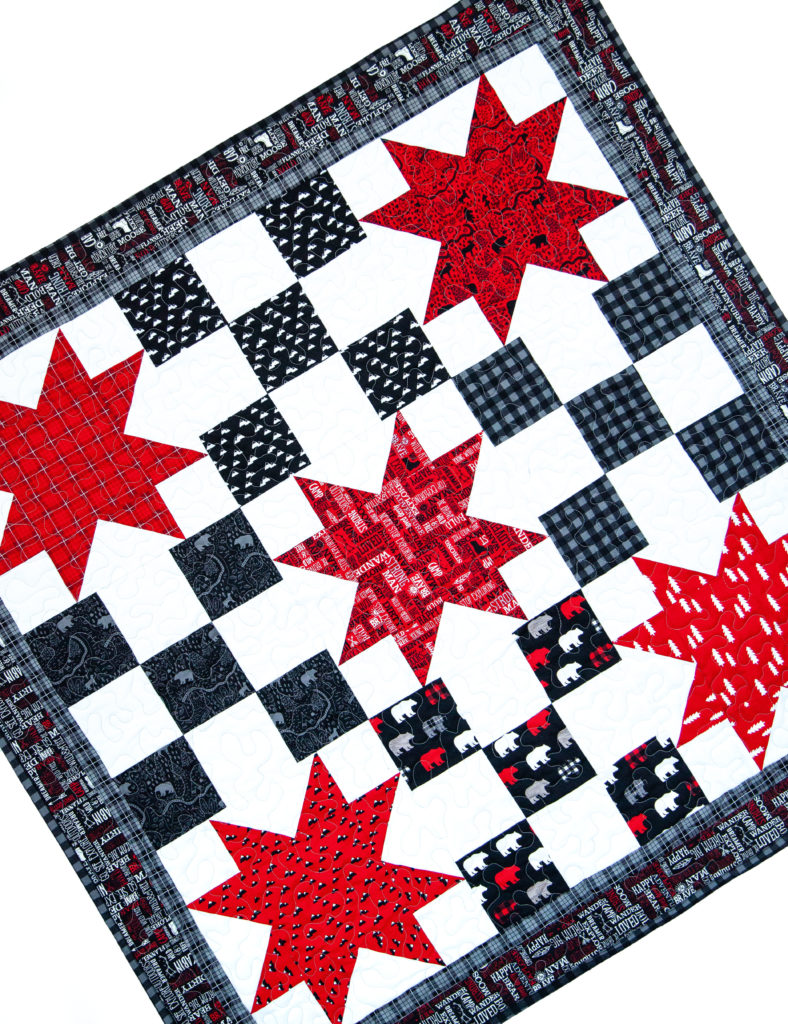 That's all there is to it! This quilt can be whipped up pretty quickly.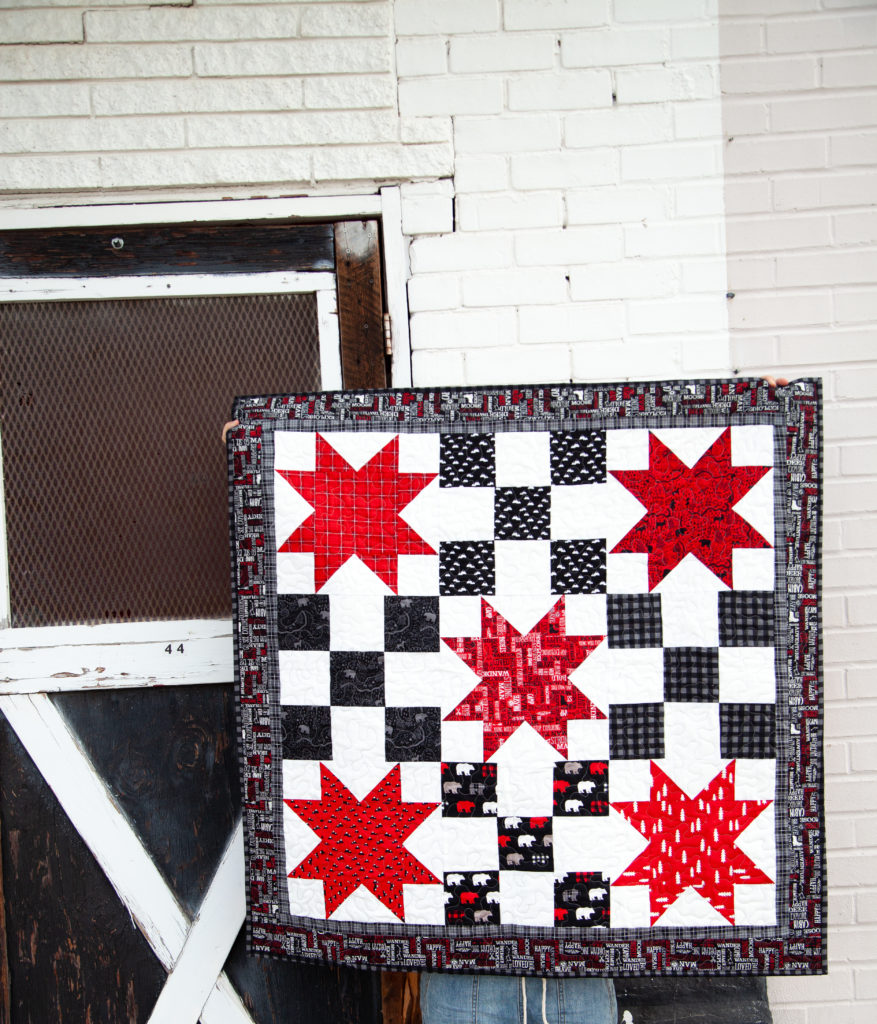 This would be such a fun gift to give and it is sure to be loved and cuddled with for years.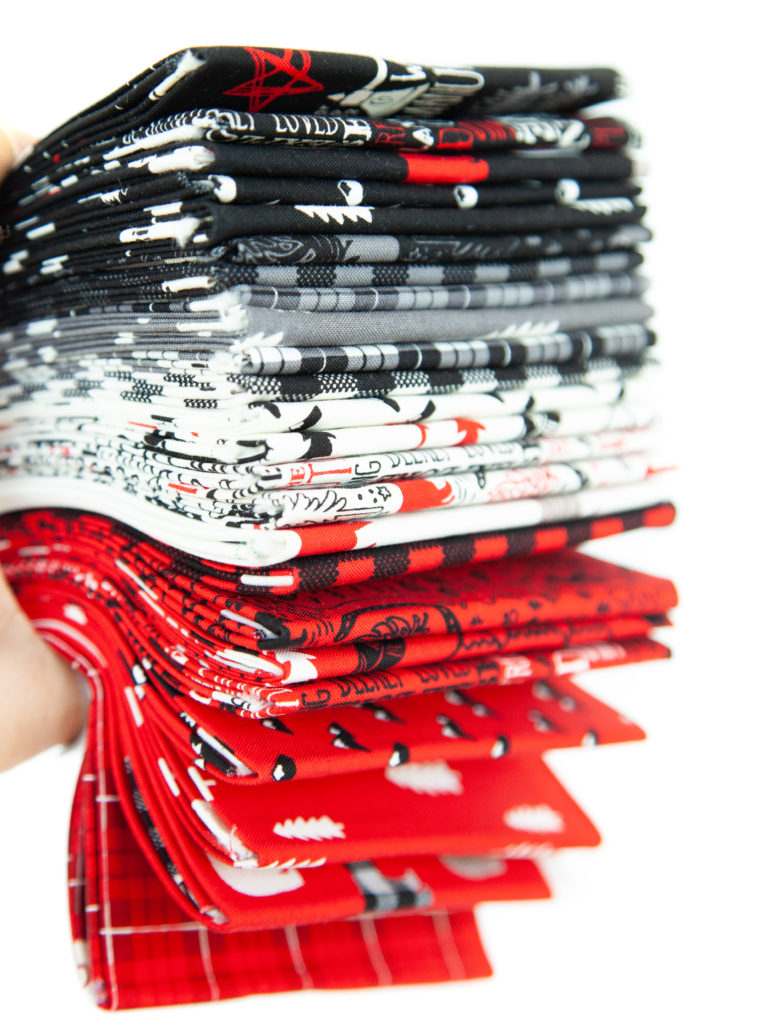 Wild at Heart, designed by Lori Whitlock, is available now at your favorite local and online quilt shops. Pick up yours today and share your makes with us on Instagram using #wildatheartfabric, #rileyblakedesigns, #iloverileyblake, and tag us @rileyblakedesigns.
Happy Quilting!