We LOVE working with flannel! It's cozy softness is exactly what we reach for in the chilly months, and it seems the more you go through the snuggle, wash, snuggle cycle, the softer and cozier it gets!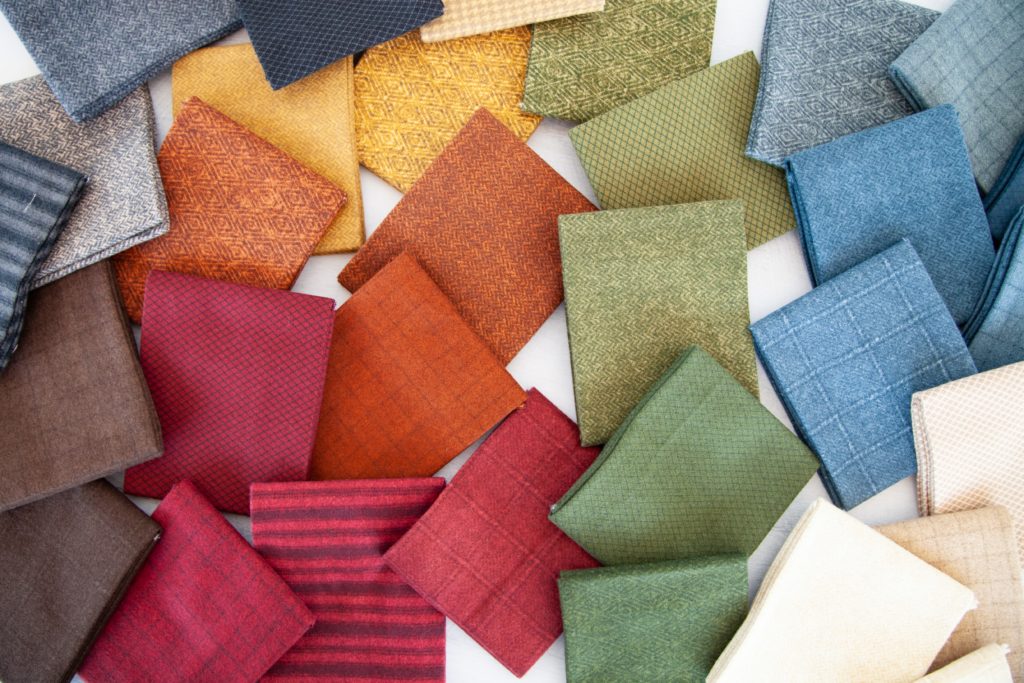 This flannel looks just wool with its traditional wool patterns and deep, rich pigments. However, all you need to do is touch this velvety soft fabric to know it's actually flannel.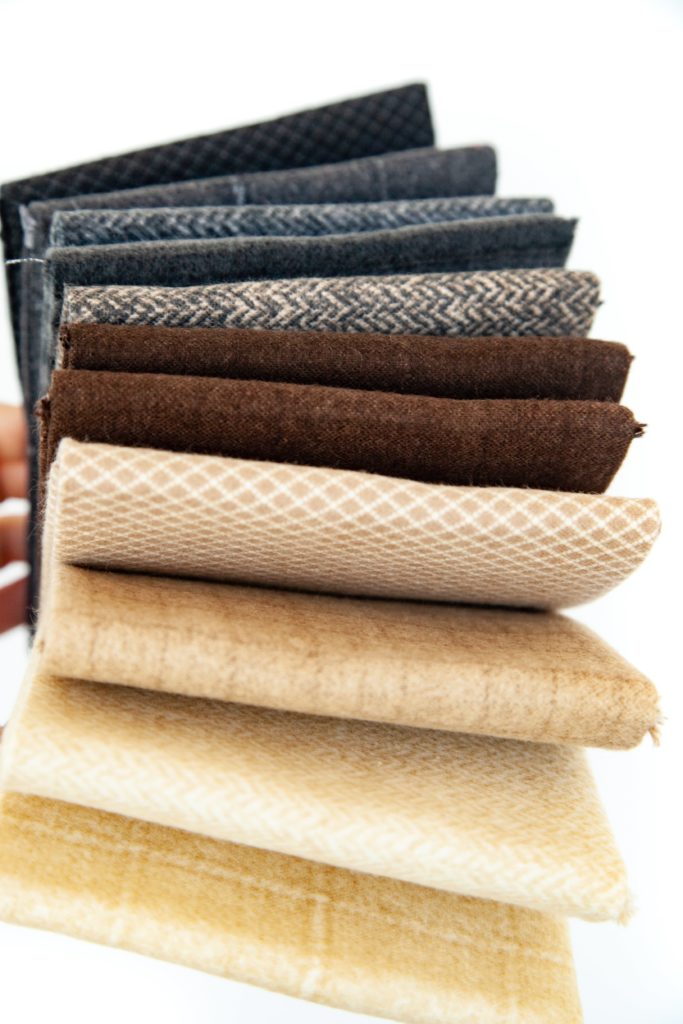 Here's a closer look at the earthy tones. Aren't they gorgeous?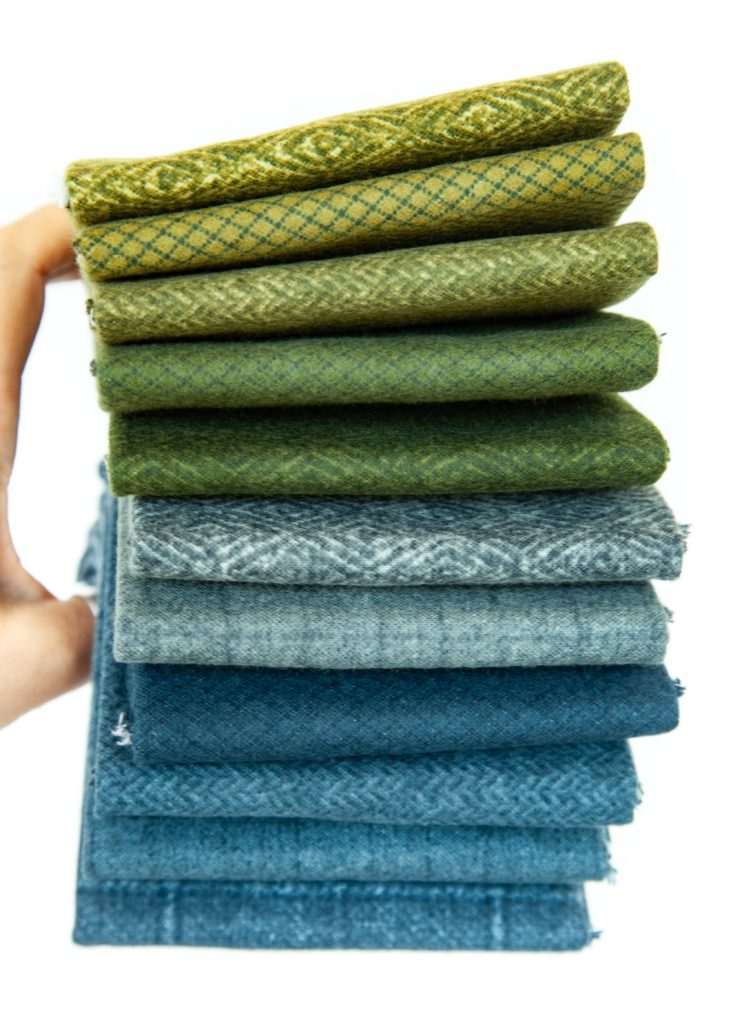 Stacy designed these cooler tones in shades of blue and green. The texture and depth of color is fabulous!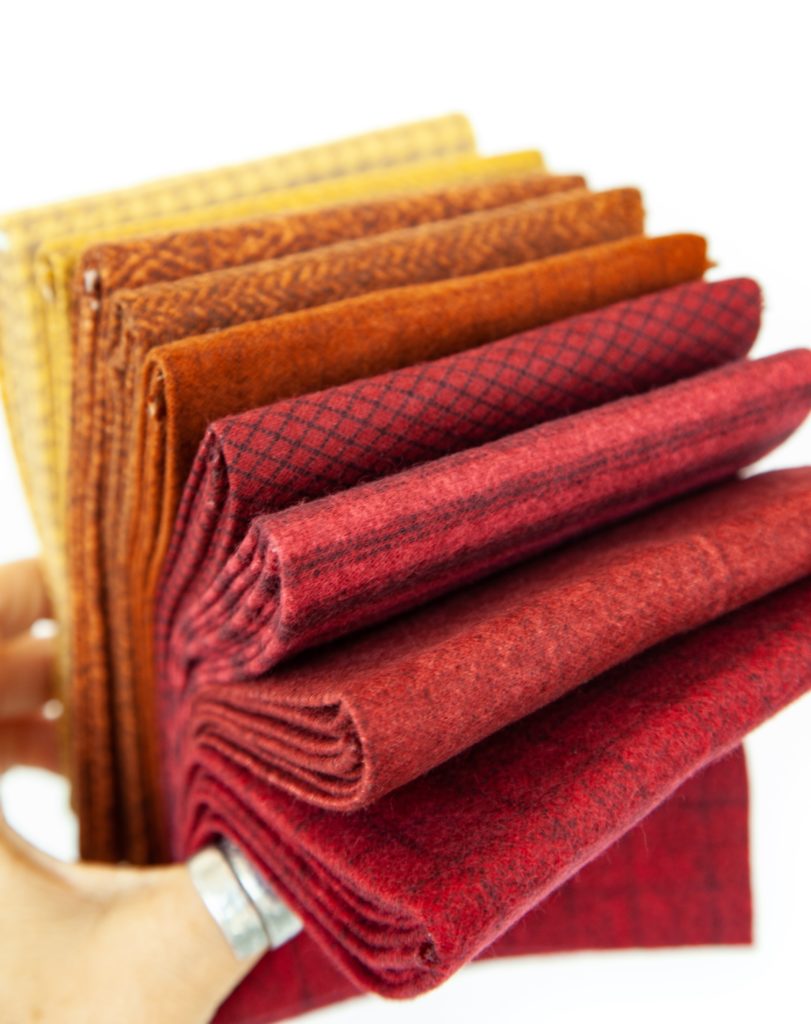 And here is a handful of the warm red, orange, and golds. Yes, please!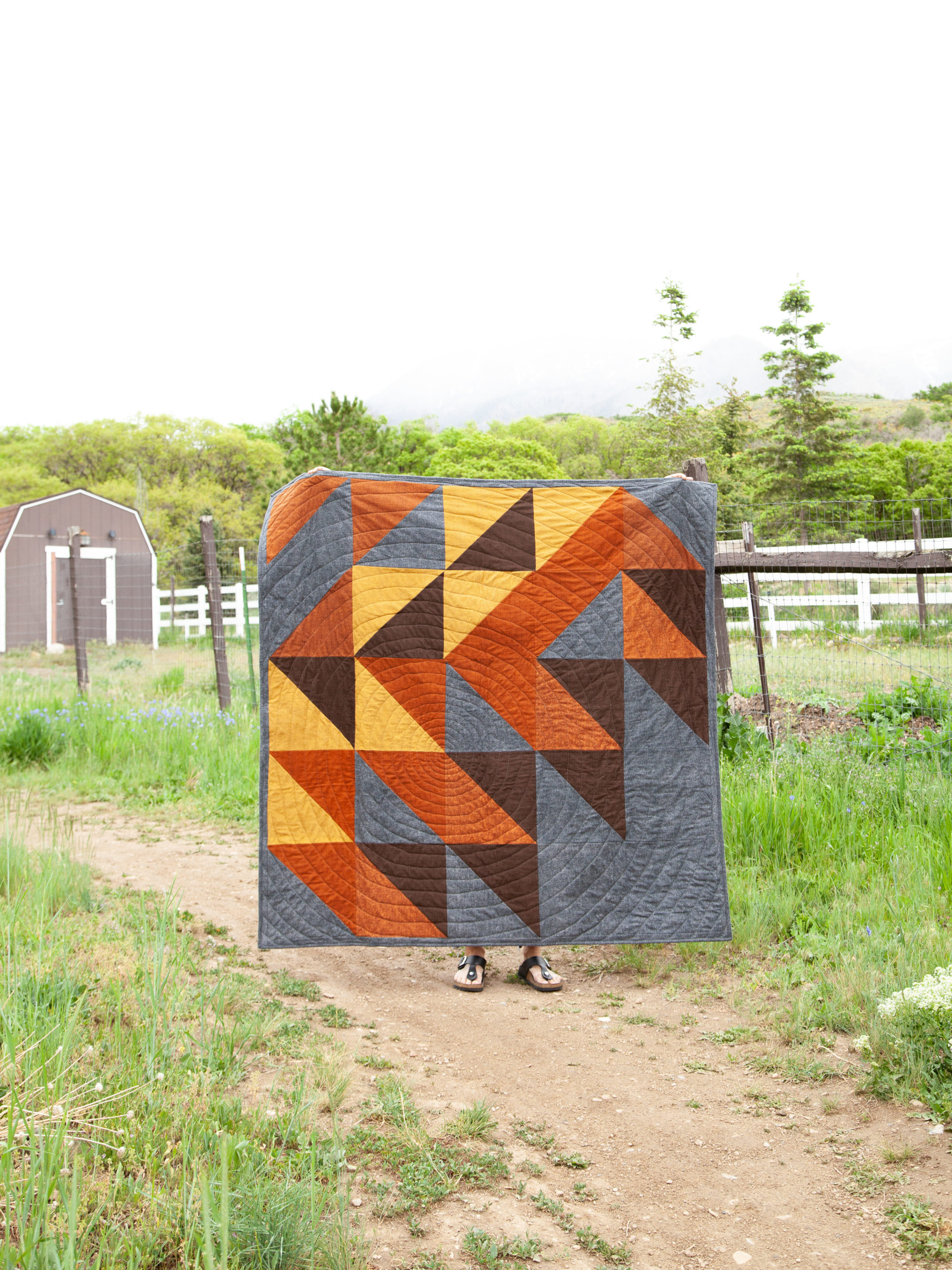 When I got my hands on the brand new Woolen Flannel fabric by Stacy West, I knew I had to whip up a quilt. I thought of my college age son, who I knew would love the woolen look of these fabrics, and decided a warm, modern design would be just the thing.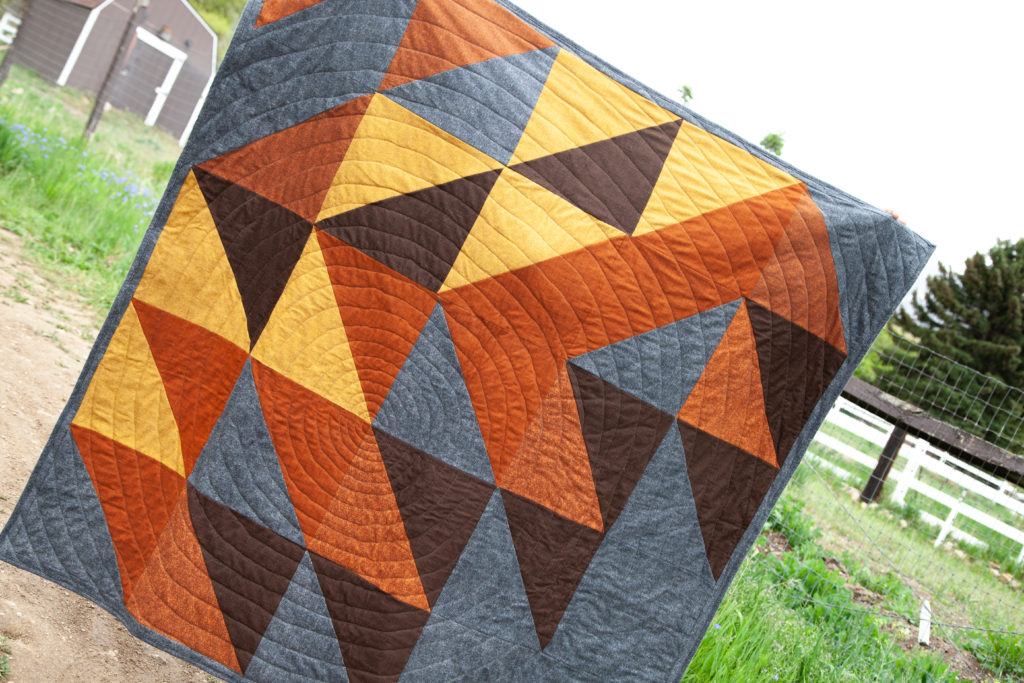 I'm calling this the Giant Half Square Reflection Quilt simply because it appears as if the corner of an almost formed square is repeating or reflecting across the quilt. This is a super easy project to make — very beginner-friendly.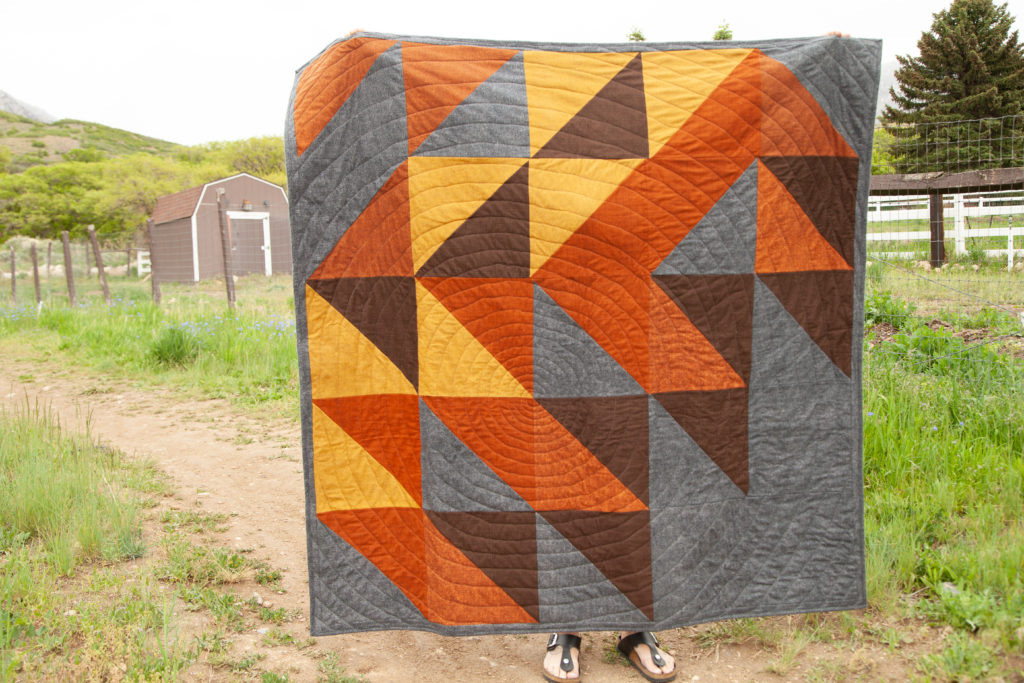 To make the quilt, you will need:
6 – 12 7/8″ squares in Gray Herringbone
5 – 12 7/8″ squares Brown Plaid
4 – 12 7/8″ squares Gold Herringbone
4 – 12 7/8″ squares Orange Grid
2 – 12 7/8″ squares Orange Herringbone
2 – 12 7/8″ squares Orange Diamond
3 – 12″ squares Gray Herringbone
7 – 1.5″ x WOF strips
7 – 2.5″ x WOF strips Gray Herringbone for border
7 – 2.5″ x WOF strips Gray Herringbone for binding
fabric for quilt back
batting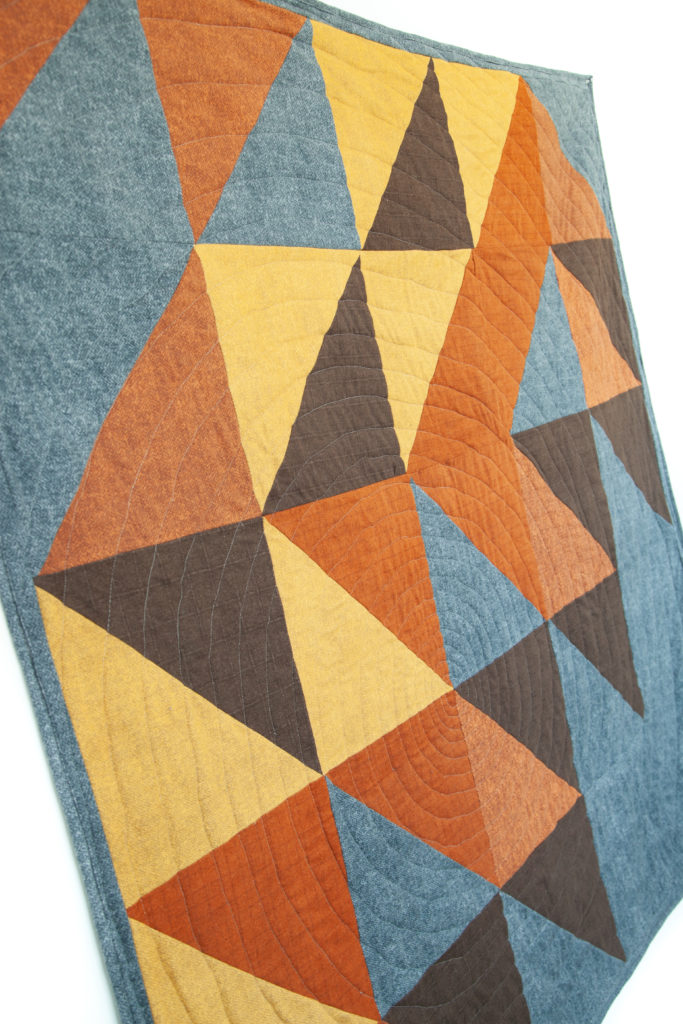 With the exception of the three Taupe Herringbone corner blocks, the entire quilt is made up of giant half square triangles. We will be using the two-at-a-time method to make out half square triangles. To do this:
Place two 12 7/8″ square right sides together.
Mark a diagonal line from corner to corner on one square.
Sew 1/4″ from either side of this line.
Cut along the drawn line
Press seams open toward the darker fabric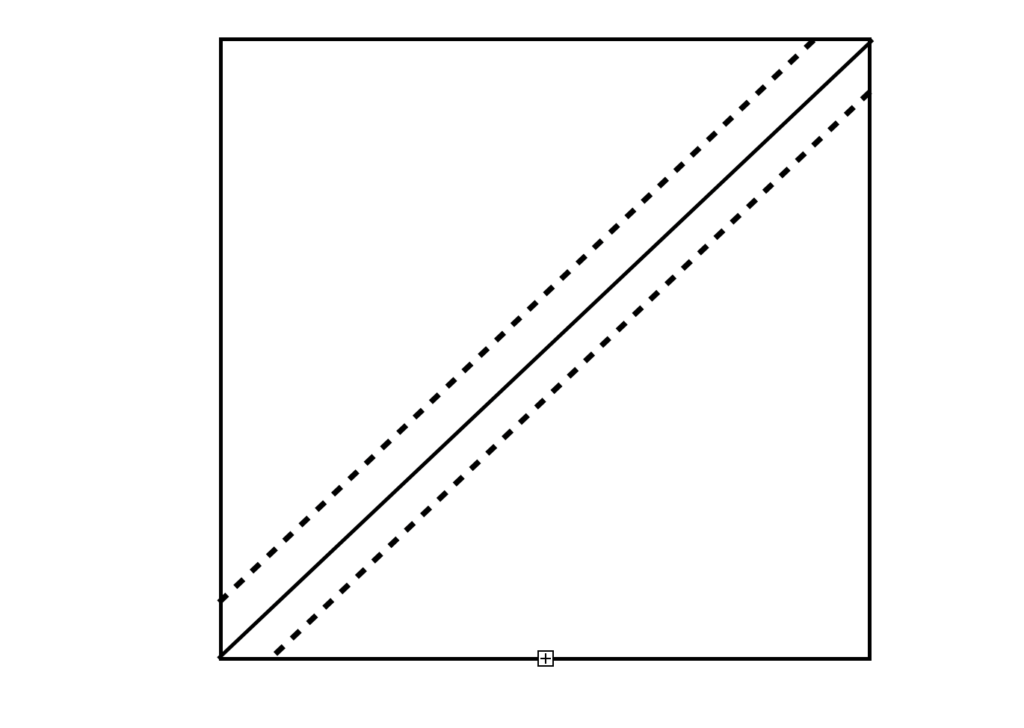 Using this method, make half square triangle blocks out of the following pairings:
Gray Herringbone/Orange Grid x 2 (2 squares each which will yield 4 HST blocks)
Gray Herringbone/Orange Herringbone x 2
Gray Herringbone/Brown Plaid x 2
Gold Herringbone/Orange Grid x 2
Gold Herringbone/Brown Plaid x 2
Orange Diamond/Brown Plaid x 2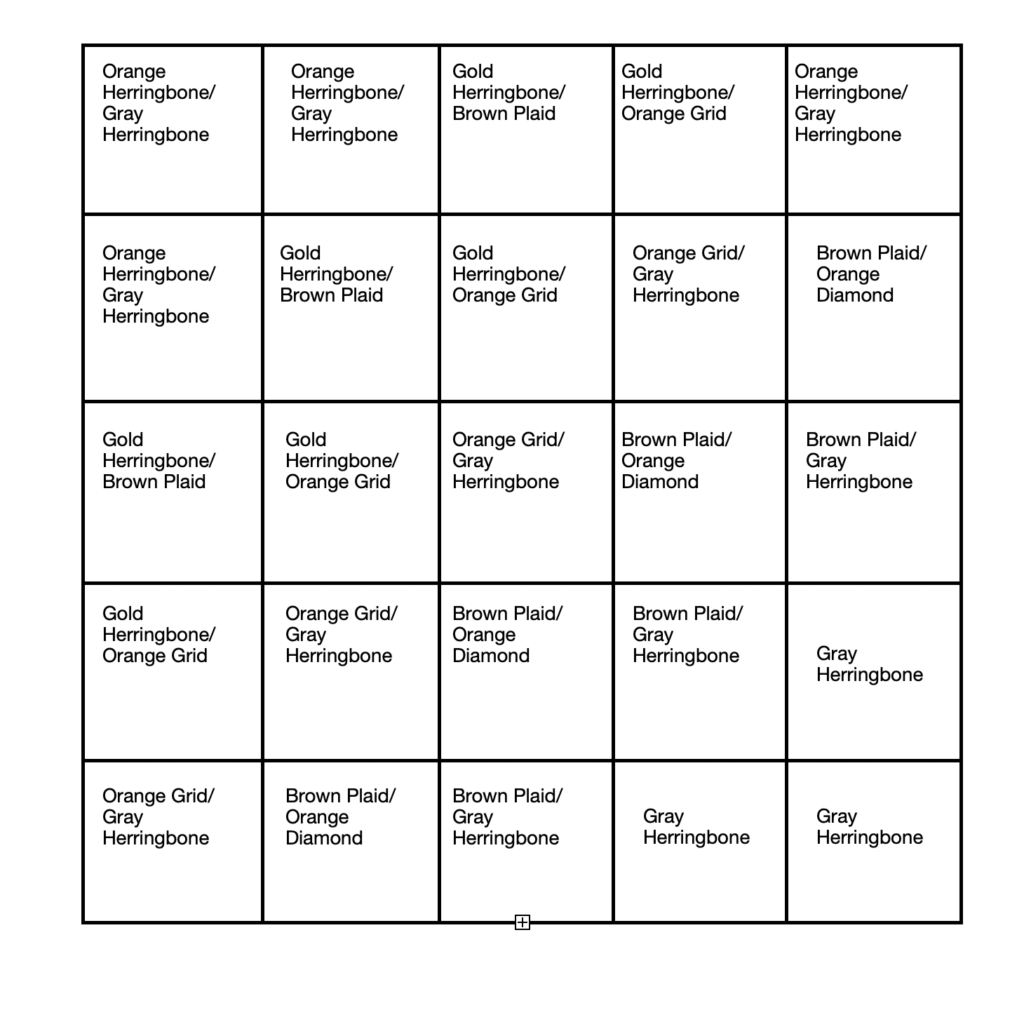 Here is your layout. You can use the photos above to see how I rotated various blocks. Rotating the blocs in different directions will change the entire look of the quilt. Feel free to play around with this to get the look you want.
Sew the top row together, pressing all of the seams in one direction. Sew the next row together, pressing the seams in the opposite direction. Repeat for all of the rows.
Sew all of the rows together, nesting the seams as you go. Press seams open to reduce bulk.
Make your quilt sandwich (quilt back + batting + quilt top). Quilt the top, add binding, and you are done!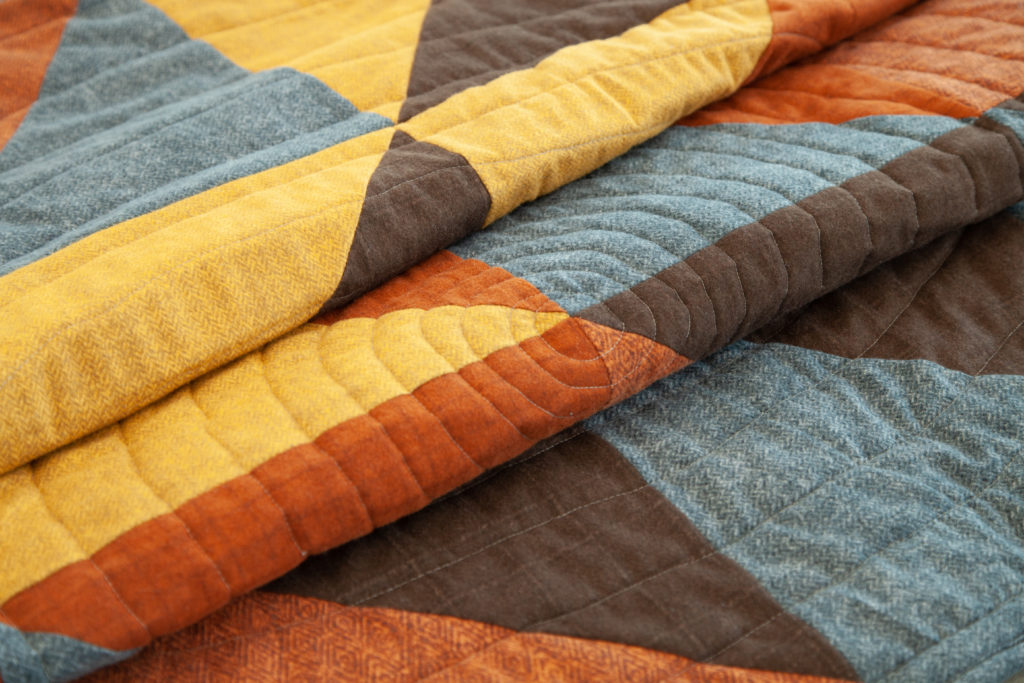 I decided to do a very freeform spiral design for my quilting. While it looks fine on this quilt, I think in the future, I will draw out the spiral design to achieve a more uniform look, as many of my spirals vary in size and are even quite crooked. The great part about working with this flannel is that it crinkles up quite a bit when you wash and dry it, so it is very forgiving of any imperfections in your quilting.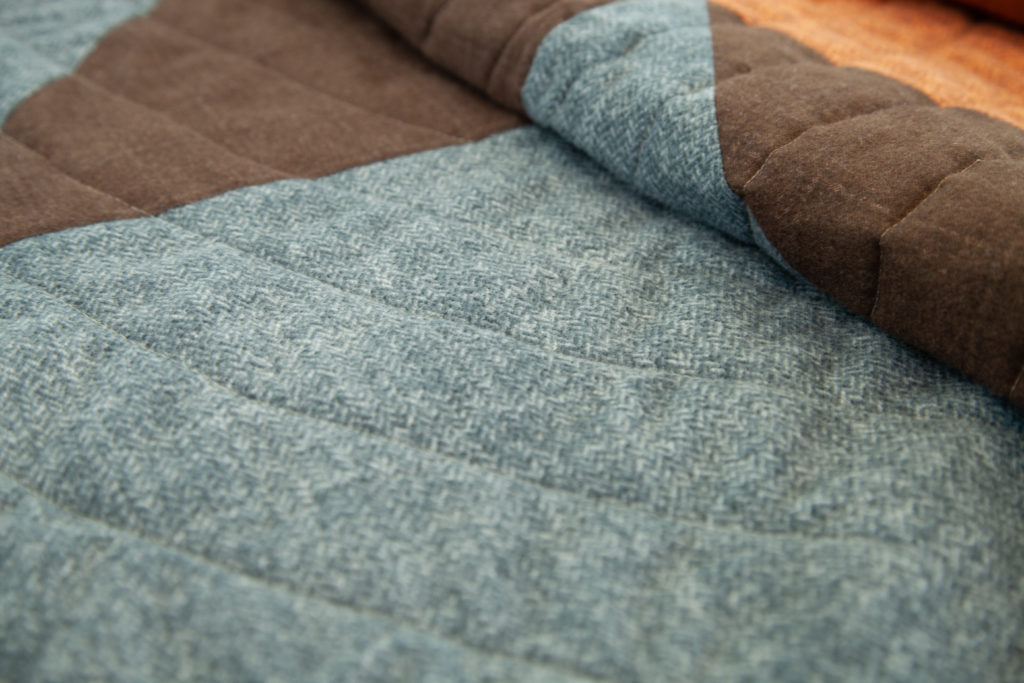 Here is a close up of the gorgeous herringbone pattern. It really does look like wool! But make no mistake, this is our high quality, super soft flannel. Amazing!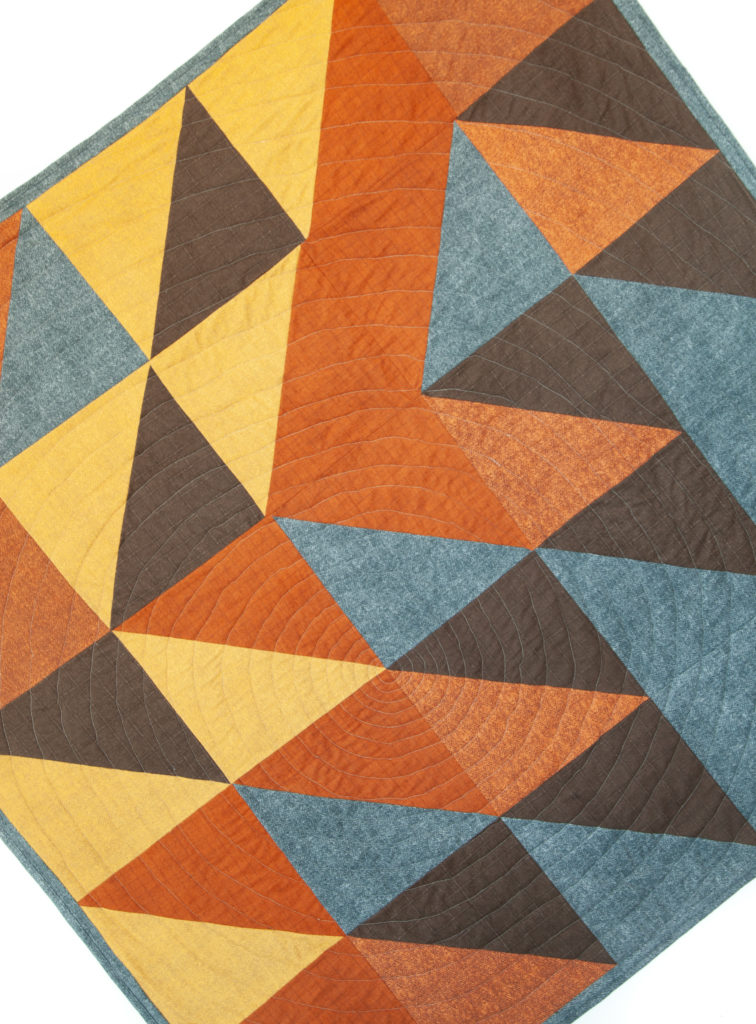 I love these warm, toasty colors! I used three different patterns in the orange color (Orange Herringbone, Orange Grid, and Orange Diamond), and I found that doing so added a lovely textural element to the quilt.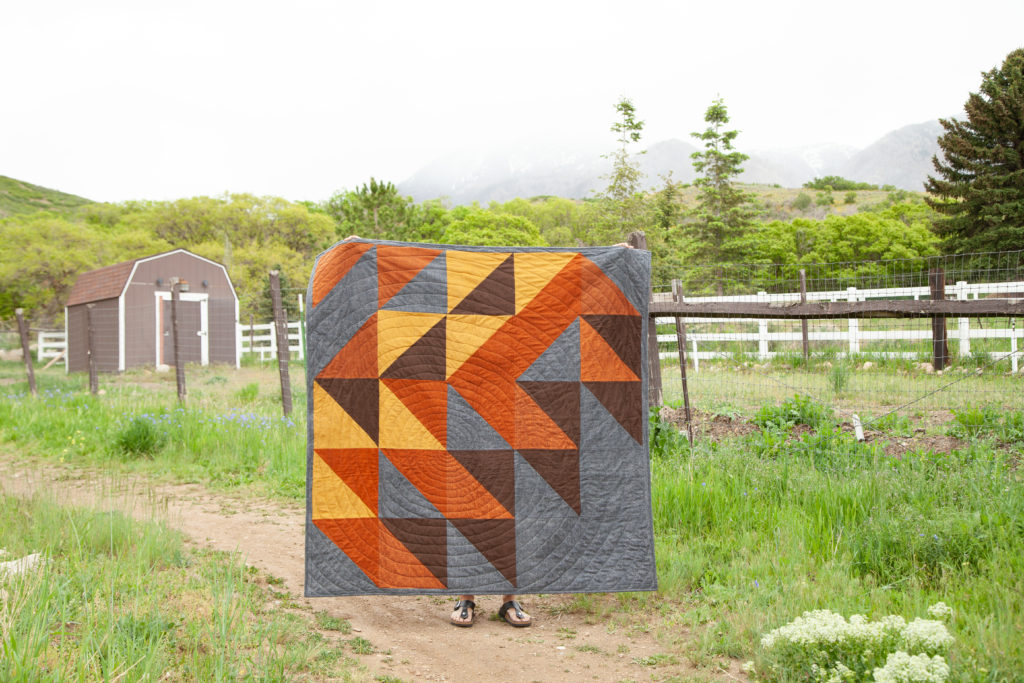 This quilt comes together in no time at all and makes the perfect gift for Father's Day, college students, or for anyone who loves a snuggly soft quilt!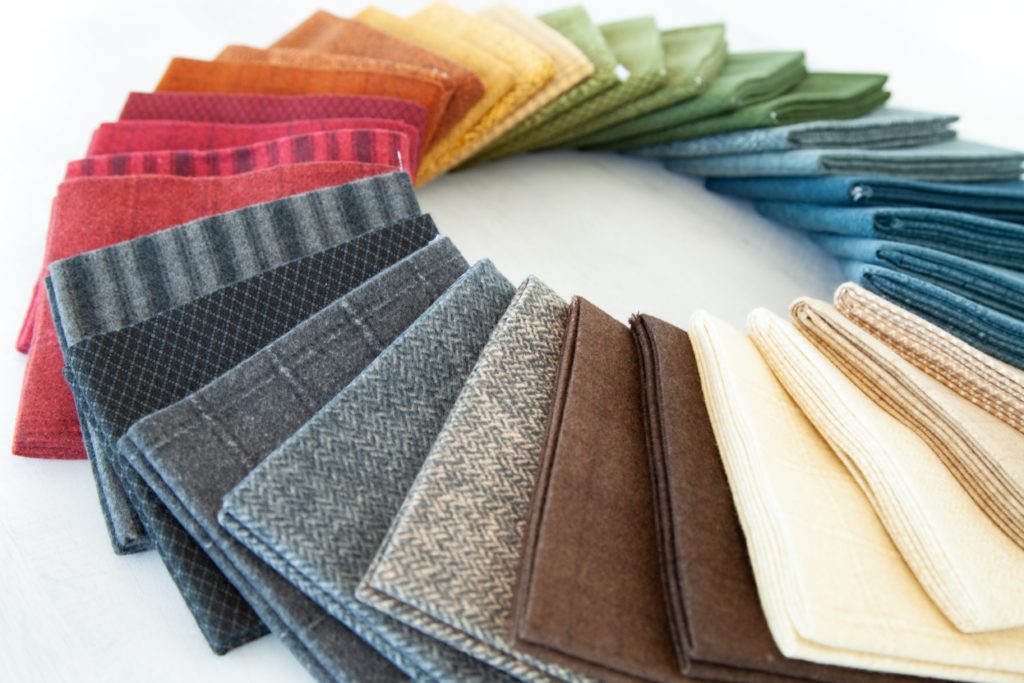 Woolen Flannel, designed by Stacy West, is in its way to your favorite local and online quilt shops. Pre-order yours today to get your hands on one of these gorgeous bundles, and share your makes with us on Instagram using #woolenflannelfabric, #rileyblakedesigns, #iloverileyblake, and tag us @rileyblakedesigns.