Woolen Flannel, by Stacy West of Buttermilk Basin, is on its way to quilt shops and we can hardly contain our excitement!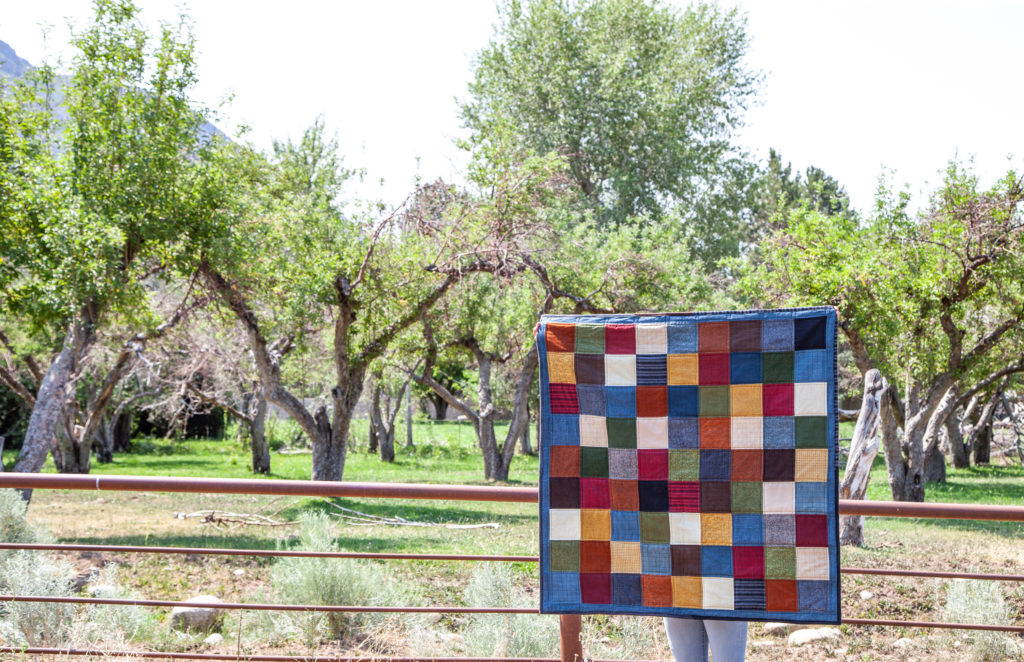 This super soft, high quality flannel fabric is printed to look like wool — and it really does! You'll find houndstooth, herringbone, plaid, stripe, and more!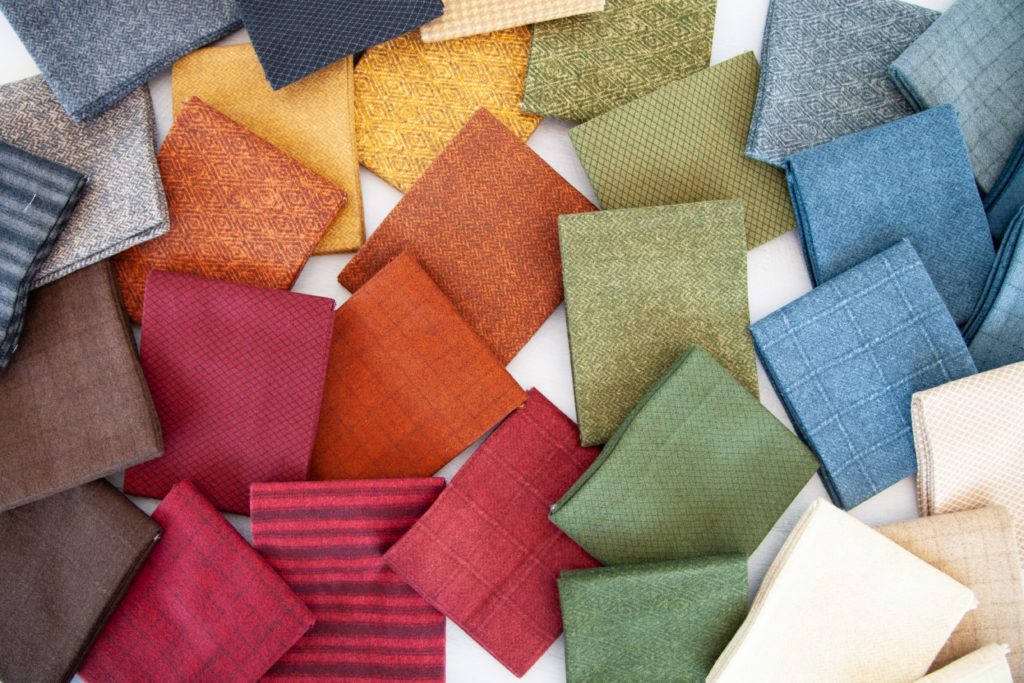 The color palette ranges from cool blues to earthy green, cream and brown, to warm and toasty orange, red and yellow. One fabulous bonus is that this collection of Woolen Flannel comes in pre-cuts! You'll find 1-yard bundles, fat quarter bundles, 10″ stackers, and 5″ stackers.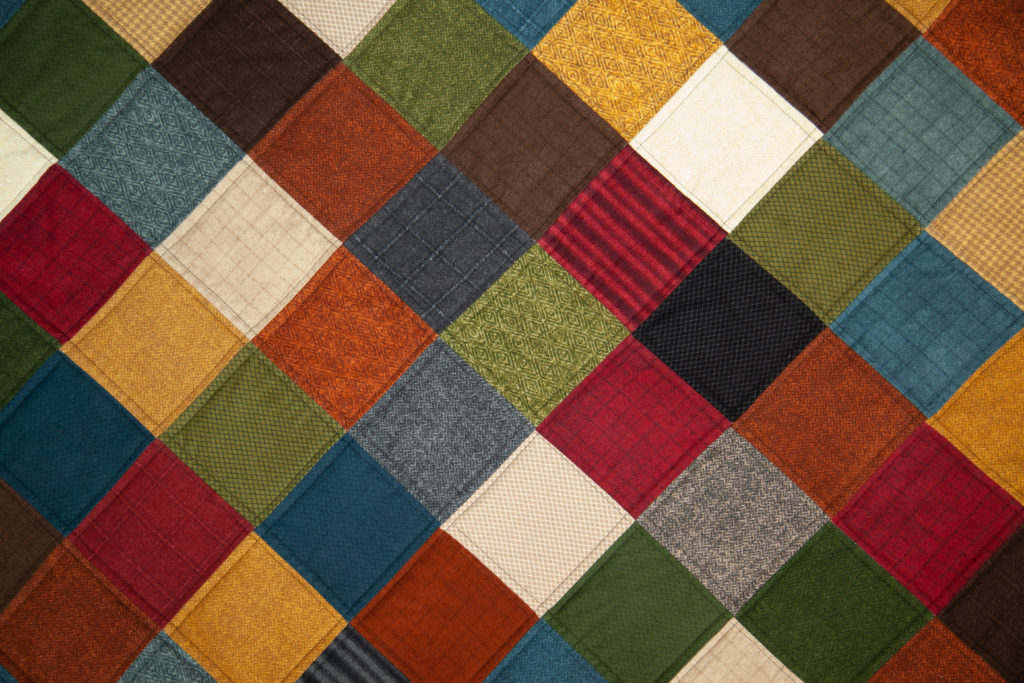 I decided to use 5″ stackers to create this fun little patchwork baby quilt that looks as if it were made from old bits of clothing. This is a great beginner-friendly quilt because it is so easy to make, and so satisfying!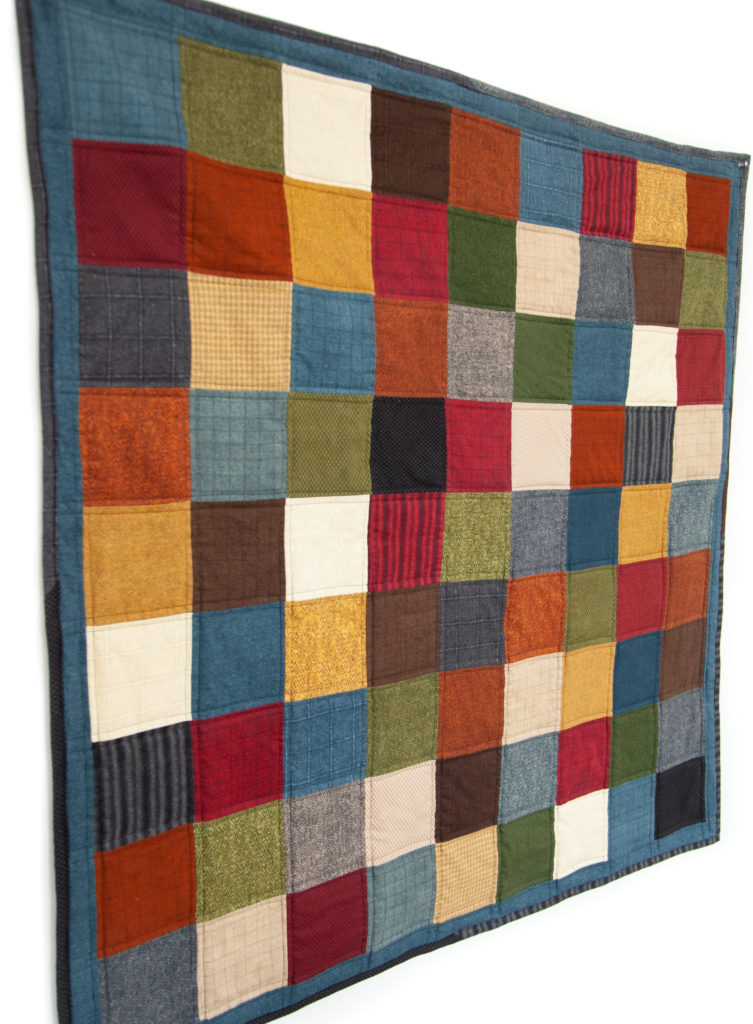 This finished quilt measures 43″ x 43″. This is the perfect size for a baby quilt, or even a small picnic quilt or play mat.
To make the quilt, you will need:
2 – 5″ stackers Woolen Flannel
5 – 2″ x WOF strips Woolen Flannel for the border. I used Navy Grid.
5 – 2 1/2″ x WOF strips Woolen Flannel for the binding. I used scraps in varying shades of black and gray, and one strip of brown
Quilt batting
Fabric for quilt back. I used four 12″ strips of various Woolen Flannel fabrics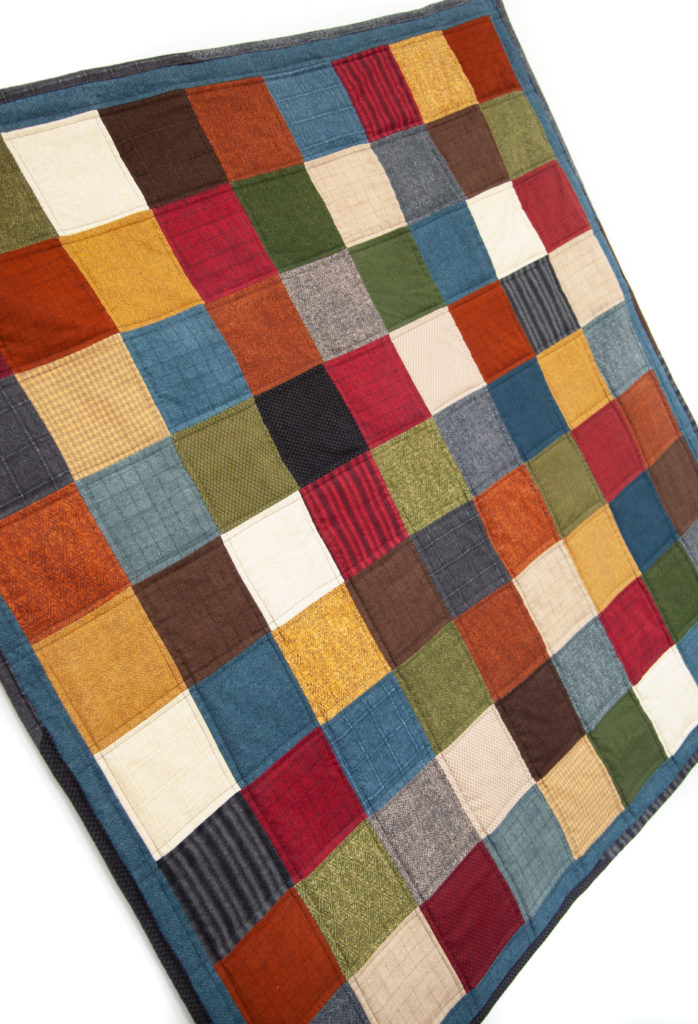 To make the quilt, arrange the 5″ squares into nine rows of 9 squares.
Sew each row, pressing the seams of each row in opposite directions. For example, press the seams of row 1 to the right. Press the seams of row 2 to the left, and so on.
Sew the rows together, nesting the seams. Nesting the seams simple means that because you pressed the seams in opposite directions, they will butt up against each other when you lay the rows right sides together in preparation for sewing them together. You want the seams to butt up against each other to reduce bulk.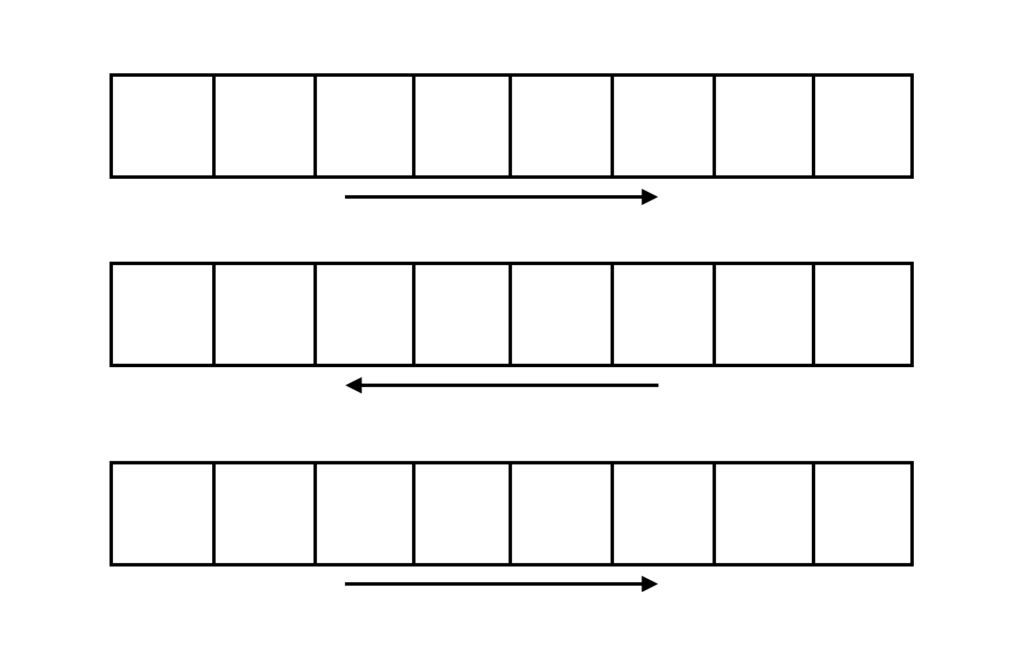 After you have sewn all of the rows together, press the long seams you just created open. Again, pressing these seams open will reduce bulk, which is very important.
Next, sew a 2″ strip of fabric to the sides of the quilt top. Press seams toward the border strip.
You have three 2″ fabric strips left. To add the top and bottom strip, you can sew all three strips together, then sew one strip to the top, trim so the ends are flush with edge of quilt top, then sew the rest of the strip to the bottom, trim so ends are flush with quilt top. Press toward 2″ strip.
Or…you can cut the 3rd strip in half and sew one half to each of your two long strips. Then sew each strip to the top and bottom. Trim so ends are flush with quilt top.
Either way is perfectly fine. In the end, you want a 2″ border around the sides, top and bottom. Whatever way you use to achieve that is great!
Now all that is left is to make your quilt sandwich (quilt back + batting + quilt top).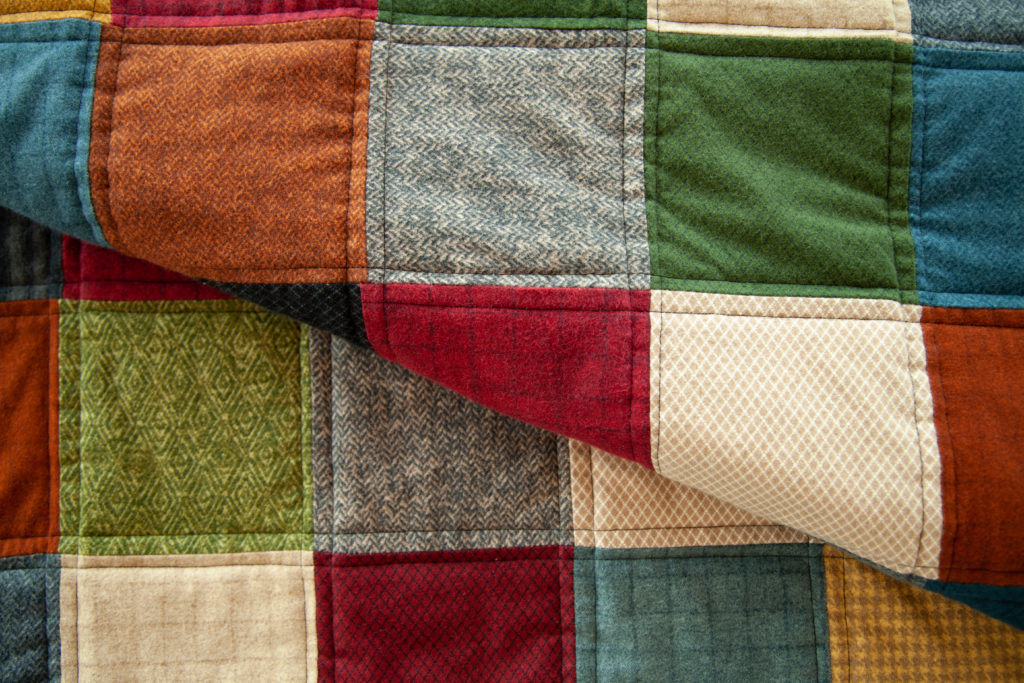 Because the quilt is so small, it was an easy decision to quilt it on my domestic machine. Using a walking foot and black thread, I quilted straight lines 1/4″ from the sides of each horizontal and vertical seam. I kept the quilting very minimal because flannel is bulkier than cotton and I knew too much quilting would make the finished quilt stiff. I want this quilt to be soft and cuddly, so minimal quilting was the answer.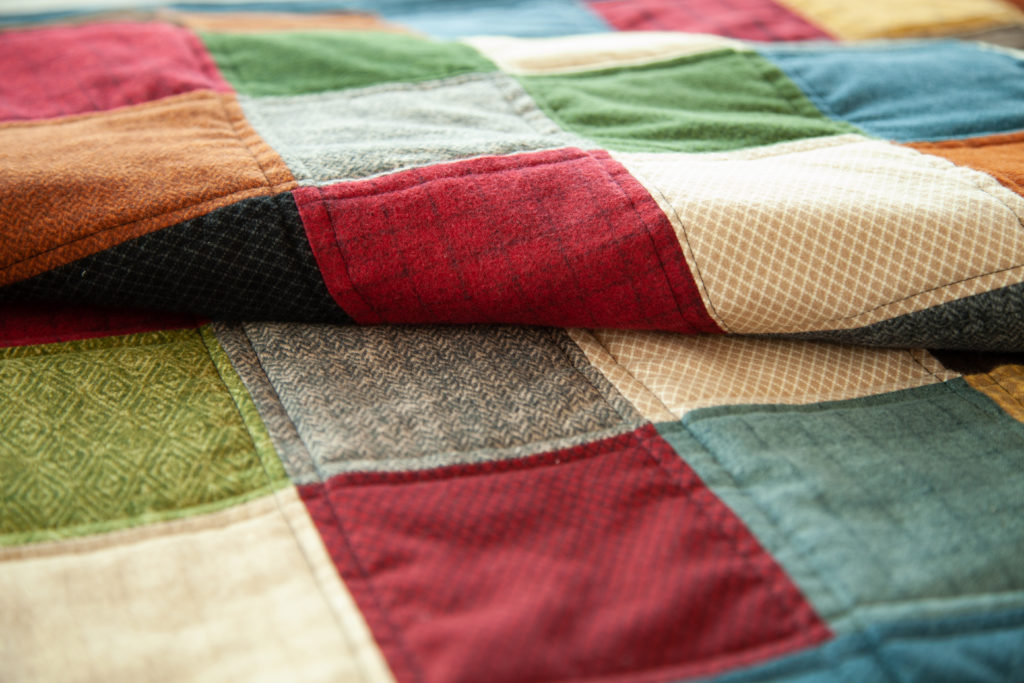 Here's a closer look at some of the prints in this line. You can see the gorgeous texture and rich color here. Now imagine how soft these are in flannel and you'll know why were are so in love with these fabrics!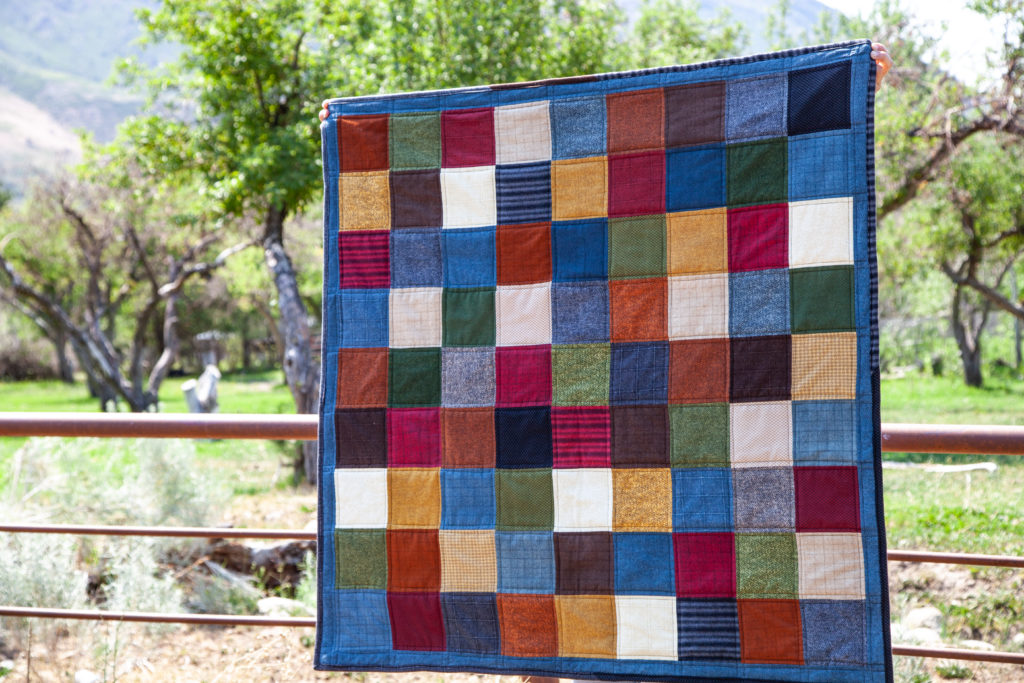 You can make a larger version of this quilt using one or two 10″ stackers (depending how big you want it), or you can increase the size by adding more 5″ stackers. There are lots of options to think about!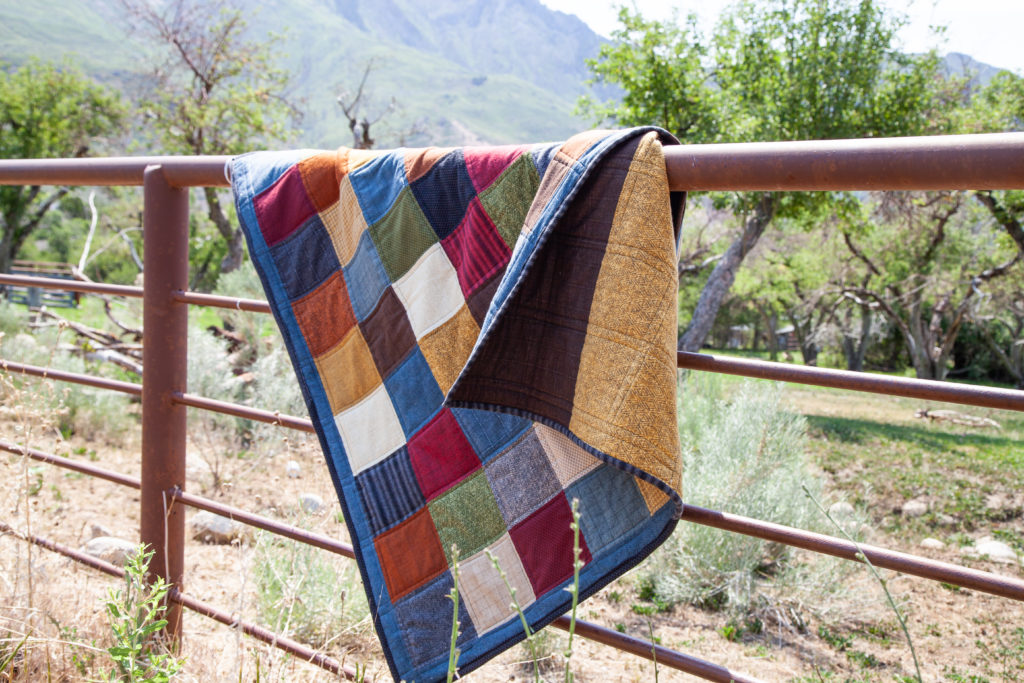 A larger version would make a fantastic quilt for a cabin, a dorm room, or a throw size quilt for your family room.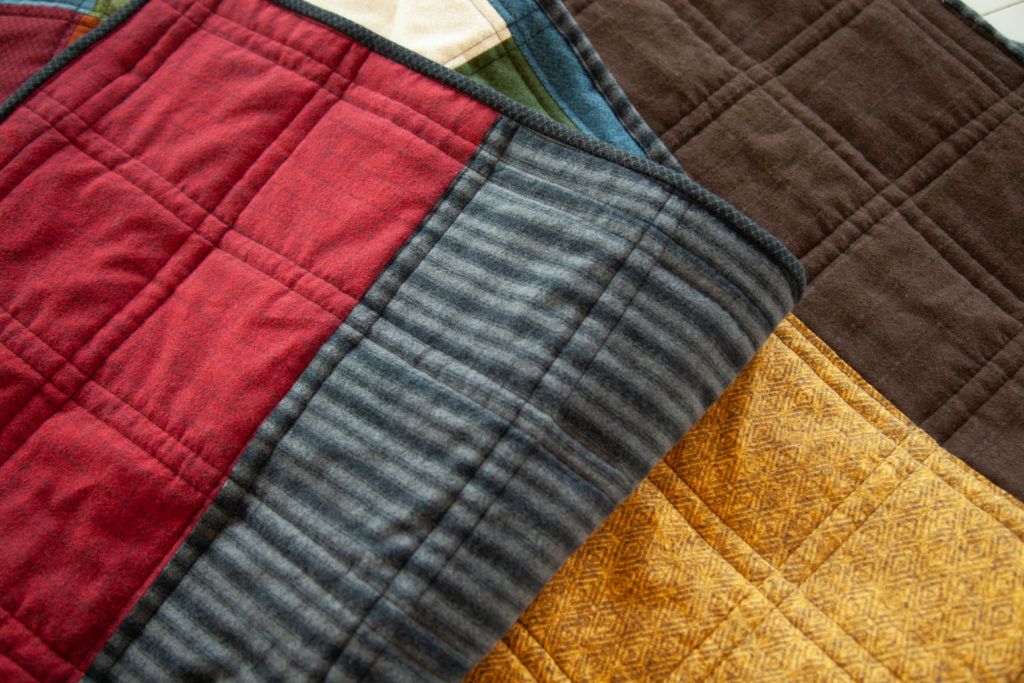 Not wanting to waste any fabric leftover from previous projects, I used four 12″ x WOF strips for my quilt back. So easy, and I love how the scrappy look continues to the quilt back!
That's all there is to it! Easiest quilt ever, and one that everyone will reach for on chilly nights, picnics, and sporting events.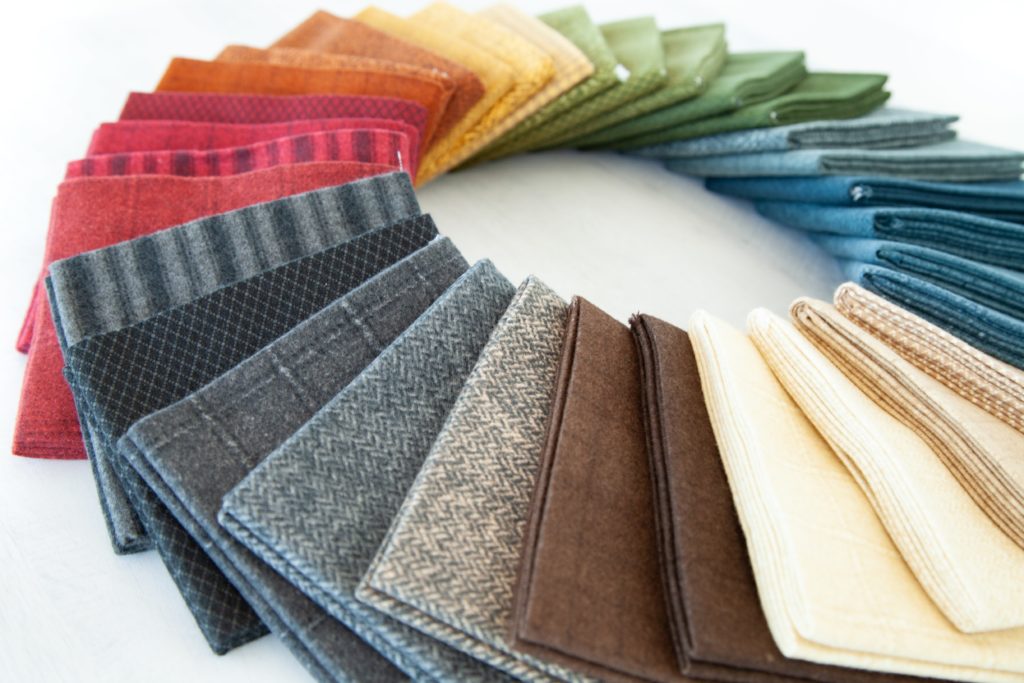 Woolen Flannel, designed by Stacy West, is in its way to your favorite local and online quilt shops. Pre-order yours today to get your hands on one of these gorgeous bundles, and share your makes with us on Instagram using #woolenflannelfabric, #rileyblakedesigns, #iloverileyblake, and tag us @rileyblakedesigns.