Two block designs are a classic element of quilting, but what happens if you split those blocks in half? Hi, I'm Leanne from Devoted Quilter and I'm here today to share my Fifty-Fifty quilt in Daisy Fields fabrics.
I love the modern look of the log cabin and star blocks after they've been split and then recombined! The Fifty-Fifty quilt pattern is available in my shop as a PDF or a printed pattern (with free shipping!).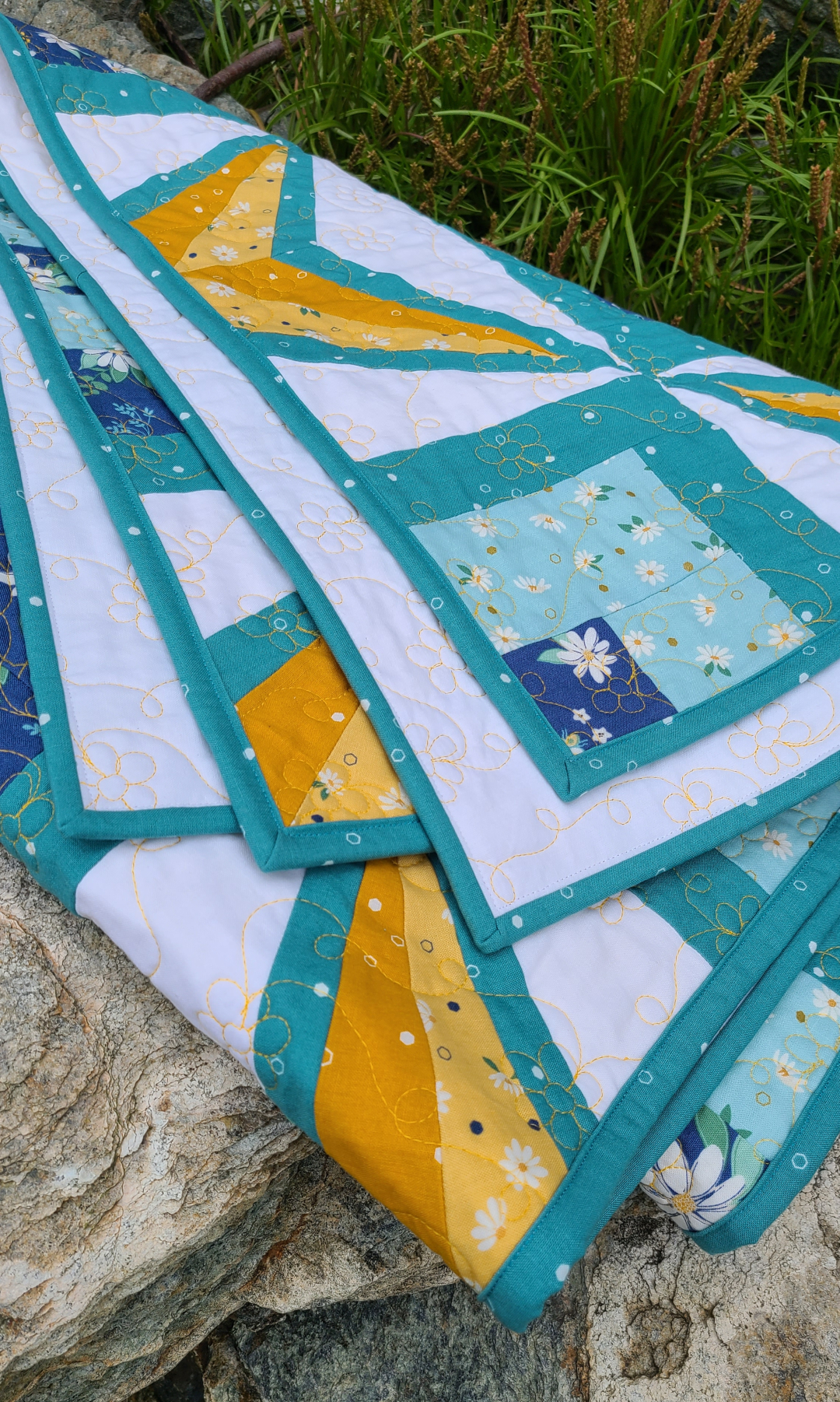 These fabrics were so much fun to work with! Between the beautiful daisies and the hexagon elements, I just couldn't resist them.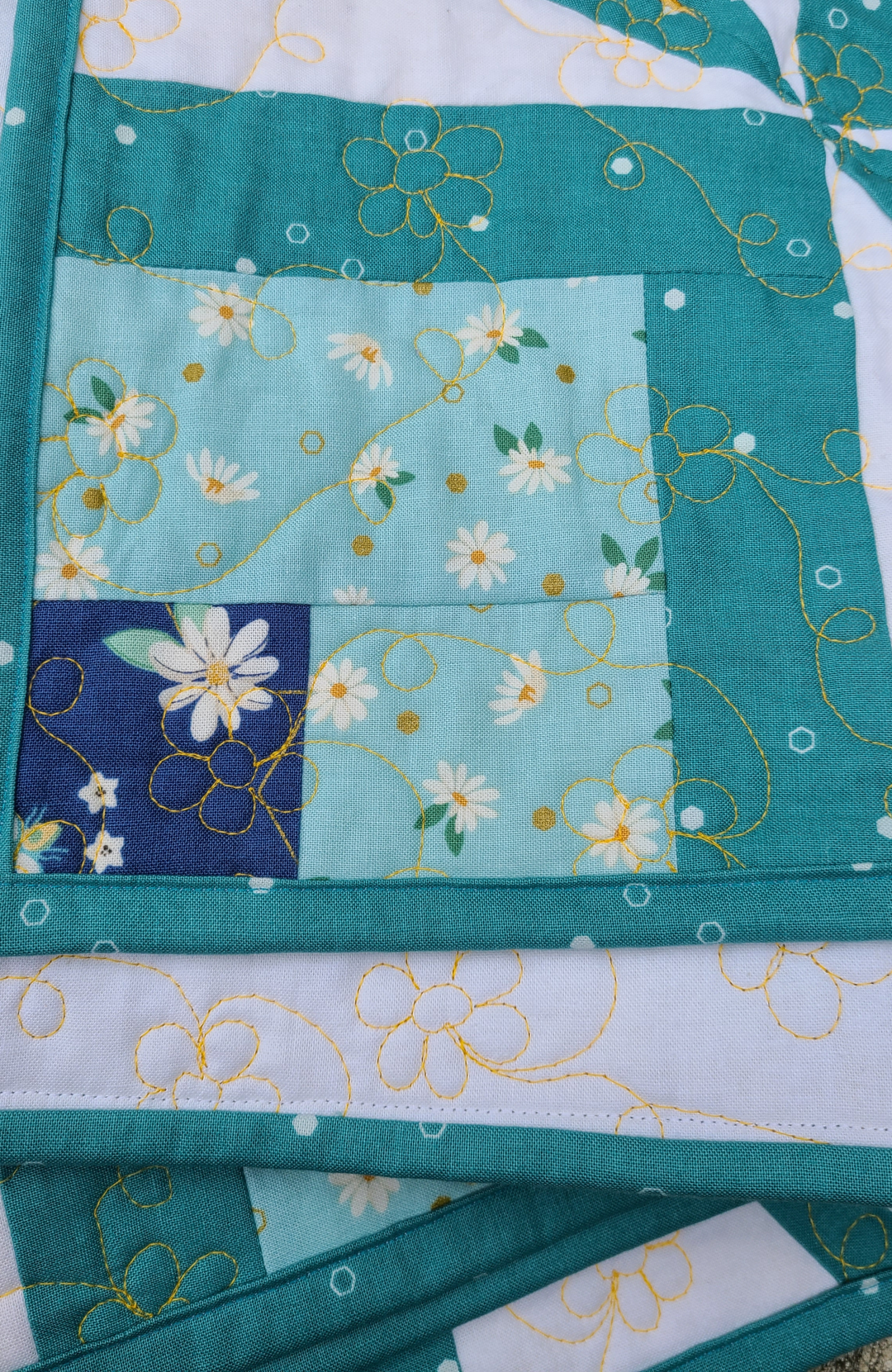 These star blocks are paper pieced and I always use the freezer paper method for paper pieced blocks. No ripping out the paper at the end and you can reuse the freezer paper templates! It's such a game changer! If you'd like to learn more about the freezer paper method, sign up for The Bulletin so you'll be notified next time I teach my freezer paper workshop.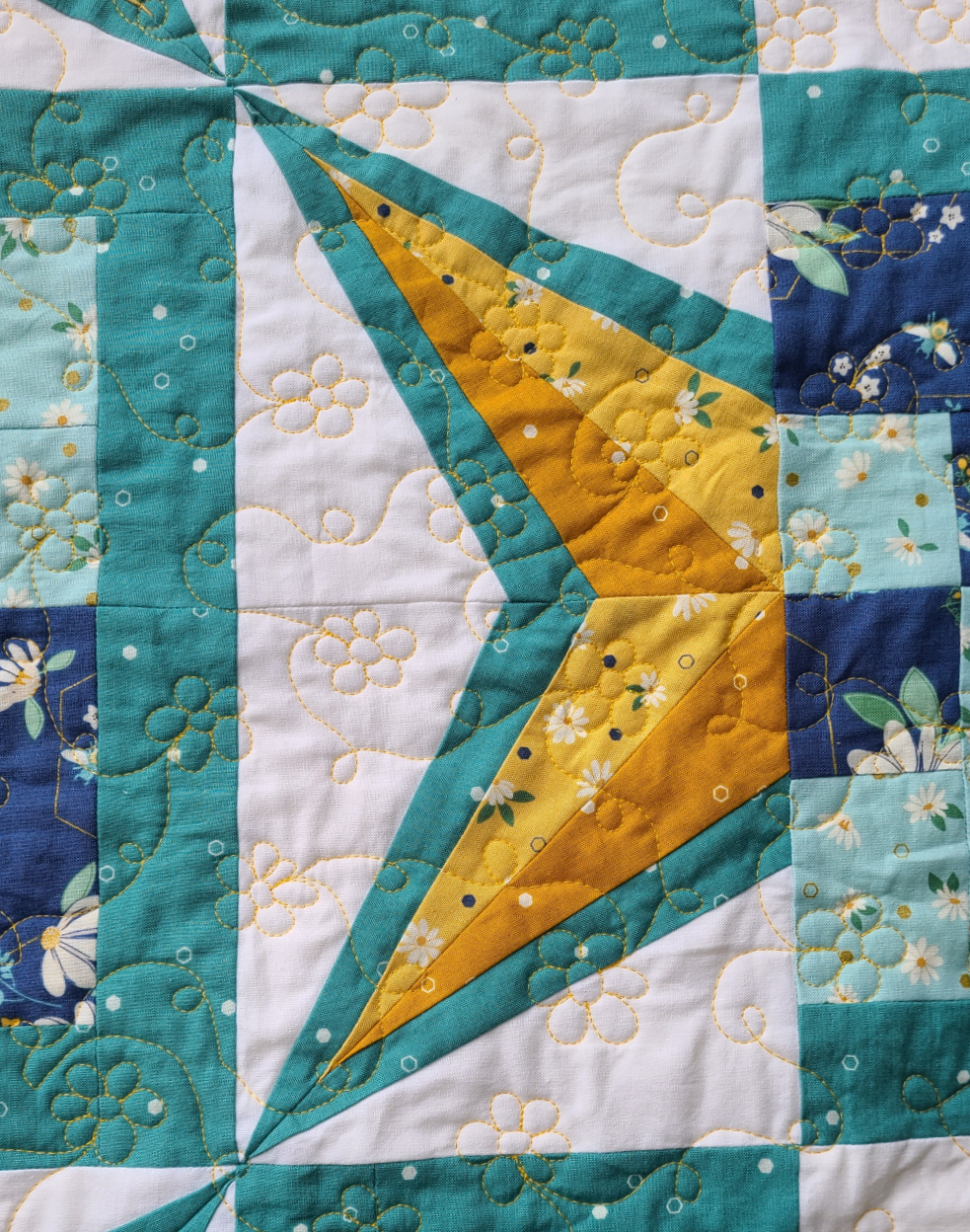 I made my Fifty-Fifty quilt a baby size this time. The pattern includes instructions for a throw size and a queen size so you can make it again and again for different occasions . I've also made the throw size, which you can see here. It's amazing how fabric choice changes how a pattern looks!
With all of the daisies in the fabrics, it was easy to choose a quilting motif. The loopy flower meander is quick and simple to stitch. None of my flowers are perfect, but that's okay. Some have five petals, some have six and there might even be some with seven. Most of the time there are two loops between flowers, but sometimes there are more, especially if I had worked myself into a space that was too small for a flower. No problem – I just add a loop or two and work my way back out again. I love free motion quilting and I try not to stress over making it perfect because that would take all the fun out of it.
I used Aurifil 2135 50 wt for the quilting and I love that it stands out a little on most of the fabrics, without being overpowering. I also really love how it looks on the Confetti Cottons white backing.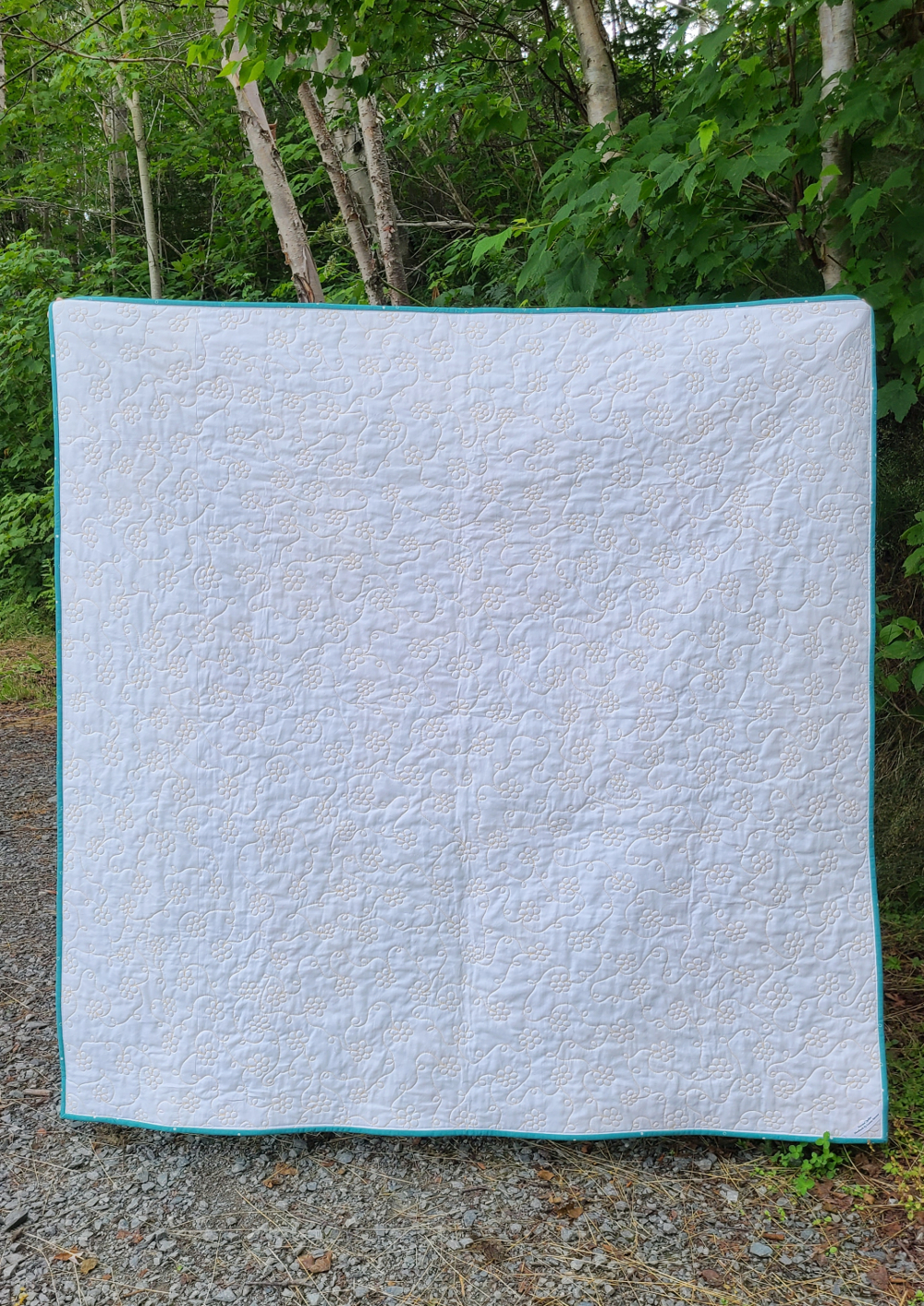 If you want to make your own Fifty-Fifty quilt, head to my shop to pick up the pattern now. I'd love to see what fabrics you choose for your quilt!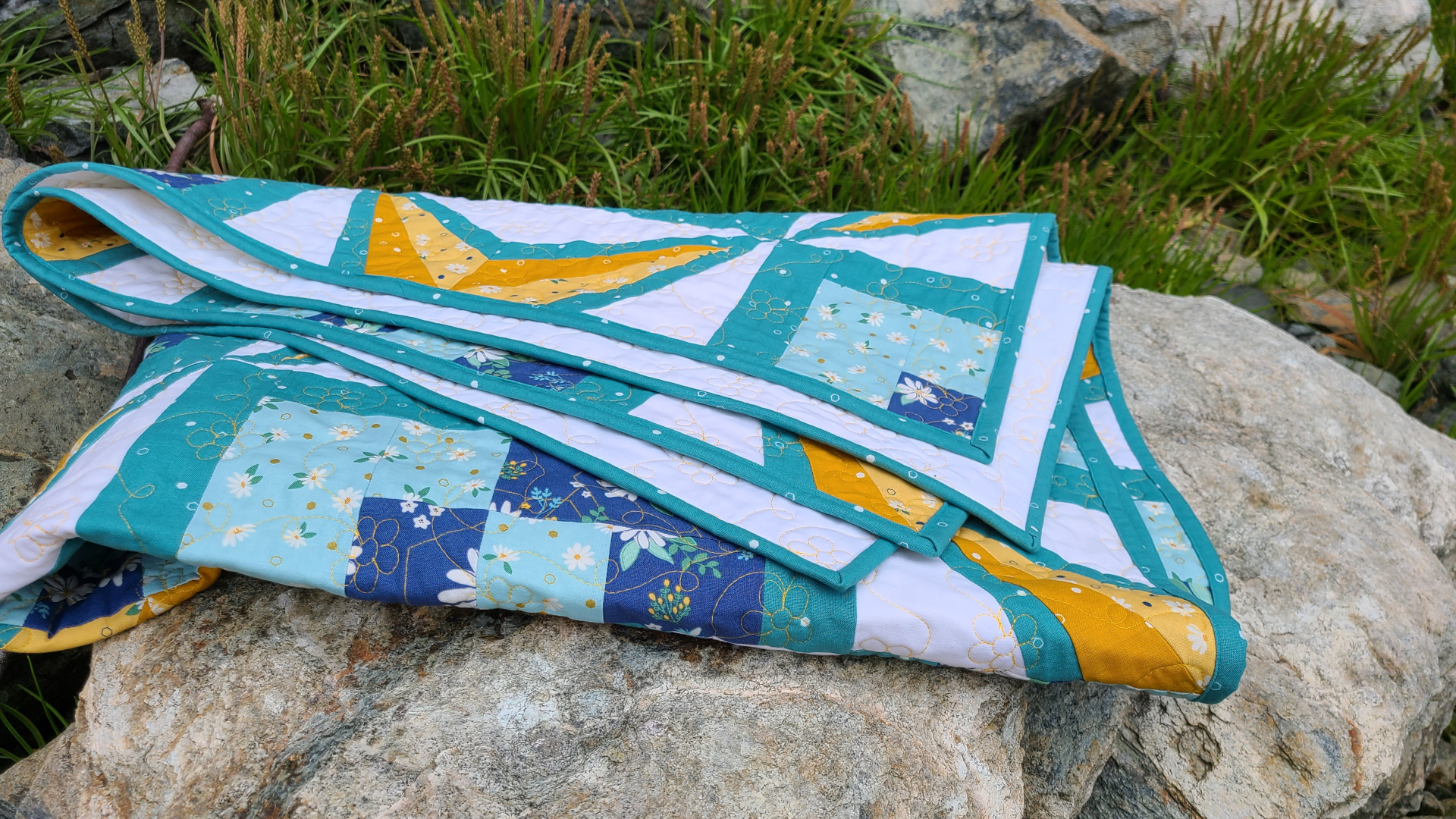 You can connect with me on my blog, Devoted Quilter, and on Instagram and Facebook, too. I love being part of the online quilting community, so I hope you'll come say hi!