Whole Cloth Quilts are one of the easiest ways to break into the world of quilting. You get to play with beautiful fabric, add some easy embellishments, and walk away with a fabulous finished project that will leave you satisfied and ready to tackle more challenging techniques.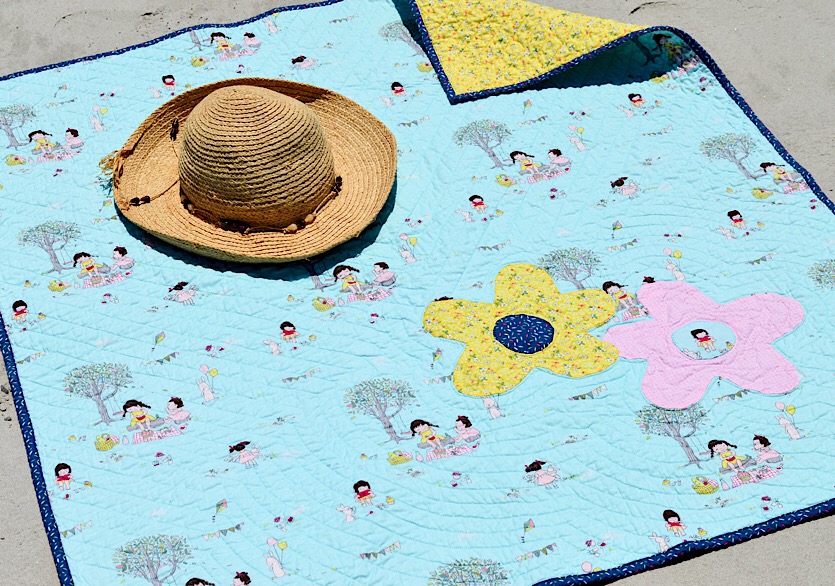 Whether you are new to the world of quilting, or an expert, whole cloth quilts are a great go-to for gift giving and for using up those fabrics you just can't bring yourself to cut into little pieces.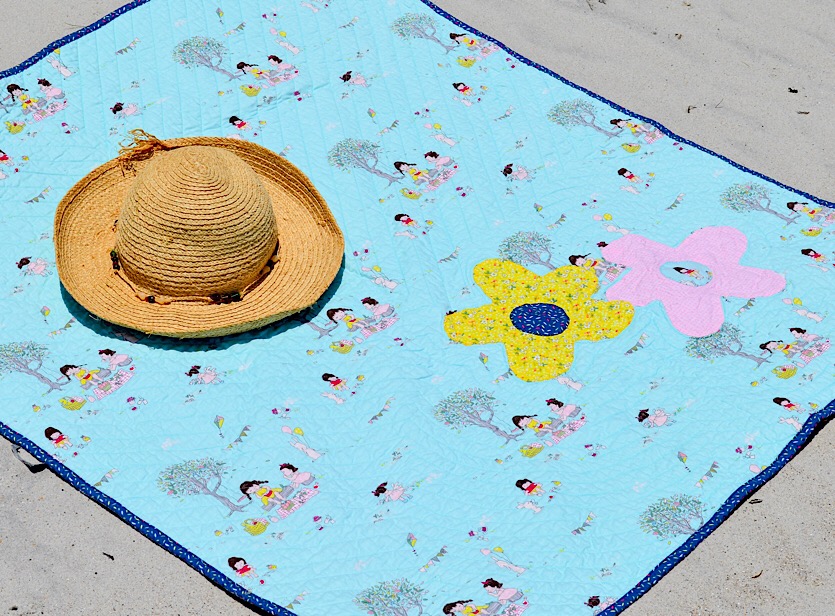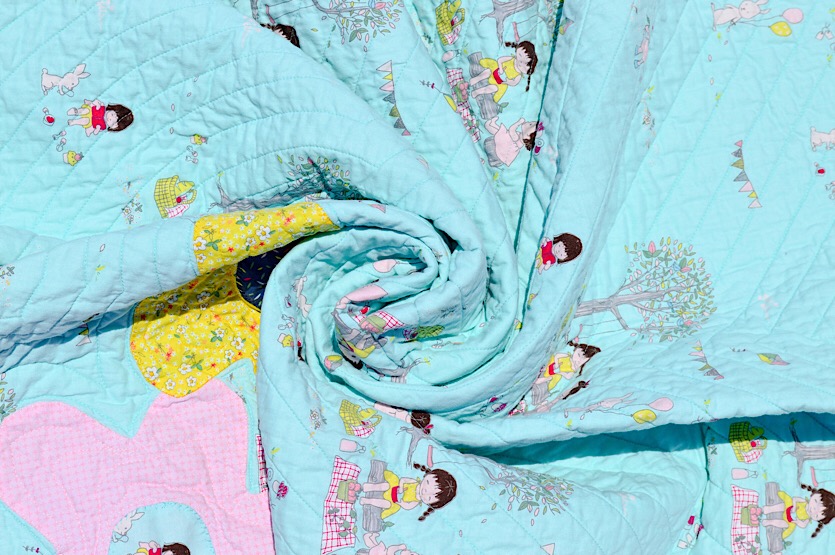 Today, I am going to show you how to make this super easy and adorable whole cloth quilt with large scale appliqué flowers.
I used fabrics from Minki Kim's Serendipity collection. The main print is perfect for a  whole cloth quilt. It's sweet little vignettes are so very charming and have a nice, large repeat through the design.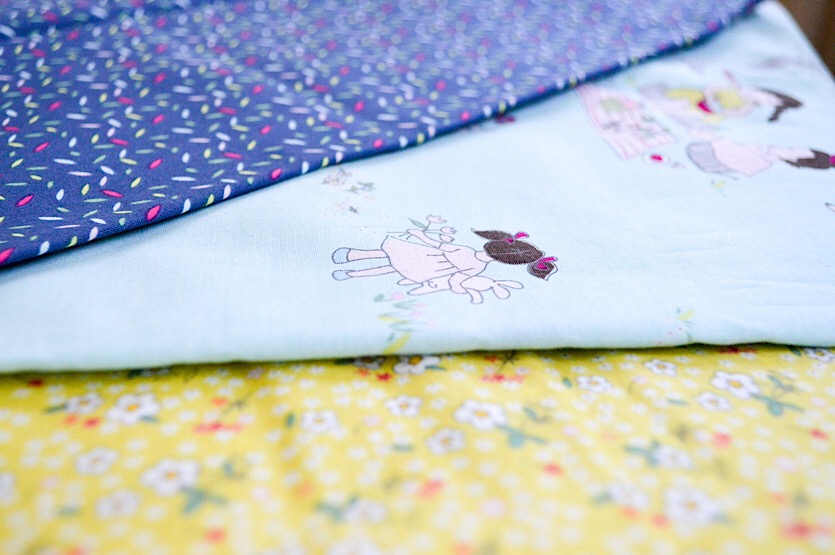 The finished baby quilt measures approximately 39" x 44". To make this quilt, you will need:
1 1/4yards Serendipity Aqua Main
1 1/4 yards Serendipity Yellow Fleuri
12"x 12" piece of the Yellow Fleuri
5 – 2.5″ x WOF strips  of Serendipity Navy Sprinkles
12″ x 12″ Riley Blake Designs Baby Pink Kisses
Heat 'n Bond or similar double-sided fusible adhesive
quilt batting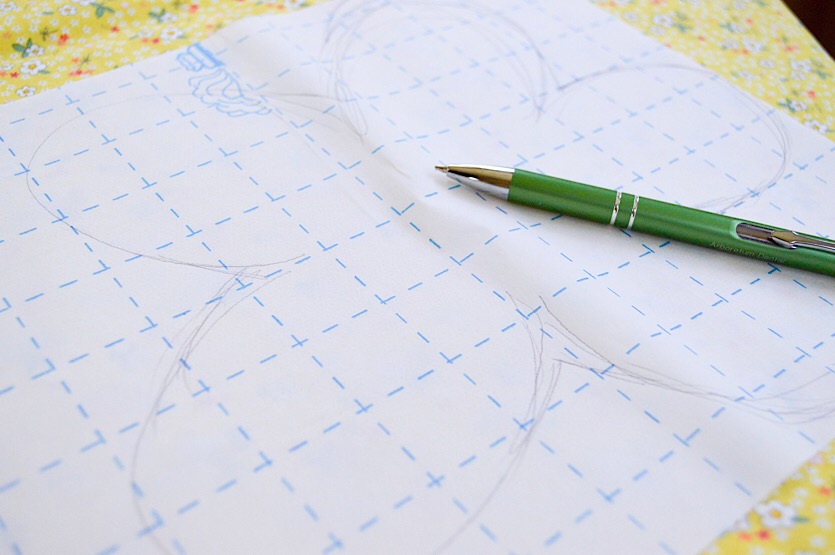 Begin by adding the applique to the quilt. To do this, draw a big, chunky flower on a sheet of Heat 'n Bond. You want the sketch to take up as much of the sheet as possible because we are aiming for large flowers here. You really can't mess these up. Just sketch out a chunky five-petal flower and don't worry if the petals look wonky – that's what we want! Repeat so you have 2 flowers sketched.
Now you have a couple of options on how to proceed, so I am going to tell you my method, which I have found to be the very quickest and easiest way to go…
Peel off the loose, unprinted paper side of the Heat 'n Bond. You will be left with a bumpy glue surface, backed by the grid paper. Take your 12" squares of Yellow Fleuri and Baby Pink Kisses and position the bumpy glue surface on the fabric back so the flower outline is centered. Press.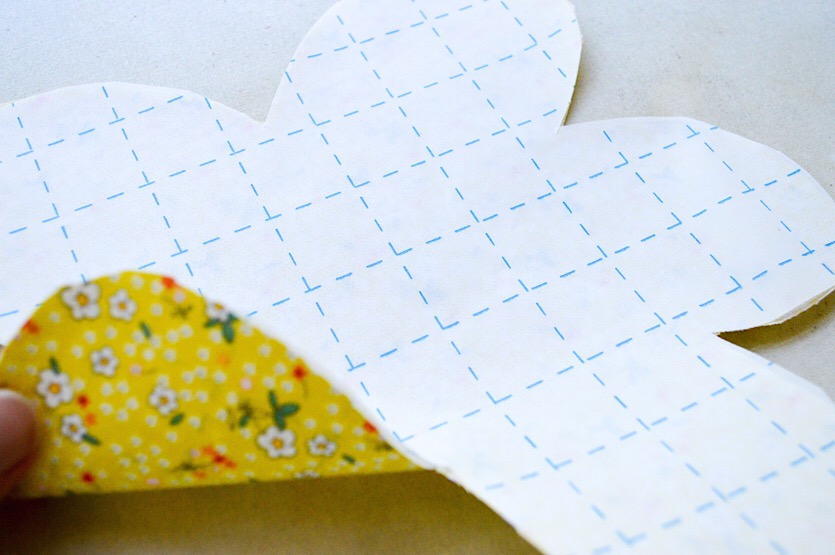 Let the appliqué piece cool a bit and then cut out your flower shapes.
Repeat this process to cut out the circle shapes that will make the flower centers.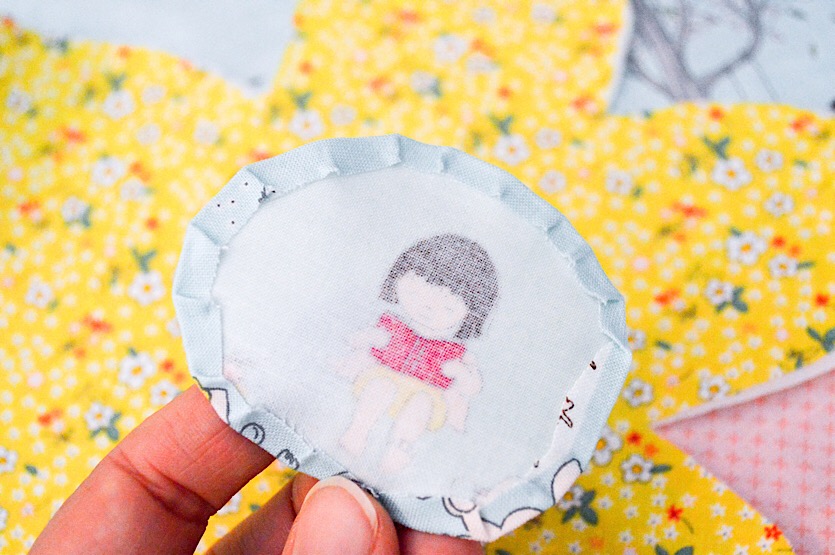 After your flowers and flower centers are cut out, peel off the grid side of the adhesive to reveal a now slightly tacky-to-the-touch fabric back. I like to take advantage of the tacky fabric back by turning the fabric under about 1/4. Because the back is a little sticky, you can gently finger press it and it should stay in place.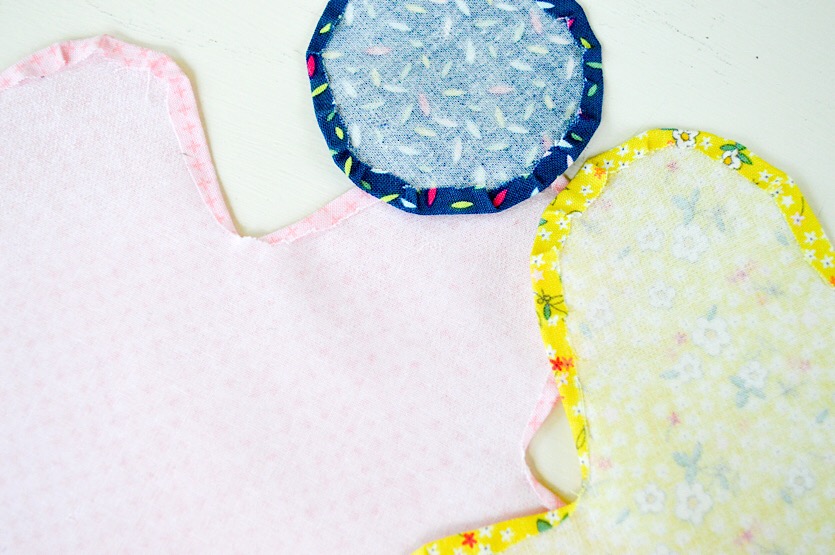 Repeat this step for the remaining pieces. Position the flowers on the quilt so they are just slightly overlapping. Press them into place. Next, position the flower centers where you want them and press. Stitch around the edges with your favorite appliqué stitch. You can use a straight stitch, zig-zag, blanket stitch…whatever floats your boat!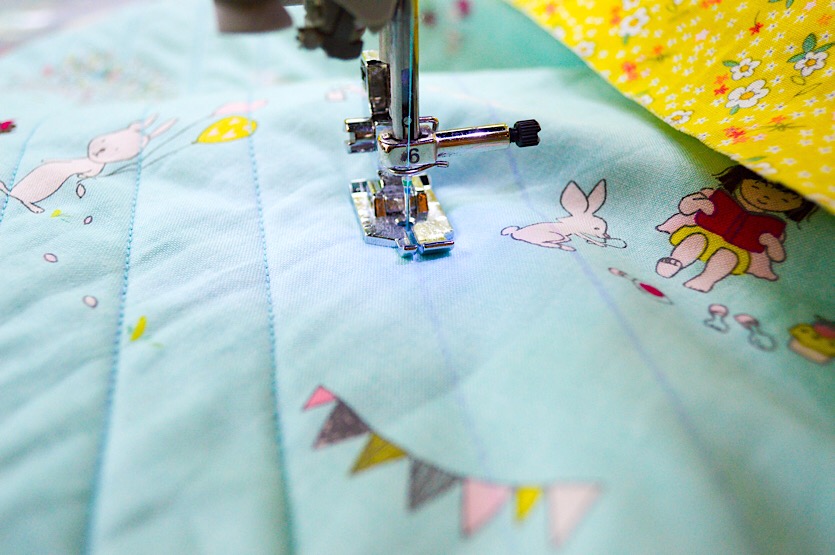 Now it's time to make your quilt sandwich! Lay your quilt back with wrong side facing up. Next layer your quilt batting on top of the quilt back. Smooth out any wrinkles. Now lay your quilt top with right side facing up. Baste with your preferred basting method. You can use large quilter's safety pins or basting spray. To machine quilt, I drew diagonal lines spaced 1" apart using a water soluble fabric marker that disappears in the wash.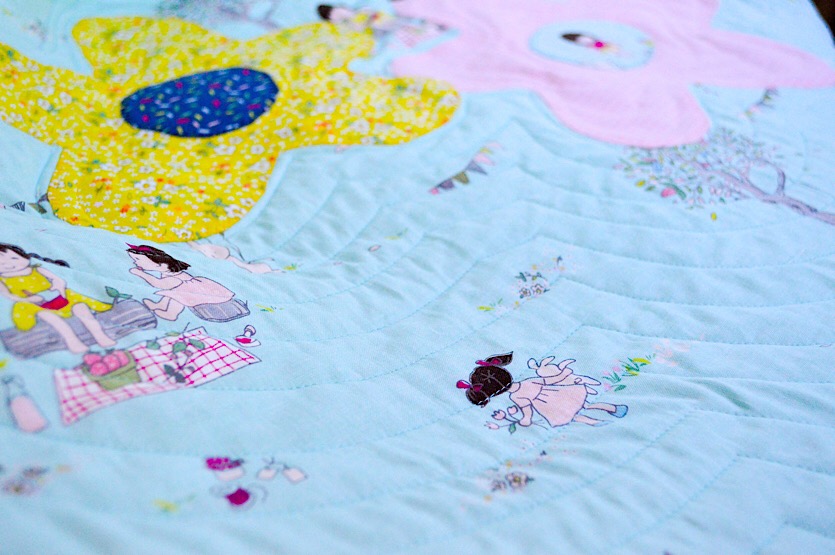 I quilted along these lines until I reached the flowers. At that point, I outlined around the flowers, trying to keep the same 1" distance, but not worrying if it wasn't exact.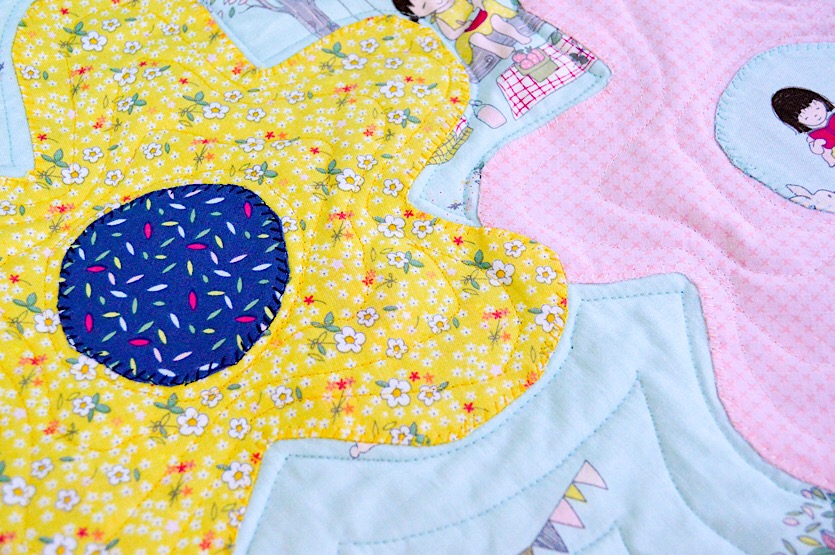 You can quilt the actual flowers, like I did here. I simply stitched some very rough outlines of the petal, getting smaller and smaller until I reached the center circle. Easy!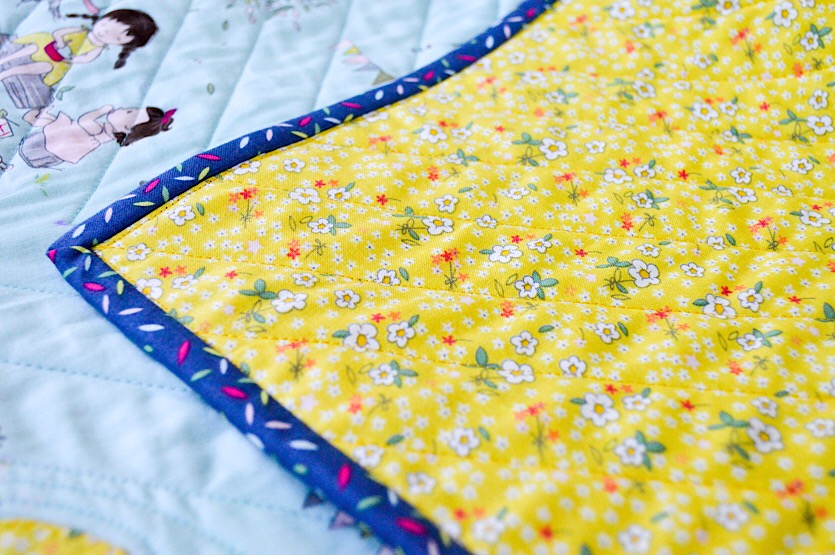 For the binding, I used the adorable little Navy Sprinkles print. It adds a fun pop of color to frame this adorable quilt! You can find a fabulous beginner binding tutorial HERE.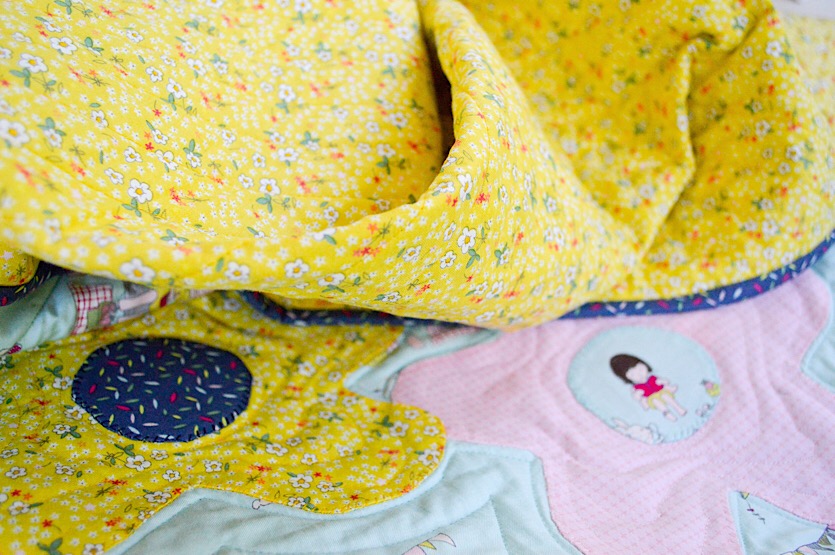 While I planned this quilt around the super cute Aqua Main fabric, I was totally caught off guar by how much I LOVE the Yellow Fleuri fabric on the quilt back. Anyone who has looked for the perfect yellow knows that all yellows are not alike, and this particular shade is absolute perfection! It is bright and cheery, with just a hint of a "sour" note to it, which gives it an almost retro vibe. Paired with the blues and pinks in this collection, this yellow is a showstopper!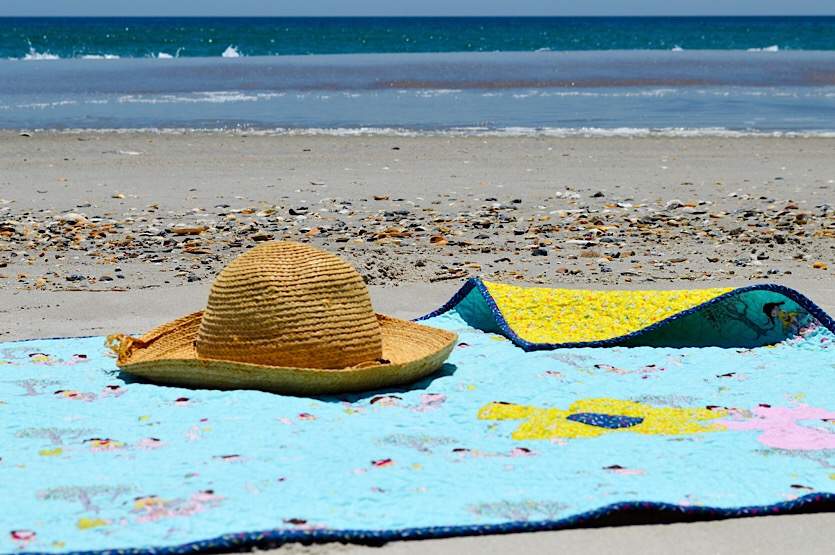 So go ahead and wrap your little one in this kid-friendly quilt for lots of snuggles, or pack it up and take it out for a picnic.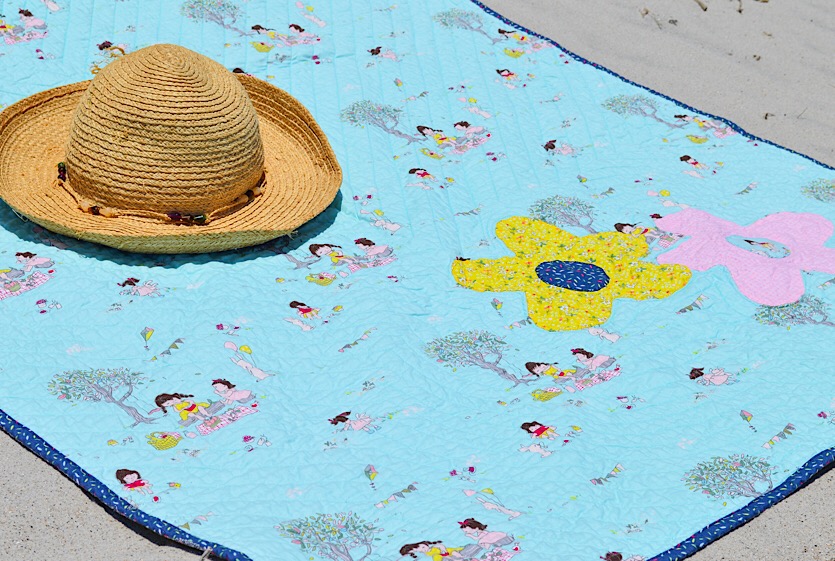 The simplicity of this whole cloth quilt makes it one you won't be afraid to use over and over again.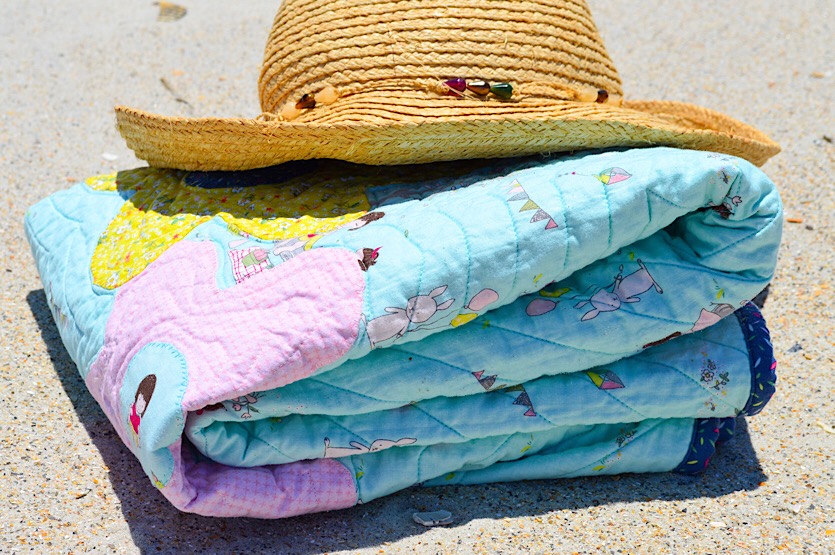 Minki Kim's Serendipity fabric line is available now at your favorite local and online quilt shops! Be sure to follow Minki Kim on Instagram for more ideas and inspiration @zeriano.
Happy Quilting!