to another world….
Hey there my quilty, crafty friends…. it's Ingrid here again from Joe June and Mae.
Do you remember this beautiful song by the all time favorite Dolly Parton and Kenny Rogers?
This new fabric series 'Hoist the Sails' by Rachel Erickson of Citrus & Mint Designs made me think of this song immediately. It made me think of all of my sail boat quilt block patterns as well.
My pattern designing journey started with these sailboat patterns a few years ago. I was determined to sew a boat quilt for my husband and his new boat. I searched the internet and couldn't really find a pattern that I liked. So I decided to make my own.
And so the journey began.
For this new fabric series, I designed a whole quilt pattern, which includes 9 different paper pieced quilt blocks, as well as fabric squares. It's a throw size quilt size 52″x 76″ .
This sailing yacht pattern is one of my favorites.
As you know, once I started with one ship, I had to add a few more. So one ting led to another, or better yet, one boat led to another and I designed a whole fleet.
Some are more detailed than others. Most of them are really easy to make, and they are absolutely perfect for fussy cutting.
Fussy cutting is not super easy with foundation paper piecing, but it is not too difficult either.
If you want to know more, I wrote a whole blog post on fussy cutting.
This is the very first pattern I made and its's called 'little happy boat'.
This is a pretty easy pattern and you could certainly give it a try as a beginner. The fabrics of 'Hoist the sails' are just made for this little boat, don't you agree?
I added a second little sail boat to this pattern series, so there is a bit of a variety.
The one you see here is called 'small sailing boat' and fussy cutting again is perfect for this pattern.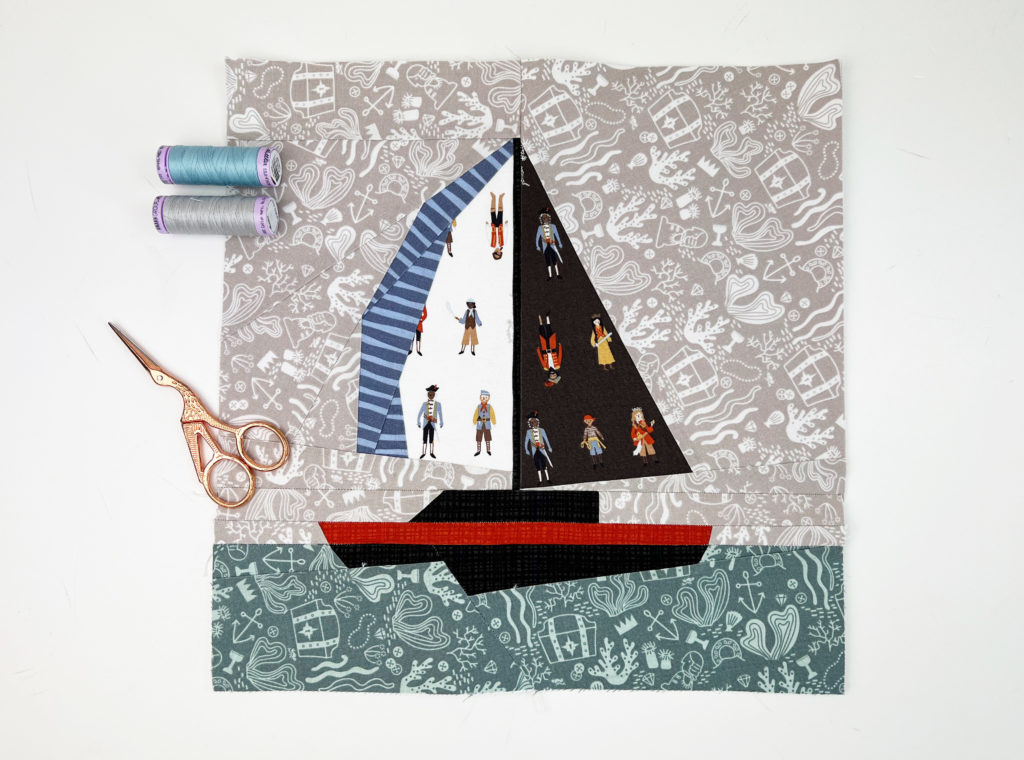 A fleet of ships needs to have more than just sail boats right? How about some steam boats? Here you see the 'large steam boat' and it has lots of little passengers waving at the sea.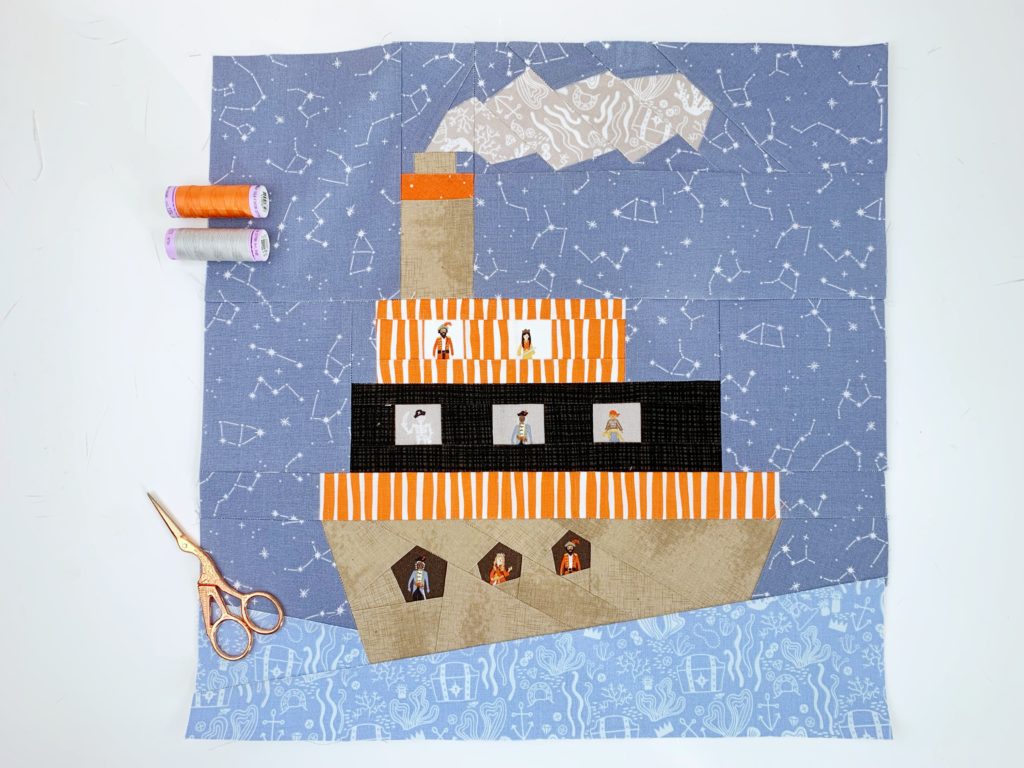 I added a 'small steam boat' as well to my fleet. This is an easy quilt block pattern and will be manageable for a beginner as well. The star pattern is perfect as a starry night background for the boats don't you agree?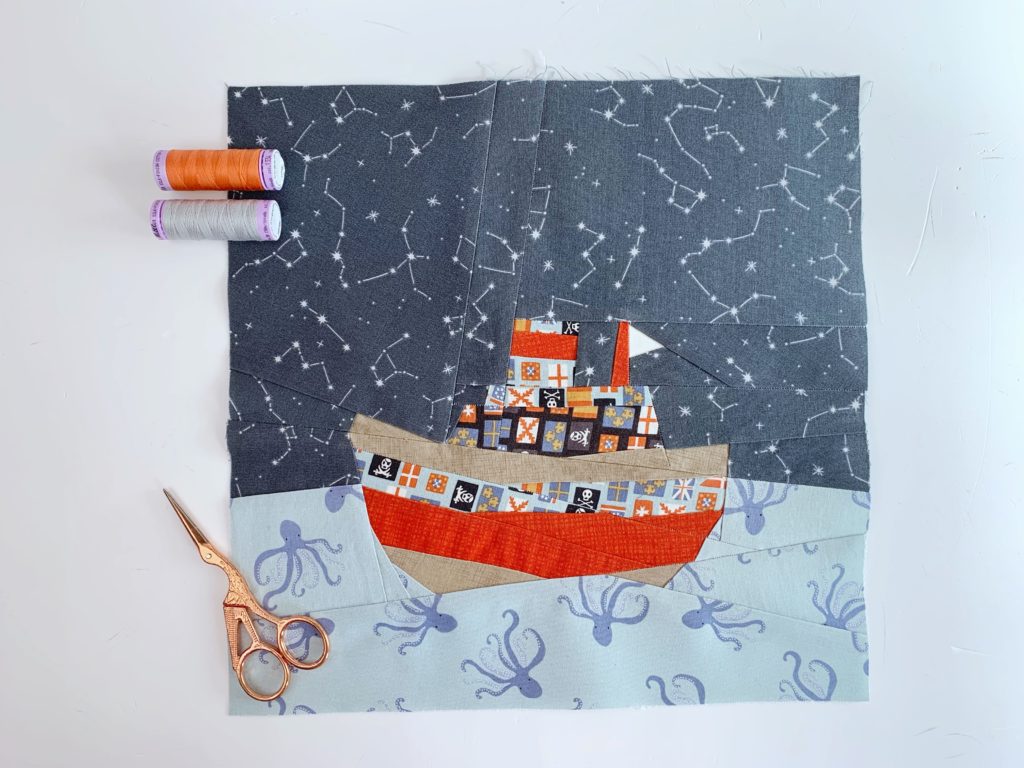 When designing the 'Sail away with me quilt' I did not only think of boats, I wanted to add all sorts of ocean creatures too. No ocean quilt without sharks, orcas, dolphins and starfish right?
Dolphins are such amazing creatures, and seeing them swim in pods along the ocean front is one of the prettiest sights ever. We were lucky enough last summer to spend some time along Canada's West coast and got to see not only dolphins but also many, many orcas.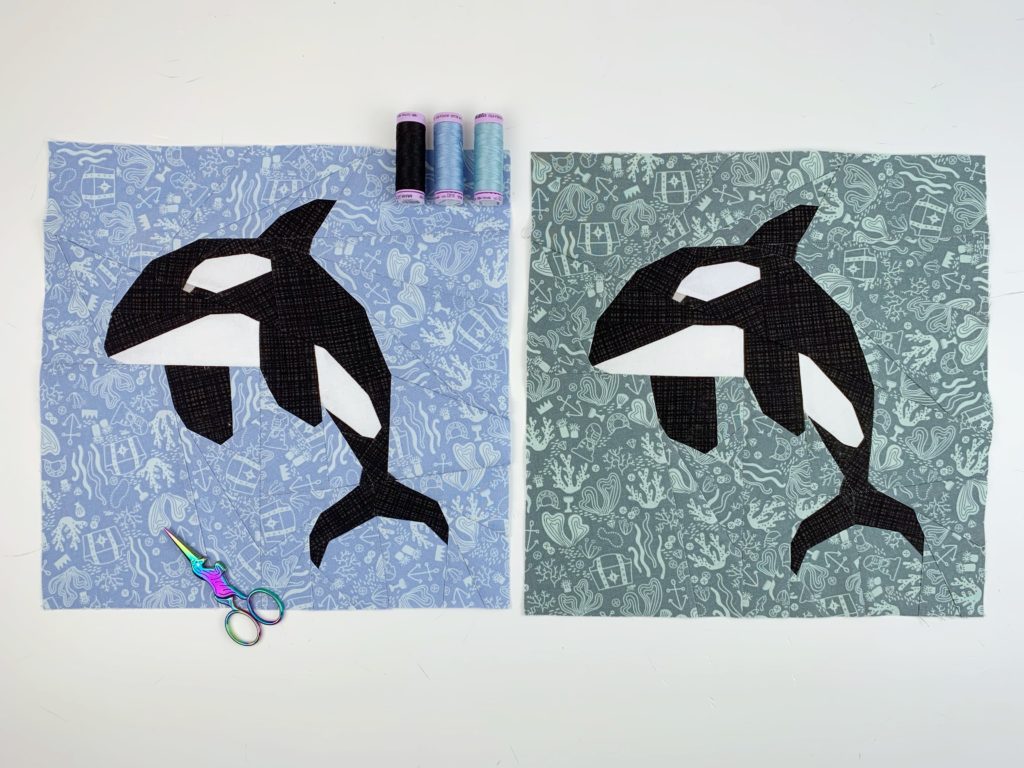 Have you ever seen Orcas breach? It's probably one of nature's most stunning and breathtaking sight. I had to include some orcas in this quilt of course.
No ocean without a shark, so here he is… he looks pretty dangerous now, doesn't he?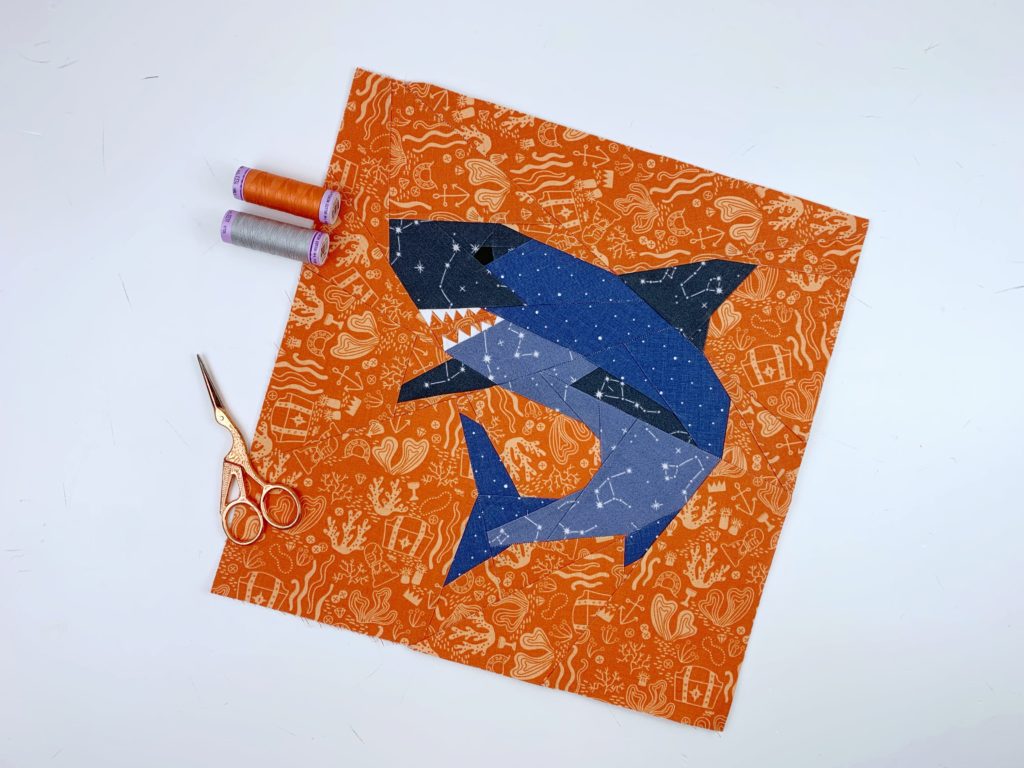 Here it is, the full quilt top in all it's beauty…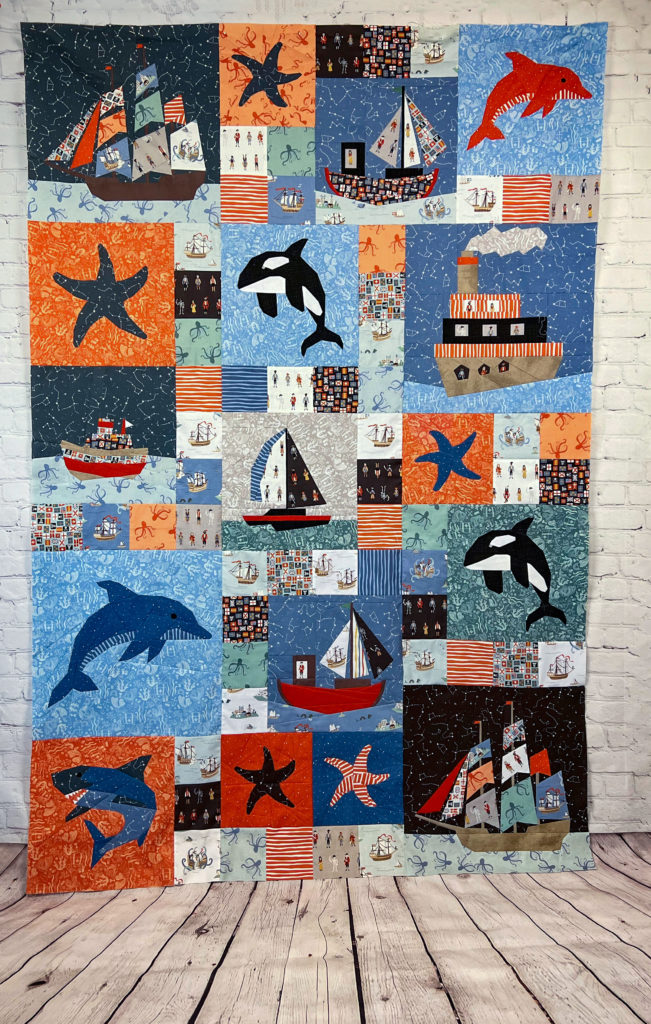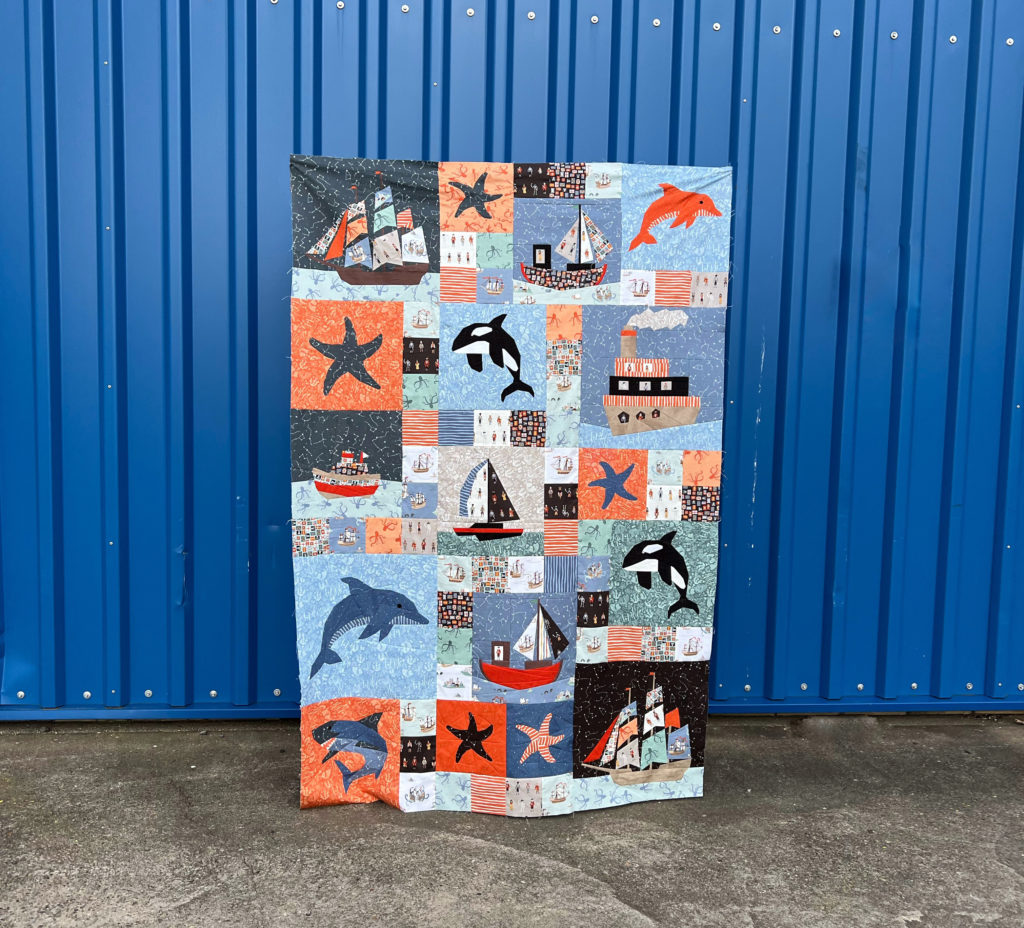 Since this quilt is so much fun, and I think many of you would love to make this quilt or parts of it, I teamed up with Bernina and we are hosting a sew along or ' Sail along' to be precise.
We will be starting March 2nd 2023. You will get notified in my newsletter.
The full pattern is here on my website, it includes all of the paper pieced quilt block patterns, the pattern for the quilt, as well as the fabric yardage using this 'Hoist the sails' fabric series.
If you use Code 'SAILAWAYWITHME' on my website, you will get a 15% discount on the 'Sail away with me' quilt pattern.
You will find all the sewing details and tips and tricks for this quilt on the Bernina Blog international or Bernina Blog Germany, starting March 2nd 2023.
Look out for this button on social media!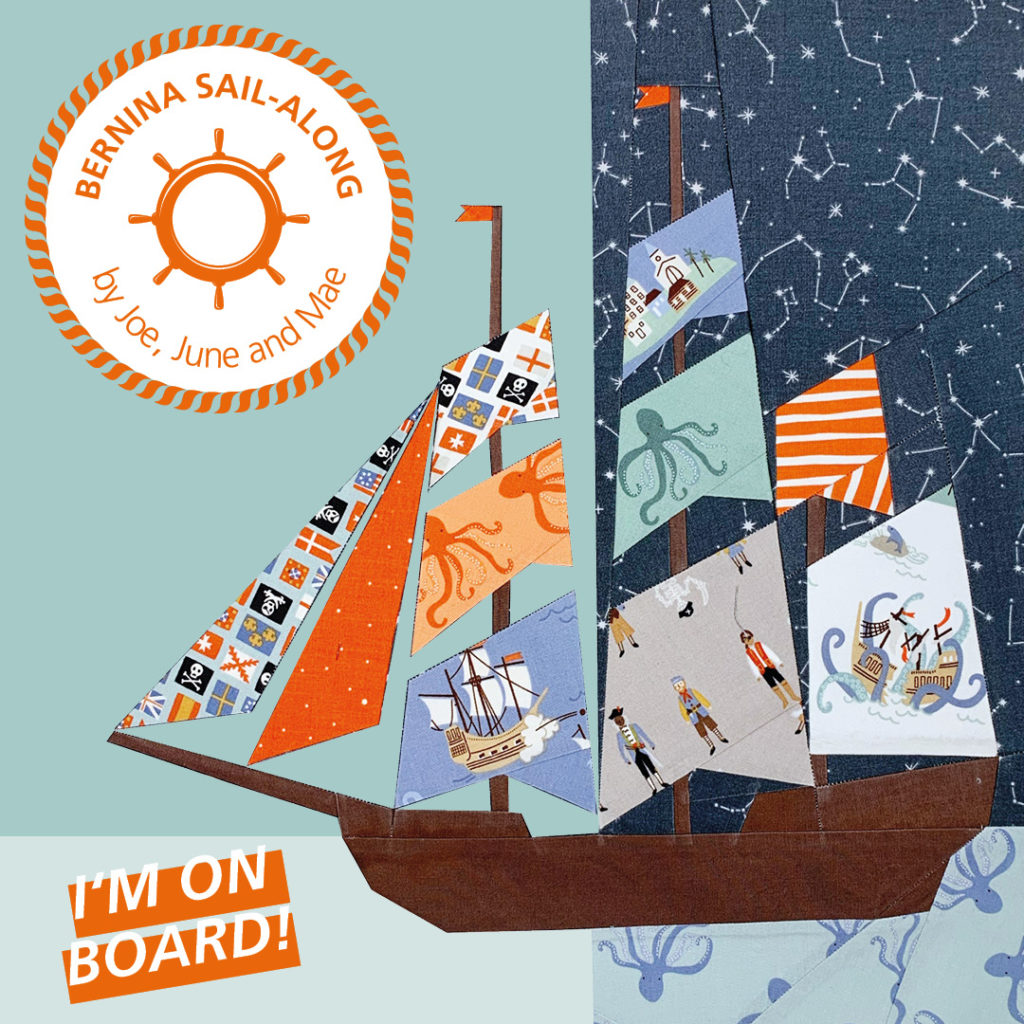 And make sure you sign up for my Newsletter, so you do not miss any details of this 'Sail along'. There will be several give aways as well, fabrics, notions, patterns and much more. We will announce the winners at the end of the 'Sail along' .
So who's in? I can't wait to see all your different quilts….
Happy sailing …
Ingrid x