It's Jamie again from Sew Brainy Designs and I'm back with my 2022 Make it Modern Pillows series! This year I'm bringing you some fresh and bold modern quilt blocks that were designed specifically to be 18″ pillows! They are quick and easy, plus they're a good way to bust your scrap stash or show off that designer RBD fabric that you love!
In case you missed it, August's pillow used the Dapple Dot line and is a fun play on simple stripes. You can get that tutorial below!
September's pillow uses rectangles to create this alternating pattern that has some fun movement!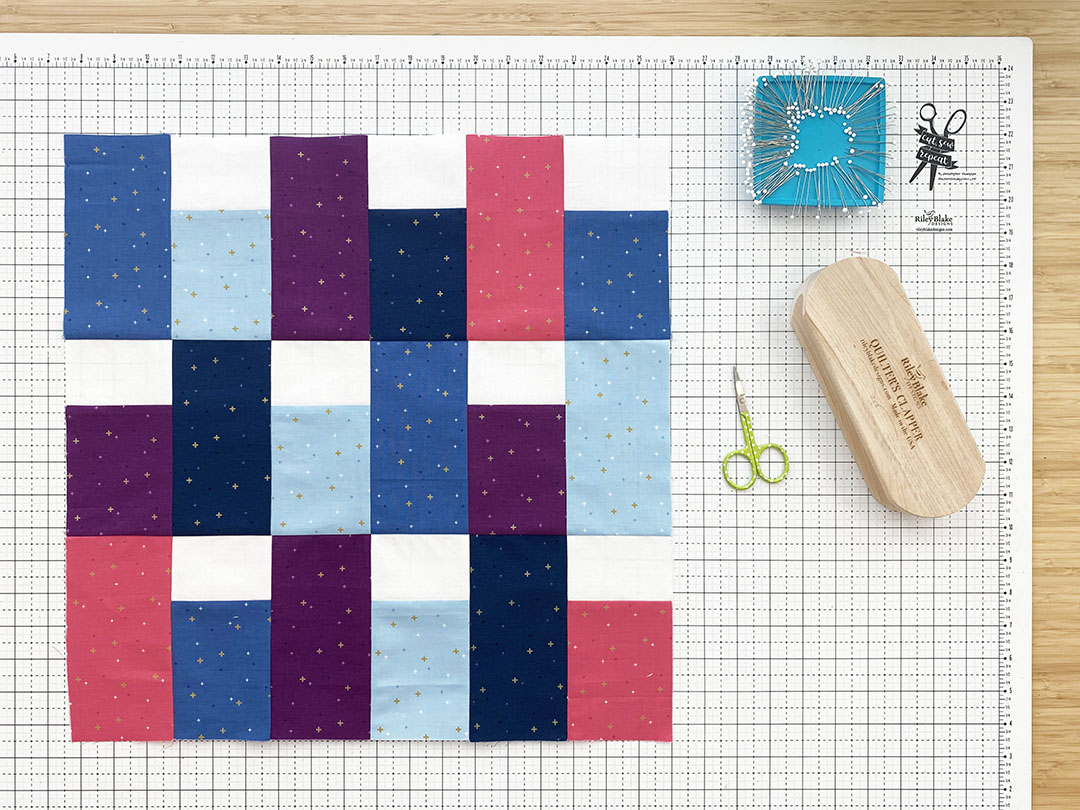 It actually kind of looks like books on a shelf! It's definitely a great scrap buster!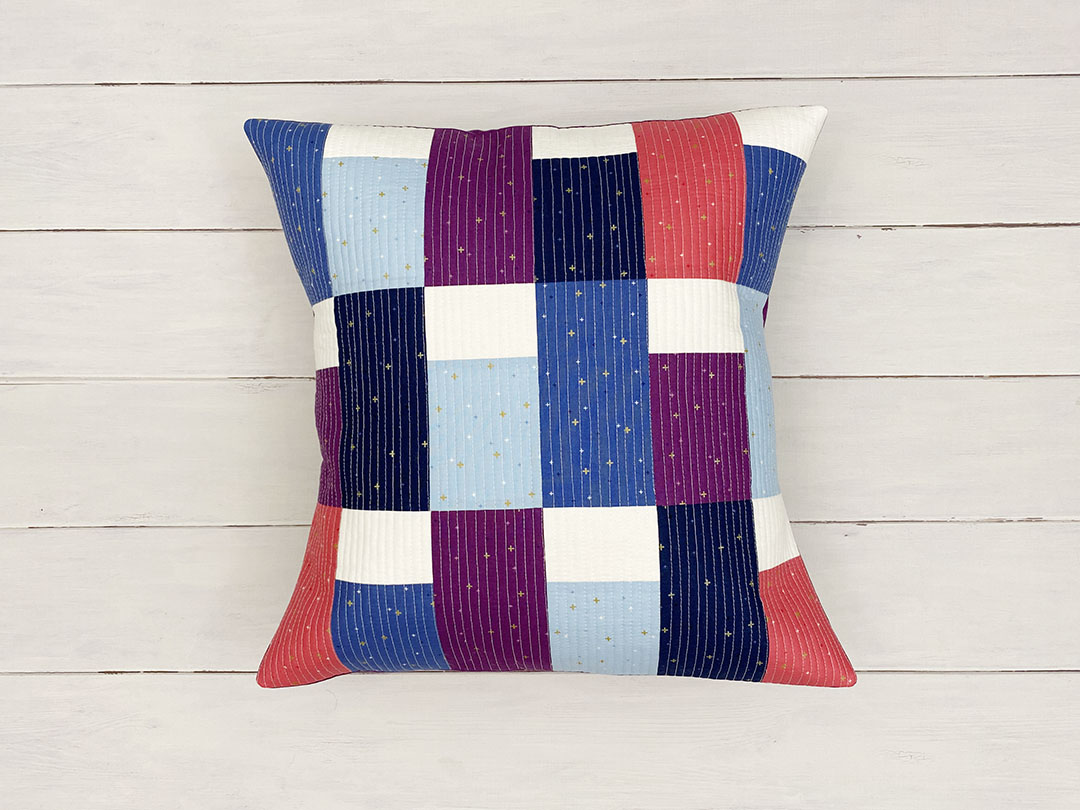 Blues and purples are always a fun go to for me…plus I like that pop of pink! I went with more of jewel tone colors than super brights for a fall look.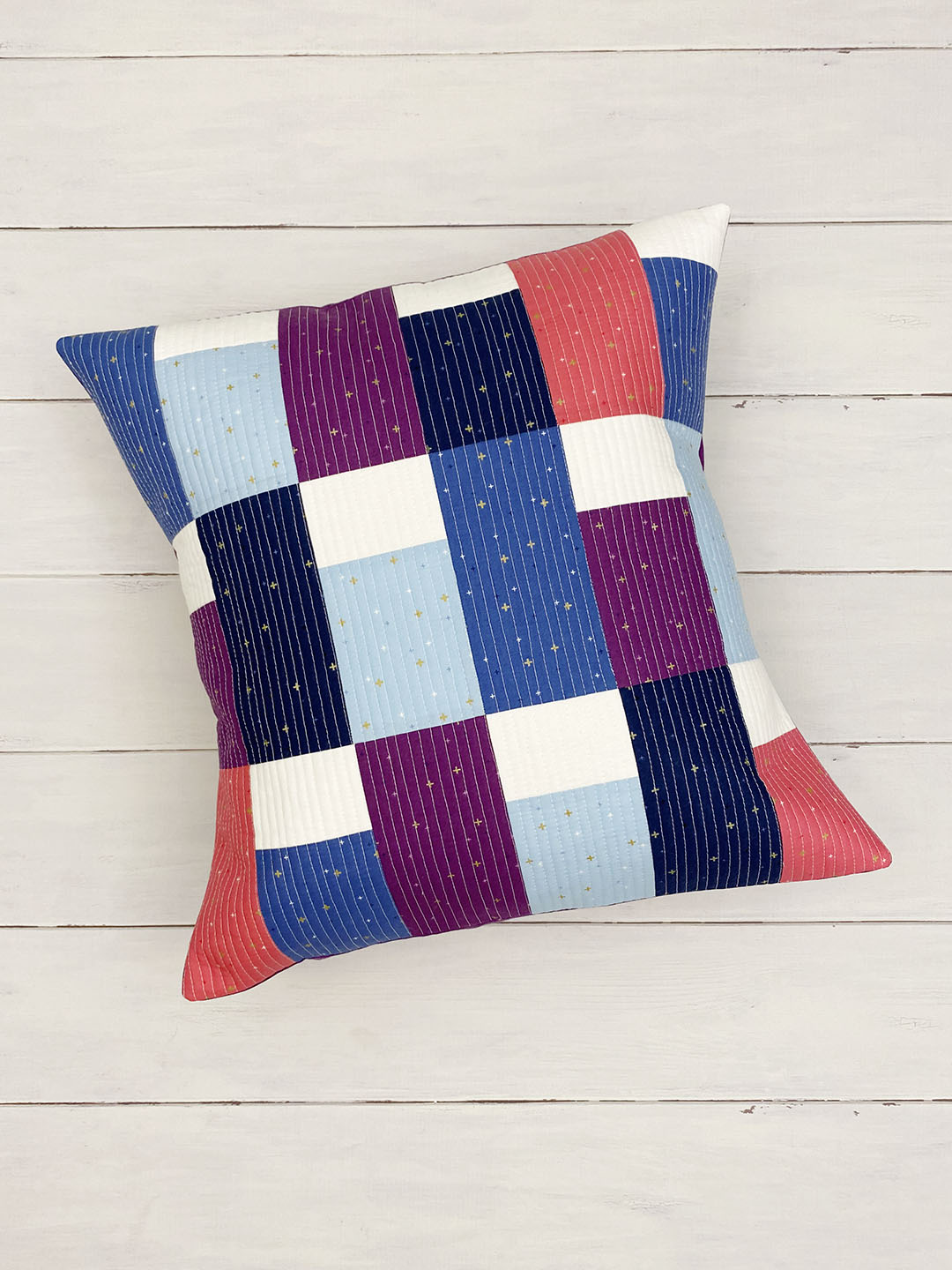 Here's my usual matchstick quilting design using Aurifil 50wt. white thread.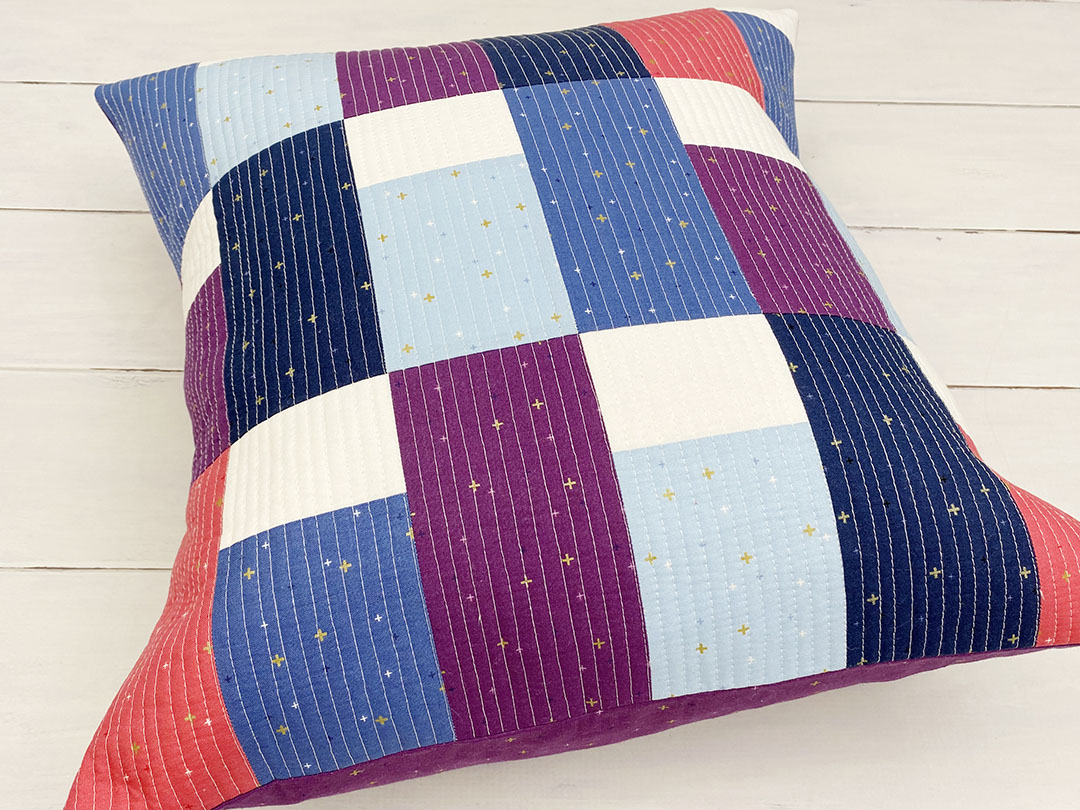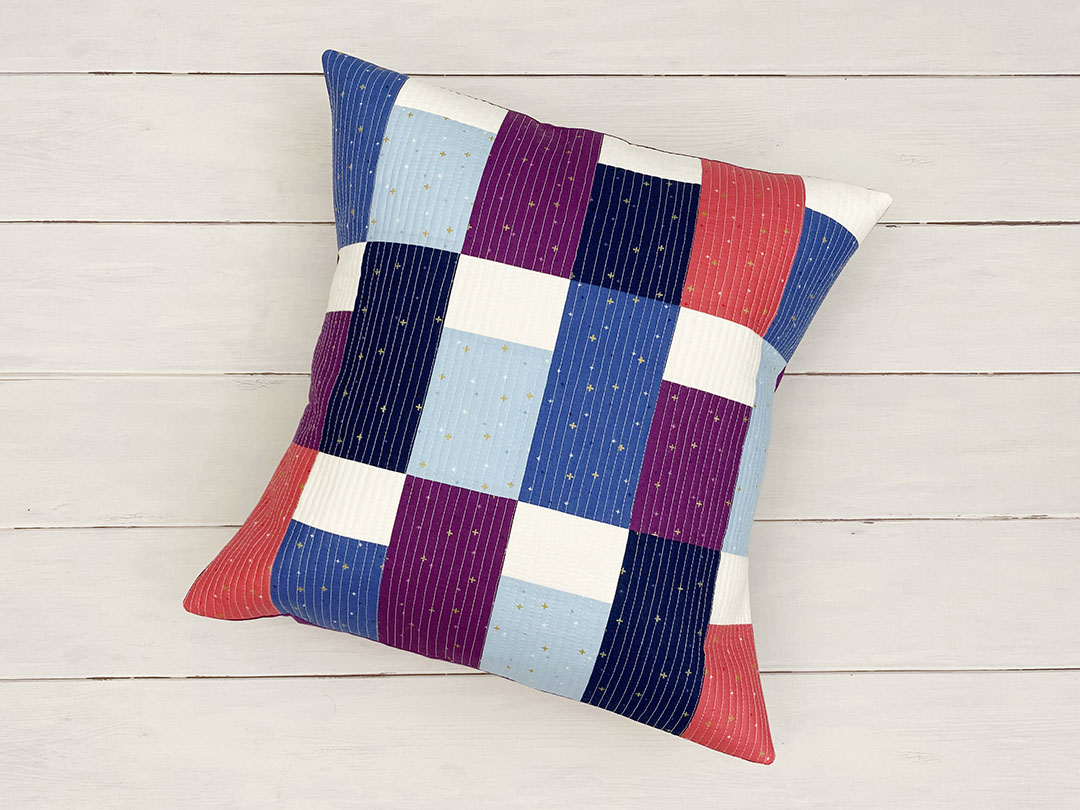 This month's pillow features the Sparkler basics line by Melissa Mortenson that just came out last fall. The colors I used (in order from left to right) were Eggplant, Raspberry, Boy Blue, Denim, and Navy.
Lots of pretty colors in this line!
Now let's make a pillow!
---
September Pillow Tutorial
Pattern Notes
Please read through all instructions before beginning.
Seam allowances are 1/4″ unless specified.
WOF = Width of Fabric; pattern assumes yardage is a minimum of 42″
RST = Right sides together
Press all seams open (or in preferred direction) unless specified.
Fat Quarter Precut (FQ) = 18″ × 21″
Fat Eighth Precut = 9″ × 21″
Material Requirements
For the block (pillow top):
This pattern uses (1) background fabric [FABRIC A] and (5) accent fabrics [FABRICS B-F]. Below are the requirements to make ONE 18″ block.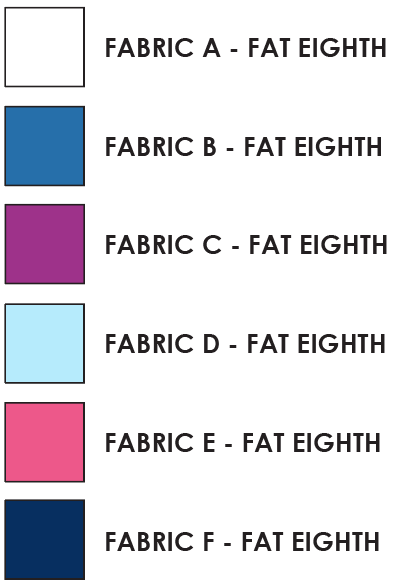 For the pillow body:
(1) 22-24″ square piece of muslin or other fabric (for quilting the top)
(1) 22-24″ square piece of batting (for quilting the top)
(2) 13″ × 18½" pieces of backing fabric (for the pillow envelope)
(1) 20″ pillow form (my favorite one to use is the FJÄDRAR from IKEA!)
Cutting Directions
Cut the fabric below in the specified order and label each cut with the letter/number in the [bracket].
From FABRIC A, cut:
(9) 2½" × 3½" rectangles [A1]
From FABRIC B & C cut:
(2) 3½" × 4½" rectangles [B1/C1]
(2) 3½" × 6½" rectangles [B2/C2]
From FABRIC D cut:
(3) 3½" × 4½" rectangles [D1]
(1) 3½" × 6½" rectangles [D2]
From FABRIC E & F cut:
(1) 3½" × 4½" rectangles [E1/F1]
(2) 3½" × 6½" rectangles [E2/F2]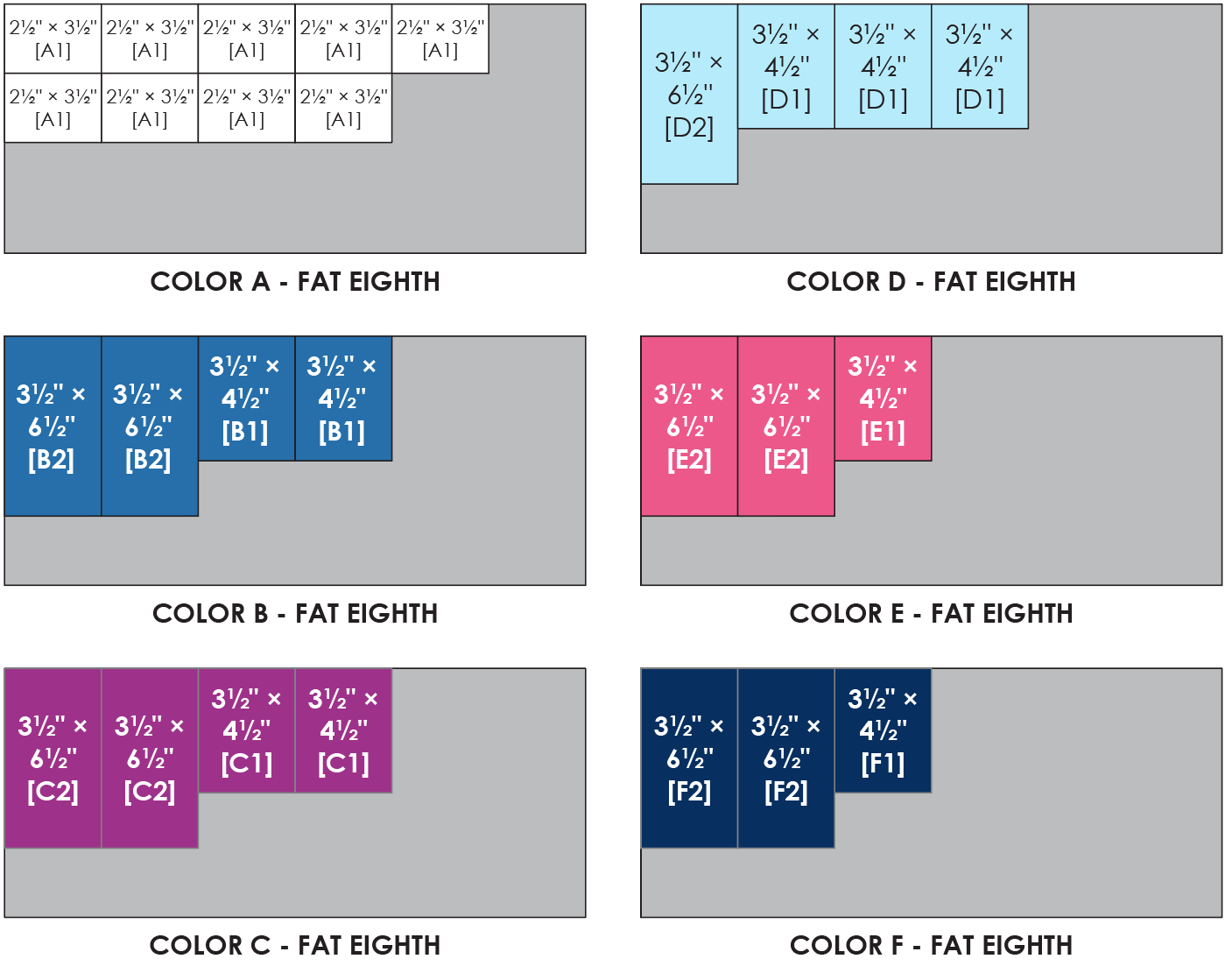 Piecing Directions
1. Lay out (1) A1 and (1) D2 as shown below. Sew both pieces together on the short end and press seams. These will be the SMALL COLORED BLOCKS.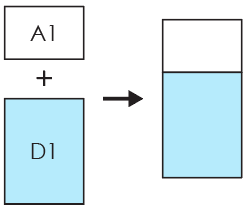 2. Repeat STEP 1 using (2) D1, (2) B1, (2) C1, (1) E1, and (1) F1 for a total of 9 SMALL COLORED BLOCKS.

3. Lay out the (9) SMALL COLORED BLOCKS and (9) B2/C2/D2/E2/F2 rectangle pieces as shown below. Sew all the pieces on each row together. Press seams.
4. Sew the three rows together. Press seams.

5. Your block is now complete!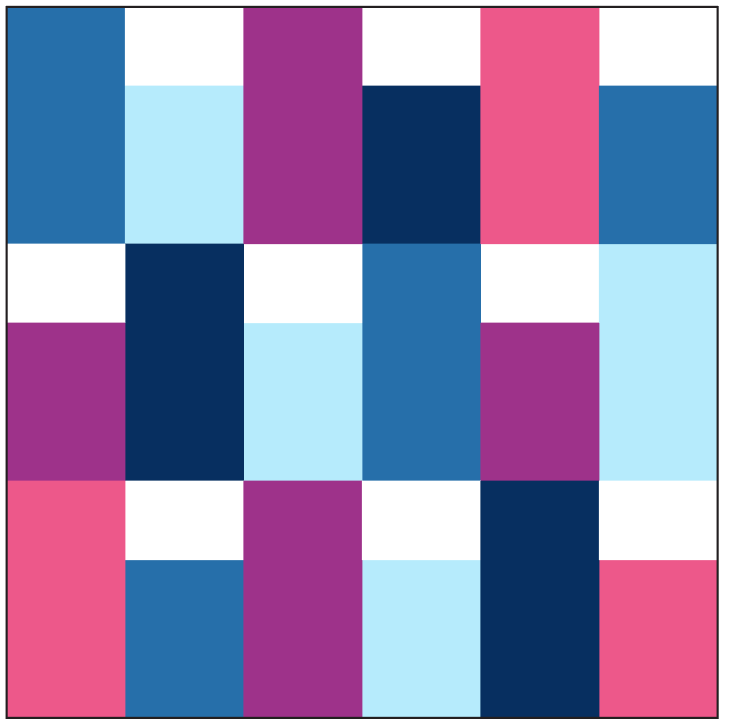 6. Layer the completed block on top of the 22-24″ batting and muslin squares and quilt the pillow top as desired. When you are done, trim the block to 18½".
Note – if you add dense quilting like I did, your top may shrink a bit in size. Just trim it to the largest square that you can. You can trim the width of envelope backing fabric a bit in the next step if needed in order to match your actual top size.
7. Create a finished edge on the long side of each of the (2) 13″ × 18½" pieces of envelope backing by folding 1/2″ of fabric over the wrong side TWICE. Stitch a seam near the edge to secure it.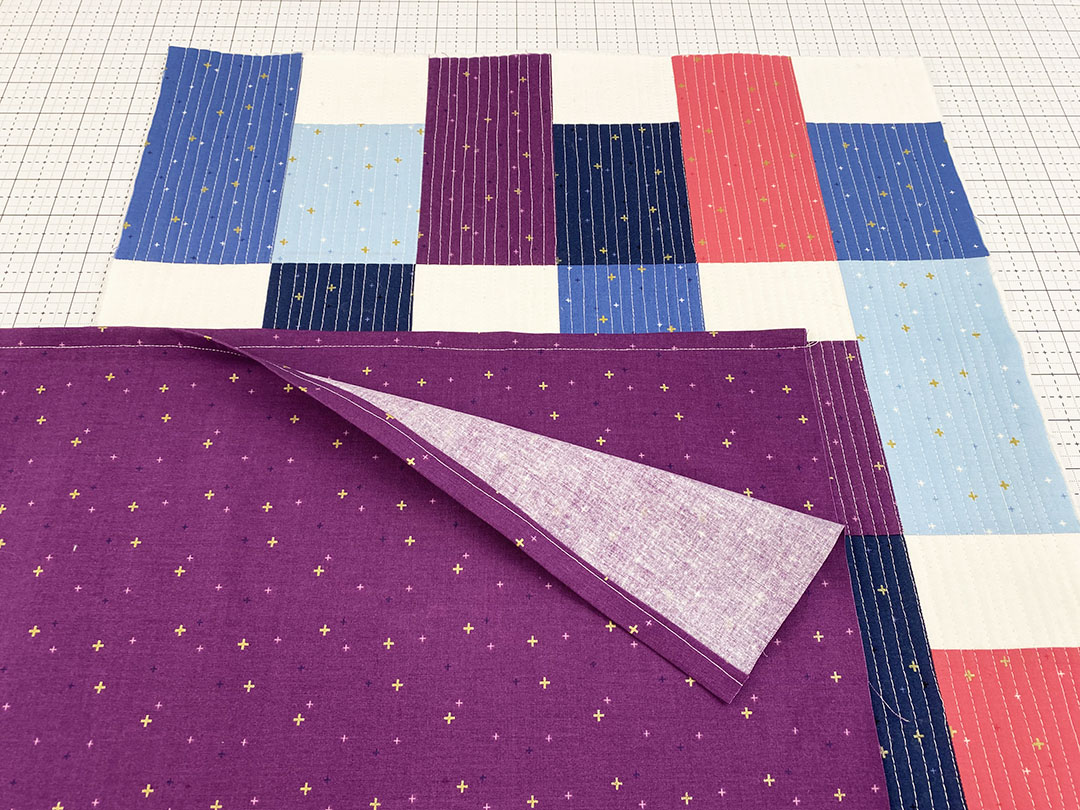 8. With the square top facing up, layer the envelope pieces RST on top of it as shown below and sew a 3/8″ seam around the edge of the pillow top.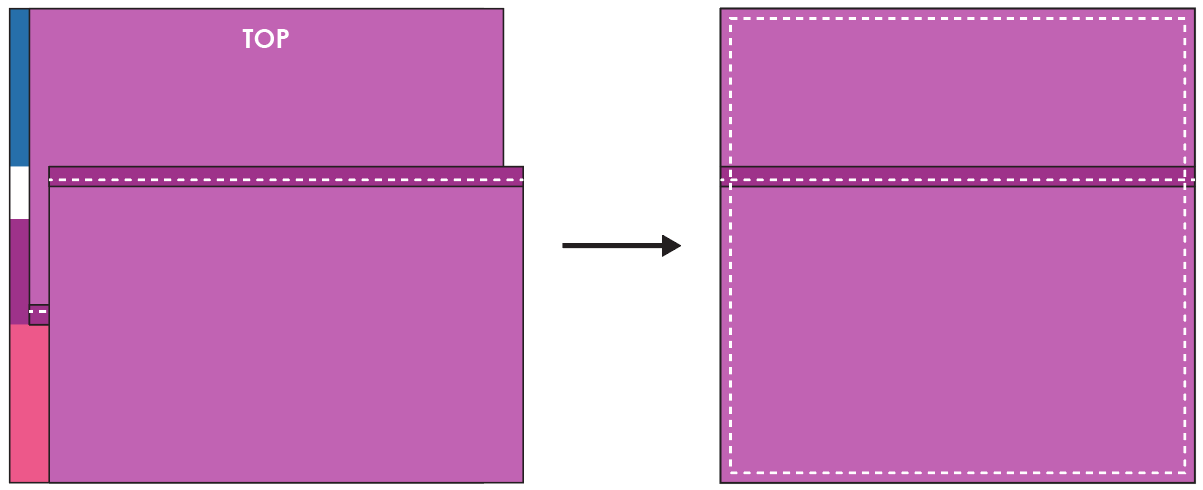 9. Trim the edges of the corners a bit to reduce bulk. Turn the pillow case inside out and insert your pillow form. Your pillow is now done! Enjoy your fun modern make!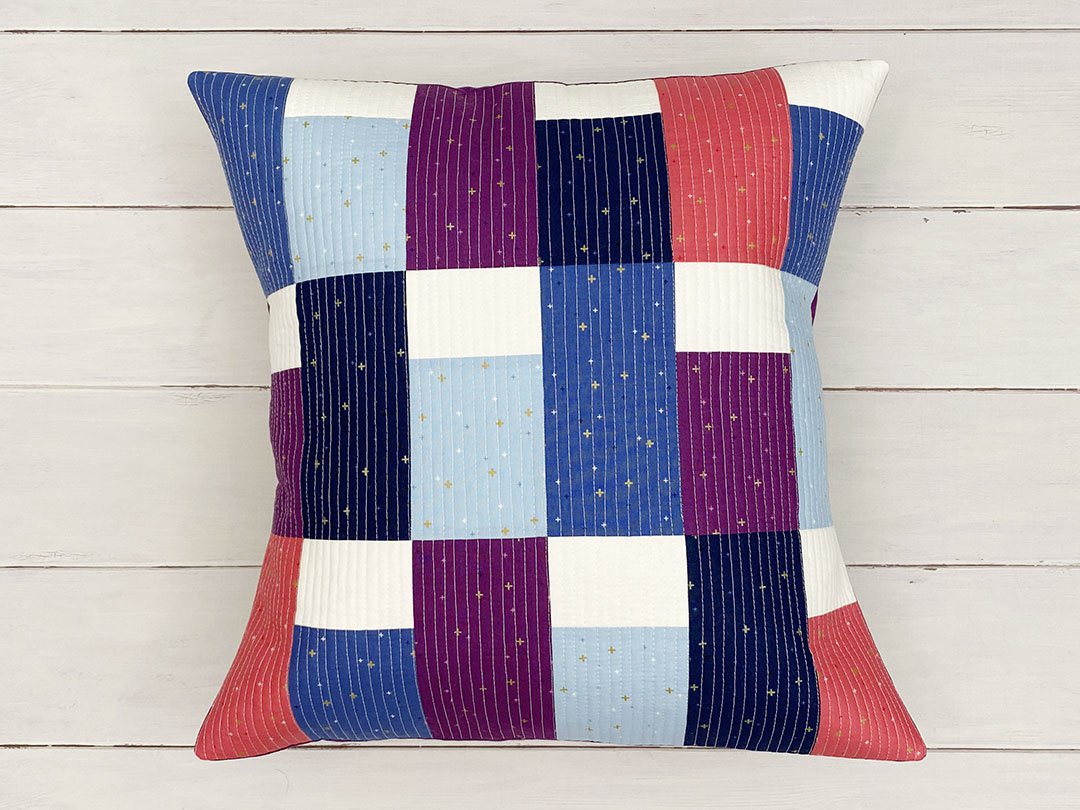 I can't wait to see all the beautiful pillows everyone makes! They can be very addicting! Be sure to share them on social media! #makeitmodernpillows #iloverileyblake #sewbrainydesigns.
I'm also working on a 5-color version of all my blocks to make a sampler quilt. You can check out that post HERE on my blog. I'll see you in July with some Blossom fabric and some squares!
Until later, happy quilting!
Jamie