Who needs some Christmas cheer? We do! We are excited to share this beautiful and easy-to-make Ground Cover Quilt, featuring the brand new Oh Holy Night fabric, designed by Dani Mogstad.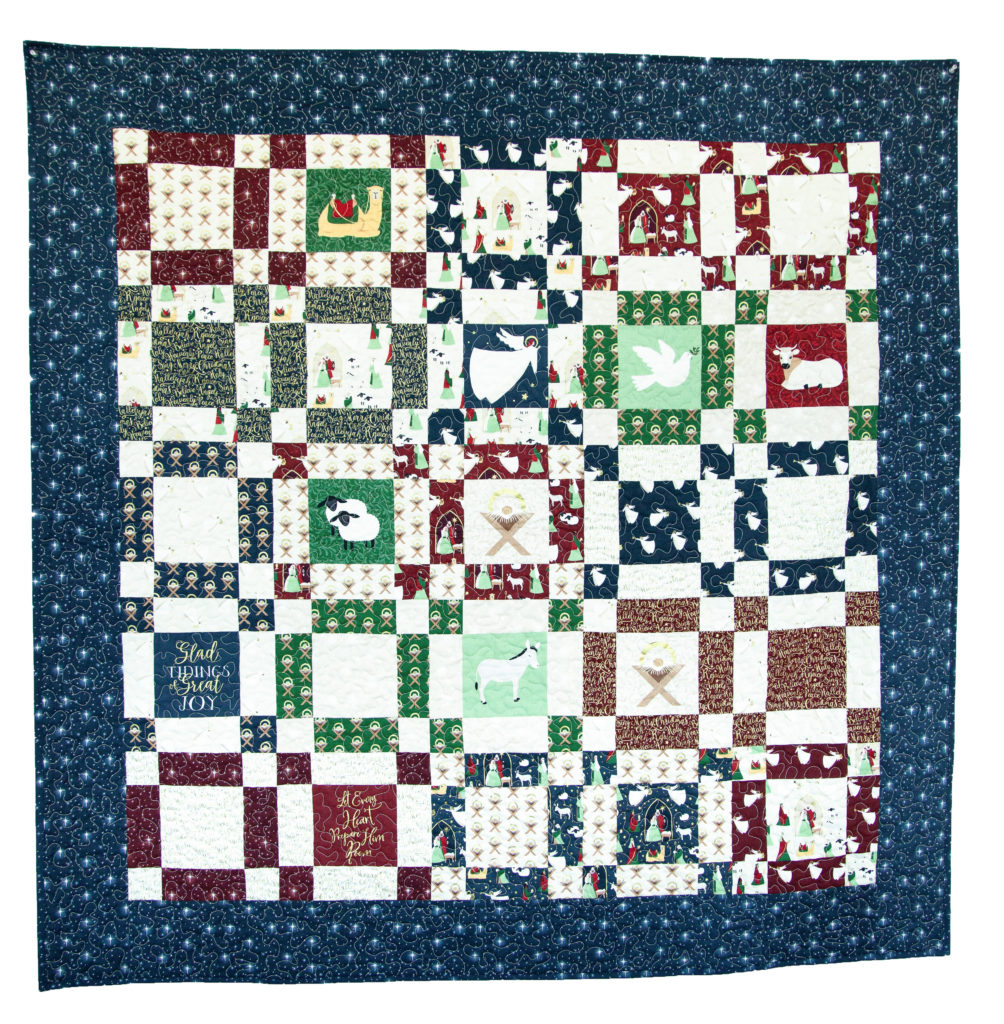 Oh Holy Night has stolen our hearts, with its combination of classic Christmas motifs and distinctive elegant, yet modern flair.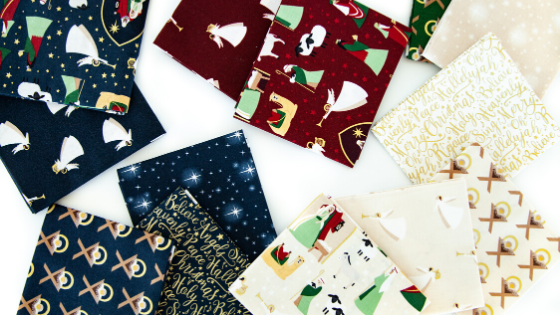 The color palette includes a traditional palette of deep reds, cream, and green, with the surprise addition of navy blue, and lots of sparkle!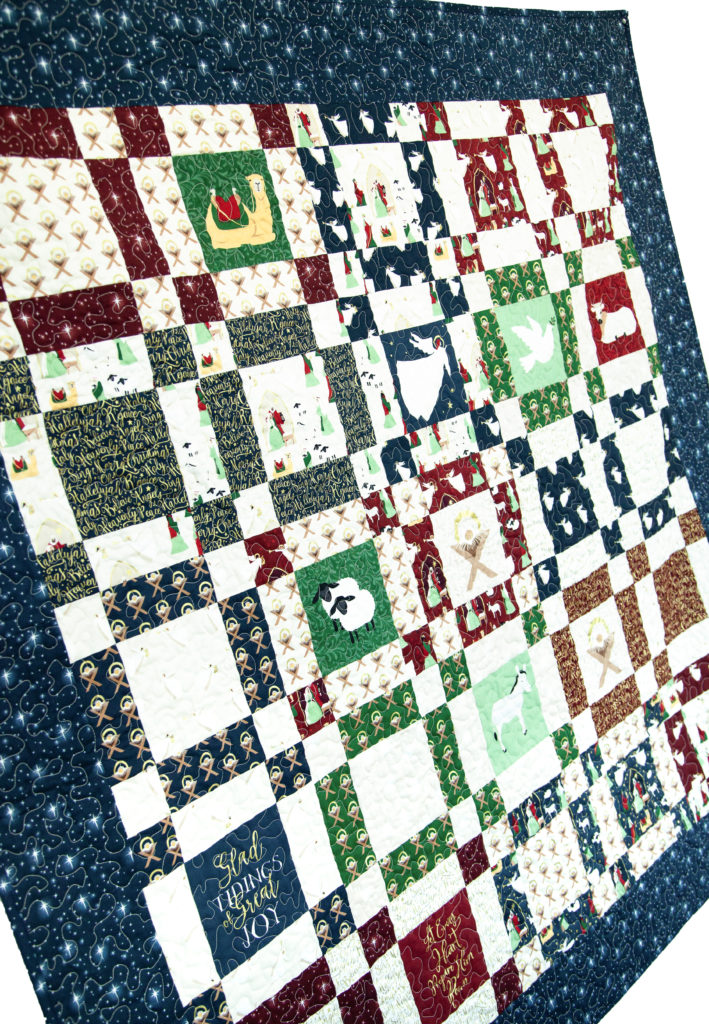 The FREE Ground Cover Quilt pattern comes from our friends at Missouri Star Quilt Co. I wanted to fussy cut some of the gorgeous text and images in this fabric line, and, with just a slight modification, this pattern was the perfect choice with its large center squares.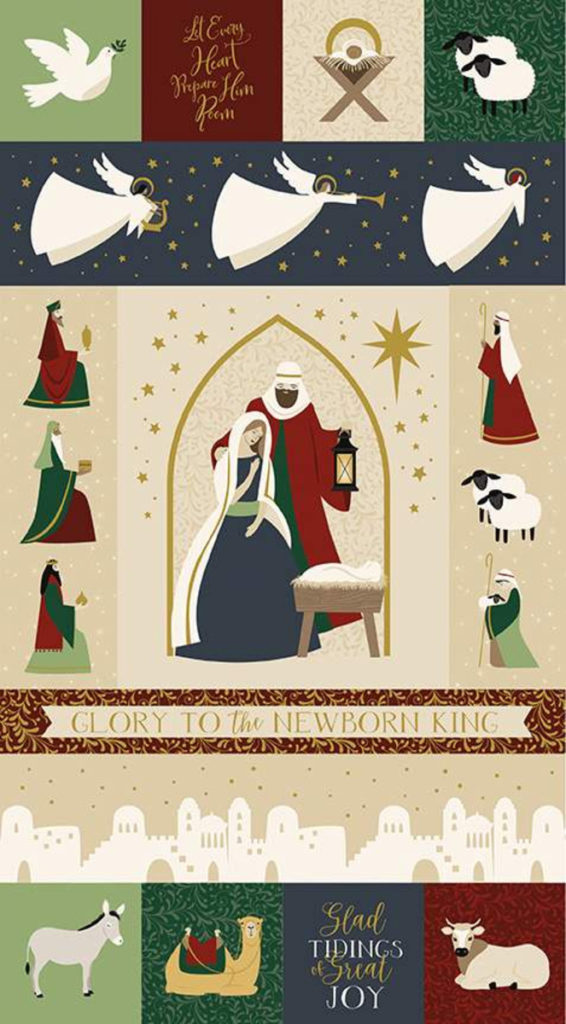 This 24″ x 36″ fabric panel can be used as the focal point of a quilt, or can be cut up for smaller projects. I cut the squares along the top and bottom of the panel. The rest of the panel will be used in a future project.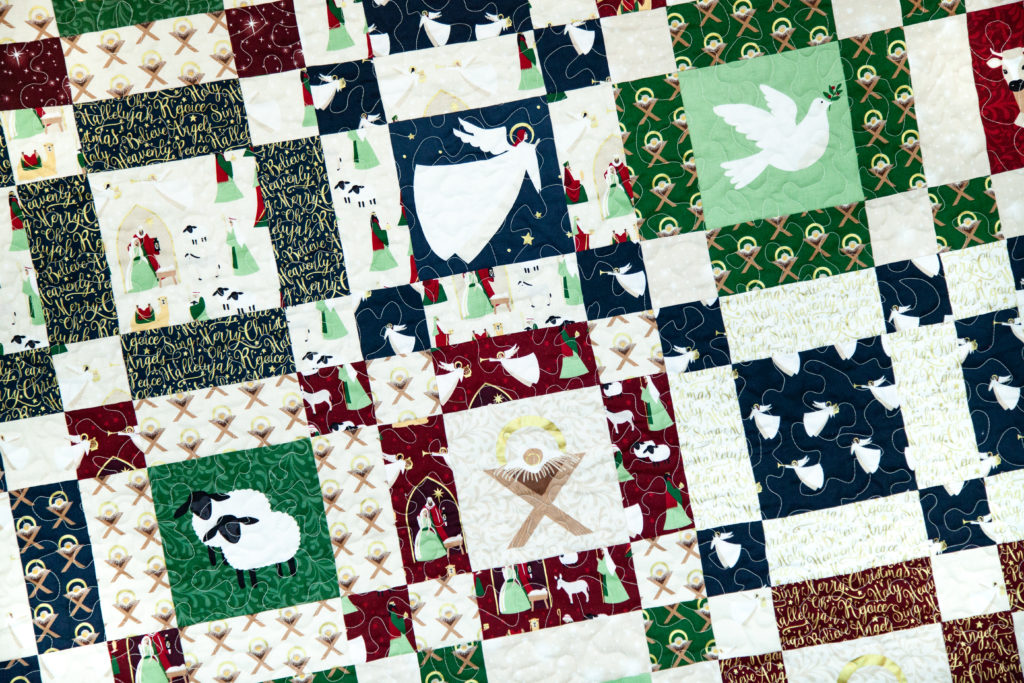 Each of the squares from the fabric panel measures 6″. In order to make them work in the center of each block, I did have to alter my block sizes. The original pattern has you starting with 10″ squares and cutting 2 1/2″ strips from each side, top and bottom.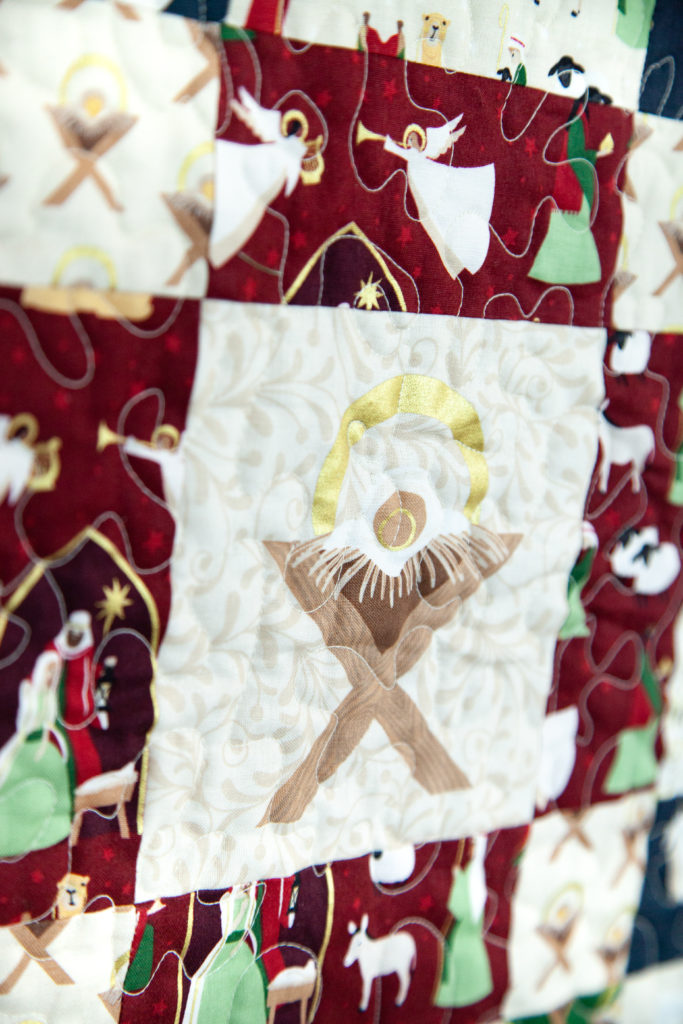 Instead, I started with 12″ squares of fabric, then cut 3″ on each side, top and bottom. This left me with the 6″ center squares I needed. It was then a very simple matter to pull out a few center squares and replace them with the squares from the fabric panel. Easy!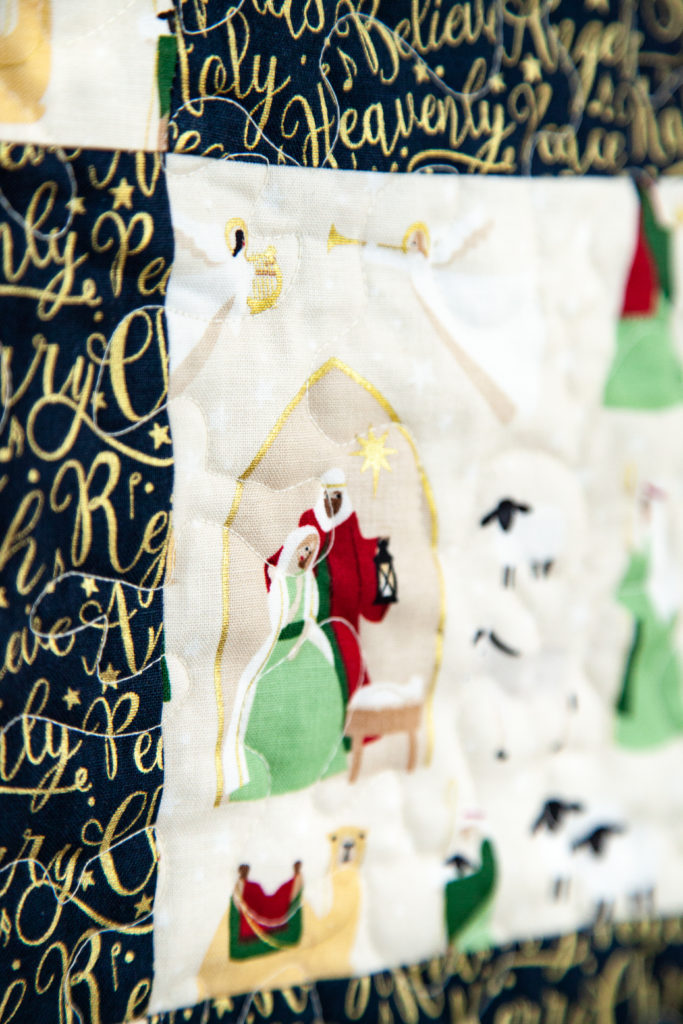 After my blocks were sewn, I trimmed them down to 10 1/2″ squares. I followed the rest of the TUTORIAL instructions with no changes, except that I made the quilt a little smaller and opted to add a 6″ border using the beautiful Navy Night Star fabric. Not only does it provide a beautiful frame for the entire quilt, but the stars against the deep Navy fabric really emphasize the "night" theme of this fabric line. Beautiful!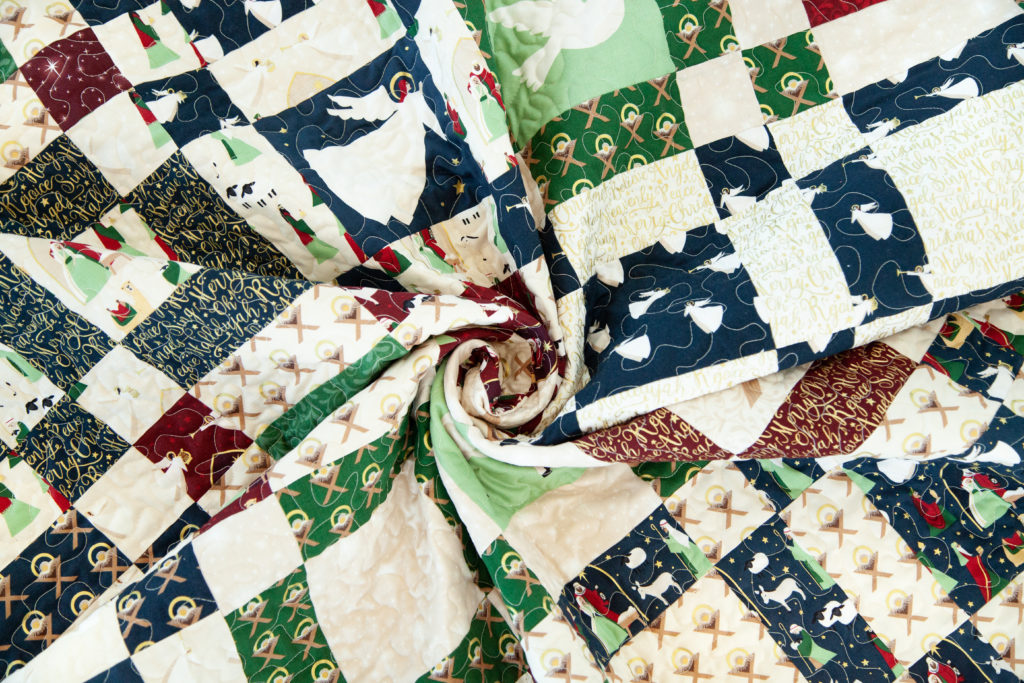 I quilted this at home using a simple free-motion all-over stipple design.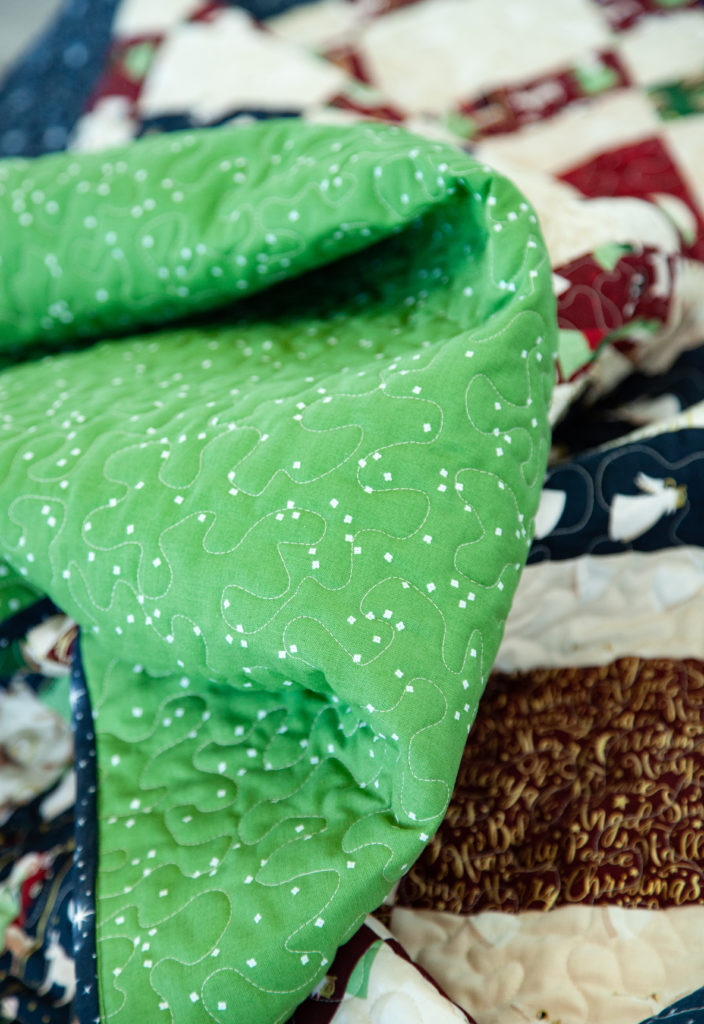 The quilt back is our Wide Back Blossom in Clover. The green adds a nice bright pop of color and plays well with the greens in this collection.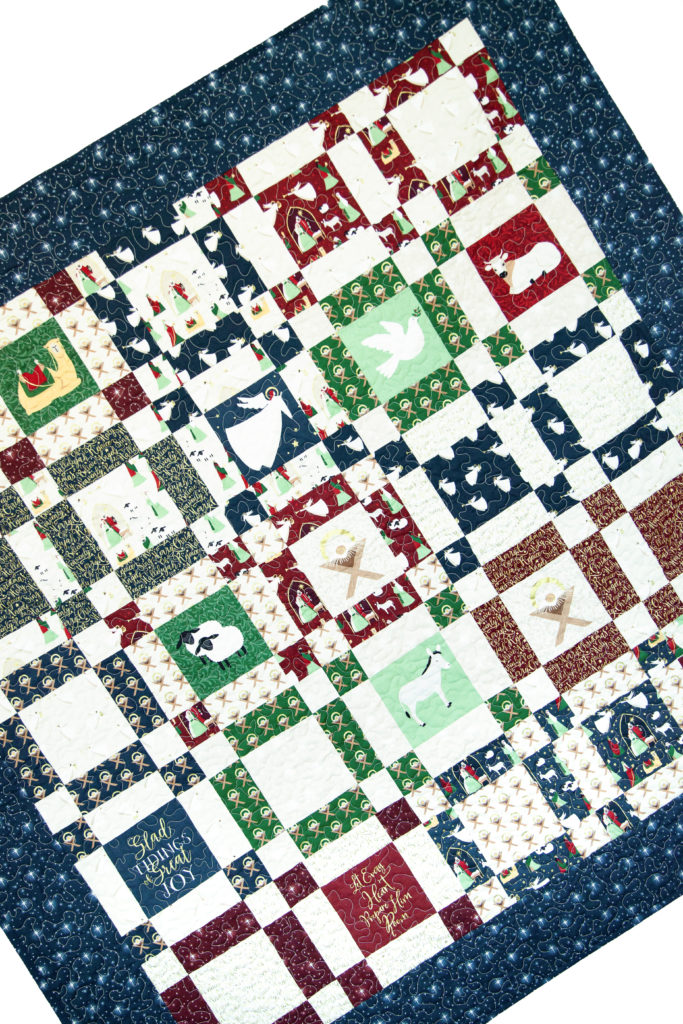 You can watch the FREE GROUND COVER QUILT TUTORIAL, courtesy of Missouri Star Quilt Co.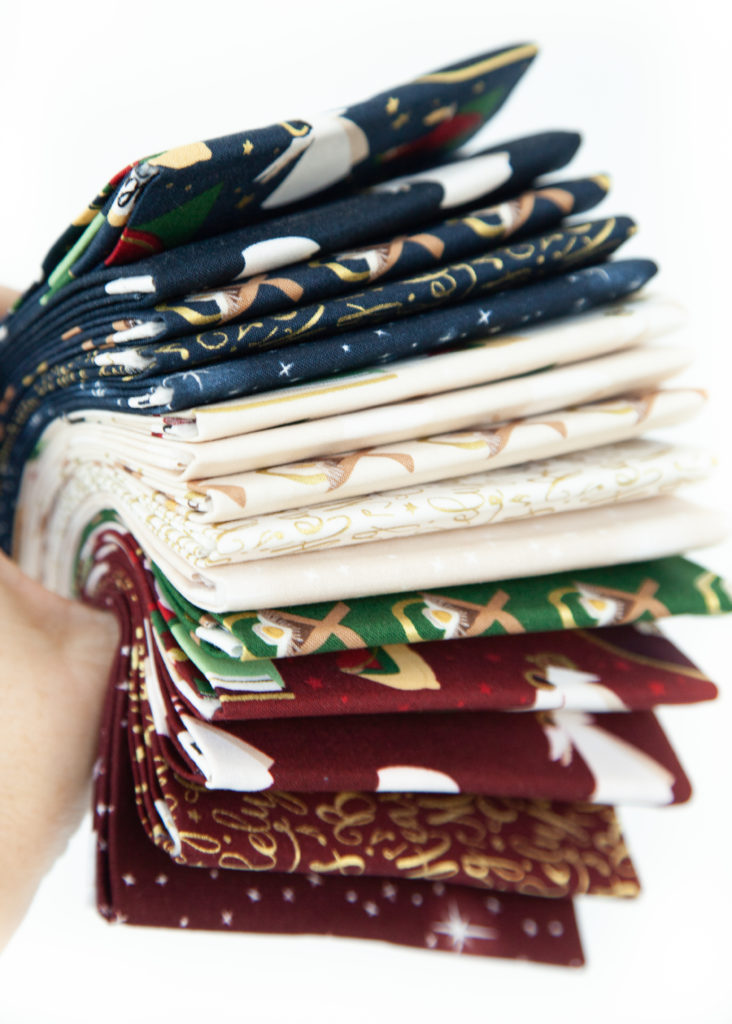 Oh Holy Night, designed by Dani Mogstad, is available now at your favorite local and online quilt shops. Pick up yours today and share your makes with us on Instagram using #ohholynightfabric, #rileyblakedesigns, #iloverileyblake, and tag us @rileyblakedesigns.
Happy Quilting!