We are so excited to be here in Kansas City for spring Quilt Market! We hope you're following along on our social media for the day to day action but we wanted to put some more project details here on the blog for you. Today we are sharing links and details for half of our collections and then tomorrow we will share details from our designer's booths!
First up, Granny Chic!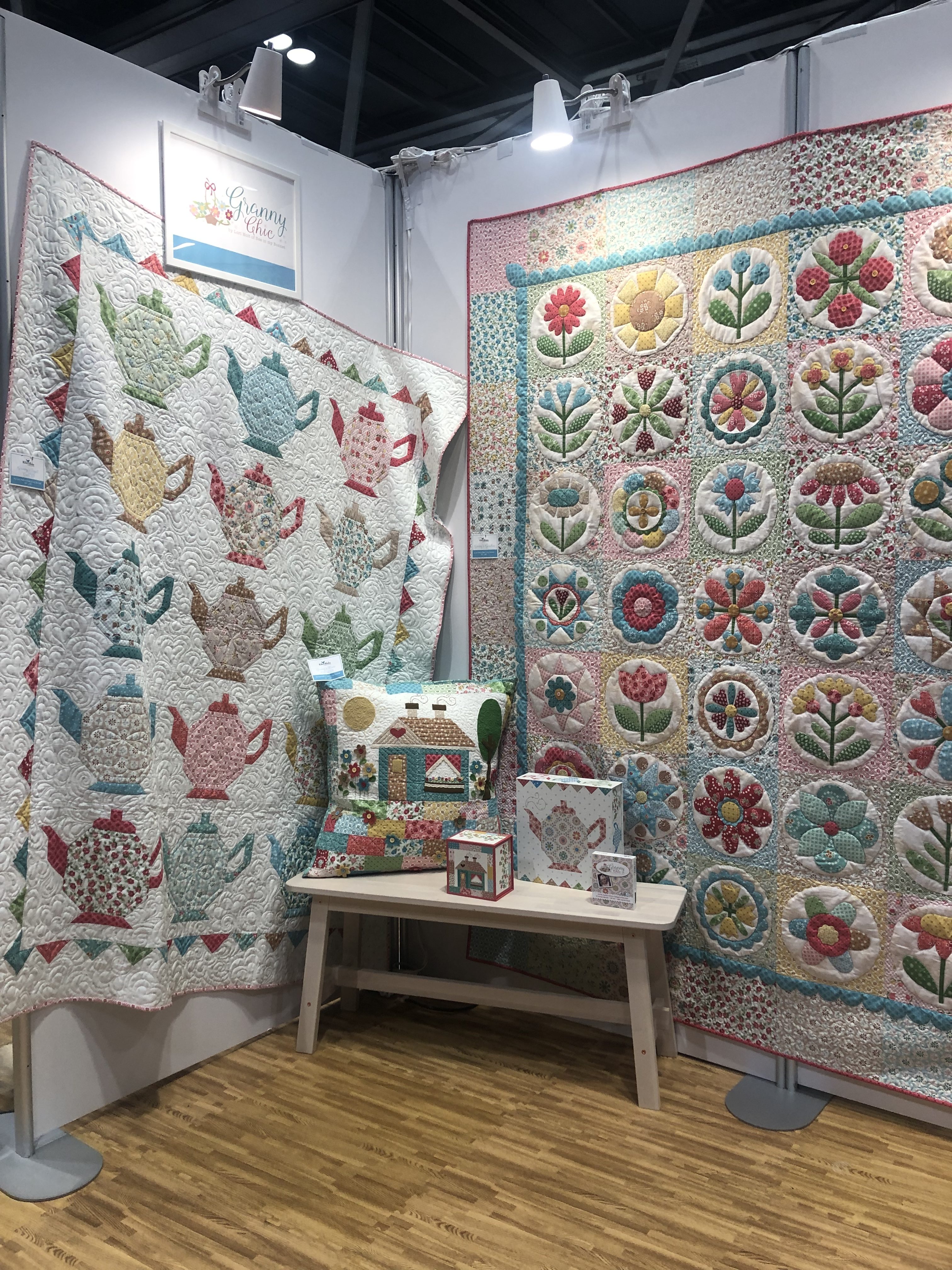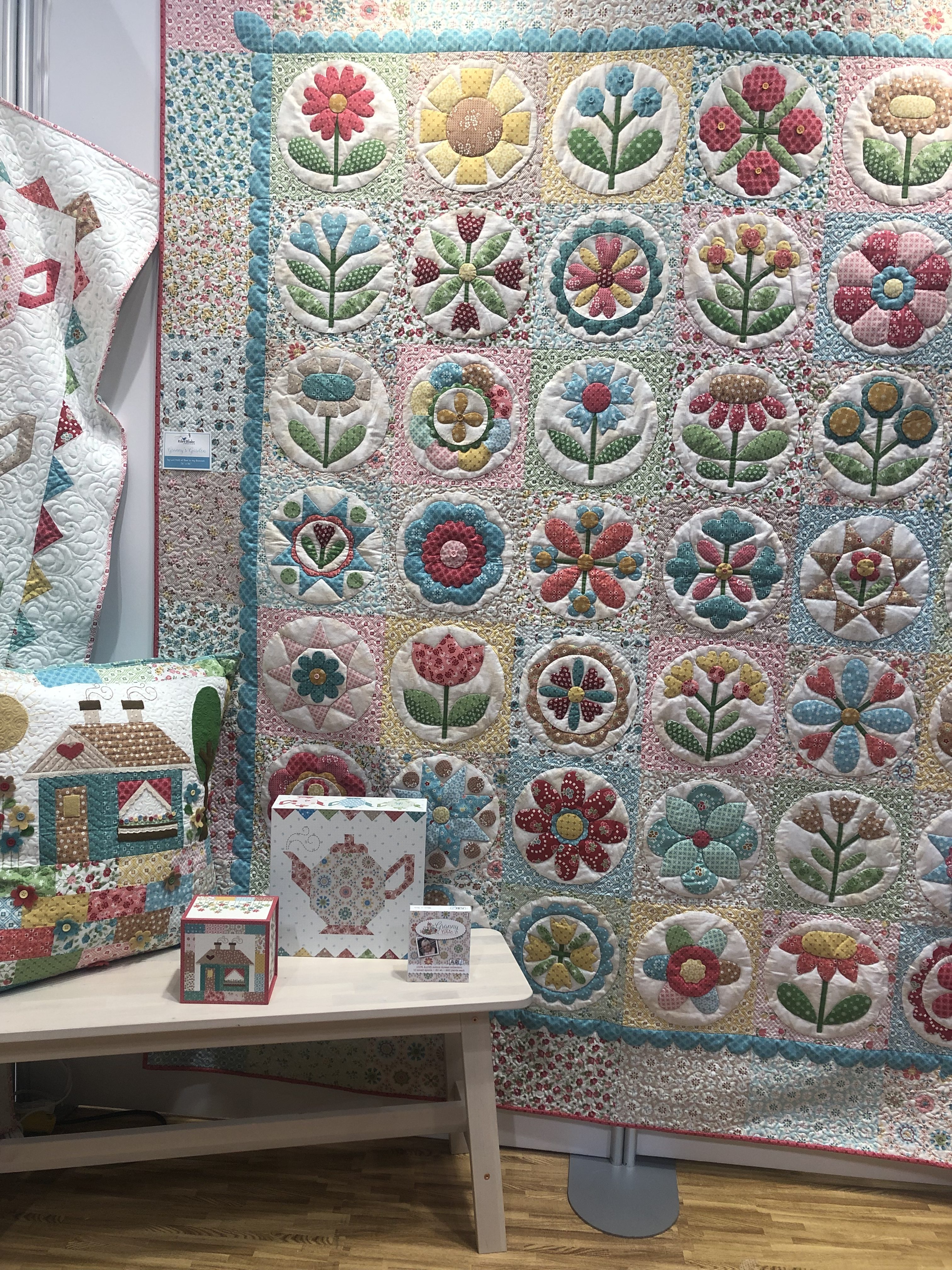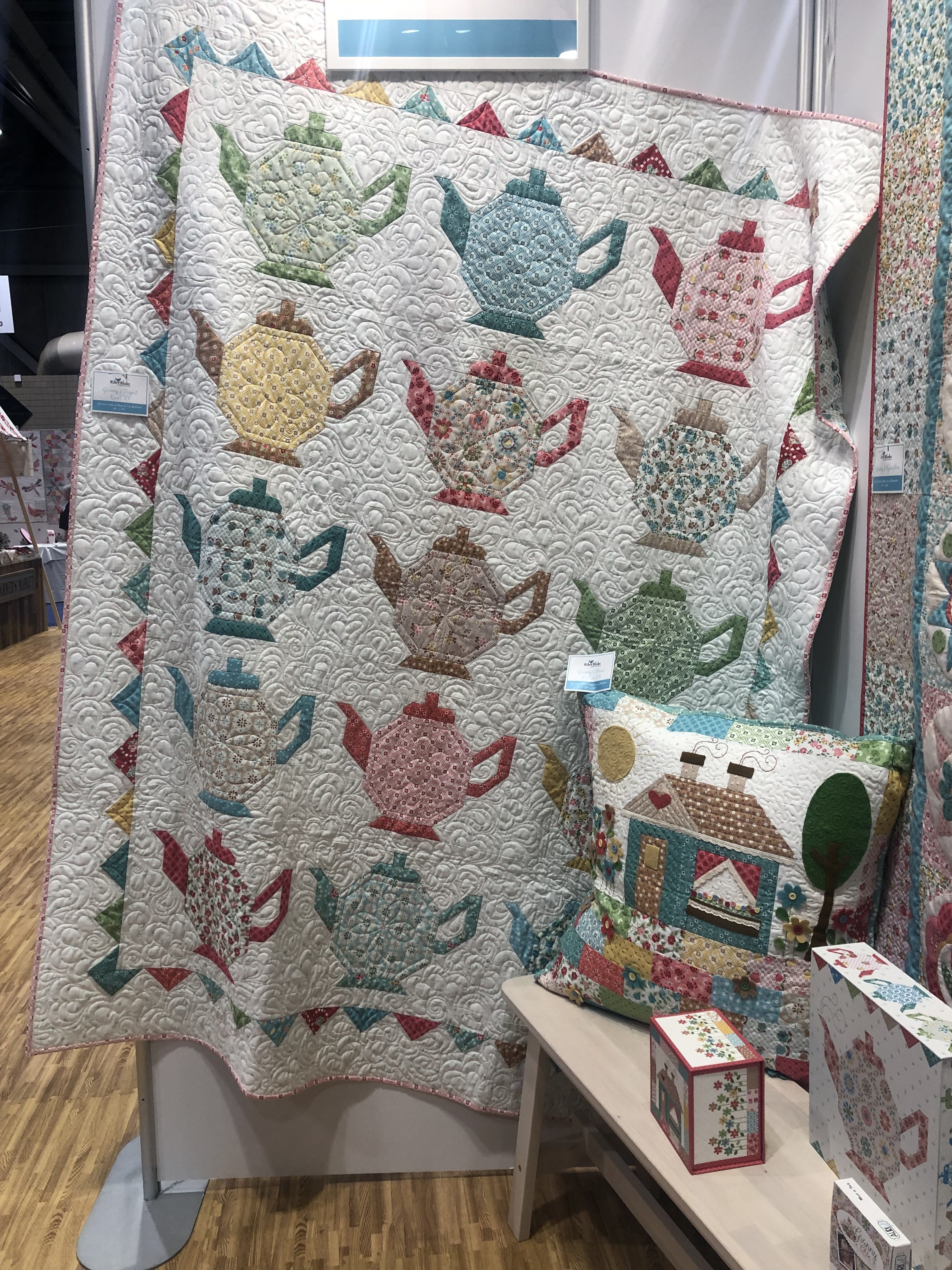 Lori's new kits and Sew Along quilt are so cute! The pillow kit is called Granny's House Pillow Kit and it comes in a darling box. Granny's Teapot Quilt Kit also comes in a cute box! These kits are available now for preorder from many shops.
Granny's Garden is the quilt we will be making for Lori's next Sew Along!
Dorthy's Journey: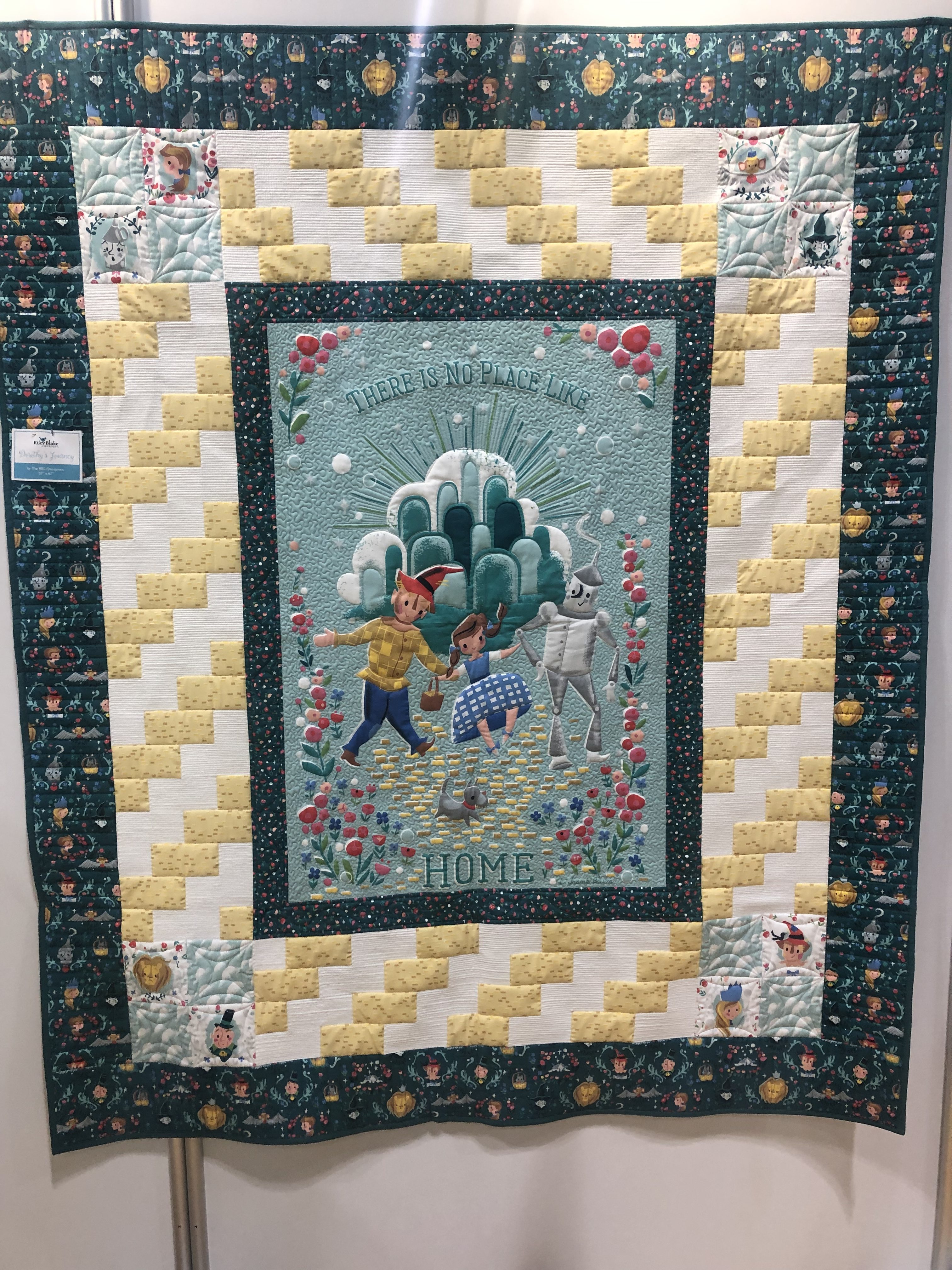 This quilt is made using a panel from Dorothy's Journey designed by Jill Howarth. The pattern will be available in the RBD library!
Sew Retro: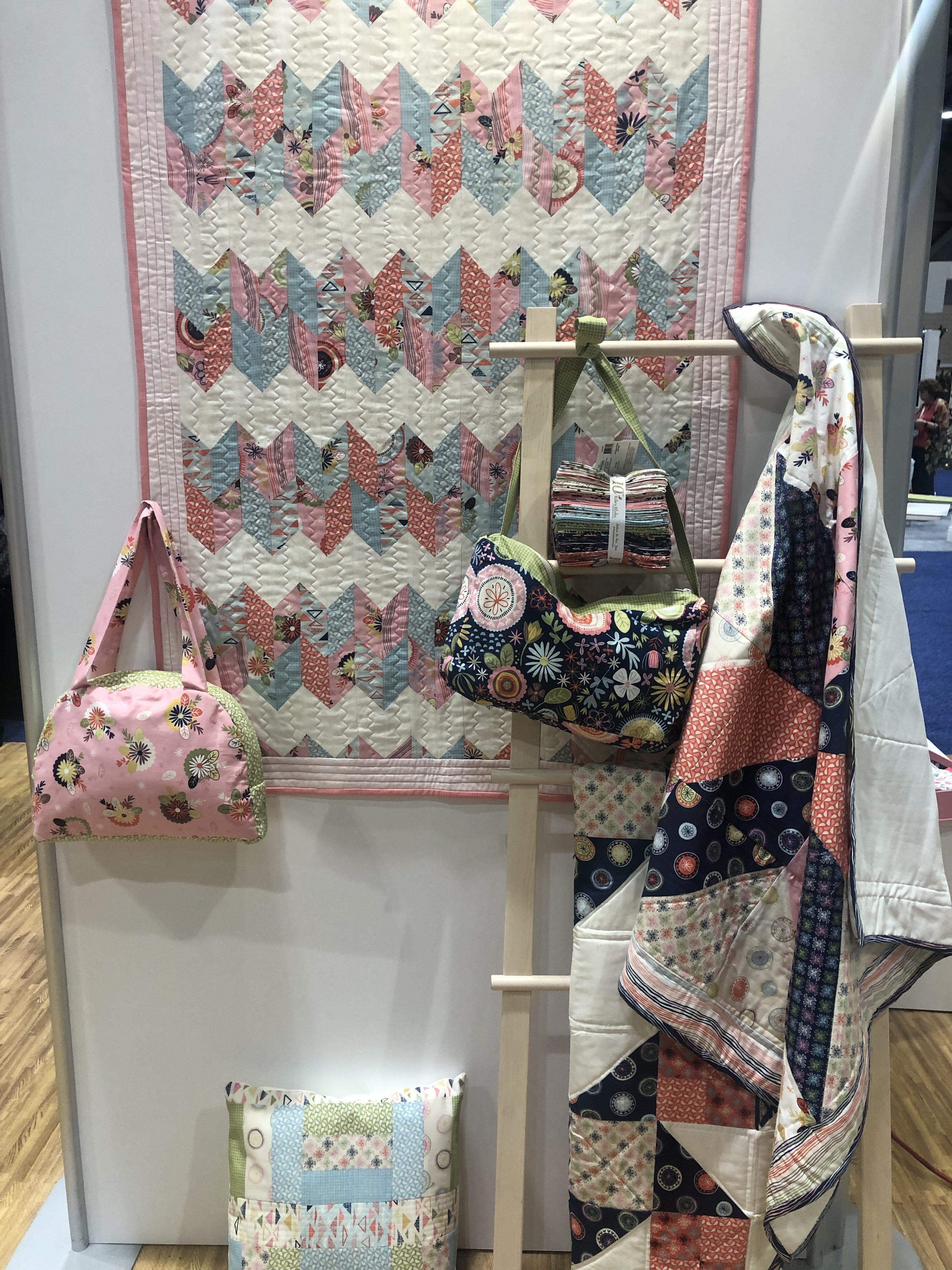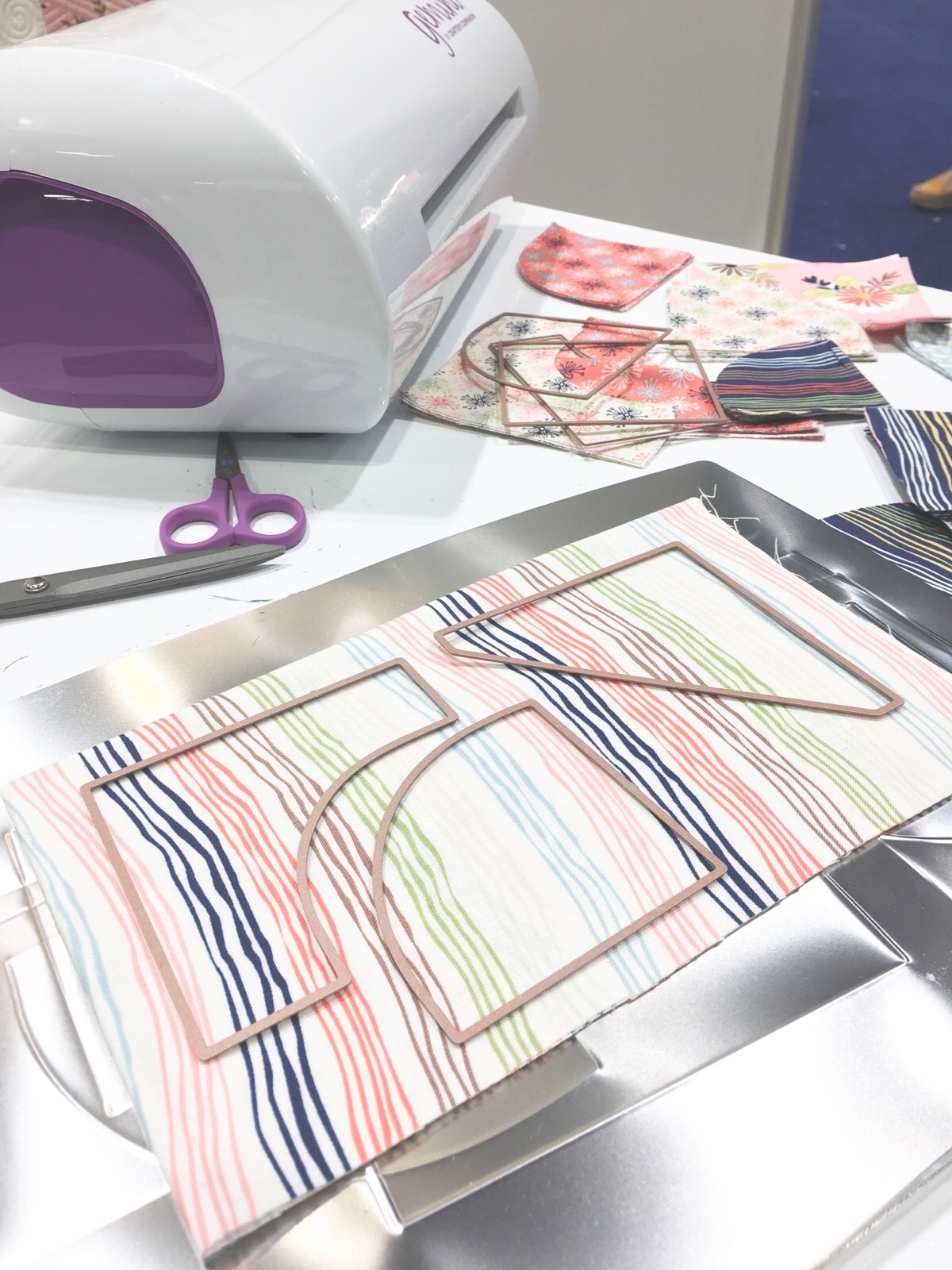 The pieces for these quilts were cut on the Gemini dye cutting machine by Crafters Companion!
This is Sara Davies first Collection with us. We can't wait for Sew Retro!
Lucy's Garden: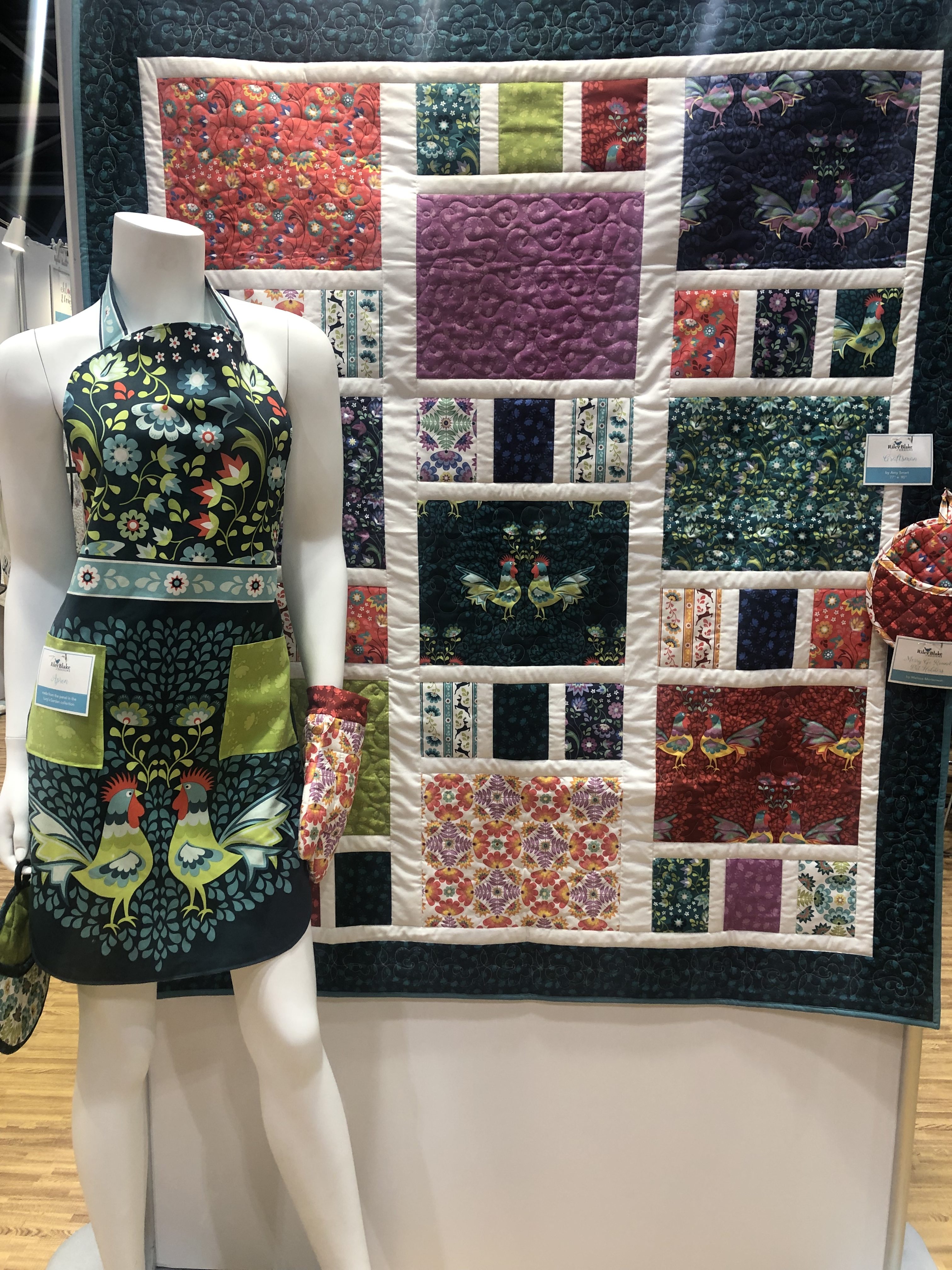 This is Patty Young's latest collection. It has the most beautiful colors!
Quilt Pattern: Craftsman by Amy Smart
Potholders: Merry Go Round by Melissa Mortenson
Apron is a panel from the collection!
Rhapsody: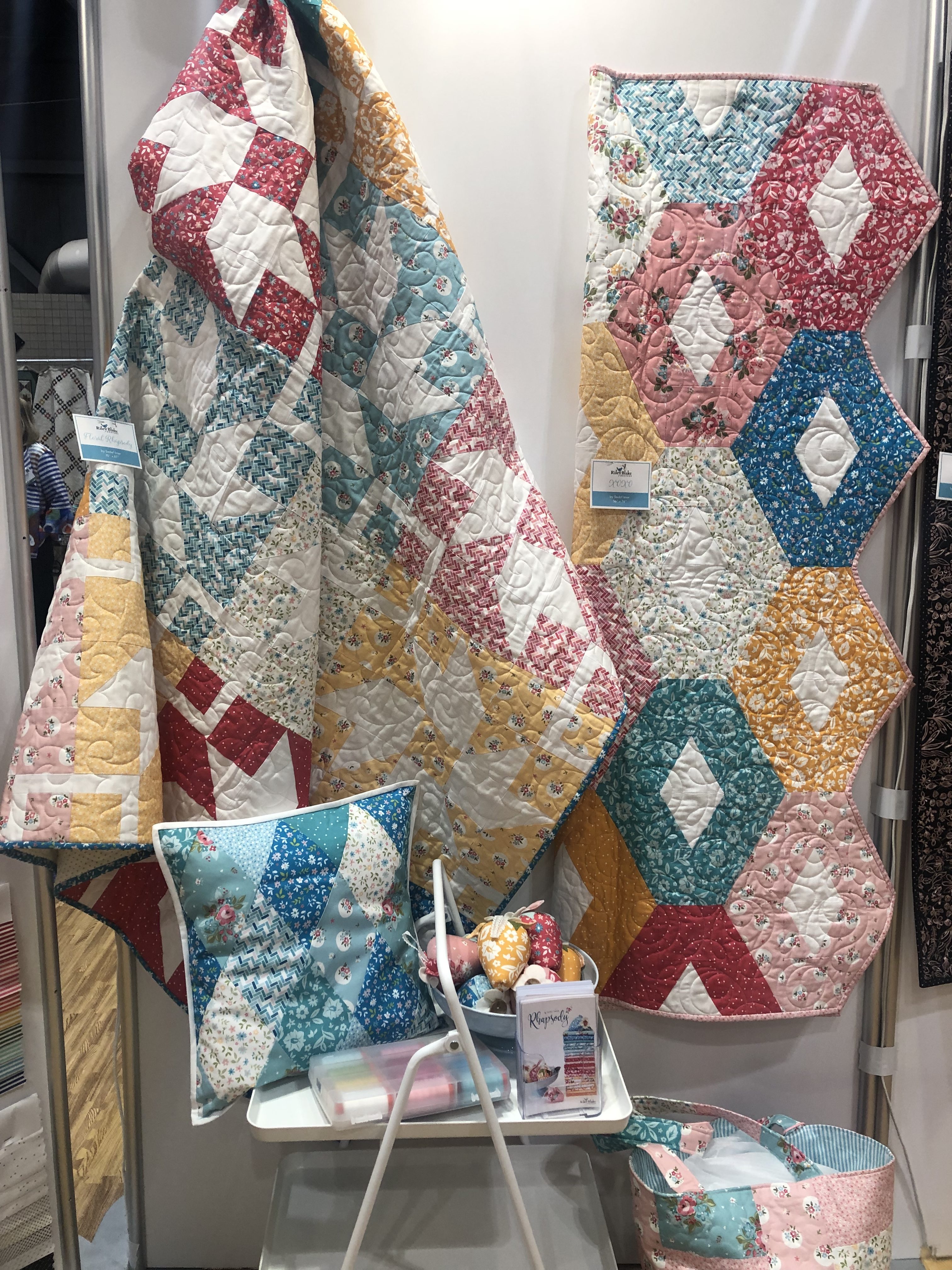 Rhapsody by Sedef Imer is so gorgeous and will actually be in shops in the next few weeks!
Left Quilt Pattern: Floral Rhapsody by Sedef coming soon
Right Quilt Pattern: XOXO by Sedef coming soon
Strawberry by Sedef Imer
Glam Girl: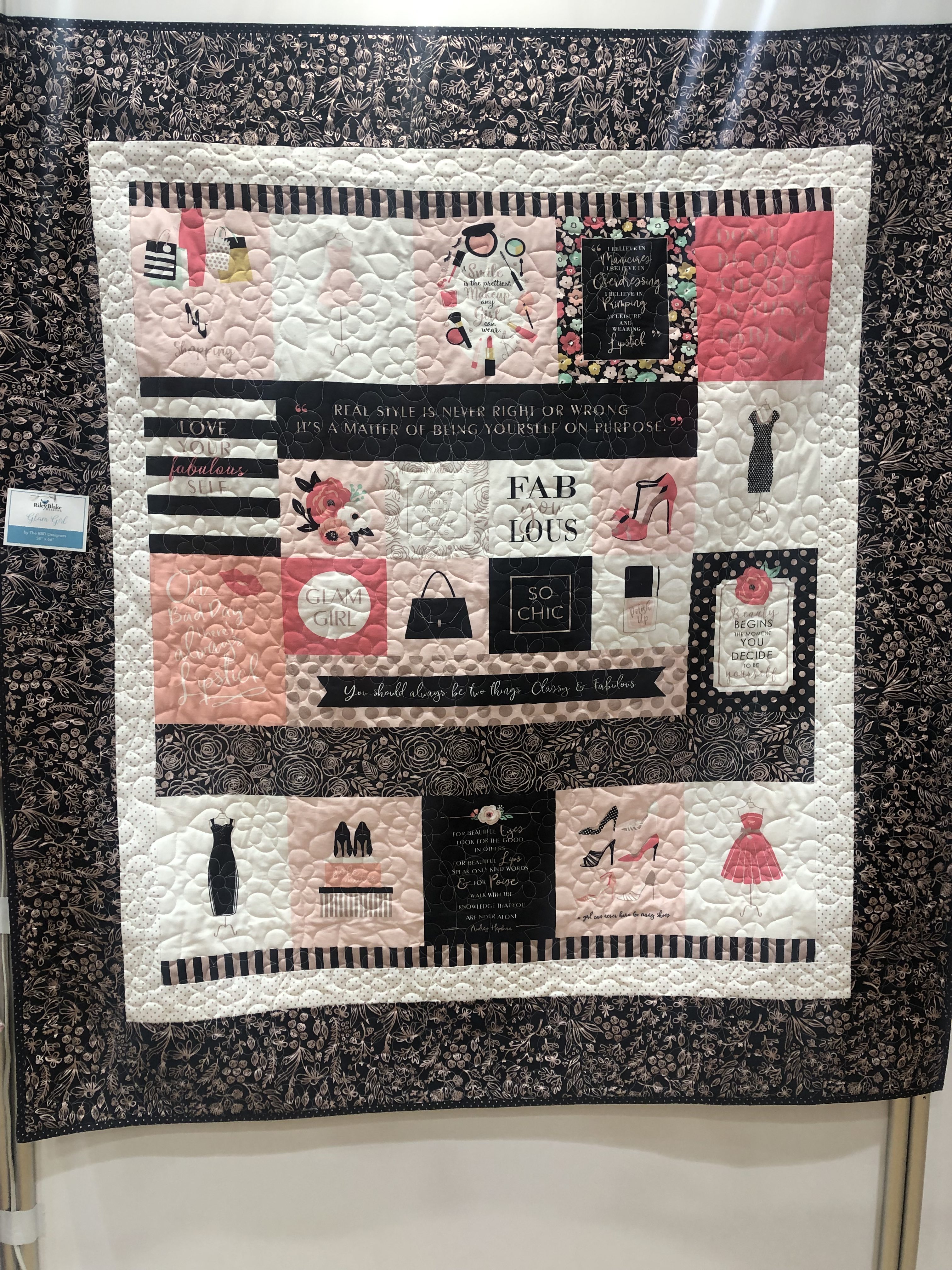 So glam! This collection is by Dani Mogstad. This is a panel quilt that will be available in the RBD Library!
Cops & Robbers: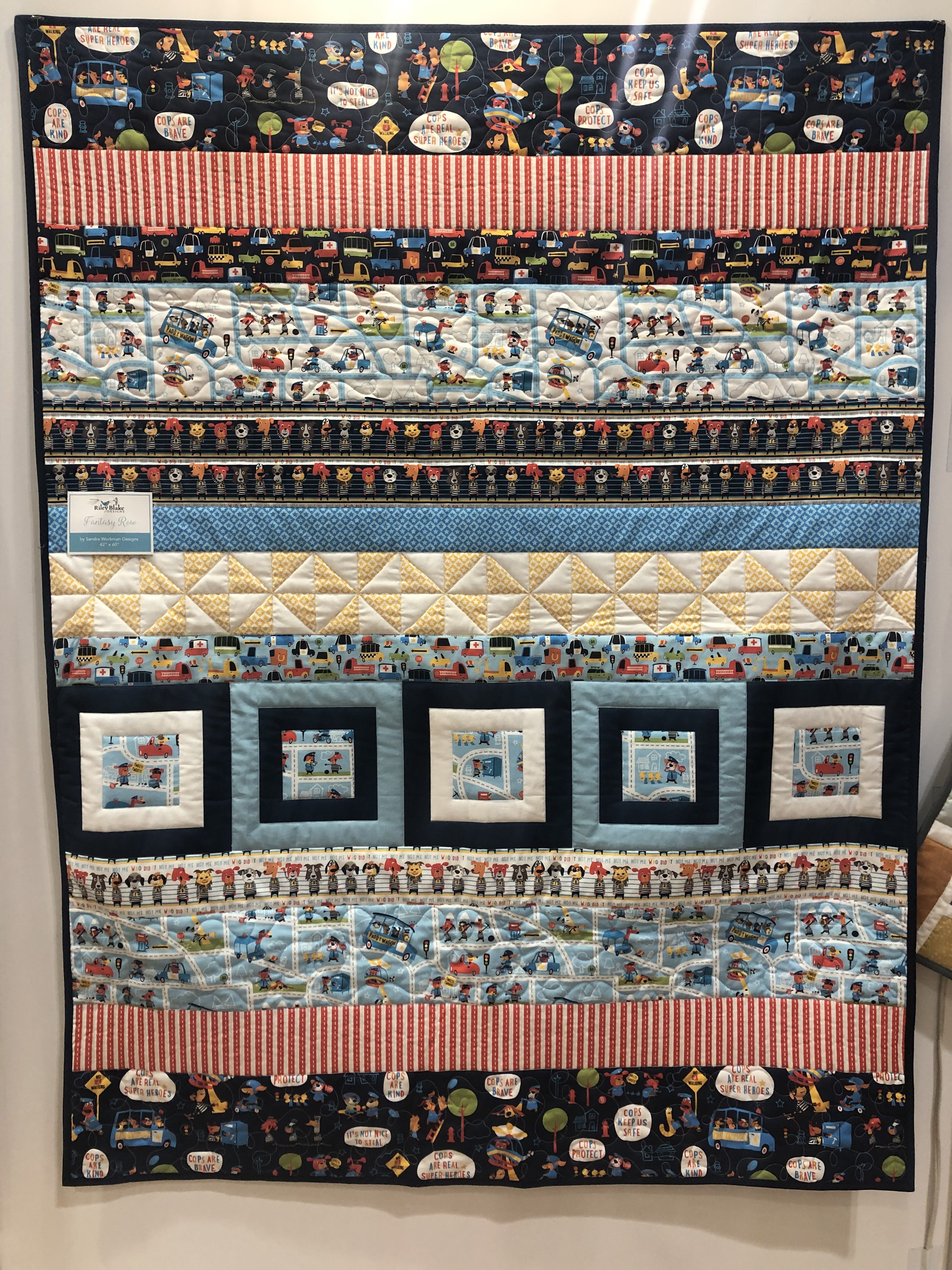 This new collection by Shawn Wallace is so much fun!
Quilt pattern: Fantasy Row by Sandra Workman Designs
Fossil Rim 2: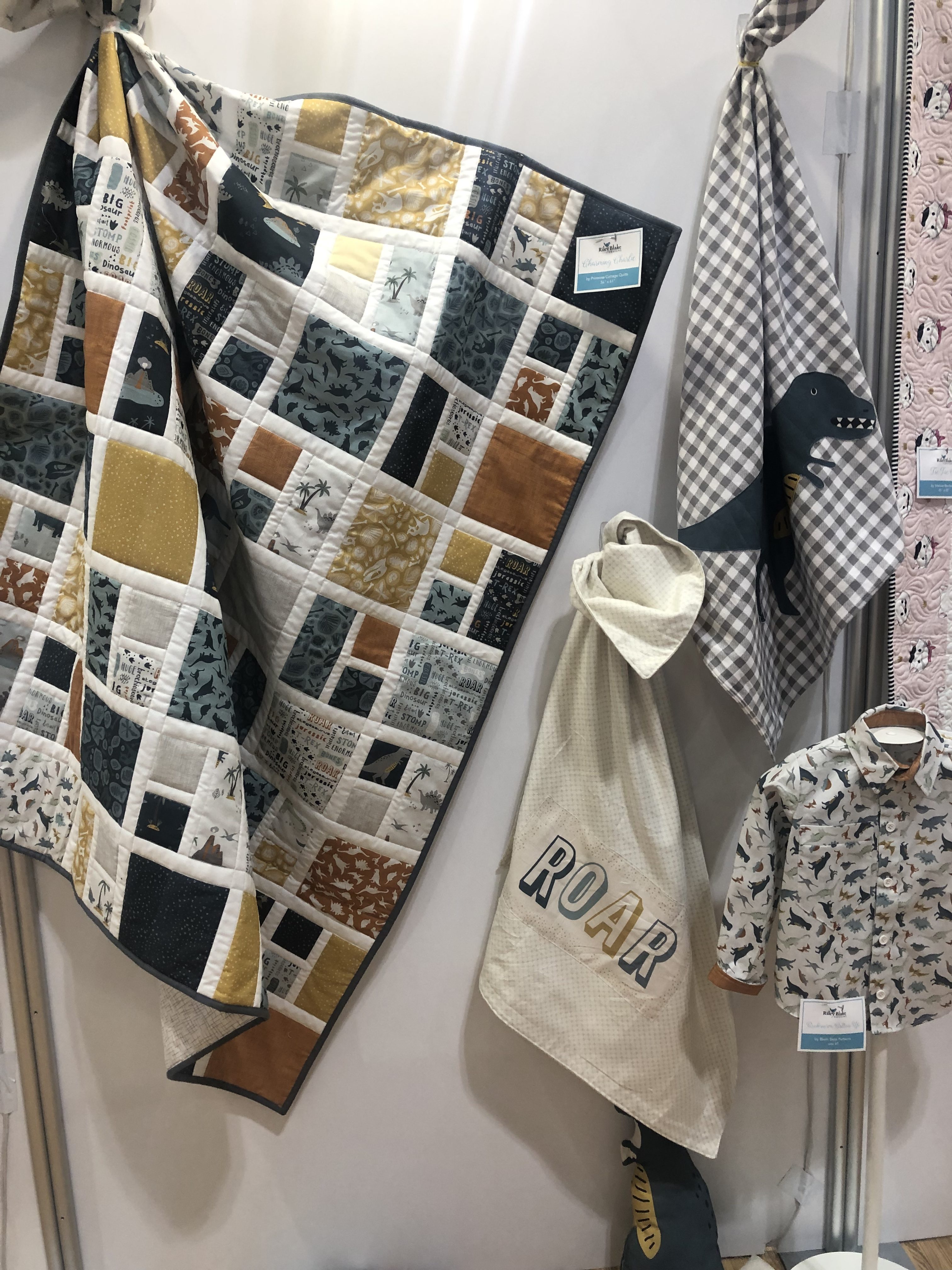 Calling all Dino fans! Deena Rutter has a follow up collection to Fossil Rim coming and this one has a bit more oranges and yellows in it.
Quilt Pattern: Charming Charlie by Primrose Cottage Quilts
Shirt pattern: Bookworm Button Up by Blank Slate Patterns
Blankets on the right are done in RBD flannel
Chloe & Friends: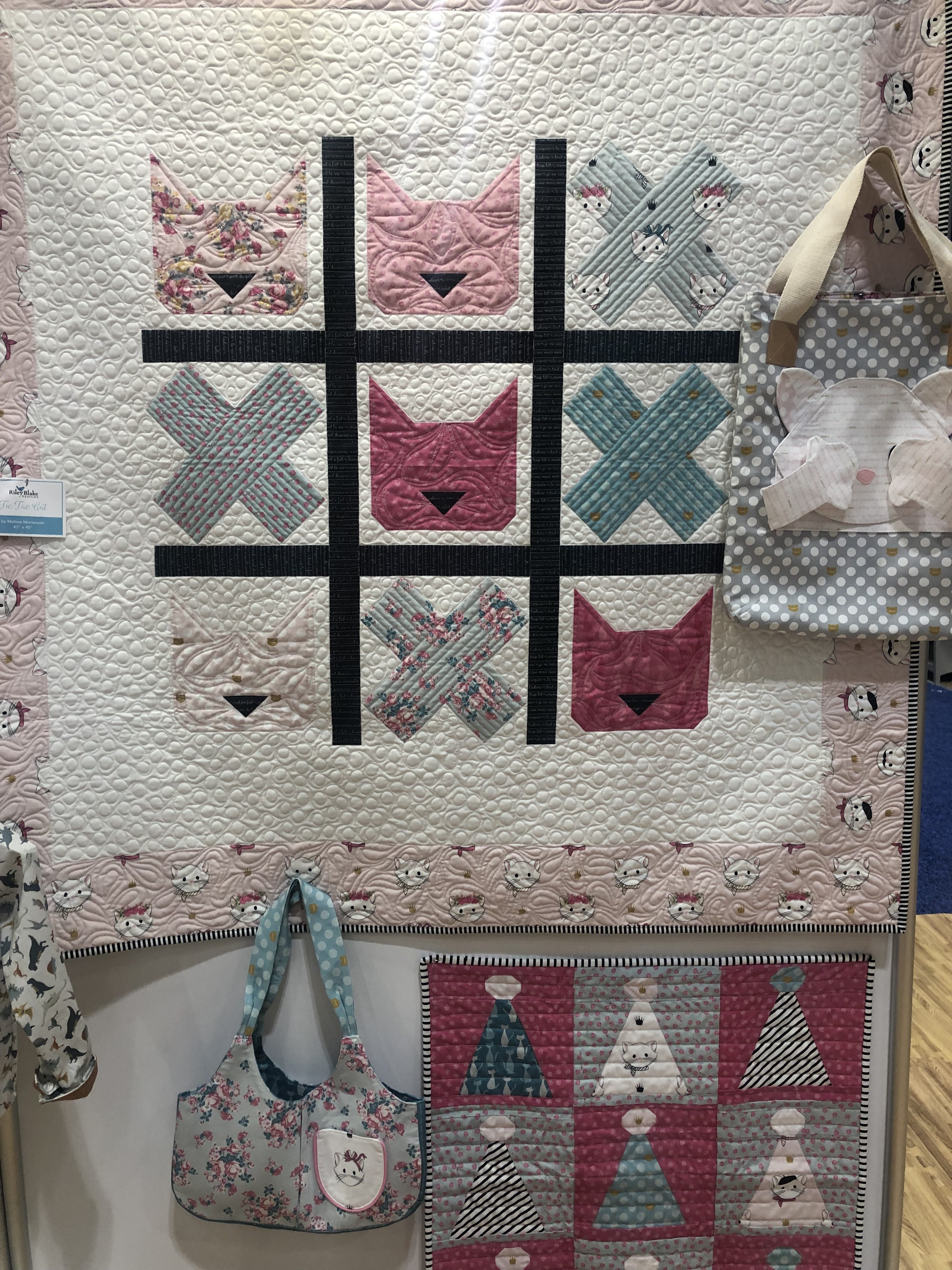 This line is classic Melissa Mortenson! You can't tell from these pictures but it will have gold sparkle in some of the prints.
Quilt pattern: Tic Tac Cat by Melissa coming soon
Party Hat Mini coming soon
Bottom Bag: Ruby Lou Mini by Melissa
Midnight Rose: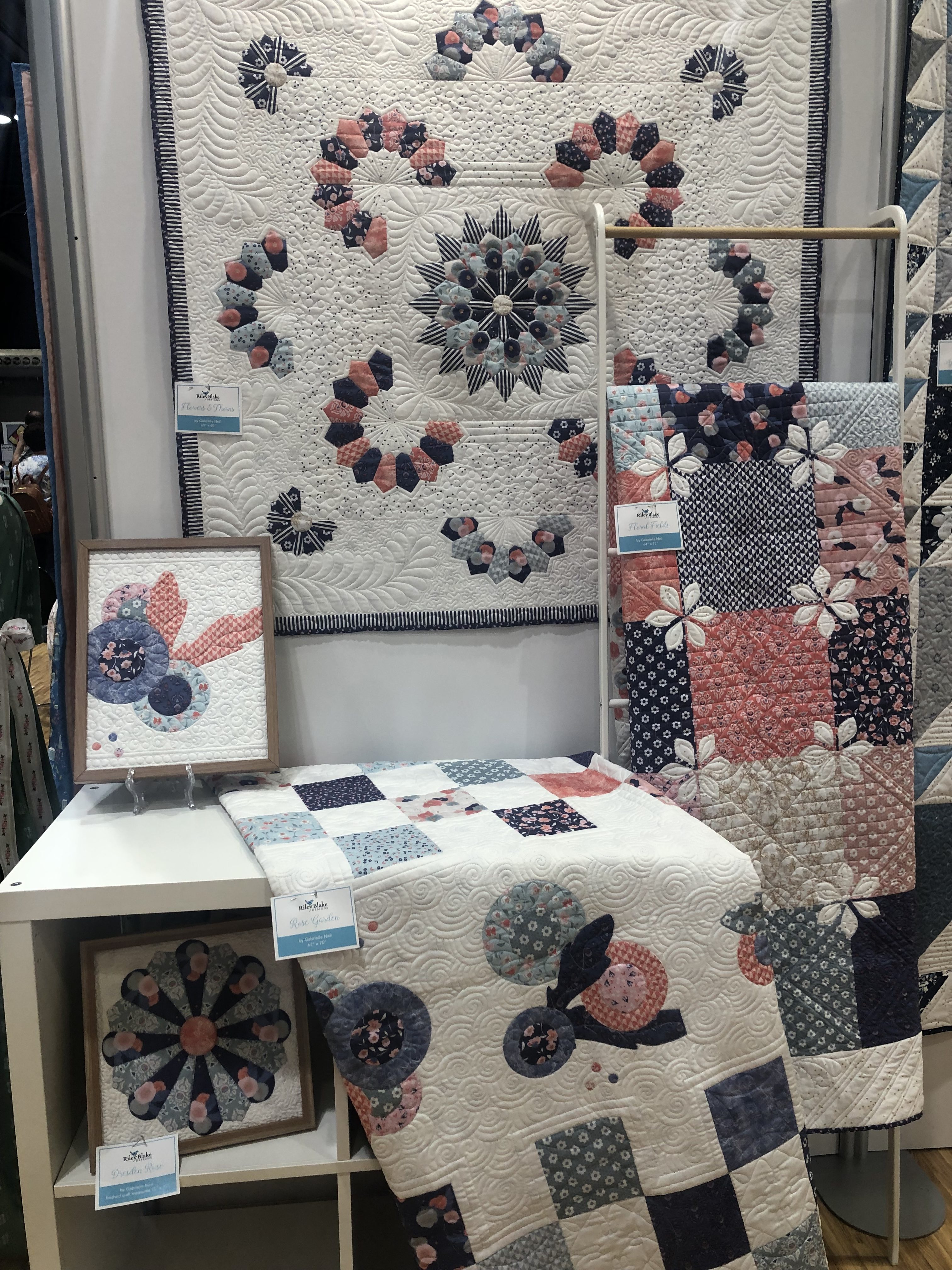 This new collection by Gabrielle Neil is so gorgeous! You can't go wrong with navy and blush!
Wall quilt: Flowers and Thorns by Gabrielle Neil coming soon
Ladder quilt: Floral Fields by Gabrielle coming soon
Quilt on shelf: Rose Garden by Gabrielle Neil coming soon
Dresden Rose by Gabrielle Neil coming soon
Something Borrowed: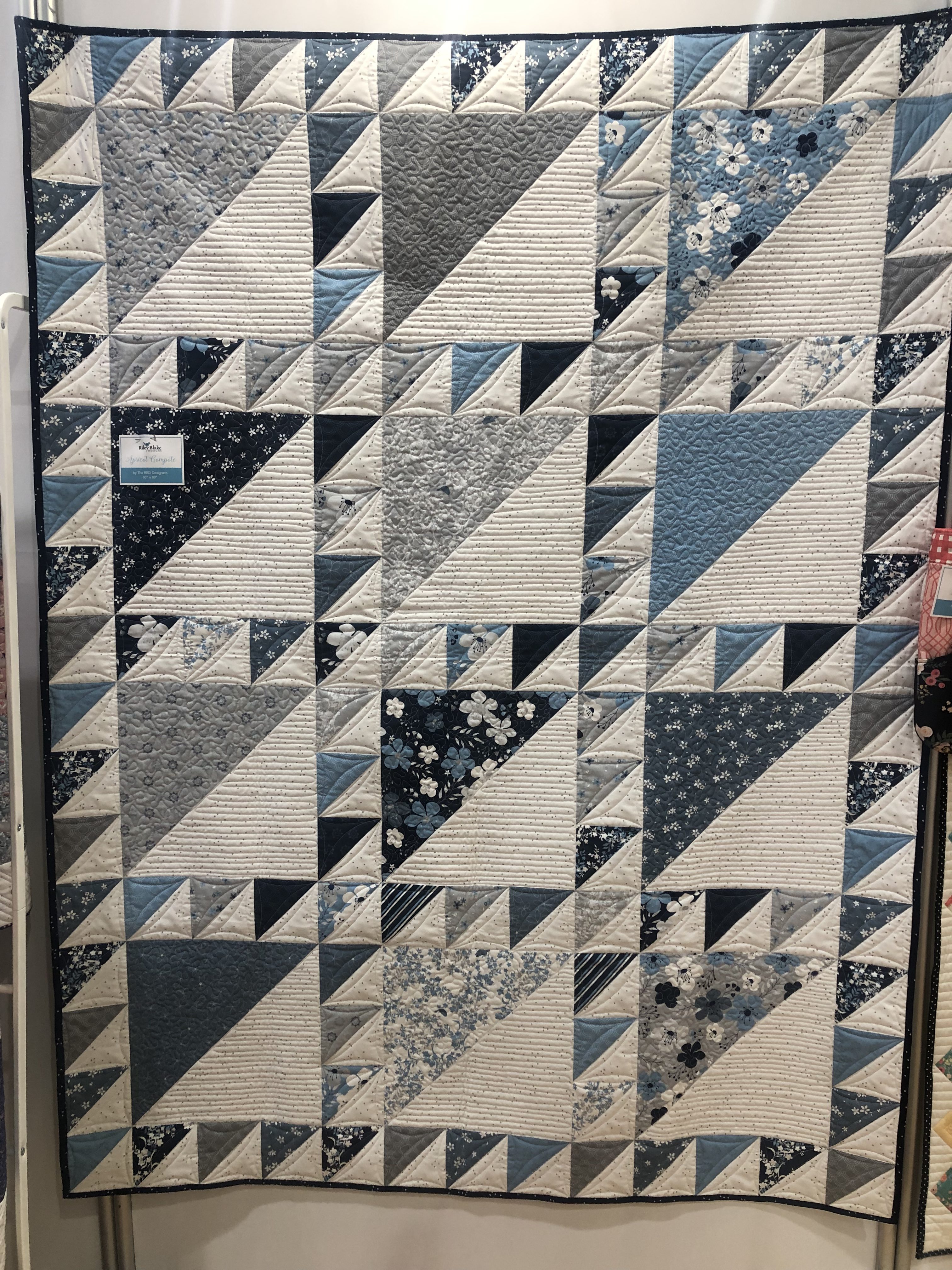 Christopher of The Tattooed Quilter is known for his blues and this collection is a home run!
Pattern: Apricot Compote by RBD designers
Flower Market: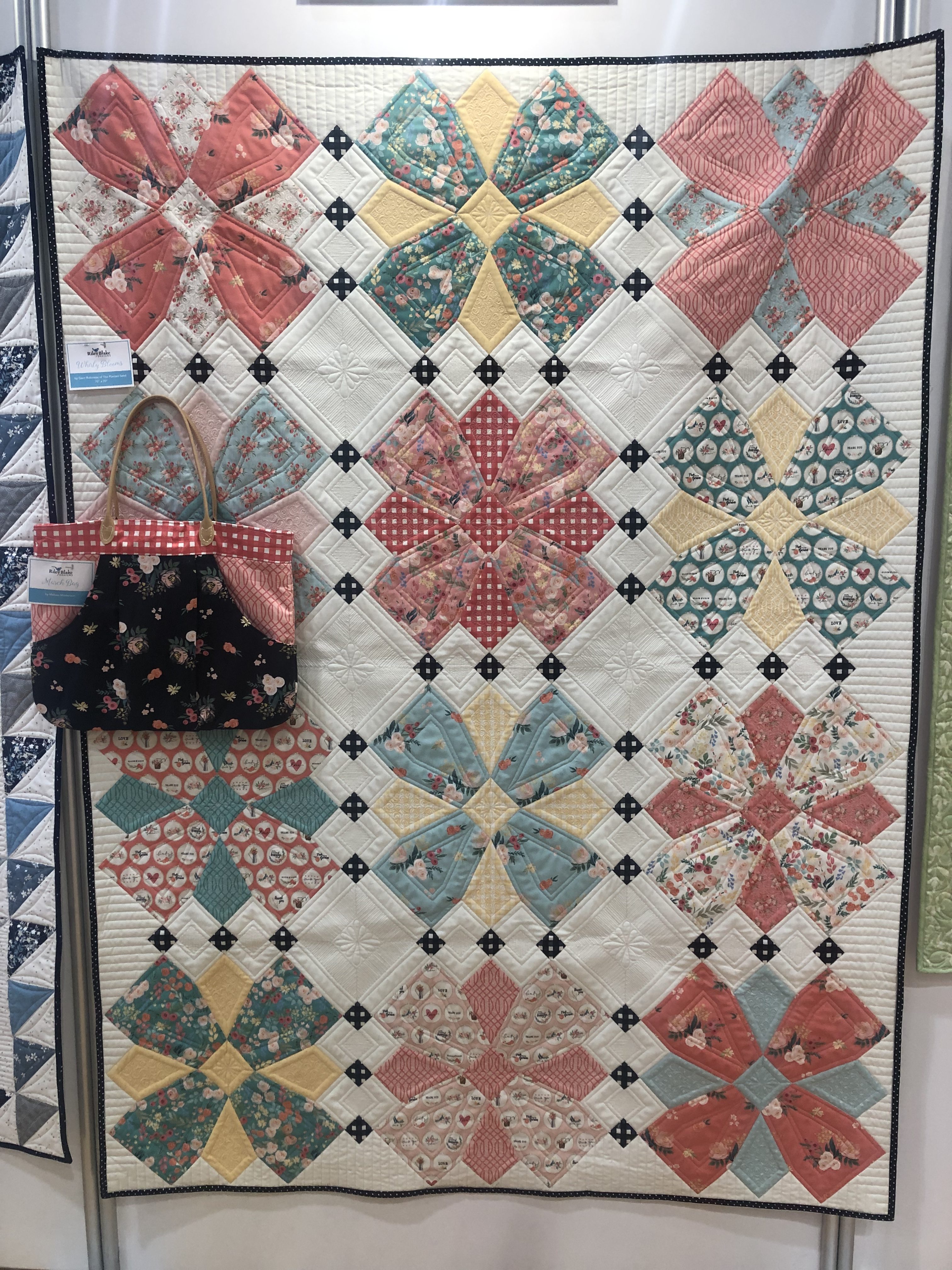 Jen Allyson's new collection is simply beautiful, we can't wait for you to see it!
Pattern: Whirly Blooms by Planted Seed Designs
Bag: March Bag by Melissa Mortenson
Sweet Melody: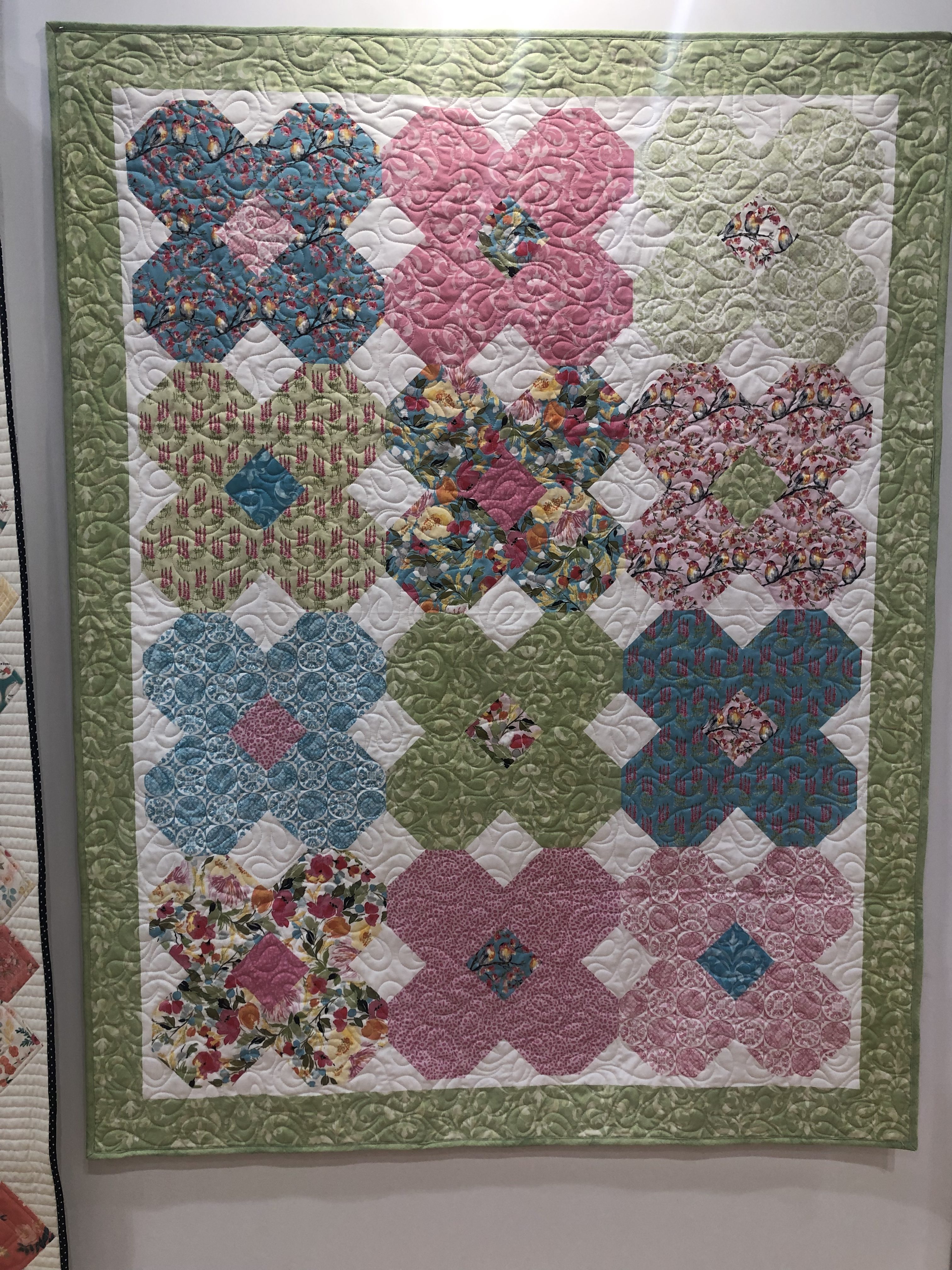 New from Lila Tueller! This collection has her classic florals and colors.
Pemberley: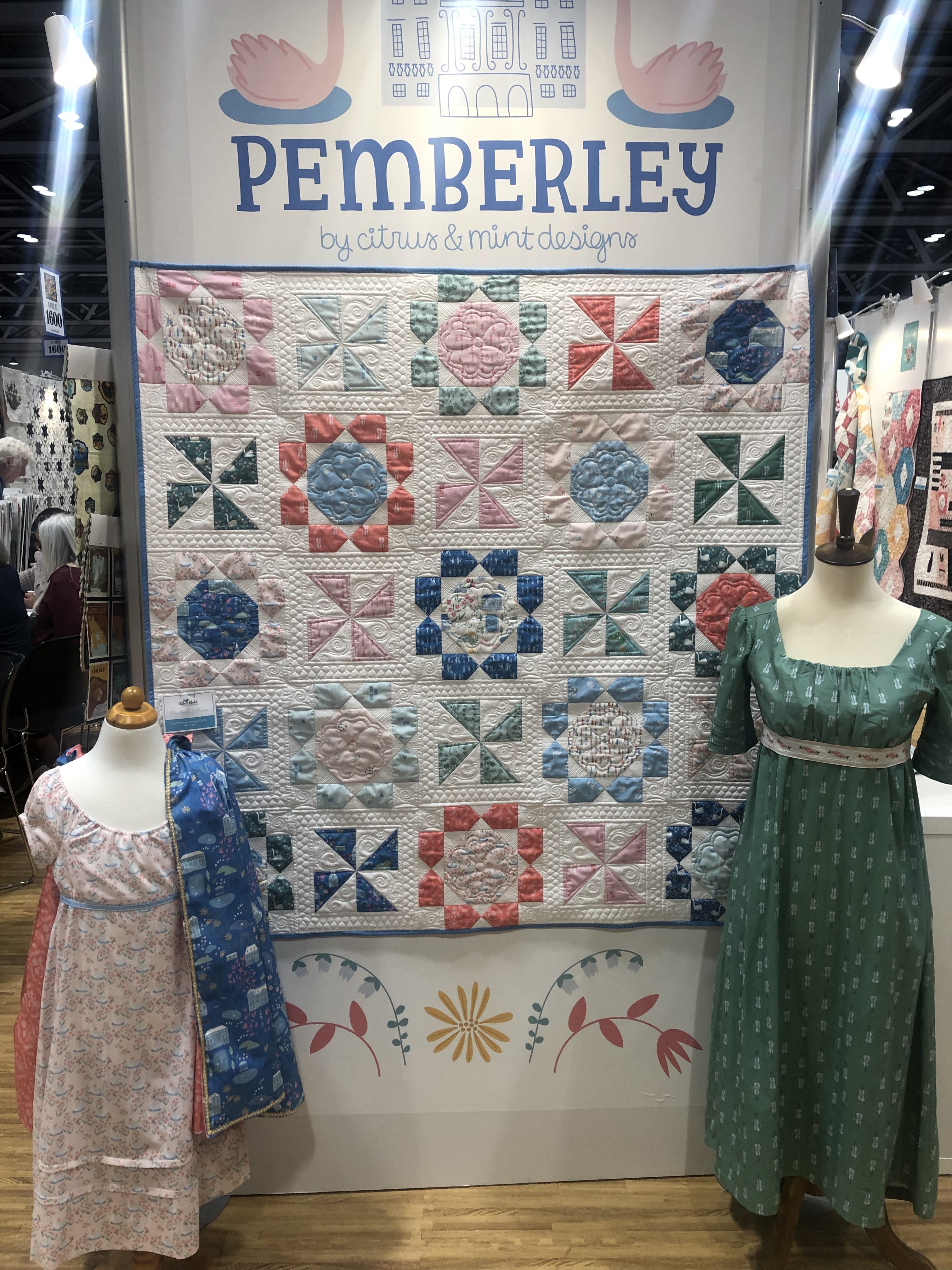 Pride and Prejudice lovers- we have the perfect collection for you! Pemberley is designed by Rachel Erickson of Citrus & Mint and has the most darling illustrations.
Quilt: Pinwheels and Posies by Primrose Cottage Quilts
Outfits: Original creations with no patterns
National Parks: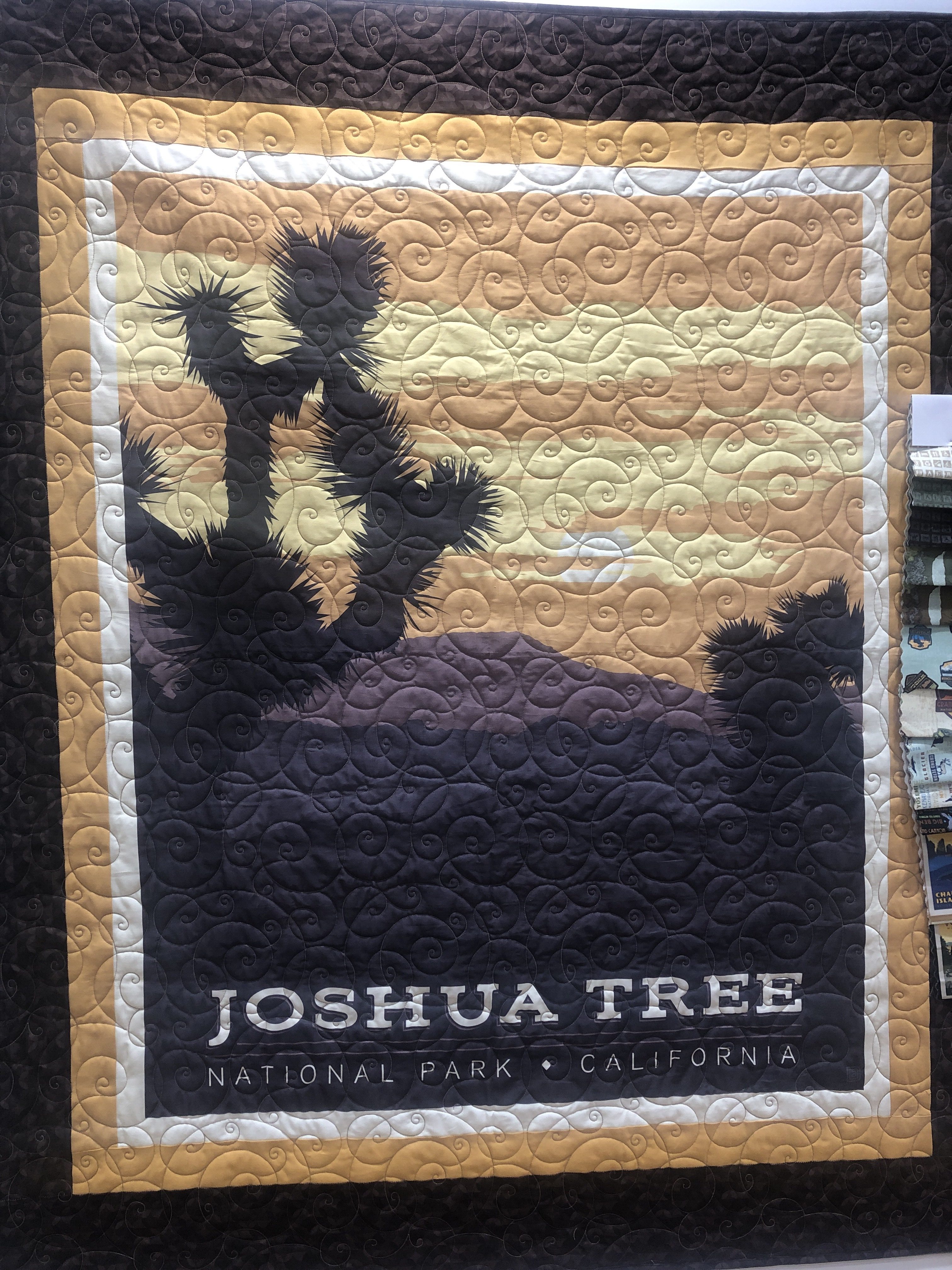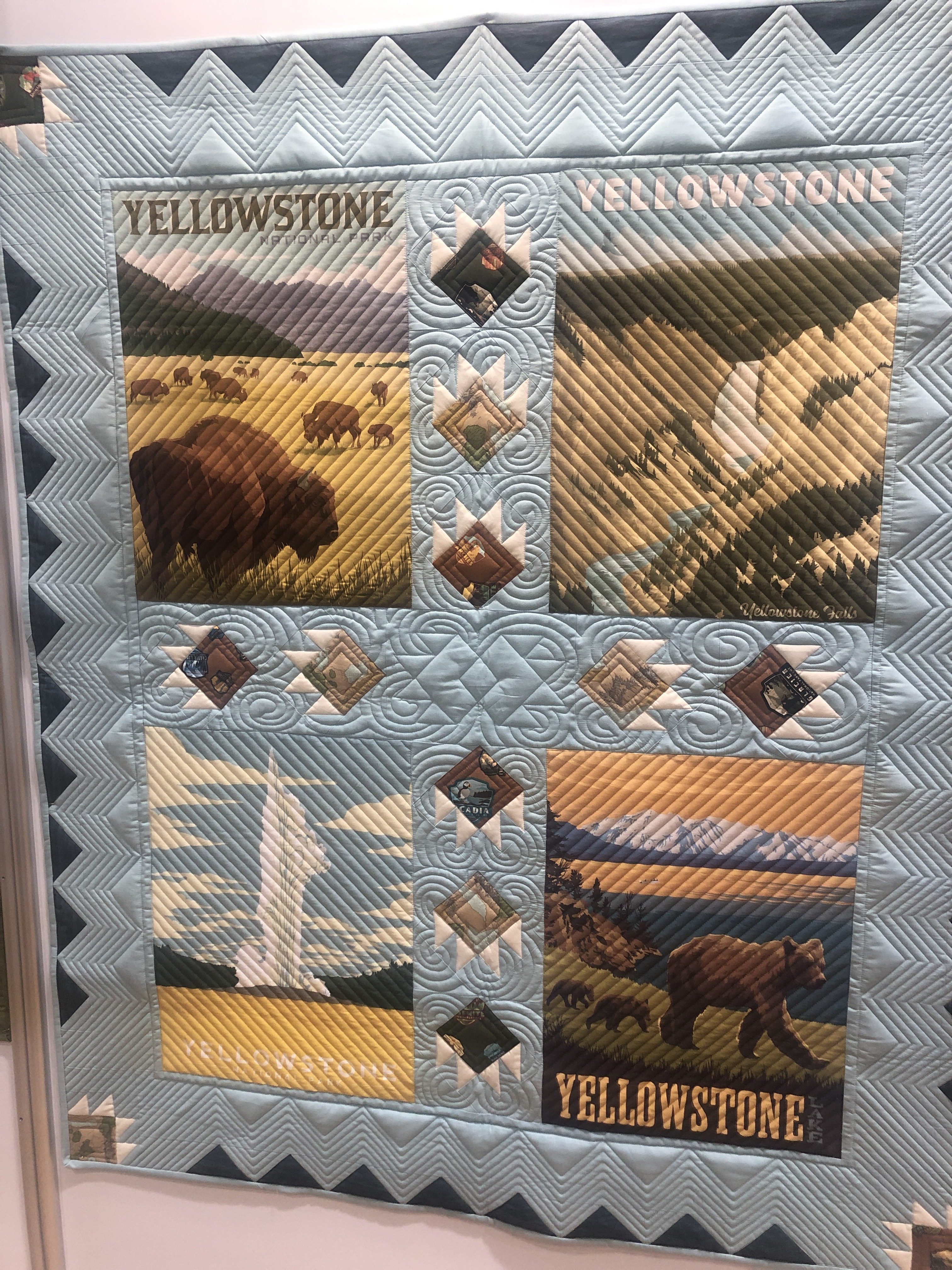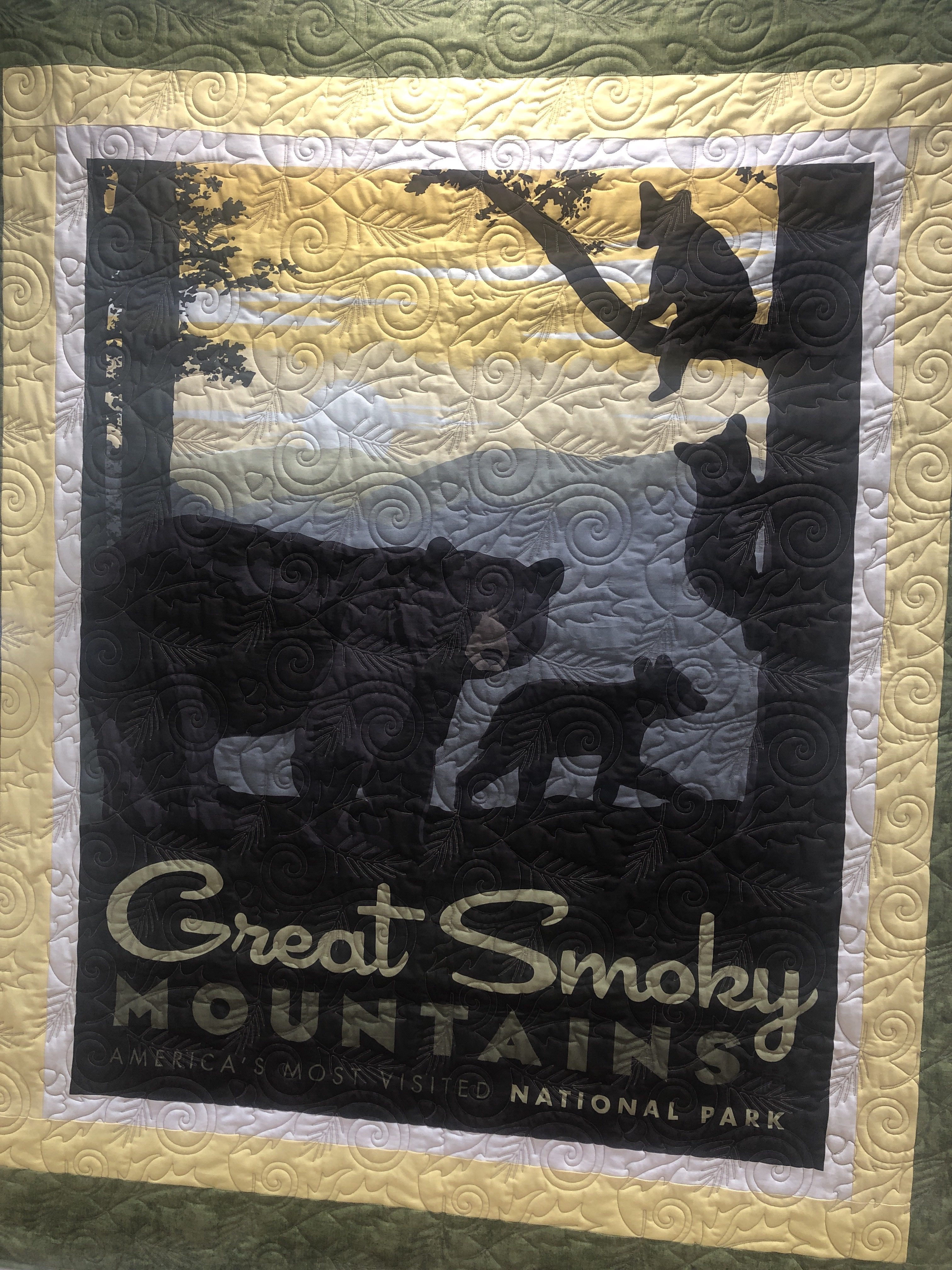 We are so excited for our National Parks collection designed by Anderson Design Group. Panel quilts by RBD designers will be added to the RBD library!
Golden Days: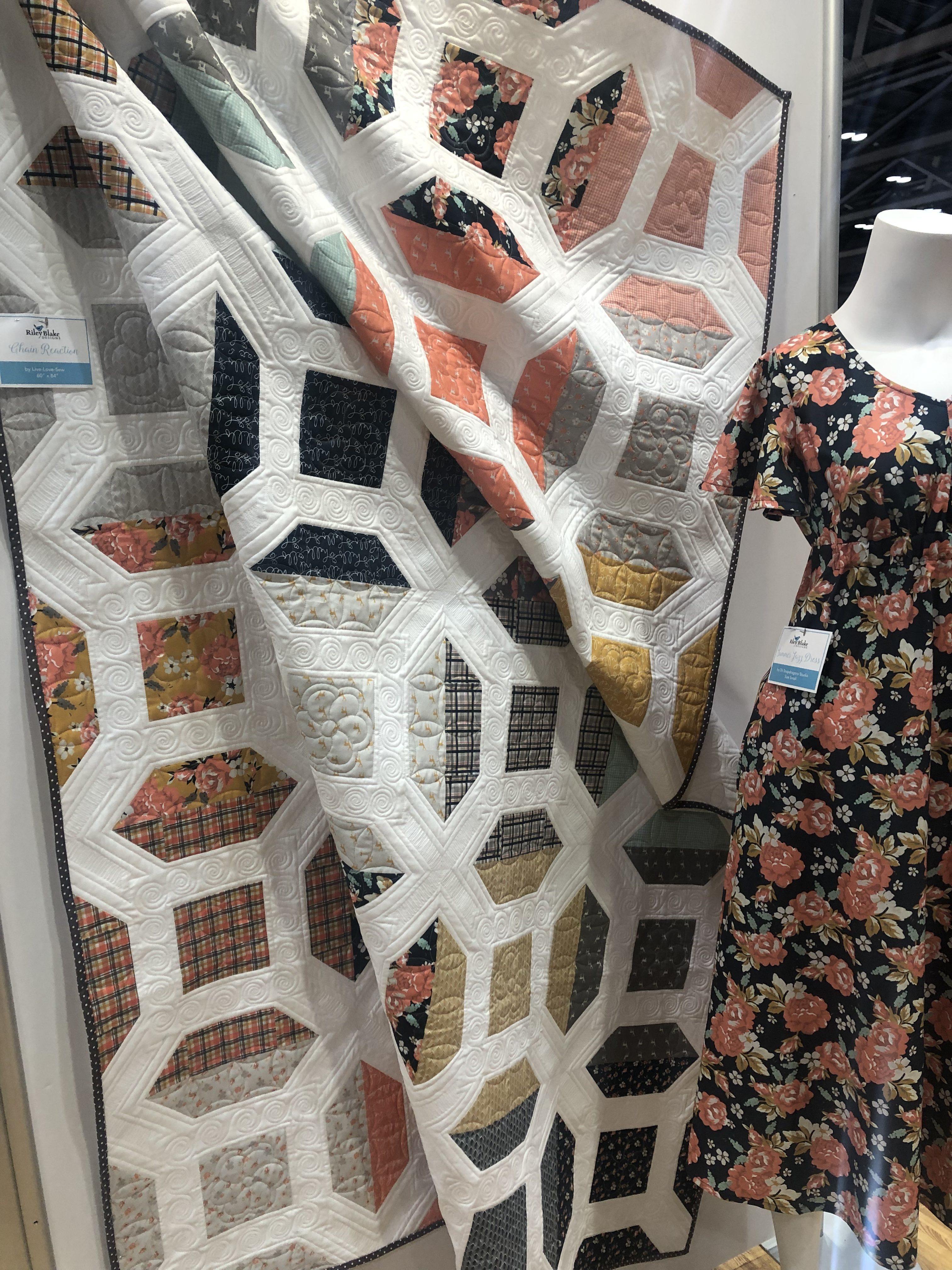 Quilt Pattern: Chain Reaction by Keera Job
Dress: Summer Jazz Dress by Oh Snapdragons Studio
Tune in again tomorrow for the pattern links and photos of our designer's booths!
One day down, two to go!