Blast off to the moon and back with this super fun NASA fabric panel baby quilt! Fabric panels are easy to work with, and allow you to create themed projects that are easy, fun, and look fantastic!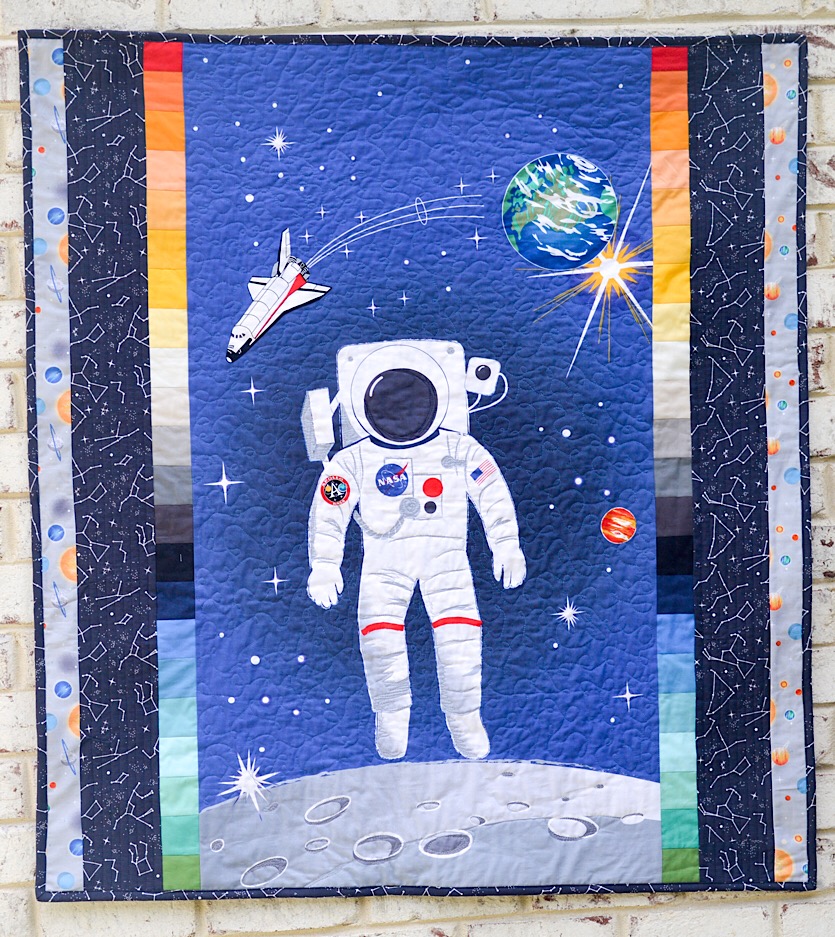 This fabulous Rocket Man Baby Quilt comes together in an afternoon, and will have little people everywhere happily dreaming of rocket ships and space adventures!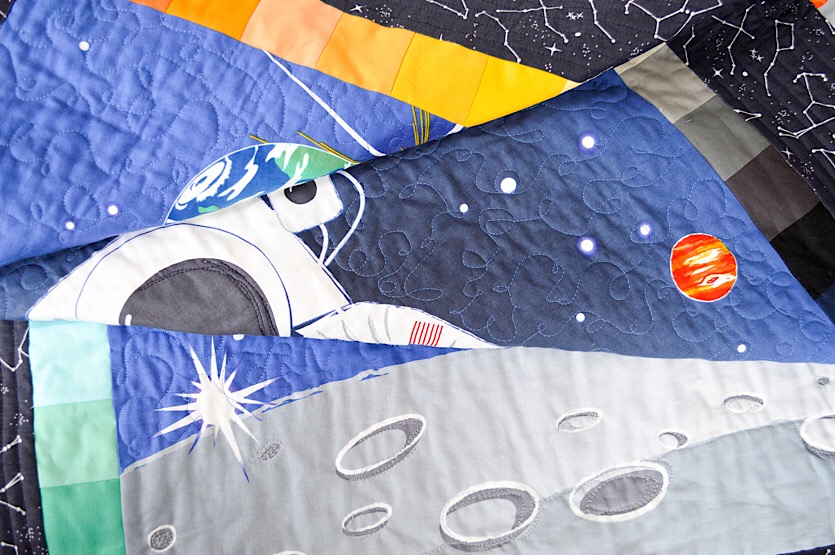 Finished quilt measures approximately 39" x 43"
For this quilt, you will need:
1 – Out of This World NASA Astronaut panel
44 – 2.5" squares of Riley Blake Confetti Cottons. You need 2 of each color (22 colors) ranging from cool tones (green/blue to black/gray/white to warm tones of red/orange/yellow)
3 – 4.5" x WOF strips of Out of This World with NASA Constellations in Charcoal
3 – 2.5" x WOF strips Out of This World with NASA Planets in Gray
Batting
Fabric for Quilt Back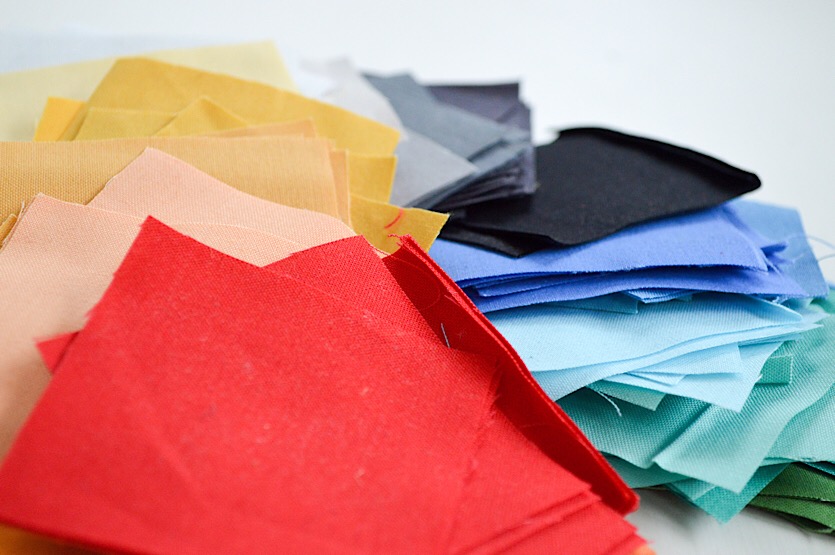 Begin by sewing the Confetti Cotton squares strips that will go on each side of the Astronaut panel. You want 22 squares for each strip.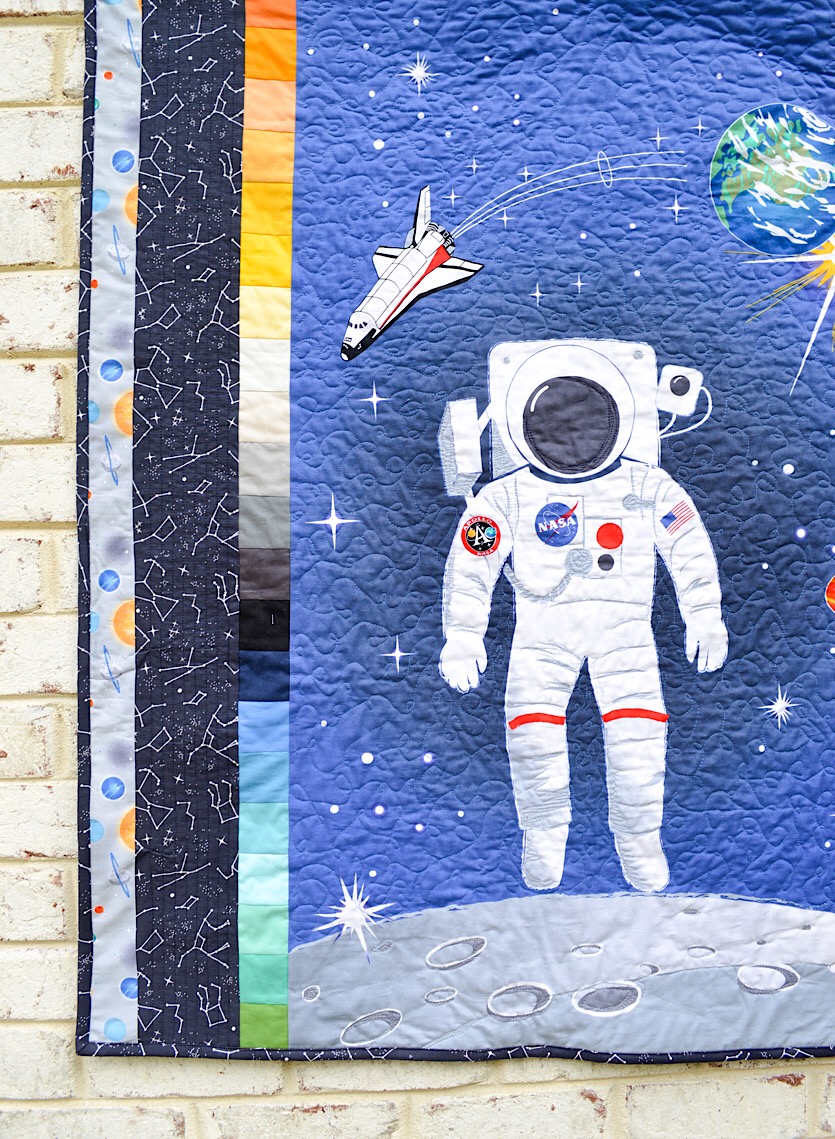 Starting with greens, move your way through the blues, then black, gray, white, light yellow, dark yellow, orange, then red. Think of going from cool to hot on a temperature chart. Press all of the seams in the same direction. Sew the strips to each side of the panel. Press seams.
Next, attach the Constellation fabric strip to either side of the panel. This strip is a little shorter than the panel, so add a few inches from the 3rd strip to lengthen as needed. After sewing the strips to each side, press seams and trim ends so they are flush with the quilt top and bottom.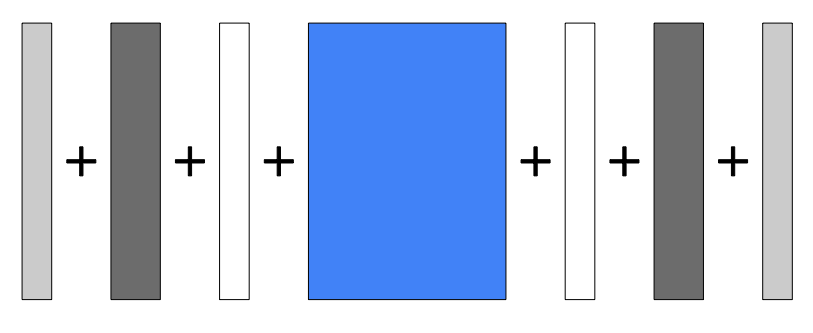 Repeat this step as you add the 2.5" Planets strips to each side of the panel. Press seams and trim ends.
That's all there is to it! Finish your quilt by making your quilt sandwich (quilt back right side facing down+ batting + quilt top right side facing up). Machine quilt or take it to a professional – either way is great!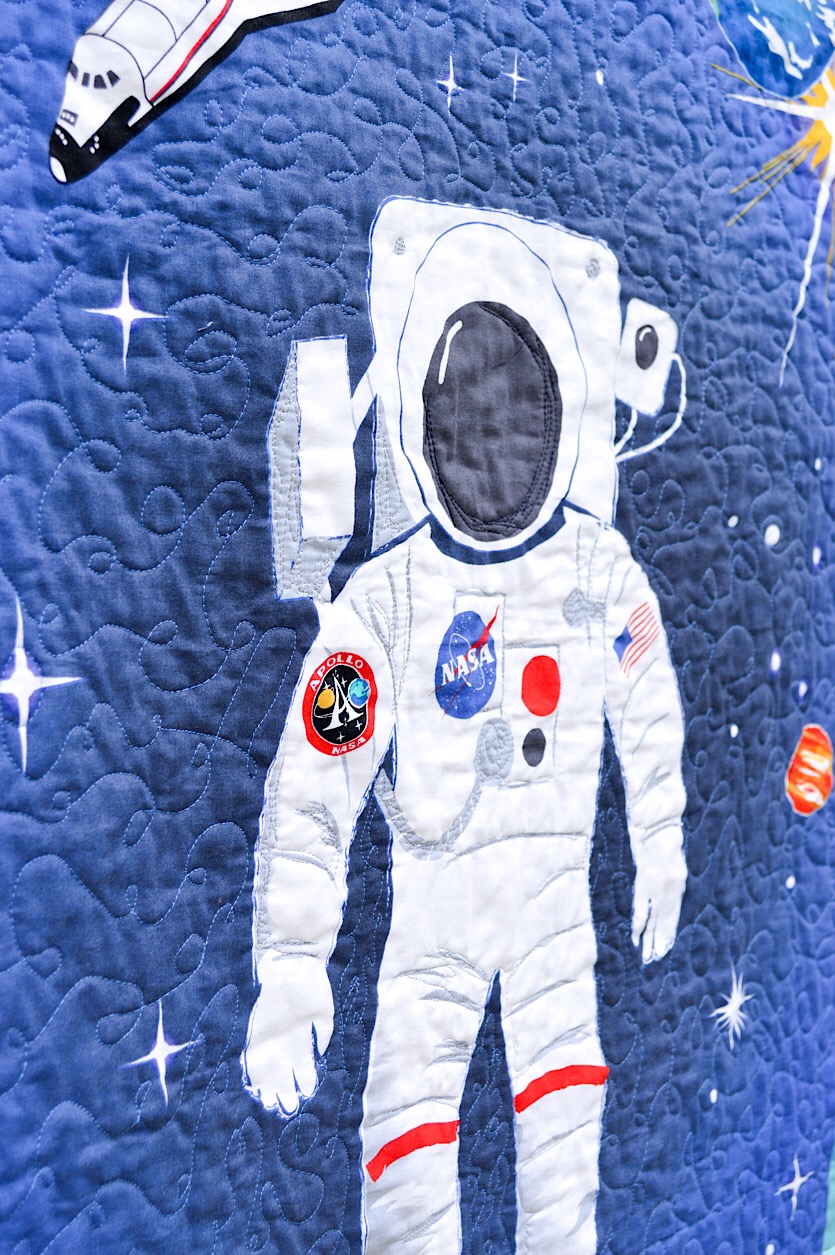 I quilted the outer space portion of the astronaut panel with a free-motion all-over loopy design.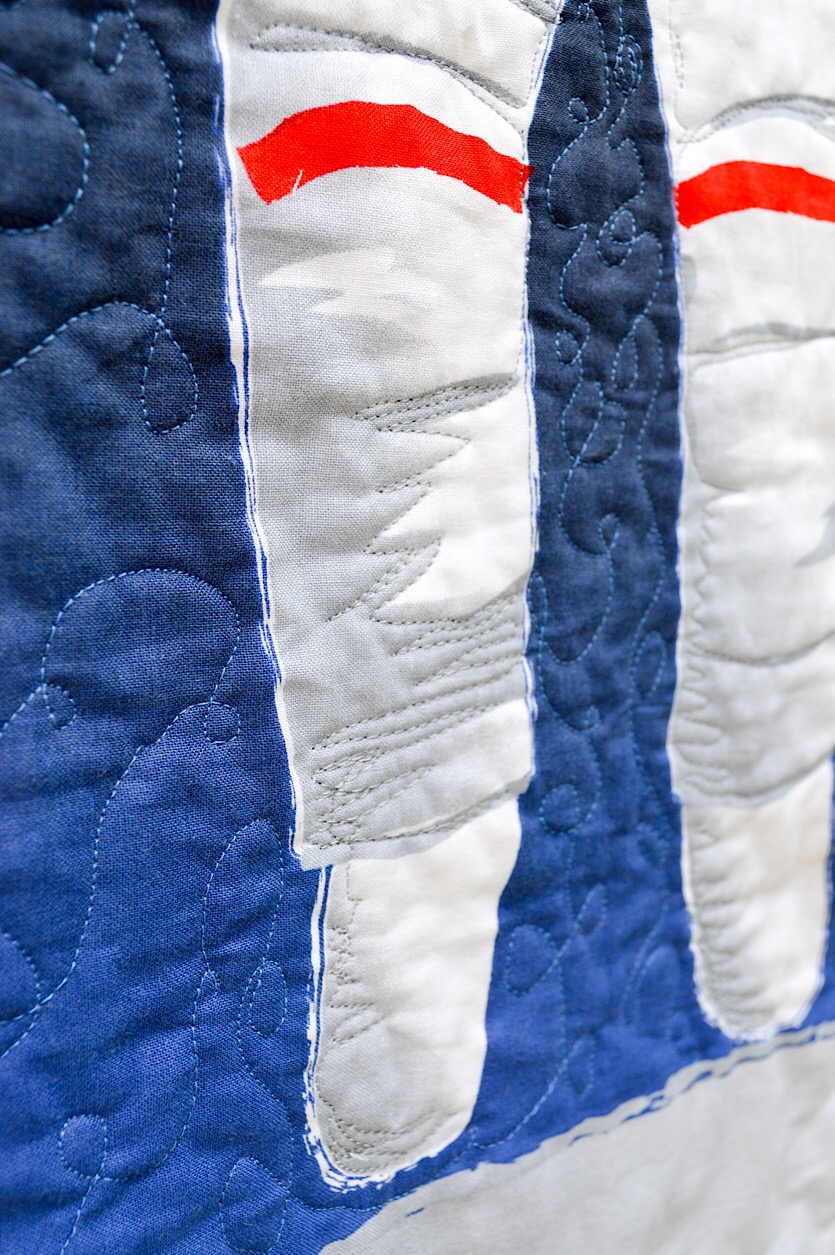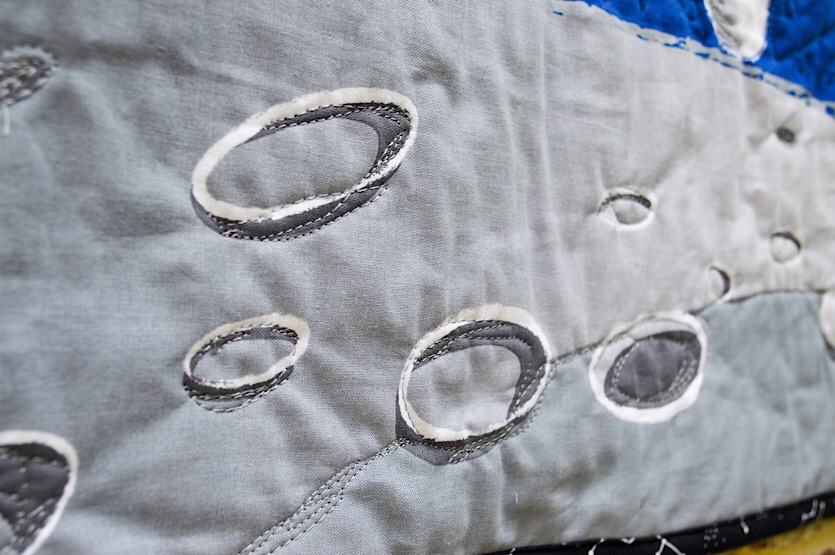 For the astronaut and moon craters, I used a metallic silver thread and a free-motion "scribble" technique to roughly trace the shadows and creases in the space suit and the outlines of the moon craters. I LOVE how this turned out! The scribble lines add a great texture to our space man's suit and give some real dimension to the moon craters.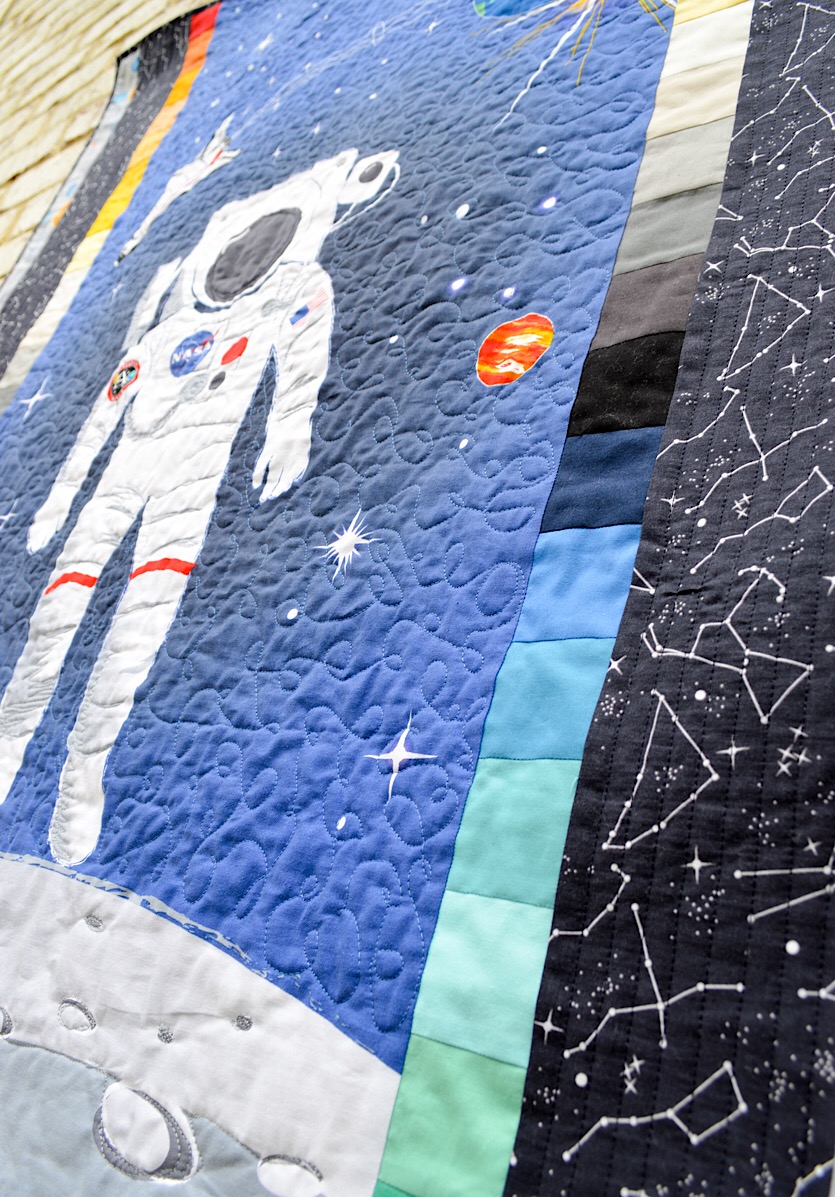 Here's a fun fact: the white lines in the Charcoal Constellation print are Glow-in-the-Dark! How cool is that?! I used the same Charcoal Constellation print for the quilt binding. The dark binding really frames this quilt nicely, but one of the light gray prints would have been equally great.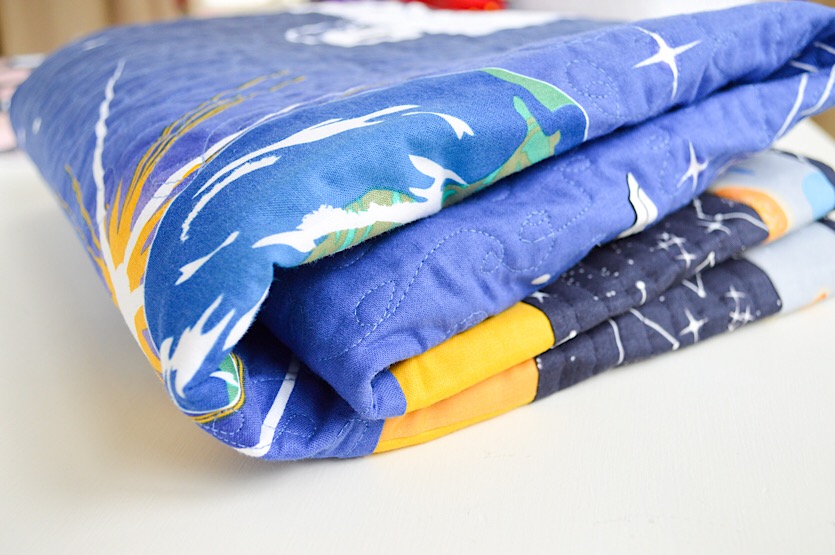 The Out of This World with NASA fabric collection, filled with planets, constellations, NASA badges, and fabric panels, is scheduled to arrive in stores in June, so be sure to order yours today!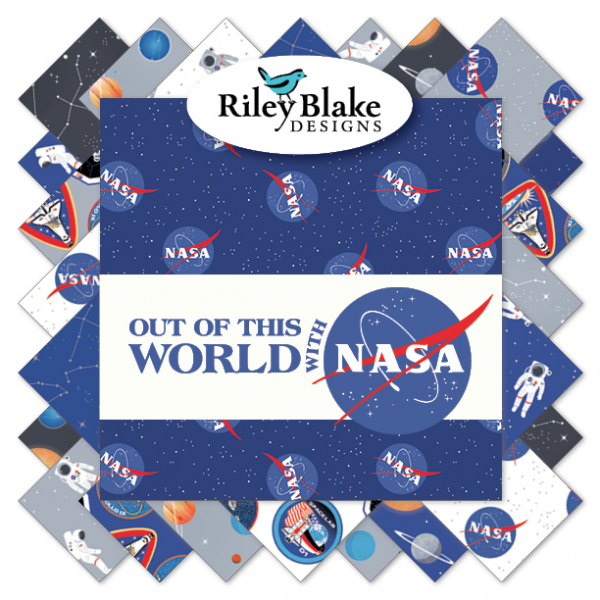 Happy Quilting!