This is Holly Clarke from Holly Clarke Design on the blog tour today. In case you don't know me, you can find out more about me and my work on my website at https://hollyclarkedesign.com and on Instagram at @holdmyseamripper
I am excited to join the blog tour today to introduce you to my modern Dresden Swirl quilt. A couple of years ago I was inspired by a vintage '60s quilt that we inherited from my in-laws. It is like a traditional Dresden Plate quilt with curved "petals". I recreated the design to make this Beauty and the Beast quilt which has been a favourite of my family for snuggling up on the couch. Recently I decided I wanted to modernize the look a bit, so I set out to recreate it with solid fabrics in cheerful friendly colours.
I chose a fresh palette of Confetti Cottons in the following colours: Frosting, Super Pink, Cranberry, Cayenne, Riley Orange, Mac N Cheese, Butterscotch, Honey, Boy Blue, Riley Medium Blue, Cobalt, and Riley Navy. For the sashing and borders I used Confetti Cottons in Cloud. I just love working with Confetti Cottons; the colours are striking and the fabric is soft and has a beautiful drape.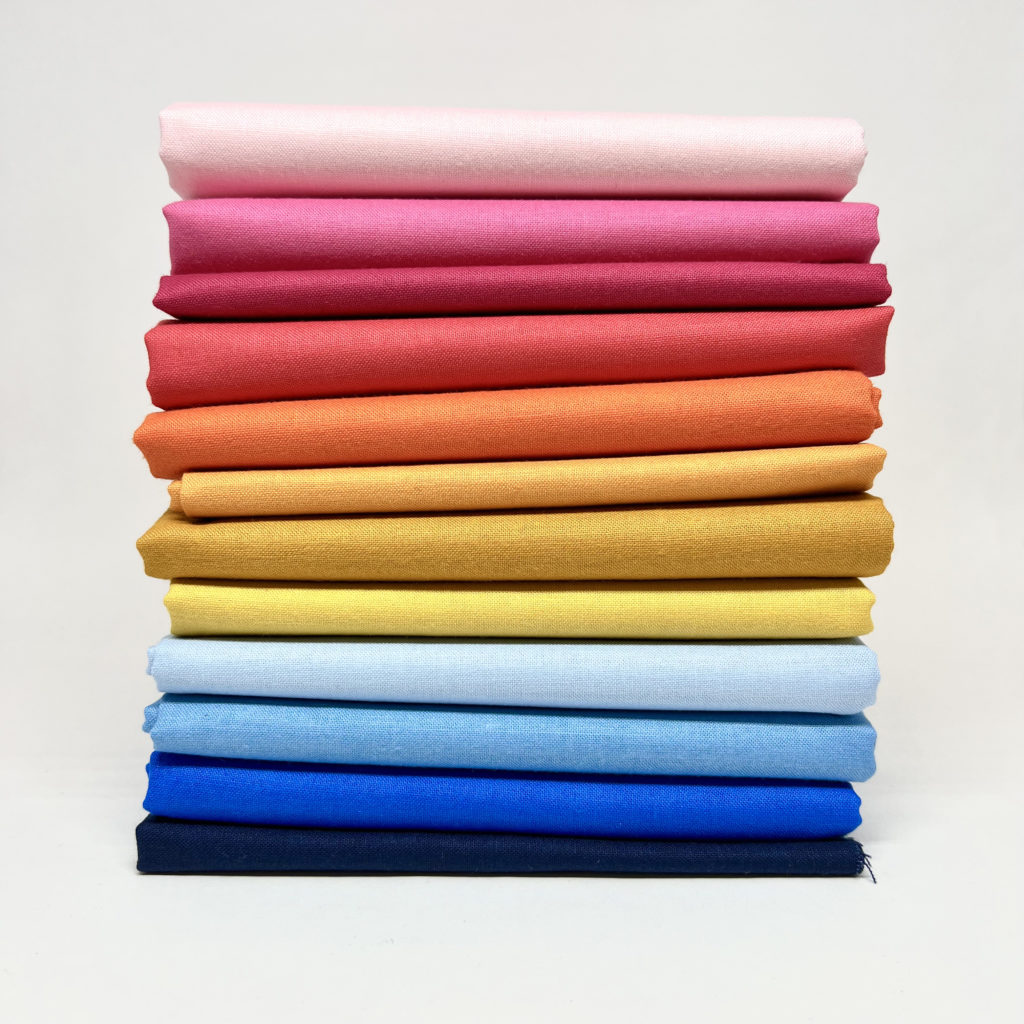 I decided on a square quilt layout with nine blocks using three colour ways (yellow, pink, and blue) in light, medium, and dark tones for the background squares.
The curved petals are machine-sewn together along one side, then hand-appliquéd to the background squares along the tips.
Once I machine-stitched all nine swirls, I pinned them up to the background squares to get them ready for appliquéing. I used a slip stitch which is the invisible stitch you use to hand-sew binding. It gives it a nice clean looking finish. I changed my thread to match the colour of each petal as I went along. It was kind of tedious to do so but using the proper thread colour helps to hide the stitches.
I decided to keep the quilting modern using 1.5" horizontal straight-line stitching. I made binding with Texture Super Pink fabric, which matches the centre square perfectly.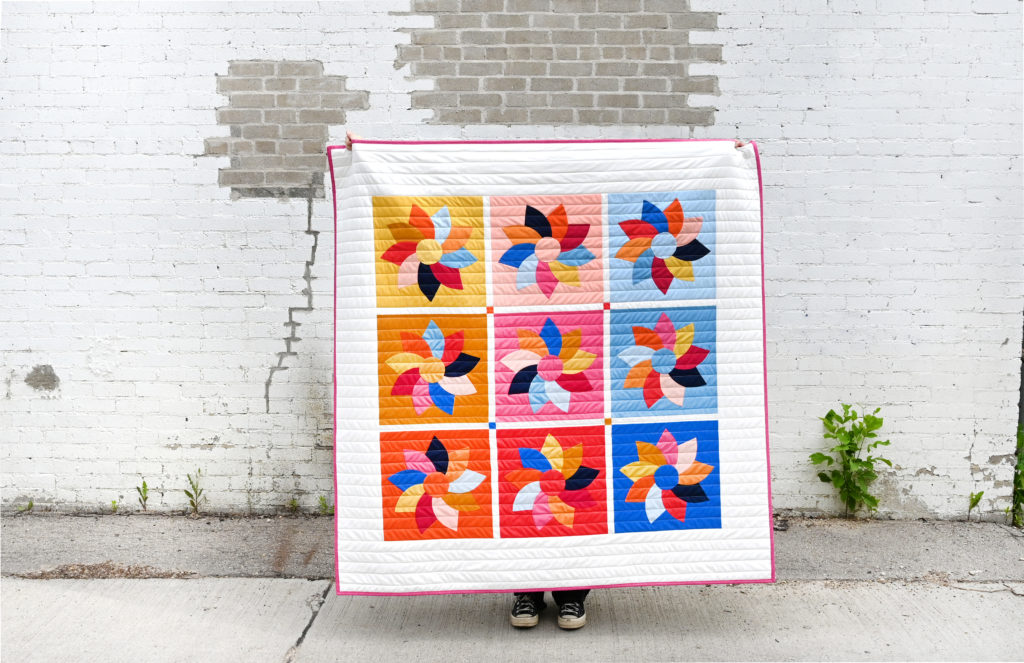 For my backing fabric, I chose Bee Cross Stitch on Cloud Pebble. I love those subtle little X's.
Hey quilters! I will be releasing a pattern for the Dresden Swirl quilt very soon, I have listed it in my shop as a pre-order. If you purchase the pre-order, it will be emailed straight to your inbox on the launch day. Alternatively, you can sign up to be notified when it is released by clicking this link.
Thank you for reading my blog post. I hope you enjoyed reading about my process.