Are you subscribed to our YouTube Channel?! We release new videos all the time with everything from tips & tricks, to full length step-by-step quilting tutorials! Today we are sharing a recent video from Cindy where she shares all of her favorite tips for pressing and ironing and all the items she keeps at her station.
---
---
Pressing can make a huge difference in how your end project comes out. These tips and tricks will help streamline your projects and help improve your accuracy.
Cindy shares all of her favorite tools in this video! These are the notions she uses most often at the pressing station. Ready to build your own pressing station? Let's talk about what you need!
First, you need a place to do your pressing. Some people prefer a traditional ironing board and others are loving the wool pressing mats. If you don't have anything like that, here is a tutorial to make our favorite ironing station! This is a great pressing station and you can customize the size for any surface.
Now that your station is ready, let's talk tools of the trade!
When it comes to irons, we've tested quite a few over the years. Our tried and true favorite is the Oliso Pro Iron and the Oliso Mini Project Iron. You can find both at many different retailers and they come in a variety of colors. Be sure to check out Cindy's video to see the iron in action.
For starch and spray we like to keep two things handy. First, is one of our Misting Spray Bottles filled with water. The second is another spray bottle that has a starch in it. We have been loving the Quilting & Crafting Spray by Magic. We keep it on hand to refill our misting bottles.
What's the best way to get a crisp seam? A clapper! We have two different sizes of clapper blocks and they are a game-changer!
The above items are the MVP's but, it can never hurt to have some other notions on hand. Things like a pincushion, seam ripper, measuring tools, and a sharp pair of snips can come in handy. Cindy lists a few other favorites in her video.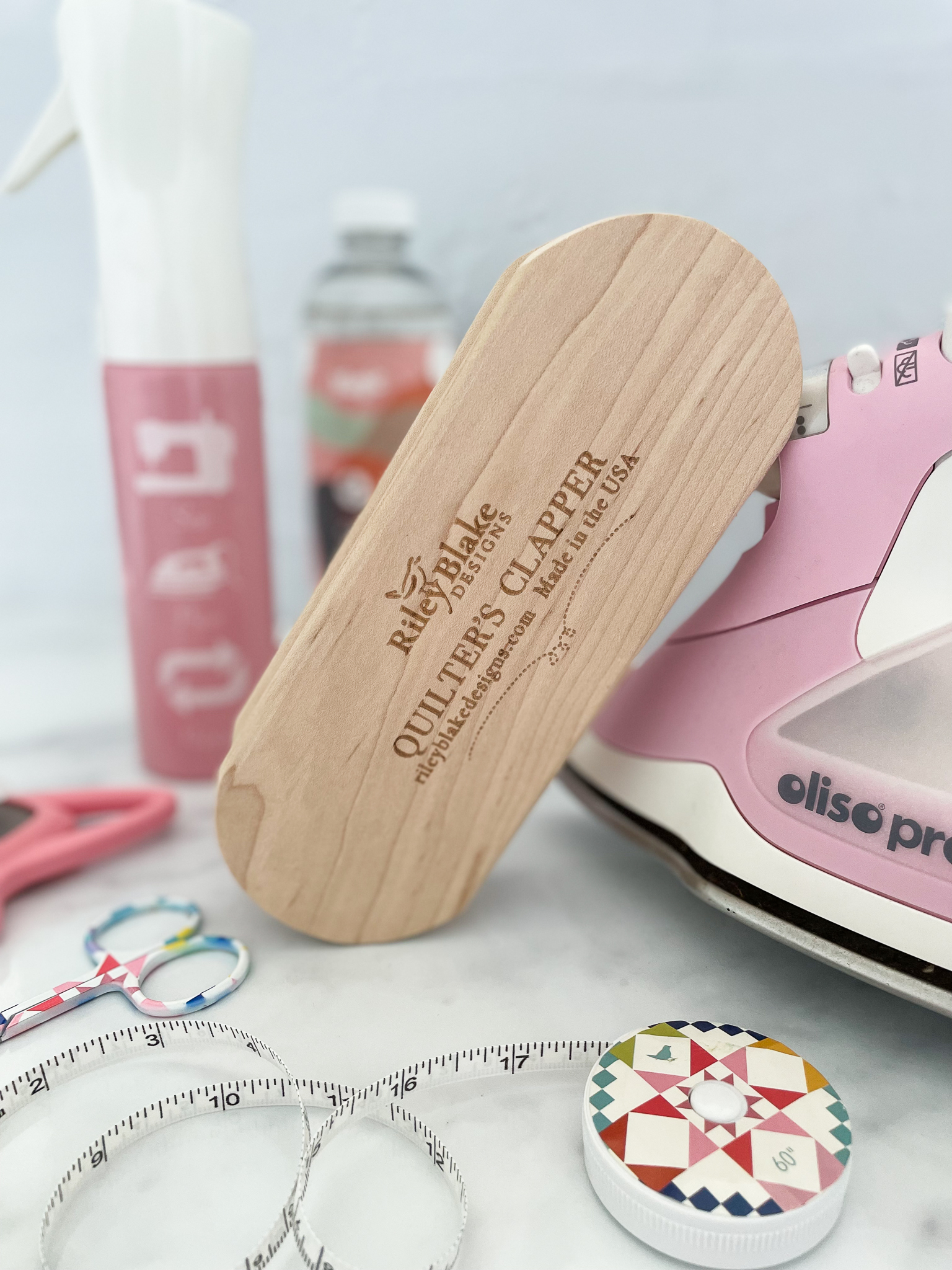 We hope these tips come in handy for your upcoming projects. Happy sewing!